Want to switch up your look with a fun pop of color but don't want to commit? Hair chalk is one of the easiest ways to get a bright temporary color in your hair without any damage or bleaching.
But how do you apply it? How long does it last? Can you use hair chalk if you have dark hair? There are so many questions if you've never used temporary hair chalks before!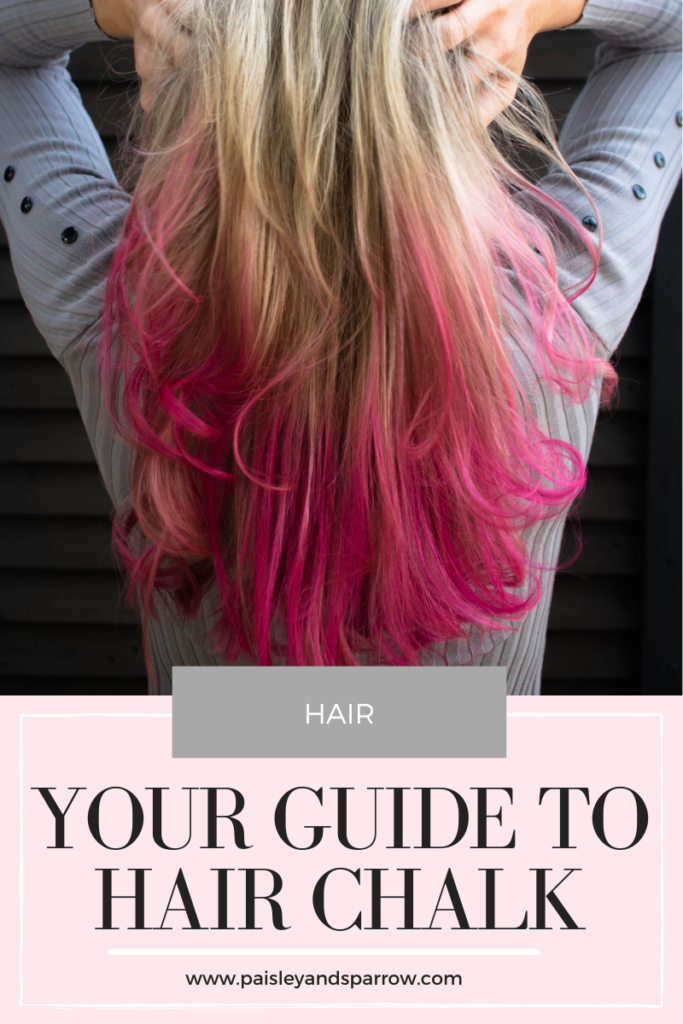 In this helpful guide, I'll take a deep dive into the colorful world of hair chalk and how you can use it to switch up your look! It's great for adults and kids, and I've done the research to answer whatever question you may have about it.
What Is Hair Chalk?
Hair chalk is a temporary form of hair dye that doesn't use chemicals to lift or deposit pigment into the cortex of your hair. Instead, it simply deposits rich pigment onto the surface of your hair to temporarily alter the color.
It's a bit like a temporary paint so you can play with colors without worrying about damaging your hair or needing to grow out a color when you're sick of it.
While the chalk used to come in primarily neon and pastel colors, the marketplace has rapidly expanded, and thousands of shades are available to choose from! It's a great way to try a temporary color in your hair to see if you like it before you go with permanent dye.
What Are the Different Types of Hair Chalk?
Hair chalk can come in several forms: liquid, compact style, stick form, spray or comb form. The ease of use, precision, and potential messiness will vary between each form.
Chalk Liquid
Most liquid chalk comes in a bottle with a sponge or foam-tipped applicator. These tend to give the most vibrant results as the hair absorbs the pigment, leaving behind bright, brilliant colors even on the darkest hair.
However, it can be a bit trickier and messier to use because of its liquid form. You should protect your hands from the pigment by wearing gloves and protect the surfaces around you by laying down old sheets, towels, or newspaper.
If you've ever dyed your hair at home, you know how messy it can get (and quickly). Prepare for a process like that so you won't accidentally dye your hands or bathroom rugs.
Hair Chalk Compact
The hair chalk compact style is one of the easiest and least messy hair chalk forms. In this form, the colored chalk is contained in a compact that is easy to glide onto the hair.
Because it is contained, you don't have to worry as much about your hands getting covered in chalk. The caveat is that reaching the root of your hair may be more challenging if you're looking to color from roots to tip.
Chalk Stick
The chalk stick is the original and traditional form of hair chalk. Similar to the chalk or pastels you may have used in elementary school, this type of chalk is just small colorful sticks. The best thing about the traditional chalk stick is that it offers you a lot of precision to achieve an intricate, multi-color look.
Be sure to use gloves when handling these as your skin will come in direct contact with the pigment, even more so than your hair!
Chalk Spray
The chalk spray is arguably the easiest form of hair chalk to use. Just grab a section of hair, aim, and spritz! While it's easier to use, you lose some of the precision other methods offer, and it can quickly become messy if you're not careful.
Your hair might be a mess, and you can also make a mess of surfaces around you if you spray too heavily and aren't being careful.
Hair Chalk Comb
You can also get chalk for your hair in a comb applicator. A hair chalk comb is a good way to apply hair chalk that keeps your hands from getting too messy and needs very little prep or cleanup. The comb tends to separate your hair into sections as it applies the color, so you'll likely end up with streaks or highlights in your temporary hue.
How Do You Apply Hair Chalk?
One appealing thing about hair chalks is that you can apply them at home and to your own hair (or your kids' hair).
The application method will vary across each product, depending on the hair chalk type. The hair chalk should always be applied to clean hair for the best results.
Liquid
When using liquid hair chalk, apply it to clean, dry hair. Follow the instructions that come with the specific chalk applicator you bought, and wear gloves while you apply the color.
Let your hair fully absorb the product, and once you've reached your desired color, immediately seal the color using your blow dryer.
Compact
Compact-style hair chalk can be applied to dry or wet hair. Applying to damp hair will give you a more intense temporary hair color payoff.
To use the hair chalk, take smaller sections of hair and glide the compact down the length of your hair to add a pop of color. Seal it in with a quick spritz of your go-to hairspray.
Stick
Stick hair chalk can be used on dry or wet hair. When opening a new box of hair chalk, rub the chosen color against a piece of paper to break the waxy seal on top.
Take the desired section of hair and rub the chalk downward to spread the pigment across the hair shaft. Be careful not to rub in an upwards motion; you can cause damage to the hair and rough up your hair's cuticle layer. Finish it off with a mist of hair spray to help the color last longer.
Spray
Spray hair chalk is best used on dry hair. Isolate a small section of hair and mist the pigment across the hair shaft for instant color. Before using, ensure the nozzle isn't clogged by testing it on a piece of paper. A clogged nozzle might cause it to spray unevenly, leaving splotches of color behind.
Comb
If you're using a hair chalk comb, you'll get the best results if you apply it to damp hair. It's as easy to use as using a comb! Just run it through your hair to get thick highlights.
When you love the color you've gotten, blow dry your hair and consider hair spraying to keep the chalk in.
The Best Hair Chalks
This post contains affiliate links.
With SPLAT Hair Chalk, the possibilities are endless! The compact style is straightforward to use with minimal mess. It's available in 10 different shades. It also comes with a sponge applicator so that you can easily apply color to your roots if you're looking for root-to-tip color!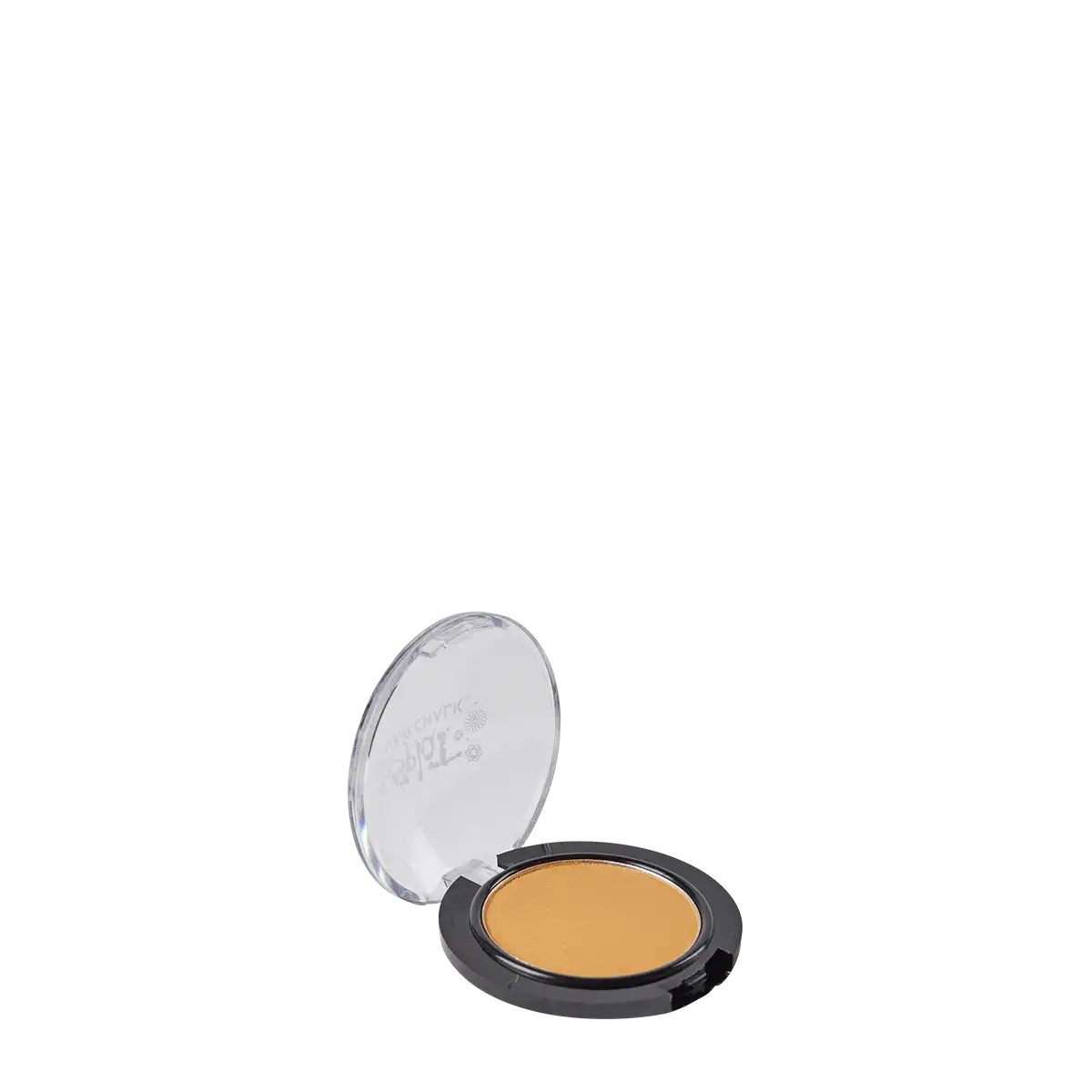 We earn a commission if you make a purchase, at no additional cost to you.
Does your little one want to experiment with color? GirlZone Hair Chalk is an excellent choice. These fantastic hair chalks are skin-safe, water-soluble, and easy to use in a handy pen. Because the paint is skin-safe, it can also be used for face painting.
GirlZone Hair Chalk Set
Set includes 10 fantastic temporary hair chalks - last for 80 applications per pen.
Our hair chalk pens make great face paints too & easy to remove off the skin.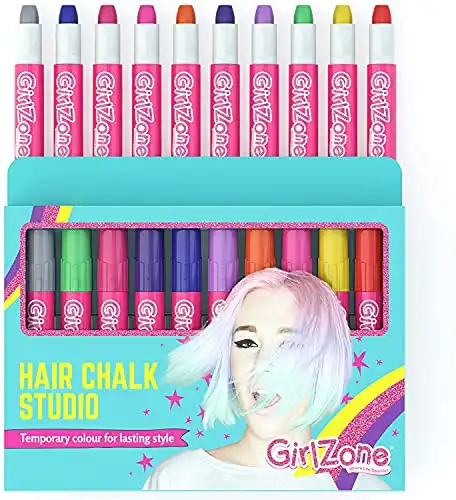 We earn a commission if you make a purchase, at no additional cost to you.
FAQ
Does Chalk Work for All Hair Types and Shades?
Hair chalk will work for all hair types and shades. However, it is important to realize that the darker your hair color, the less vibrant the color will appear.

You can bump up the intensity of the pigment by applying it to wet hair. However, it will not be as vibrant as applied to lighter-colored hair.

The downside to applying chalk to lighter hair is that you may have to work harder to remove the added pigment from your strands if you have blonde or light hair.
How Do You Remove Hair Chalk?
The wonderful thing about hair chalk is that it is temporary color! You remove it by simply washing your hair.

While hair chalk is easy to wash out, for the most part, if you're blonde, you may find it a bit trickier to get all the pigment out of your hair. If you're having trouble removing the pigment from your hair, try massaging a hair oil into your hair before washing and follow up with a clarifying shampoo to strip out the color.
How Long Does Chalk Last in Hair? Is It Really Temporary Hair Color?
Because you're not chemically altering the color of your hair, the results are very temporary.

Hair chalk color tends to fade in your hair and lose its vibrancy a few days after the initial application. The fading can be sped up if your hair is rubbing against your clothing or other surfaces.

While the pigment can last anywhere from two to ten shampoos, most hair chalk will rinse right out as soon as you wash your hair.

Hair chalks should stay in for at least a couple of shampoos, but just be aware that they could run if you go out in the rain or sweat soon after applying. 
Is Hair Chalk Harmful? Is It Safe for Kids?
Hair chalk is safe for adults and kids. Most hair chalk formulas contain ingredients such as bentonite, calcium carbonate, mica, and pigment.

All these ingredients are minimally toxic. However, it's always best practice to do a patch test to ensure you're not allergic or sensitive before applying it to your hair.

In terms of overall hair health, hair chalk is safe to alter your hair color occasionally temporarily.

While it's not as damaging as bleaching and using permanent hair dye, the chalk can suck some of the moisture out of your hair. After washing out the chalk, it's essential to follow up with a deep conditioner or a hair mask to restore your hair's moisture balance and avoid damage.
Are you looking for more beauty?
Want some more hair content? Check out some similar articles below: