Fall is arriving! Crisp, cool weather, falling leaves, apple orchards and pumpkin picking – you just can't beat it! Fall decor is always one of my favorites as well since you can pull it out at the end of August and leave it up until your Christmas decor comes out! Today I'm sharing a fun, inexpensive DIY tutorial for painted glitter pumpkins to add some sparkle to your fall decor!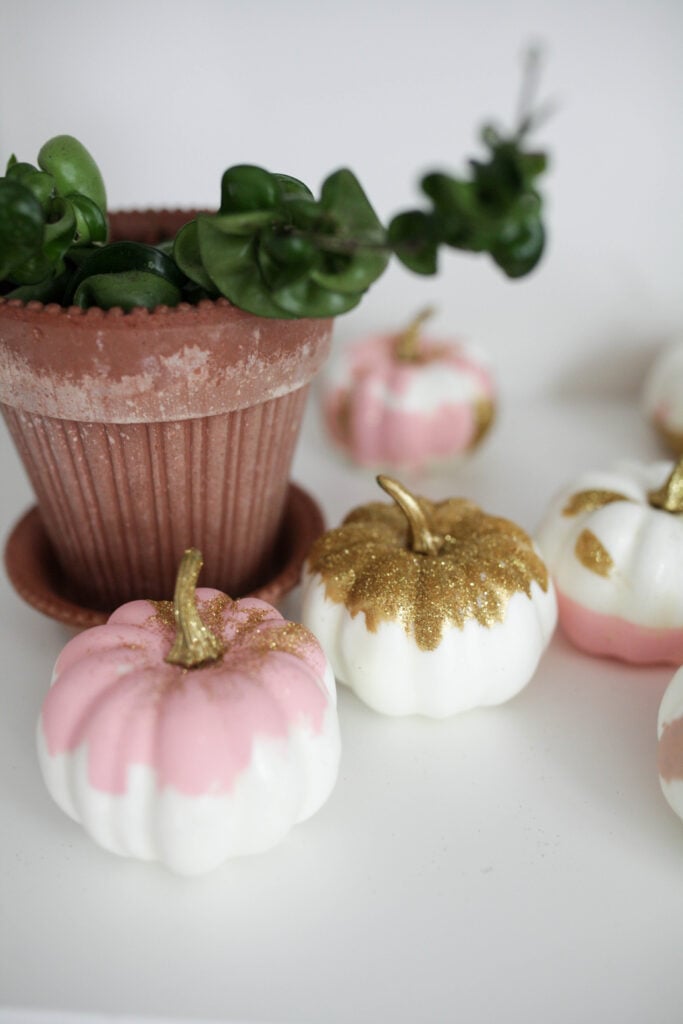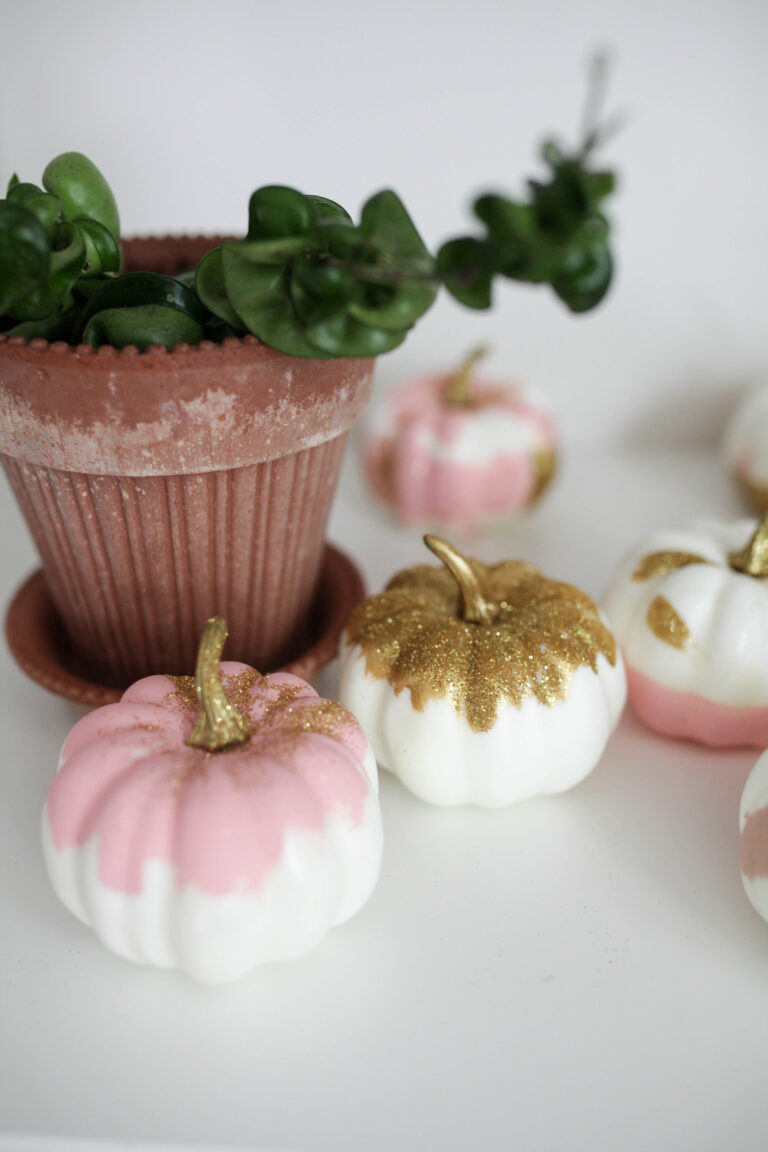 This super simple pumpkin craft can be for both adults and kids depending on what you want to decorate and how "pro" you want it to look.
Whenever I do crafts I try to figure out a way to get my kids involved. Sometimes it means printing a picture of a pumpkin for them to color or paint while other times it means actually giving them a pumpkin to paint themselves!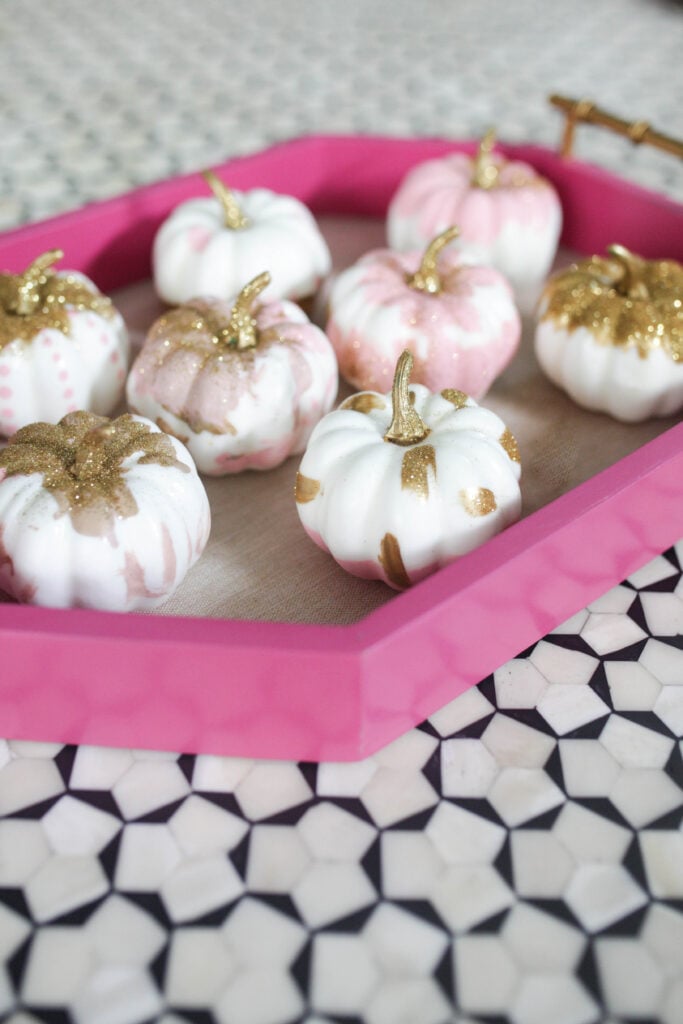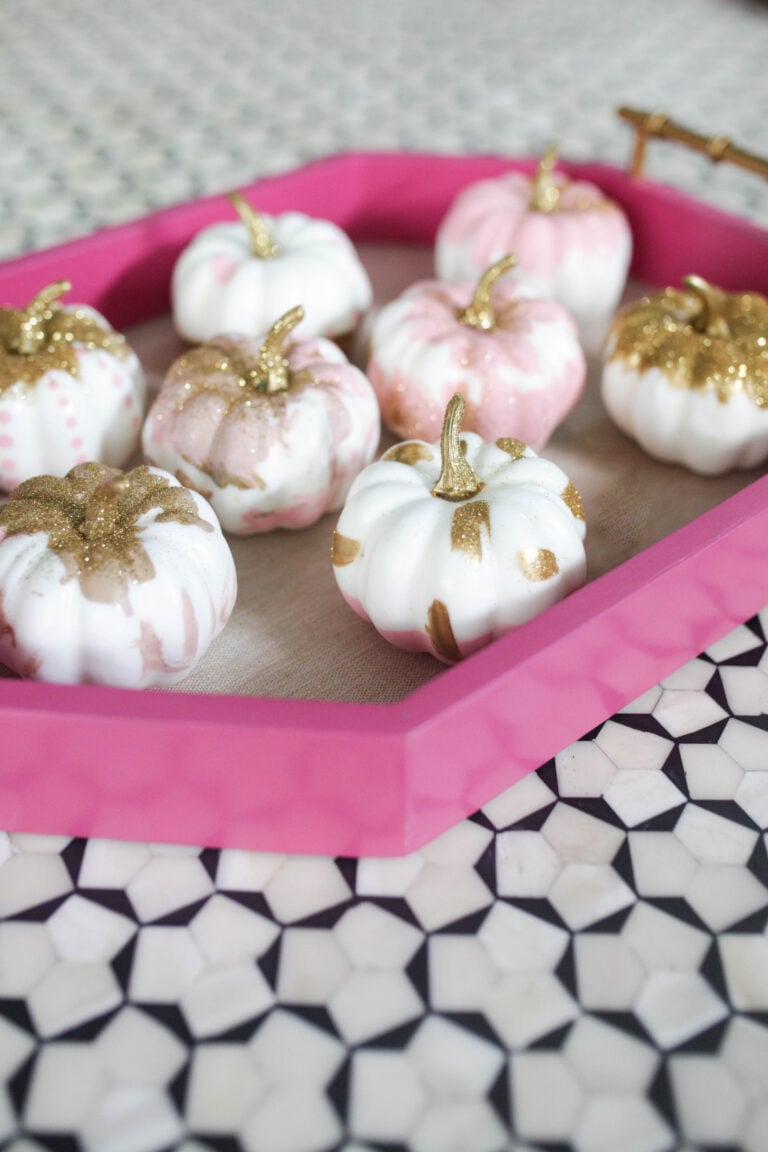 My kids were SO excited to try painting pumpkins so I decided to let them in on the fun. I wasn't planning anything specific for these pumpkins, rather just some fun pink and gold paint and a bunch of glitter to make them a bit more festive a lot cuter!
I also let my son do blue pumpkins. This is a look at his. He was SO proud of them!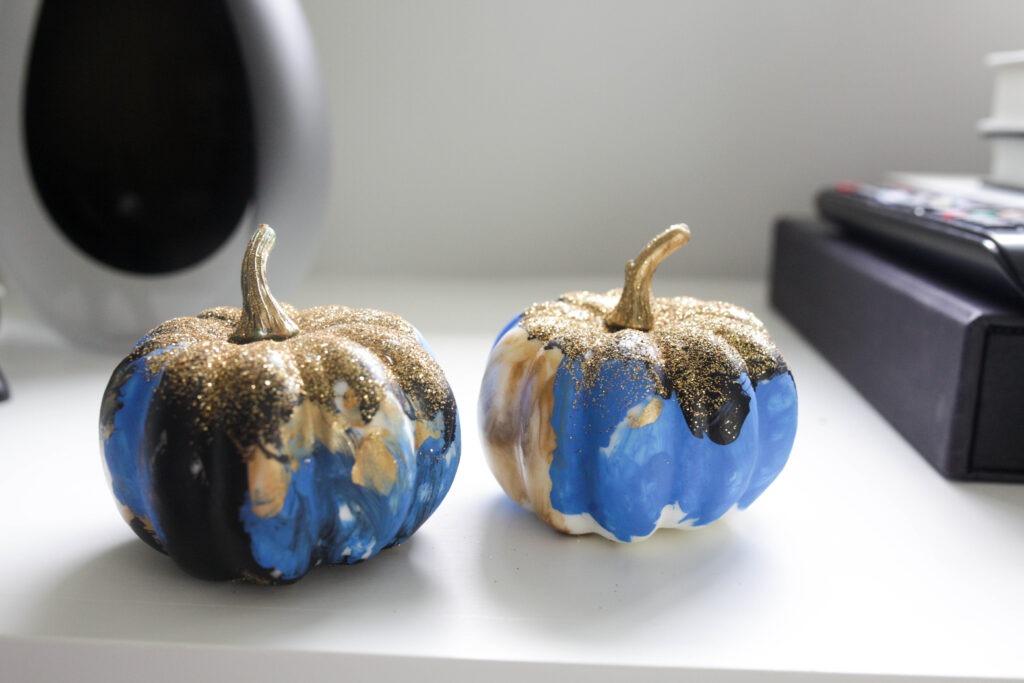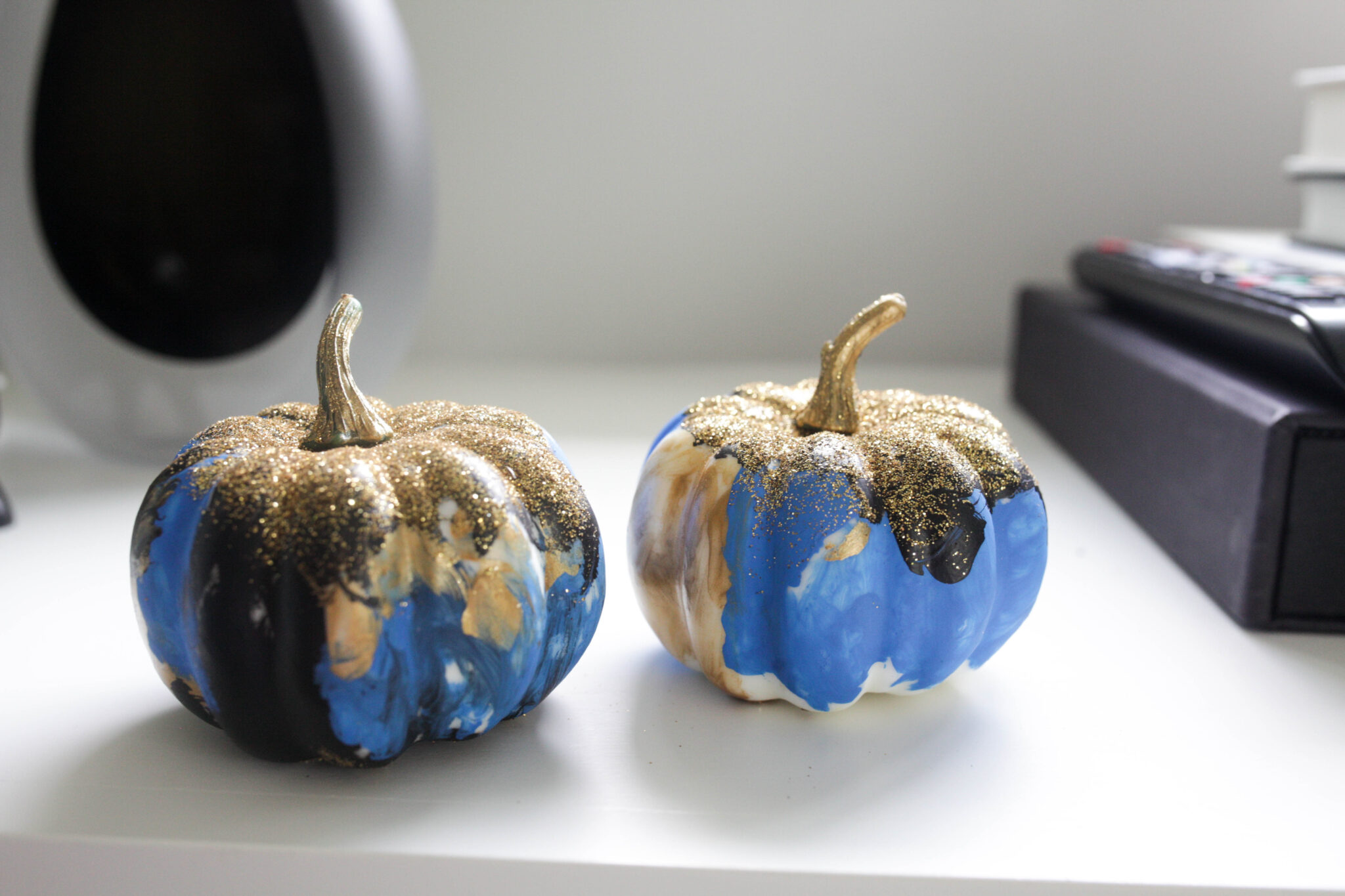 This craft is also really inexpensive. I had all of the paint and glitter and picked up the 10 pack of pumpkins from Amazon which ended up costing me just over a dollar per pumpkin.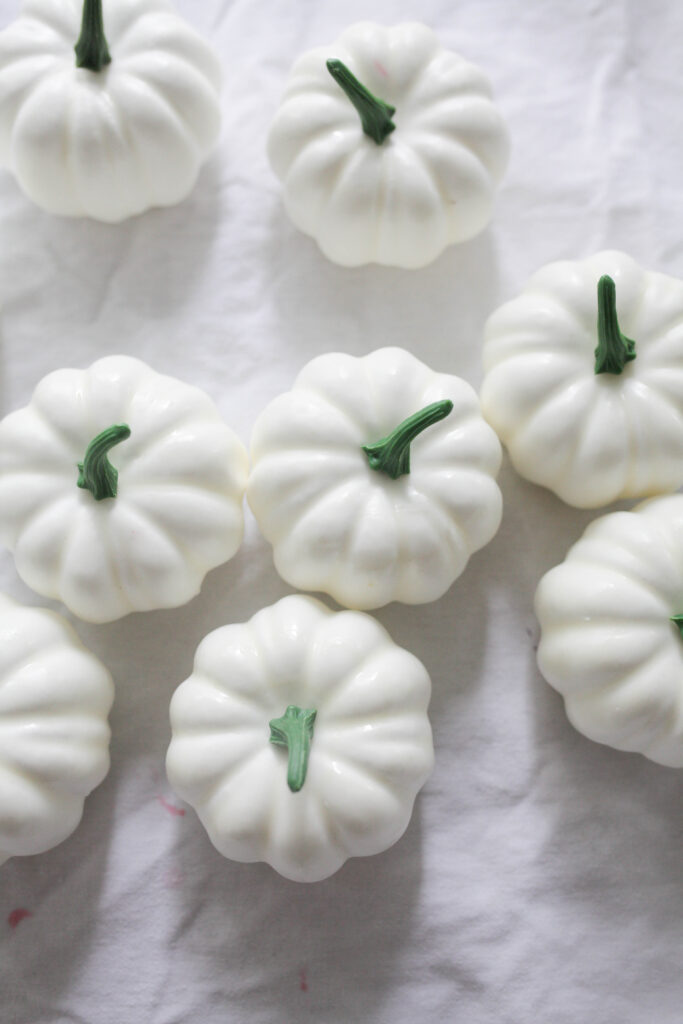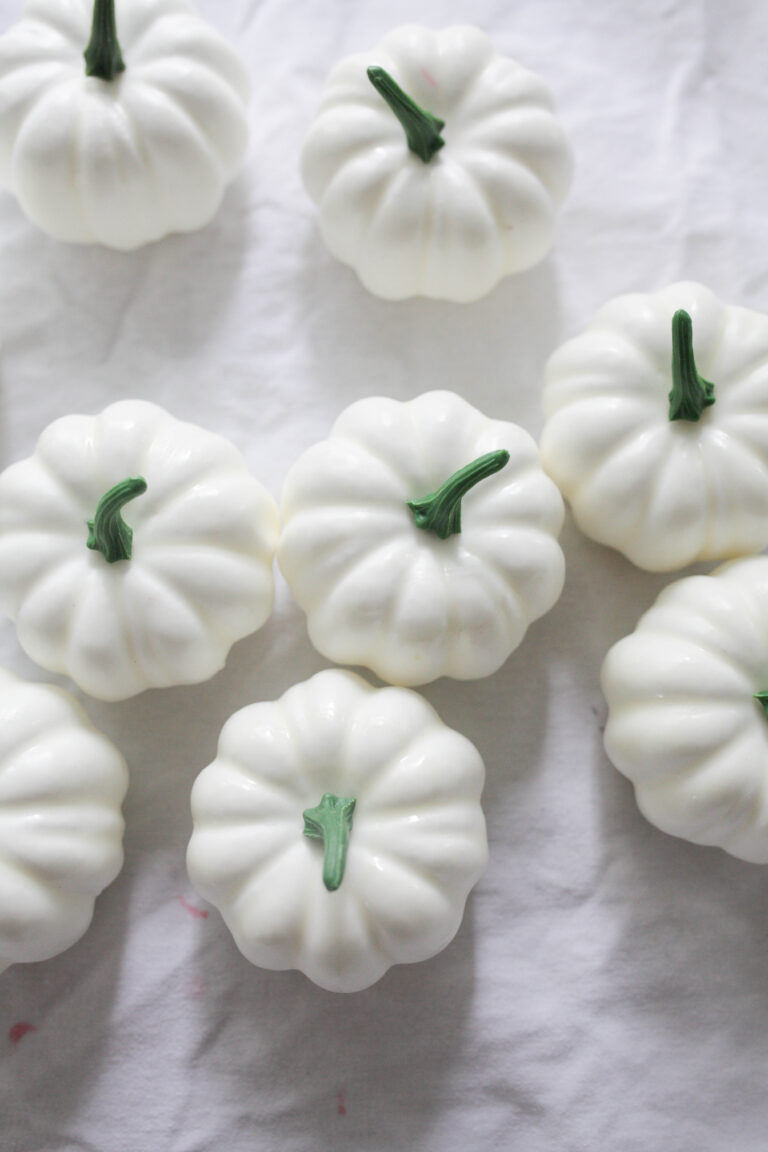 This fun little project ended up bringing well over an hour of fun to my kids with all of the painting and glittering and now they each have a couple pumpkins to have in their own rooms and I have quite a few cute pumpkins to decorate with. I would say that is totally worth the price of the pumpkins!
You can do just about anything with these pumpkins. Put them on a shelf, create a tablescape with them or simply put them on a tray on your coffee table.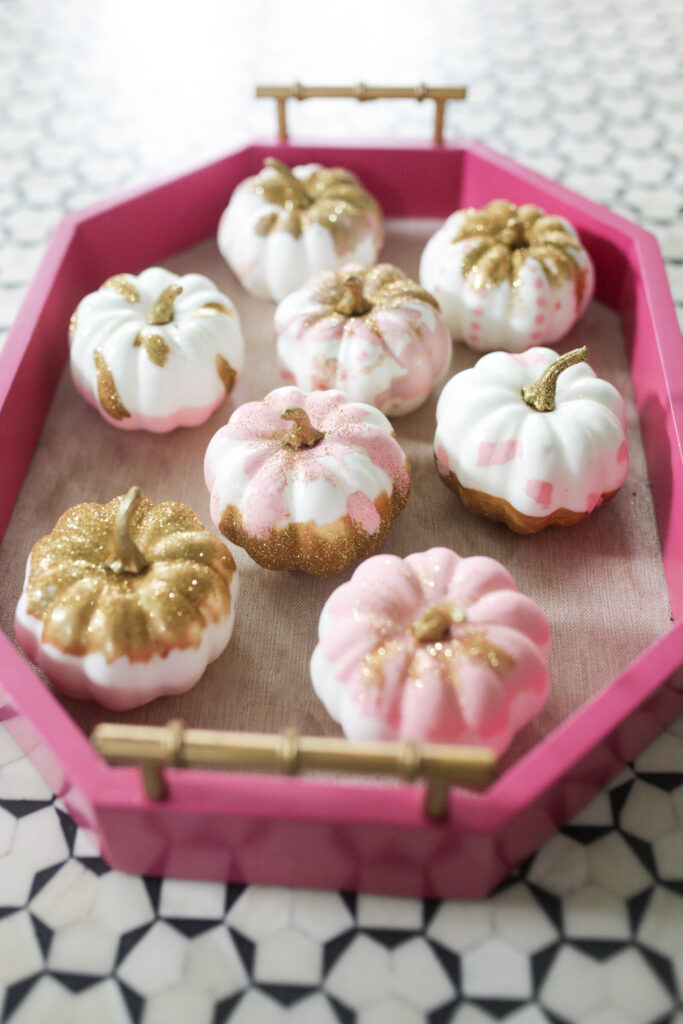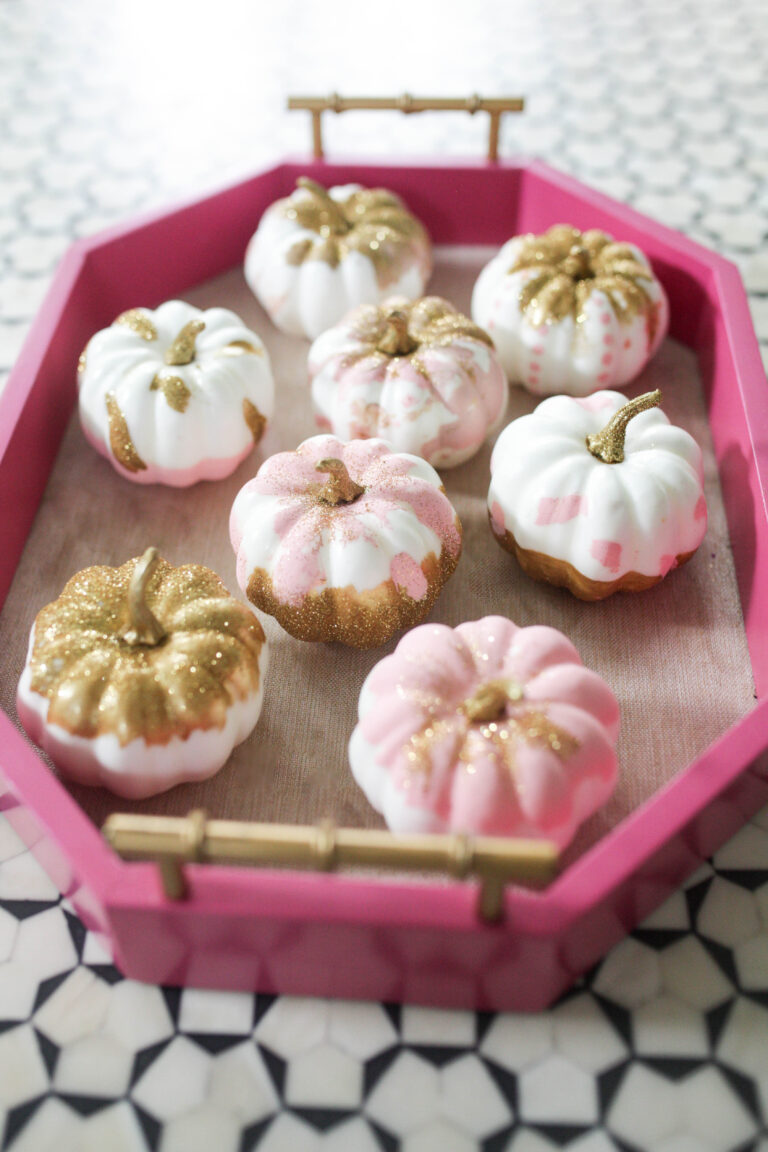 Get ready for all the compliments on your cute pumpkins and friends asking where got them because they're so fun!
DIY Painted Glitter Pumpkin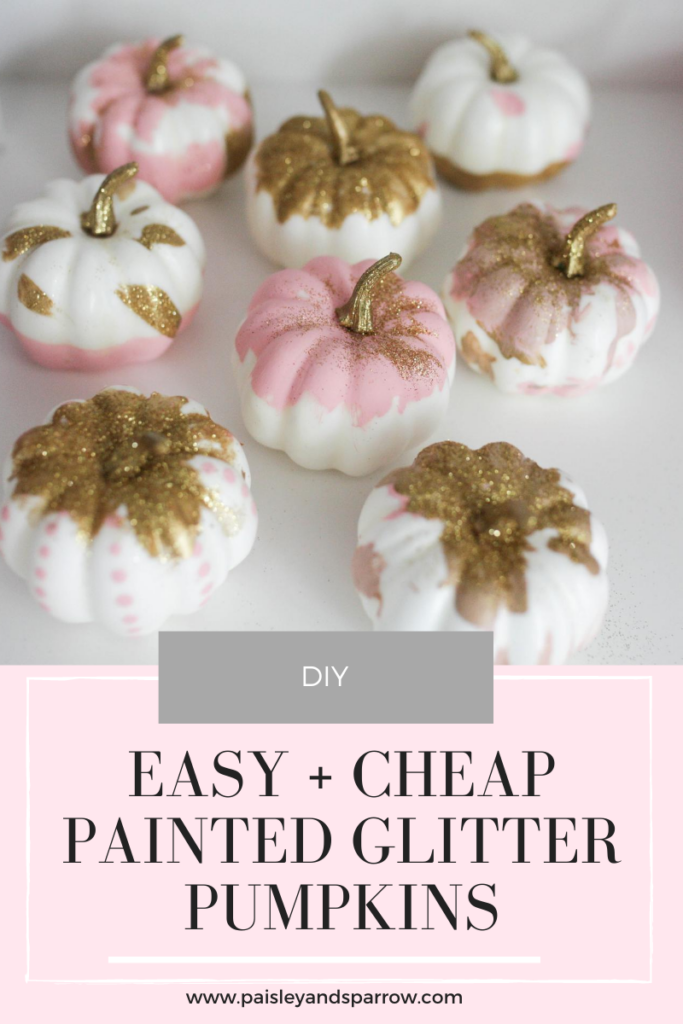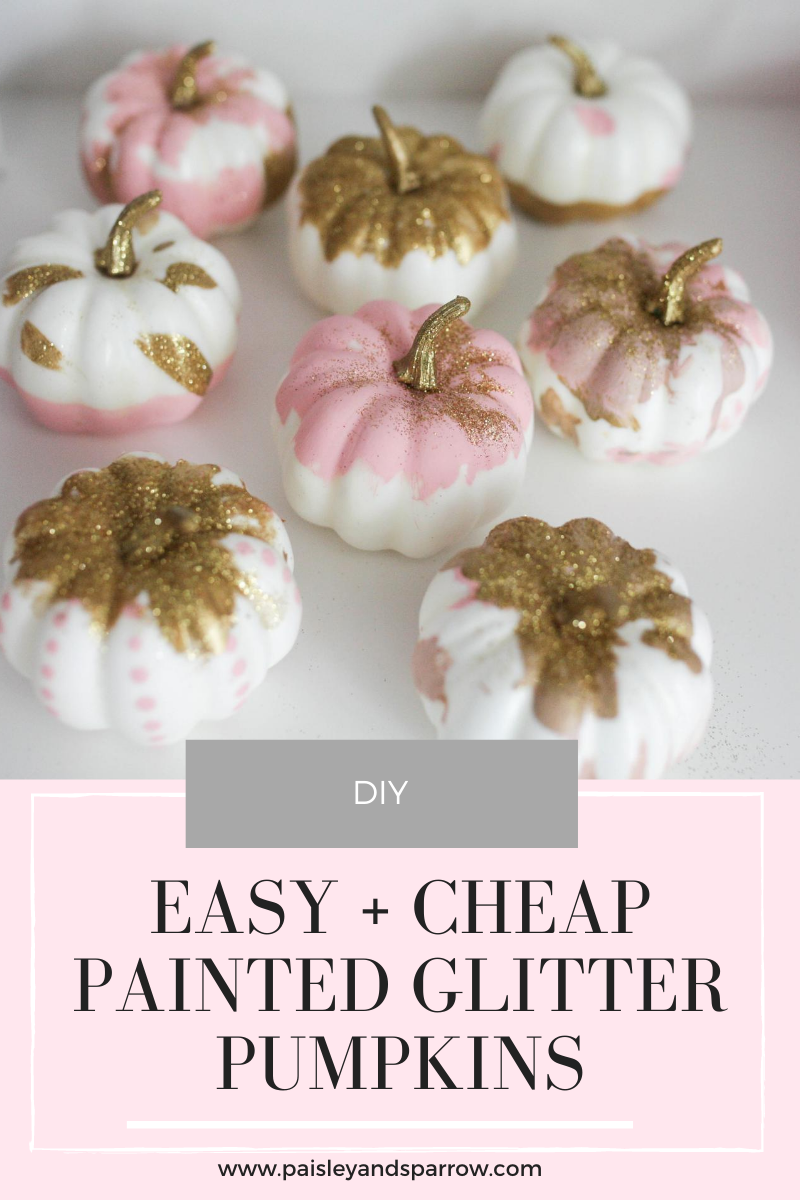 Making these glitter pumpkins are super easy! Here is what you need.
Materials
Faux Pumpkins
Paint (I chose pink paint and gold paint for my main ones and let my son use a blue, black and gold for his)
Gold Glitter
Paint brushes
Tablecloth/drop cloth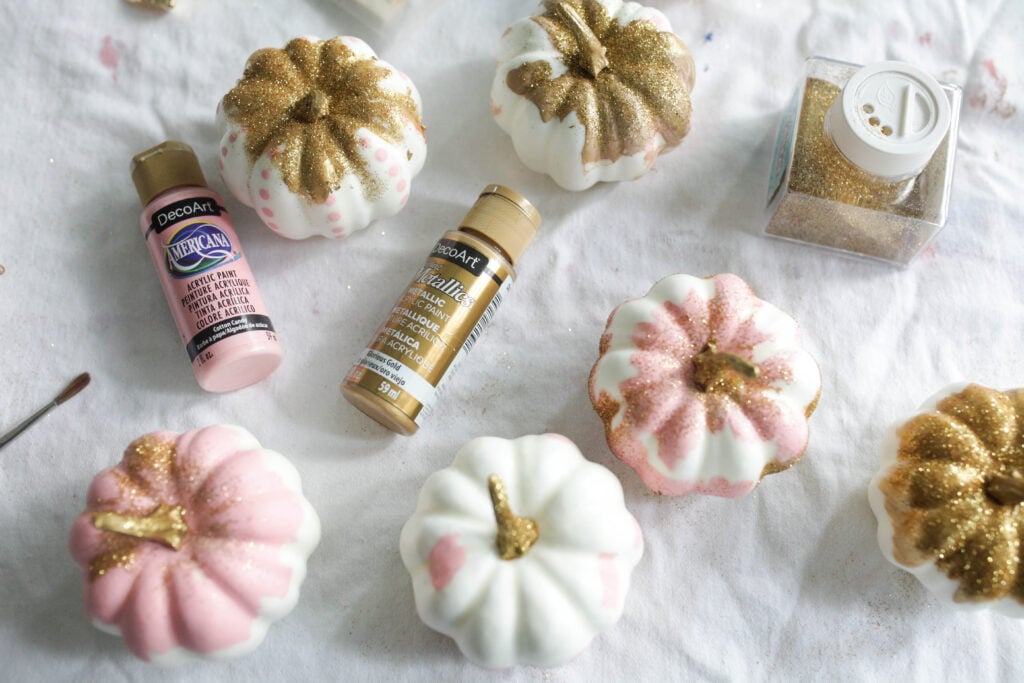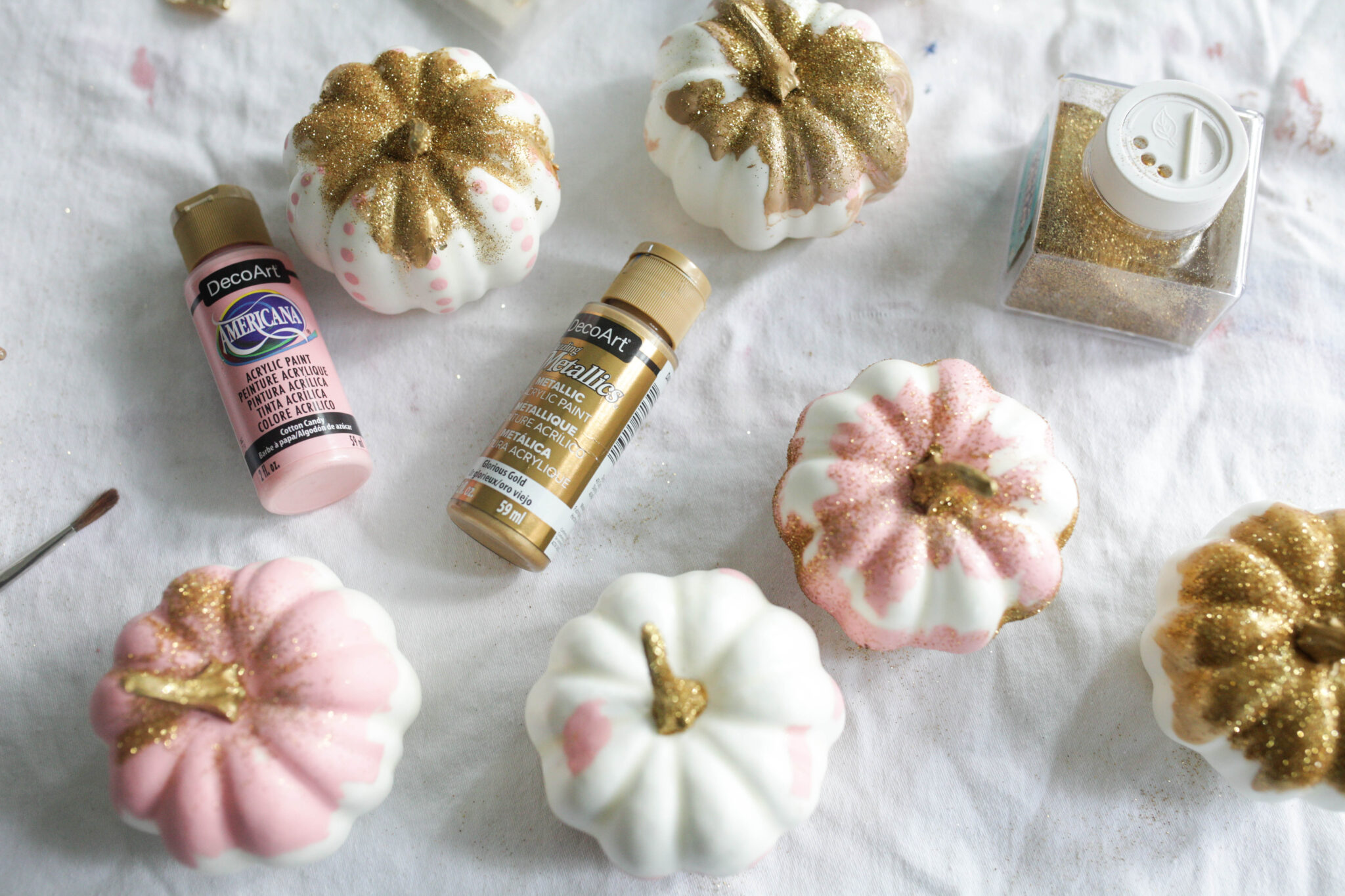 Instructions
Remove tops from the pumpkins. The Amazon pumpkins we used had tops that easily came off from the pumpkin.
Paint your pumpkin. Use your imagination! We use q tips for polka dots on one, simple paint brush strokes and "dipped" paint look on others. I let my kids have free rein and I love how theirs turned out! (Pro tip: give your kids limited amount of paint to ensure it doesn't end up being a crazy brown mess from 10 colors being mixed.)
Add glitter. Add a little or a lot, the options are endless. We put it directly on the wet paint to make sure it stuck well.
Paint the tops. We loved the glitter look for the tops so I added glitter to that as well! It also helped cover up any imperfections from painting.
Let dry and enjoy!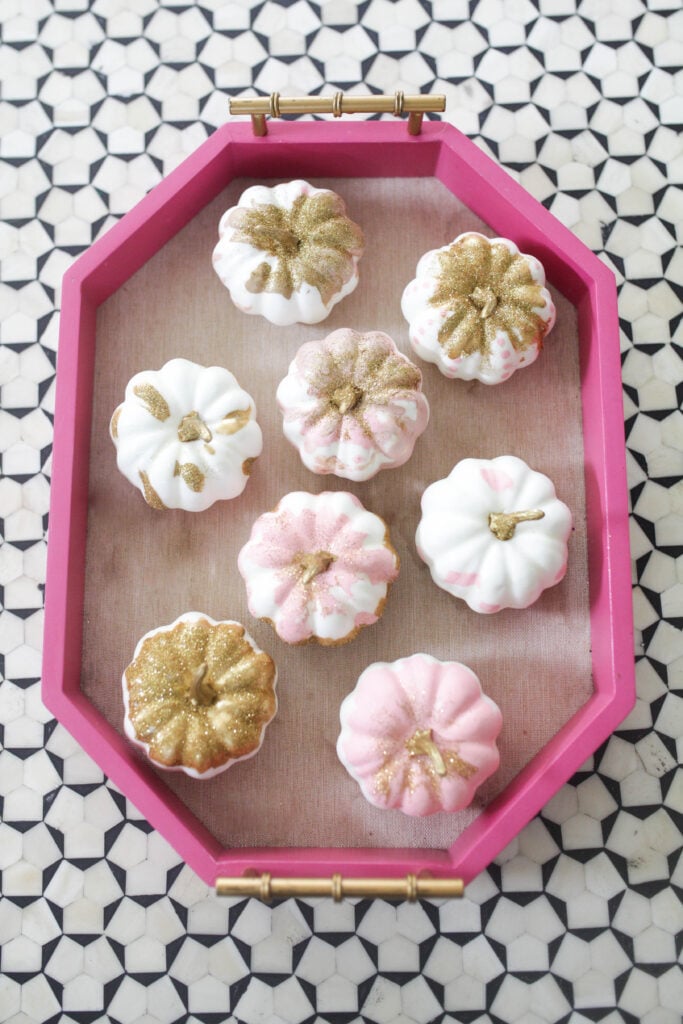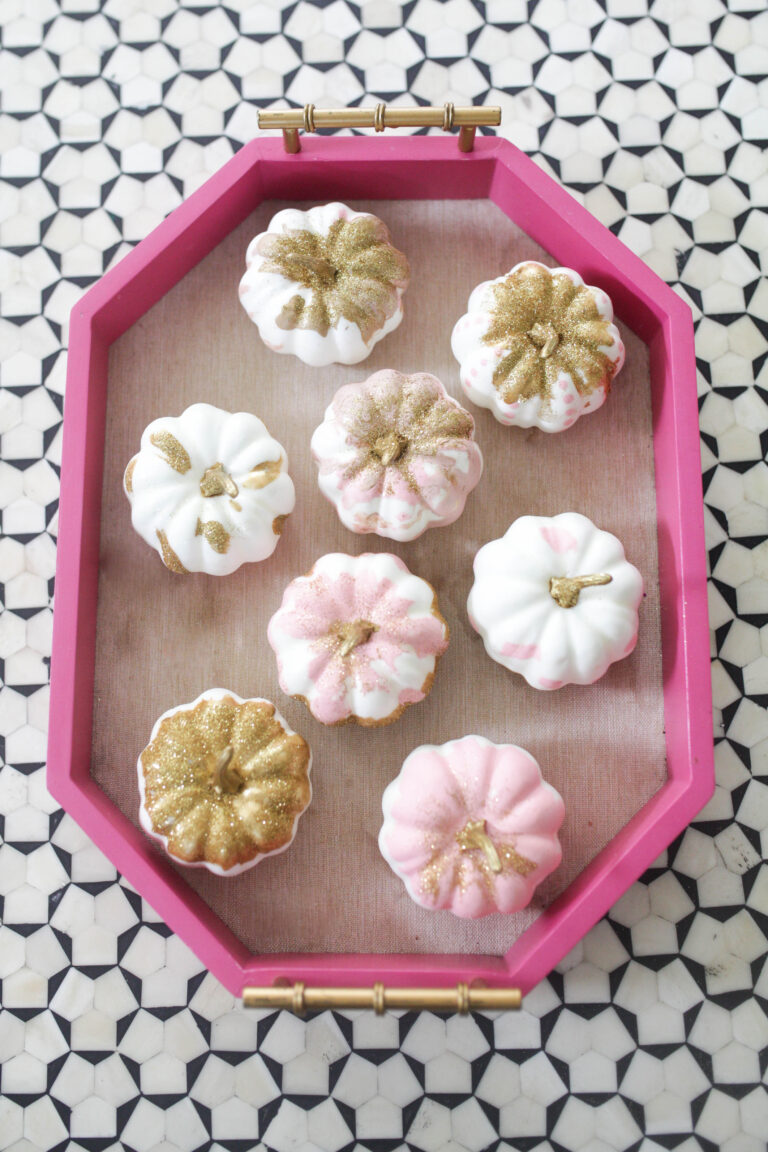 Painted glitter pumpkins are a fun way to decorate year after year – and an easy way to add some fun color (other than your traditional orange pumpkins) and be able to use them for both Halloween and Thanksgiving!
Want another way to decorate these pumpkins? My friend Arin from Ain Solange at Home is showing how to make pink colorblock pumpkins here!
If you're looking for more pumpkin crafts using real pumpkins, check out this easy painted no-carve Jack-o-lantern!
For more DIY fun be sure to check out how to make a balloon garland!