UPDATED: 2020!
I am so excited to share today's post with you because it's something I've been working on for weeks and weeks. Last year I created a fall outfit guide. I started it because we all get in style ruts, don't we? It's so easy to get bored with all of your clothes and feel like you have "nothing to wear", right?
Trust me, I get it! I struggle with the same thing with my body changing with pregnancy and now postpartum.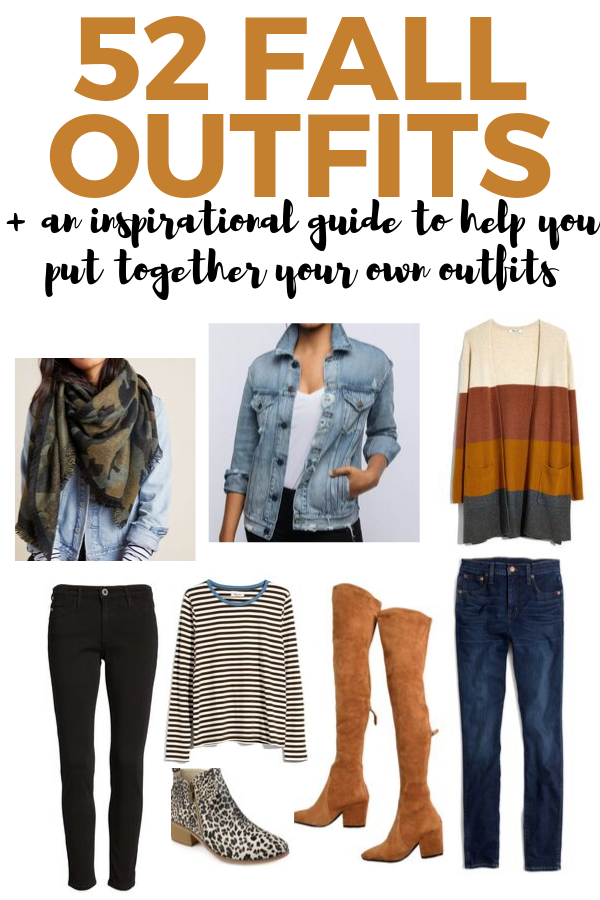 To help us all, I curated a group of some of my favorite fall fashion must haves. Things that will not only be in style this fall but ideally year after year (at least the bulk of them)!
In addition, I've created a style guide with 52 fall outfit ideas!
To start out, I created a list of the staples that I used for each outfit below. This will help when it comes to actually creating the outfits. 😉
Do I think you need to own every single thing in the list? Definitely no! If you absolutely hate vests, don't get one! If button down shirts make you cringe, by all means, take a pass on that.
I will say, however, that trying new things is good for everyone! I haven't worn a white button down shirt since college (you don't need to know how long ago that was) when I was a server at Red Lobster. But, I've been seeing them pop up recently and Gap was running a sale, so I snagged one. Turns out, I love it!!
If you're nervous to try something new, try borrowing one from a friend or picking up a very inexpensive one from a thrift store or on clearance at Target. If you love it, you can invest in a better quality one and if you hate it, you're not out too much!
How It Works
I broke everything up in 3 categories – the foundation, the layering piece and of course, the accessories! All of the outfits I created include a foundational piece + a layering piece + accessories.
The hope is that you can start looking in your closet and notice these pieces as they're intended. You could event take it so far to organize your closet into these categories (like I do!). That way you can pick out pieces from each category instead of shuffling through ALL of your clothes.
Also, all of the items I've listed below are suggestions. You by no means need to go and buy exactly the item I've shared. For each product I've shared what you want to look for.
For example, I have patterned pants listed below. Maybe you hate patterned pants. That's ok! You do not need to buy them! Switch these out with any sort of printed pant that you like!
Or maybe printed pants just freak you out in general and you don't even want to borrow a pair from a friend to wear around you house for an hour. That's ok! Just skip that one. Maybe a few months down the road you'll decide you want to try it and you can reference back to the outfit ideas and try out an outfit or two.
Product Links
I'm also sharing the link for the exact item in the picture as well as a lower price item that's similar and a higher price item that's similar (for most items…some only have one other option). (For the record, nothing is crazy expensive – often times the higher price item is like $10 more.) Sometimes I share 2 lower price options. There's a chance things will sell out so forgive me if that happens – there was a lot of products to source! 😉
I have notes by everything I own. I tend to buy less Target price items and do my best to shop places like Nordstrom or Anthropologie during sale times. Most of the items shown in the photo are average price items (aka not $10 t-shirts and not $100 t-shirts). I did my best to find you good options!
Please note – I do make a very small commission when you use the links below at no additional cost to you. This helps me pay my bills and create fun content like this for you, so thanks in advance for using them! 🙂
Lastly, this should NOT stress you out. This should be fun!! 🙂 If you feel overwhelmed take a step back and come back to it later.
The Foundation – Fall Fashion Must Haves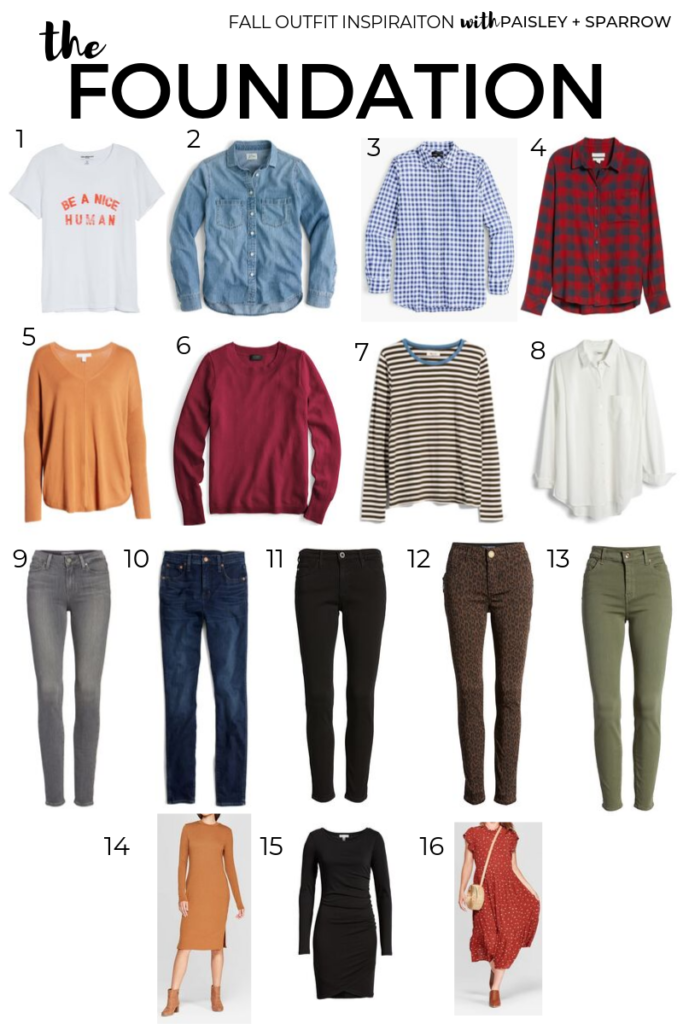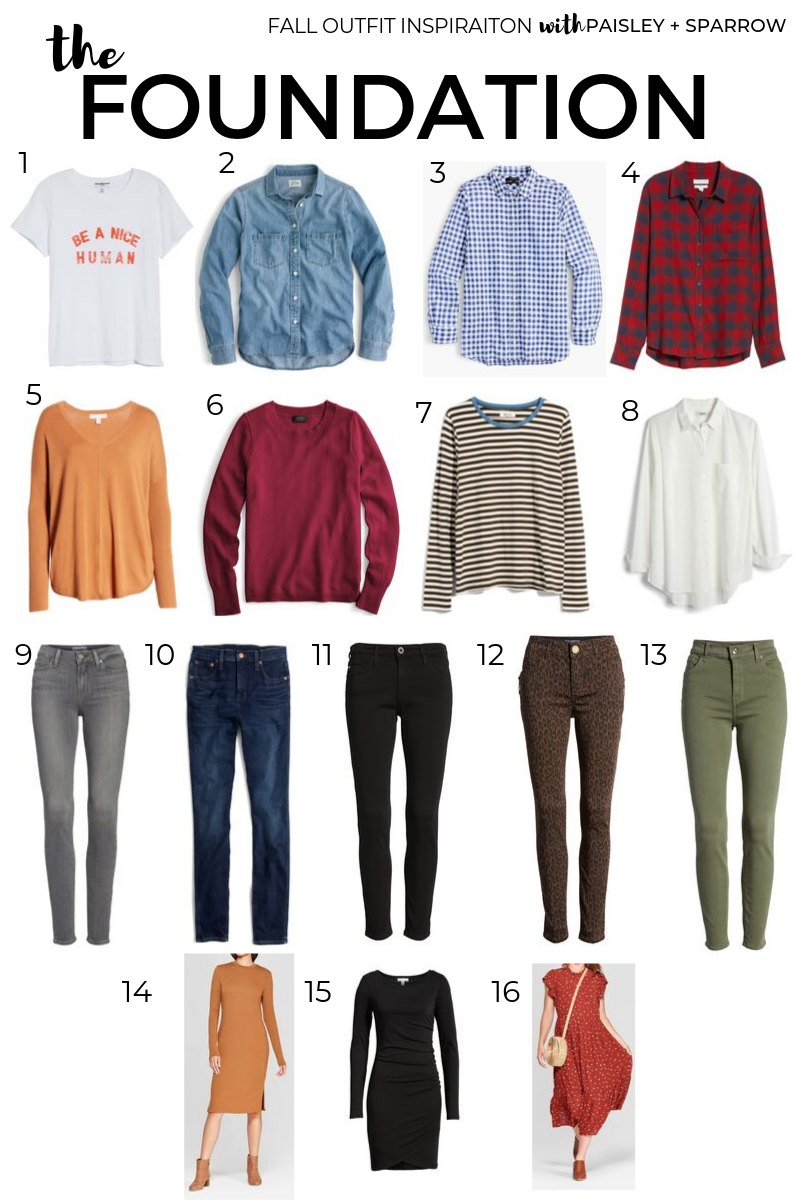 The Foundation pieces are your staples. Your first layer of clothes. You likely have the majority of these in your closet already.
Just a note: some of the foundational pieces could also be used as layering pieces so you may see those doubled up in outfits. (For example, a sweater can be layered over a plaid shirt OR it can be worn under a vest).
1. Graphic Tee
Anything goes! It can be a saying, a picture or a design. Get what fits your style.
Listed item(I own and LOVE this one.) | Higher price
2. Chambray Shirt
Don't substitute this one for anything. You NEED a chambray shirt in your closet. 😉
3. Gingham Shirt
Or any patterned button down shirt.
4. Colored Plaid or Patterned Shirt
This doesn't necessarily need to be plaid but some sort of colored, patterned shirt.
5. Light Neutral Color Sweater
Grey, white, tan, etc…any sort of neutral colored sweater works!
6. Colored Sweater
Blue, green, maroon, etc…whatever color you're most drawn to, get that!
Listed item | Lower price (tons of color options) | Higher price
7. Striped Long Sleeve Tee
Ideally I would go for black and white or navy and white if you're only going to get one. I have both in my closet and wear them ALL the time. You could also choose a color you wear all the time.
8. White Button Down
Just get it. I promise you'll wear it. 😉
9. Grey Denim
Grey denim has become my absolute favorite. They don't fade like black often time do and are super chic.
Listed item(I own a similar pair and love them.) | Lower price
10. Dark Blue Denim
These don't need an explanation. 😉 Feel free to get distressed if that works with your lifestyle and you like those better!
Listed item | Lower price | Higher price (My favorite brand – a splurge but worth it! Also great to buy second hand because they last forever.)
11. Black Pants
Again, no explanation need. 😉
12. Patterned Pants
Get any kind of pattern that you love.
Listed item (These come in a variety of prints.) | Lower price
13. Colored Pants
Colored pants are an easy way to switch up an outfit. Go for a color you wear a lot that goes with other things in your wardrobe (like dark green, maroon, etc.).
14. Light, Neutral Color Dress
A light color dress is ideal for any situation (work/casual/date night) depending on how you pair it.
Listed item | Higher price | Lower price
15. Dark, Neutral Color Dress
Same as above. 🙂
Listed item (the most flattering dress out there!)| Lower price
16. Stripe/Patterned Dress
A good quality patterned dress is a must for fall! Even if you're afraid of patterned dress, you'll find it easy to wear when you pair it with long cardigans to tone down the pattern a bit.
Listed item | Lower price (lots of pattern options)

The Layering Piece
These are the pieces that will elevate your outfit. Put on a pair of dark denim and a white button up shirt.
It's cute, right?
Well, add a cardigan and pull the sleeves of the cardigan back just a bit so you can see a little bit of the white of your button down.
Boom. Elevated. You look like you know what you're doing because you not only but on pants and a top but you figured out how to layer another item with it!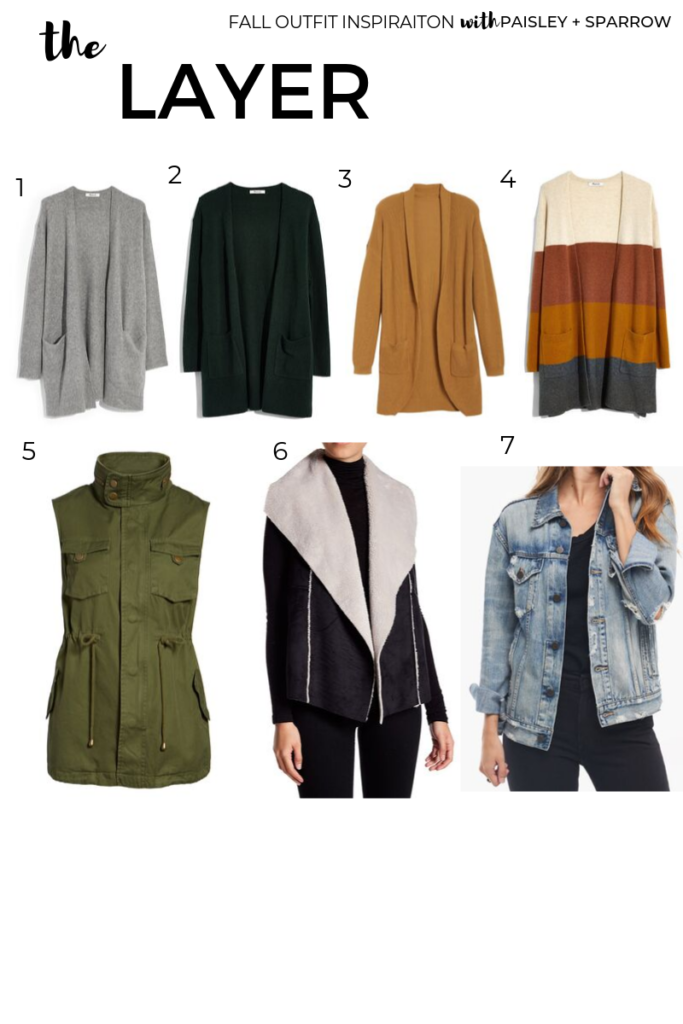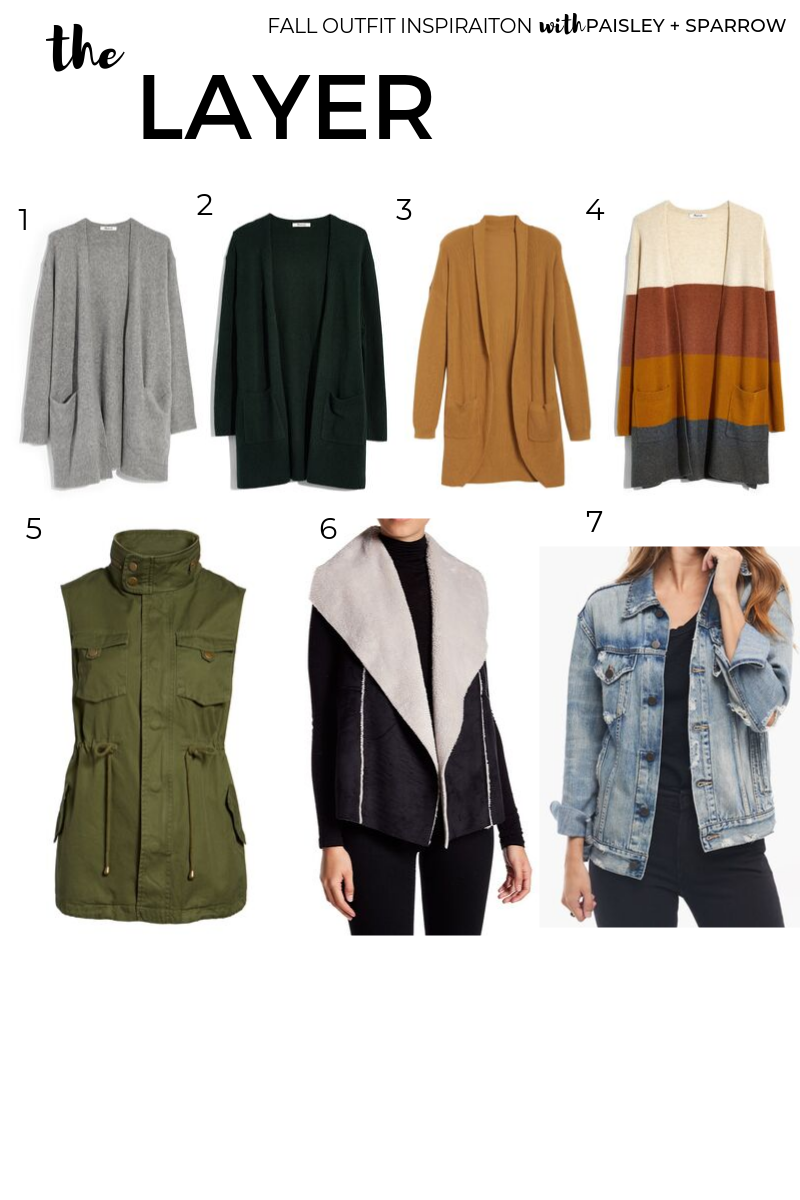 Here are some key tips when it comes to layering:
Don't layer chunky over chunky.
Do you have an amazing chunky cardigan? Pair it with a slimming top underneath or tuck in a loose top into your jeans. You don't want to make yourself look heavier simply because you just have too many layers.
Pair a cotton tee with a denim jacket. Mix a plaid shirt with a quilted vest. Same rule applies to your home! Outfits (and rooms) are more interesting when it's not the same fabric from top to bottom.
Don't wear a polka dot shirt with the same polka dot pattern cardigan. Instead, pair that polka dot top with a striped cardigan. Ideally have one item have a small pattern and the other have a large one.
Does this all make you nervous? Start with just one patterned item. 🙂 Pair a stripe shirt with a solid cardigan. Work your way up to mixing two different patterns!

1. Light Neutral Color Cardigan or Blazer
White, grey, off white, etc – any light color that you like. I have blazer or cardigan listed for the next 3 items. Some people prefer cardigans, some prefer blazer and some do both! I have a few blazers that I love wearing but I wear cardigans most often.
Listed item (I got this at the NSale this year and LOVE it)| Higher price|Lower price
2. Dark Neutral Color Cardigan or Blazer
Black is ideal since it goes with everything but you could also do dark grey or something else dark depending on what you like!
Listed item | Lower price | Higher price
3. Tan Cardigan or Blazer
Tan, brown, cognac – any brown that works with your wardrobe.
Listed item (I own and LOVE – comes in multiple colors)| Lower price | Higher price
4. Colored or Printed Cardigan or Blazer
Whatever color you love! Red, purple, green, etc. the sky is the limit.
Listed item | Lower price | Another lower price (I own this!)
5. Utility Vest
I have an army vest that I wear a ton. I'm a fan of the green but feel free to branch out to another color if you don't like green.
Listed Item | Lower price| Another Lower price
6. Neutral Color Vest
Black, tan, grey, etc. Choose a neutral color that you can add with most everything. I have a tan one similar to the one in the photo that I wear all.the.time. You can get
Listed item (I own this one!)| Higher price
7. Denim Jacket
You can choose distressed, black denim, white denim, etc. Anything goes, just get one! 🙂
Listed item(My FAVORITE jacket EVER) | Lower price| Higher price
The Accessories
Last, but certainly not least, is your accessories.
I should make note that I didn't include any jewelry. I figured you could do whatever you're most comfortable with when it comes to necklaces, earrings, bracelets, etc.. Shoes and scarves can be a bit more tricky so I wanted to highlight those.
(Leave a comment or send me an email if you want jewelry included in the next one!!)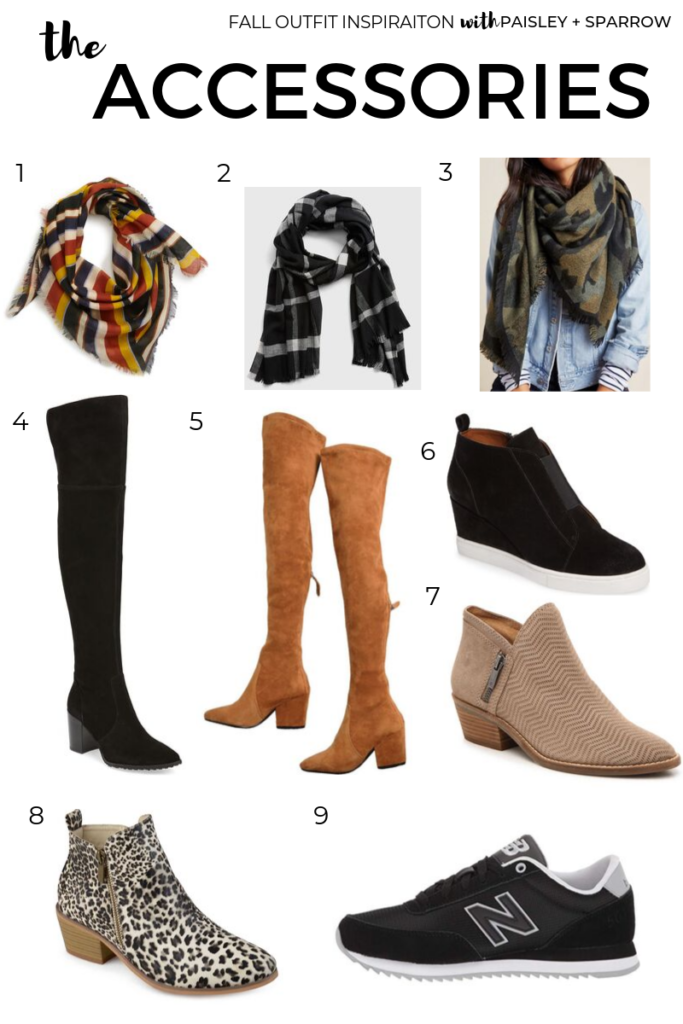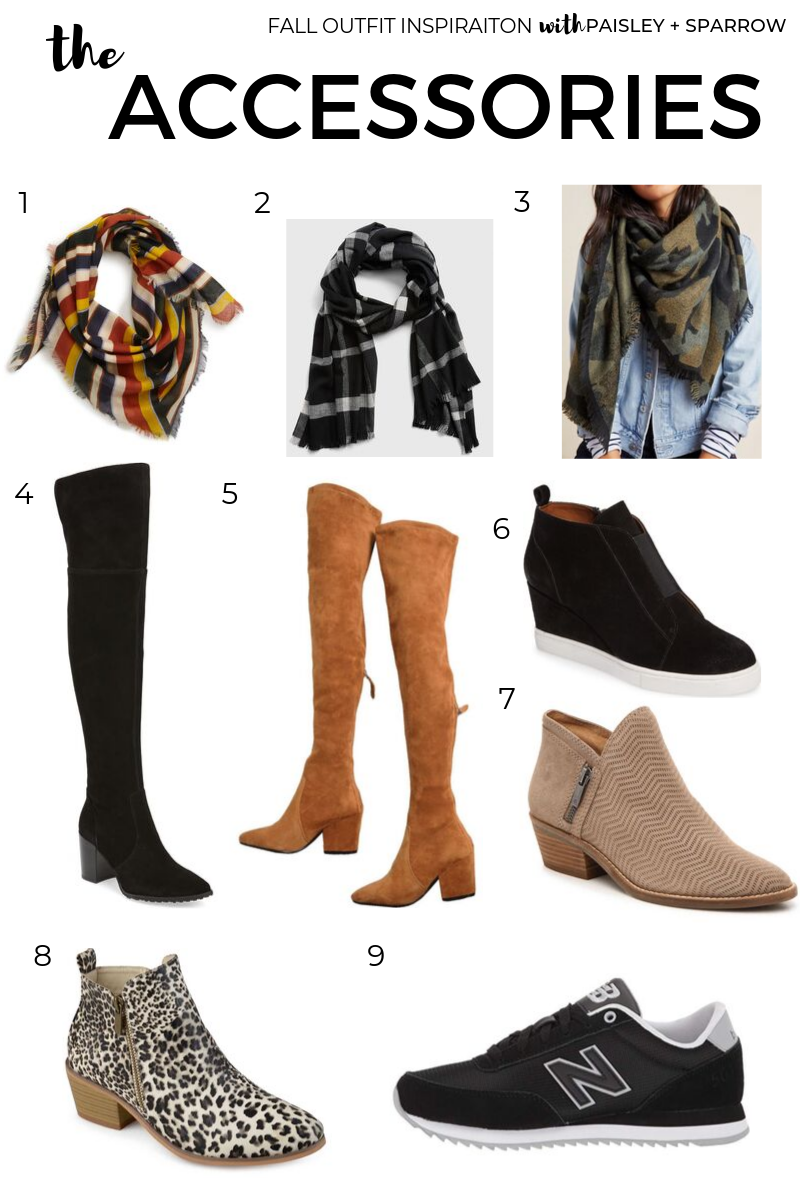 1. Handkerchief Scarf
Or literally just a handkerchief! There are so many ways to wear these (watch for a post coming soon) – bandit style, rolled up and knotted, shawl style. A quick google search will give you some ideas.
2. Neutral Scarf
Find one that coordinates with your favorite color schemes! Watch for weight of your scarf too – if it's too heavy you're neck and shoulders will be sore by the end of the day!
Listed item (Lots of prints) | Lower Price | Higher Price
3. Blanket Scarf
Same as above. Be sure to check out this post for multiple ways to wear blanket scarves!
Listed item | Lower Price (also lots of options!)
4. Tall Black Boots
Totally your preference on this one whether you want shin, knee or over the knee height. I'm a big fan of the OTK style currently so I typically do those!
Listed item (I own these – waterproof + super comfy! Size up half a size.)| Lower price
5. Tall Brown Boots
Tan, Cognac, etc. – whatever you think goes with your wardrobe the best!
Listed item (My all time favorite boots! Size up half a size.)| Lower price
6. Black Booties
Flats, wedges, heeled – get whatever fits your lifestyle.
Listed item (Linea Paolo shoes are so comfy! Highly recommend)| Lower price
7. Brown Booties
Same as above!
8. Leopard/Printed Boots/Shoes
I bought a pair of leopard boots last year and wore them ALL the time. These are a must!
Listed item | Lower price | Higher price (these are perfect if you're nervous about wearing leopard!)
9. Sneakers (that you don't wear for working out)
A cute comfy sneaker for running errands, going to the park, etc. These can be in any color!
Listed item | Lower price | Higher price
Ok, friends, that's all the basic info! Are you exhausted? 🙂
Like I mentioned, don't feel like you need to run out and buy everything on this list. Start by shopping your closet!
Maybe you don't have a printed dress but you have a cute stripe grey dress – use that for the patterned dress! Or maybe you have a brown blazer but not a brown cardigan. That works too! My best advice is to start with what you have and supplement with things you think you'll get a ton of use out.
Ok, and if you want the full list of 52 different outfit options, click here!!! You'll just need to sign up for my weekly happy mail and you'll be able to download it immediately!
This is truly meant to help you learn to shop your closet and put outfits together that you'll love and feel confident it.
I hope this helps! Be sure to tag me in any outfits you recreate from this – I'd love to see!