Just because you like to be more covered up when swimming, you shouldn't have to sacrifice style! But finding cute modest swimwear that is both functional and trendy can prove to be a bit of a challenge.
That's why I've rounded up some of the best swimsuits with a modest look to help make your search a little easier!
No matter what your personal fashion preferences are, I promise that there's a swimsuit out there that's perfect for you. You can swim, run after kids, play on the beach, all while looking great. Let's dive into some of my favorites.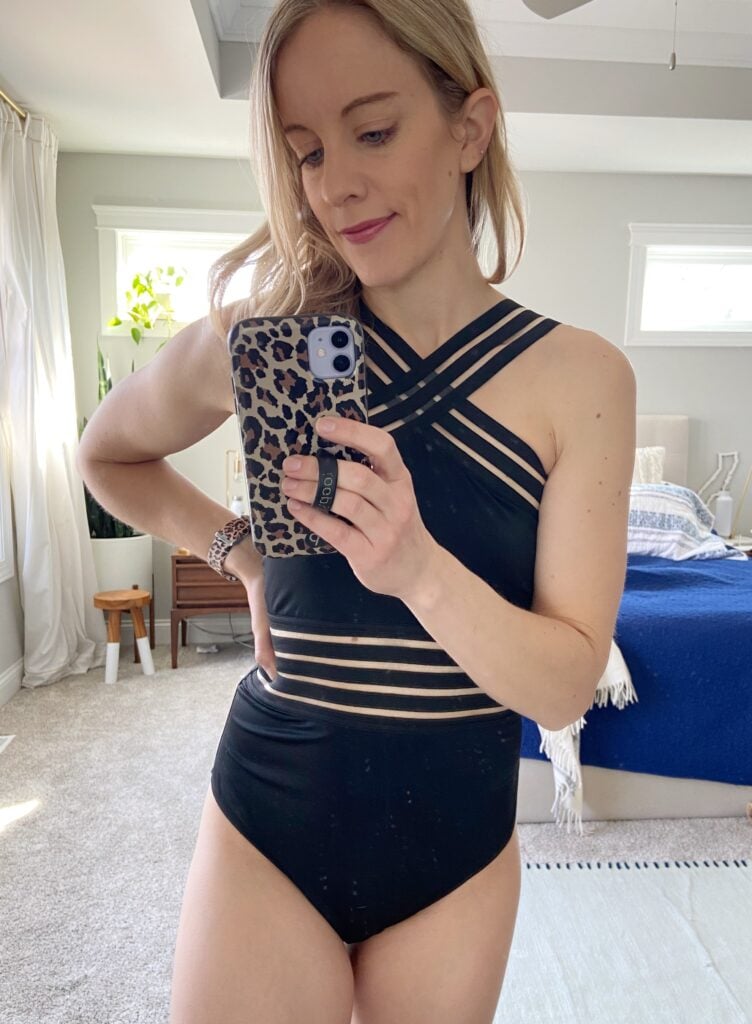 This post contains affiliate links.
Best Swimsuits for Your Body Type
Let's be honest: you don't have to have a certain body type to rock a certain type of swimsuit. That being said, there may be a style of swimsuit that flatters your body more than others.
Long and Lean
If you are tall and thin, you may want to opt for a two-piece tankini style swimsuit. Not only will this be more comfortable than a one piece if you have a long torso, but it can also be extremely flattering.
Curvy Girl
For the beautiful curvy girlies out there, a one-piece may be your new favorite swim attire. While you should feel free and confident to wear any swimsuit you'd like, there are one-pieces out there with different levels of shapewear control that will hug your body in all the right places.
Petite Lady
If you're under 5'3", you might benefit from wearing a two-piece swimsuit, like a bikini with a bralette top. Finding one pieces and tankinis that won't be too long for your torso can be a challenge, plus the bralette style is extremely in-fashion right now!
If you're someone with a short torso I have a whole blog post on swimsuits for ladies with short torsos!
There are also so many different styles and rises of bikini bottoms and lengths of tops, you can find the perfect one for your preferred level of modesty.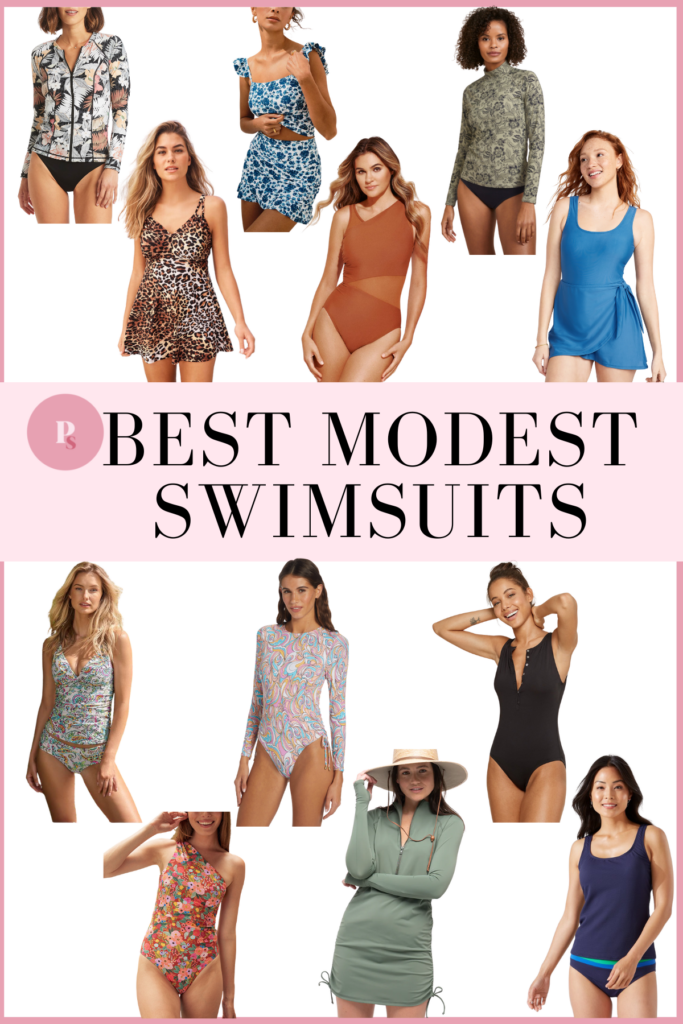 The Best Modest One Piece Swimsuits
This stunning modest one-piece swimsuit is ultra-flattering, and features a fun criss cross design. With a snug, shape-defining fit, the company suggests that this swimsuit will make you "look 10 pounds lighter in 10 seconds."
The material and bra area offer great support, and the cut of the top makes sure your cleavage is covered up.
There's a reason the Sidestroke is a best-selling suit, and this ruched version is a little twist on that classic cute modest swimsuit.
This adorable one-shoulder swimsuit is super flattering. Available in a wide variety of different colors, you're sure to get compliments on this unique one piece.
With a straight-across neckline and thin shoulder straps, this one piece is definitely on trend. The ruching helps you get your best fit and camouflage a mommy belly. The latte color is definitely my favorite!
The cool thing about this suit is that you can adjust the top to fit different tastes. This one piece suit features a unique button-up neckline, allowing you to make it low cut or a high neckline.
It also has removable cups and offers great coverage in the back.
The Best Modest Tankini Swimsuits
Available in three fun prints, this tankini top is fun and fashionable. Pair with Venus' variety of matching bottom styles to get the full coverage bottoms you like: the ruched side bottoms, the mid-rise skirt, or the retro twist bottom.
This fun one shoulder tankini bathing suit is casual and modestly flirty. It has removable pads and is made of stretchy, durable fabric. This suit is one of the most popular tankini options on Amazon with over 14k reviews!
Featuring a sweet floral print and adorable ruffles, this feminine suit is to die for! Pair the tankini top with the matching skirt bottoms to complete the look. You'll get maximum coverage for a wide range of sizes.
If you love the idea of a tankini but still want a full coverage swimsuit, this is the option for you! Available in a ton of prints colors, this flattering tankini top has got you totally covered. It has high waisted bottoms for good tummy support and a long top to keep you fully covered.
The Best Modest Swim Dresses for Women
I'm predicting that we're going to see this lovely suit everywhere this summer!
This adorable swim dress is totally size-inclusive, with sizes available from XS-4X. It features a super flattering waist tie and is sure to be super comfortable.
Available in a variety of colors, this swim dress features a halter top and a wrap skirt. Perfect for anyone who wants a full-coverage swimsuit that still has feminine flair (and the halter offers great adjustable bust support).
This long-sleeved swim dress is perfect for those who are looking for the ultimate coverage while swimming, whether for personal preference, religious reasons or sun protection. For additional modesty, Line in the Sand also offers swim leggings, swim shorts, and swim skorts to wear underneath your swim tunic.
I love that this dress is quick-drying and the length is adjustable to be worn as a swimsuit, tunic or dress.
Any animal print fans in the building? This super feminine swim dress comes in a cute brown leopard print and features a power mesh lining for added tummy control.
The Best Modest Rash Guards
This full-coverage rashguard top is available in five colors/patterns. Pair with your favorite modest swim bottom for the ultimate modesty and sun protection.
With a neutral-toned floral print, this full-zip rashguard is perfect for wearing over your favorite swim top, or all on its own. Sea Level offers a variety of full-coverage swim bottoms as well.
Marketed as a swim "onesie," this one-piece rashguard provides maximum UPF protection. This fun, full-coverage suit includes side drawstring details, as well as a quarter zip on the back to make it easy to put on.
This cute quarter-zip rashguard features adjustable ruching details on the side, and is available in seven great colorways. Wear with the matching swim bottoms from Carve Designs, or mix-and-match with your favorite modest bottoms.
What Is Considered a Modest Swimsuit?
What constitutes "modesty" is different for everyone. For some, a swimsuit isn't considered modest unless it covers as much skin as possible: meaning long sleeves, full pants, and a high neck. But for others, modesty might simply mean a suit that offers more coverage than the typical bikini.
Some people may feel comfortably covered enough simply by opting for a swim short rather than a bikini bottom, or by choosing a cap sleeve top over a bra-like top.
Modesty preference can be influenced by a lot of things. For some, it may be due to your religious background, or maybe it's just your personal preference.
No matter what reason you choose to dress modestly while swimming, there are plenty of great options for you to feel comfortable and covered while having fun in the sun!
What Is the Most Flattering Swimsuit Color?
There are modest swimsuits available in every color of the spectrum, so it can be difficult to decide which shade will be most flattering on you. Here are some tips to help you choose a swimsuit color that you'll love wearing.
When it comes to flattering your body type, it's a pretty universally known fact that black is becoming on almost anyone. Something about this basic, dark shade is ideal for creating a sleek, smooth look on any body type.
So if you're concerned about choosing a suit that flatters your physical features, going with an all-black suit is always a safe choice.
Otherwise, it's always good to take into consideration what colors best compliment your skin tone. While this can vary, there are some general rules that you can follow.
Usually, skin with cool undertones will look best in darker/cooler colors, like blues, purples, browns, greens, and greys.
Skin with warm undertones looks best in light and bright colors, like pastel pinks, yellows, and oranges.
And people with neutral-toned skin look best in bold colors, like bright reds, magentas, and oranges.
Choosing the Best Modest Swimsuit for You
At the end of the day, whatever swimsuit you choose should be one that you feel the best in! Although I've provided lots of tips to help you decide which type you may like the best, at the end of the day only you can decide which one will best suit your preferences.
That being said, I hope one of the great options I've listed above will work for you!
What style of swimsuit is your favorite? Or are there any other kinds of modest swimwear I should have included on this list? Be sure to let me know!
Want more swim options? Here are my favorite postpartum swimsuits and the best water shoes for women.