When it comes to finding the perfect swimsuit, one size does not fit all. Women have a wide variety of unique and beautiful body shapes, which calls for many different styles of swimsuits. Based on your body type, some styles may be more flattering on you than others.
If you have a big thigh area, rest assured that there are numerous swimsuit styles that can make you feel confident and look absolutely stunning.
As someone who was a sprinter through high school and college, I completely relate to larger thighs. I spent hours a day in the weight room getting super strong (and as a result…large) things. While I'm proud of my strong legs, I also like to wear suits that are flattering!
If you feel great in your body, wear whatever bathing suit you love. You know what feels like the right swimsuit for you.
But if you'd like some help finding the best bathing suits to get that elusive perfect fit, I've got you covered with a whole list of the best swimsuits for your body shape!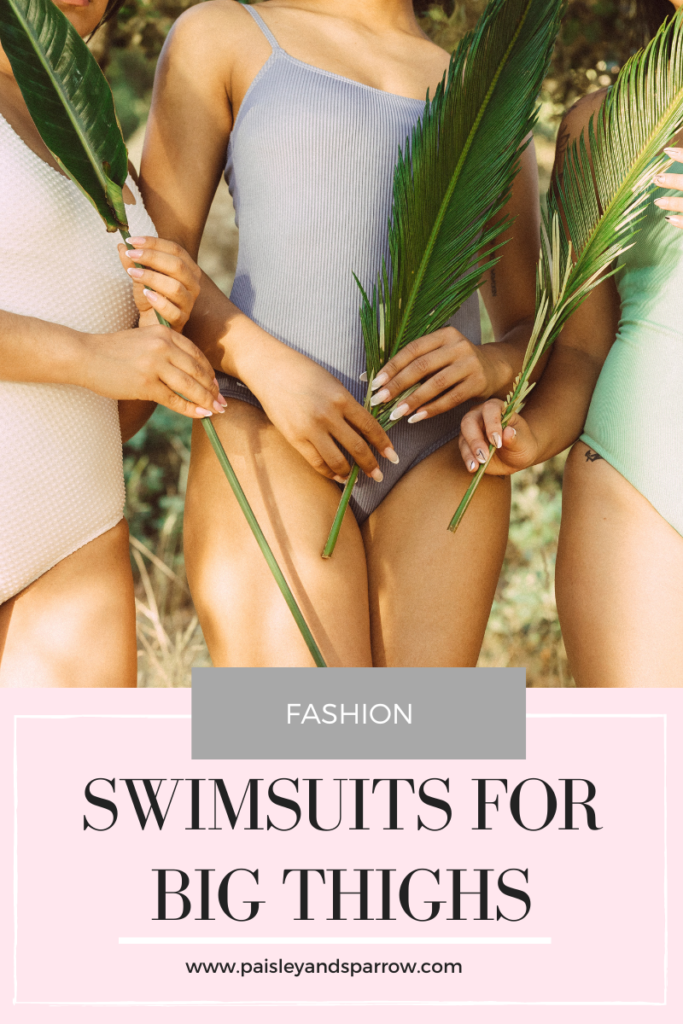 This post contains affiliate links.
Swimsuit Tips for Women With Big Thighs
Let's dive in to some tips and tricks that you may find useful when swimsuit shopping for your body type.
1. Draw attention away
By guiding the eye to a different part of the body, you can divert attention from your thighs to your best features. Choose a swimsuit that has a decorative top or a unique cut to move attention to areas that you find flattering on yourself.
2. Adjustable bottoms
Adjustable style swimsuit bottoms can make all of the difference if you have thick thighs. If you're someone who struggles with finding swimsuit bottoms that fit comfortably around your legs, opting for a swimsuit bottom that has adjustable side straps will truly be a game-changer.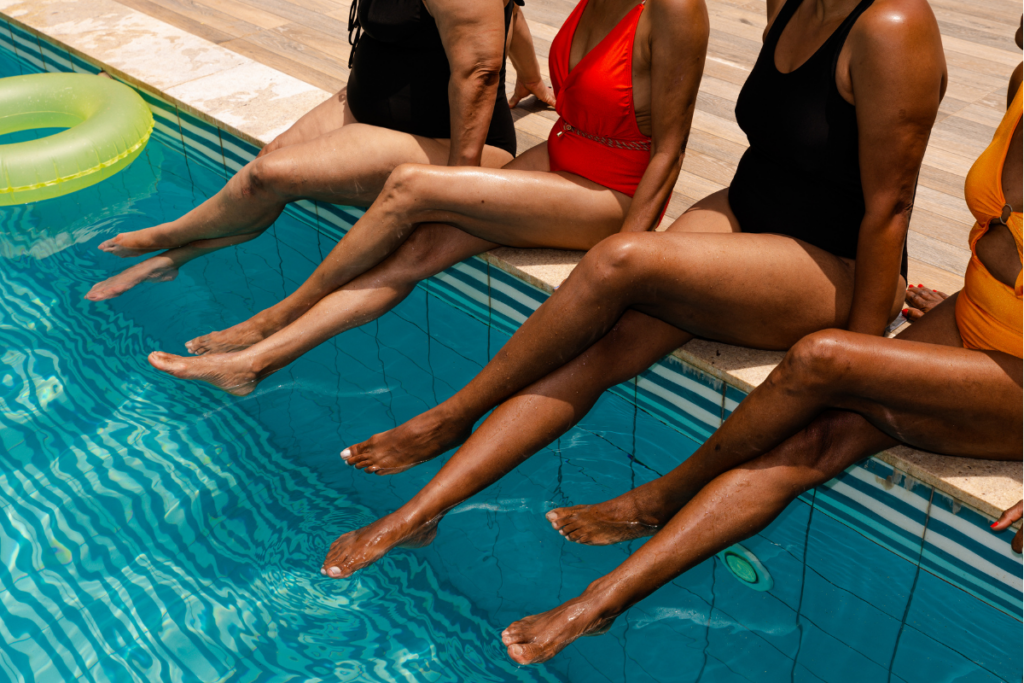 3. High-cut legs
After adjustable bottoms, your second best option may be a swimsuit with high-cut legs. The larger leg holes allow for a more comfortable fit if you have larger thighs.
4. Skirted swimsuits
Skirted swimsuits are another fabulous option for those with big thighs. These swimsuits feature a skirt-like layer that extends from the waist or hips (or a skirted bottom on a two-piece swimsuit), offering a bit of extra coverage and minimizing the focus on the thighs.
5. Dark colors and flattering patterns
When it comes to color choices, darker shades are generally more slimming and can help divert attention from specific areas. A solid color like black, navy, deep plum, or other dark hues can work wonders in minimizing the appearance of bigger thighs.
Additionally, patterns can play a vital role in creating a flattering look. Opt for vertical stripes, abstract designs, or strategically placed prints that draw the eyes upward and create an elongating effect. There are lots of trendy floral prints to choose from that will look great.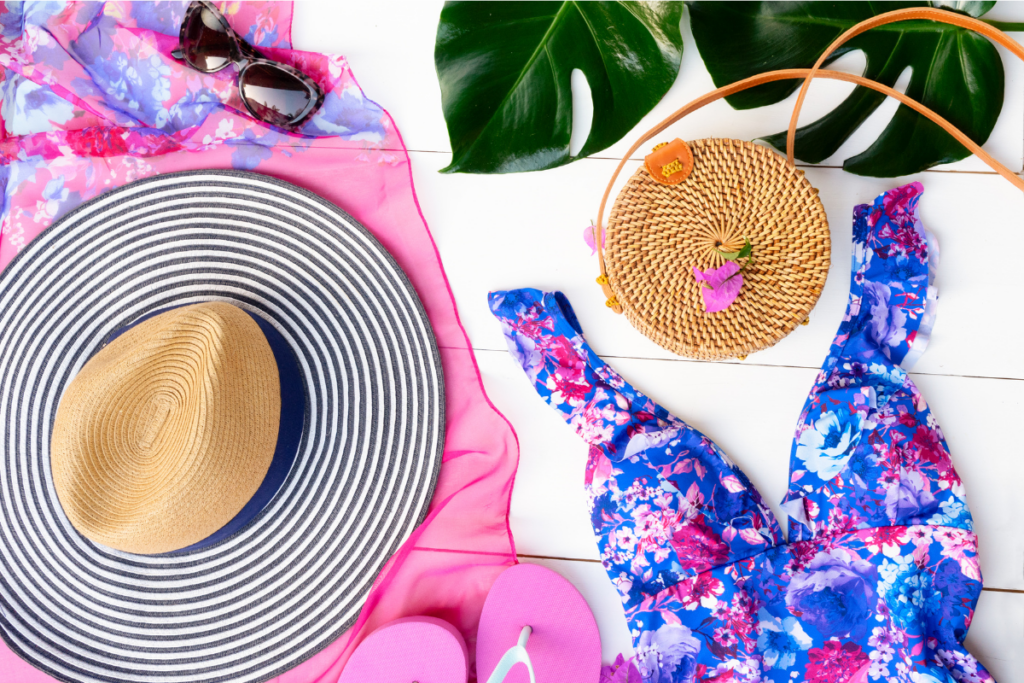 6. High waisted bikinis and tankinis
A high-waist bottom have made a glorious comeback in recent years, and they are perfect for big thighs. These swimsuit bottoms sit above the hips, accentuating the waistline and creating an elegant and flattering silhouette.
Look for styles with ruching or shirring along the waistband, as they help to camouflage any self-perceived flaws and draw attention to your waist and squeeze you in all the right places rather than your thighs. Paired with a trendy bikini or tankini top, high-waisted bottoms create a chic and retro-inspired look that exudes confidence.
Now that you know what to look for in a swimsuit, let's take a look at some of my favorite swim options for ladies with large thighs.
Best Swimwear for Big Thighs
Summersalt's The Perfect Wrap One-Piece is a stylish and versatile swimsuit that exudes sophistication and elegance. This one-piece features a wrap design that creates a flattering and adjustable fit, allowing you to customize the level of coverage and support.
The deep V-neckline adds a touch of allure, while the soft and stretchy fabric ensures comfort and ease of movement. This swimsuit will last for years to come with the high-quality construction and attention to detail.
Whether you're lounging by the pool or enjoying a beach vacation, Summersalt's The Perfect Wrap One-Piece will make you feel effortlessly chic and confident.
Make a statement at the beach or poll with the Left on Friday Sunday Suit. It features a sleek and modern design with a high neckline and cutout details that add a touch of edginess.
The Sunday Suit's unique style and attention to detail make it a standout piece in any swimwear collection — it screams weekend vibes.
Curvy women can get a flattering and supportive swimwear option with the Torrid Slim Fix Wireless Lattice Front One Piece Swimsuit. This swimsuit combines fashion-forward design with innovative features that enhance your curves and provide comfort.
The lattice front detailing adds some visual interest, while the wireless construction ensures a comfortable fit without sacrificing support. The slimming properties of the Torrid Slim Fix technology help create a smooth and streamlined appearance. With its combination of style, functionality, and body-positive design, this swimsuit is a true gem for those looking to rock their curves with confidence.
If you want a classic bottom that's easy to mix and match (and will make your legs look great), Wild Fable Scoop Front High Waist High Leg Cheeky Bikini Bottom is a trendy and playful option for you. With its high waist and high leg cut, this bikini bottom accentuates your curves while providing a comfortable and supportive fit.
The scoop front detail adds a touch of femininity, while the cheeky coverage at the back adds a bit of allure. The versatile design of these high waist bikinis allows you to switch it up with various bikini tops, giving you endless possibilities to express your personal style. This bikini bottom from Wild Fable is sure to make you feel confident and ready for summer fun.
The Old Navy High-Waisted Bikini Swim Bottoms are a timeless and reliable choice for those seeking a classic and flattering swimwear option. These bikini bottoms feature a high-waisted design that sits comfortably on the hips, providing coverage and support while accentuating the waistline.
The smooth and stretchy fabric ensures a comfortable fit, allowing you to move freely and confidently. You can pair these bikini bottoms with a variety of bikini tops, giving you the flexibility to create your own unique poolside look (especially helpful if your top and bottom are different sizes).
Whether you're lounging under the sun or heading to a pool party, this is a dependable and stylish choice that will make you feel fabulous all summer long.
I love the pattern and visual interest of this La Blanca Floral Rhythm One-Shoulder Tankini Top. It has a beautiful floral print that adds a vibrant and feminine touch to your beach or pool ensemble.
The one-shoulder design has a unique cutout, making it the perfect swimsuit to draw attention away from big thighs. Get a customized and comfortable fit with the adjustable strap, ensuring that you feel supported. Nobody wants to feel like they're falling out while playing at the pool!
The ruching detail along the sides creates a slimming effect, accentuating your natural curves and showing off your best assets. Crafted with high-quality materials, this tankini top offers both style and durability.
How often do you find a flirty swim top with sleeves?! The Meet.Curve Floral Print V-neck Flutter Sleeve Bikini Top is a charming and feminine choice with the most adorable flutter sleeves and a V-neckline.
The high-quality materials and meticulous craftsmanship ensure durability and long-lasting wear. Feel chic this summer with this bikini top with full coverage.
Showcase your curves while enjoying the beach or pool with the Shapellx Smart Sculpt Plunge Cutout Swimsuit. This swimsuit features a plunging neckline and strategically placed cutouts that add a modern and daring touch.
Smart sculpt technology provides targeted shaping and support, helping to enhance your natural curves and create a flattering silhouette. The high-quality fabric is designed to smooth and sculpt your figure while ensuring maximum comfort.
This is a great choice for running around after your kids at the pool, splash pad or beach. High neck, tummy control, and adjustable legs!
It's a tankini set that features a halter neck design, providing excellent bust support and a flattering fit. The drawstring side detail allows for adjustable ruching, allowing you to customize the length and style of the tankini top. The tummy control feature helps to create a slimming effect, providing confidence and comfort.
The set also includes a matching bottom with full coverage for added convenience and modesty.
You will definitely get compliments on this fun and playful two-piece! These rainbow swim top and bottoms (sold separately so you can get the right fit for you) features a colorful rainbow pattern that exudes positivity and joy.
The comfortable and supportive design ensures a flattering fit for all body types. The adjustable straps and secure closure provide customizable support and coverage.
With its eye-catching design and comfortable fit, this swim top is perfect for those who want to add a touch of fun and flair to their swimwear collection.
The Rifle Paper Co. x Summersalt The Tie Backflip is a stunning collaboration that combines the whimsical and artistic designs of Rifle Paper Co. with the innovative swimwear expertise of Summersalt.
This one-piece swimsuit features a unique shoulder tie design that adds some interest and draws the eye up. The vibrant and intricate floral patterns from Rifle Paper Co.'s signature style adorn the swimsuit, creating a truly eye-catching and beautiful piece.
This one-piece swimsuit features a sleek and figure-flattering design that accentuates your curves and creates a stunning silhouette. The plunging neckline takes the attention away from your thighs, while the crisscross straps at the back provide a stylish and secure fit.
The intricate tulip print adds a playful and feminine element to the swimsuit, making it a standout piece.
A swim skirt is a great option to cover your thighs if that makes you more comfortable than showing them off. It's cute and feminine and will make you feel good.
This quick-drying swim skirt features a high-waisted design that provides ample coverage and support. The full coverage silhouette ensures modesty while allowing for easy movement. The versatile design makes it easy to mix and match with different bikini tops or tankinis. So you can create your own unique swimwear look.
The Fit 4 Ur Thighs Kapalua Smocked Hi Neck Dress is a stylish and flattering choice for those looking for a swimwear cover-up that embraces and accentuates their curves. This dress features a smocked high neck design and a smocked waistline, which creates a defined and flattering silhouette. The flowing skirt provides a comfortable and relaxed fit.
The dress's length and loose fit help to provide coverage for the thighs. This makes it an ideal option for those who want to feel confident and comfortable while enjoying time by the pool or beach.
I love the scoop neckline of this one-piece suit and the unique tie that can be tied in the front or the back. The shaping properties of the swimsuit help to contour and enhance your curves, providing a slimming and sculpting effect.
What is your favorite style of swimsuit? Let me know if you try any of these fabulous large thigh swimsuit options for yourself!
Want more swimsuit suggestions? Check out swimsuits for short torsos, cute modest swimsuits, and awesome postpartum swimsuits.