With 2 toddlers in my home, I'm loving all of rainbow clothes for toddlers that are out right now! Penelope's especially in a rainbow stage – loving all the colors and the fun designs.
Today I've round up 19 of some of the best rainbow clothes and accessories for toddlers, all under $35!
Rainbow Clothes for Toddlers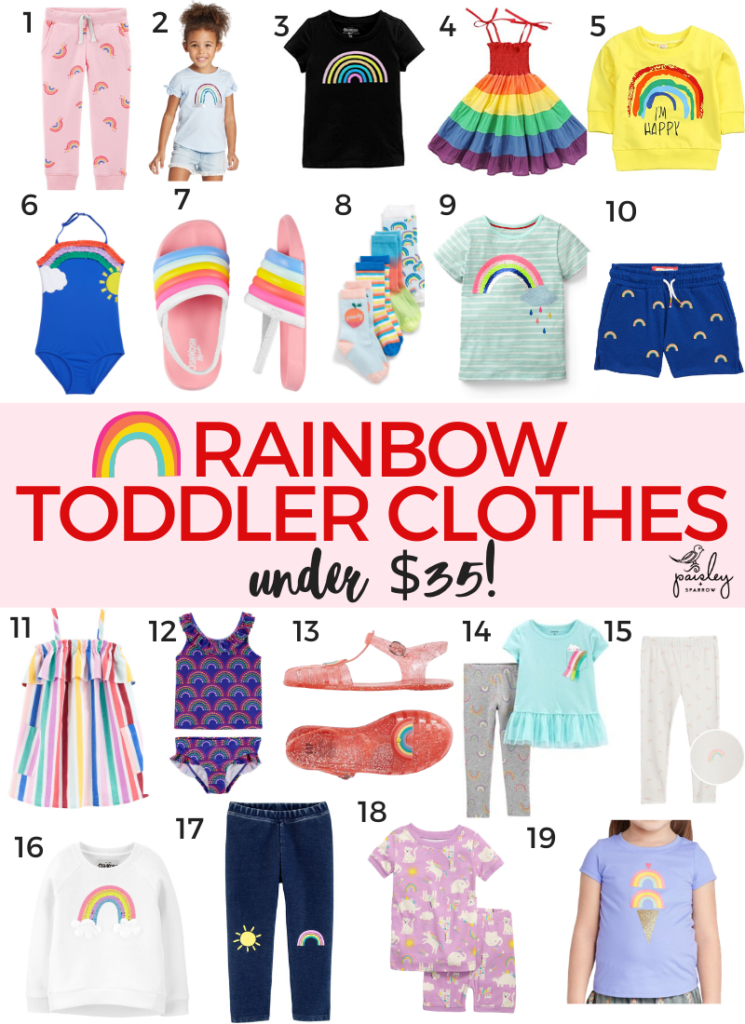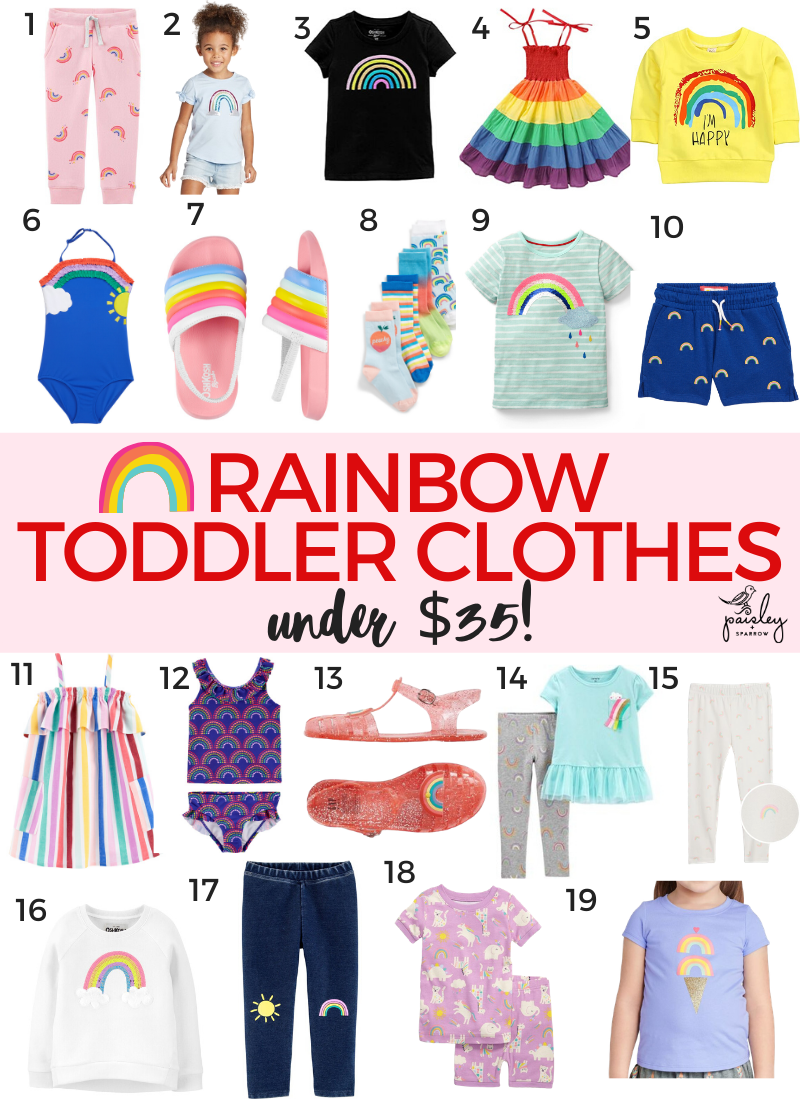 1 | 2 | 3 | 4 | 5 | 6 | 7| 8 | 9 | 10 | 11 | 12| 13 | 14 | 15 | 16 | 17 | 18 | 19 |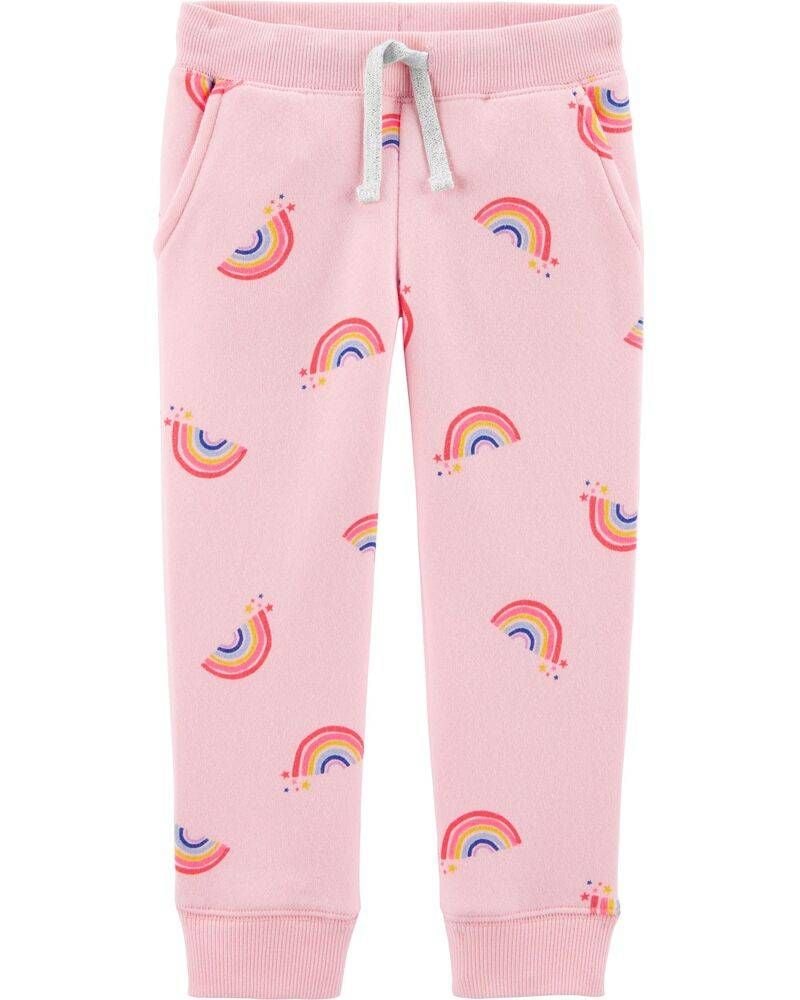 These Rainbow Print Pants are so cute and perfect for all seasons! They're a cotton/polyester blend that have real pockets.
The drawstring helps tighten up the pants to make them great to grow in to a bit and I've always loved the quality of OshKosh B'Gosh!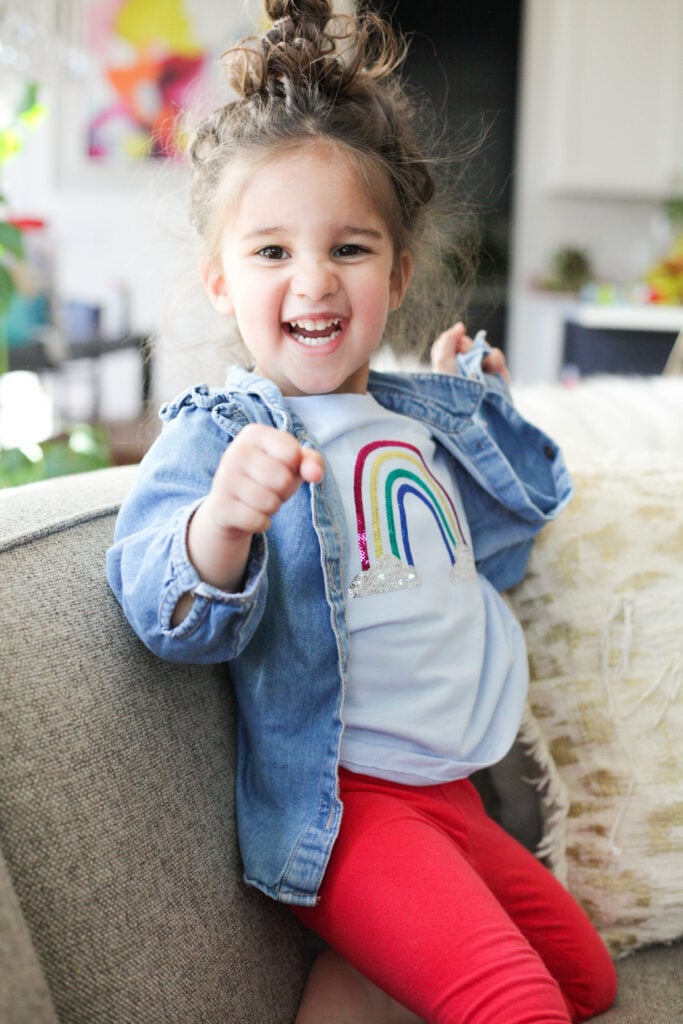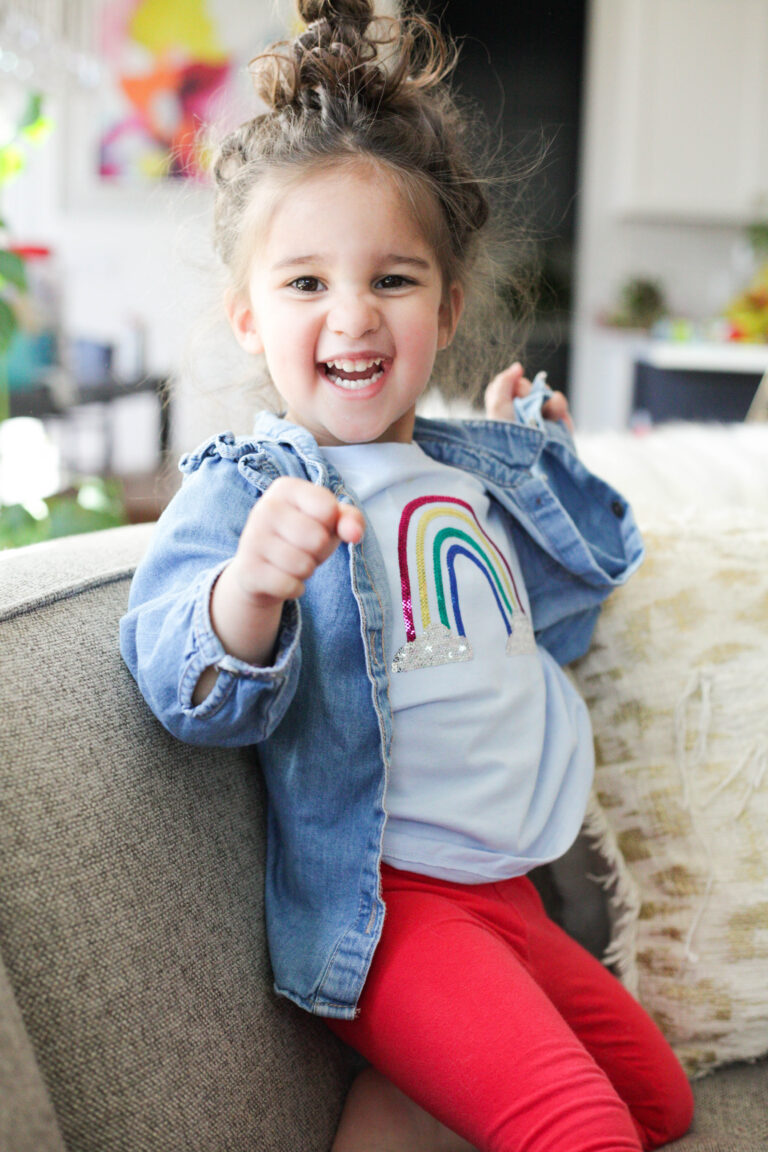 This fun Sequin Rainbow T-shirt from Target is what started this whole post off! I picked this up for Penelope and we all quickly became obsessed with it!
The ruffle sleeves are so fun and the sequins are P's favorite thing. It brings a smile to all of us!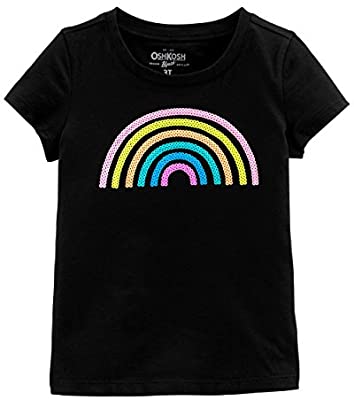 This Black Rainbow Sequin Shirt is super similar to the one above without the ruffly sleeves and in black!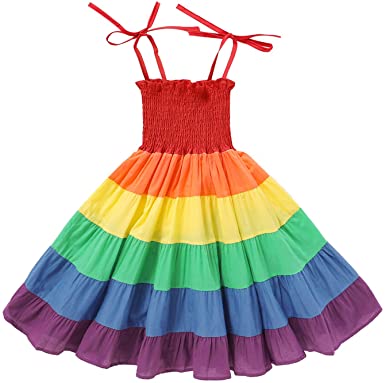 Sundress on little girls are some of my favorite things! This Rainbow Sundress is great for twirling around.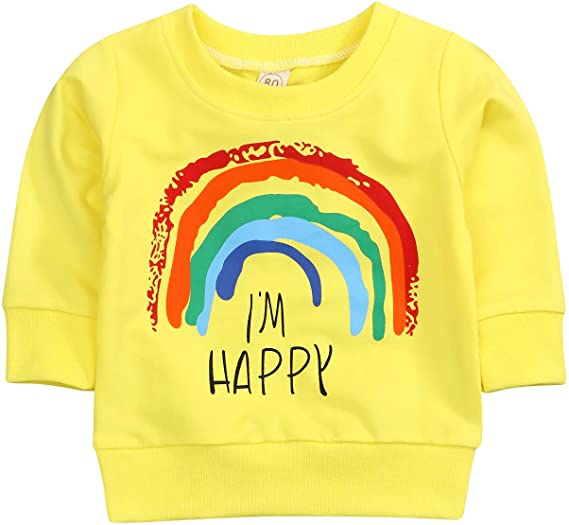 This reminds me of something a kid would draw themself! This I'm Happy Sweatshirt also comes in pink and blue.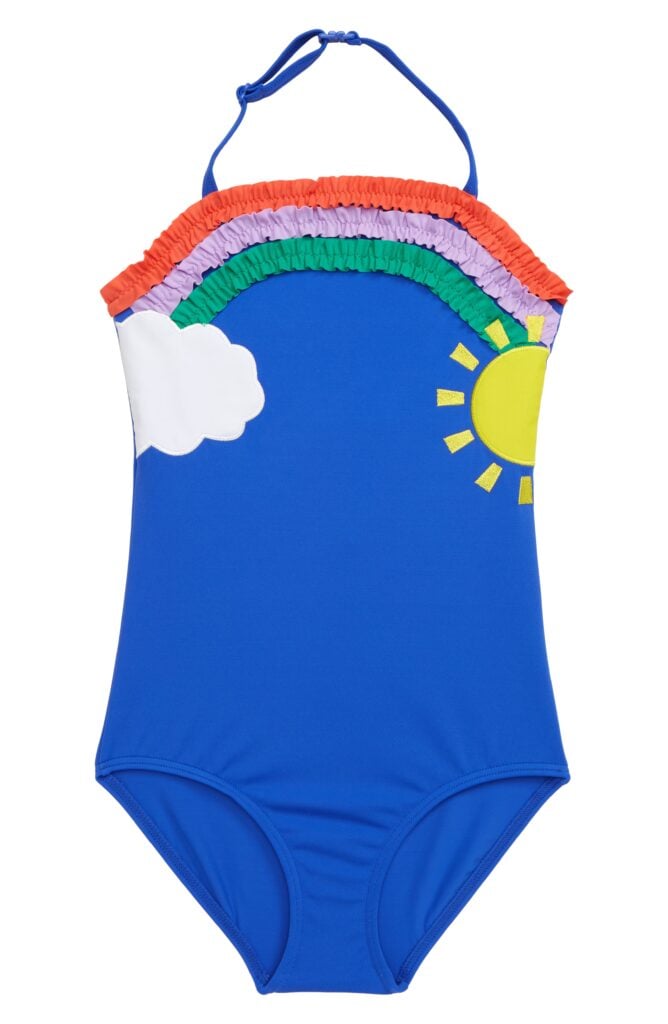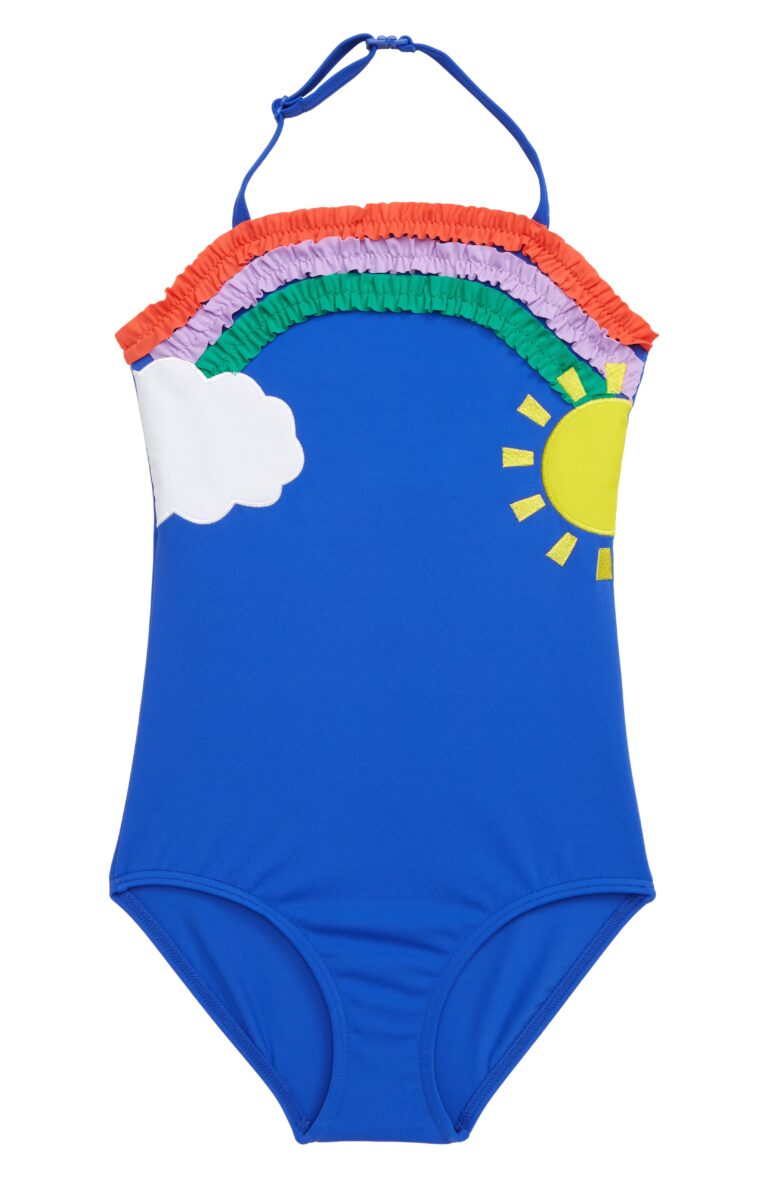 Be the star of the pool with this playful Applique Swimsuit! The halter strap is adjustable making it comfortable for all sizes! Currently on major sale and available in a unicorn print as well!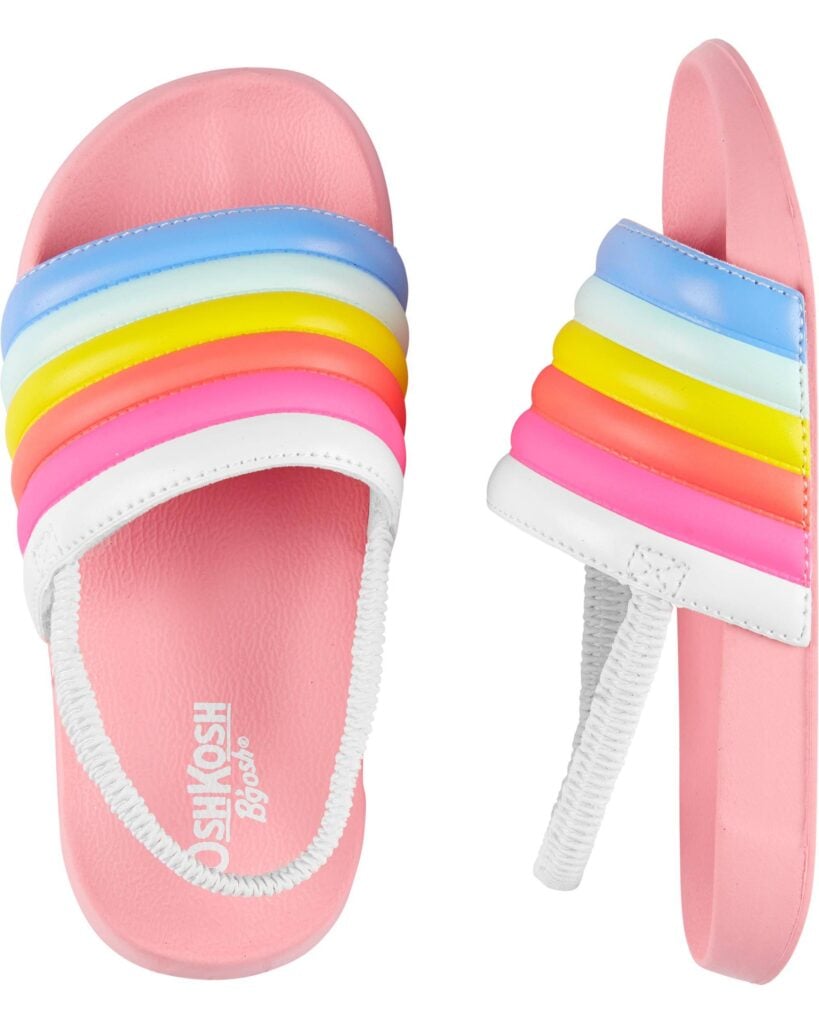 Easy to put on Rainbow Slides are perfect for summer days! Sandals like this are ideal for moms since they're super easy to put on – and bonus, they're so cute!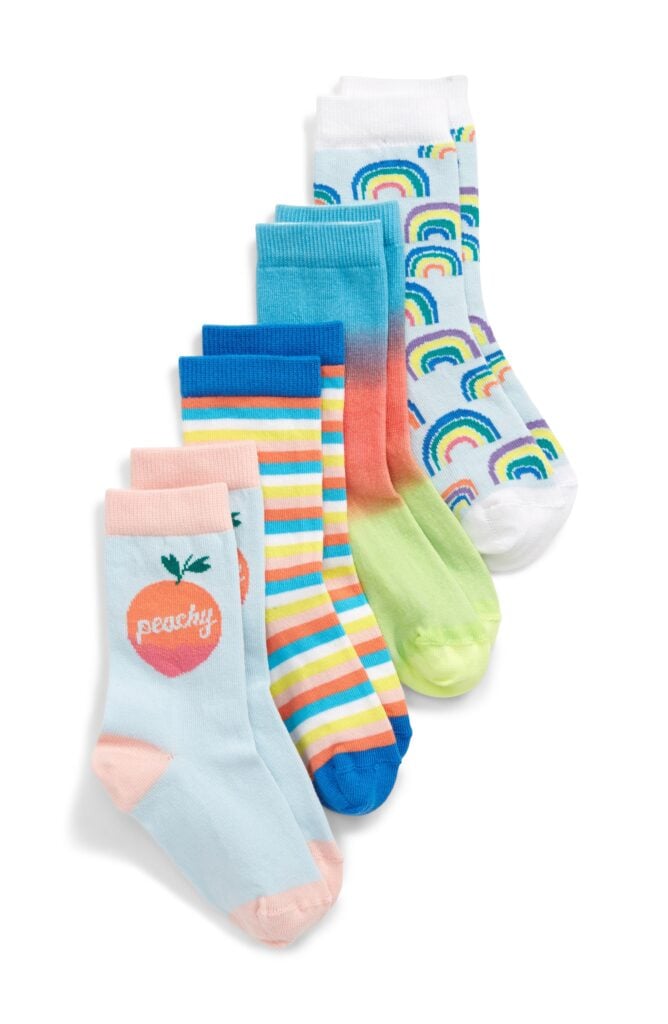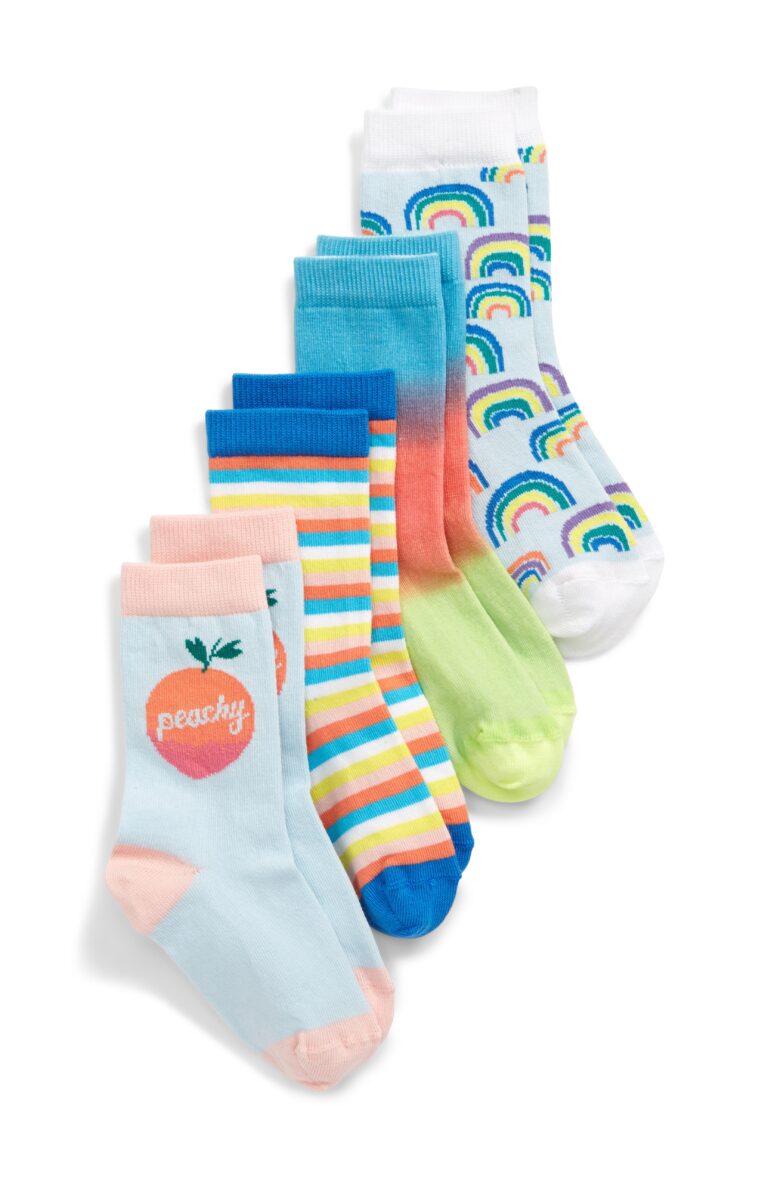 We have some Rainbow Socks for P and she wears them every second she can!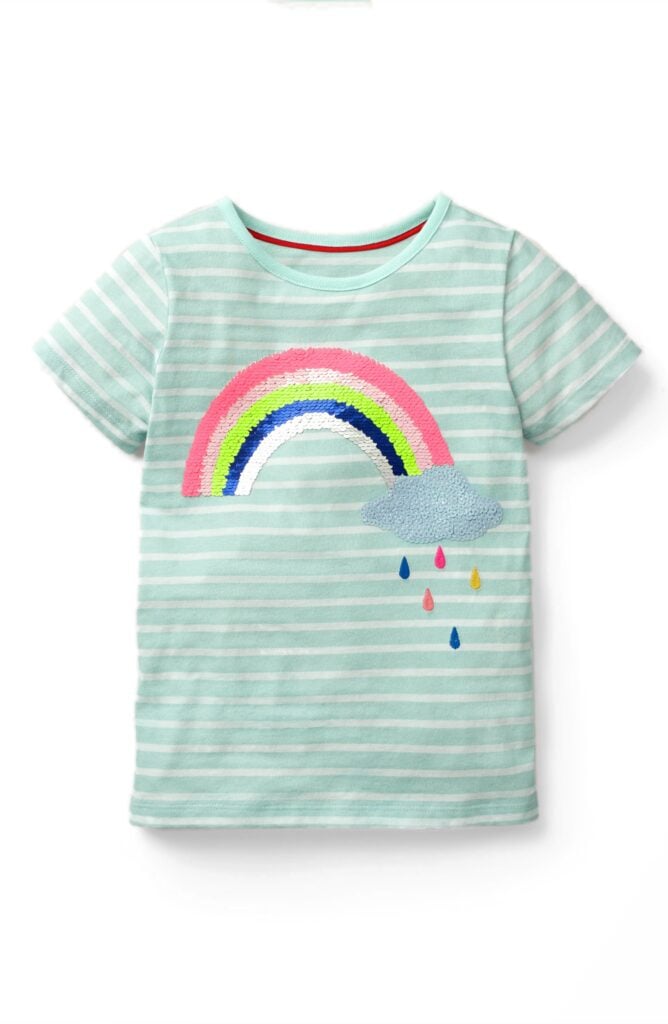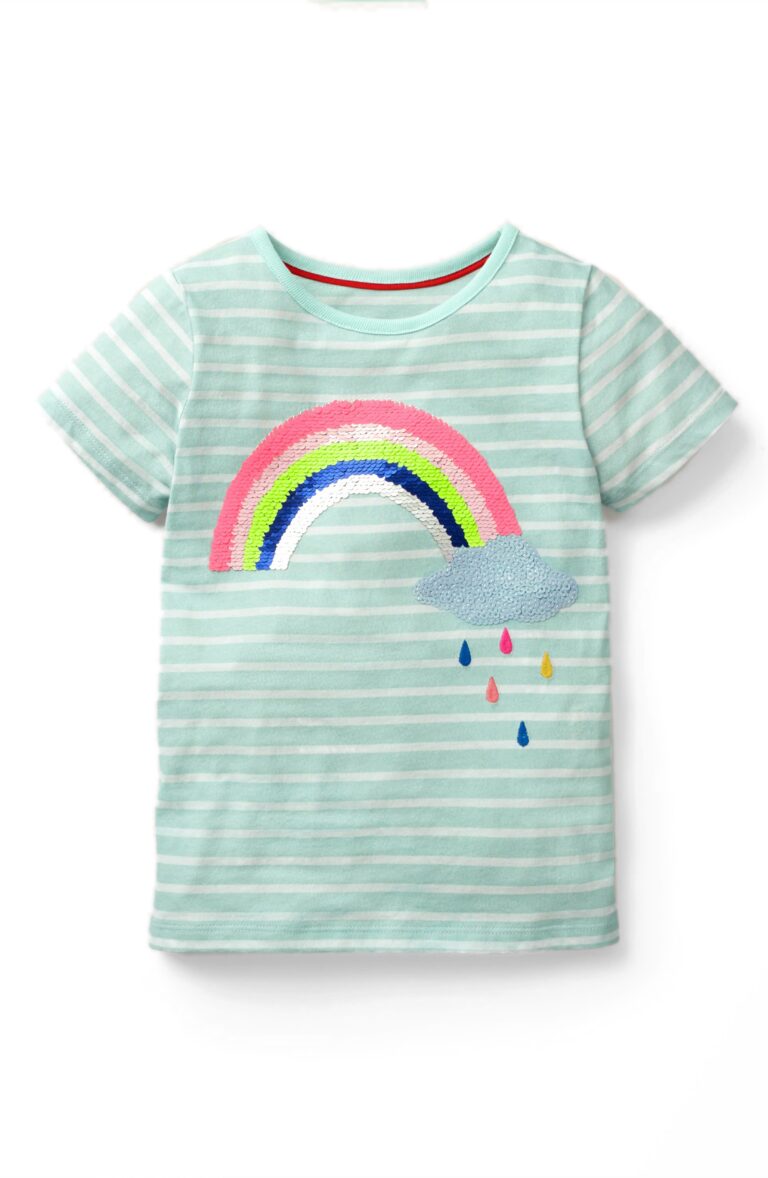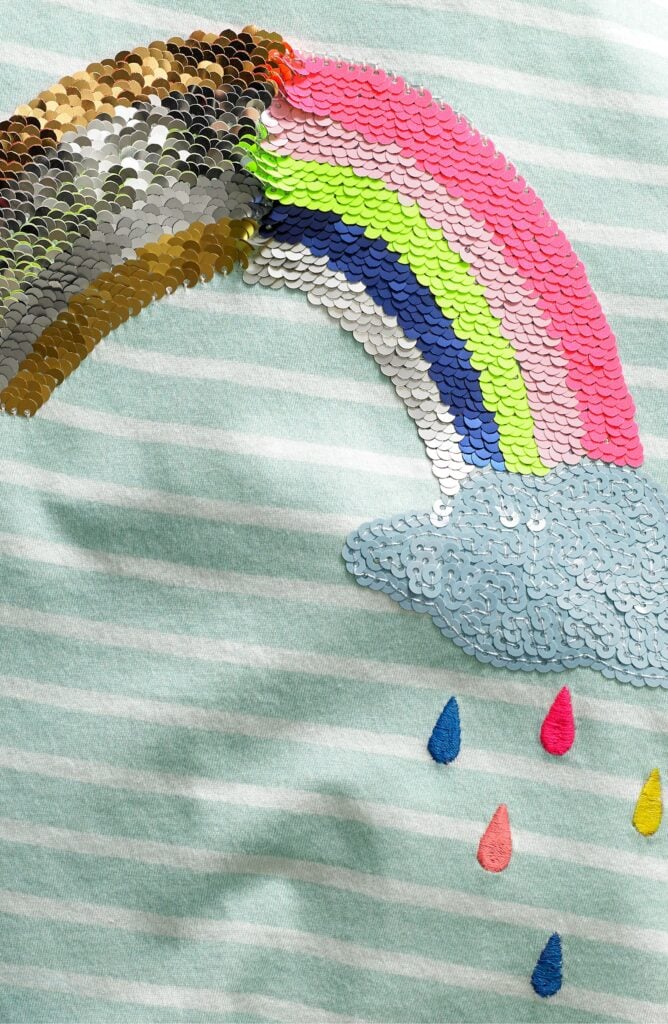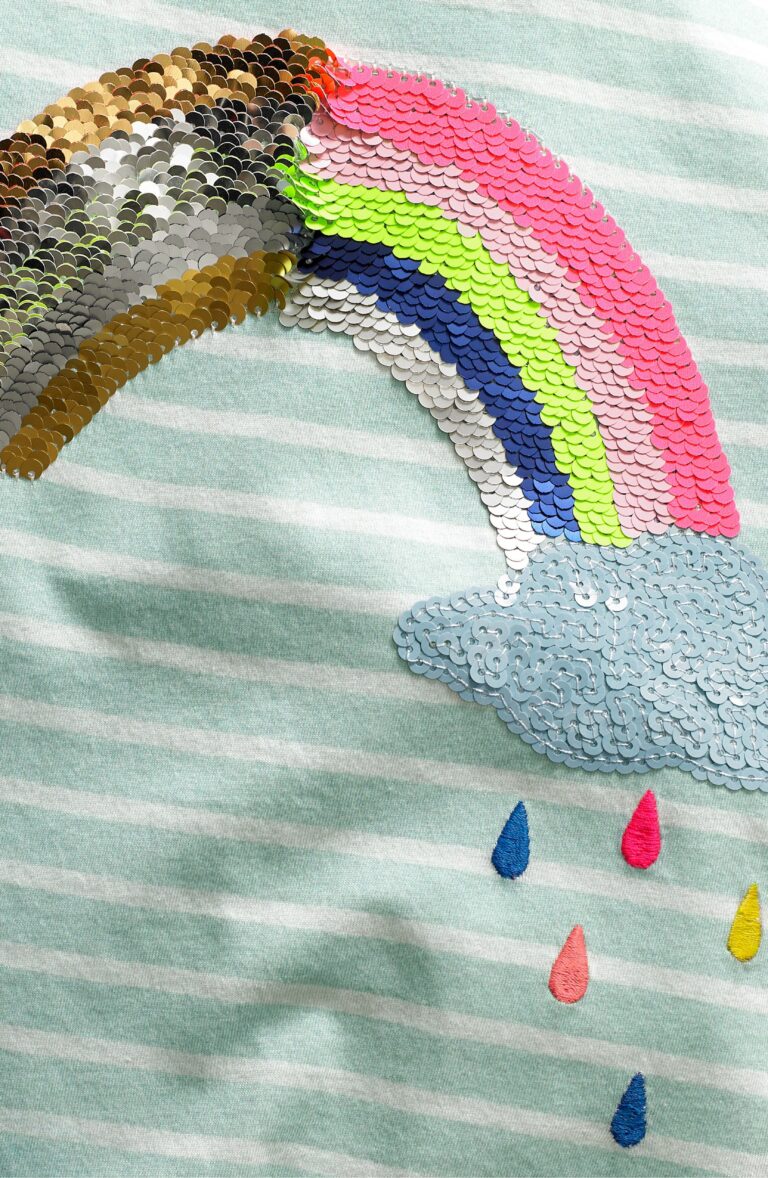 I love these cute little colorful raindrops that come out of this Fresh Water Blue Rainbow tee! This is a sequin shirt that flips which all kids adore!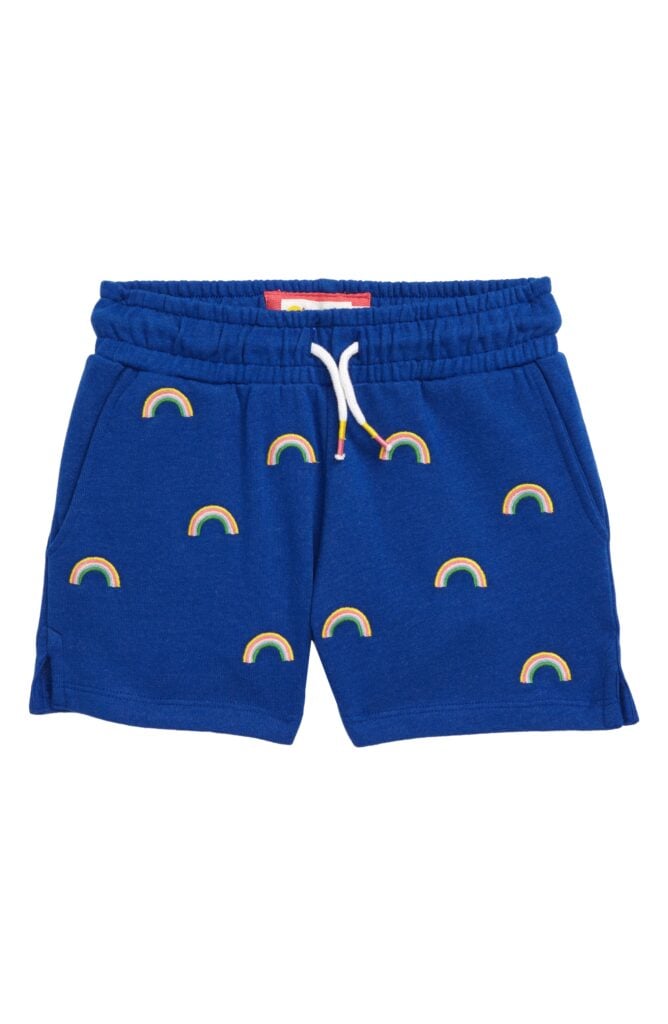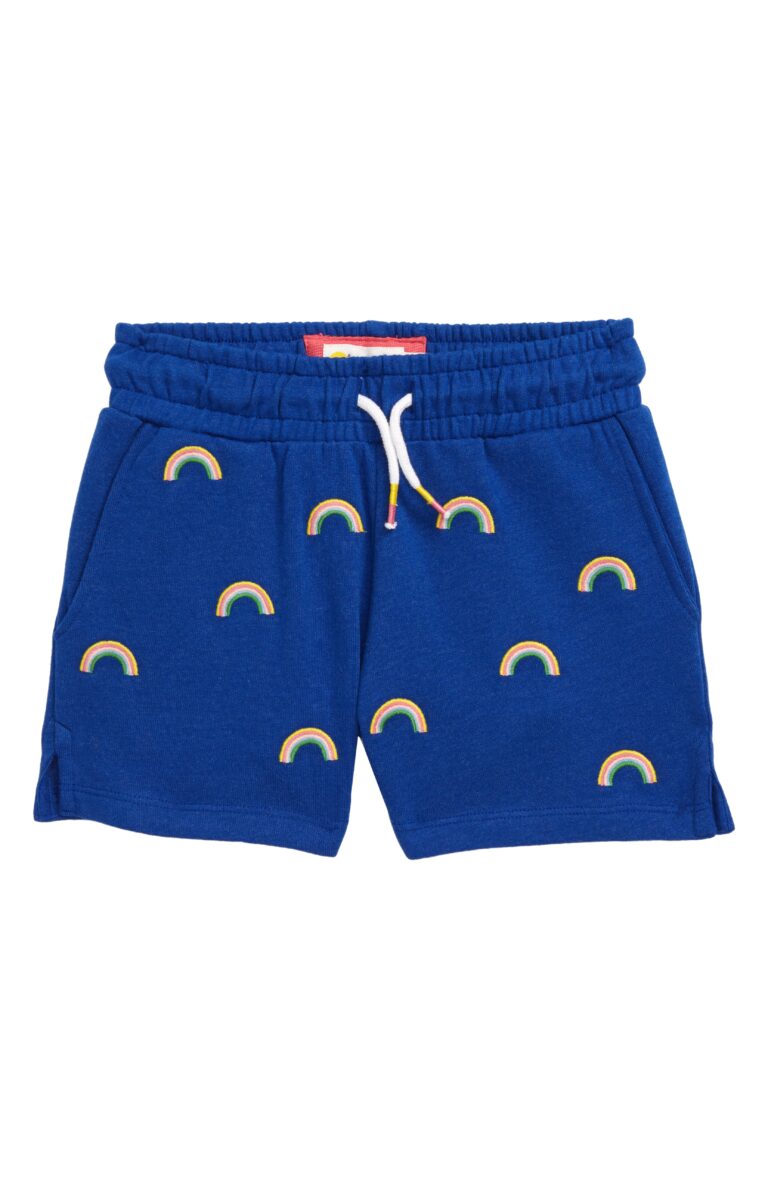 Who can resist these embroidered Rainbow Shorts from Nordstrom? They're have fun color-tipped drawstrings that are perfect for running and jumping all summer long!
Also available in pink with strawberries!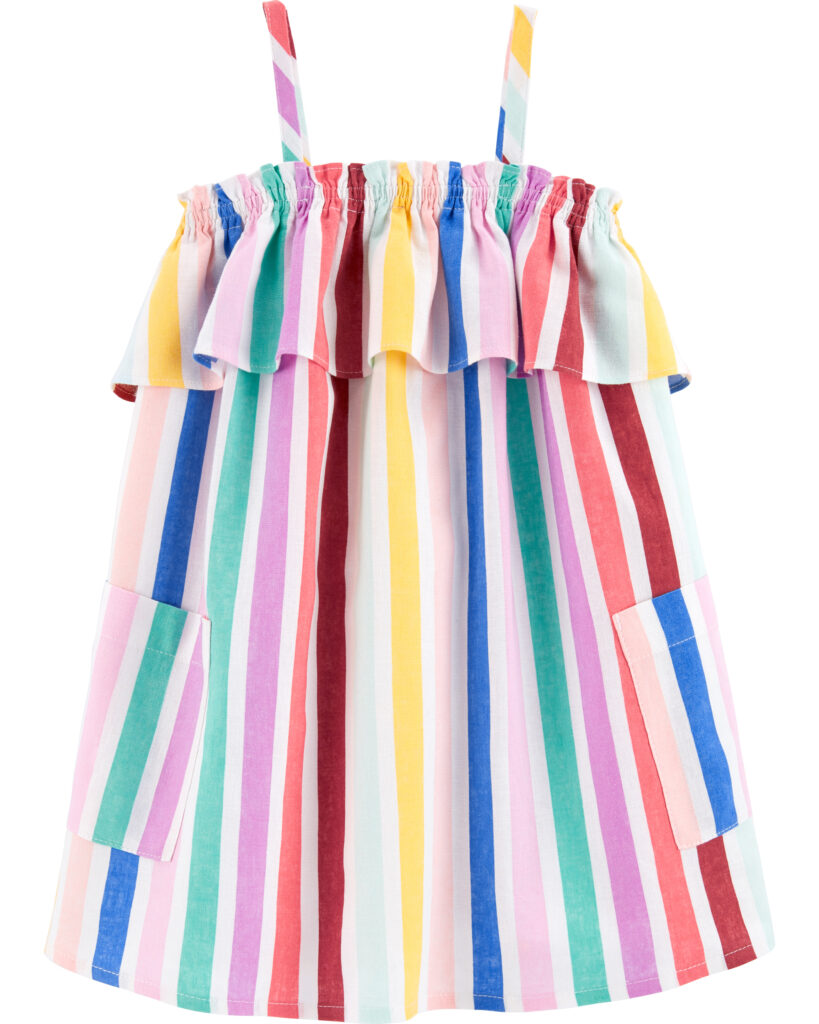 Any little girl will be giddy for this Rainbow Dress with Ruffles + Pockets! The ruffle hem is just darling and the knee length helps keep things modest!
Great for potty training days (just lift the dress up!) and the pockets will let your little one keep her treasures safe.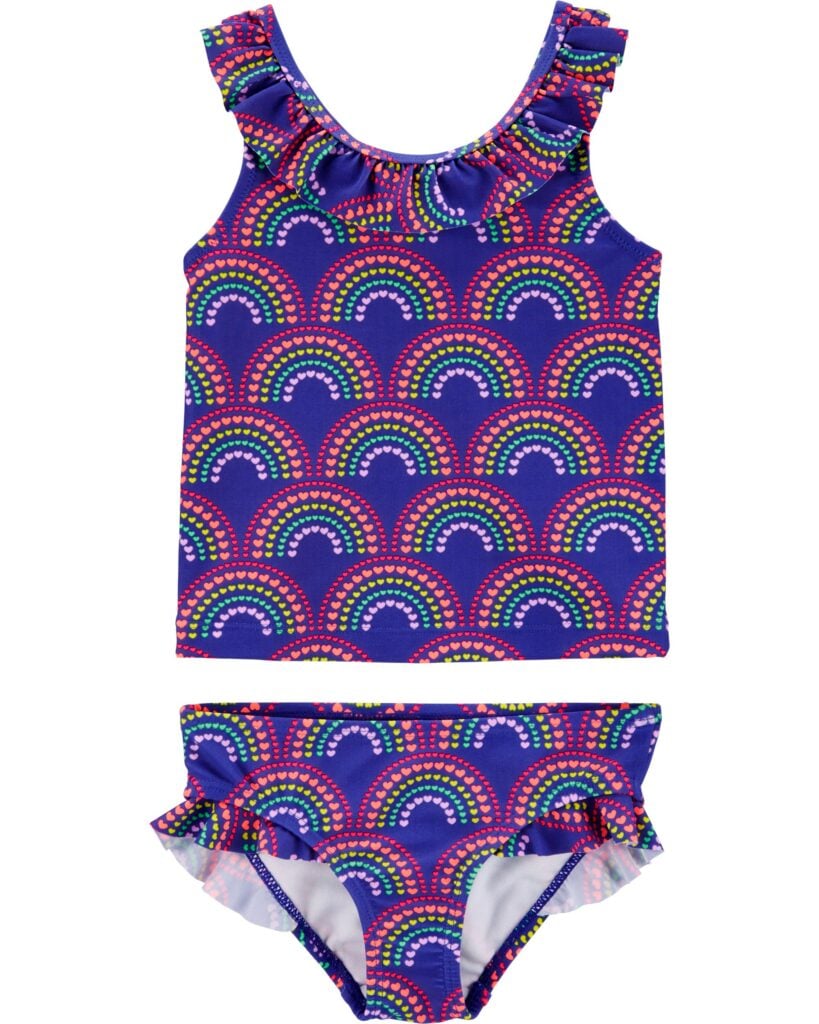 Another suit option and this time in the form of a tankini! I love the ruffle detail on this Rainbow Tankkini from OshKosh on both the neckline and the bottoms.
Bring this to your next beach outing or when you're running through the sprinklers in your back yard!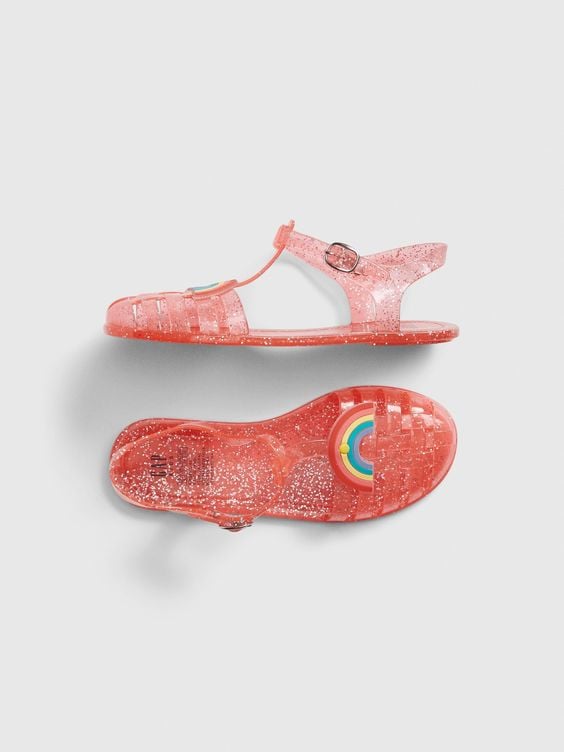 These Rainbow Jelly Sandals are bringing me back to MY childhood! Great for wearing in the mud or anywhere that might cause them to get a little dirty or wet because you can just wash them off in the sink!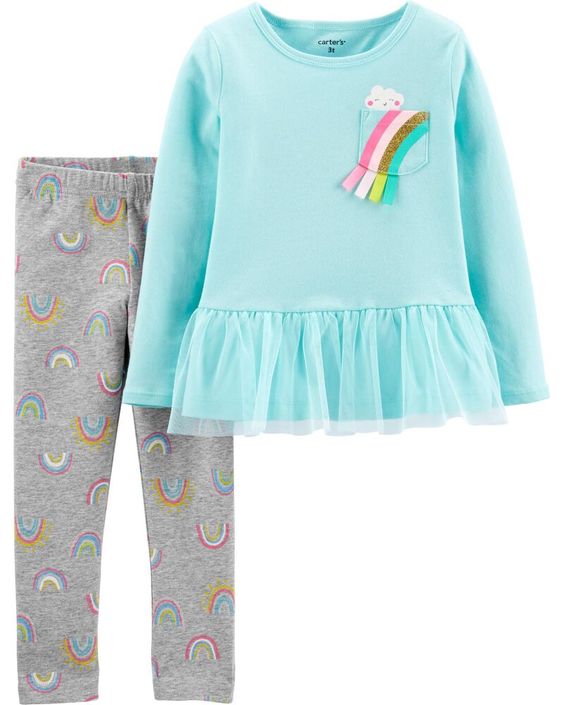 Matching sets are a mom's best friend since you don't need to think about what to pair them with! This matching set is so fun for any little girl to run and jump in!
I love how the adorable peplum top with a fringe rainbow will bring some joy to any little girl!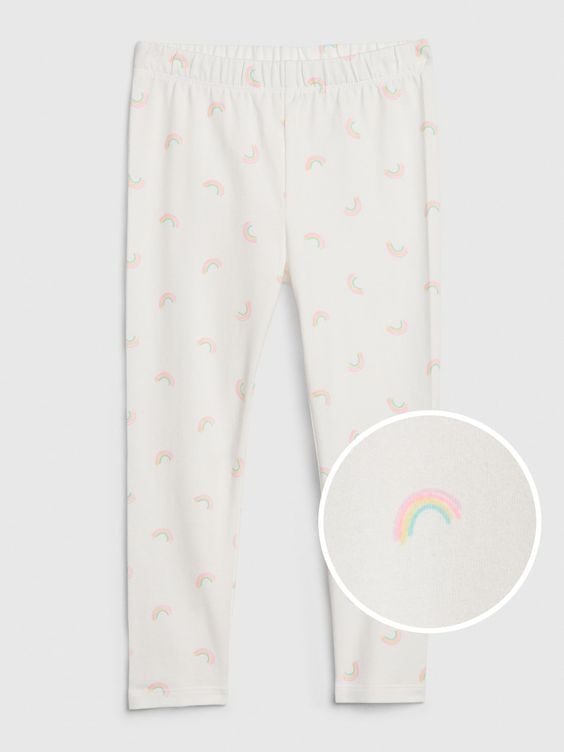 One can never have too many leggings – especially for summer time! These fun rainbow printed leggings are easy to pair with any top and will add a bit of fun to any outfit!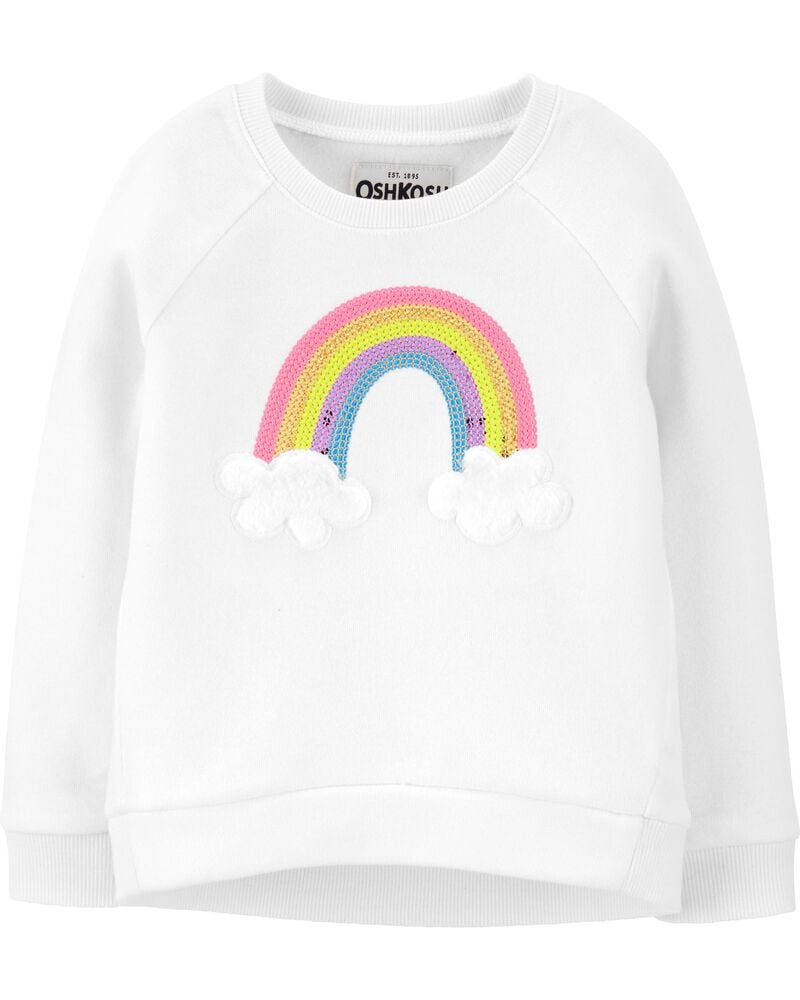 This super soft cozy sequin rainbow sweatshirt is ideal for cooler summer nights! Even the clouds are a fun fleece fabric!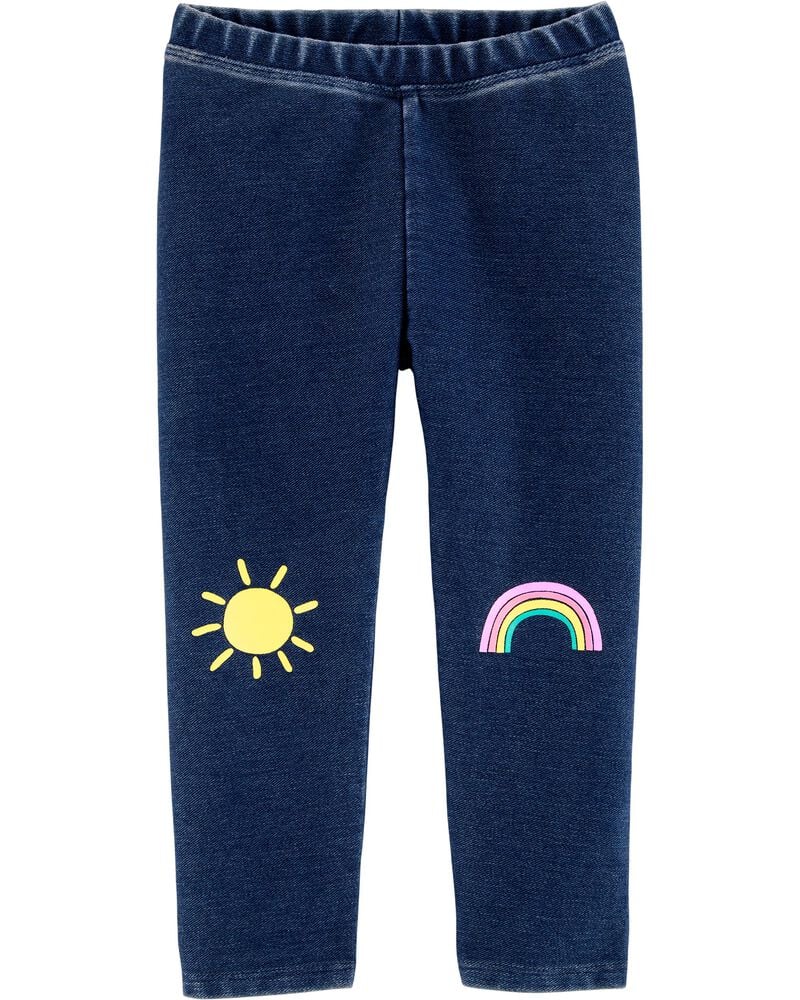 A sun on one knee and a rainbow on the other, these sunny day jeggings are perfect to encourage the sun to come out to play!
They have an elastic waist to fit all sizes and are a knit denim to be softer and stretchier. These are super versatile!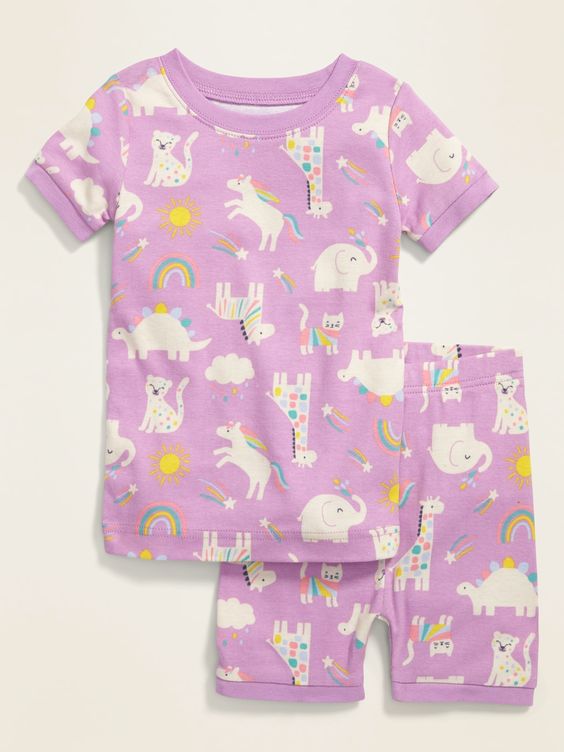 A mix of unicorns, dinosaurs, elephants and more are on these fun Animal Print Pajamas from Old Navy!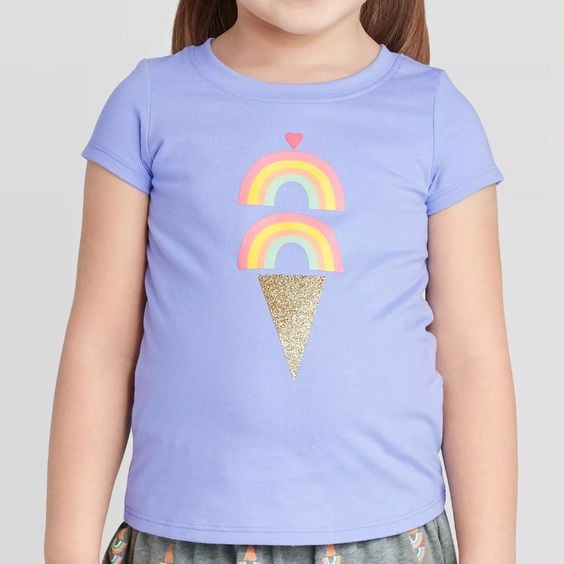 Ice cream and rainbows, what more could you want on a summer day? I love how this Ice Cream Rainbow T-Shirt has a mix of it all AND a glittery ice cream cone!
I hope this fun little rainbow clothes for toddlers round-up helped save you some time with picking out some new summer clothes and added some cheer to your child's wardrobe!
Be sure to check out these fun unicorn and dinosaur crafts to keep those little ones creative and active!