You've heard that pregnancy is three trimesters long. But have you heard of the fourth trimester? That's the term for the first three months postpartum — and a very appropriate one because your body isn't suddenly done changing just because the baby is out!
During that postpartum period, you're learning to take care of a new baby, but you're also healing and you might be uncomfortable as your body finds its new normal (especially in those early weeks). That's where postpartum pajamas come in!
Postpartum pajamas are specifically made for new and nursing mothers. They are made to ensure optimum comfort and ease — priorities for new mothers juggling feeding schedules, a lack of sleep and mesh underwear.
If you're a new mom or mom-to-be and want to start your motherhood journey comfortable and in style, these are a good idea to add to your cart or your registry. I've got recommendations for the best nursing pajamas, maternity sleepwear, hospital gown options, and more!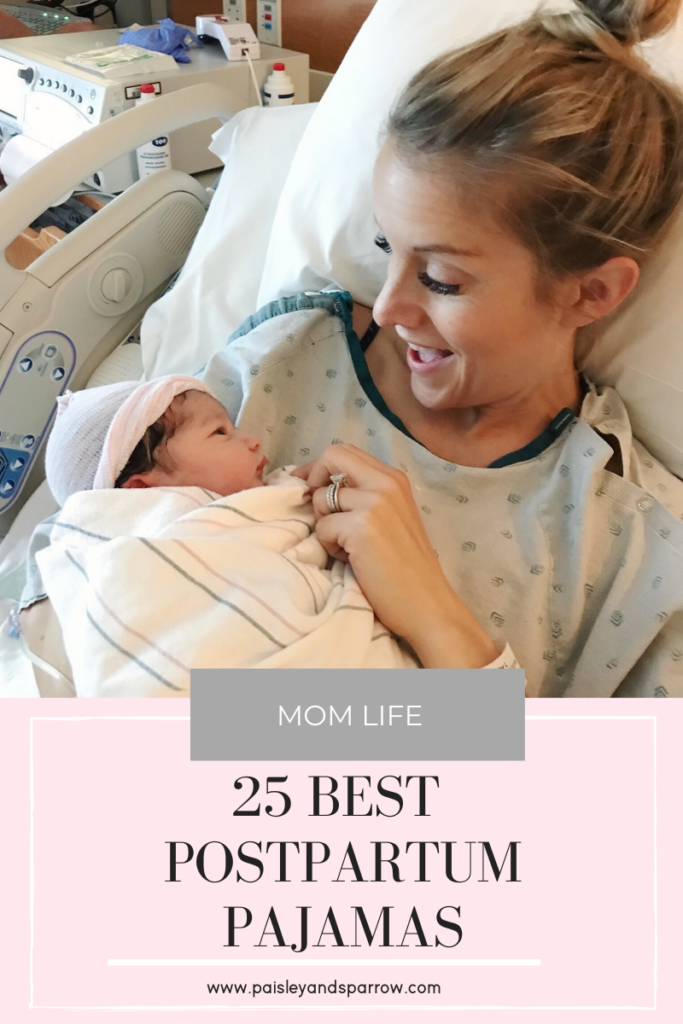 Paisley + Sparrow is a participant in the Amazon Services LLC Associates Program. This post may include affiliate links which means I may earn a small commission if you shop using the links below at no additional cost to you. 
Things To Consider
Buying postpartum clothes is a bit trickier than ordering your ordinary clothes. Your body is constantly changing at this time.
You'll need clothes that are comfortable, fit well, and provide great functionality too. Here are a few factors to consider before choosing clothing for your postnatal phase.
Size
I recommend going a size up from your usual size when buying postpartum wear. You should be able to wear your clothes comfortably for a couple of months after your delivery.
Buying a size up will also help you avoid the feeling that you "should" get back to your pre-pregnancy size as soon as possible. Your body just did an amazing thing and needs time to recover!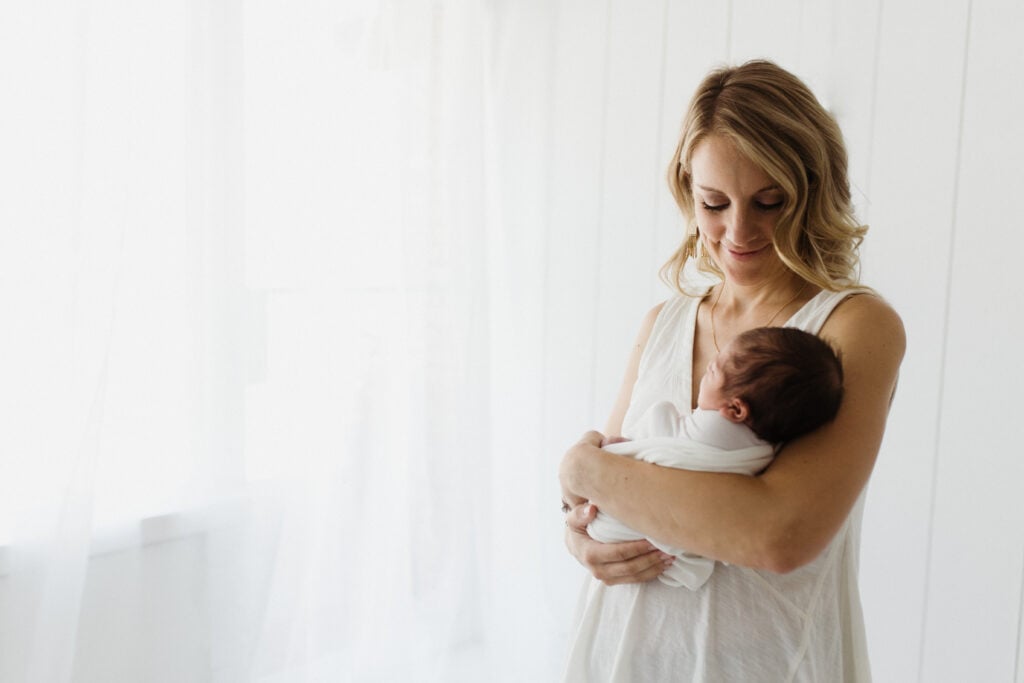 Fabric
Choose breathable fabrics that are stretchy and comfortable. A mix of materials like cotton, crepe, jersey, and rayon can add a little variation.
There are plenty of soft fabric options that also look stylish, so choose one that will make you feel good when wearing it.
Season
If you're having your baby in the summer months, go for lightweight, breathable clothing options that promise comfort and absorb sweat well. In winter, clothes that provide more coverage and protection against the temperature drop are ideal.
Nursing
Clothes that provide easy nursing access are core to your breastfeeding phase. Go for options that give the advantage of feeding the baby efficiently in the middle of the night, without compromising on comfort for you.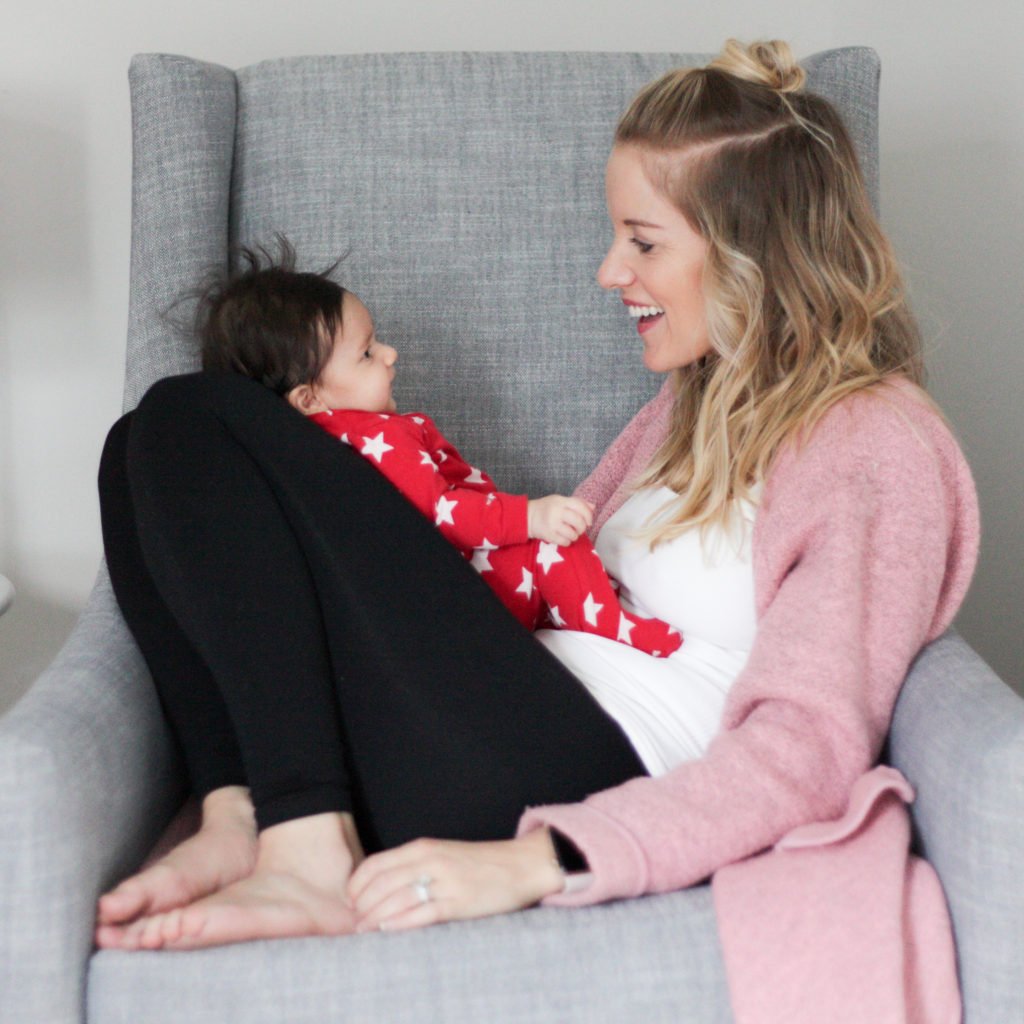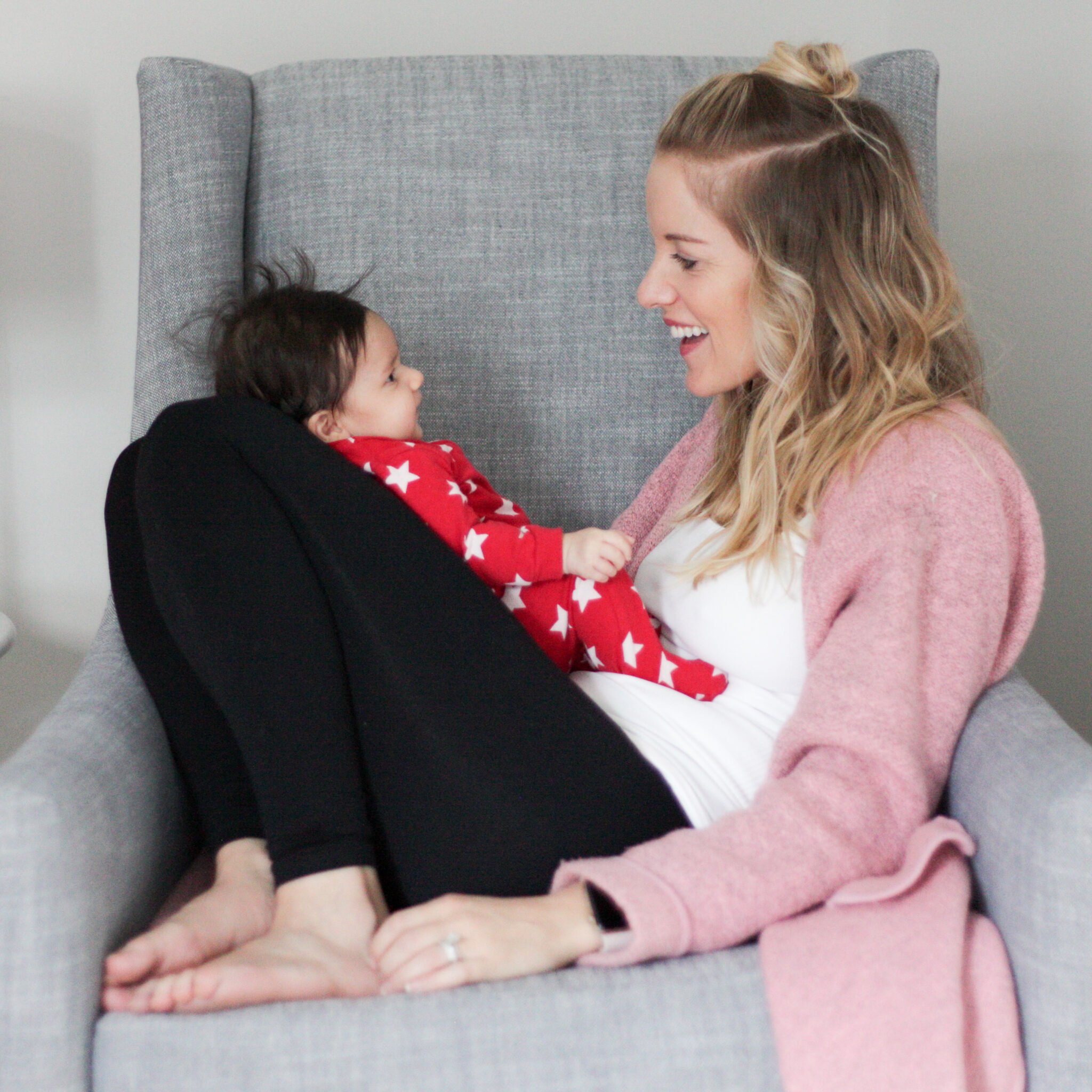 Nightgowns
Even if you're not typically a nightgown-wearer, you might find that they work best for both maternity and postpartum.
It's easier to accommodate a growing belly and changing body in a nightgown, so you'll get a lot of use out of them. They're also the best option for C-section mamas, because there's no waistband to rub your incision.
They're great for your hospital stay and can be found with long sleeves for winter or short sleeves for warmer weather.
Best Nursing Nightgowns
This breathable and lightweight lounge dress is made of bamboo fabric and doubles as a casual dress. It is very stretchable for ease of use throughout pregnancy and after. This versatile option offers a nursing panel and pockets too.
Want to wear something flattering but comfortable too? This nightgown, with its empire waist, provides enough space for your growing body. Its clip-down cups and lace top offer adequate support for nursing and nighttime feeding.
This versatile, functional, and comfortable nursing nightgown will keep your hospital woes away. It comes with built-in nursing pads, clip-down straps, and is available in several sizes and designs.
This nightgown has a scoop neck, spaghetti strap, and clip-down double opening, making it ideal for nighttime feeding. It has removable pads, so it's super comfy, and you can get right back to sleep.
This gown offers you ample upper body support, so you can sport this for a cute, effortless look during the day too. Just throw on a cardigan or sweatshirt, and you're good to go!
This sleep dress comes in just the right length, a perfect choice for summers. With cami straps and a rounded neckline, it is soft and comfortable. The lightweight dress provides ample room for your belly to grow beautifully without feeling cramped.
Pajama Sets
Pajama sets can do wonders for feeling like a human again after delivery! You feel put together — hey, you're wearing pants after all!
They're a great option for pregnancy and postpartum, and they're perfect for your going-home outfit at the hospital if you prefer to have pants on over your mesh undies.
Even better, a lot of maternity or nursing pajama sets can be worn long after you've had your baby, so you'll get your money's worth.
Best Pajama Sets
This is a three-piece set that includes a tank top, a pair of pants, and a belted robe jacket. The fabric is stretchable enough to adapt to any body shape. It is suitable for all stages of pregnancy and after!
This pajama set is perfect for a cozy winter night. It happily lets you snuggle with your baby while ensuring easy access to feeding. It is also super soft and provides a slim fit.
You can wear it beneath your other clothes too if you're heading out.
Made out of premium bamboo fabric, this pajama set can be easily worn through pregnancy and beyond postpartum too. The top offers easy button-down nursing access, and the shorts have an elastic waistband and pockets too!
This 3 piece set can be worn all pregnancy long and post pregnancye! It has a satin trim robe, satin trim v neck clip down cami, and full length knit pants. This set is elegant, cozy, and with a hint of luxury. I love this classic look; it's perfect for lounging around the house.
This is a great option for both pregnancy and postpartum! It's great for nursing with it's easy open function and layered design. It has a rouched side that's super flattering and an adjustable waistband to grow with you!
Delivery Gowns
Did you know you can bring your own gown for your delivery? Most hospitals don't mind as long as they can access what they need to access. And they're a great choice for a home birth.
This lets you choose one that's more comfortable and looks cuter in photos. You might even like it as a maternity and postpartum nightgown. Just make sure you pack it in your hospital bag so you have it when you need it!
Delivery gowns provide good coverage when possible, but have easy-access openings for staff to check you, perform procedures or for immediate skin-to-skin contact once the baby is born.
Best Delivery Gowns
Available in six cute colors and designs, this delivery gown offers both functionality and appeal. It comes with front and back velcro openings for easy hospital assessments and skin-to-skin contact.
Skip the shoddy hospital-provided gown and go for this bright ruffle strap delivery gown with large pockets and other perks. It's sure to make you feel feminine and confident in your body. What's more, your doctor will have no complaints.
This gown allows easy epidural access with its full-length front and back openings. It's perfect for ultrasounds and C-section incision inspections too.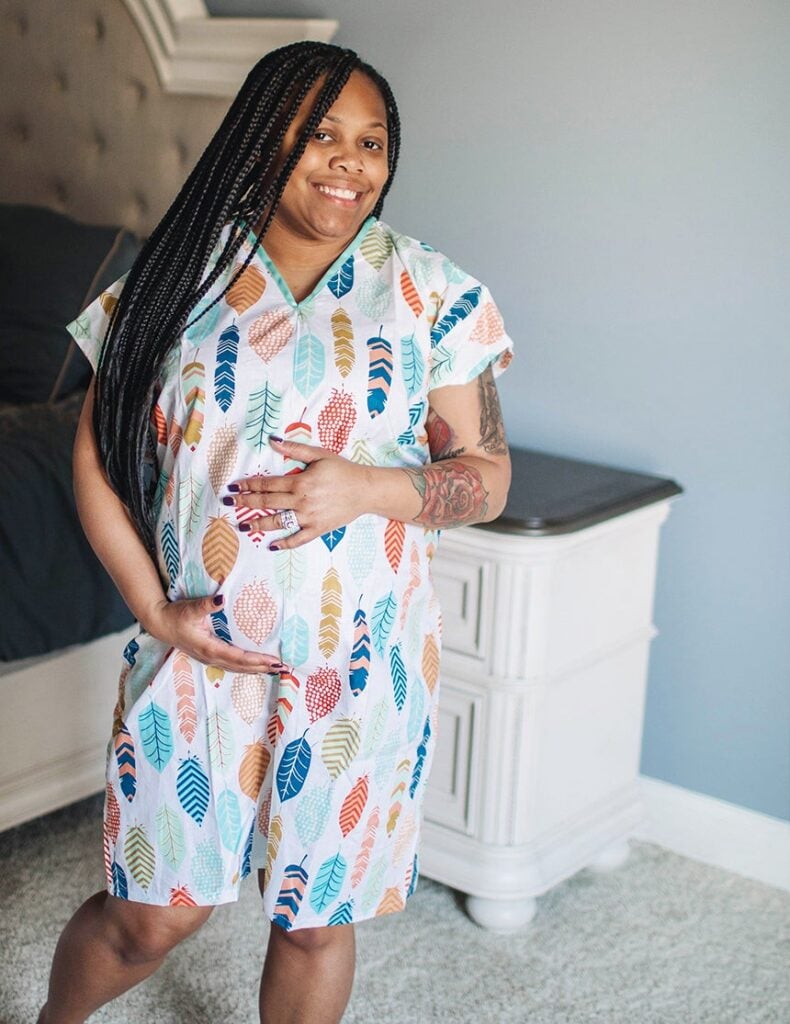 Made exclusively for pregnant women, this Kelly delivery gown makes your birthing experience truly special. The gown fits beautifully, offers ease of movement, and makes feeding and bathroom usage easy too.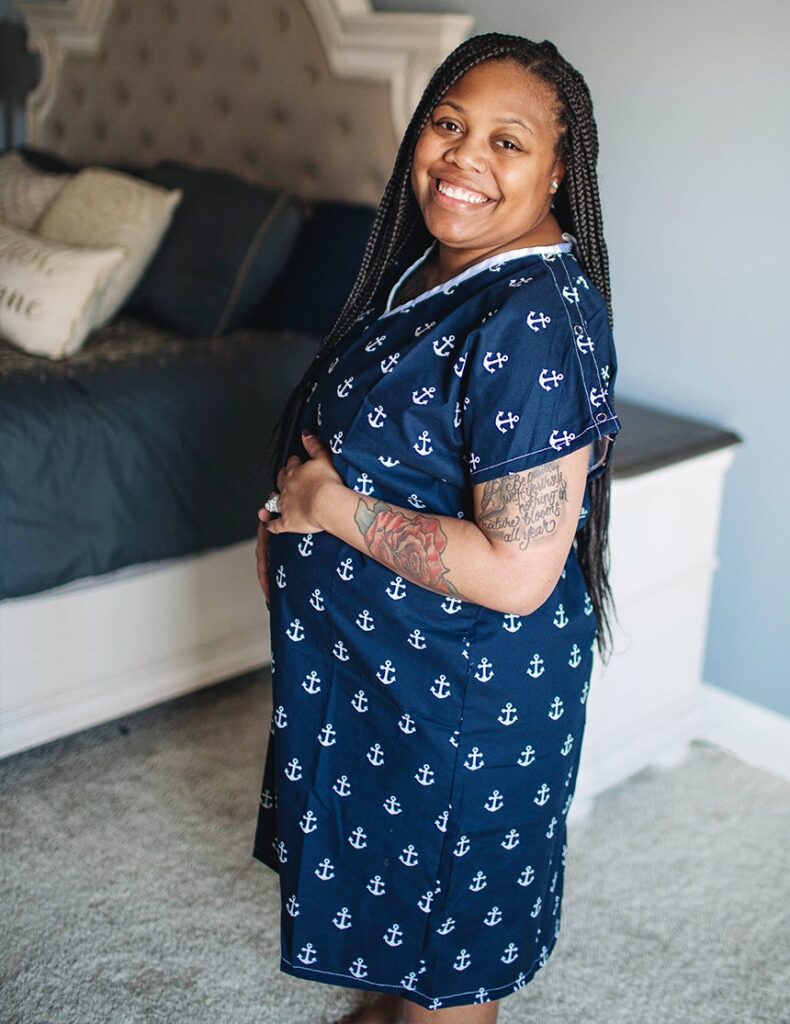 This delivery gown delivers premium quality and comfort. Made out of 100% cotton, the fabric is incredibly stretchy and breathable. It has snaps down the shoulder for easy breastfeeding.
Who says you have to give birth in unflattering, washed-out gowns? If you're having your birth photographed, this gown is as lovely as it is comfortable. Its shoulder snaps and front-down snap panels make it ideal for examinations and breastfeeding.
Robes
Robes are the perfect addition to your postpartum wardrobe for so many reasons. They're nursing friendly, they're great to throw on when you need to cover up for guests wanting to see your newborn baby, and you can easily take them on and off when those postpartum hormones have you chilly and then sweating a few minutes later!
Best Robes
This robe is made out of a blend of spandex and modal. It has an open front with a tie closure for comfort and access. The crochet trim gives it that extra oomph.
Want a robe that you can easily wear for years throughout your motherhood journey? This robe is just the right choice. The material is soft as butter, stretchy, and perfect for every weather. Extra-deep pockets offer you storage space too!
All your uncomfortable postpartum moments will instantly become wonderful memories worth cherishing with this robe on. It is an ultra-soft piece of garment that is perfect for colder seasons but breathable enough for the summer too.
If I had to choose to spend my money on one postpartum wardrobe item, this maternity robe might be it. With its elbow sleeve, relaxed fit, and lace trim, it can make you feel appealing and trendy while providing coverage and convenience.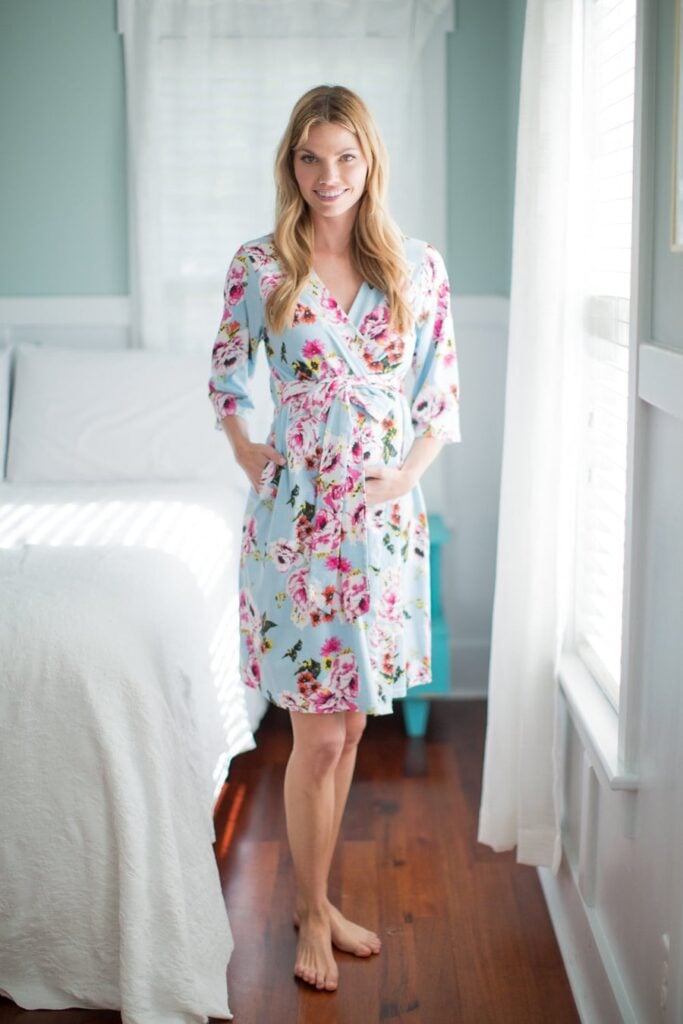 This cute floral gown is stylish and colorful. It's great for nursing and is lovely enough for mini walks or to welcome visitors in.
Sleeping Bras
If you're breastfeeding or pumping, nursing and sleeping bras are essential! Your new boobs need different support and coverage, and you want them as comfortable as possible!
Nursing bras have easy access for breastfeeding, making it simpler to get that little one fed and both of you back to sleep during night feedings. It's also an extra barrier for leaking breast milk or will hold your nursing pads in place.
Best Sleeping Bras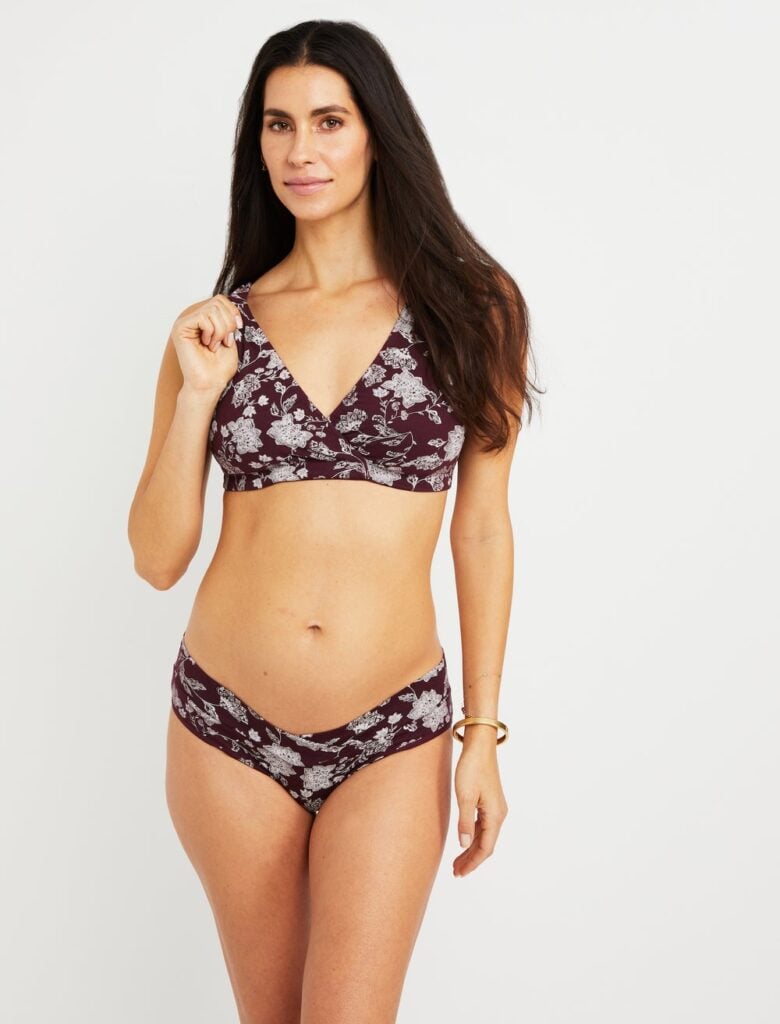 This inexpensive nursing bra is made out of a combination of cotton and spandex. The fit of the bra is perfect and holds the girls in.
There is nothing better than dozing off in a bra that isn't too clingy or tight across the breasts. This nursing bra is just the right pick for nursing mothers to ensure a good night's sleep.
This bra provides wire-free support to your breasts and comes with removable pads. Perfect for sleep, perfect for lounging, perfect for running around with a baby.
This bra wins on quality, comfort, and ease of access to breastfeeding. The bra fits your body like a second skin while providing your breasts the proper support.
If you want a bra that does not fall back on quality, comfort, and ease of wear, this nursing bra should be your go-to choice.
Conclusion
As beautiful and joyful as the experience of motherhood is, it comes with its fair share of struggles. Your body goes through monumental changes, and it can be hard to feel like yourself. This is the time to pamper yourself with clothes that are comfortable, allow easy nursing, and make you feel good too.
FAQ
If you're on the fence, invest in one pair of maternity or nursing pajamas so you'll have at least one solid option in case your regular pajamas actually aren't very comfortable for your postpartum body.
If you've got a baby on the way, find out my tips (from a mom of 3!) on hospital bag essentials, postpartum essentials, and what you really need in a diaper bag.