If you've been following along on Instagram you've seen we're redoing 5 rooms in our home – yikes! One thing we're adding is a playroom so I wanted to share some of our playroom ideas and our mood board with you!
We're making Penelope's room into the new baby boy's room, moving Penelope to our guest room, moving the guest room to our workout room and moving the workout equipment to our basement area.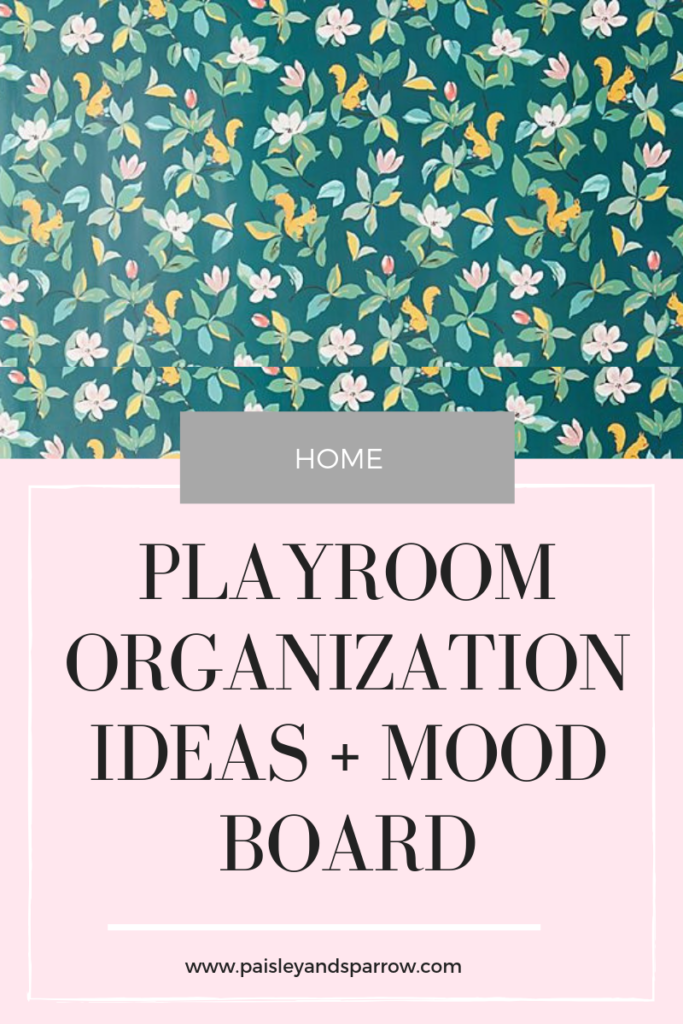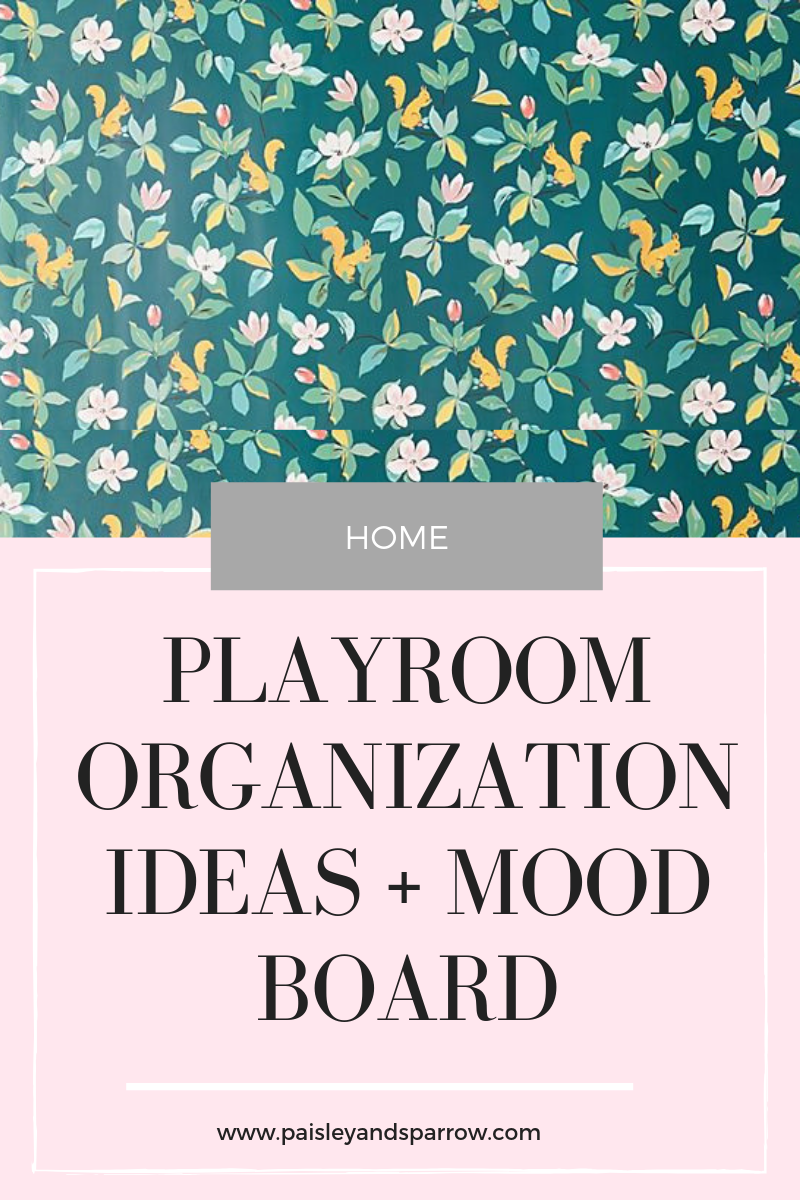 We're making some good progress on both Penelope's room and the play area with regards to picking out stuff! Wallpaper has been put up in Penelope's room (thanks Rishi!) and we're starting to get some of the items for both her room and the play area delivered.
Our basement has been a hodge-podge of randomness since we've moved in. There's a pool table (which hasn't been used as much as we thought), a super comfy couch and tv for movie watching and a bunch of toys in random places.
As the kids have gotten bigger we've realized we wanted a better space for them to play, especially in the winter months! So we've sold the pool table and are transforming that area into half workout and half kids playroom!
Here is the mood board for the room – some of this is stuff we've actually bought and others are things we're either likely going to get or have similar items already. I'm really excited to see how it all comes together!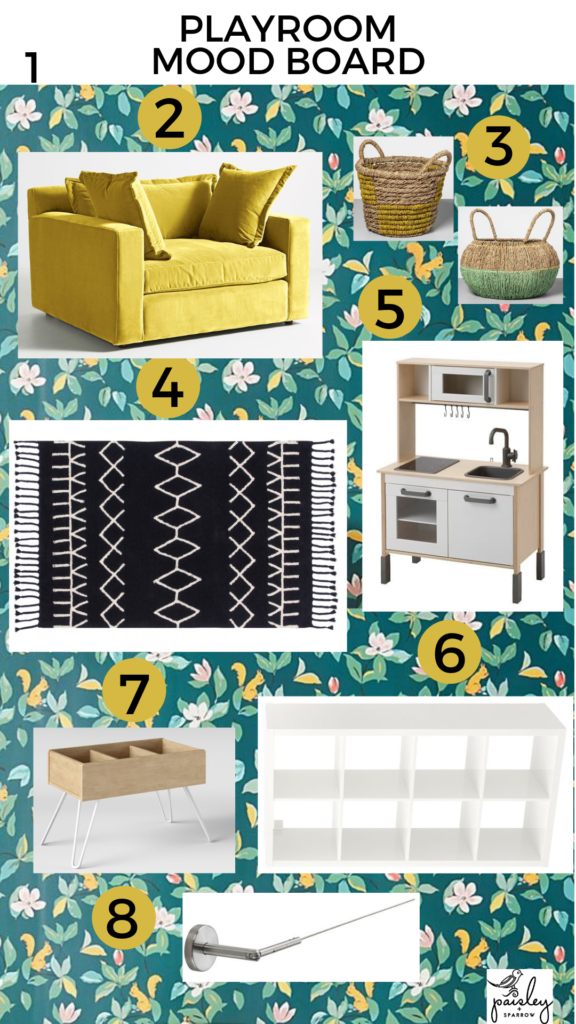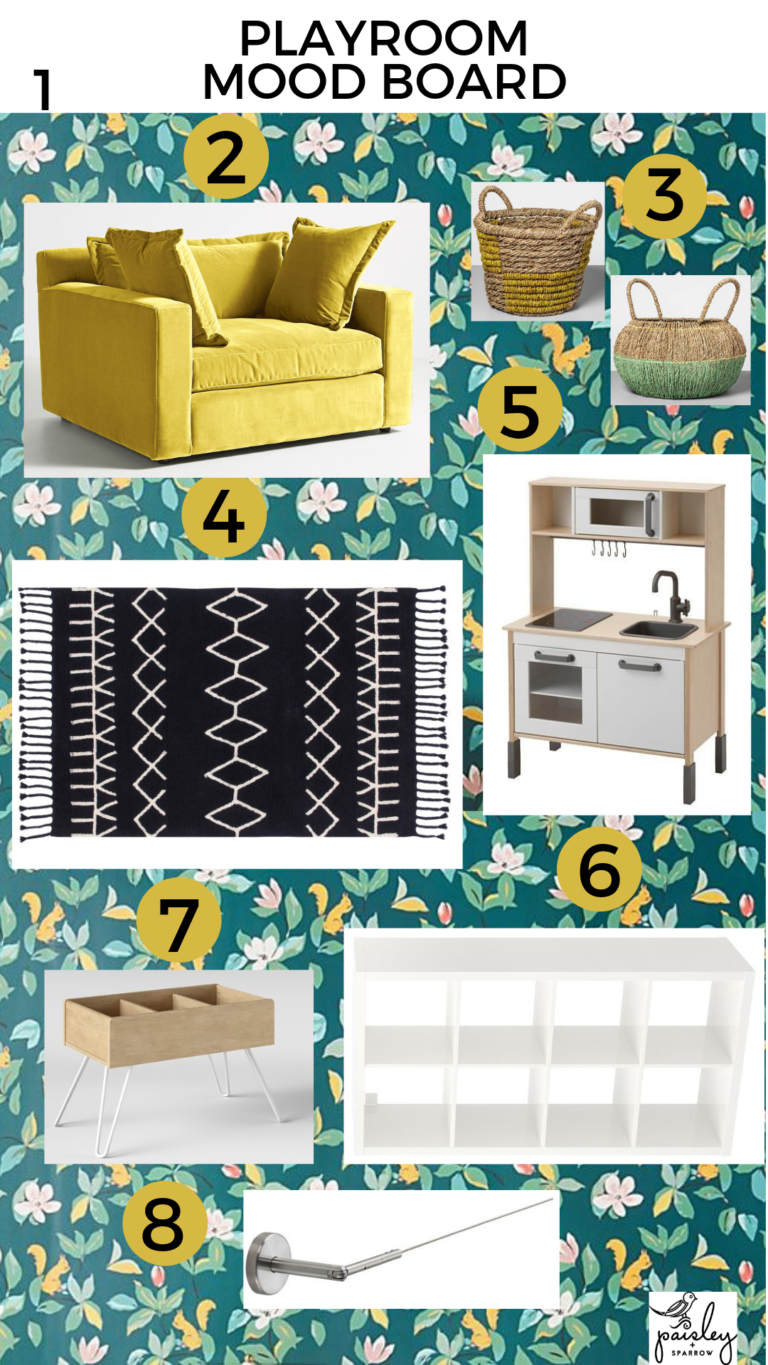 I love statement walls and there's no better place than a playroom! 🙂
We found this adorable wallpaper from Anthropologie. We waned something playful but not to "kid" since half of this space is for adults. It was hard to find!
To be honest, I was hesitant at first because the thought of putting squirrels in my basement was weird but I kept gravitating to it so we got it!
You need at least one chair in a playroom for the adults to sit on! We chose a chair and a half so it's easier to snuggle in with the kids to read books or just hang out.
We found ours at Anthropologie – we got it in the yellow to add some fun to the basement and coordinate with the wallpaper.
One can never have too much storage options when it comes to kid stuff! These baskets are perfect for stuffed animals and all of Roy's cars and trucks. 🙂
I love washable rugs while my kids are young (and Chloe is alive). Then if they spill on them it's not a big deal!
We've had this black and white one since Roy was little and it's been in multiple room in our house!
We got Roy the Ikea play kitchen for his birthday last year and both kid's are obsessed!
It's definitely going to be in our play area.
I feel like you can't have a play area without this shelf, am I right? Every playroom you see on Pinterest has it!
I love that you can put drawers and doors on it as well as baskets to help hide the clutter. I'm planning on putting stickers with photos of what's inside (dolls, legos, crayons, etc) so the kids can easily find where things are and most importantly, know where to put them away!
I love this one because it's easy for the kids to access! I won't constantly be fixing it and styling it because all the books are pretty hidden in there but the kids are still able to easily grab what the want and put it back.
8. Wire Wall Mount
We recently toured the preschool Roy will be attending this fall and they were talking about the importance of your kids art being shown off.
I love the look of these wall mounts and think they'll be the perfect spot to hang the kids projects!
So what do you think of our playroom ideas? Hopefully it turns out as fun as we hope it will!
Thanks for reading and sharing!
Jen