It's been awhile since I've shared a post of multiple ways of wearing one thing but after picking up this cute sherpa jacket from Evereve last week I wanted to do one! I absolutely LOVE this jacket but I also know it can be one that is hard to figure out different ways to wear it.
Today I'm sharing how to wear this jacket to brunch, to work and on a date! Three very different activities with three very stylish outfits. Let's check them out!
One Sherpa Jacket Styled Three Ways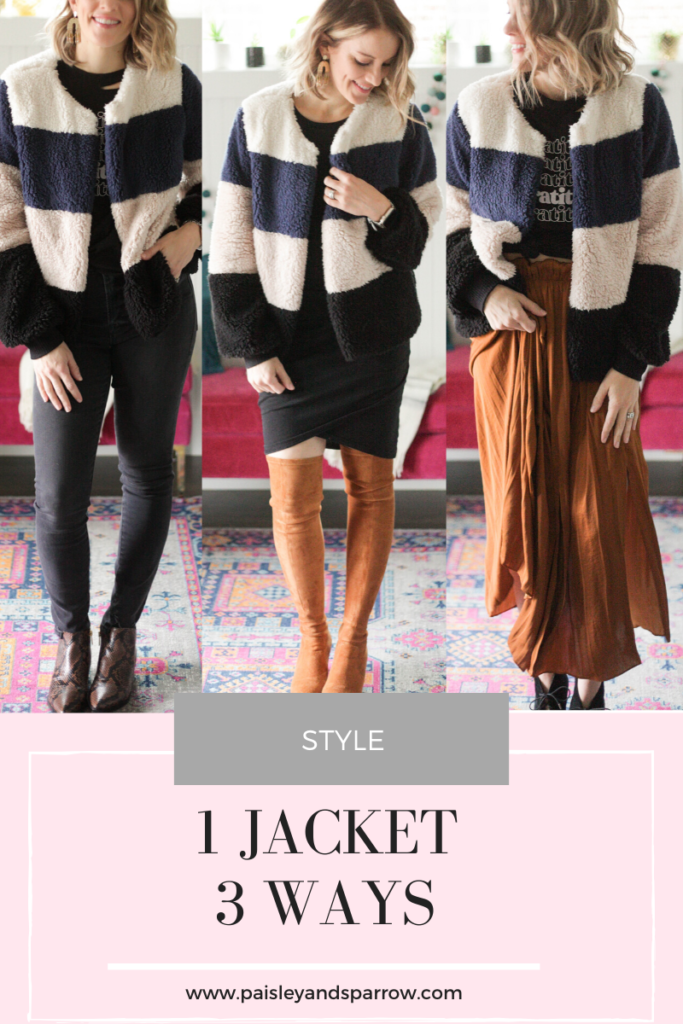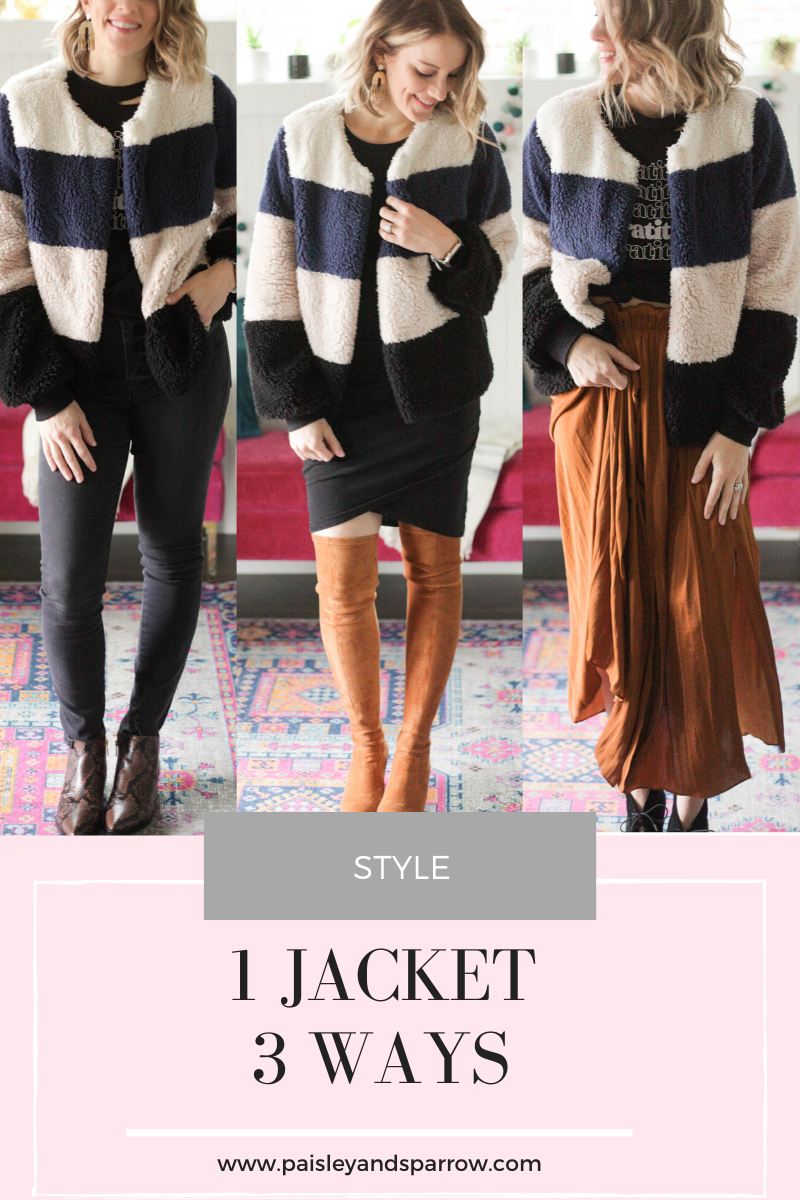 This post may include affiliate links which means I may earn a small commission if you shop using the links below at no additional cost to you. Thanks so much for supporting me and this blog!
Brunch
Let's start out with the brunch look! This cozy jacket is one of those items that you can throw on and be incredibly comfortable yet look super chic. Your friends won't even notice that you didn't shower before meeting them to sip mimosas! 😉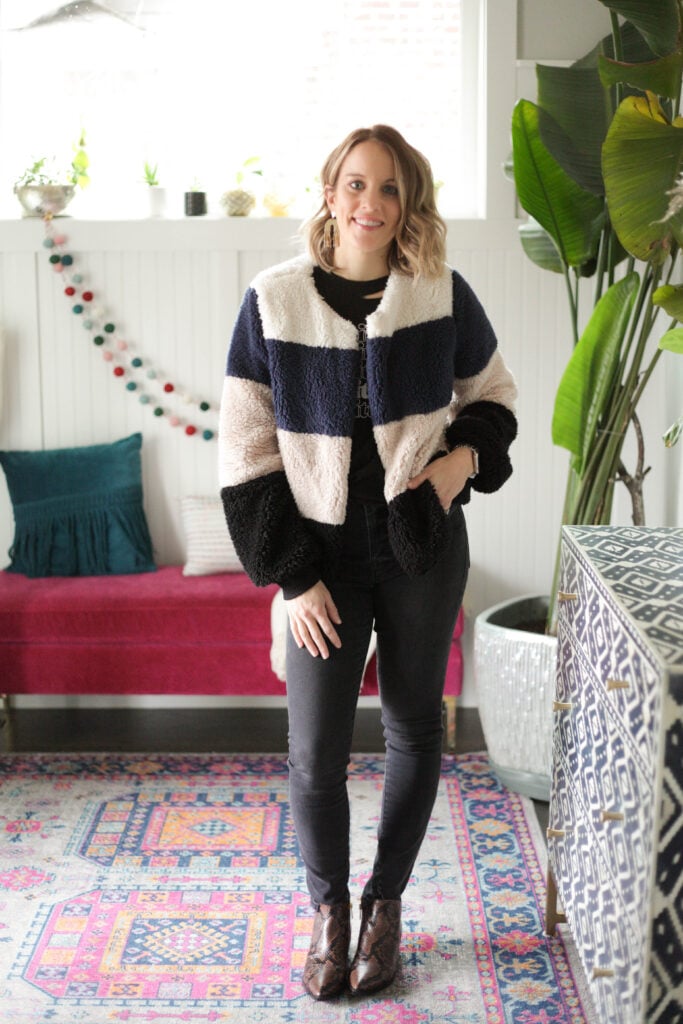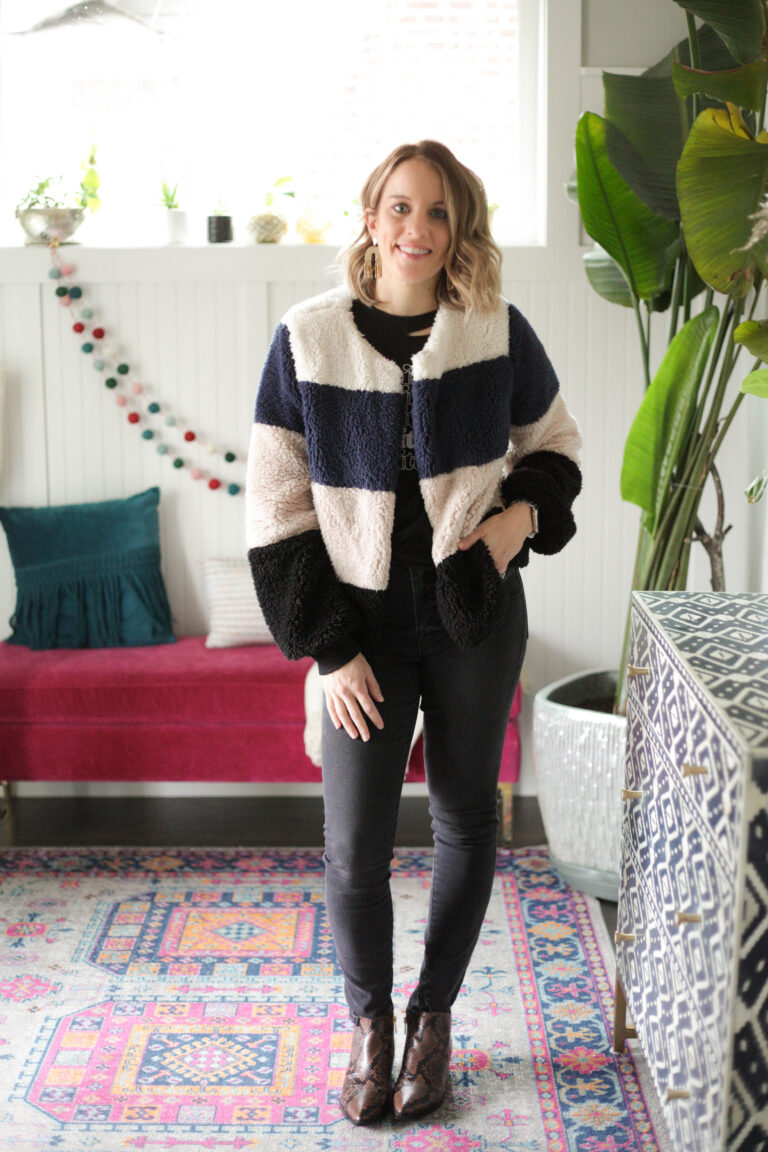 I love the graphic tee with the unexpected slit on the top. Truth be told, I have SO many graphic tees so when I find one I love that is different than anything I own I'm all for it. I also love that it reminds me (over and over) to have gratitude. I'm sure I'm not the only one who can get bogged down in the daily grind of kids, school drop off and work to look around and see the good all around me!
This graphic tee will not only remind you but also everyone around you who reads it to look for the good. Now that's a tee I can invest in! 😉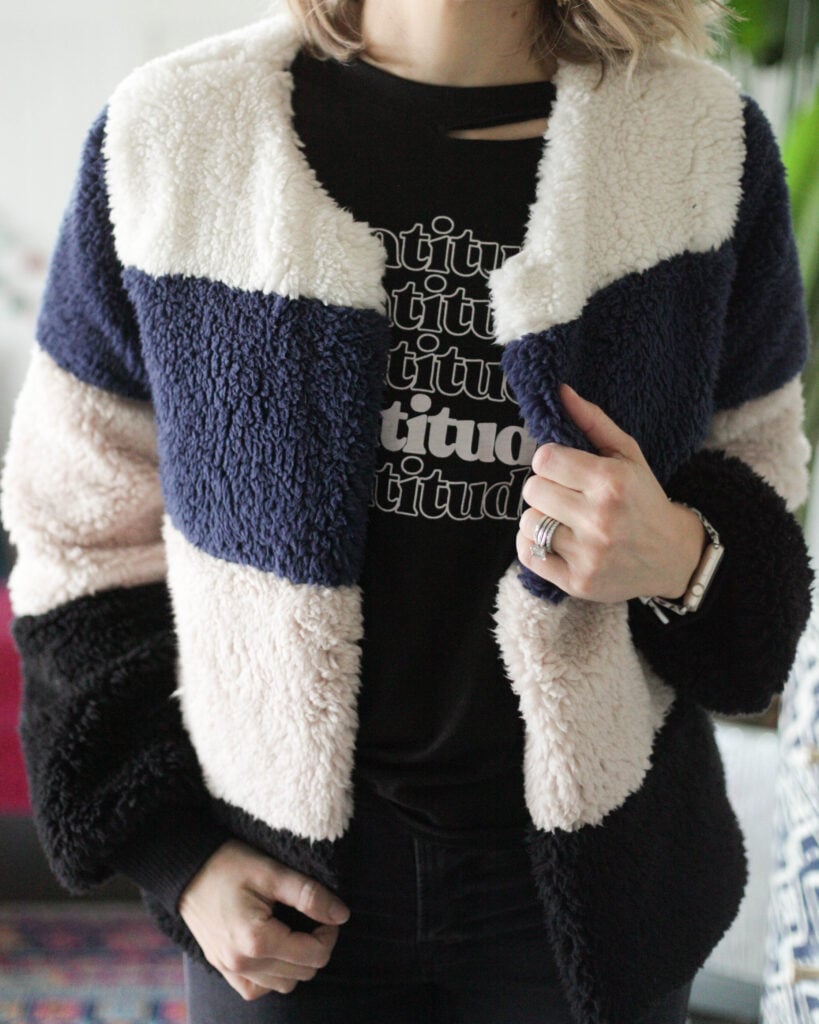 These denim are my very first pair of Good American jeans. I've heard from friends that you need to size down A LOT and they were right. I'm wearing a size 00 and while they're a bit snug around the waist, I think they'll be perfect in a month or two after the rest of my baby weight comes off.
They are so incredibly comfortable and have a raw hem detail on the bottom. You can't see them tucked into my denim but I love them when I wear them with pumps!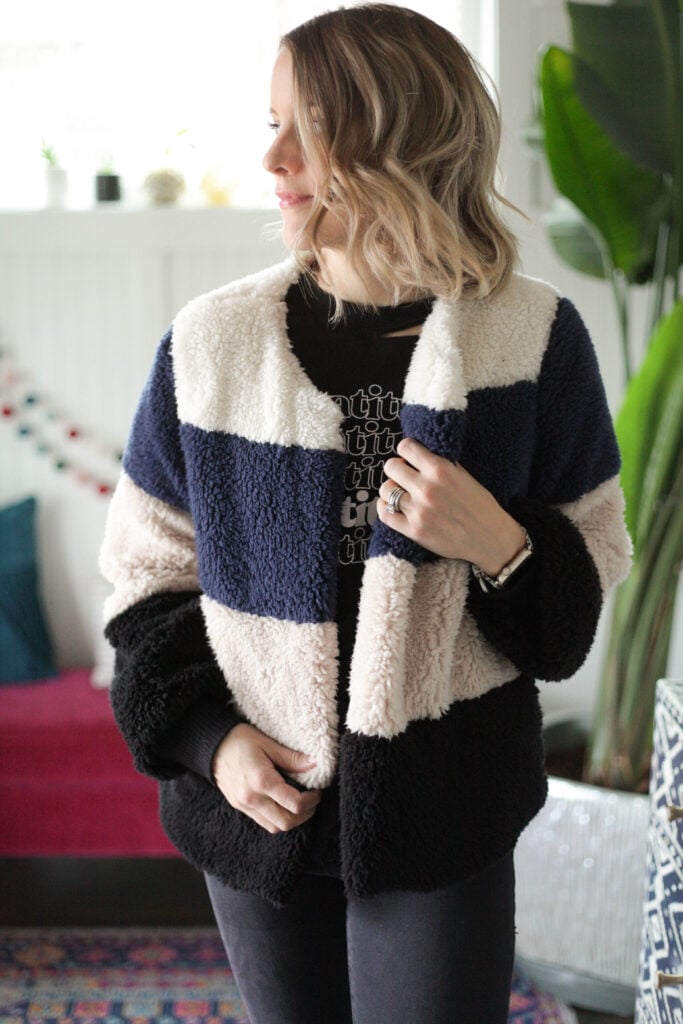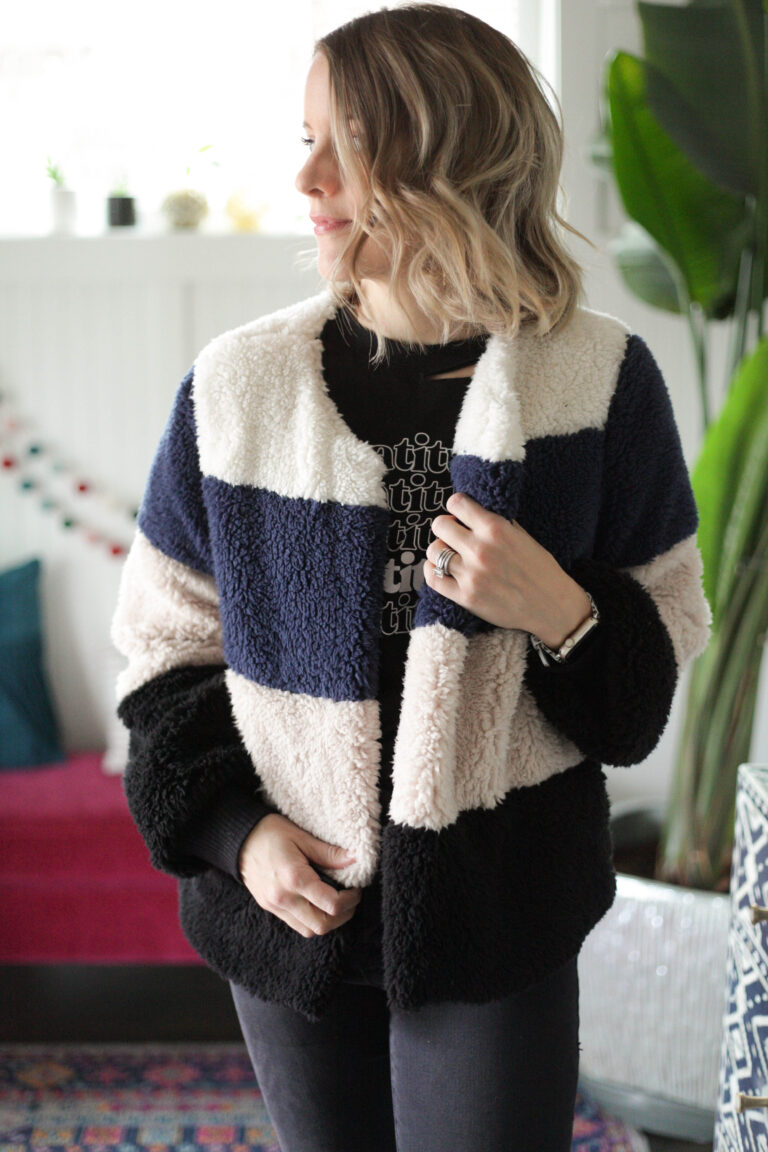 And last up, my snake skin boots! I bought these snake skin boots and wear them CONSTANTLY so I figured another pair in a different color and different heel would be a good investment. They're super easy to walk in and are incredibly versatile!
Work
Let's talk work! A graphic tee isn't always acceptable at workplaces so if that's you, swap it out for a dress!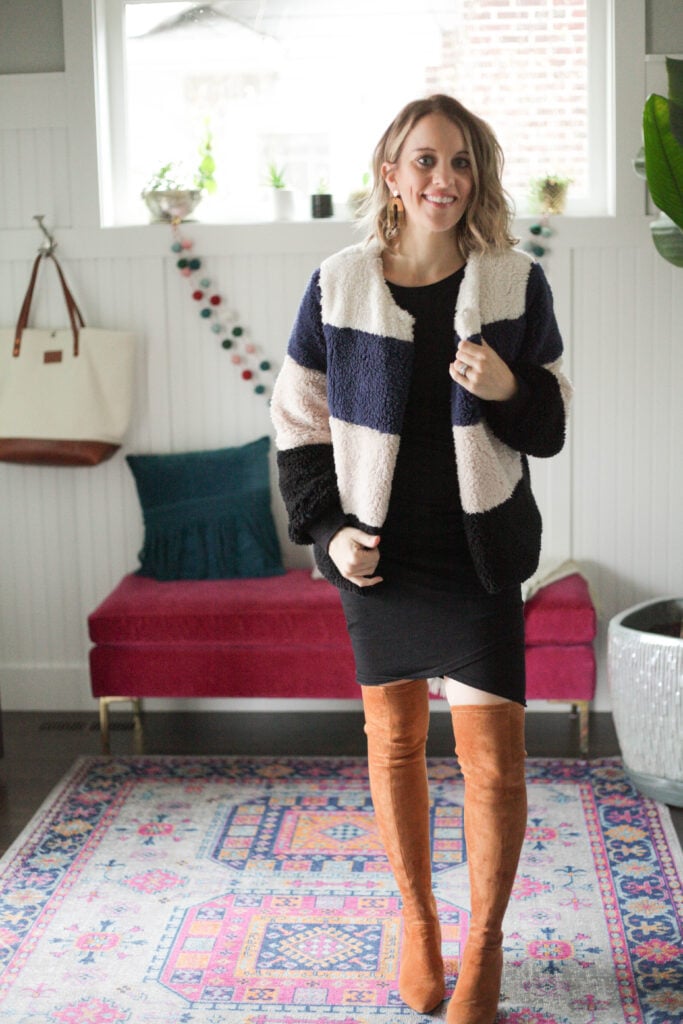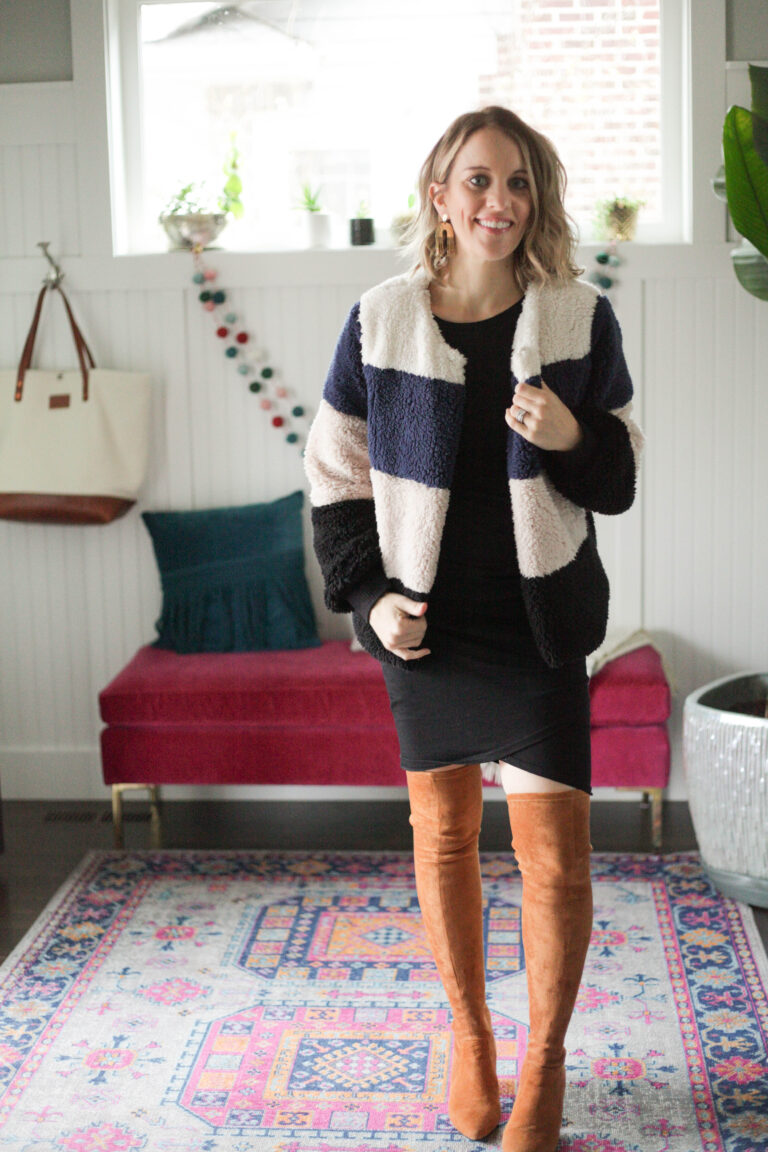 A classic black dress will tone down the wildness of the sherpa jacket enough to make it appropriate for the workplace. I have on this dress and it's the most flattering dress for all body types. I wore it when I was 9 months pregnant and it even worked then! It hides my leftover baby weight nicely and is incredibly comfortable.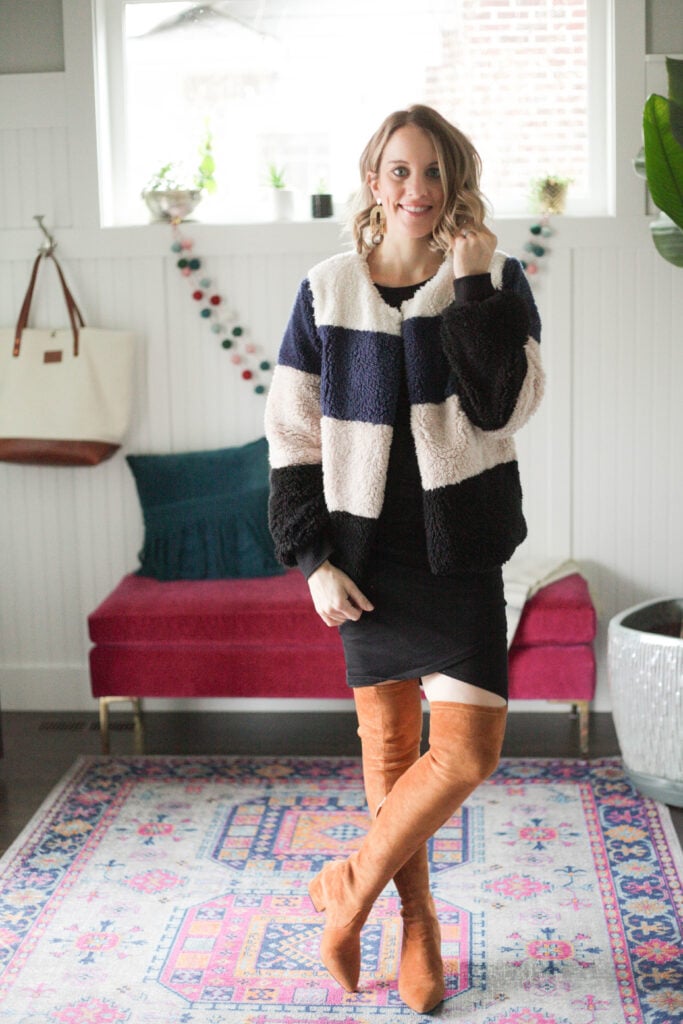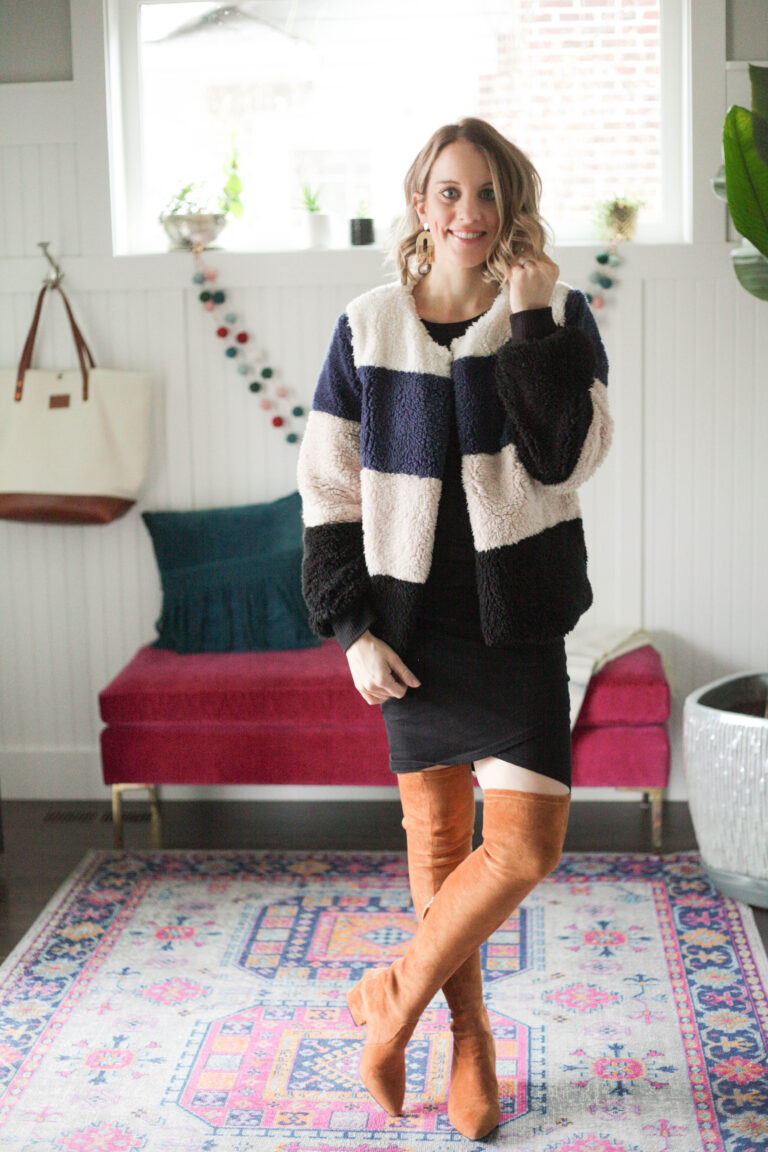 These boots are one of my go tos in the fall and winter. Again, they're comfortable and easy to walk in (which is a must as a mom to 3 very young kids) and they don't slide down once I put them on! They also come in black and grey if you prefer something a bit more subtle. I think any of the 3 colors would look great with this outfit!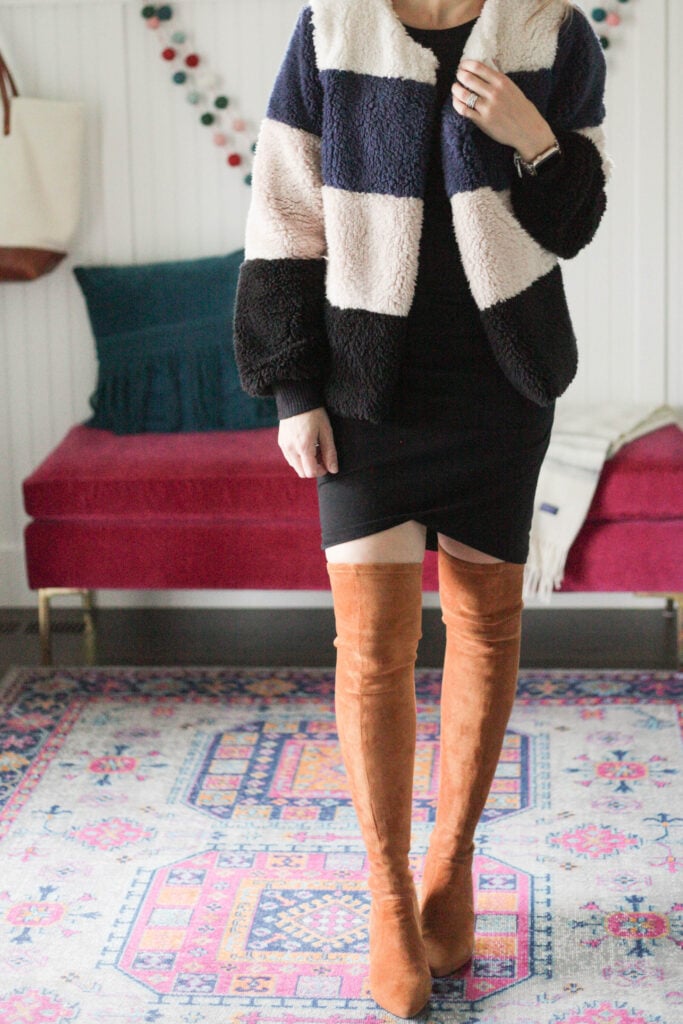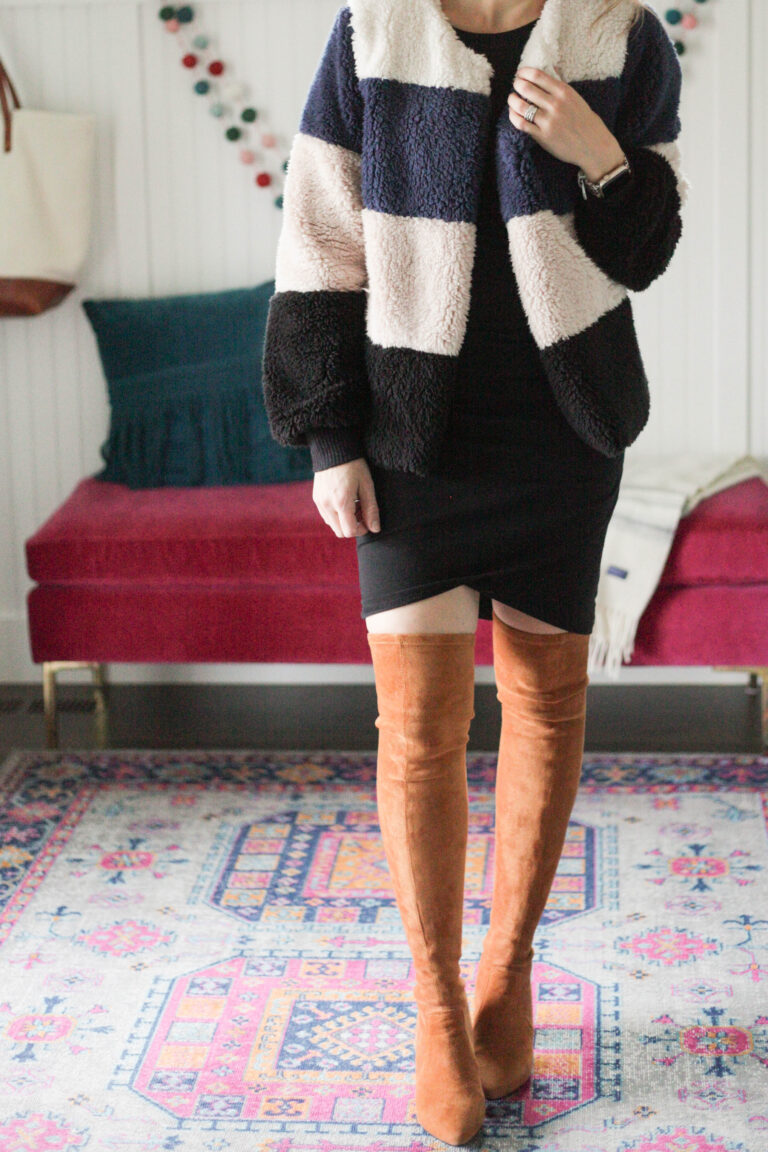 I absolutely love this outfit and will definitely be wearing it out this fall and winter.
Date Night
Last up, date night! I brought back the graphic tee but paired it with a double slit midi and knotted to show a tiny bit of belly. I love knotting my graphic tees, especially when I wear skirts super high waisted. It's often times more flattering than tucking them in if the tee is super wide or really long!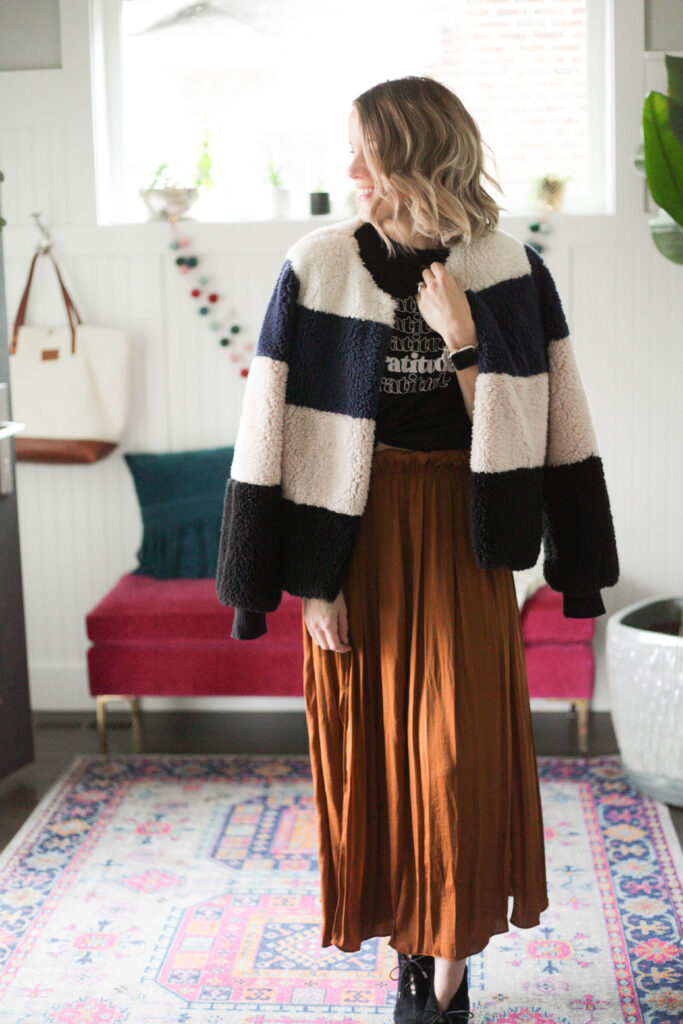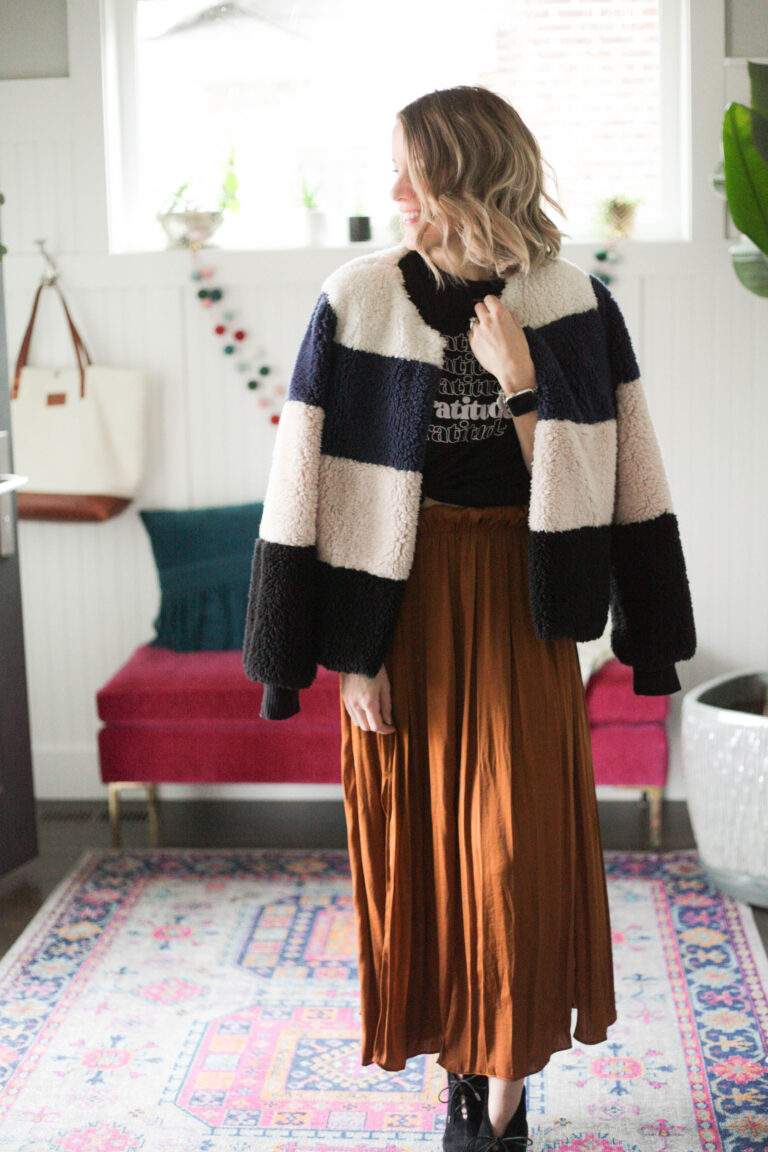 Depending on the weather, you can wear the jacket simply draped over your shoulders if the weather is decent or wear it if it's cold! I love the different textures in this outfit between the satin skirt, the sherpa jacket and the suede bootie.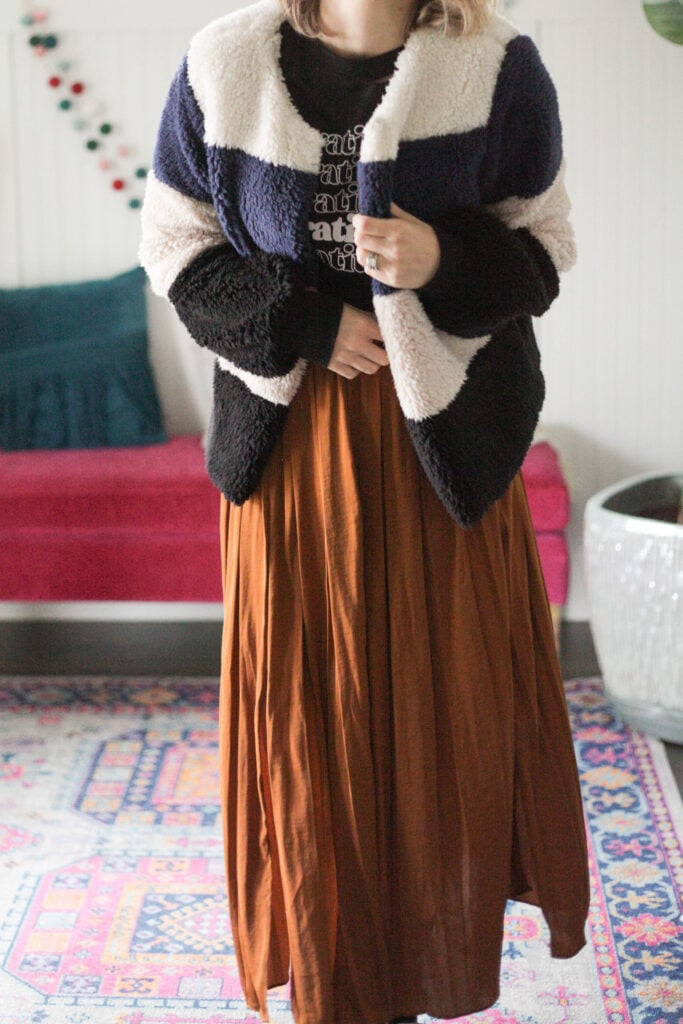 My midi skirt is sold out but this one is super similar and I love the button detail on this one!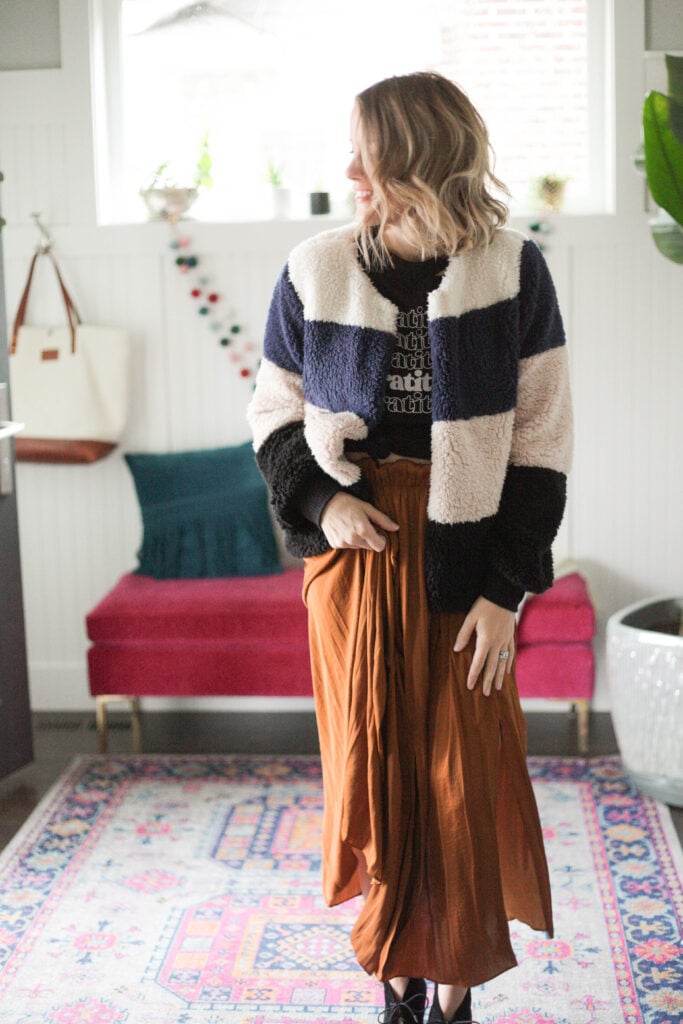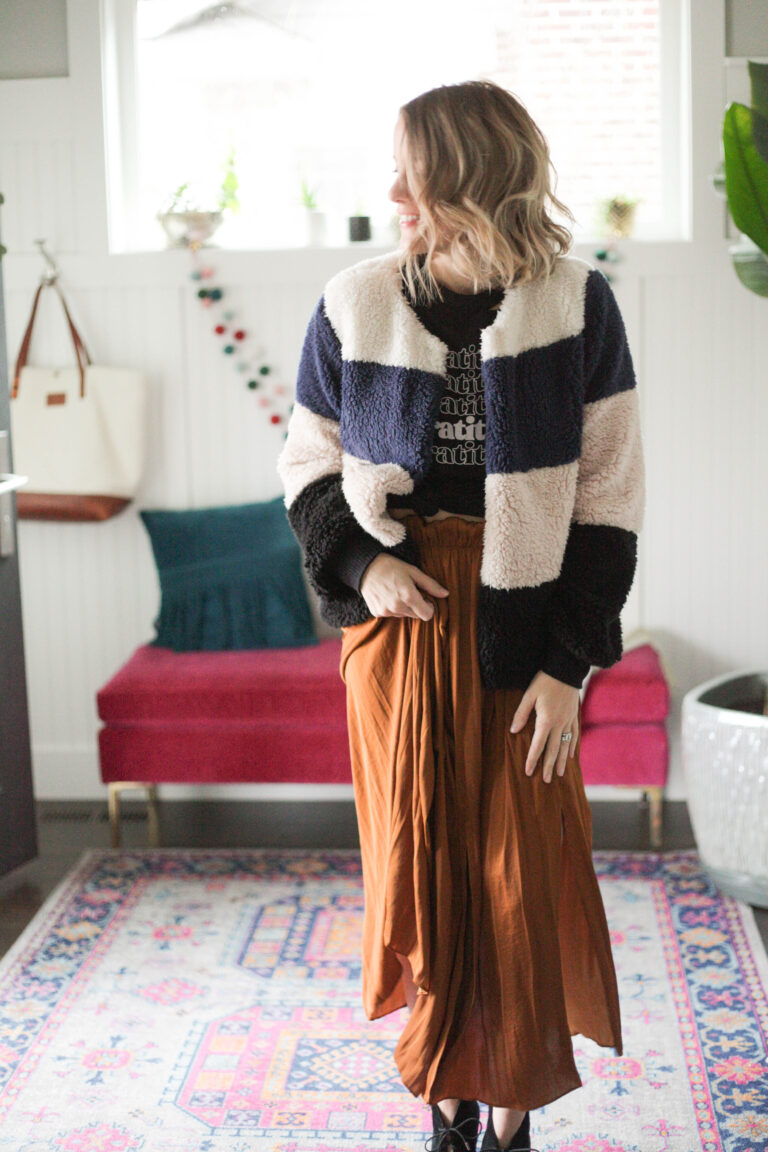 So there you have it! Three different ways to wear the same jacket. I'm all about versatility so if I don't think I'll be able to wear something in multiple ways, it's hard for me to justify the purchase!
Which way is your favorite?
Now head on over to see how I style a denim jacket 3 different ways on this post or how I wore a blazer 3 different ways (that's not to the office!!).
Thanks so much for reading!
With love,
Jen