Hey nail ladies – there's a new nail brand in town!  If you're not into acrylic nails, need a break from going to the salon for fun designs on your nails or just can't master painting your own nail art, let me introduce you to Ohora!
I was recently introduced to Ohora and want to share all the good (and not so good!) about this nail brand.
To start, Ohora did send me some product to try but this post is entirely my own thoughts and opinions. Let's get started!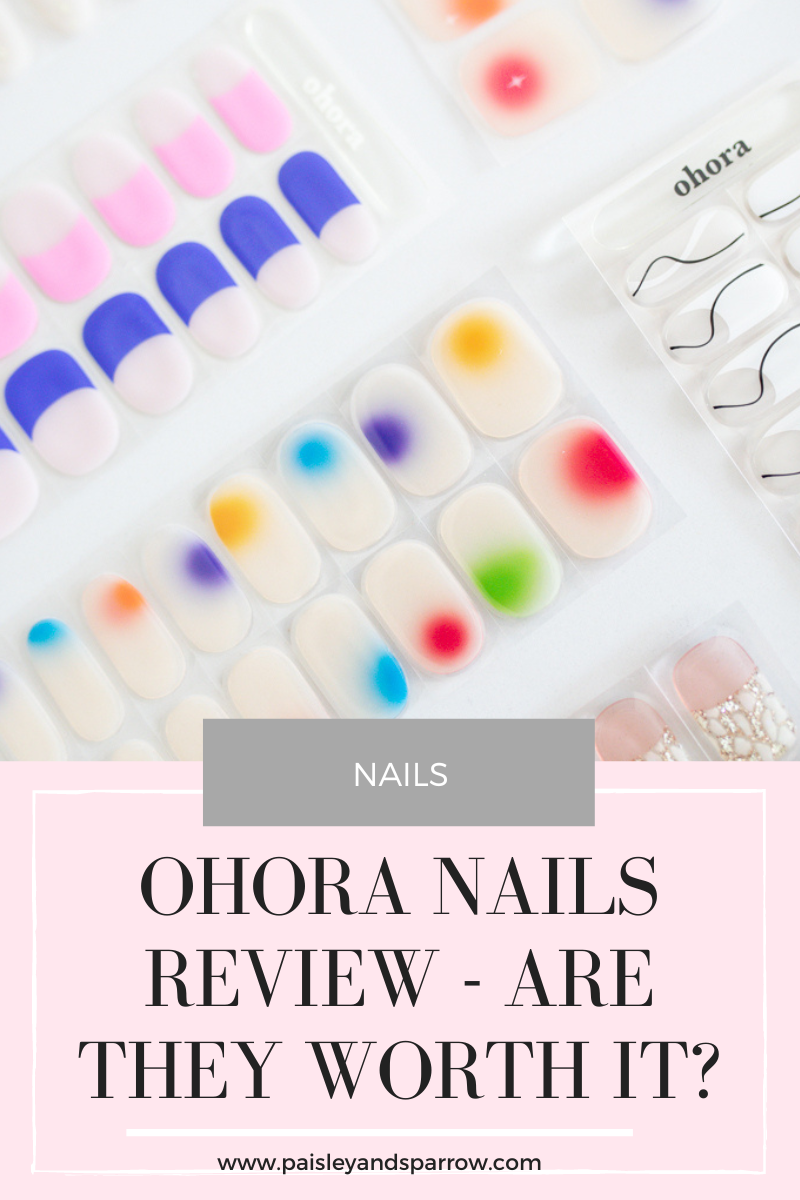 Paisley + Sparrow is a participant in the Amazon Services LLC Associates Program. This post may include affiliate links which means I may earn a small commission if you shop using the links below at no additional cost to you. 
Ohora History
To begin, let's get to know Ohora the brand. Ohora is the number 1 best selling gel nails in Korea and Japan. They were launched in 2019 and have sold over 20 million products since. They're ranked number 1 in Amazon's nail & wraps category and get an overall of 4.8 out of 5 star rankings.
Ohora was created to give you salon-like quality nails that are easy to apply at home or on the go. They created the first semi-cured nail strips on the market, starting in Asia and slowly making their way to the United States.
The Ohora technology is patented and each nail strip is triple layered with a top coat, color and base. They use safe materials that are ISO quality certified and safe ingredients that are toxin-free.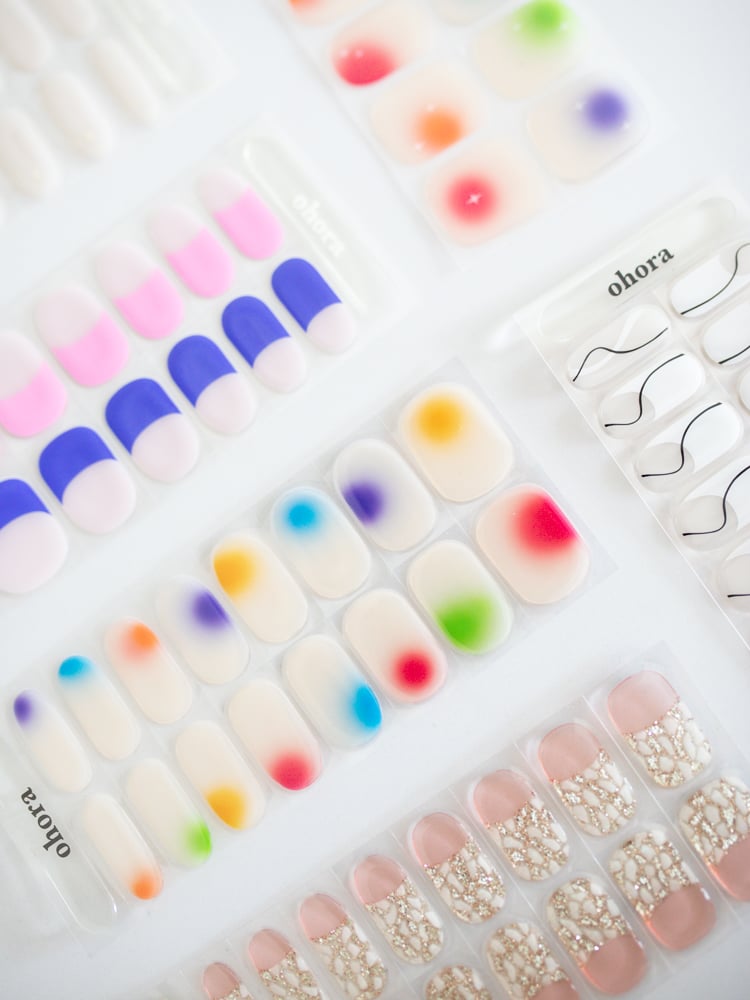 How Ohora Works
Ohora nail strips are 60% semi-cured and are jelly-like strips. They're bendable and stretchable so they can easily fit your nails.
Once they're applied, you use a UV lamp to fully cure them. This will harden the nails to look and feel just like the gel manicure you would get nail salons.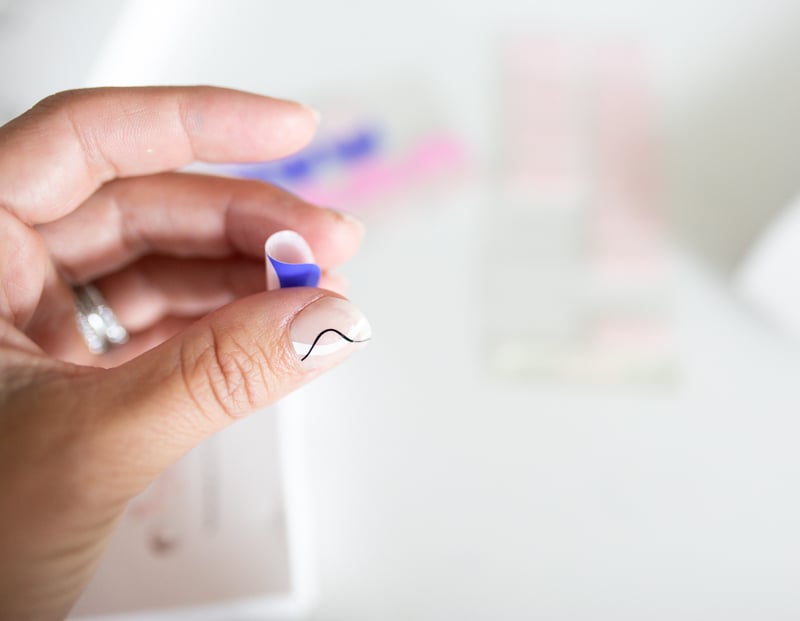 How to Apply Ohora Nails
It's fairly easy to apply these nails although it did take me 2 rounds of application to really feel like I got the hang of it. Here's how you do it.
1. Push Back Cuticles.
I found that pushing back my cuticles with my thumb nail made it easier to apply the nail strips close to my nail bed (and make it look nicer).
2. Remove Oil and Moisture
Just like when you're painting your nails and you should always dip your nails in the nail polish remover pods before painting, you need to do the same when applying these nails!
Removing excess oil, dirt or moisture helps the nail strips stick better to your natural nails. Using the alcohol pad that is included, wipe your nails clean.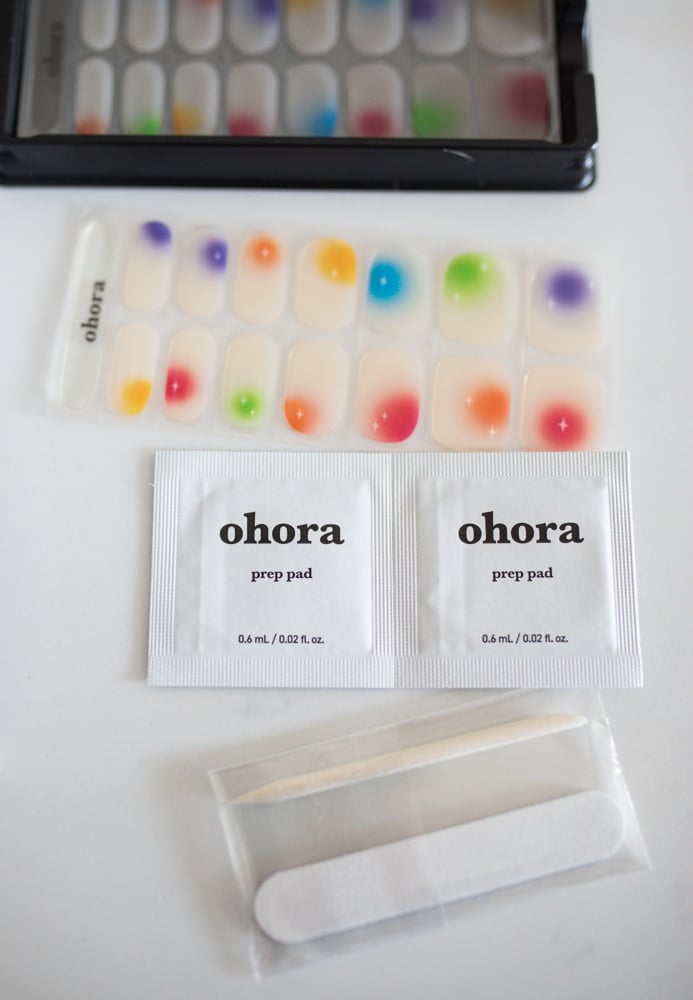 3. Pick Your Nail Strips
Before you remove any of the nail strips from their paper, hold them up to your nails to determine which will fit the best.
It's best to go with a nail that's slightly too small than one that's slightly too big. These semi-cured gel nail strips are stretchy so you can fairly easily stretch them to fit to your nails.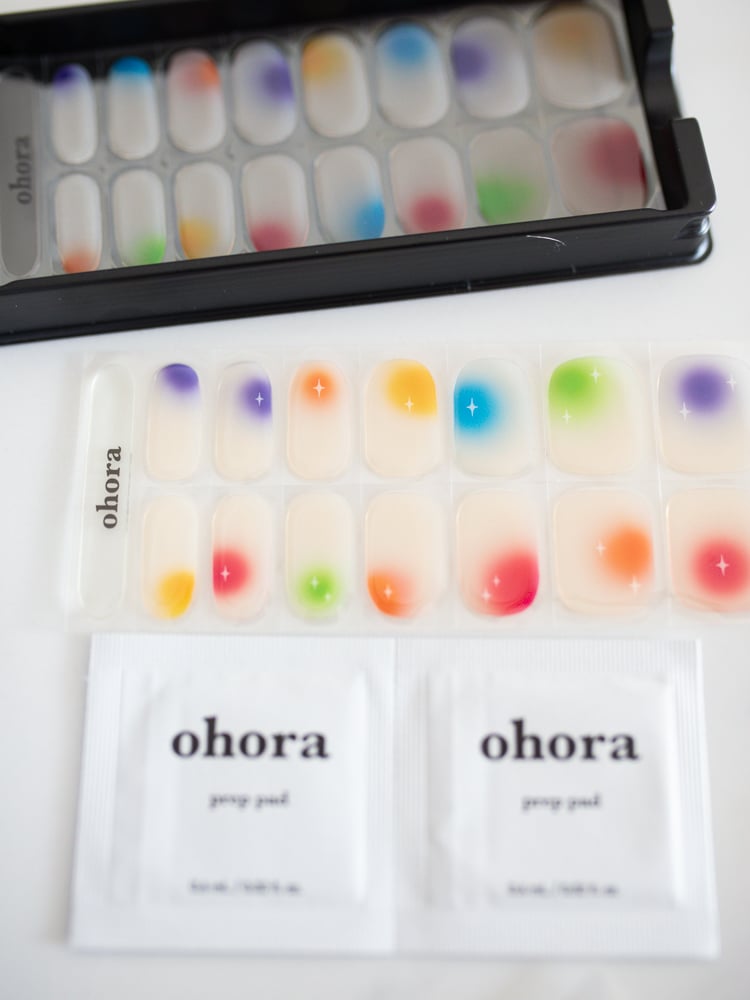 4. Apply the Nail Strips
First you'll want to peel of the transparent film sheet that is covering the Ohora gel nail. Then you can gently peel pack the nail and apply it to your natural nail. Be sure to check the sheet to know which side is closest to your cuticle line.
I like to start on one side and then stretch it over the other side to get a perfect fit. Another thing to note – some of the french tip styles won't show the french tip if you have short nails.
My niece wanted to apply the neon french tips to her nails so we trimmed down the part closest to her cuticle so you could see the color of the tips. It's fairly easy to do, you just need to make sure you cut it similar to the look of your nail bed!
5. Press and Smooth
Use your other hand to the press the nail strip down and smooth it over your entire nail to get it to firmly stick on your nail. Pay extra attention to the area along the free edge and use extra pressure there.
This will help prevent any snagging. The first time I put them on I didn't focus on the tip and they snagged my hair which was super annoying! Be sure to put extra pressure on the tips.
6. Trim the Gel Strips
Now you need to trim back the gel strips so they are close to your natural nail. Since I have short nails I use a nail clipper to do this. You can also use a nail file or scissor to do so.
After you trim it use the wooden nail stick to smooth the strip along the edges and sides of the nail one more time for safe keepings.
7. Cure the Nails
Using the Ohora Gel Lamp, place your fingers under the lamp and push the button on the side. You'll want to do this 1-3 times.
I typically do this at least 2 times, sometimes 3 to ensure it cures completely. You'll know they're done because your nails will be hardened and usually more shiny!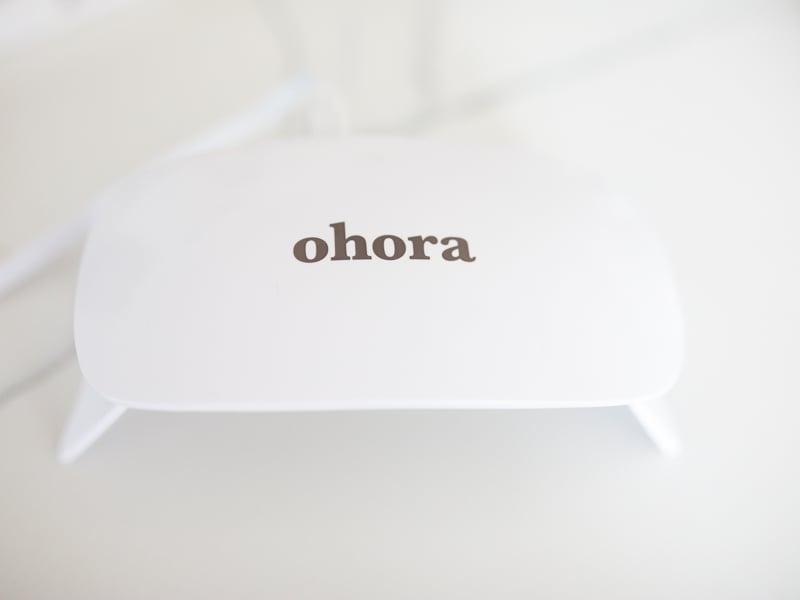 8. File Your Nails
Lastly, file your nails! Smooth the edge of your nails to make them look natural and extra gorgeous. Then your left with luxurious gel nails!
If you have some of the Ohora semi-cured gel nails with a gem on it, do the same steps as above but before you apply the main nail strip, apply a clear protective strip first. You'll also want to ensure you smooth out the area all around the pearl gem so no air bbubles get trapped.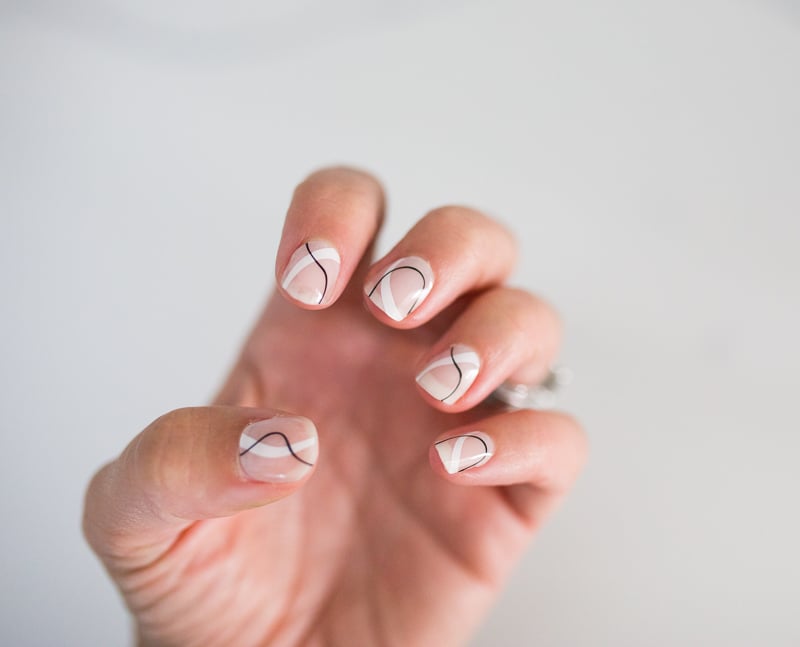 How to Remove Ohora Nails
Removing the nails are super easy! All you need to do is dip the wooden stick included in your nail kit into nail polish remover or acetone solution. Gently push the stick under the nail strip. Keep dipping the stick into the acetone and repeat the process until your nail detaches.
Then use your acetone solution to wipe away any remaining adhesive. Easy peasy!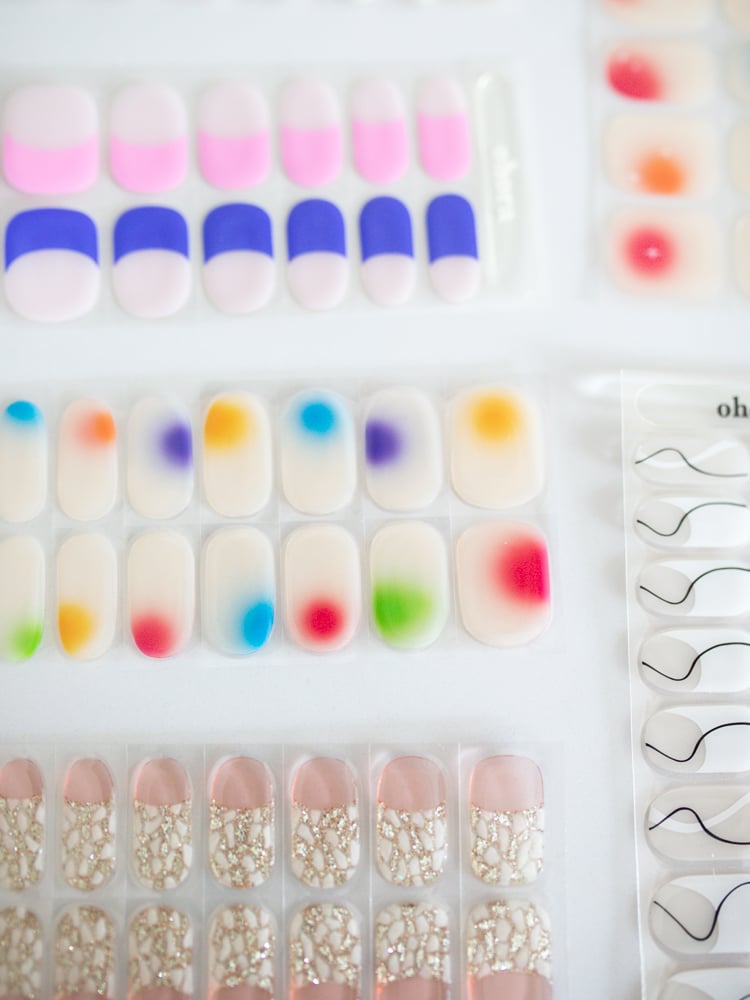 My Ohora Review
As someone who LOVES doing my nails but has never really mastered really great nail art, I love these! It is so easy to get a stunning manicure with a fun nail design in not time flat. There are tons of optoins and Ohora is constantly coming out with new styles and designs.
I also am not a big fan of acrylic nails because I don't like how they feel on me but these aren't like that at all! They look and feel just like a regular gel polish which I love.
It took a few times to really master getting them on but after a few sets I feel like I got the hang of it.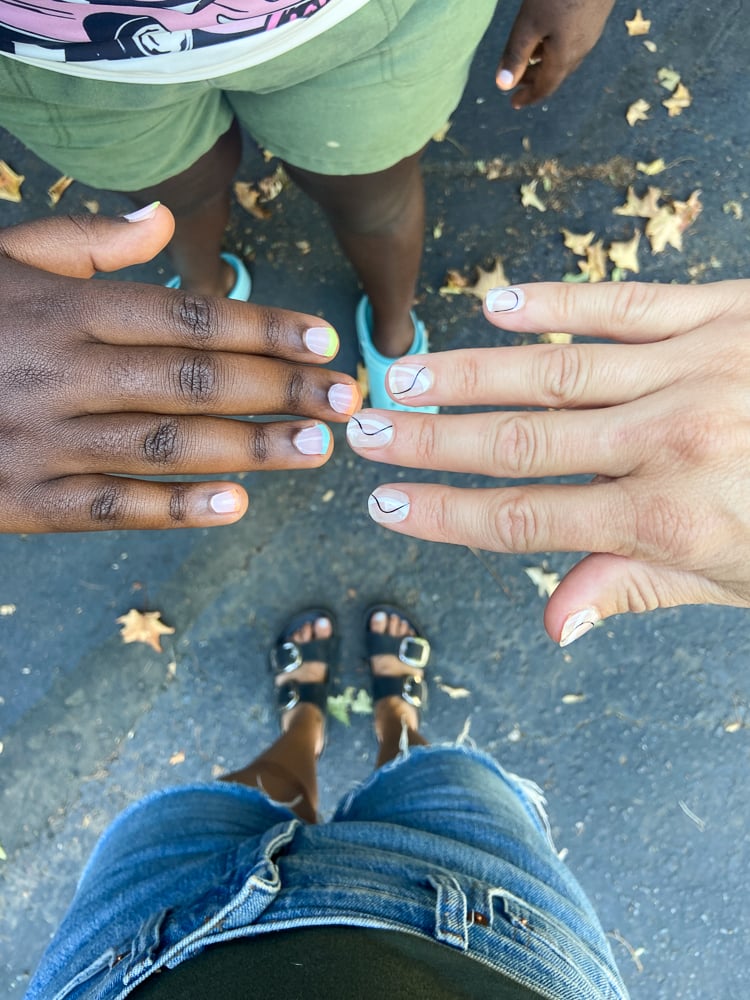 ​Let's go over some pros and cons:
Pros
Easy to put on
No down time after applying
Lasts longer than a regular nail polish (around 10-14 days)
More affordable than a trip to the nail salon
Easy to remove
Cons
Not all designs are good for short nails
Slight learning curve for application
More expensive than a bottle of nail polish (but less expensive than going to the salon!)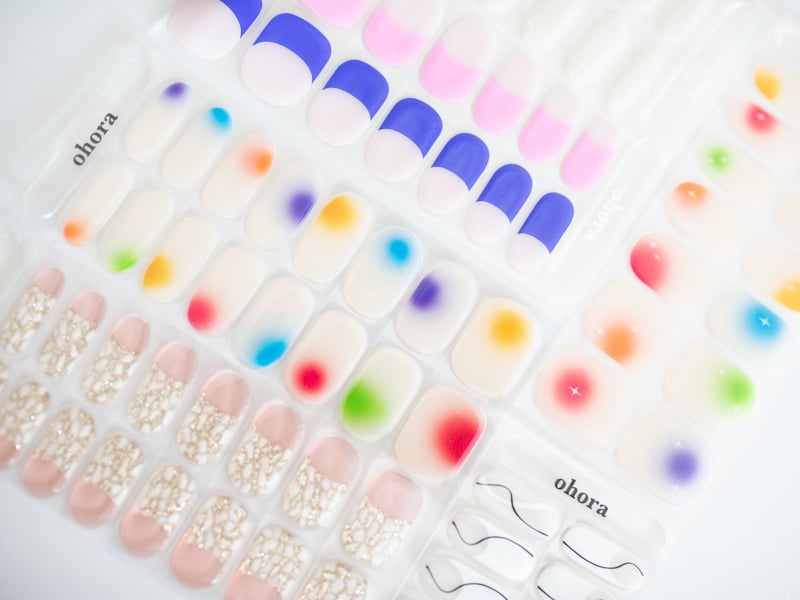 So would I recommend it? 100% yes!! I have done multiple rounds of these and love every one. I have even done it with my teenage nieces and they were just as obsessed (if not more obsessed) than I was! This is going to be a great gift for them and a regular manicure for myself!
Where to Buy
Best part about Ohora is you can buy them on Amazon! You can also buy them directly on the Ohora website. Both are great options!
I hope this Ohora nail review helps you in deciding if they're right for you. If you want to check out other nail reviews, check out my Olive & June review or my Olive & June Press On Nail review!