One of the best things to do after having a new baby is get newborn photos done. But the last thing you want is to get done with them and to feel stressed, overwhelmed and like it went terribly with a crabby baby. Or worse, get them back and not loving how they turned out!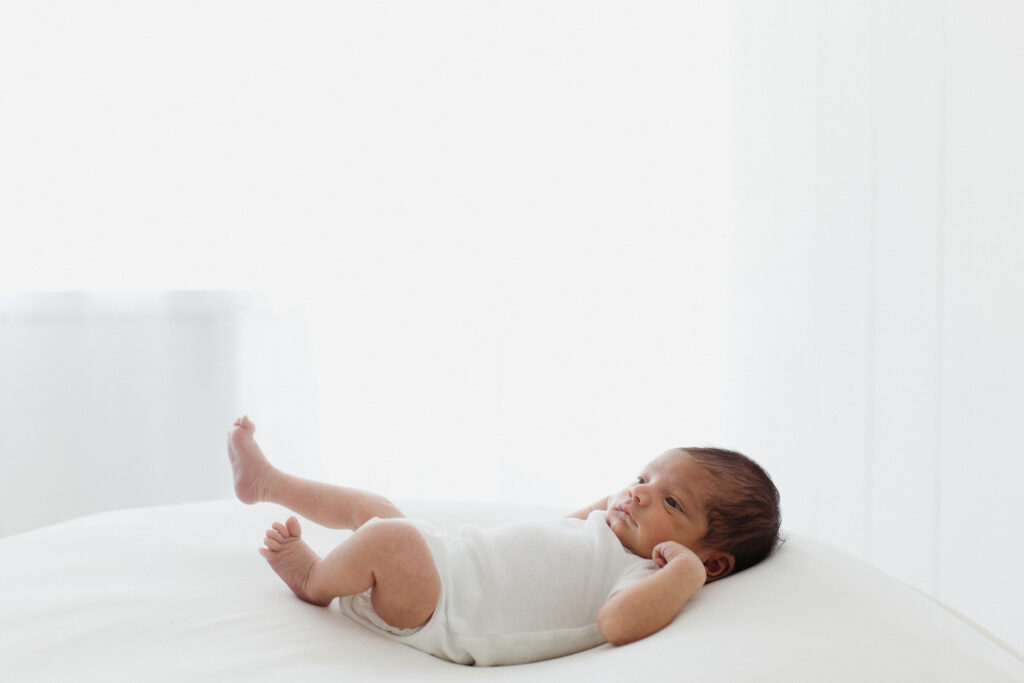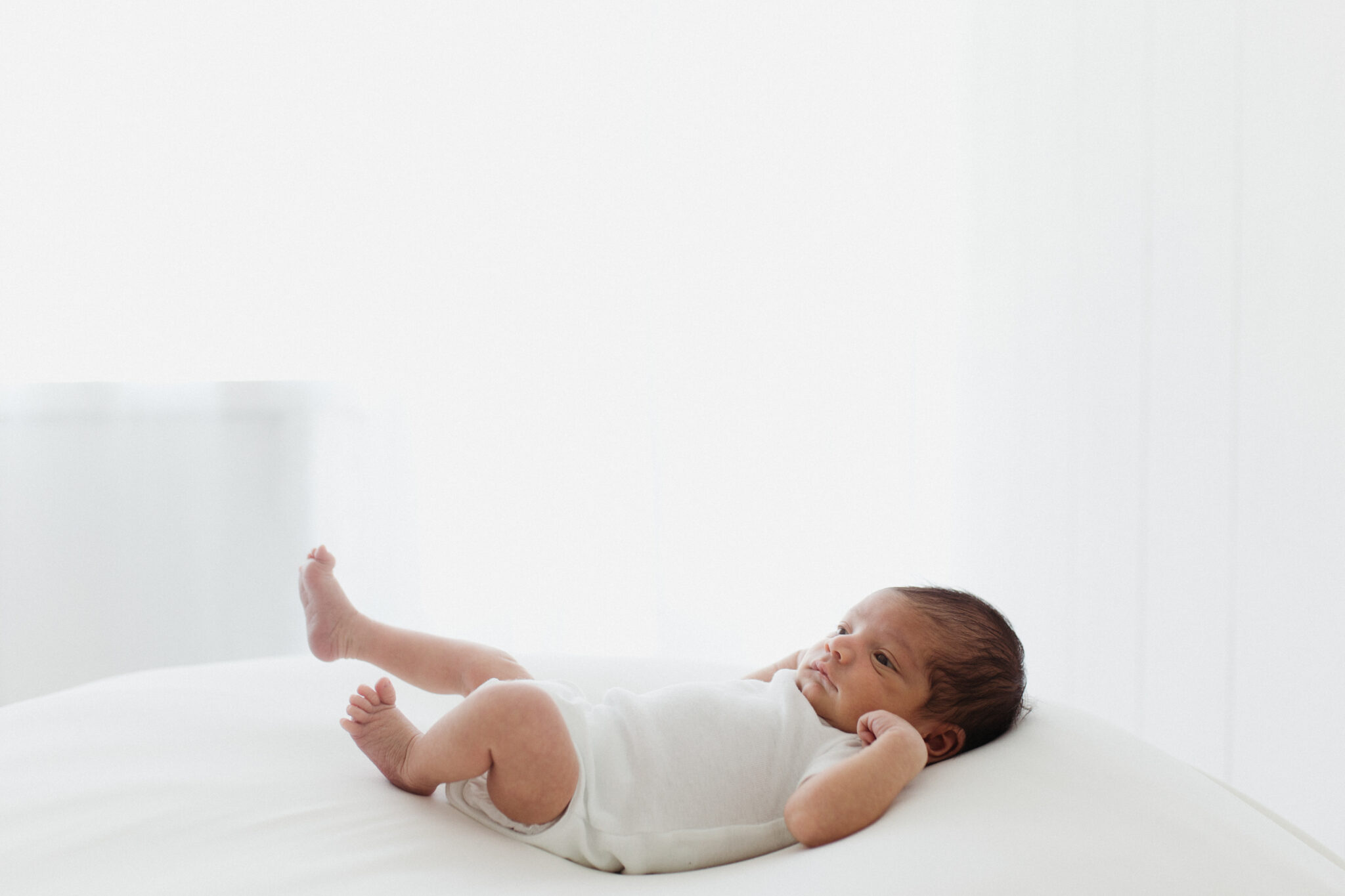 After having 3 babies and going through 3+ rounds of newborn photos with a photographer as well as taking countless newborn photos for friends and family myself, I've learned a lot about how to not only get amazing newborn photos but to also enjoy yourself during the process!
Here are some of my best tips for success for your newborn photos.
Newborn Photos – 7 Expert Tips for the Best Shoot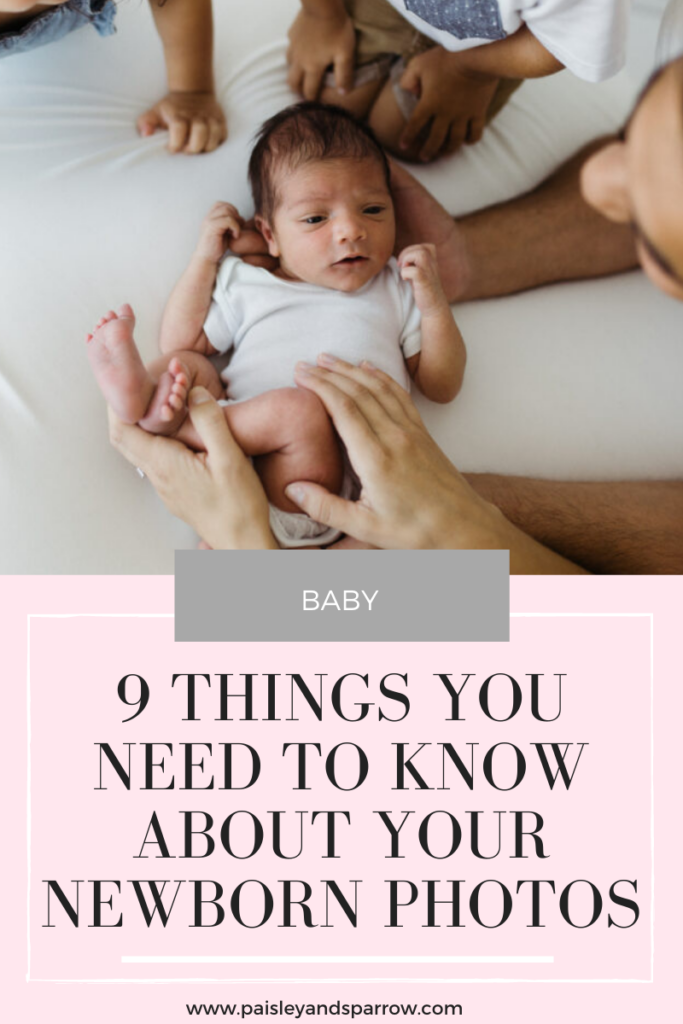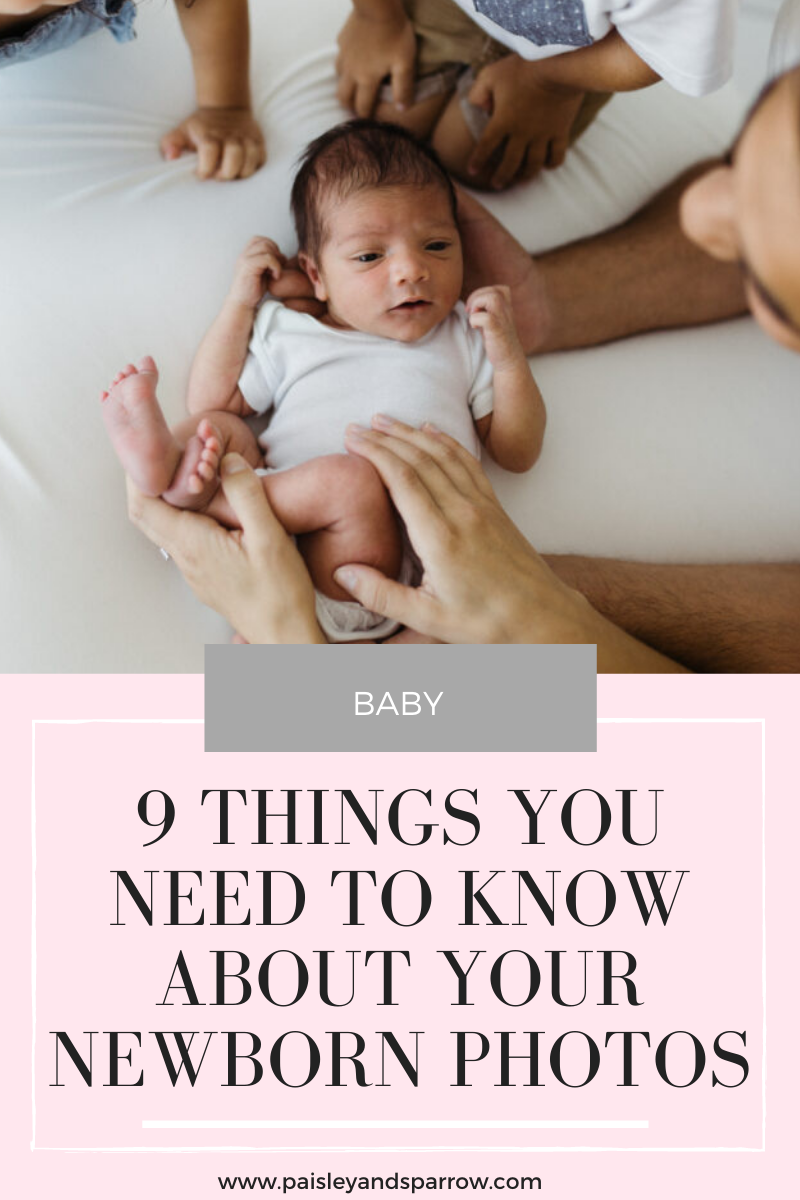 Paisley + Sparrow is a participant in the Amazon Services LLC Associates Program. This post may include affiliate links which means I may earn a small commission if you shop using the links below at no additional cost to you. Thanks so much for supporting me and this blog!
1. Feed Your Newborn Right Before Photos
What's the key to a happy baby? A full baby. 😉 Ok, maybe that's not always the case but in most situations babies are calm and happy (and sleepy!) after a feeding.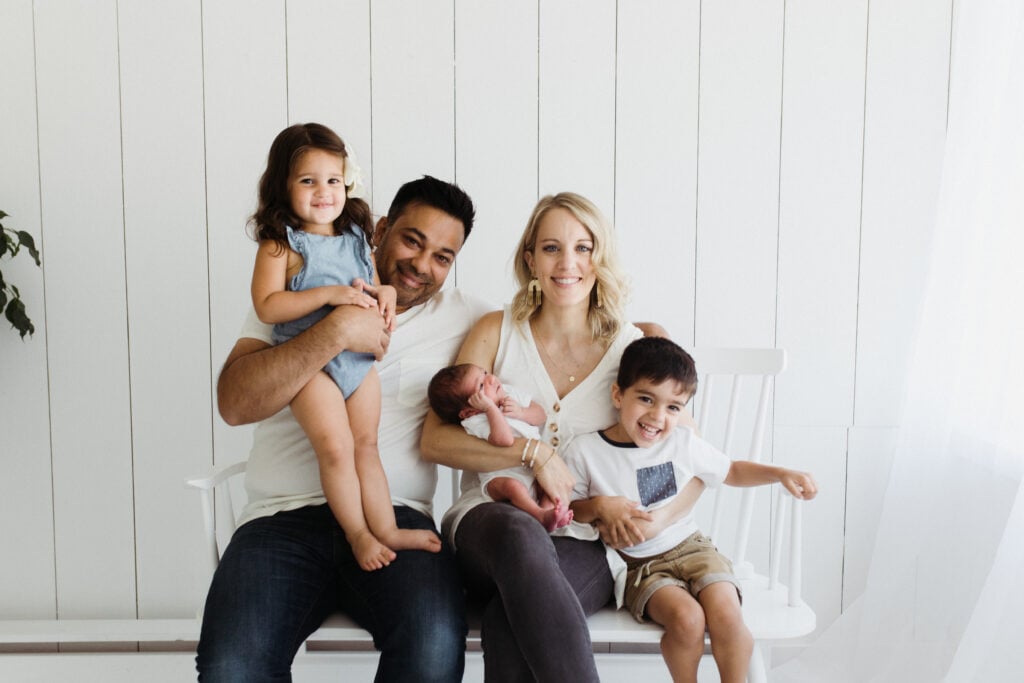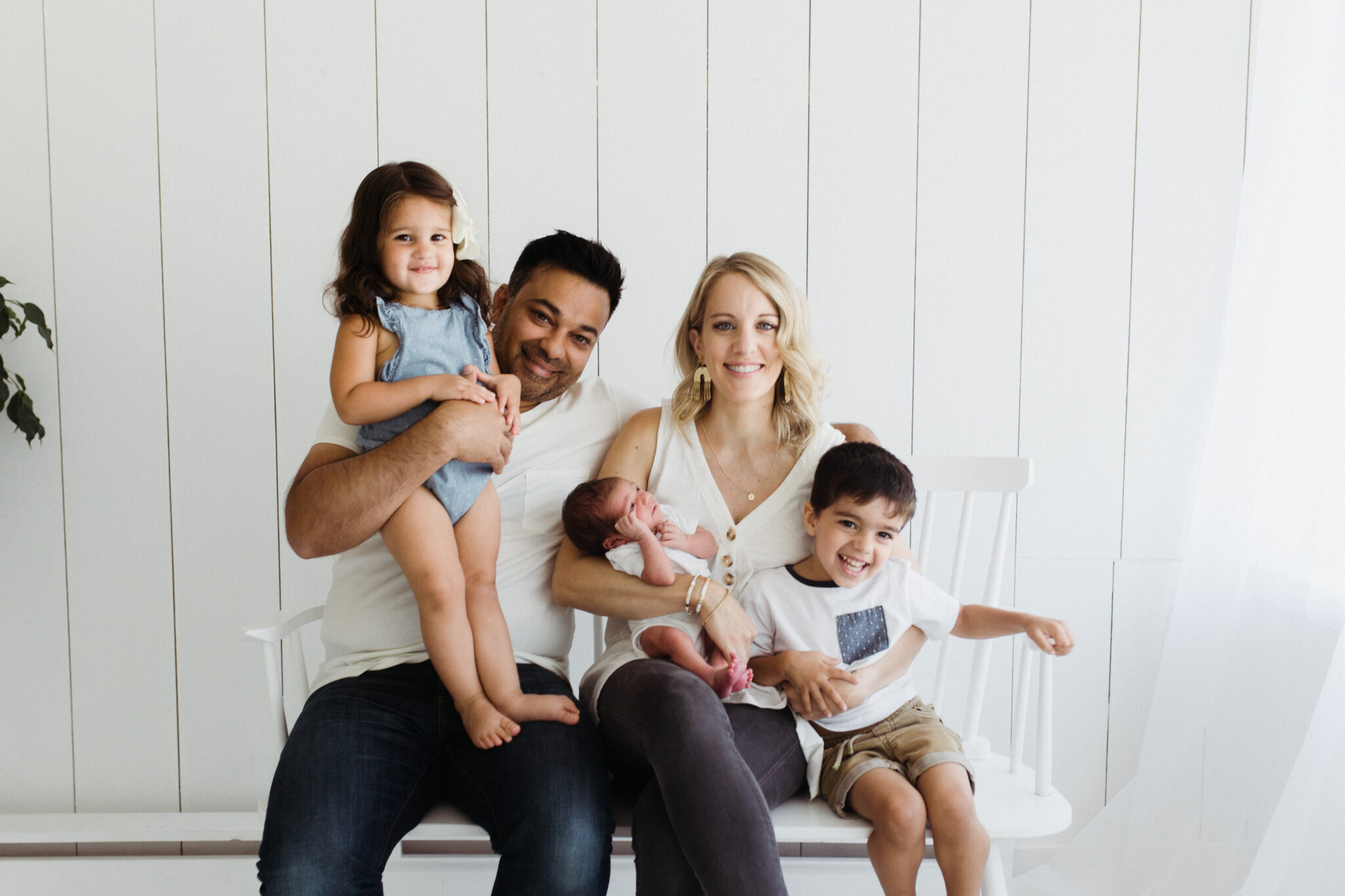 If possible, plan to feed your baby shortly before your newborn photos are scheduled to start (30 minutes or so). This may require you to wake up your baby a little early from a nap to feed or to adjust their schedule a little but don't fret, it's just one day!
Also talk to your photographer beforehand to see if they're ok if you need to feed your baby at some point during the shoot. We all know babies can be unpredictable and they may need a small feeding to settle down a bit during a shoot. If you chat with your photographer ahead of time about this it won't stress you out if you need to take a break to feed.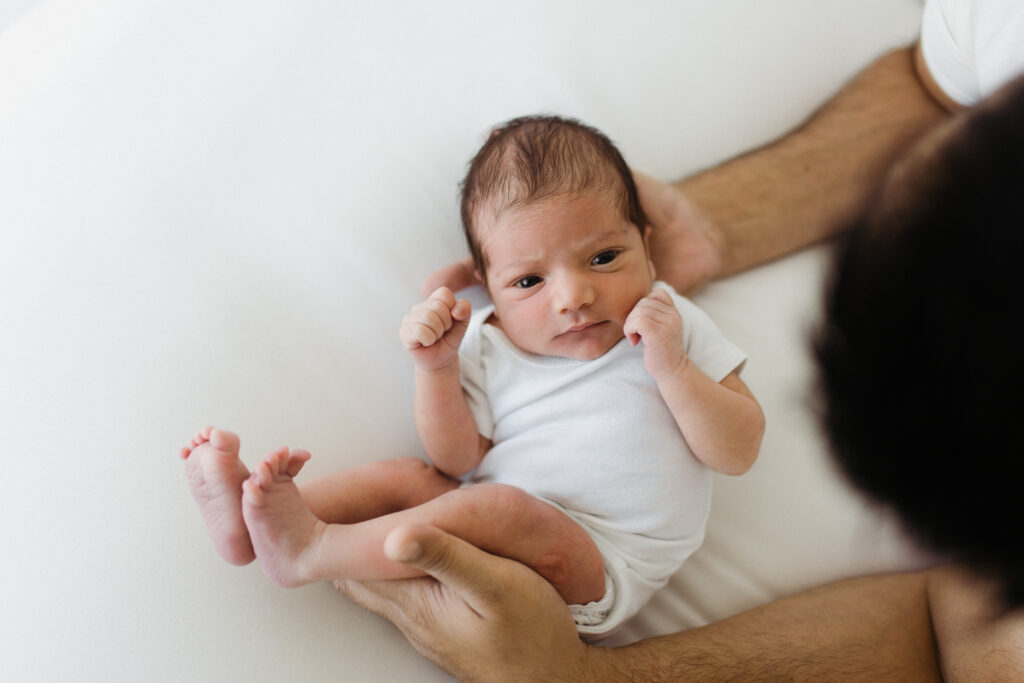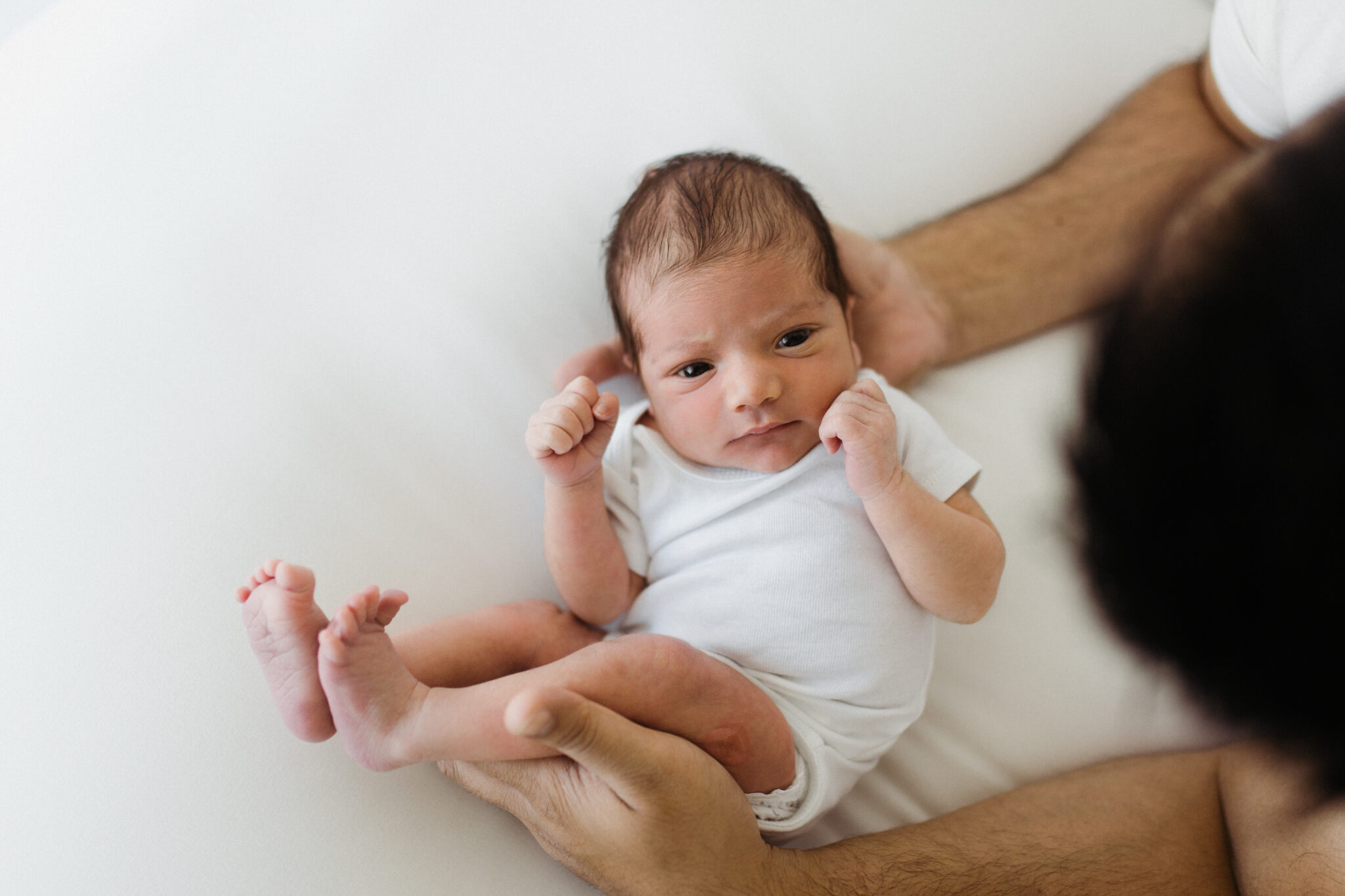 2. Keep Baby's Clothes Neutral (+ Have A Back Up!)
Your newborn photos are a time to capture how teeny tiny and adorable your new baby is so keep clothes minimal and neutral. For most of our newborn shoots, I put our kids in simple, fitted light grey onesies. Nothing distracting and actually our boys wore the exact onesie for theirs!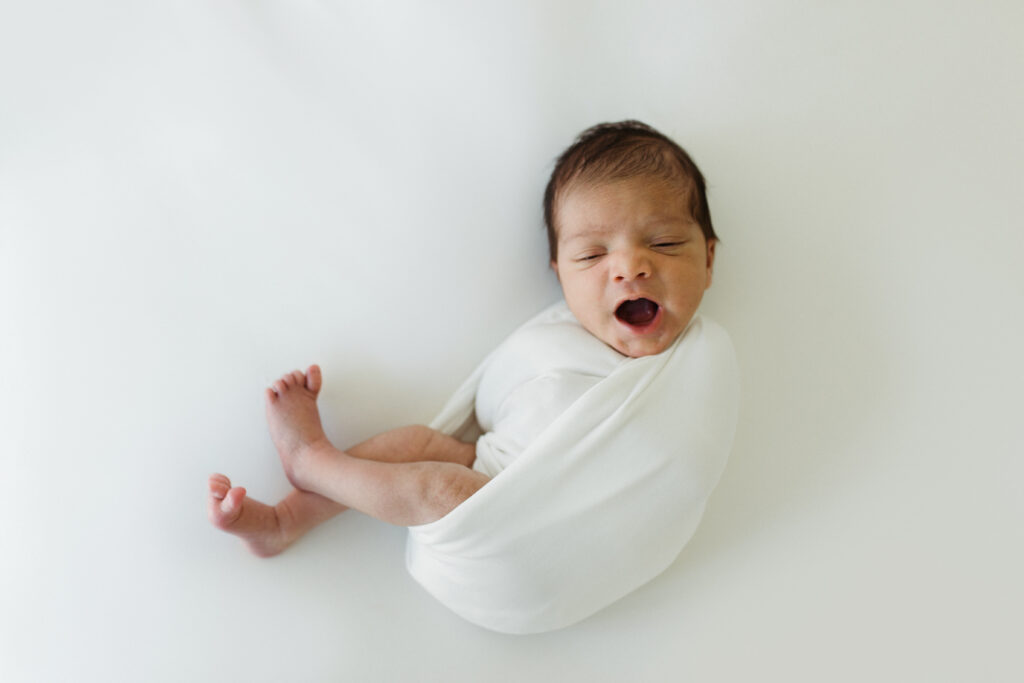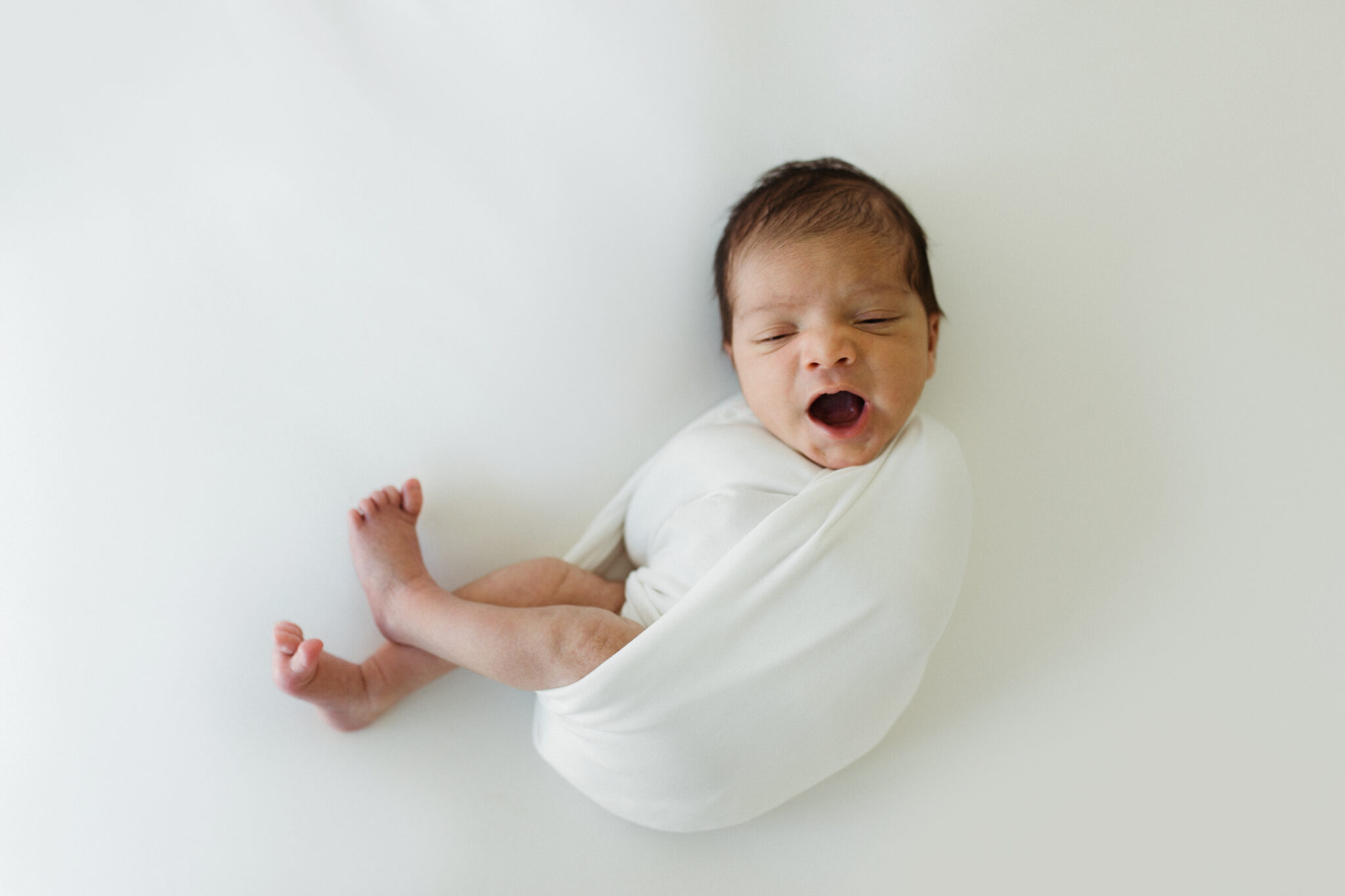 You can alway add a cute bonnet or bow for a few photos to switch things up a bit.
And always have a backup onesie ready! You never know when there will be a blow out or spit up or who knows what! Babies can be gross so have something ready for when the inevitable happens.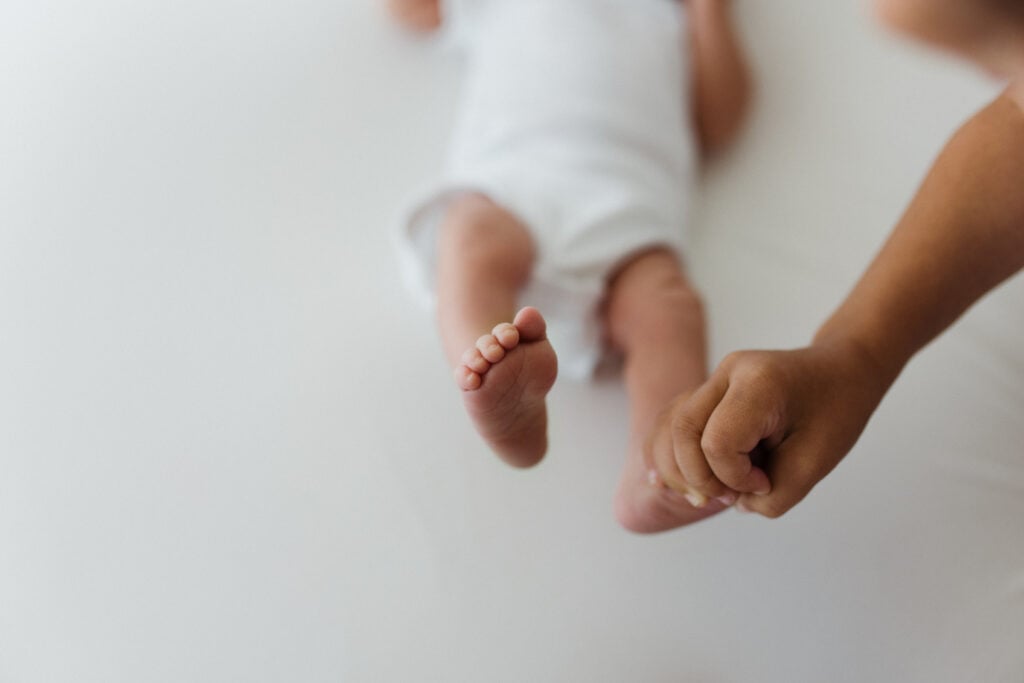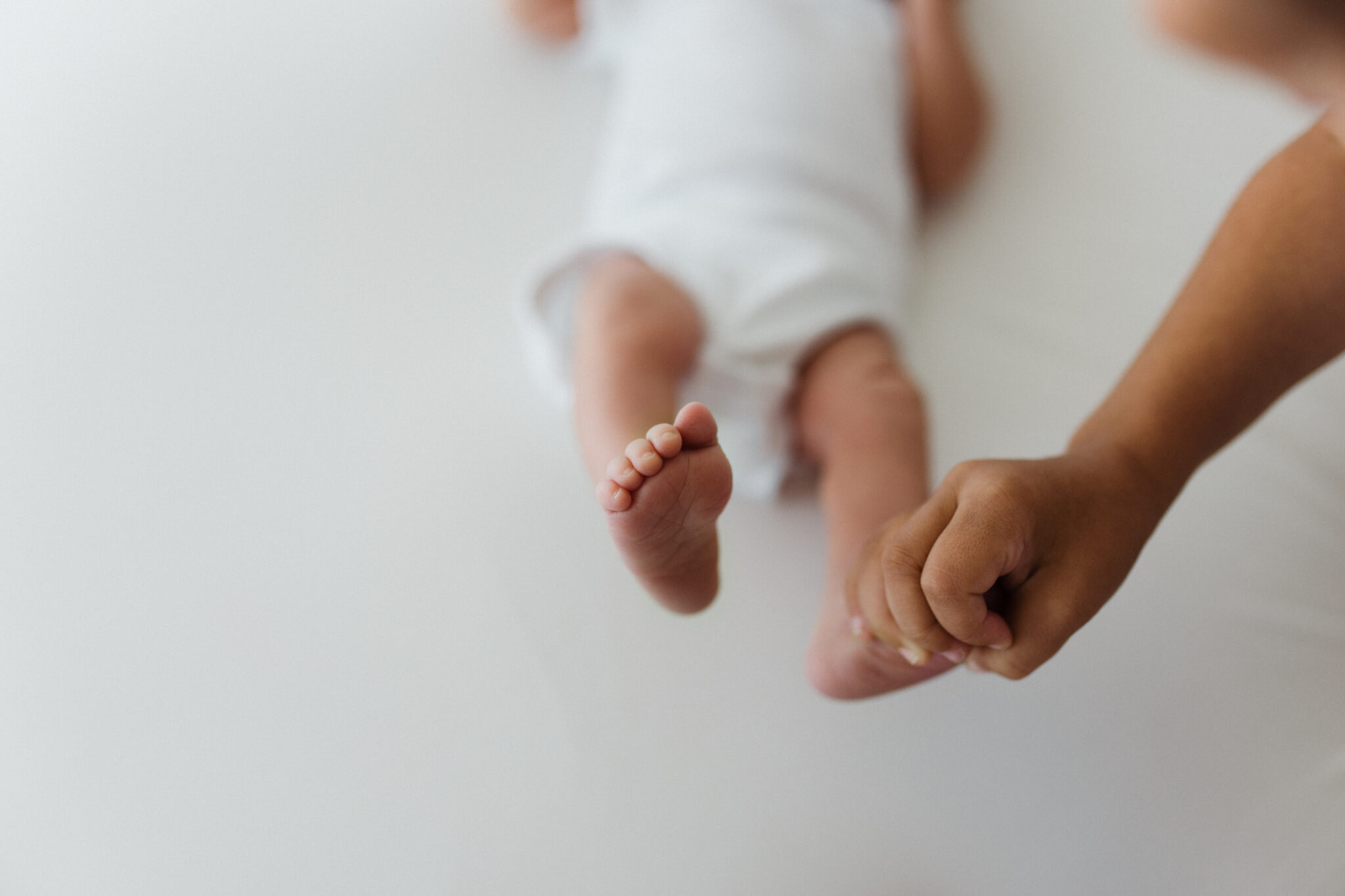 3. Have a Pacifier Handy
Not every single photo will have your baby's face in it and sometimes your little one just needs to suck on something to calm down a bit. We used pacifiers intermittently with all of our newborn shoots!
It's always better to have one on hand if you need it than to be scrambling mid shoot to find one.
You can take photos like this one (below) with a pacifier in and nobody would know!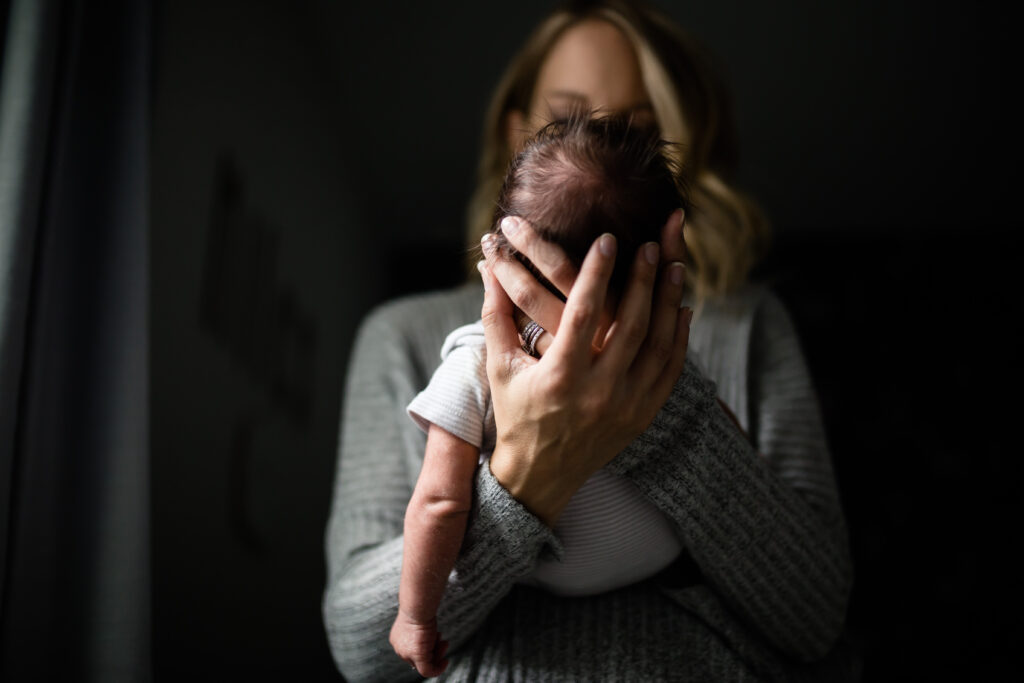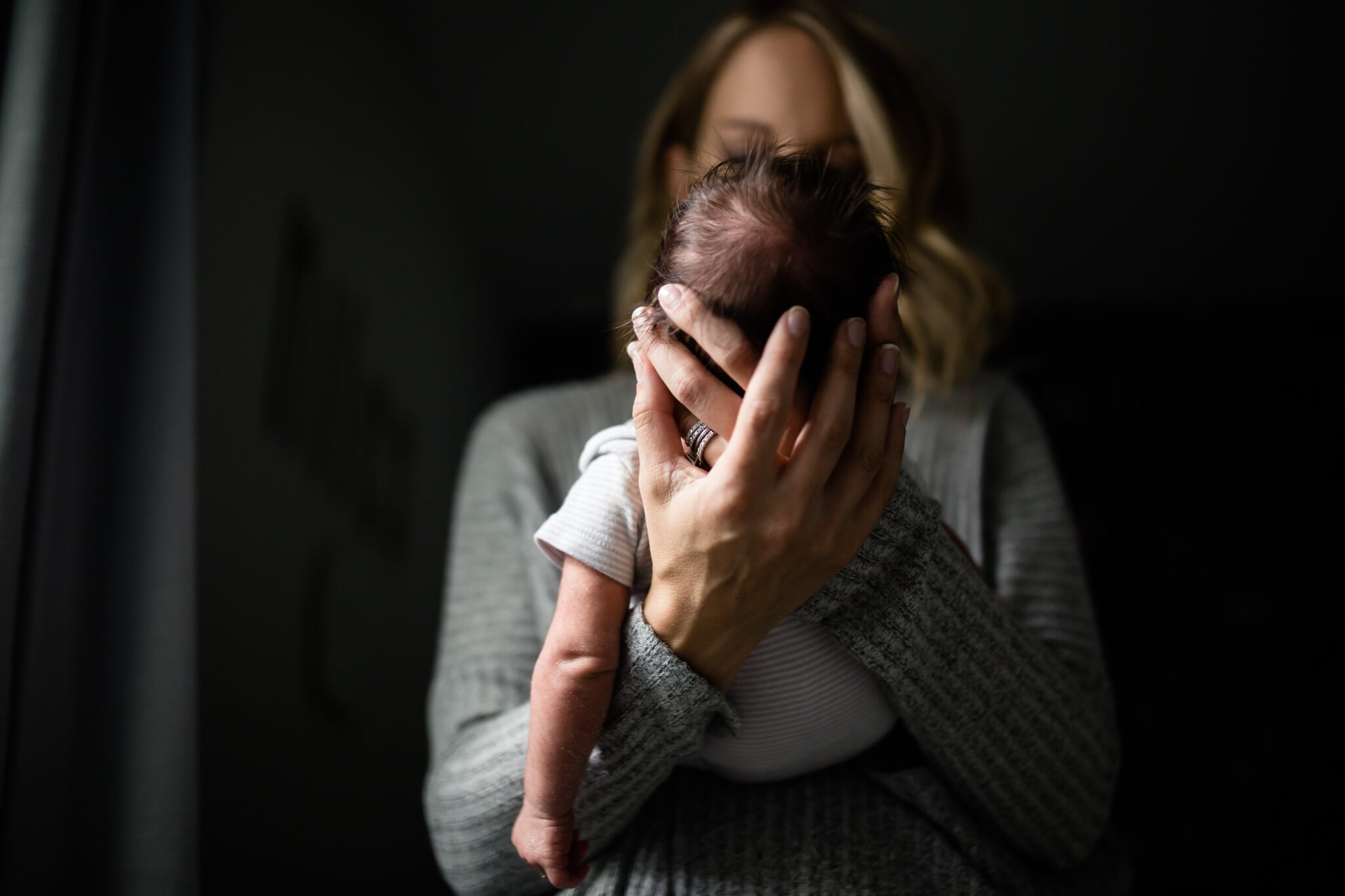 4. Turn the Heat Up (or the Air Conditioning Down)
As mentioned above, your baby will likely be in a onesie or a diaper for the shoot so you don't want them to get cold! Bump up that heat a few degrees or pull in a space heater to make sure they're nice and cozy warm.
Keep that in mind when you're dressing yourself as well so you're not sweating a thick sweater while your baby is cozy warm in their onesie.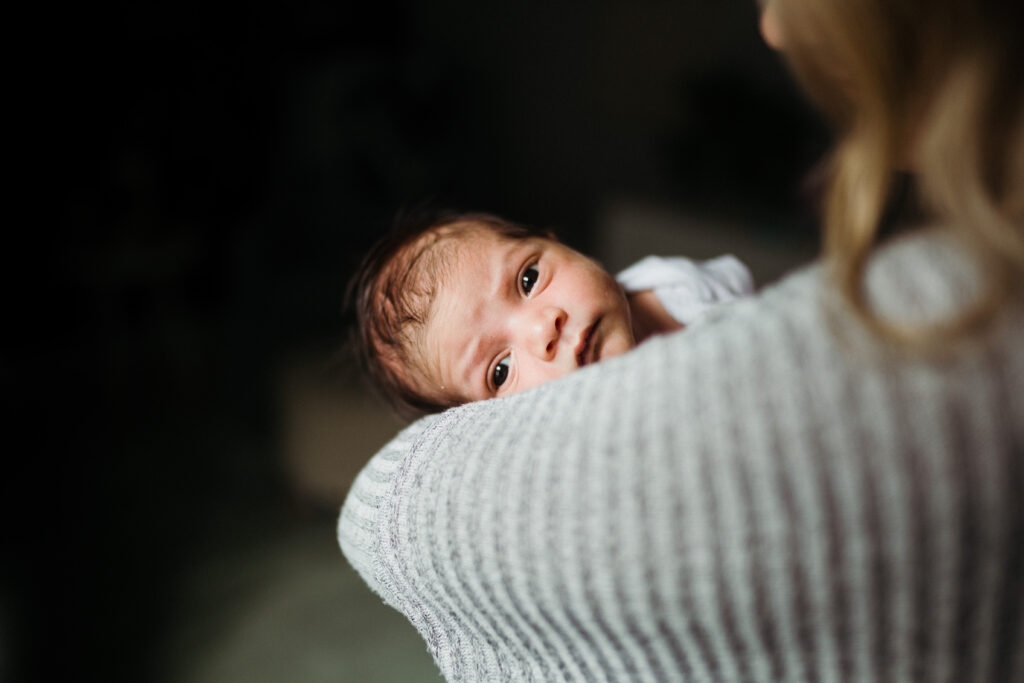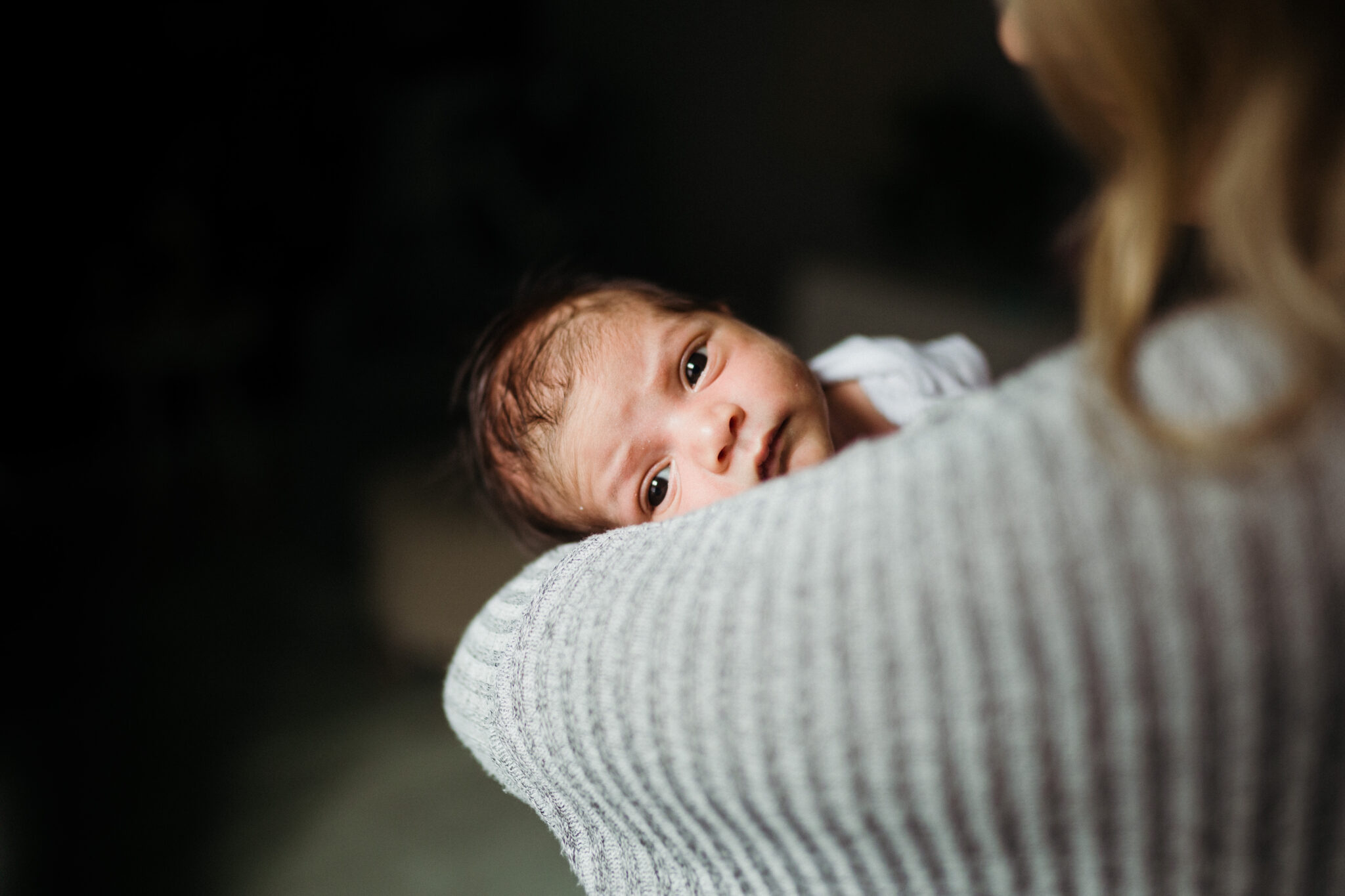 5. Know What Type of Photos You Like (+ Share That With Your Photographer)
There are multiple styles of newborn photos out there from the posed to the natural. Head on over to Pinterest and create a board of all the types of photos you like and share that with your photographer! They'll be happy to know exactly what you like before shooting.
6. Wear Flowy Neutrals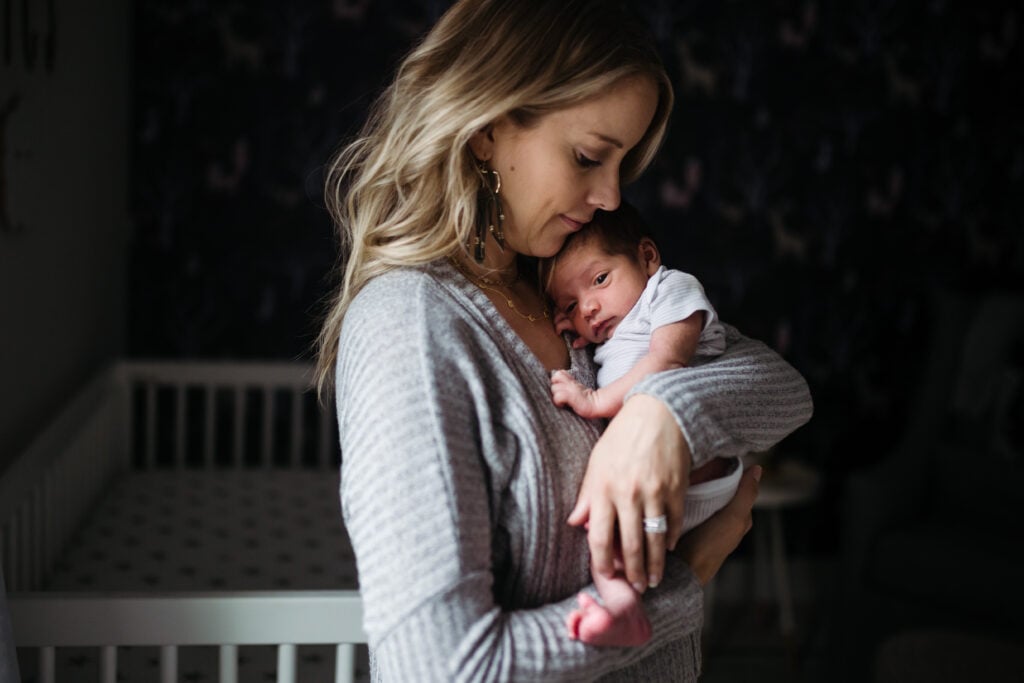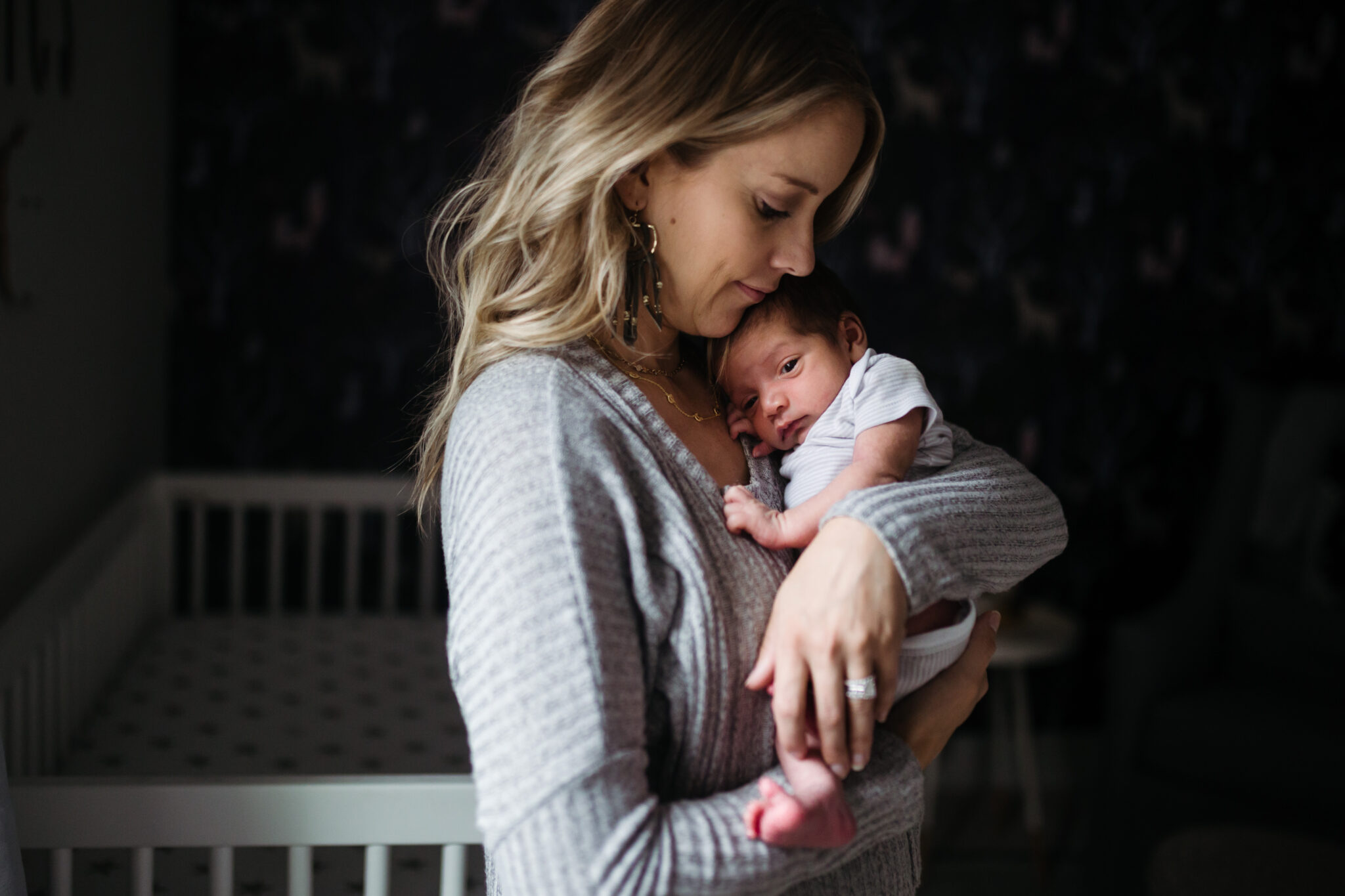 What should mom wear? Flowy Neutrals! Whenever I shoot my friend's new babies they always ask for help in what to wear. My best advice is a flowy top or dress in a netural color. Stay away from reds or purples and stick to ivory, whites, and tans.
Plan on wearing your maternity pants (don't even TRY to get those pre-pregnancy pants on especially the day of your photos) and put on a pair of spanx if you want to help tighten things up for an hour!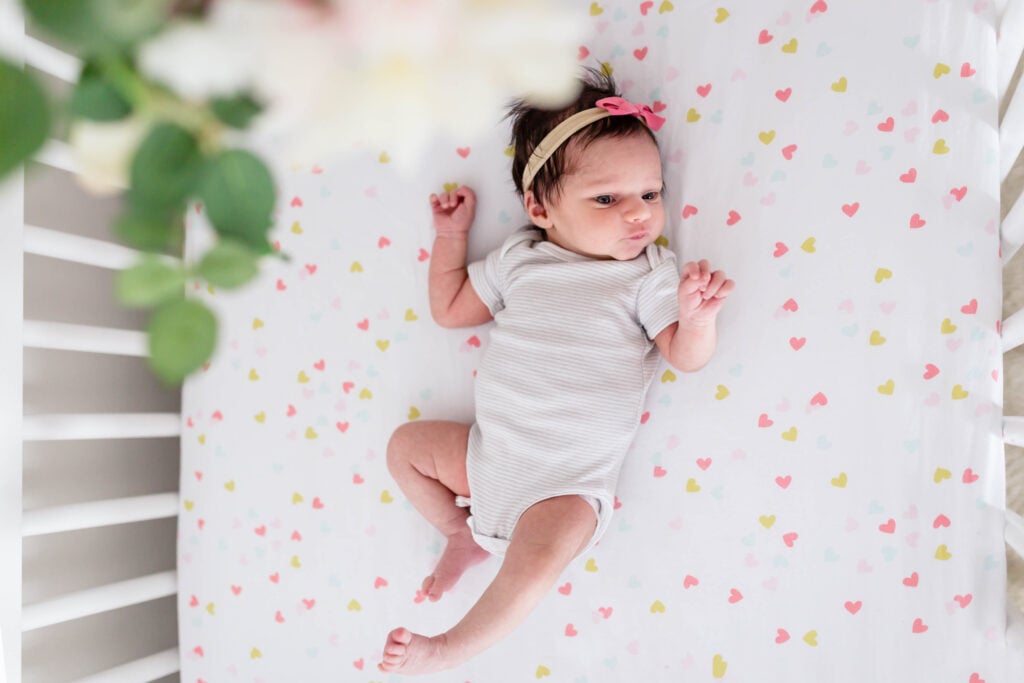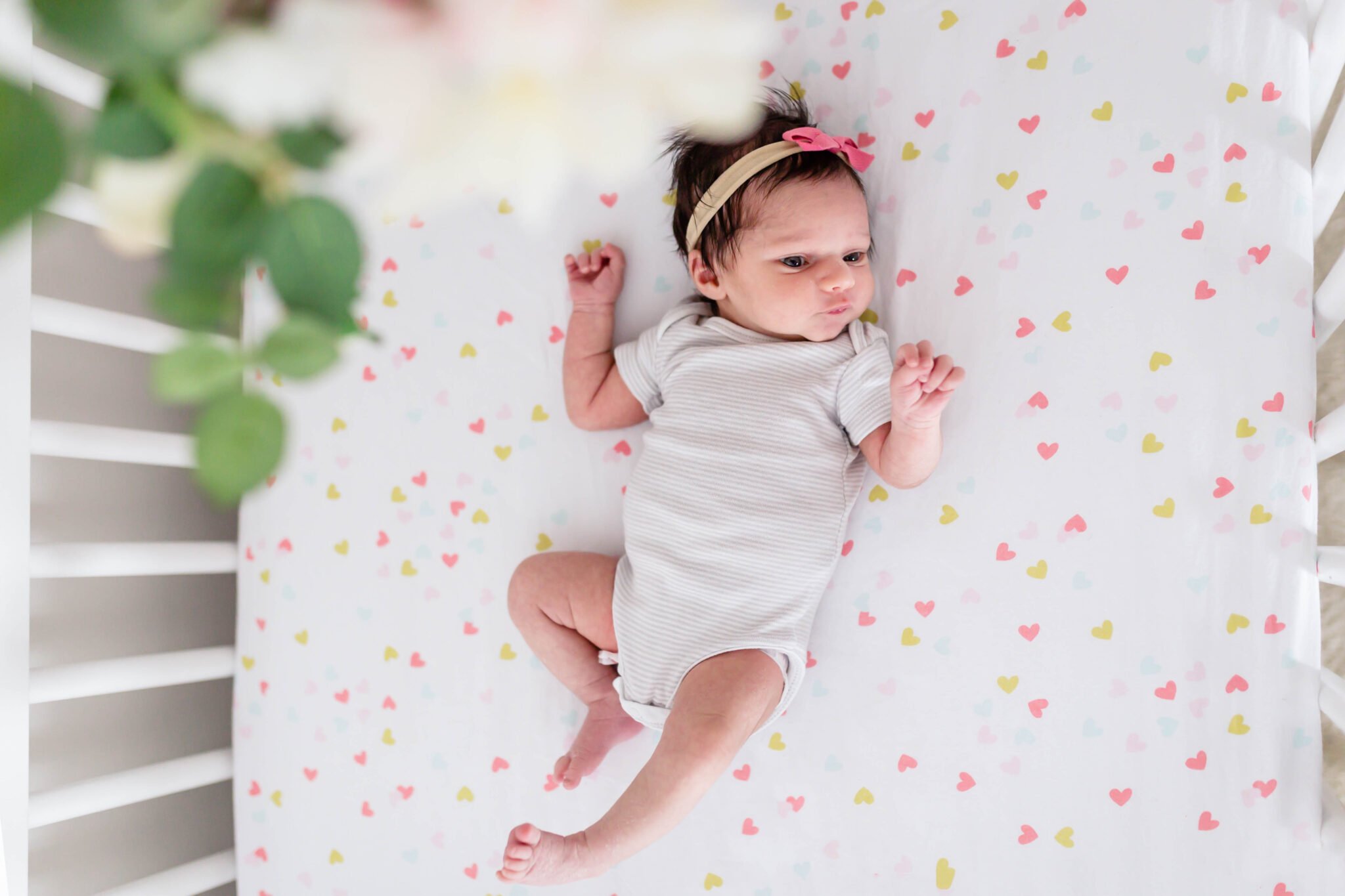 Do what makes you feel most comfortable and feel the best.
7. Get Ready Early
Maybe pre-baby it took you 30 minutes to do your hair, makeup and put on an outfit. Post baby it might take double – or even triple – that long! Don't stress yourself out by waiting too long. Do things in stages but do them early.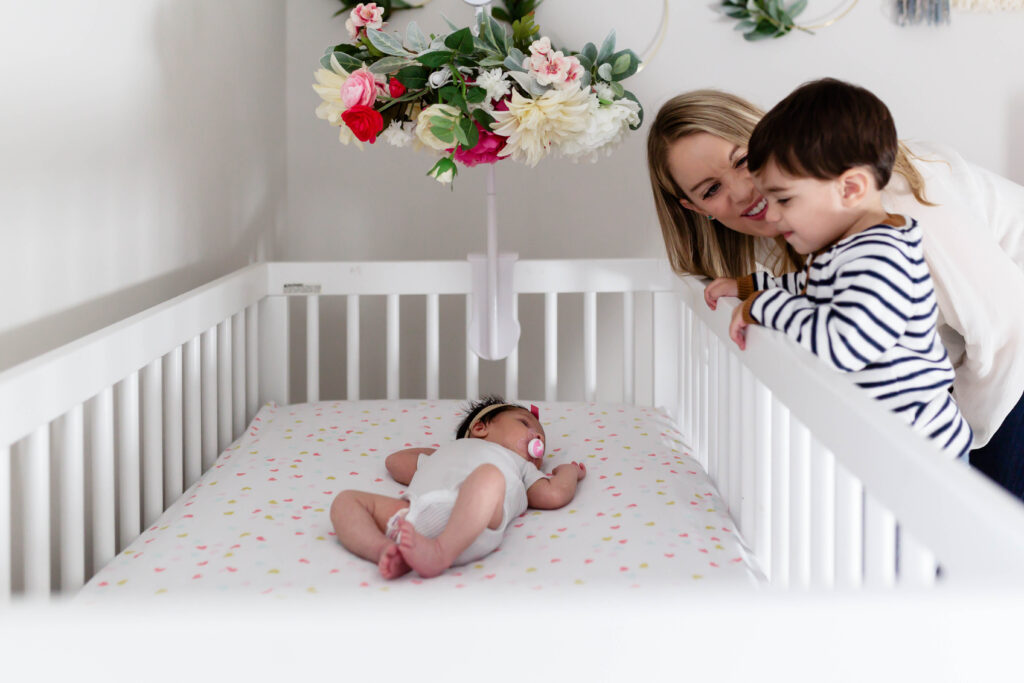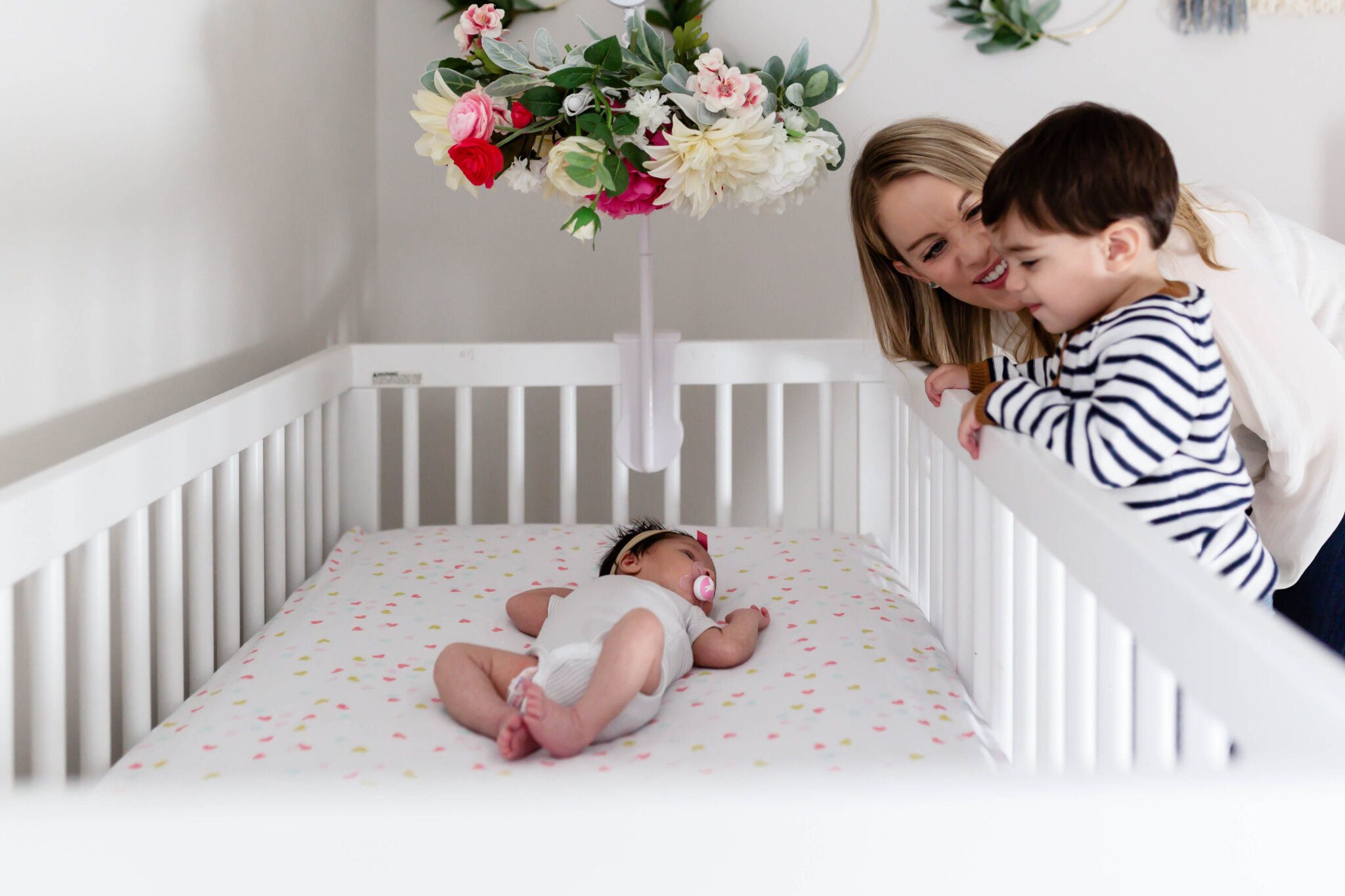 Just don't put the clothes you want to wear on until right before the shoot! You don't want to spill on yourself or get spit up on. But always have a backup, just in case!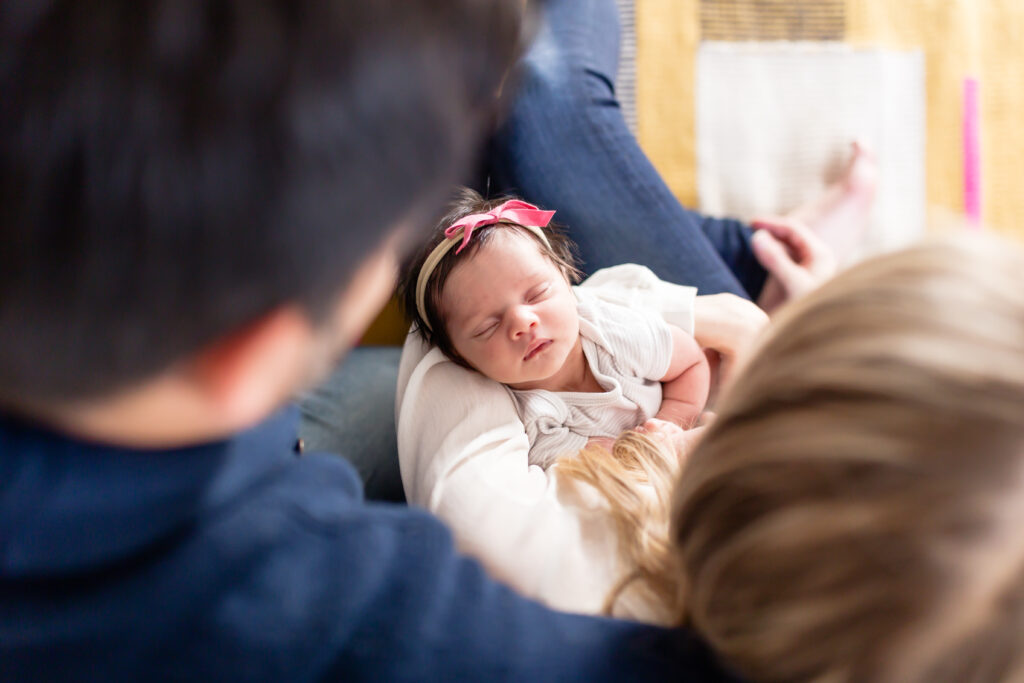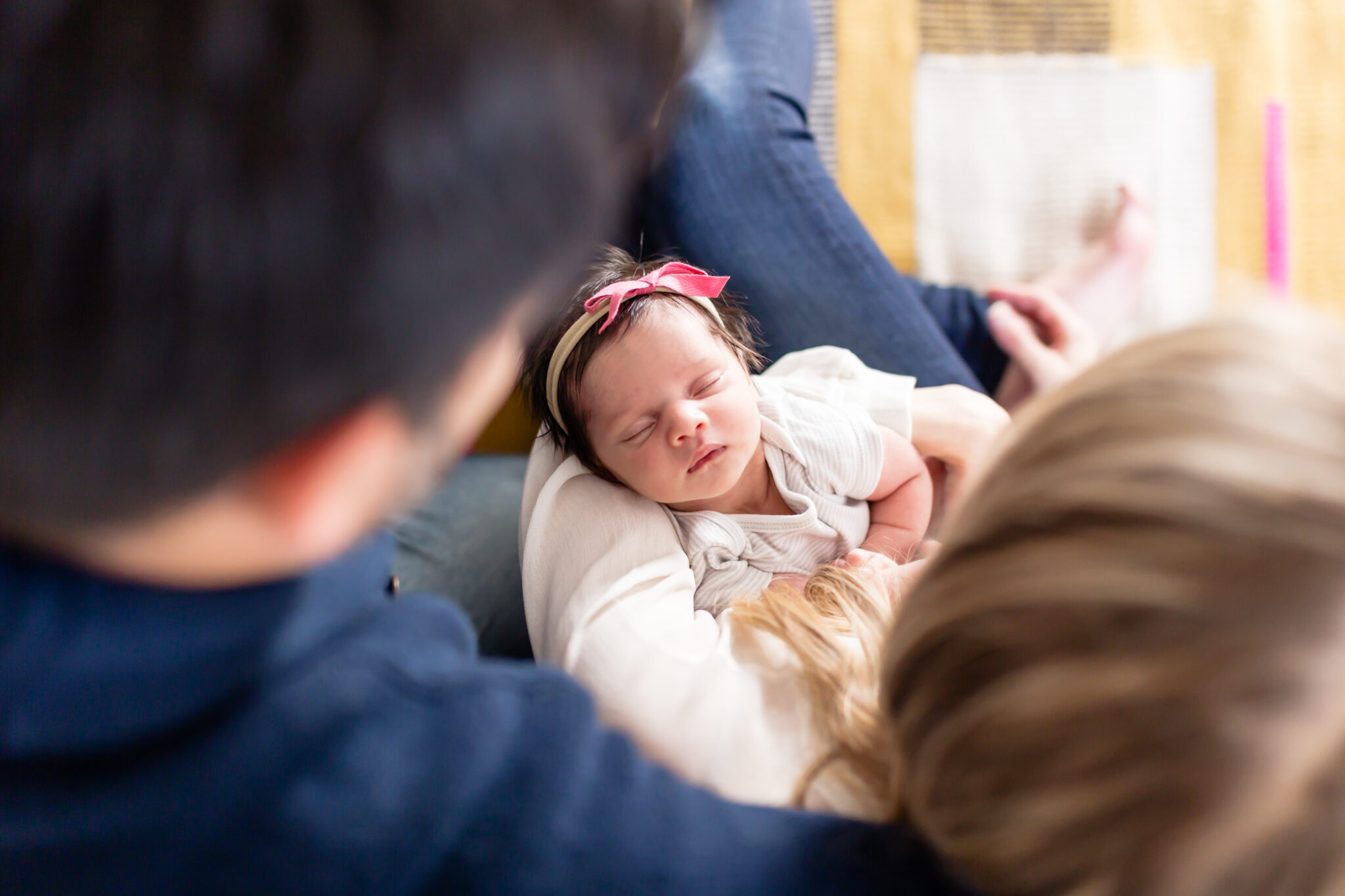 Photos taken by Rebecca Peterson | Studio Shots Taken At Bundle
8. Plan Your Outfit Early!
I have an entire post with family photo outfit ideas to help you plan out the whole family! Do this BEFORE your baby arrives! You don't want to be buying outfits for everyone AND take care of a newborn.
And don't let it stress you out. Stick with neutrals for everyone and do your best!
9. Don't stress!
At the end of the day, don't stress about your newborn photos! If you communicated what type of photos you like with your photographer (chances are you hired them because you like their style of photos!), you have a few options of outfits for you and a plethora of simple onesies for your little one, it will be just fine.
And if you're older kids aren't cooperating, just focus on getting your newborn photos taken care of and you can do full family photos at another time! And always remember, you can try again another day if they're really not happy!
FAQ
When should newborn photos be taken?
The best time for newborn photos is within the first 2 weeks. I personally love taking a few photos right away in the hospital (often called the "fresh 48") but taking official photos between the fifth and fifteenth date is ideal.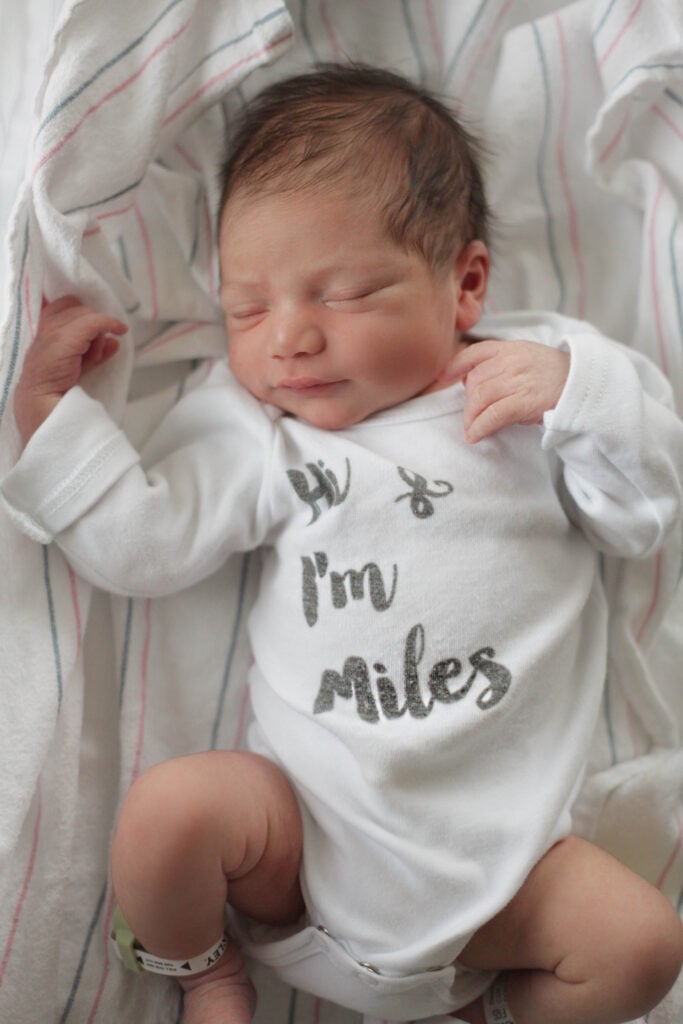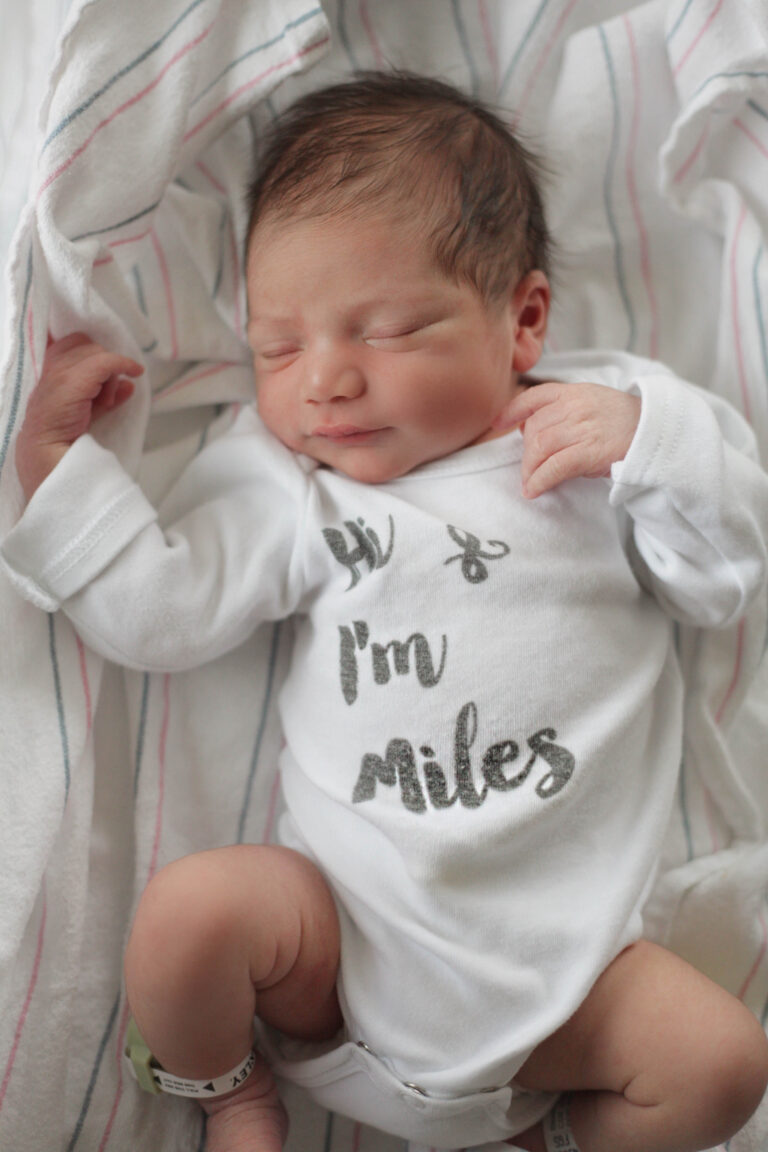 Is 2 weeks too old for newborn photos?
Definitely not! If you're someone who loves the baby poses your photographer can help you know when the best time to take photos is. I personally love just the less posed, more natural baby photos so we had most of ours done around the 2 week mark!
I hope this these newborn photo tips help remove some stress and get you excited about taking those photos! Be sure to swing over to my New Mom Survival Kit post to help you thrive during those first few weeks!