Looking for Trendsend reviews? I finally tried out Evereve's personal styling box! Here's an honest look at a mom of 2 (with little free time!) and how I liked it!
After having kids I realized how much more difficult it is to actually get to a store to pick out clothes. I also realized that so often my brain is fried by the end of the day, I just want someone else to make all my decisions for me! Well, enter Trendsend! I've used this subscription service off and on for a year now (since I had Penelope!) and want to share my full Trendsend Review with you!
Trendsend Reviews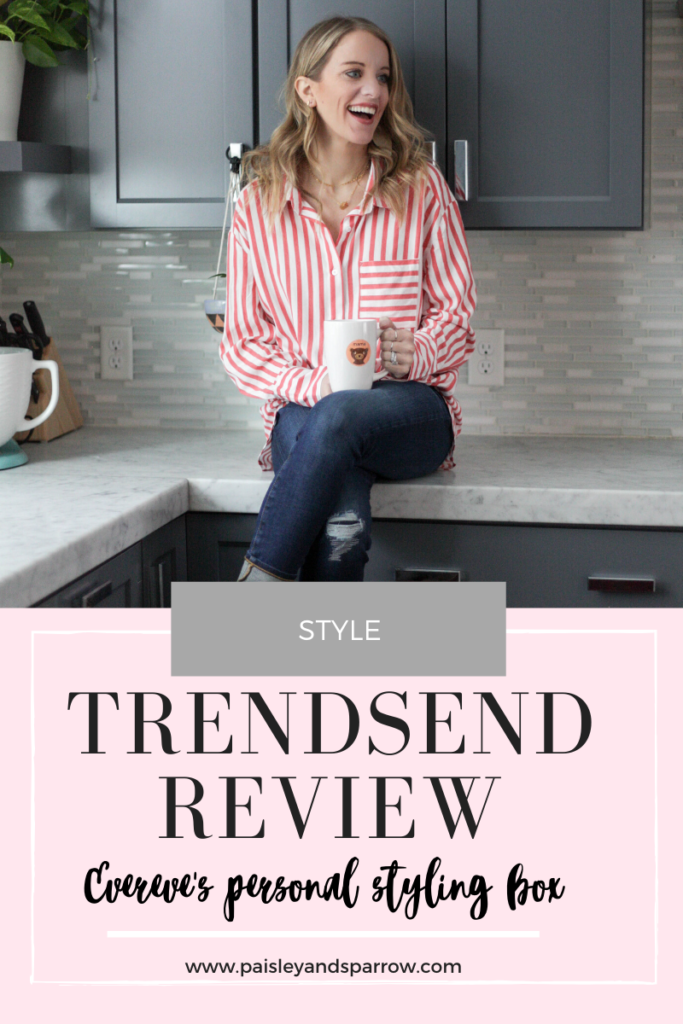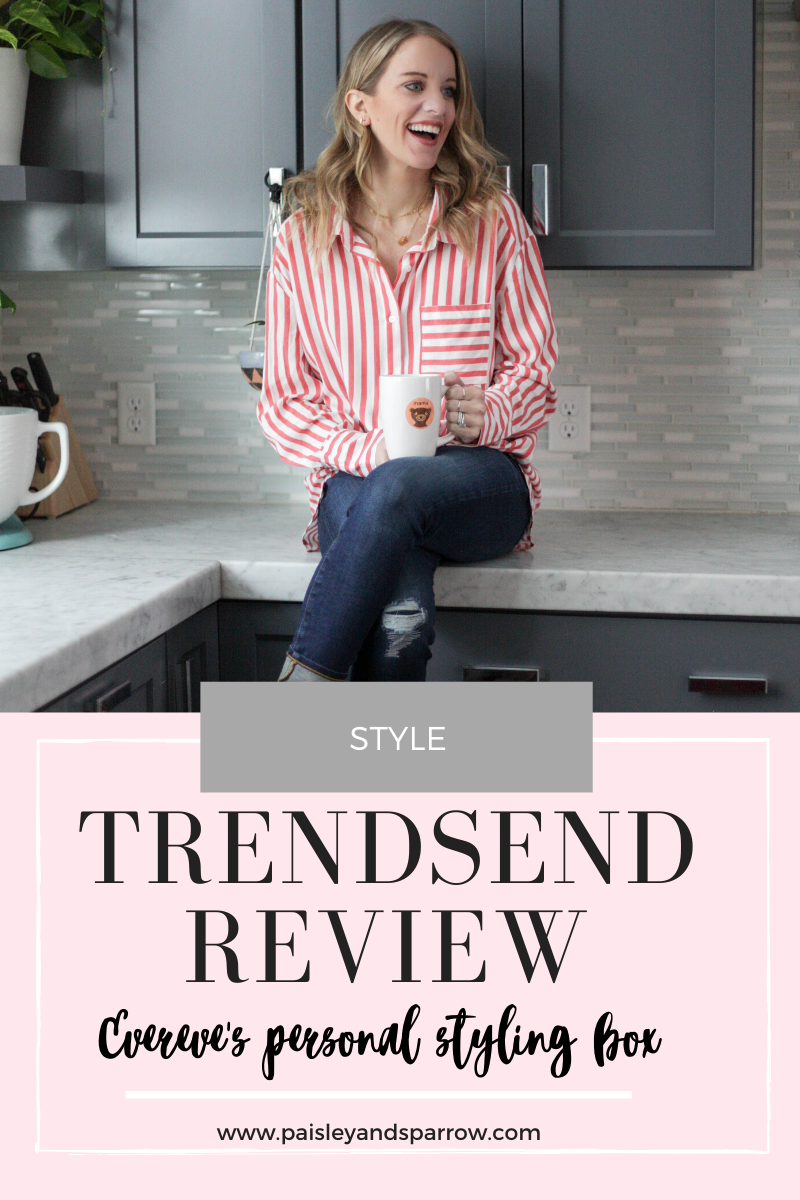 First of all, what is Trendsend?
Trendsend is Evereve's subscription styling service. Stylists in their stores pick out 2-3 outfits to send to you based on a profile that you fill out. You can sign up for 30-, 60- or 90-day subscriptions or just order a box whenever you want. (I usually just order one when I want one!)
This post may include affiliate links which means I may earn a small commission if you shop using the links below at no additional cost to you. I was sent a Trendsend box to review, courtesy of Evereve but all opinions are my own. Thanks so much for supporting me and this blog!
How does it work?
First, you fill out a style profile. They ask basic things like height, weight, skin tone, hair color, etc. Then they go more depth into your style and what you like and dislike, where you like to shop, what your favorite brands are, etc. They also ask questions about your lifestyle- are you a mom, do you work in an office, how often do you dress casual, etc.
You can even upload photos of your favorite outfit or what you feel most beautiful in! I shared links to my Instagram account and my stylist has even referenced things I was wearing in photos on my feed and how I could mix and match those items with what she picked out for me. I loved that!
Then the stylist at the store picks out outfits for you and sends them! They always include a note from her sharing style tips and why she picked what she did.
You have 5 days to decide if you like it. Keep what you want and return the rest!
What is the cost?
The cost is $20 to receive a Trendsend but this is applied to whatever you keep. And let's be real, there's a very slim chance you won't keep anything!
Along with that, you'll get 10% off your purchase if you keep everything. And even better, you can get 20% off your first box using my link!!
Shipping is free both ways and you only pay for what you keep.
What was in my box!
I loved everything in my box! Here are some of the items.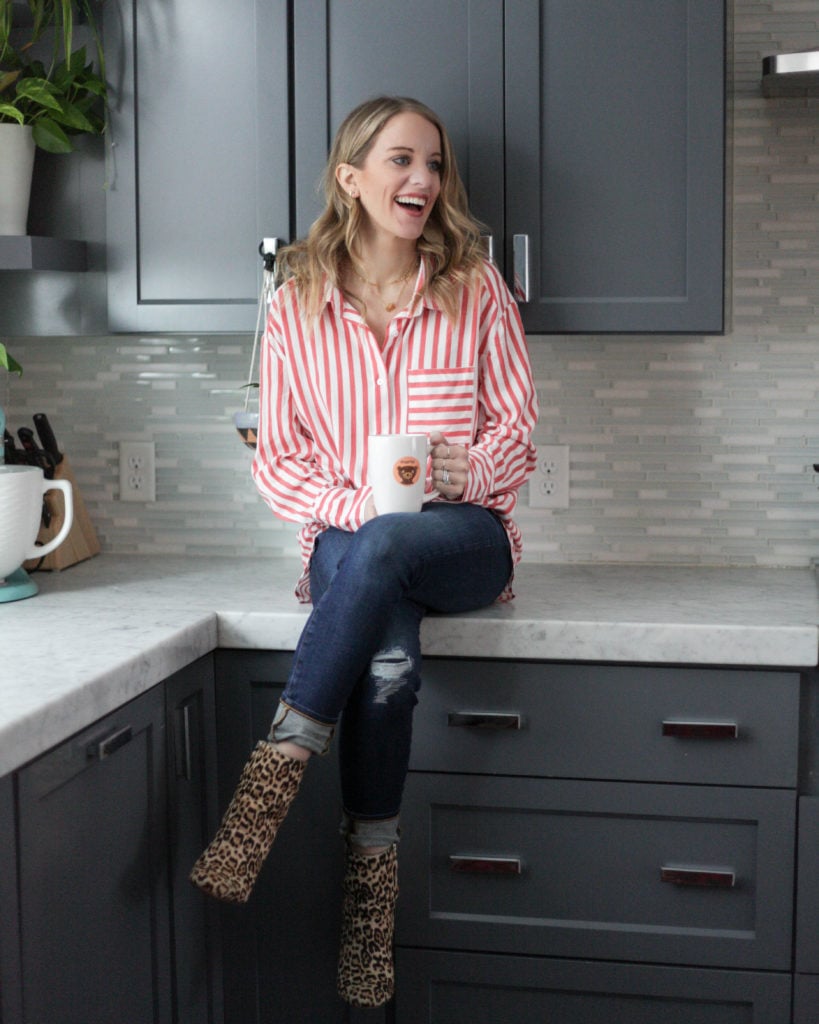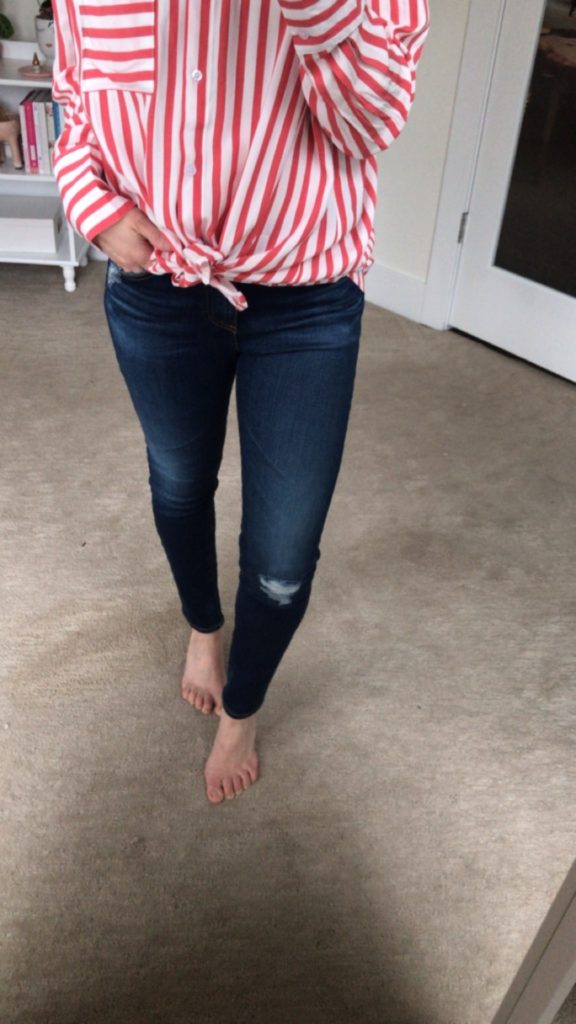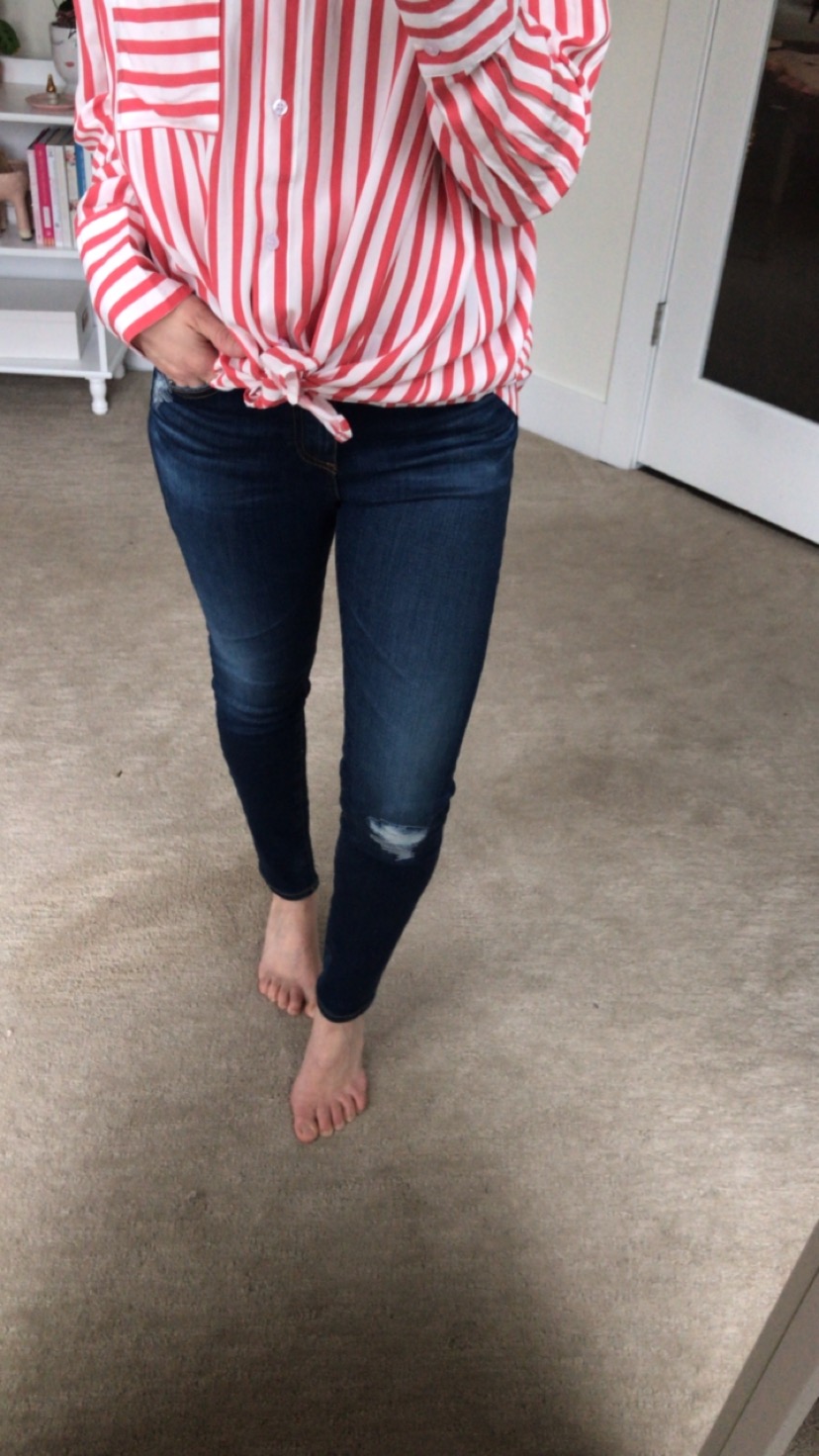 I got these amazing AG Farrah Ankle Skinny jeans that are the perfect fit. High waisted (because I will never wear something that's not high waisted haha!), stretchy but they keep their shape and distressed but not to the point where skin is exposed which is KEY in MN!
I actually didn't realize it but I never wear my super distressed denim in the winter because I don't like to be cold! With these, I can still have the distressed look while staying warm. Praise be! 😉
Fit is true to size.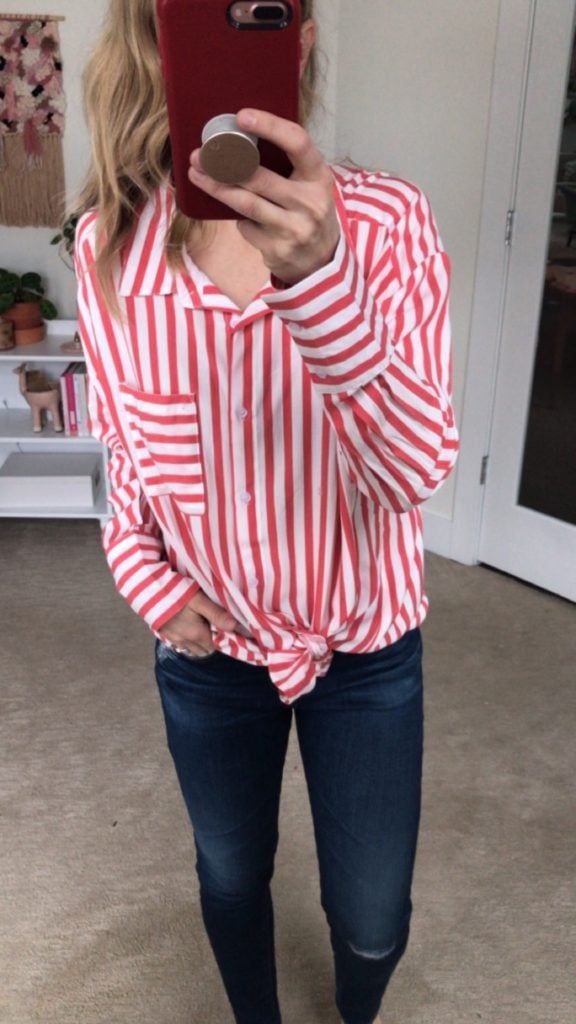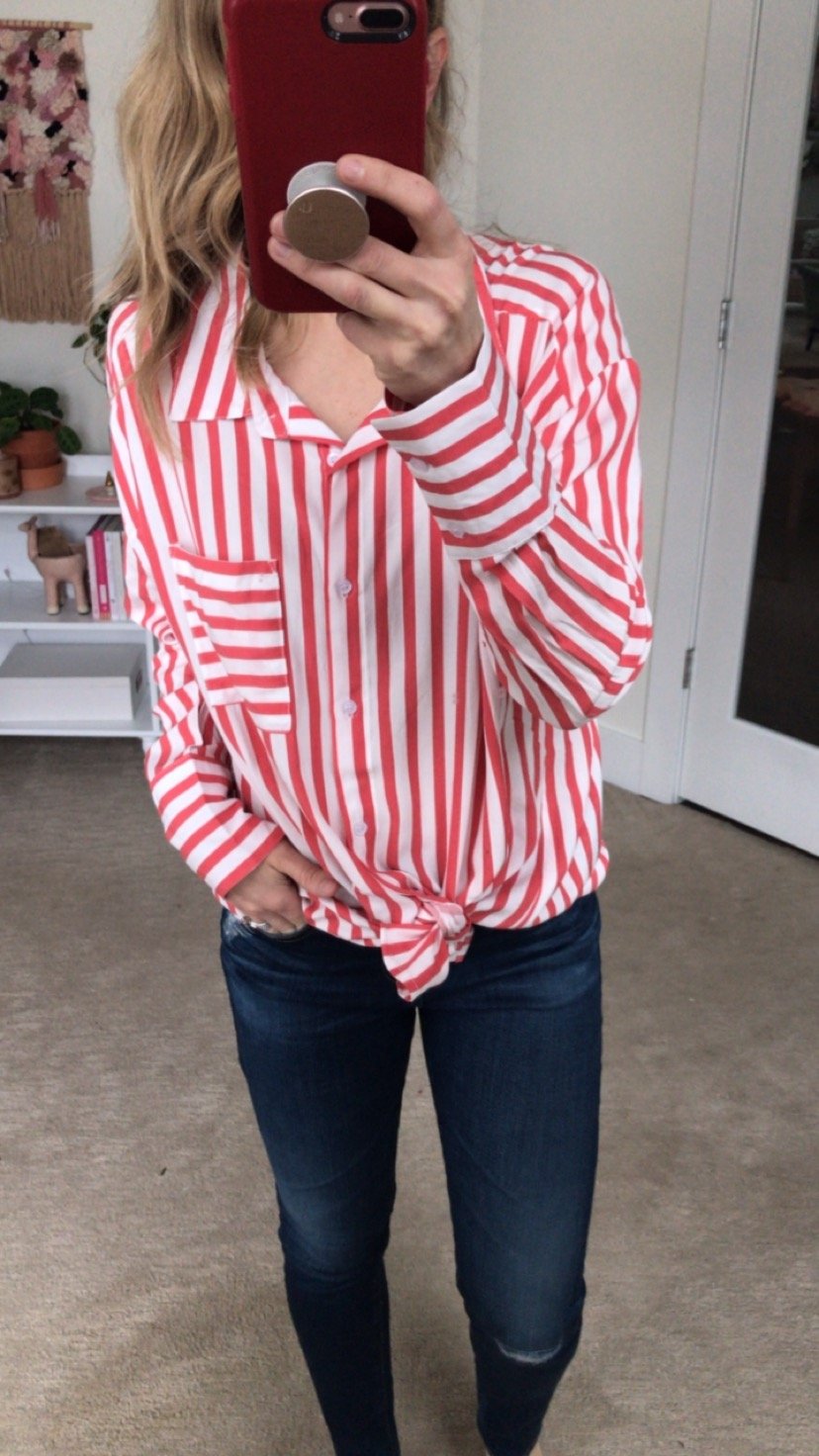 I love bold tops. The fun colorful stripes on this top screams spring (at least I think so!). It's super soft fabric and loose fit is great for layering or pairing with leggings.
You can wear it knotted, like I have it, half tuck or even just hanging loose if you're wearing leggings (gotta cover the butt, ladies!).
This one runs a little big so I would size down if you're in between sizes.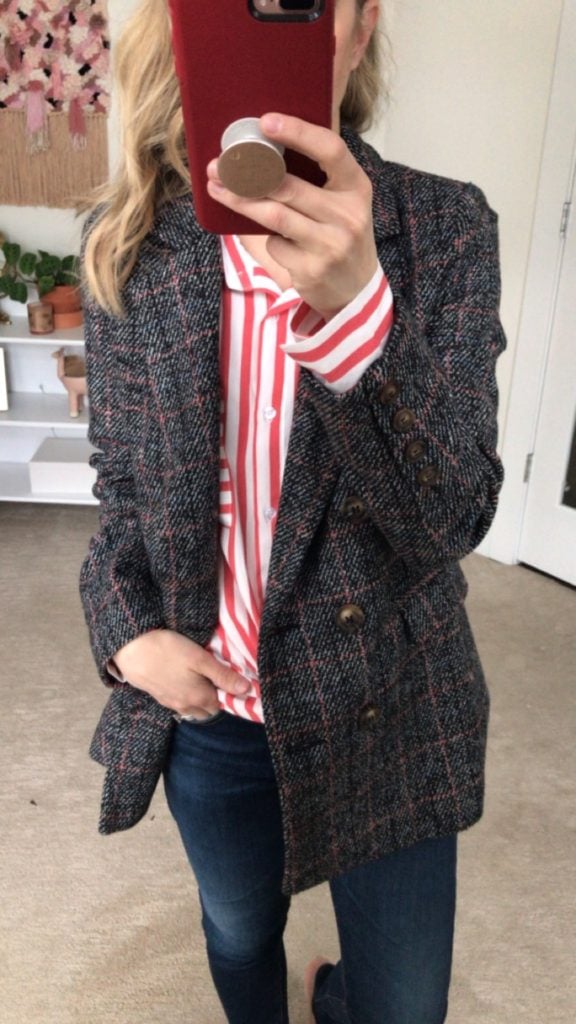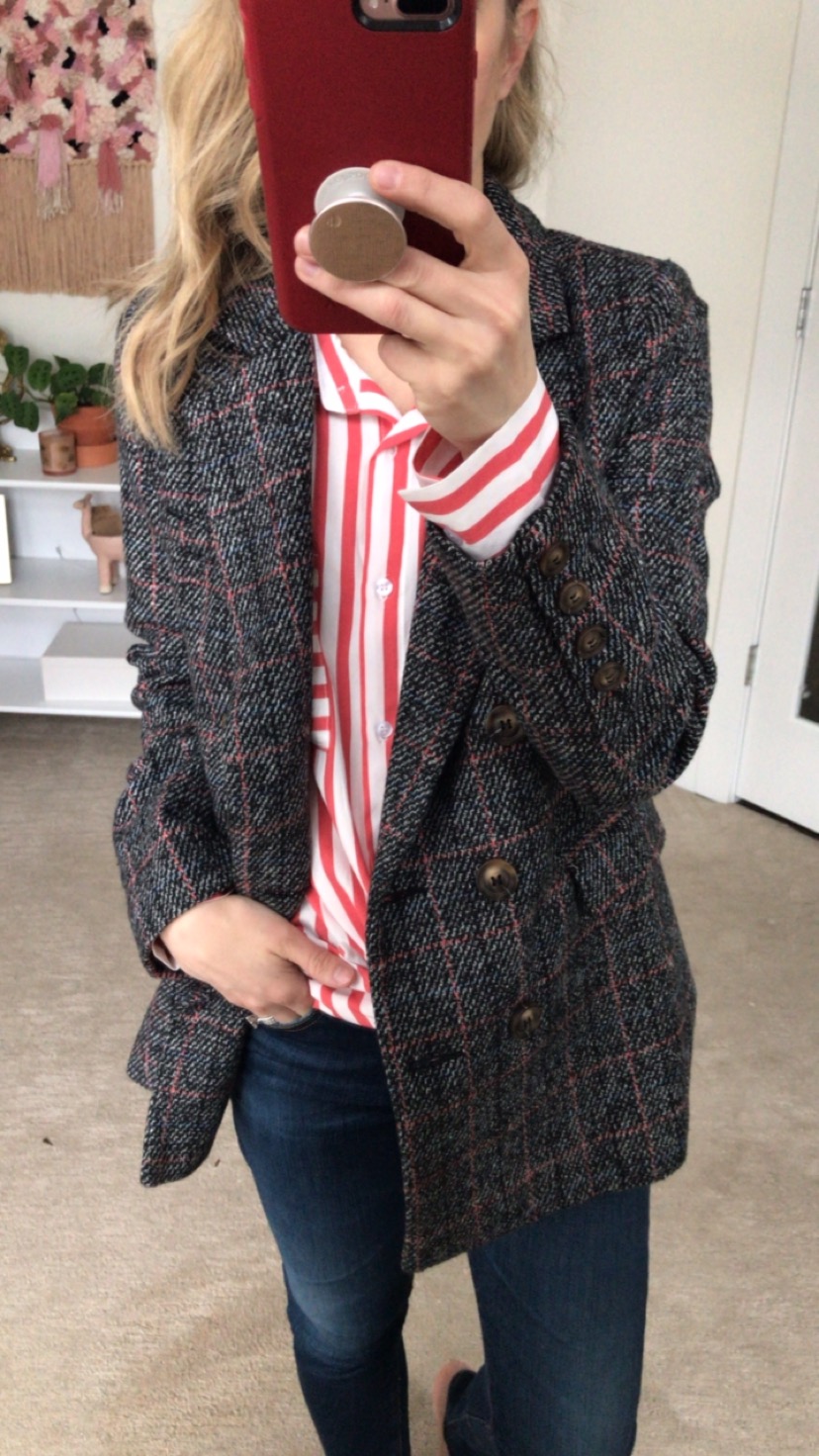 This blazer is amazing! It's warm which is ideal for cold weather climates. I actually wore this out as just my jacket last weekend since MN was experiencing a heat wave.
Blazers are super easy to dress up or down. Pair it with a graphic tee and fun booties to dress it down or over a dress or with black skinny jeans to dress it up!
This jacket doesn't have a lot of give so I would size up.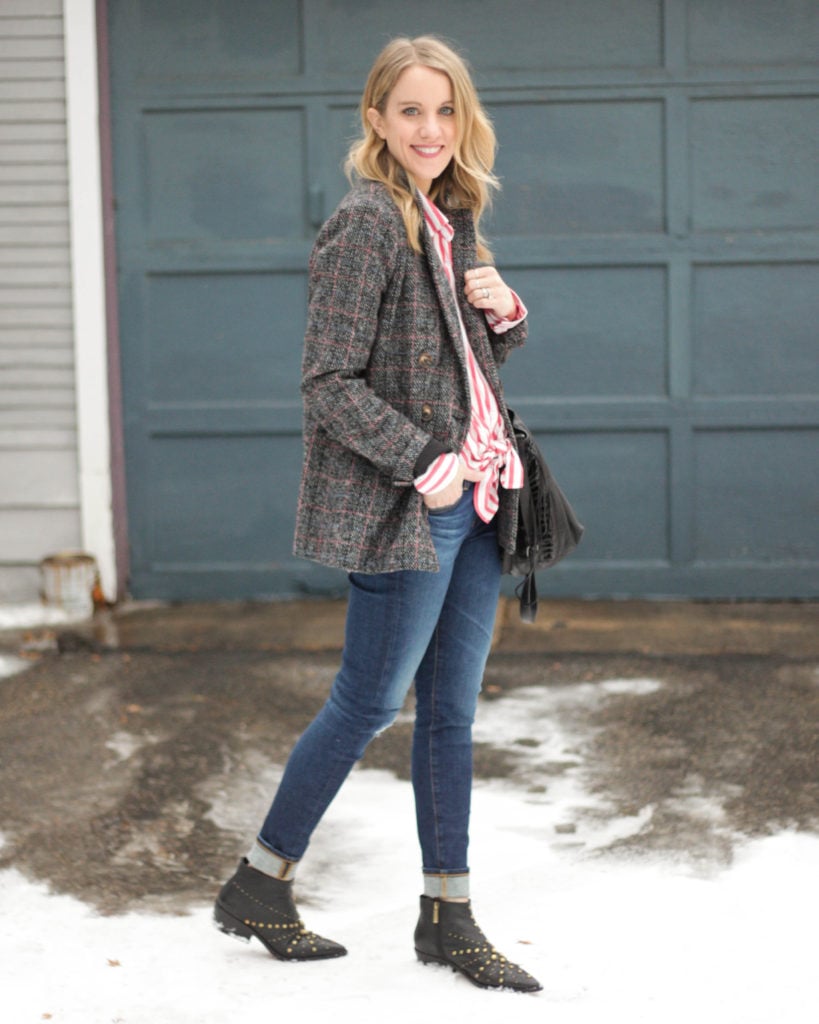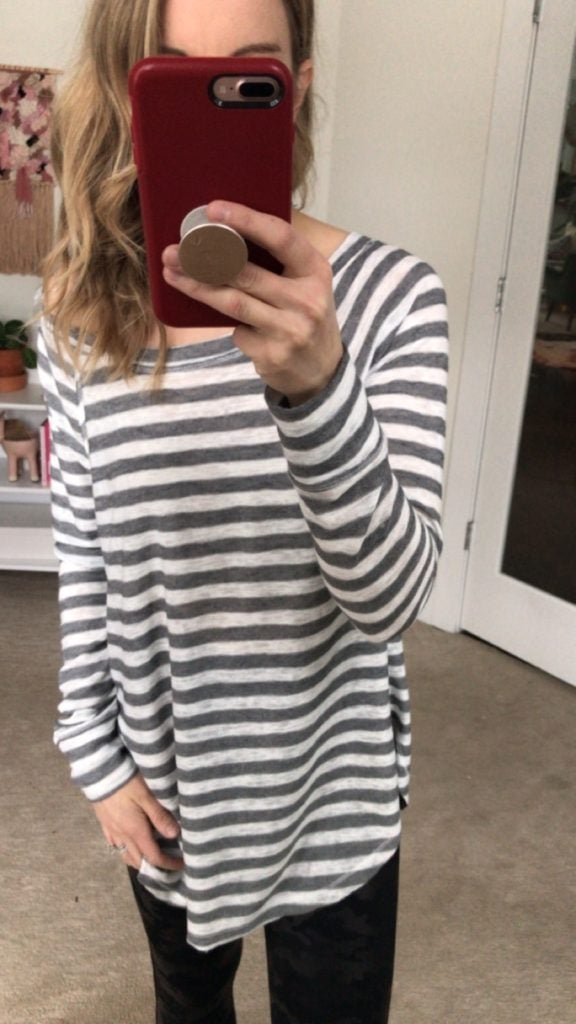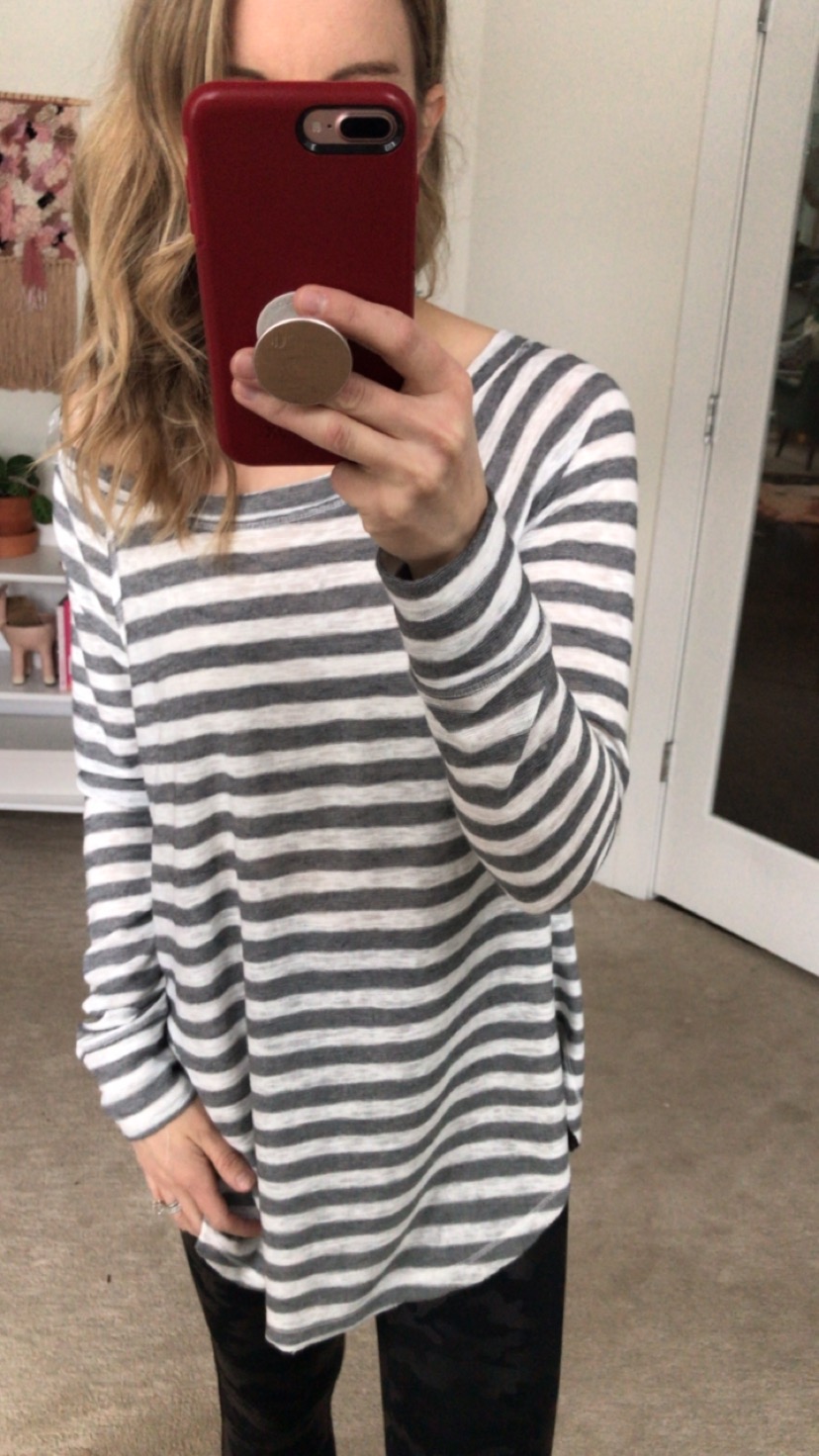 This is quickly becoming my favorite everyday top. It soft, lightweight and so comfy! Wear it as a scoop neck top or put on a lace bralette and let it fall off the shoulder.
This top is great for layering and even good paired with leggings since it covers your butt!
Sizing is true to size.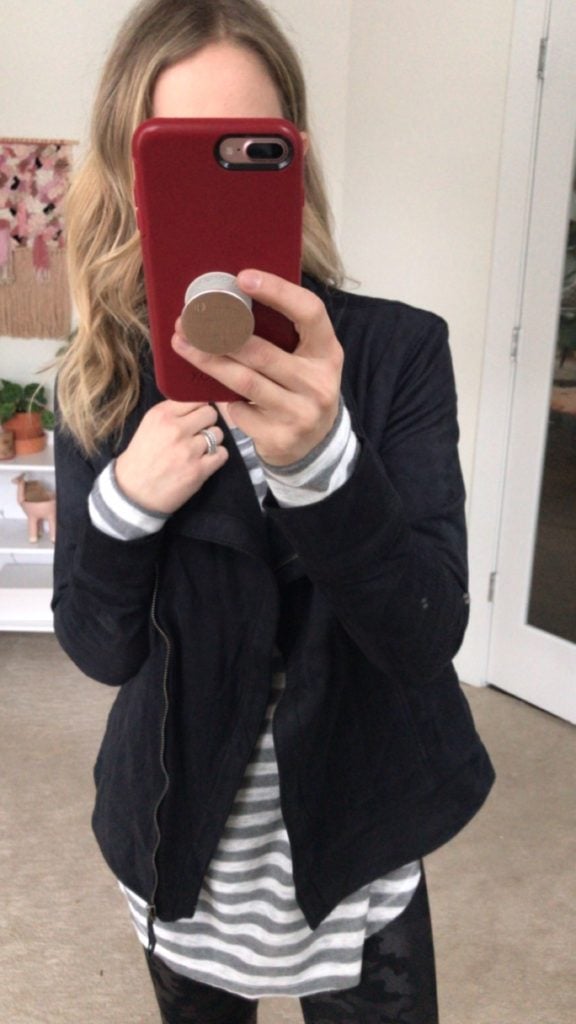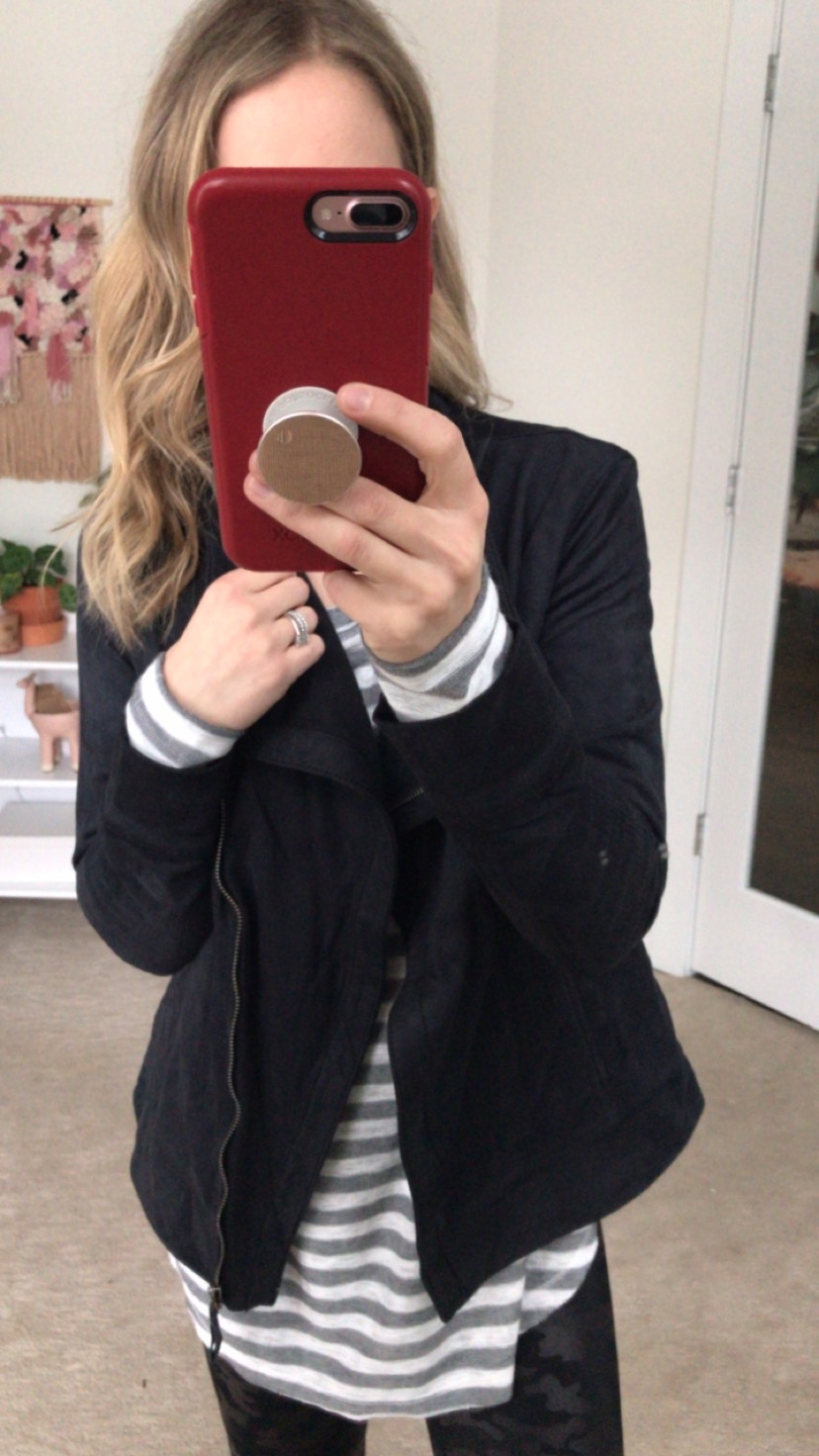 Can one have too many jackets? Nope! This Hannah Moto Jacket is amazing! It's stretchy material has a ton of give so you don't feel constricted or too stuffy in it.
Fits true to size.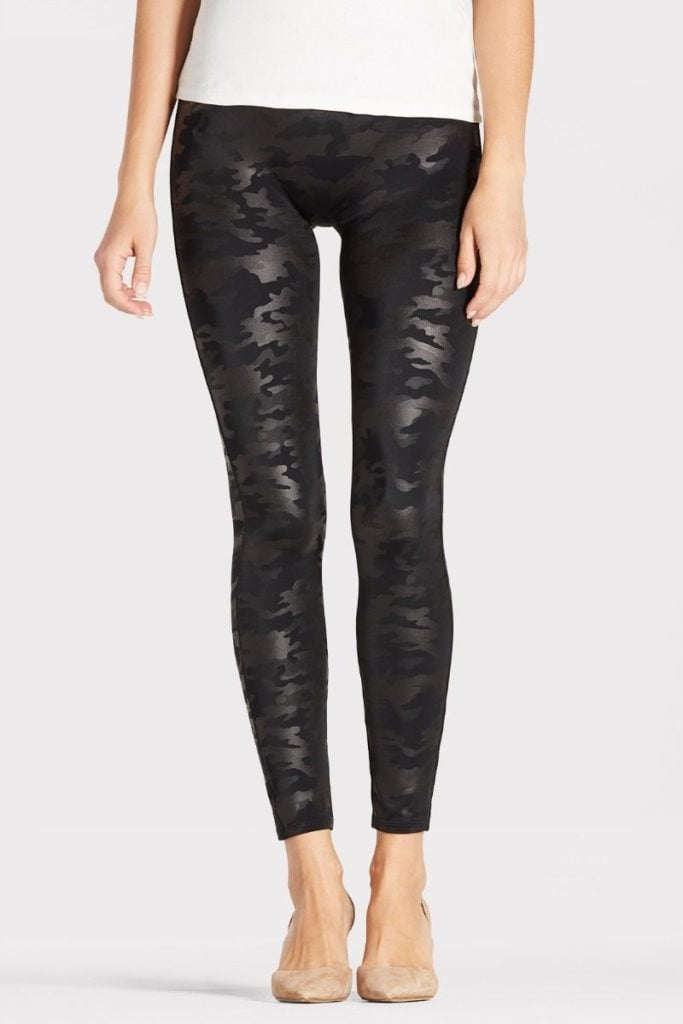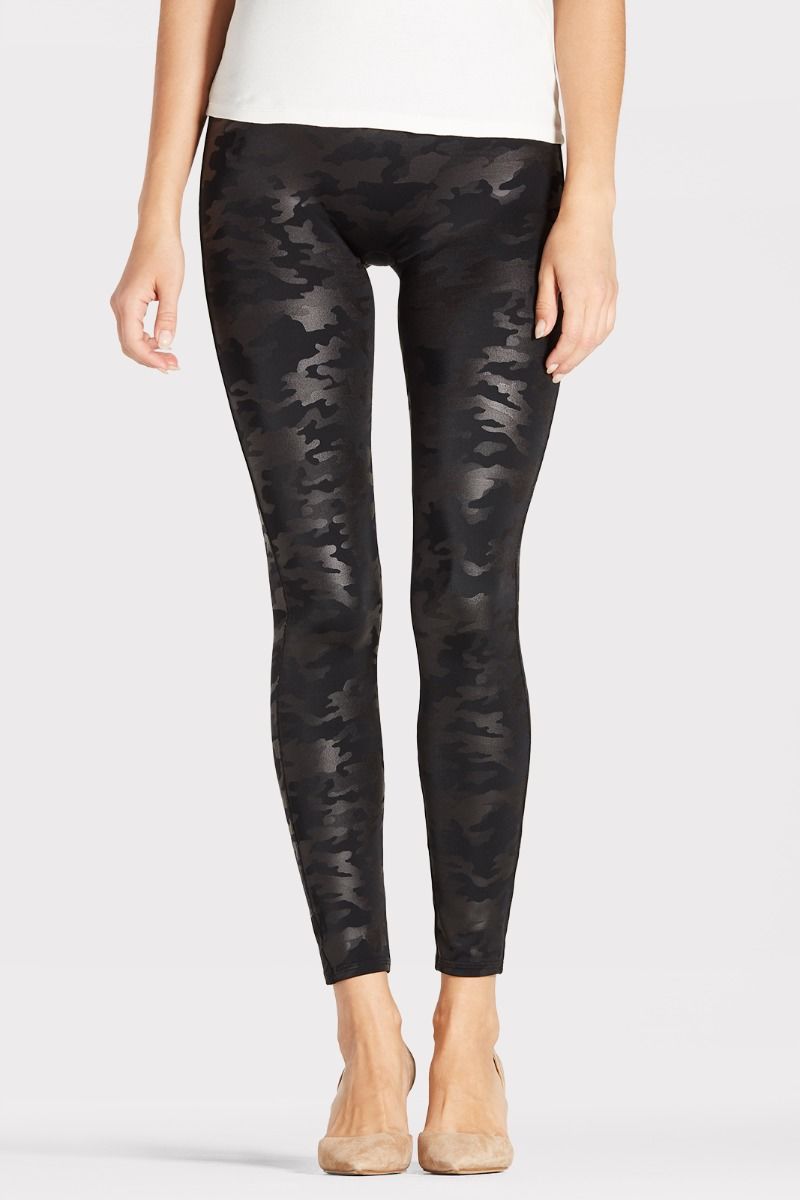 I finally got a pair of Spanx leggings!! Yay! I've heard rave reviews about these from so many people and I totally see why everyone loves them.
These are faux leather, camo print and absolutely amazing! They're super comfortable, suck everything in and give you a good butt so what's not to love? 😉
These fit true to size.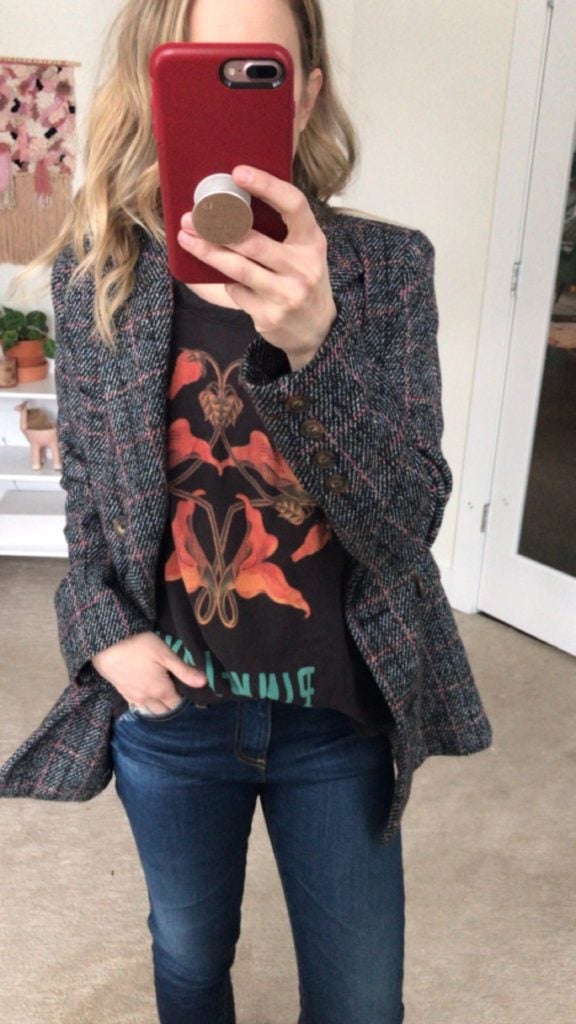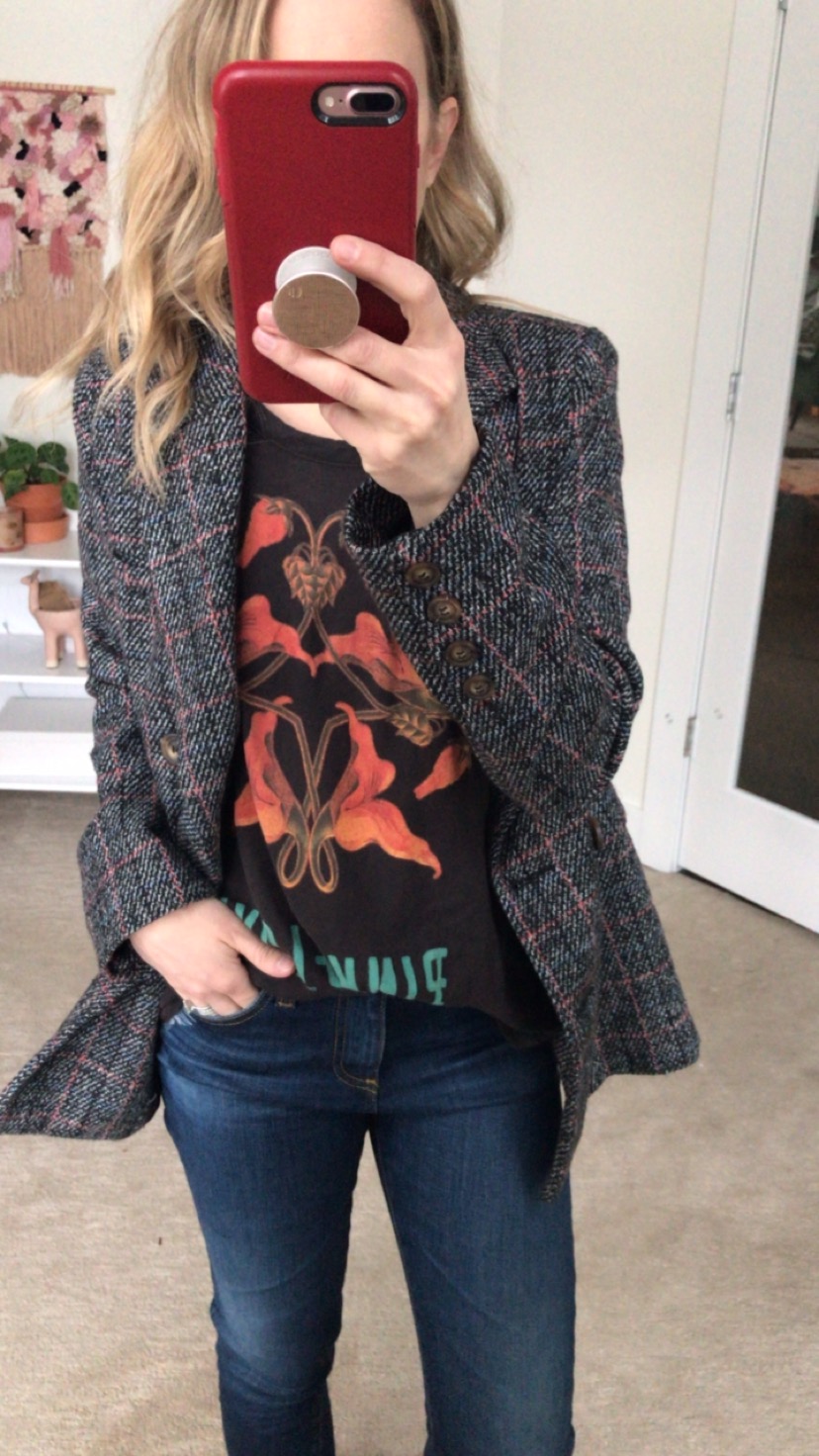 I can't resist a good graphic top! In full disclosure, I can't say I'm a die-hard Pink Floyd fan (and truth be told, I had to google some of their songs to remind myself that yes, I do like their music) but I love graphic tees!
This is the softest top ever and I know I'll wear it all the time. Graphic tanks/tops are great under blazers, cardigans or by themself! Knot them, tuck them or leave them out, the options are endless!
Runs big (but I like my graphic tanks to run big). If you like a tighter fit, size down.
That's it!
That's a look at all my clothes from my Trendsend box and my Trendsend review. I highly recommend giving it a try to see if it's something you'd enjoy!
Be sure to use my link to get 20% off your box. The 20% off will not be reflected until you receive your box and go to check out on the site. The discount will be automatically applied as long as you use my link! Expires on 3/14/19!
I'd love to hear about any subscription service that you really love or if any of you have tried out Trendsend and what your Trensend reviews are!
If you want more style posts, check out this post on ways to style thigh high boots or some of my all time favorite beauty products!
As always, thanks for reading and sharing!
Jen