Looking for Minnesota gifts? Specifically Minnesota made jewelry or accessories or beauty products? As a MN girl I have a deep love for my state and all of the amazing brands that are from here!
There's everything from giant well known brands (like Wiley Wallaby) and smaller brands that I can't wait to introduce you to. So today, I'm so excited to introduce you to the Ultimate MN Made Gift Guide!
Whether you're looking for Christmas gifts, birthday gifts or just a welcome to MN gift for a new neighbor or coworker, these Minnesota gifts will definitely delight anyone on your list!
I hope you'll take the time to read their stories, check out their products and shop local! In a year where many events that these makers sell their products have been cancelled, I wanted to do what I could to support these amazing brands and share their stories!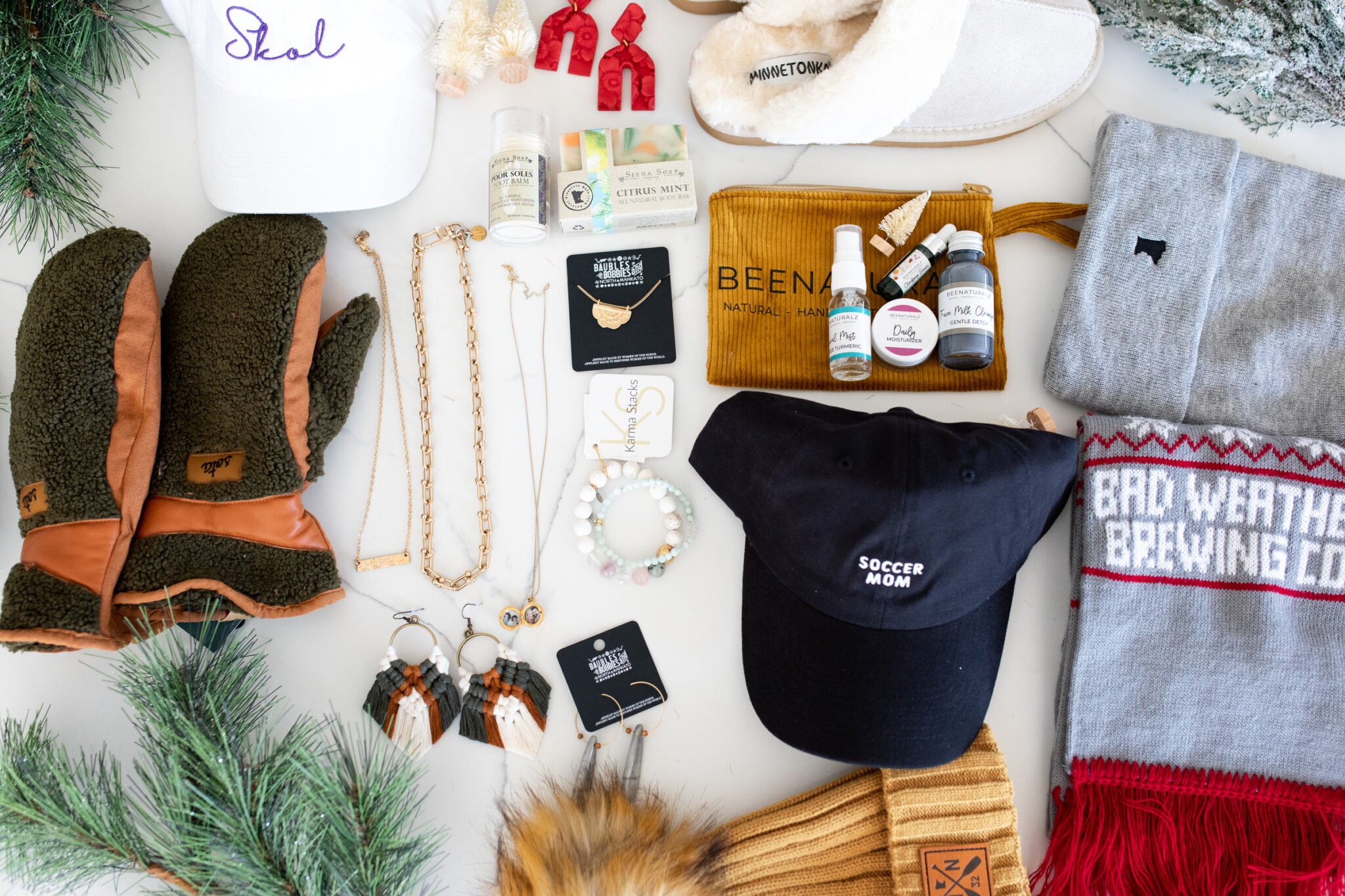 A handful of these brands have sent me product to share with you which I'm sharing more in depth on my Instagram stories. Check out my MN Gift Guide highlight there to check out these brands and some fun Minnesota gifts in more detail!
If you want even more MN gift ideas, be sure to check out my other MN Gift Guides listed below!
One service based beauty brand that I want to call out is the Skin Standard! This is the only place I go for my facial treatments. They are the one thing that has made a huge difference in my skin and I swear by them!
The owners, Amanda and Jessica, are as sweet as can be and truly want to make you feel the best you can in your skin. A gift card to the Skin Standard would be an amazing gift for any gal!
And without further ado, your ultimate guide to Minnesota Gifts: Jewelry/Accessories/Beauty!
Minnesota Gifts: Jewelry/Accessories/Beauty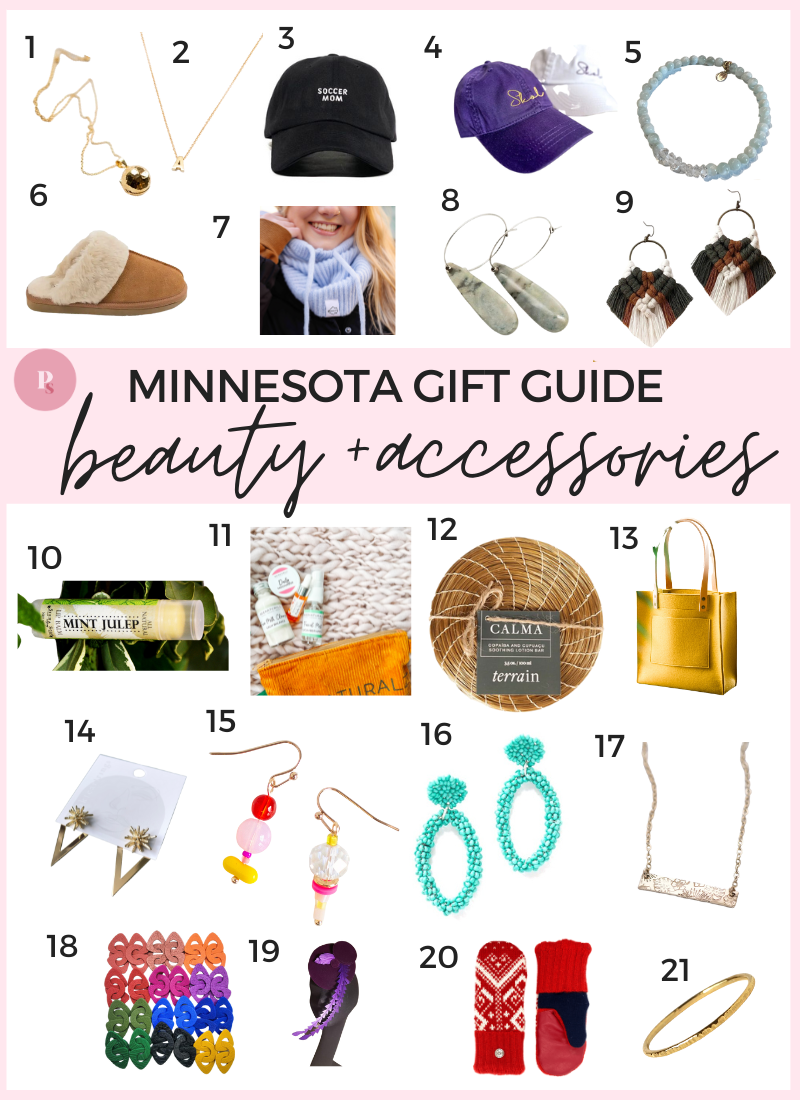 *indicates BIPOC owner
Paisley + Sparrow is a participant in the Amazon Services LLC Associates Program. This post may include affiliate links which means I may earn a small commission if you shop using the links below at no additional cost to you. Thanks so much for supporting me and this blog!
I should also note that there are SO many amazing brands that are still out there that I didn't include on this list! I would love for you to share your favorite local MN brand in the comments so we can all be introduced to more brands.
The Locket Sisters makes modern lockets with your photos inside! It was originally started by 2 sisters, is currently run by one is handmade right here in Minneapolis (but ships almost everywhere!).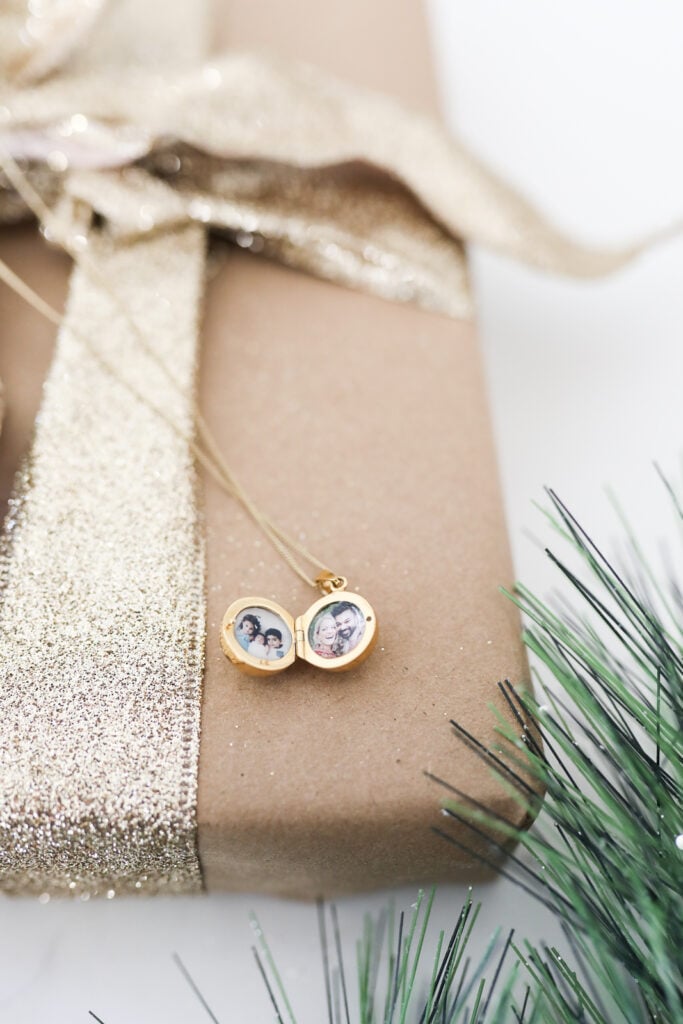 Allyssa, the owner, had always wanted to make jewelry but prior to Locket Sisters she worked in the non-profit world. She was on an intervention team that supported families who were at risk of their kids taken away but she also did hopeful work like connecting kids with mentors, getting adults jobs, foods and housing.
She met immigrants, built relations with refugees and listened to countless stories from people who'd experienced more than she ever knew was happening.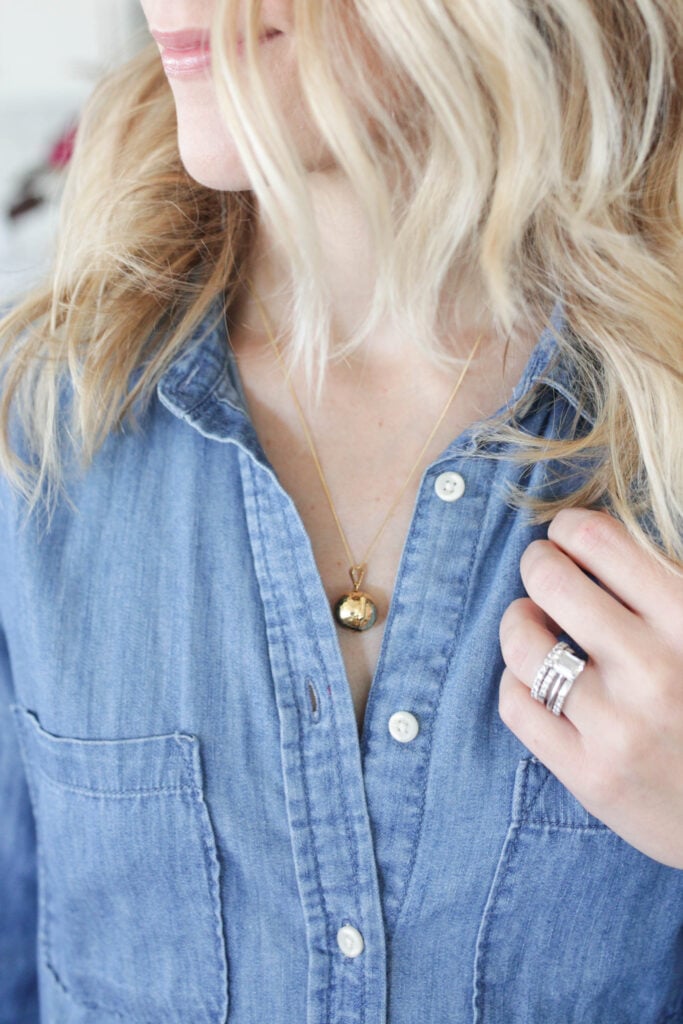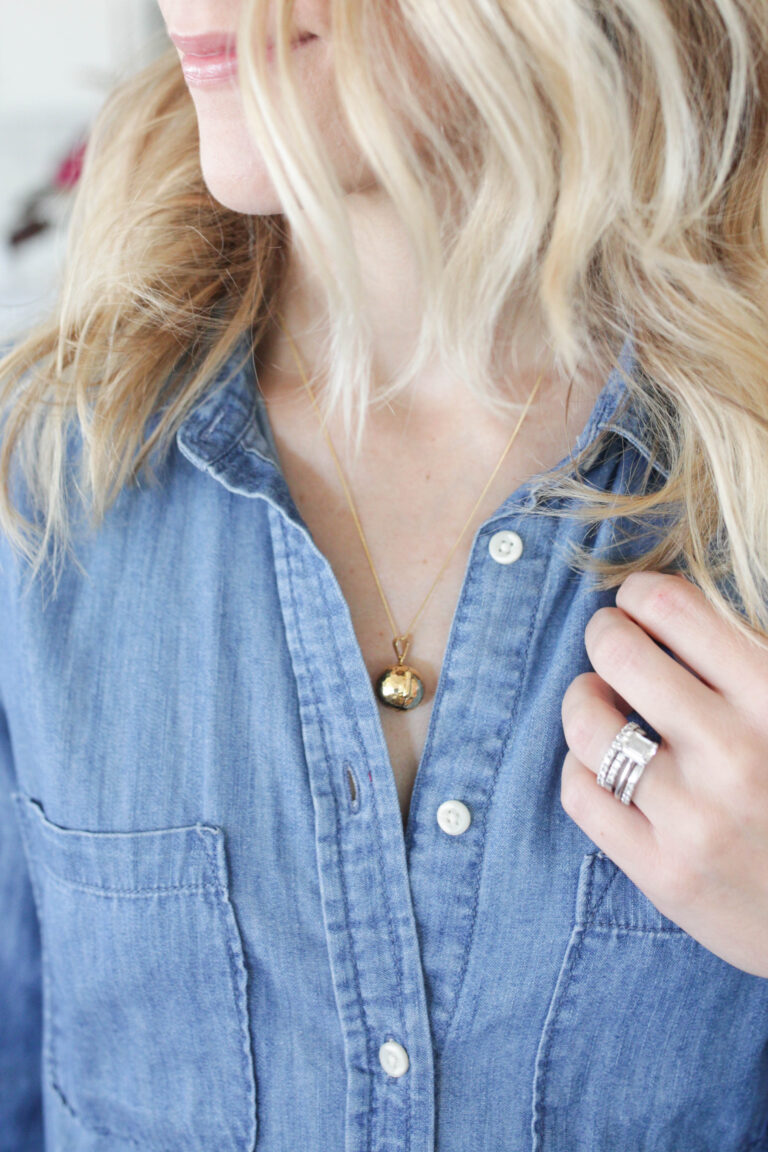 Now she gets to hear so many stories of people getting lockets and the photos they want included. She hears stories of hope, loss, and joy as well as milestones, healing, adventure, sorrow and resiliency.
Her jewelry is absolutely gorgeous and I know you'd be thrilled with your own locket!
*Use Code paisley10 for 10% off your purchase!
Larissa is a staple in MN. Her work is offered in more than 600 retailers, has been seen on everything from Better Homes and Gardens, The EveryGirl and Buzz Feed and you can even buy her products on Amazon! Larissa's a mama to 2 beautiful babies and is as nice as ever!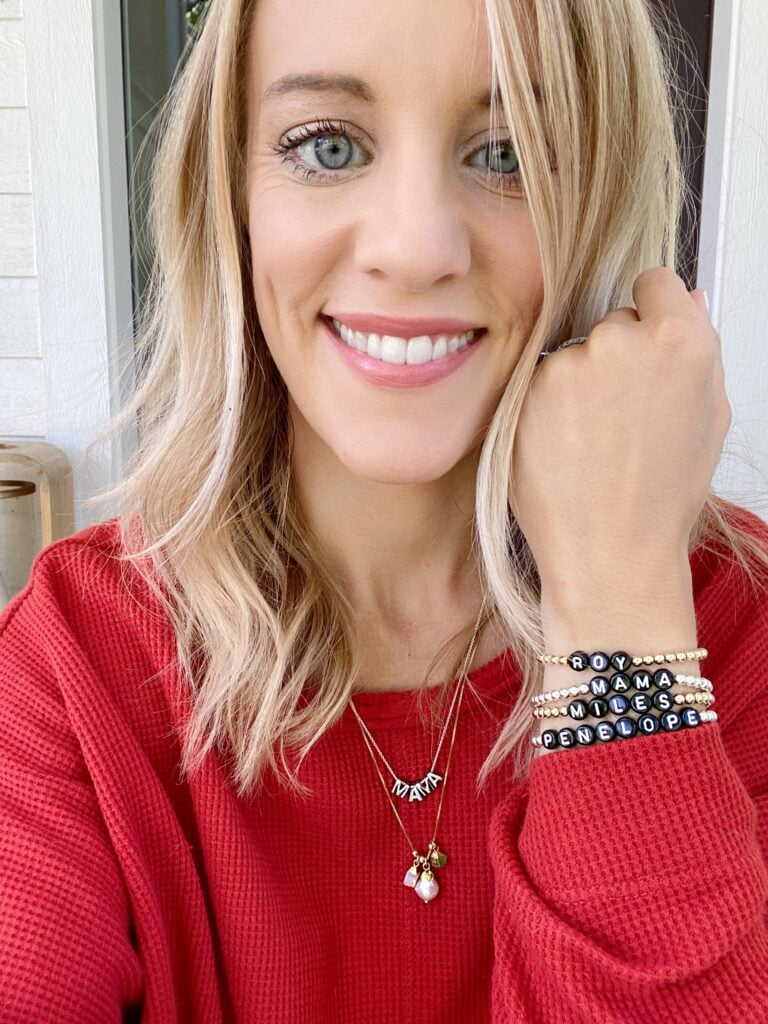 All of her jewelry is made by in hand in Minneapolis by a team of artisans, moms, students and other creatives. Larissa is all about creating a positive and inclusive workplace.
We've turned into a major soccer family this year with our oldest now playing club soccer. Turns out being a #SoccerMom is a real thing! Only fitting that we include a fun Soccer Mom hat from Talisman & Co!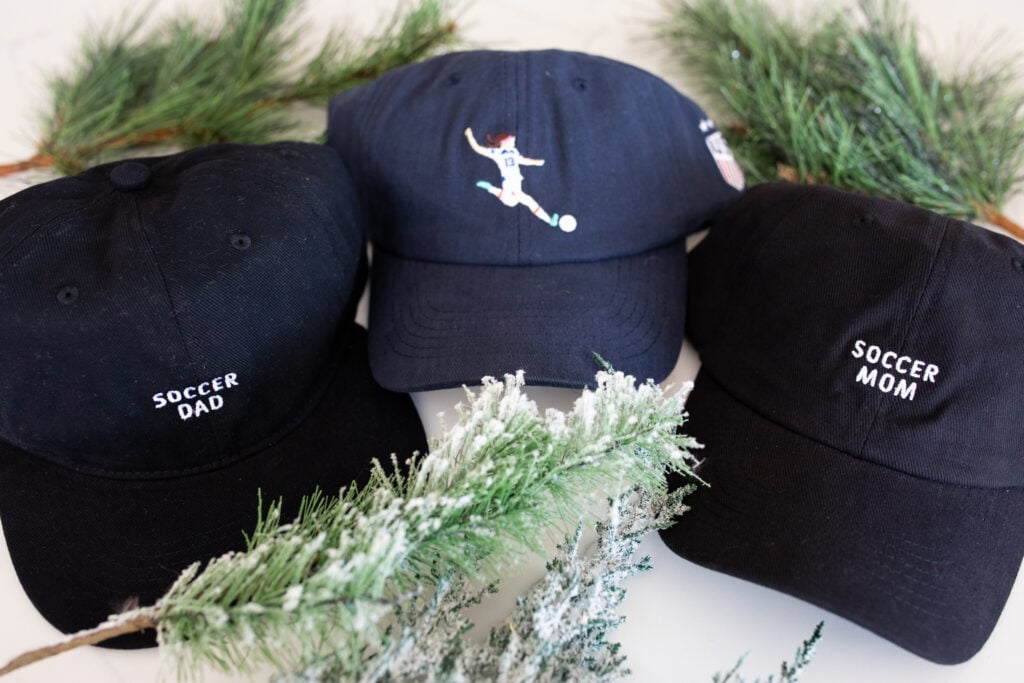 This brand started from an idea to create the perfect cap to support the football (aka soccer) team that everyone loves! Another husband and wife team started this one (Dustin and Bethany). Dustin is a former professional soccer player and Bethany is a serial entrepreneur.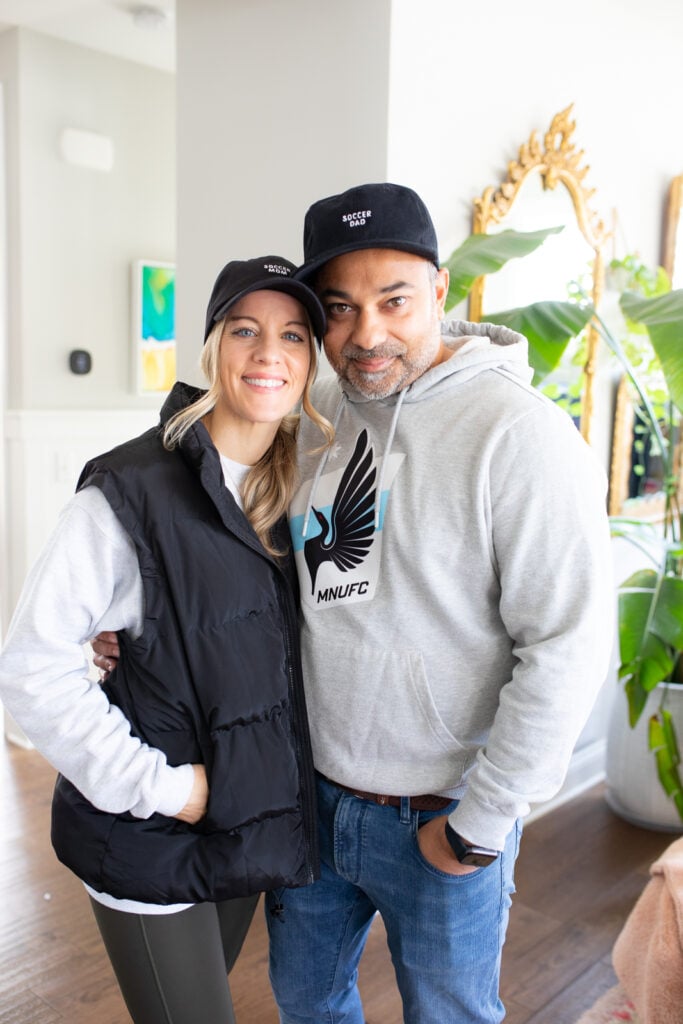 Everything in the Made in Minn shop is embroidered by Natalie! She is someone I totally admire because she left her corporate job after her 2nd child was born to focus on her health after suffering from anxiety and depressions. She found embroidery to be therapeutic and launched her business in July 2020.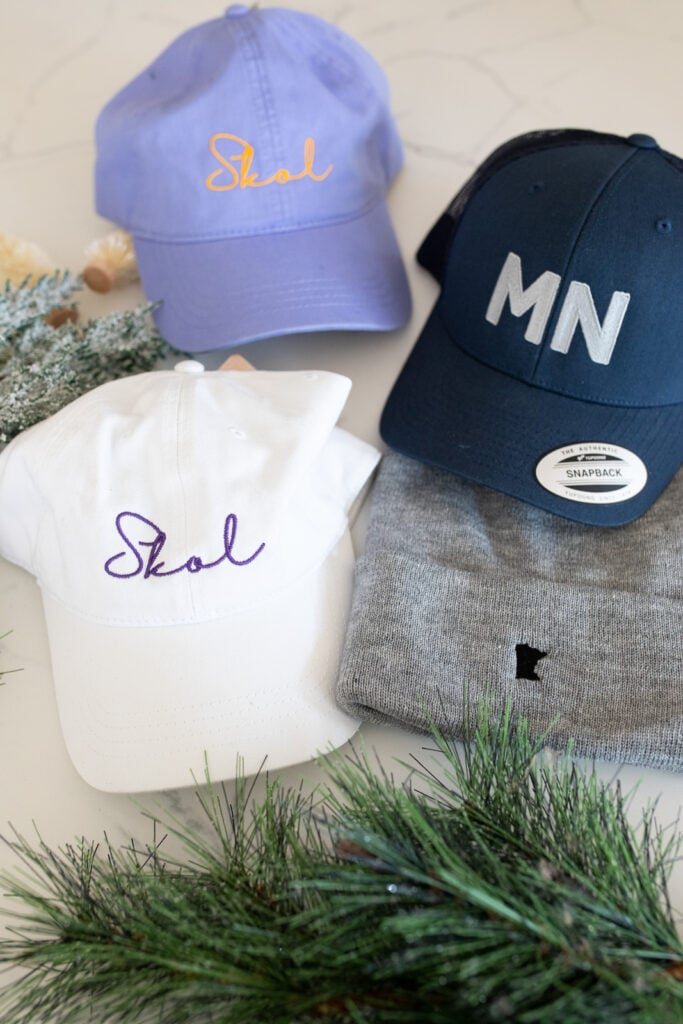 She has everything from sweatshirts to hand towels to hats, totes and more. She even does custom work! Definitely check out this brand, I know you'll love it!
5. Karma Stacks
Jeanna Simonson started making bracelets back in 2016 when she was diagnosed with advanced colon cancer. She had always loved the crystals and stones and the energies they offer.
She would wear them and gift them to friends and family (to spread good karma). Her oncologist kept asking to buy them and she told him that she doesn't sell them, but would gift them to him. He finally talked her into selling them, but she needed to have a give back that went with them. So, she partner with and donate to cancer foundations.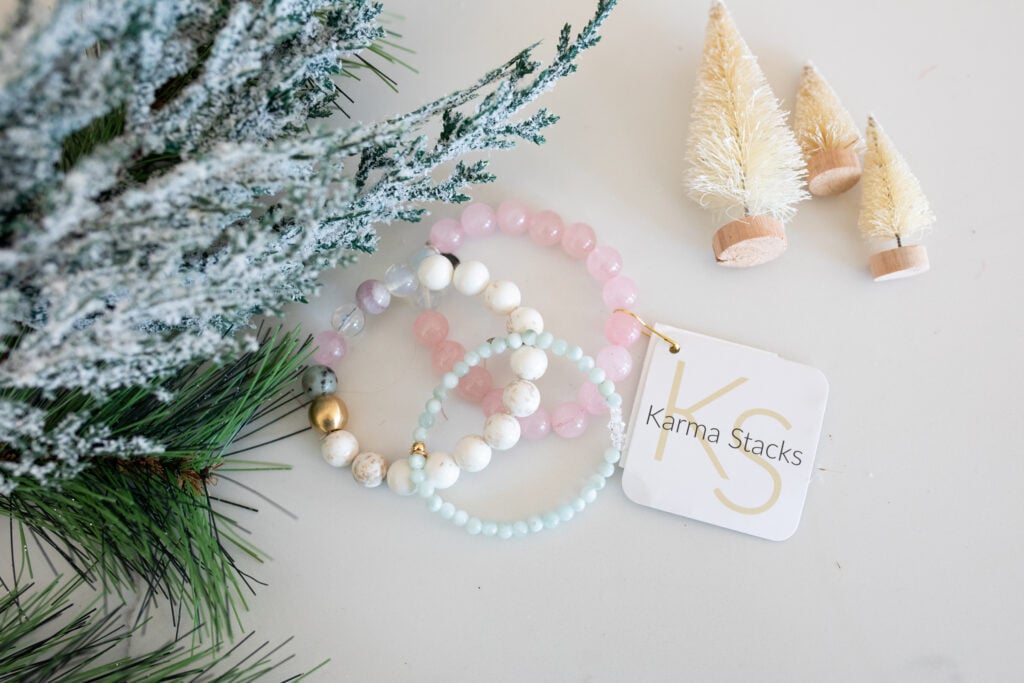 With every sale, a portion is donated, so good karma is being spread by purchasing Karma Stacks! Seven years later, she's healthy, have expanded my line to include earrings and necklaces, have a brick and mortar space in Victoria and am in several boutiques. Life is good!
You don't even need to be from Minnesota to recognize the name "Minnetonka Moccasins". They've been around since 1946 making moccasins, boots, slippers and sandals!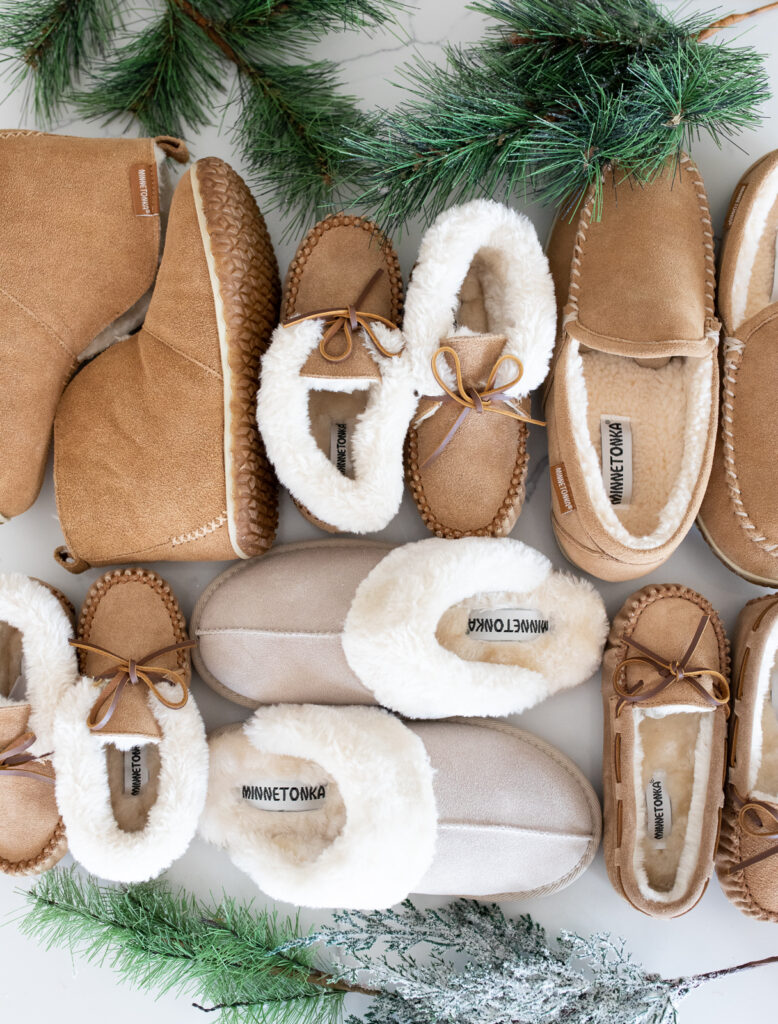 We've bought everything from baby shoes (that literally never left P's feet) to toddler boots to slippers!
Namakan Fur is a fun faux fur ruff company started by Maggie Davis and Molly Mogren Katt! As born and bred Minnesotans, we know that with the right gear, there's no such thing as too cold. However, we're often faced with the choice of looking great and freezing, or staying warm in frumpy gear.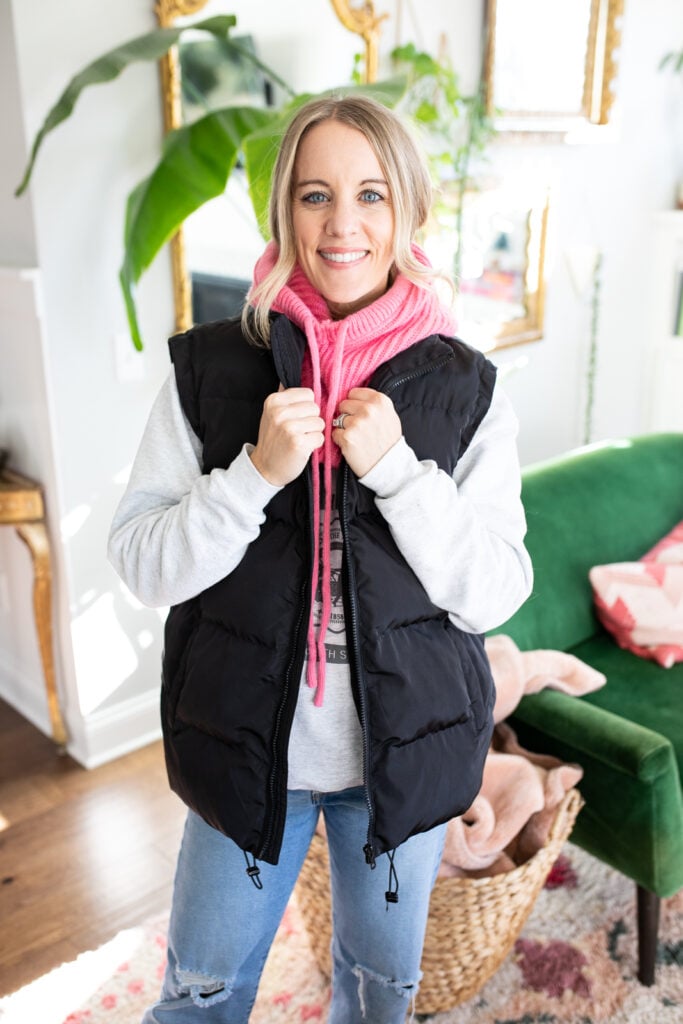 Namakan bridges the gap between winter style and comfort, from the head down. Since 2014, we've expanded our offerings considerably: driving mittens, hats, earmuffs, neck warmers and more. The goal? To make winter a season you don't endure, but enjoy. We love winter. With our products, you'll love it, too.
Baubles and Bobbies Jewelry began in 2013 with the goal to create jewelry that would empower the free spirited women of the world! They love making a difference in the world through giving back and doing good.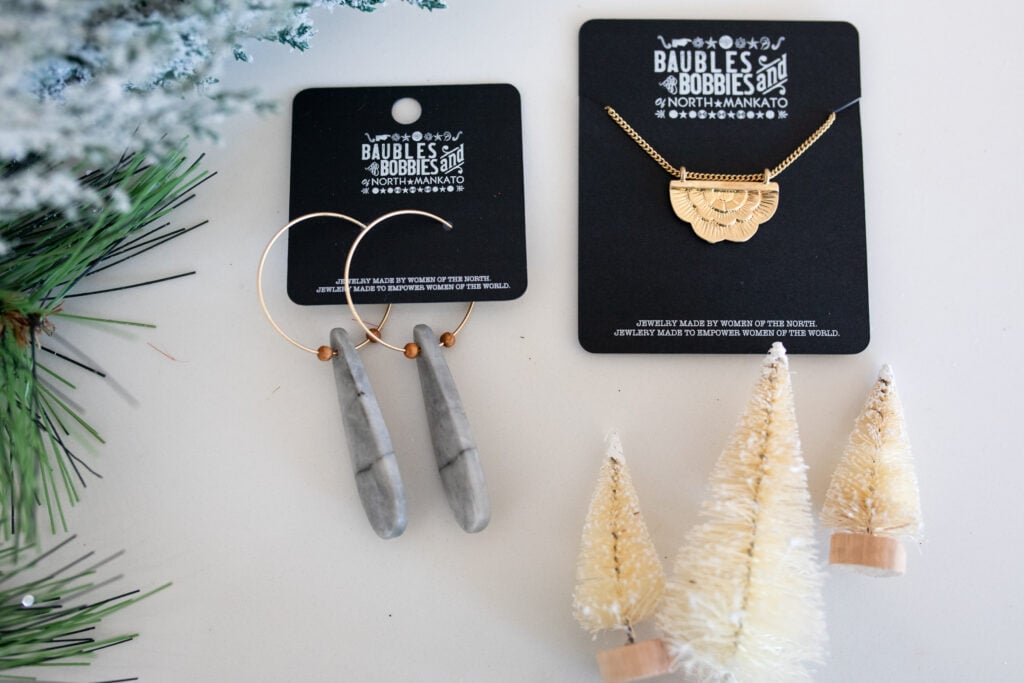 They partner with the charity Women's Foundation of Minnesota, and invest in community-based, community lead solutions to ensure equal opportunity and pathway to economic security for girls, women and families across MN!
Funky Fibers is a super fun MN made company that makes macrame and fiber art! Ashley, the owner, creates everything from macrame wall art, plant hangers, jewelry and handbags!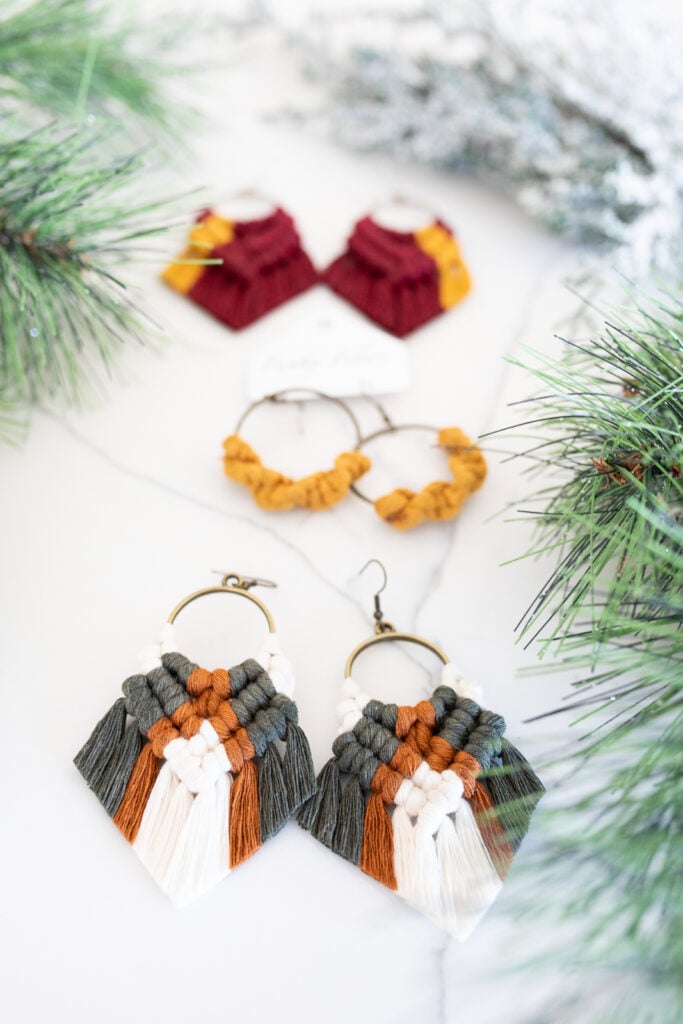 I own a variety of earrings from Ashley and I always get asked about them when I wear them. They're the perfect statement piece! Bonus: Use the code "PAISLEY" for 10% anything on their site!
Siena Soap Company is an all-natural artisan skincare company that's a women owned, mother/daughter family business! Mary, the founder started Siena Soap to bring natural relief to her multicultural family's diverse skincare needs (4 of her kids are Korean!). One of her kids, Jessica, jumped on board after graduating college to turn her mom's hobby into the business that it is today.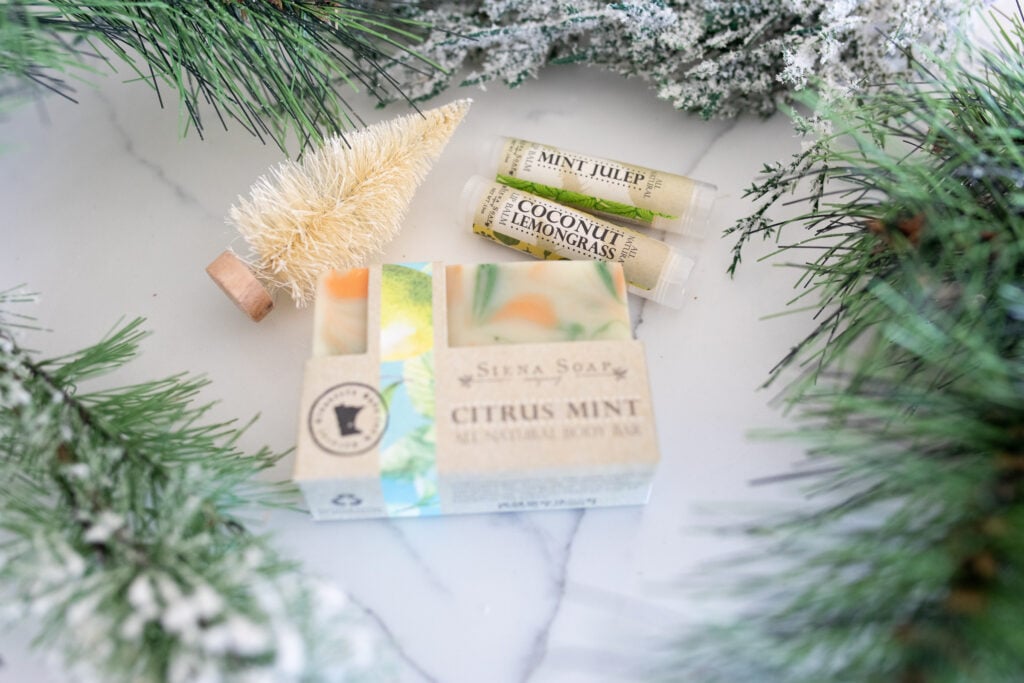 Siena Soap makes everything from soaps to lotions, baby items, facial products, shampoos, deodorants, cbd muscle relief, a men's line and so much more! Their soaps are olive oil based- so they are extremely moisturizing – something that is especially welcome with all the extra hand washing going on!
They also give a portion of their sales to support survivors of sex trafficking here in MN at Terebinth Refuge!
BeeNaturalz was started by Mandy, a fellow Minnesota mama (yay MOMS!), who wanted to calm her own troubled skin! Don't you just love brands that are created to solve someone's own personal troubles? I know I do!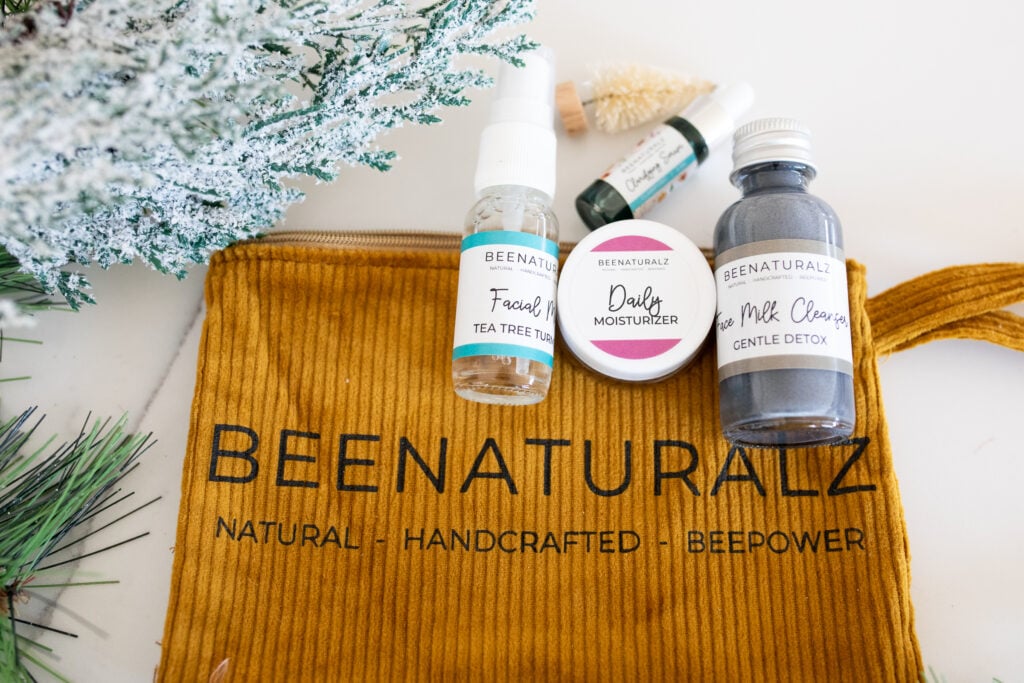 Well Mandy started her company 4 years by adding in the amazing benefits of honey, beeswax and other bee power ingredients. She truly believes that every should feel beautiful and natural in their own skin. BeeNaturalz is all about positivity and encouragement to others.
Our face oils and lotion bars are made with wildly pure plant oils from the richest ecosystem on earth – the Amazon. Our products are packaged in fully recyclable packaging and compostable golden plant baskets handcrafted by women artisans.
It all started when after a cancer diagnosis, our founder, Bruna, went back to her home country, Brazil, and sought out the soul of where she's from. In the rainforest, she met women who showed her these potent ingredients that had been nourishing their people – our people – for centuries. Now, she has a direct relationship to bring these things to us.
We create premium skincare that embodies cultural authenticity – and products that leave us feeling more connected to our raw nature, and fully alive. All products are handmade with "amor", right here in MN.
LES Bags are handmade by Laurie Sorenson, a Minneapolis maker. After her two sons moved out of the house Laurie began making totes and bags out of merino wool and waxed canvas. These bags are both gorgeous and sturdy!
Laurie runs the entire business by herself and handmakes each bag from start to finish. You know that the quality of these bags are unmatched because Laurie does it all herself!
Founded in Minnesota in 2019 by Maggie Michel, Tink[ear]rings, is an eclectic and modern handmade jewelry brand inspired to create wearable art for the everyday earring lover. Tink[ear]rings (pronounced tinker-ings) was born by friends asking Maggie what she planned to do with her craft, "I'm just tinkering around!" Little did she know her craft would turn out to be so much more than a hobby. Maggie believes art should be accessible to all people in everyday life and she strives to create conversation pieces that will bring joy and confidence to the wearer.
A MANO means "by hand" and that's exactly how every single item on A MANO's website is made! Louisa created A MANO back in 2014 when she started selling her pottery.
She creates the most unique and beautiful ornaments, jewelry, planters and more! Keep an eye on her every changing collection to snag some beauty fro you and your home.
Fair Anita is a social enterprise that's all about creating a global community of change makers through fair trade relationships. They work with talented artisan partners that carefully design and create all products by hand—gorgeous accessories you can be proud to wear!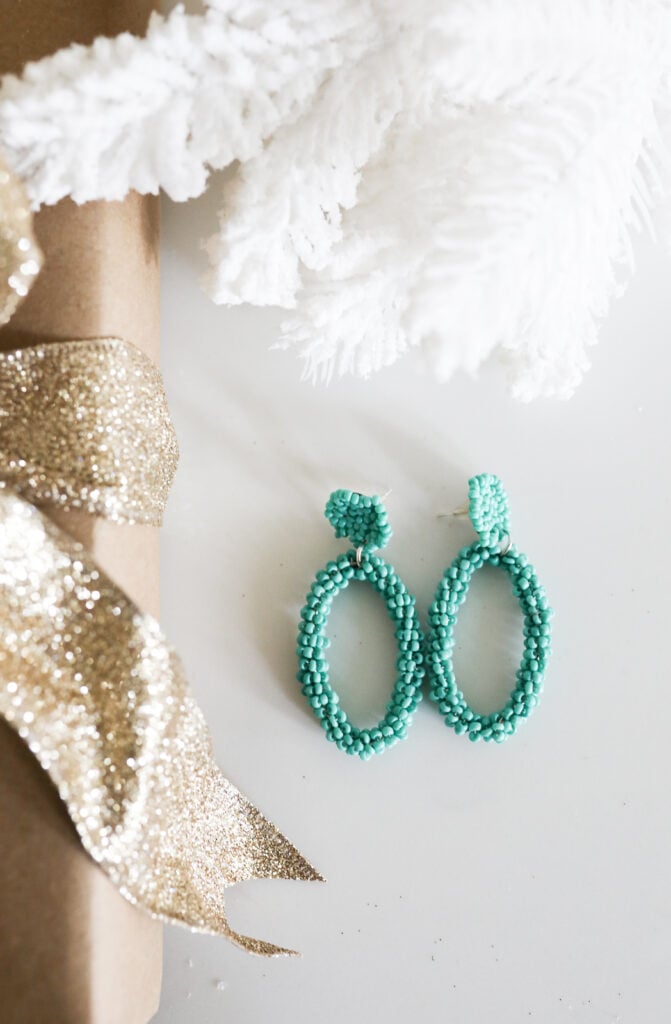 I've known the owner, Joy, and her team for years and they are truly amazing! They're as kind as can be, such hard workers and are out to change the world!
I've been wearing Lissa and Nate jewelry for YEARS and love them! Melissa and Nate, the husband and wife team behind Lissa & Nate Jewelry have been stamping, carving and hammering personalized jewelry since 2010.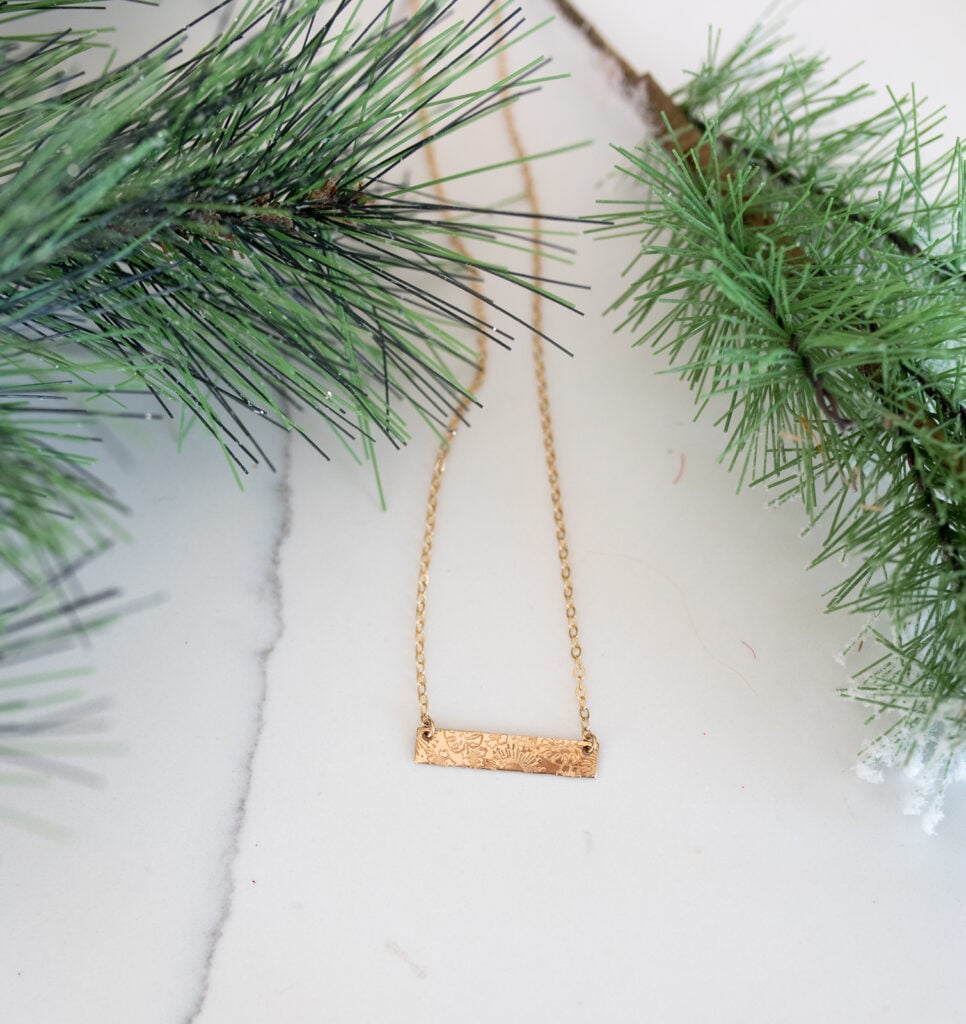 Their passion is creating aesthetic, minimalist jewelry that brings your core memories and past adventures back to mind. They love to design storytelling jewelry with deep meaning for their customers.
Use the code PAISLEY for 10% off!
I've never met Lina, the owner of Chosen and Free but from every interaction I've ever had with her I love her. She was a SAHM who wanted to have a creative outlet for herself. What started as a hobby has bloomed into a full-time business that blesses her with the opportunity to create unique statement jewelry to empower and embolden women. When you put on a pair of Chosen & Free Co. earrings, you shine. You are capable, you are brilliant, you are supported.
Angie Hall Sandifer, a Minnesota Milliner, has been creating hats since 2006. When she was laid off from her job of 30 years, she was given a retaining dollars from the job who let her go. She used this money for desktop computing classes to learn how to do things build websites and create business cards.
This skill allowed her to create her website, Angie's Hats, and the idea of selling hats (inspired by her mother and grandmother who always wore beautiful hats!), was born. She spent 3 years researching, traveling and studying before launching Angie's Hats!
Back in 2009, Julie Steller made a pair of mittens. Soon her entire kitchen was full of mittens! She, and her now team of artisans, use sweaters she finds at thrift stores, garage sales, antique stores and more to create beautiful pieces of art for your body!
Everything is made here in MN and everything has a purpose.
Aisha Formanski is a Minneapolis jewelry artist that has worked in the jewelry and beading industry since 1994. Every piece of jewelry from Everthine is handmade by Aisha in her studio. She makes hand stamped jewelry and she is known for her use of natural stones and detailed surface design.
Be sure to check out the lovely story of how the name "Everthine Jewelry" came to be – it is wonderful.
And there you have it!! I hope you loved getting to know some local brands and found some Minnesota gifts to give this holiday season! Here's all the other MN Gifts Guides to check out even more:
Want more gift guides? Check out this gift guide page for all my gift guides with more to come for 2020!
Want FREE Christmas gift tags? I created 64 beautiful gift tags that can be used not only for Christmas but every holiday! They're free to download!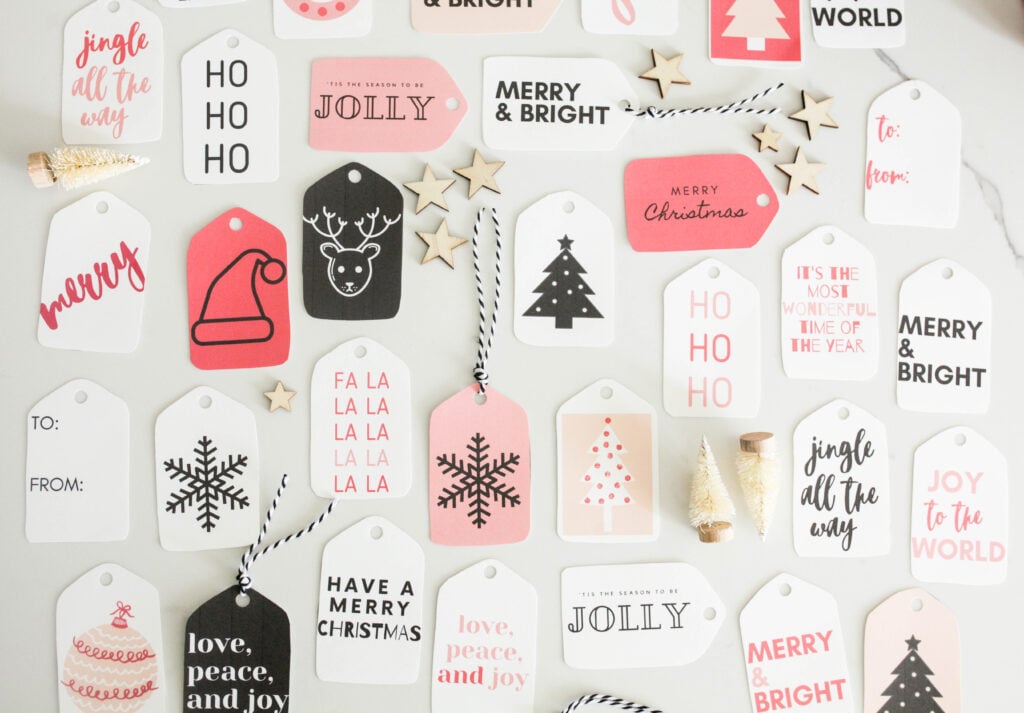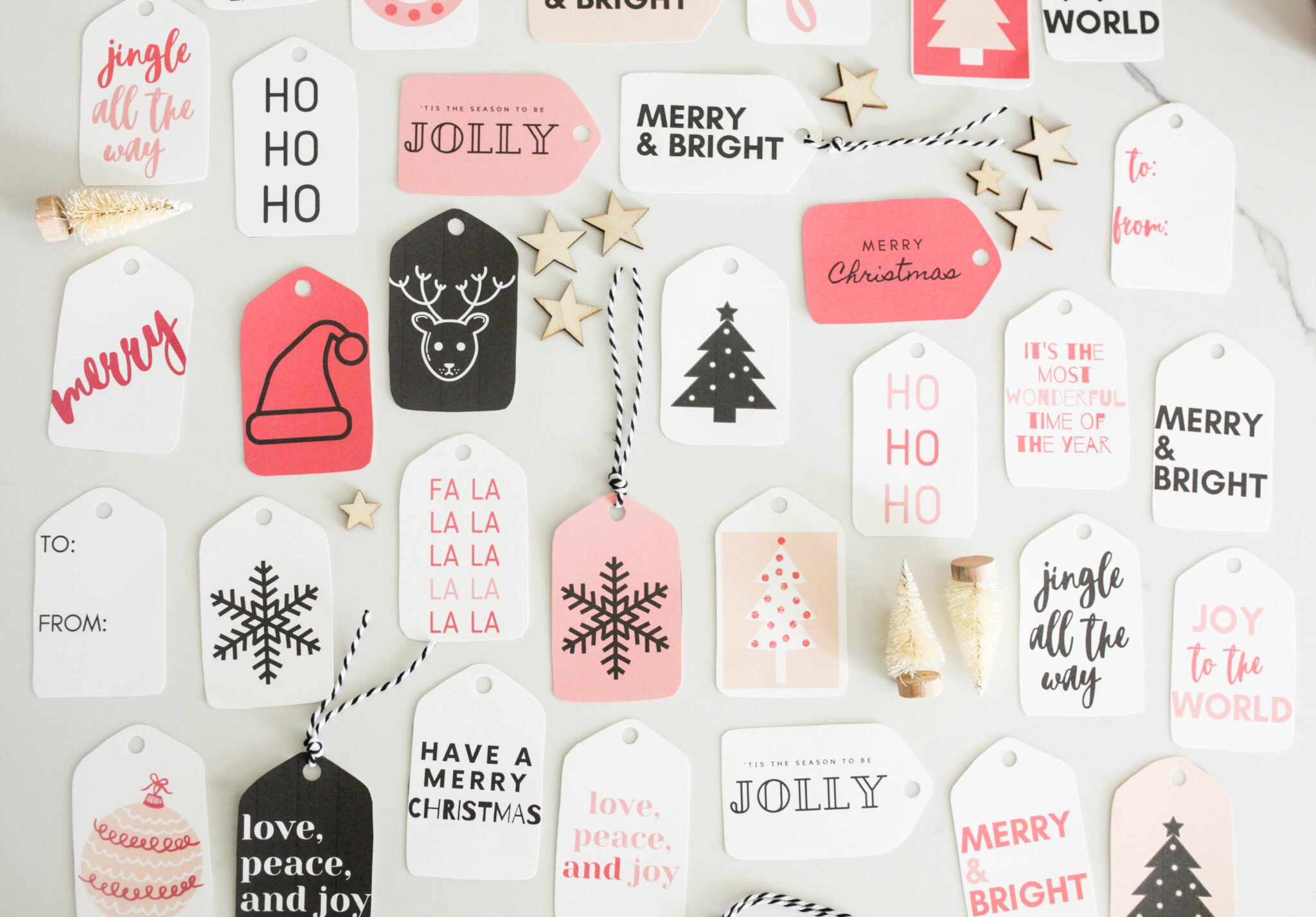 Get your gift cards in your inbox!
Enjoy!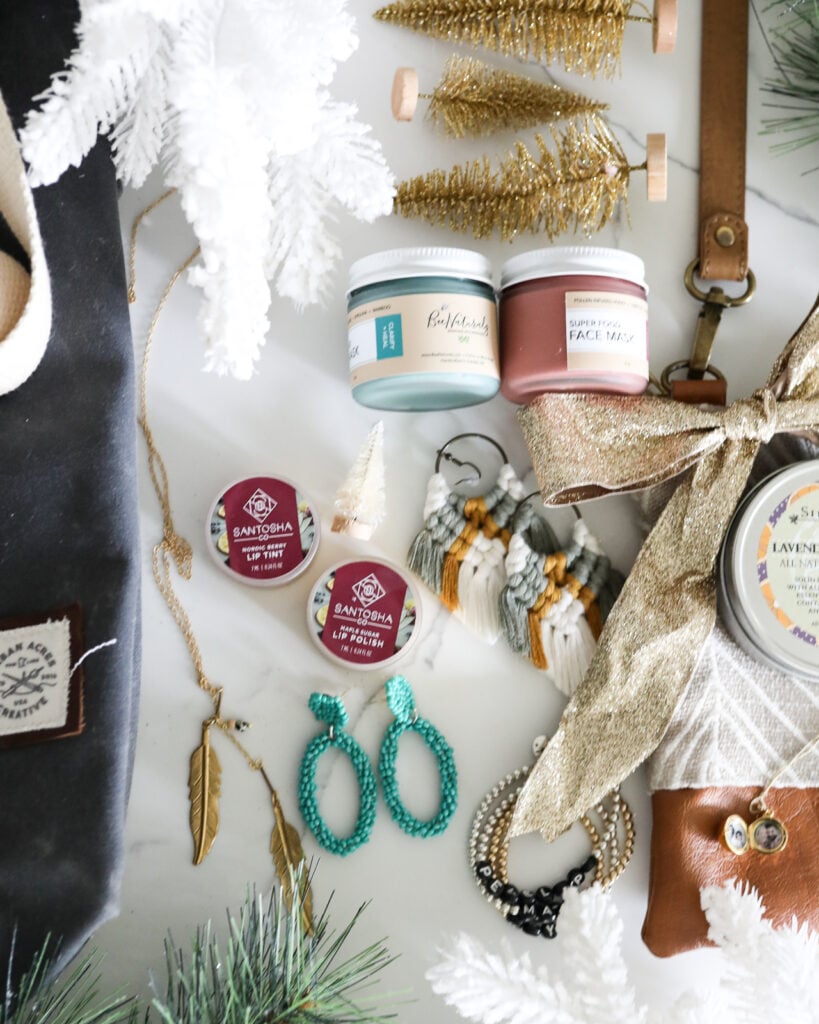 Thanks for supporting me and supporting all this amazing Minnesota Makers!