He's here! I'm so excited that baby Miles' has finally joined us! I'm also extra excited to share all of this adorable baby boy nursery decor with you all! If you remember, we had to do a LOT of room swapping to get ready for him to be born.
We moved Penelope out of the nursery and into a new room (complete with bright floral wallpaper!). We had to get Roy a "big boy bed" because there was NO way I was going to buy a 3rd crib despite the fact that Roy loved his crib!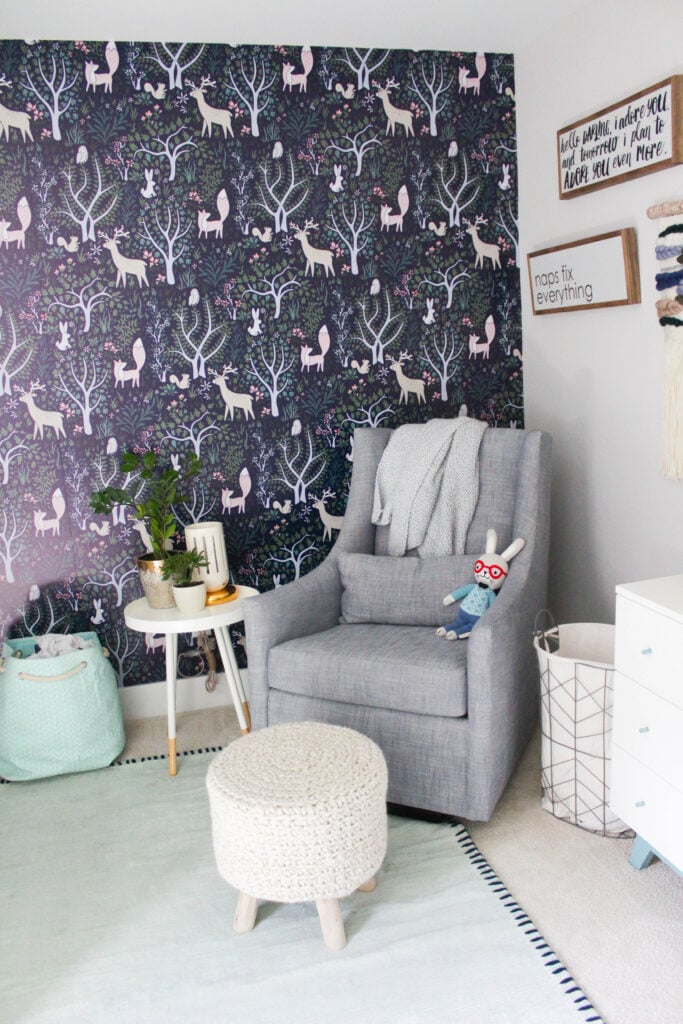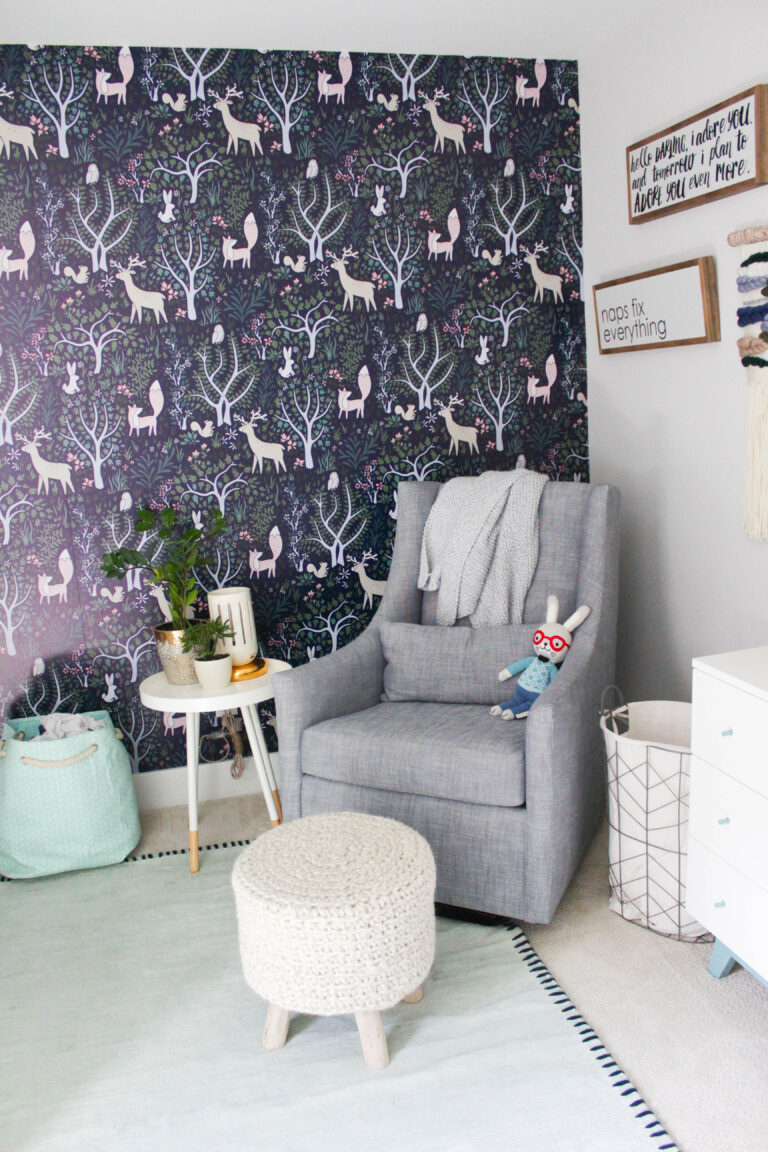 The room that Penelope took over was our guest bedroom so that had to be moved to our basement where our workout room was located. Our workout equipment was moved to the main part of our basement which was also transformed into our playroom! I didn't know if it would all get done but we got about 90% of everything complete. I still need to a little bit of decorating in the guest room and the play area but we're well on our way to having them complete!
Woodland Wallpaper
We're clearly on a wallpaper kick so we decided that was the easiest thing to do to the nursery. I actually love using wallpaper because it adds so much to the room that you really don't need that much else in the room when it comes to decor!
We actually struggled a bit to find the right wallpaper for his room! I wanted something more boy and not super baby but not super adult. We also had our crib and dresser with teal accents so ideally we wanted it to go with that as well.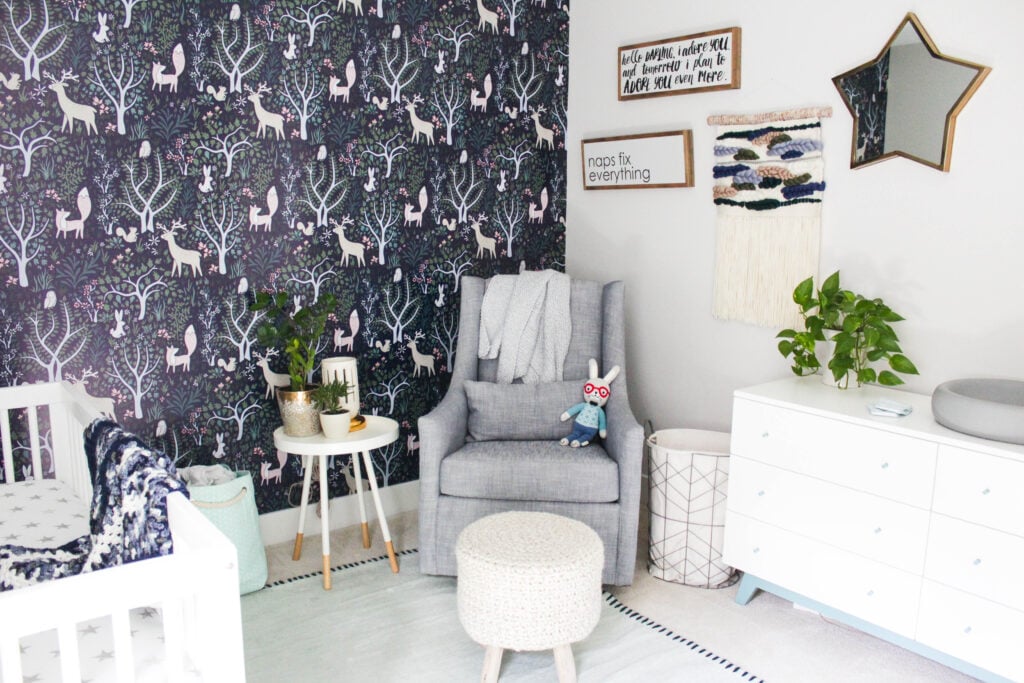 Muse Wall Studio
After tons of searching, I found Muse Wall Studio on etsy and fell in love with their Woodland Forest Navy wallpaper! It had the perfect amount of whimsy without being too baby – both Rishi and I loved it!
Muse was sweet enough to send over the wallpaper to us to review. Rishi is my professional wallpaper applier so he literally got right to work right after it arrived in the mail!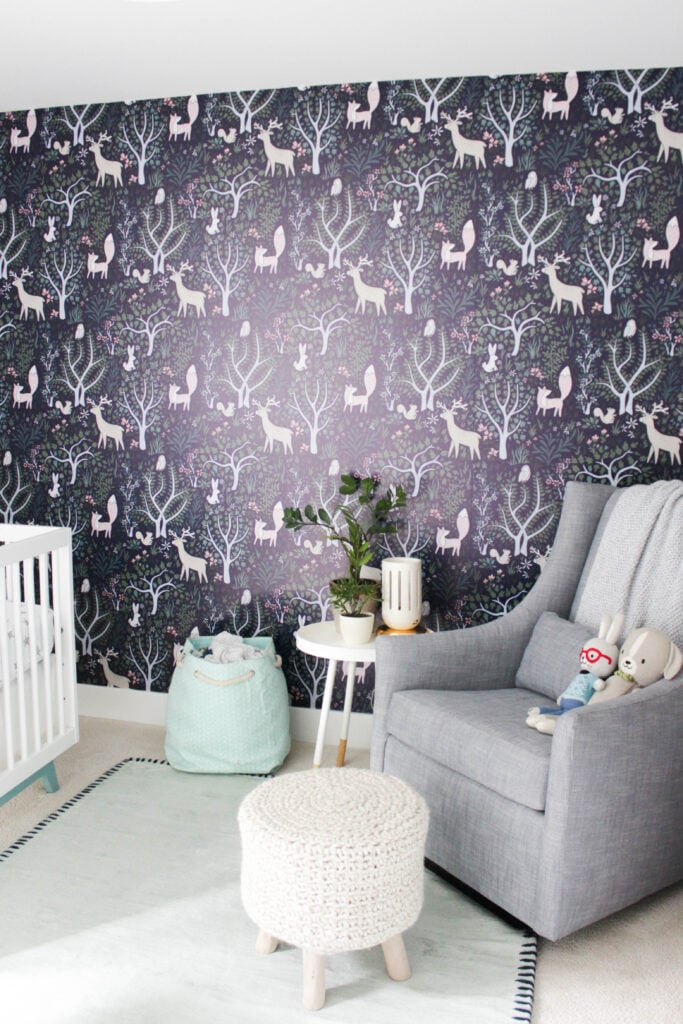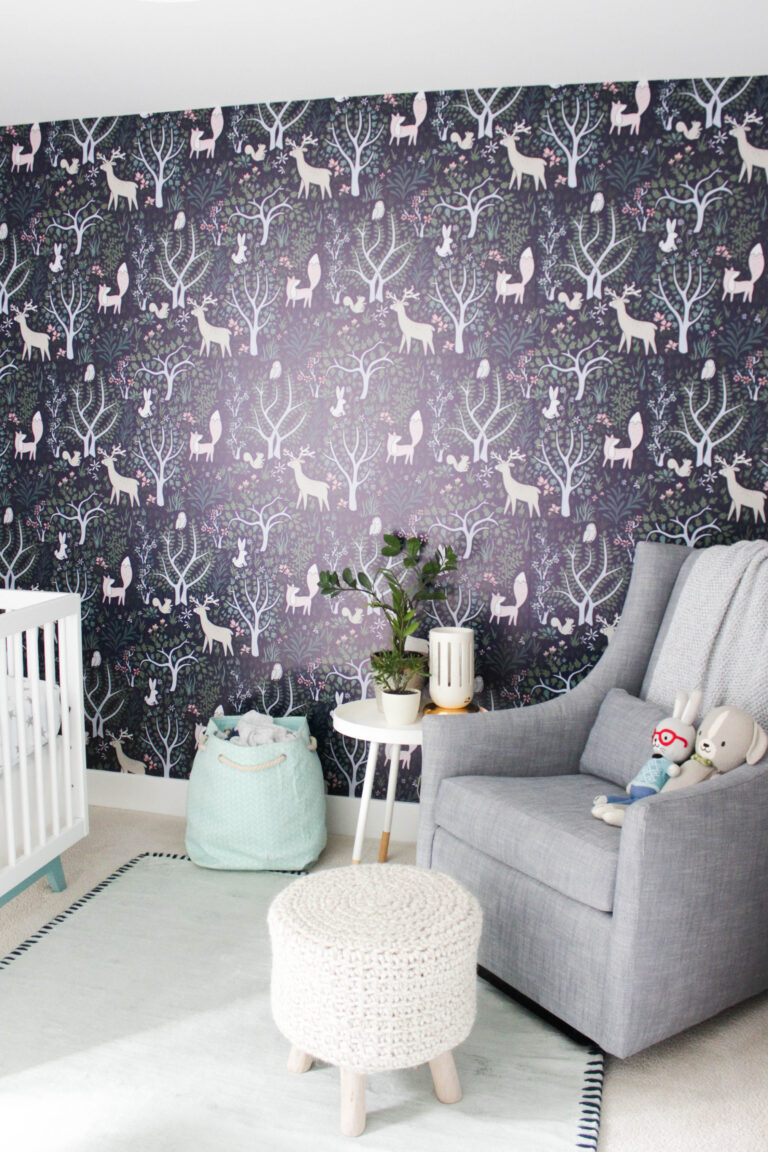 This collection was easy for him to do because every panel was exactly the same! There wasn't any confusion as to which panel went next! It also came with an application tool to smooth out bubbles and make it look pristine.
He started by washing off the wall to make sure it was clean after removing the decor that was up from when Penelope was in there. Then he put up panel after panel, leaving a little bit of overlap at the top of the wall by the ceiling. After getting all of the panels up, he trimmed the sides, top and bottom and was done! After less than 2 hours the wallpaper was up and ready to go! Easy peasy!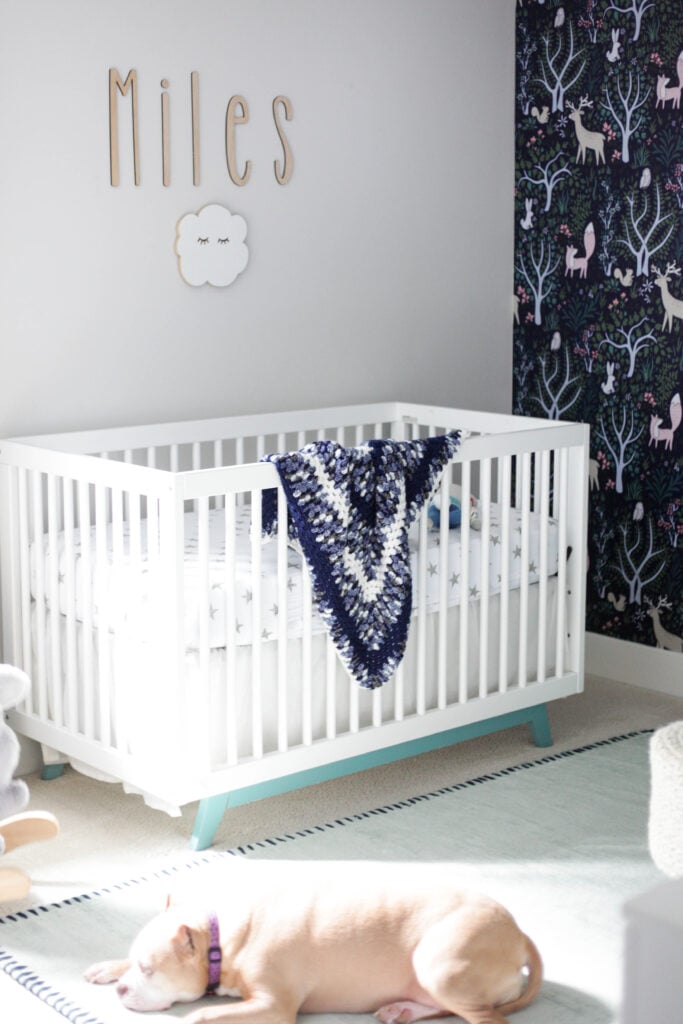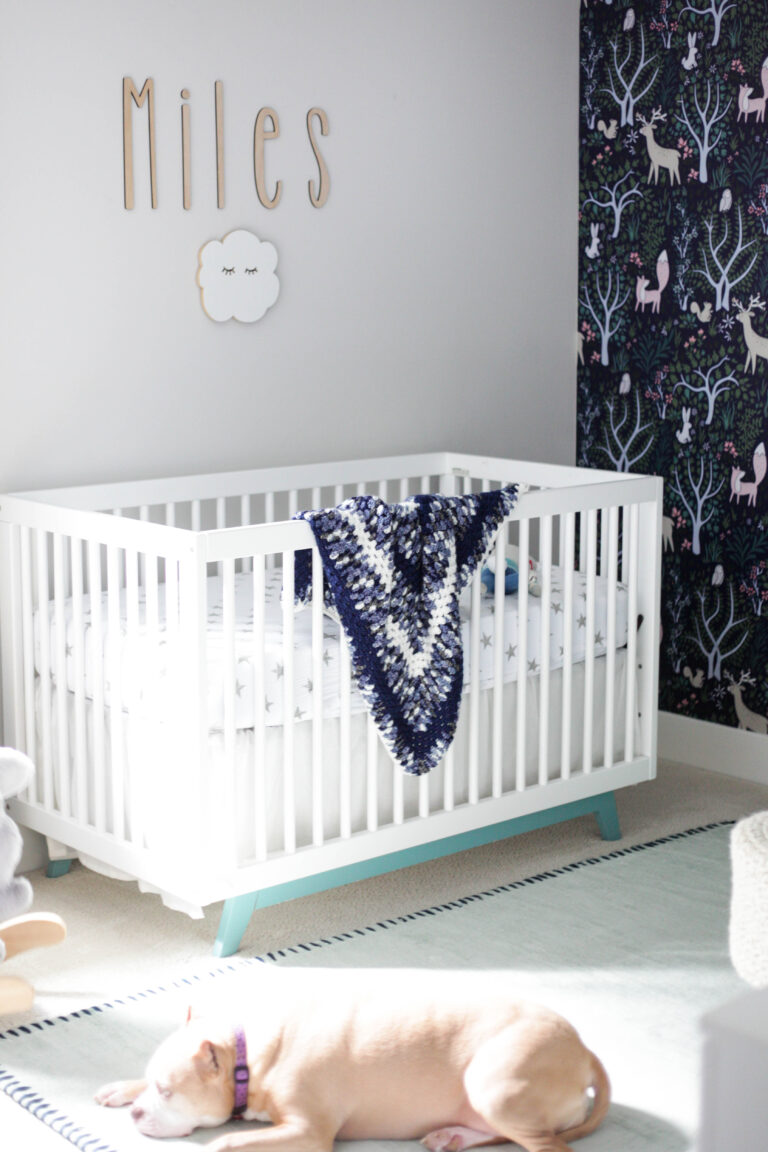 Lots of people are afraid of the application of removable wallpaper but it's really not that difficult. Rishi's a perfectionist so he does a super good job at lining up each panel so there's no way you can even see the seam but even if you aren't that crazy of a perfectionist it'll still look good! Start with a simple wall with no windows or door for your first time to get the hang of it!
Room and Board Dresser + Crib
Ok, moving on. 🙂 We already had the crib (now discontinued!) and dresser from when Roy was born that we also used for Penelope. The nice thing about the dresser is that you can swap out the drawer pulls for different colors! When P was in there we had pink pulls and just swapped them back for blue ones.
West Elm Chair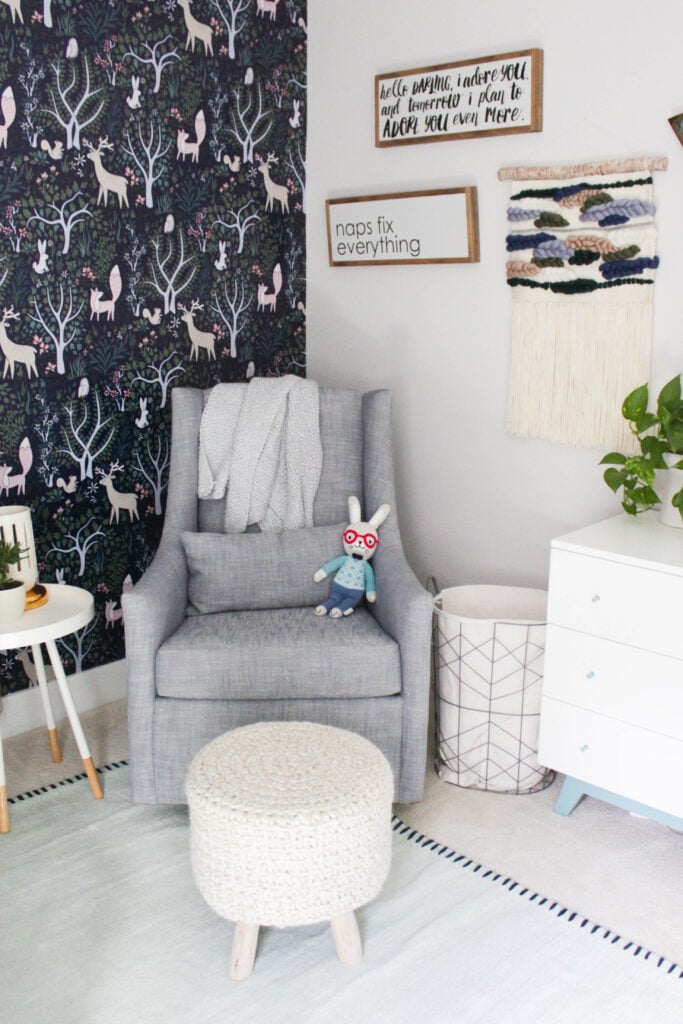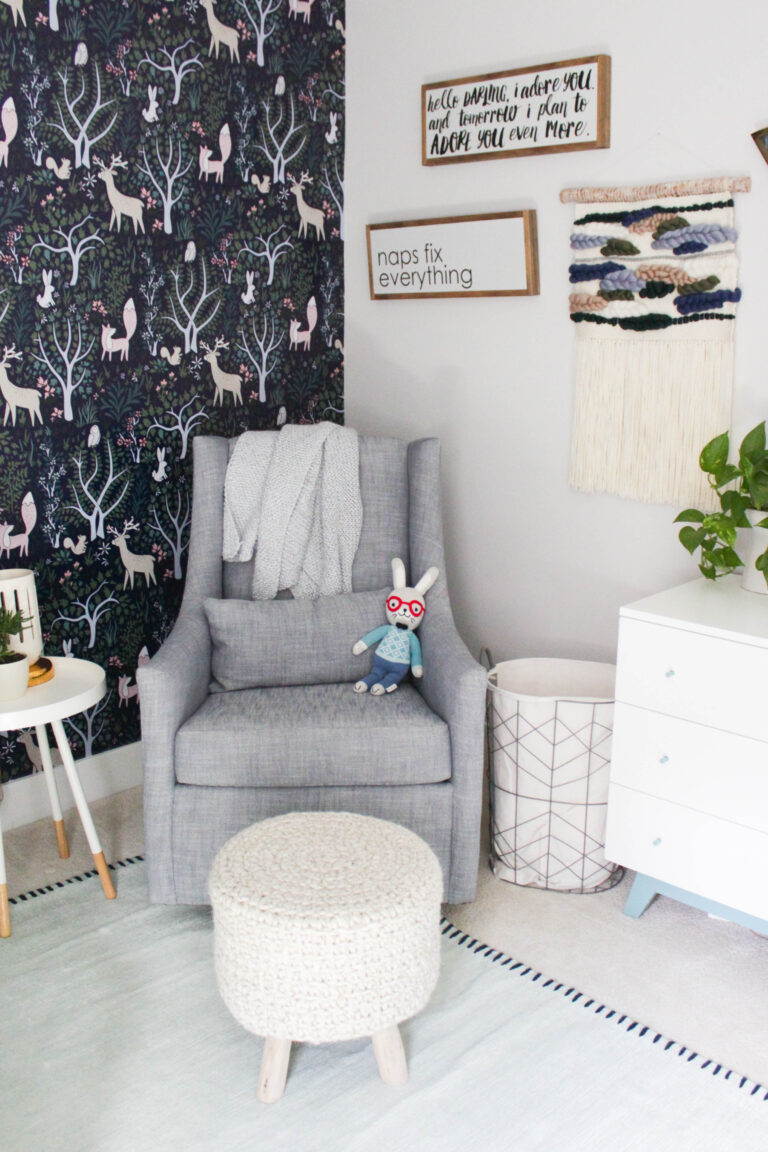 The chair was also one that we got when I was pregnant with Roy and it is still one of my absolute favorite purchases. It's so comfy, perfect for nursing babies in the middle of the night and lots of cuddle sessions! It has the perfect glide to it which is so helpful when you have a fussy baby but are too tired to stand to rock them!
We moved the ottoman and side table that was in the nursery for Roy and P over to Penelope's room so I had to get new ones. This table was an inexpensive find from Joss & Main and I got the cute pouf from the Nordstrom sale!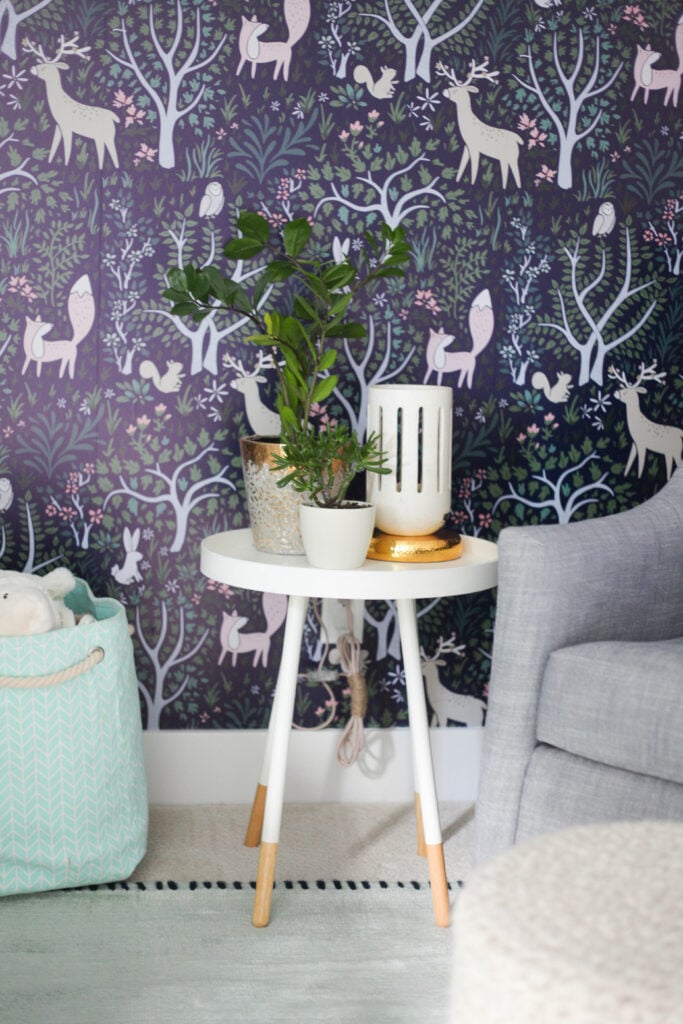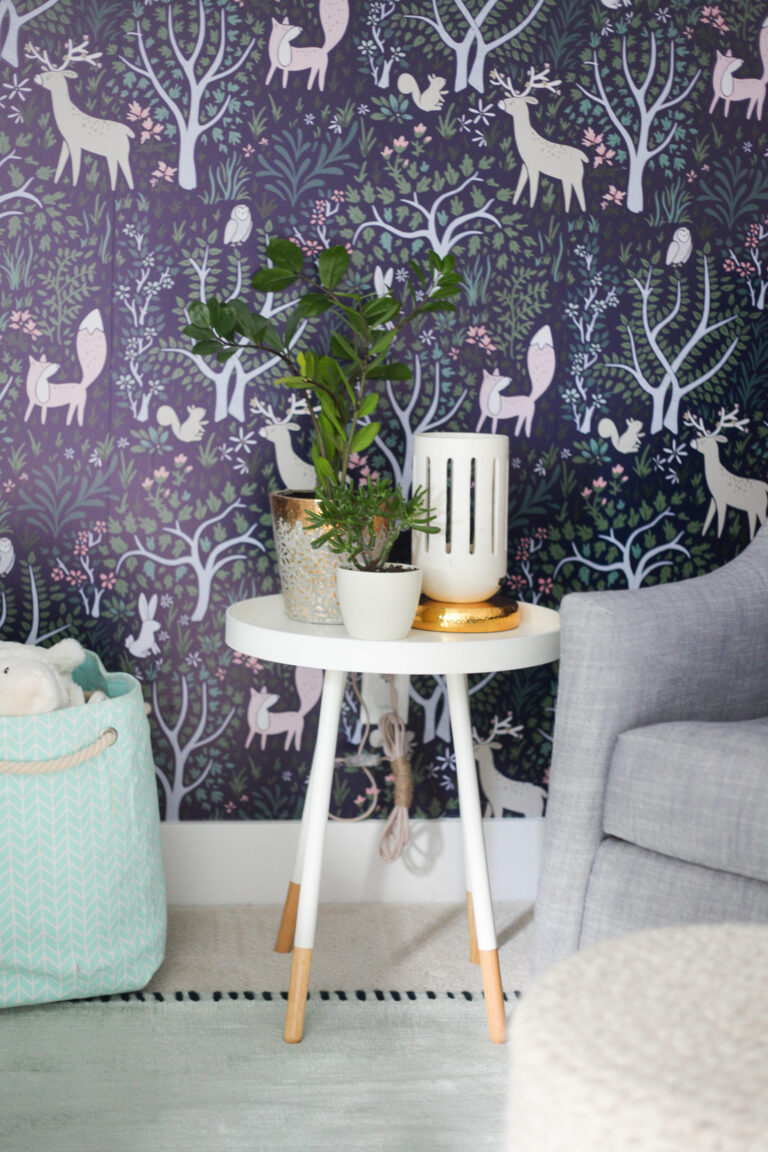 Nursery Wall Decor
We, of course, had to include a weave from Junah Woods in the room! We have her weaves all over – in my office, in our bedroom and in both Roy's room and P's room! I love the texture that they add!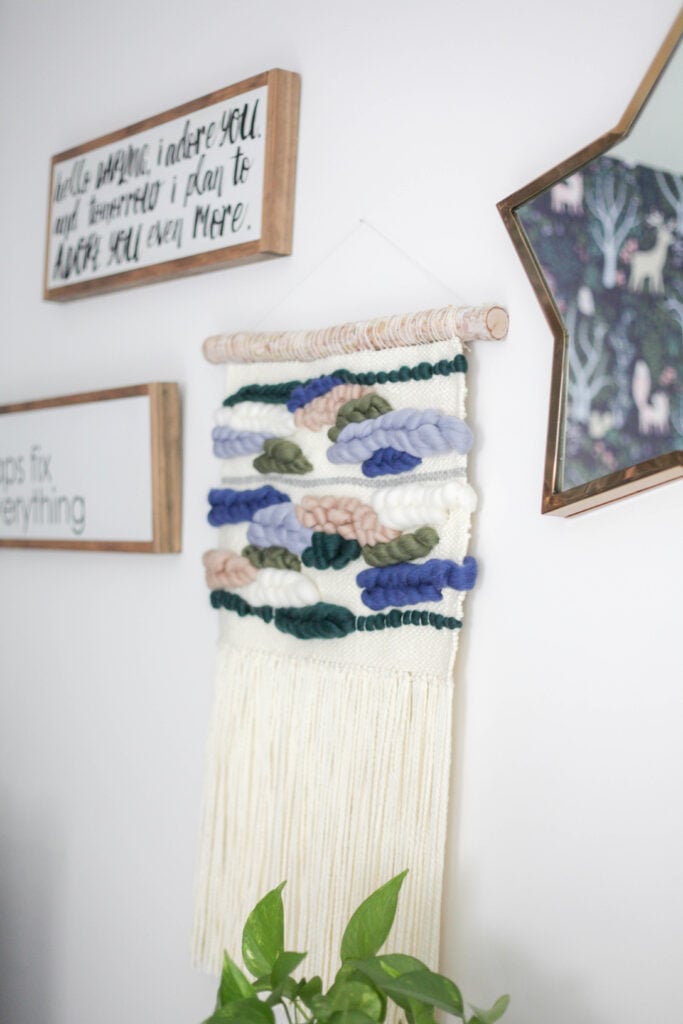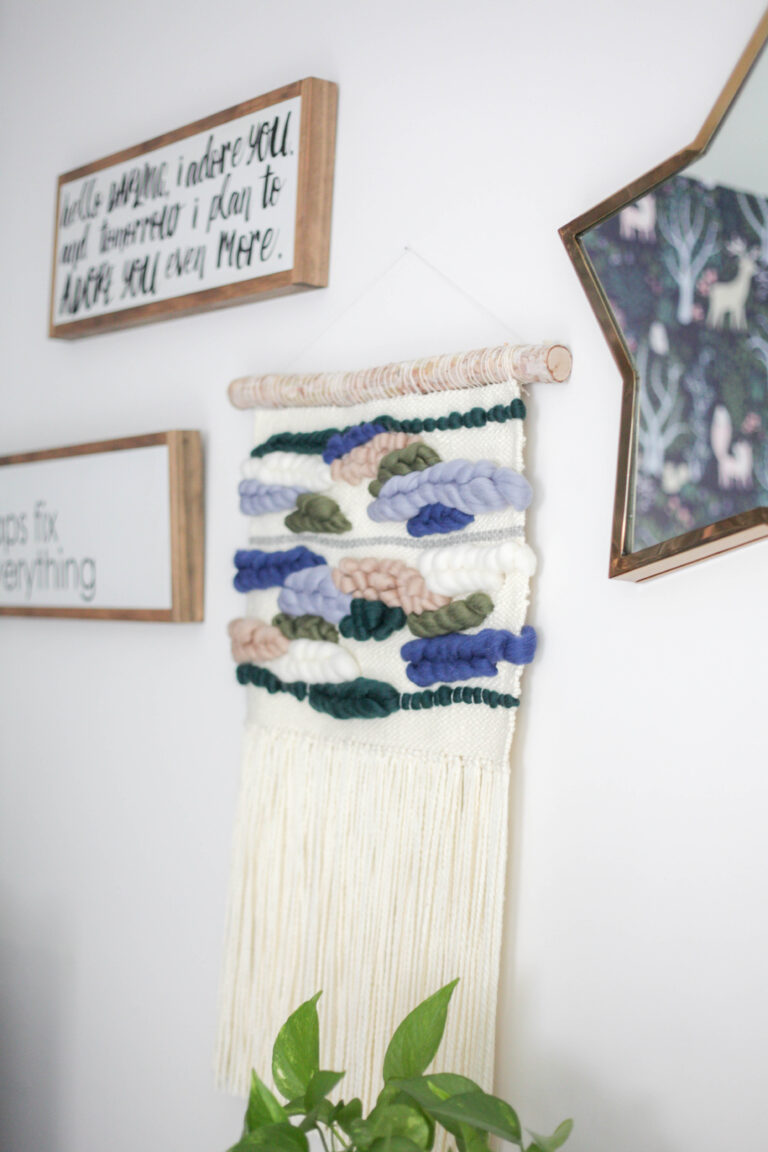 We left the star mirror and the 2 wood signs in the nursery since they fit well with the decor.
With all 3 kids we've had their name above the crib. With Roy we did gold sequined letters and for P and Miles, Common Oak created the most beautiful wood signs! The owner, Kim, is just a gem to work with to get the font and size exactly how you want it. I highly recommend her!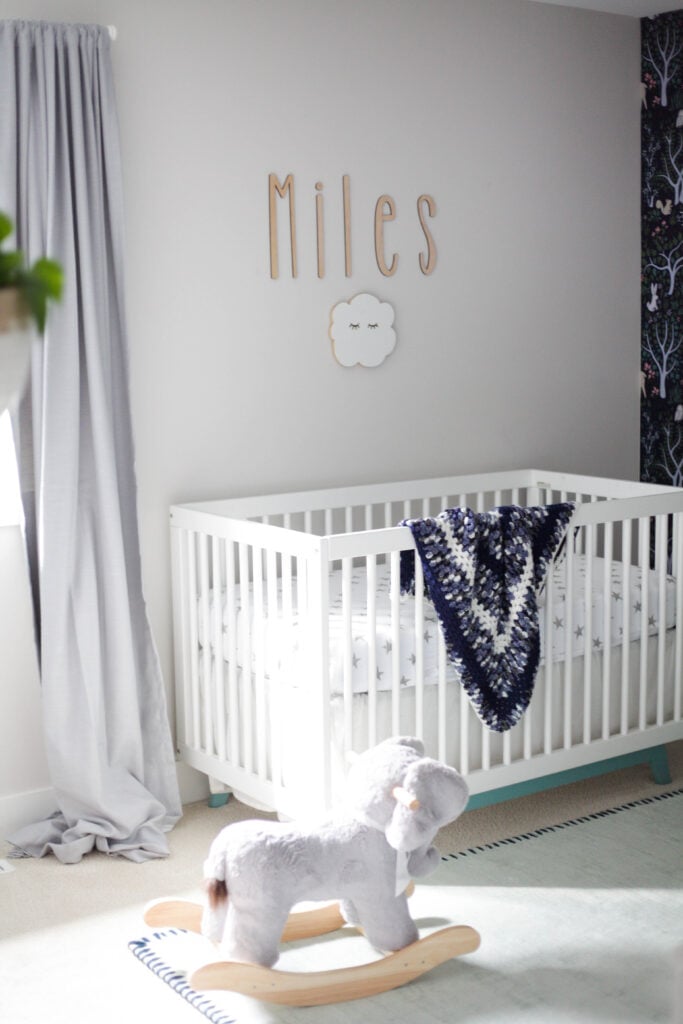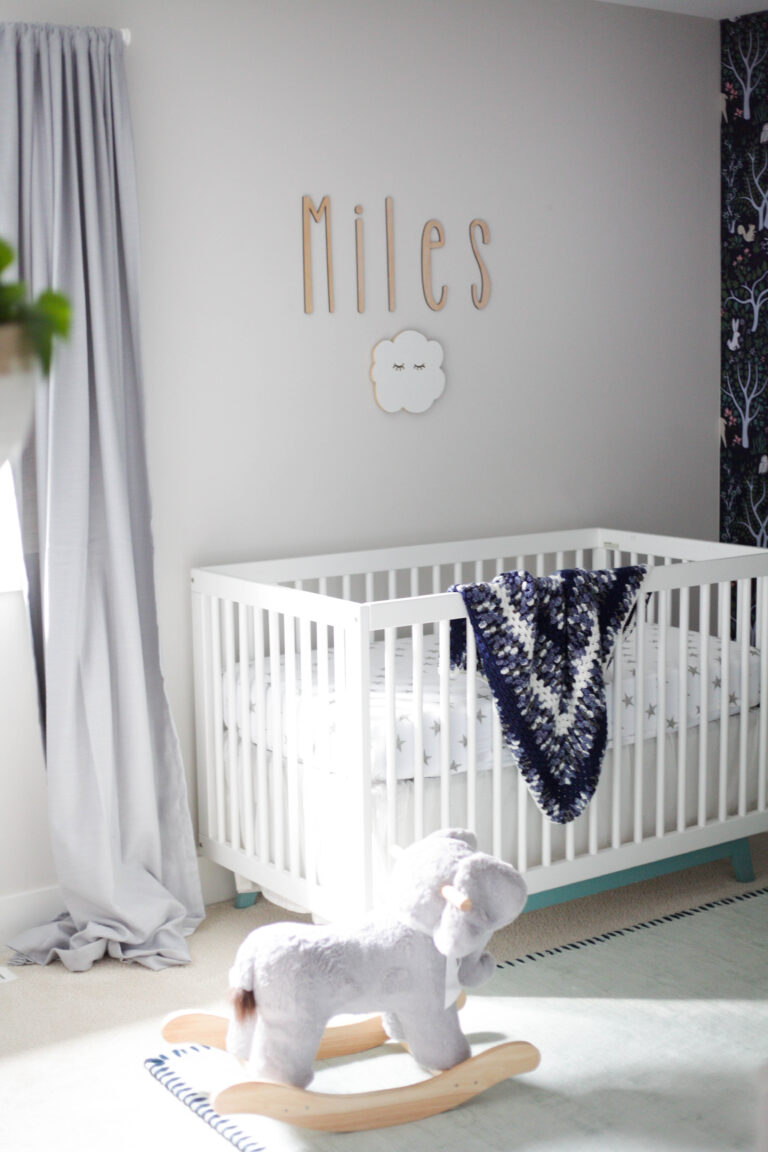 Lastly, we picked up the rug from our local Anthropologie's floor sample sale! It was the perfect thing to tie everything together.
I am so happy with how it all turned out!! I find it to be so important to love the kids' rooms because you're in there SO much, especially in the beginning!