If you've ever experienced dry lips due to cold weather or because you're not drinking enough water, you know the pain of chapped lips. When this happens, you'll want to immediately put something on your lips to help soothe any uncomfortable symptoms.
So, which do you choose to put on your lips? Chapstick or lip balm? Are these two terms that are often used interchangeably the same, or are they different? Here are the differences between lip balm and Chapstick.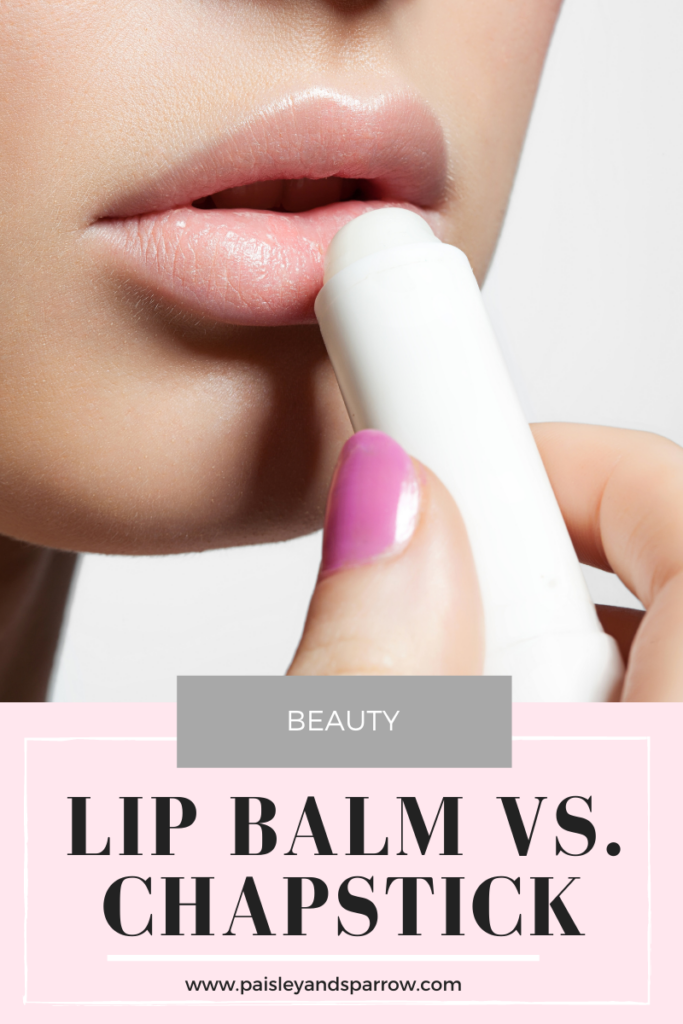 What is Lip Balm?
A lip salve or lip balm is a substance made of wax that is applied to the lips to help relieve symptoms such as dry, cracked, or chapped lips. It can also help to soothe or medicate lip conditions such as stomatitis or cold sores.
Most lip balms contain beeswax or similar ingredients, which helps to create a layer over the lip skin. Once this layer is formed, it will help to retain the moisture on your lips, therefore relieving your cracked or chapped lips symptoms. This extra layer of protection can help against cold weather, wind or even used as added protection from the sun.
Most brands of lip balms are sold in twist-up tubes or tiny round jars. It can be applied either directly with your fingers or with a Q-tip. You can find lip balms that are both clear or with a bit of added color to be used as lipstick. Lip balms are available online, in cosmetics stores, supermarkets, or at your local drugstore.
What is Chapstick?
Chapstick is a brand of lip balm. It refers to the Pfizer Consumer Healthcare brand name of their line of lip balms. It's one of the most popular types of lip balm available and can be found in all drugstores, supermarkets, grocery stores, and online stores.
Many people assume that Chapstick is a general term used to describe all lip balms due to its popularity. However, it only relates to one specific type of lip balm.
What is The History of Lip Balm and Chapstick?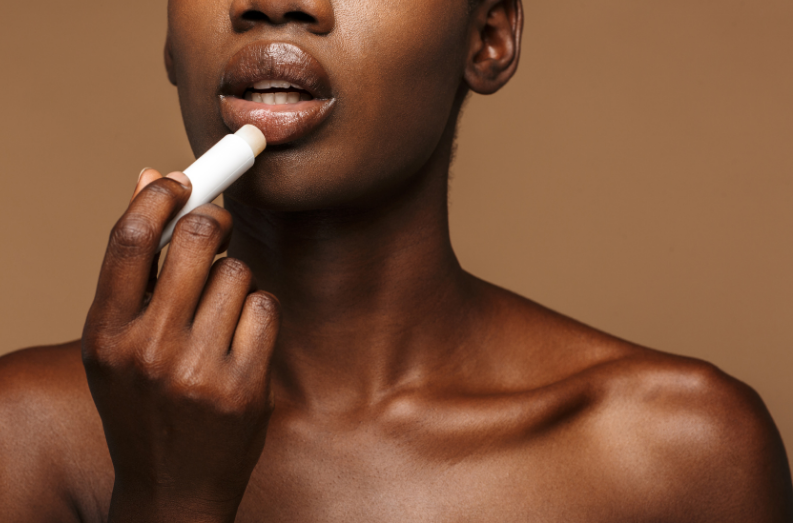 Before lip balms were created, people still suffered from dry lips and were looking for a solution. In 1819, Lydia Maria Child, a women's rights activist, claimed that an effective treatment to dry lips was to smear earwax on your lips.
However, even though this was a treatment people could use, it wasn't commonly accepted by the public for a long time. Until almost 50 years later, this was the only home remedy that was used to help relieve chapped lips.
Charles Browne Fleet, a physician in the 1880's, invented the first stick form of lip balm. It looked like a wickless candle wrapped with tin foil and was marketed with the name Chapstick.
Charles first tried to sell it around his hometown of Lynchburg, Virginia but was not successful in getting the idea to stick. Instead, he moved on to create other products, such as laxatives.
In 1912, John Morten, a resident of Lynchburg, bought the rights to Chapstick from Charles Fleet for a whopping $5, which is the equivalent of $150 today. John worked with his wife to improve the style and look of Chapstick to help it appeal to customers.
It was an overnight success that allowed them to invent their company called the Morton Manufacturing Corporation. They were in business for the next 30 years before selling off the corporation to A.H. Robins Company.
A.H. Robins worked to create various scents and other medicated benefits to the Chapstick brand. Today, Pfizer owns and sells Chapstick.
When the popularity of Chapstick increased, other business people caught wind. As with any good idea, investors wanted to create their own different forms of Lip Balm to compete against Chapstick. While Chapstick is still one of the most popular brands in the world, there are tons of other Lip Balms to choose from to fit your specific needs.
Ingredients of Lip Balm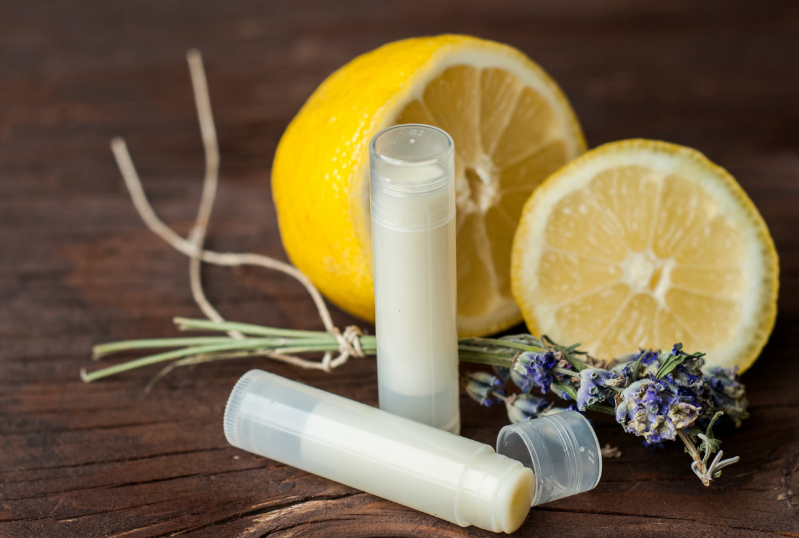 Different lip balm brands have different ingredients in their Lip balm. However, the most common lip balm types contain carnauba wax, beeswax, camphor, cetyl alcohol, petrolatum, and paraffin as some of the main ingredients. Each brand of lip balm contains additional ingredients to create its own formulas.
Ingredients of Chapstick
Chapsticks main active ingredient is White Petrolatum 45% Protectant. According to Chapsticks website, the rest of the inactive ingredients includes, "Arachidyl Propionate, Camphor, Carnauba Wax, Cetyl Alcohol, Fragrance, Isopropyl Lanolate, Isopropyl Myristate, Lanolin, Light Mineral Oil, Octyldodecanol, Oleyl Alcohol, Paraffin, Phenyl Trimethicone, Red 6 Lake, Titanium Dioxide, White Wax, Yellow 5 Lake.
What are the Best Ingredients for Lip Balm?
If you're looking for the ultimate in lip moisture, you want to look for certain ingredients in your lip balm. Certain ingredients have health benefits, keep your lips hydrated and soft, and are the most effective in combating cracked or dry lips.
Beeswax: Beeswax has zero irritation, skin-protective, antibiotic and antiseptic properties and is known for its softening effect.
Shea Butter: Shea butter comes from shea tree seeds. The fat from the seeds is extracted and used in lotions or products. It helps to keep your lips soft, moisturized and has been known to relieve arthritis and acne.
Honey: Honey attacks moisture and retains it on your lips. Honey can also help exfoliate your lips while keeping them hydrated and healthy.
Castor Oil: Castor oil is made from castor beans and penetrates the skin by soothing chapped lips.
Which is better, Lip Balm or Chapstick?
Chapstick is a form of Lip Balm. To call all forms of lip balm by the name of Chapstick would be incorrect, technically speaking. To choose the best lip product, want to choose the lip balm that contains ingredients that work with your skin type. Whichever Lip Balm you choose, whether that is the brand Chapstick or another brand, you're sure to have your dry, cracked, or bleeding lip problems solved.
Best Lip Balms
There are many great types of lip balm. Here are some popular brands of lip balm
In addition to lip balms, there are a variety of different products  you can put on your lips. If you're looking to add some color or shine to your lips, you can choose a lip gloss or lipstick.
Using petroleum jelly such as Vaseline, will help give your lips a protective layer and help moisturize your lips.
There's other natural ingredients like simply using coconut oil that can work just as well too!
Now that you know everything there is to know about Chapstick vs lip balm, let's look into some products that help with dry skin – CeraVe vs Cetaphil!