If you are looking for a way to make your lashes look longer and fuller, lash extensions or lash lifts may have crossed your mind. They are both popular treatments that enhance the beauty of your eyes.
Let's take a look at what each lash treatment is, the process for getting them, the pros and cons of both, and more.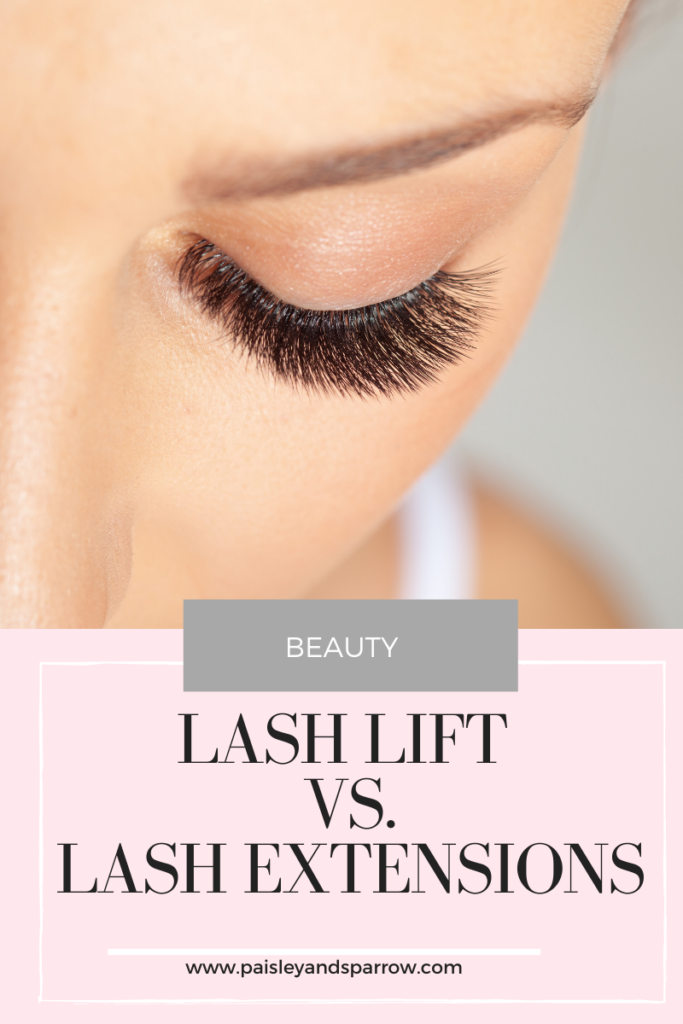 This post contains affiliate links.
What's a Lash Lift?
A lash lift works by boosting your natural lashes from the root, kind of like an eyelash perm! It is an all-natural procedure that will give your lashes a fuller, longer, lifted look. You can even choose to tint lashes to give them a darker look too.
Process
Lash lifts should only be performed by a licensed aesthetician. The process is quick and painless. There is not much to do to prepare, but there are a few steps.
After you have found a reputable aesthetician, you should get a patch test to make sure you won't have any allergic reactions. Do not wear makeup on treatment day and avoid using your lash curler for a day before the appointment. You should also avoid waterproof mascara for a couple of days before the appointment.
During the procedure the lash artist will separate your upper and lower lashes by sticking the lower lashes down. Then they will apply the treatment to the lashes and brush upward from the root onto a silicone rod. They will set the lashes on the silicone rod with a lifting lotion and setting lotion to help hold the shape.
If you choose a keratin lash lift, the tech will apply a keratin solution to your lashes, which helps strengthen and protect your eyelashes.
The lift will give you long lashes and is a great way to enhance your lashes' natural appearance.
Next will come the tint and volumizer if you want a darker shade for your lashes and for a slightly more dramatic effect. The aesthetician will clean your lashes and then you are done. The whole process will take around 45 minutes.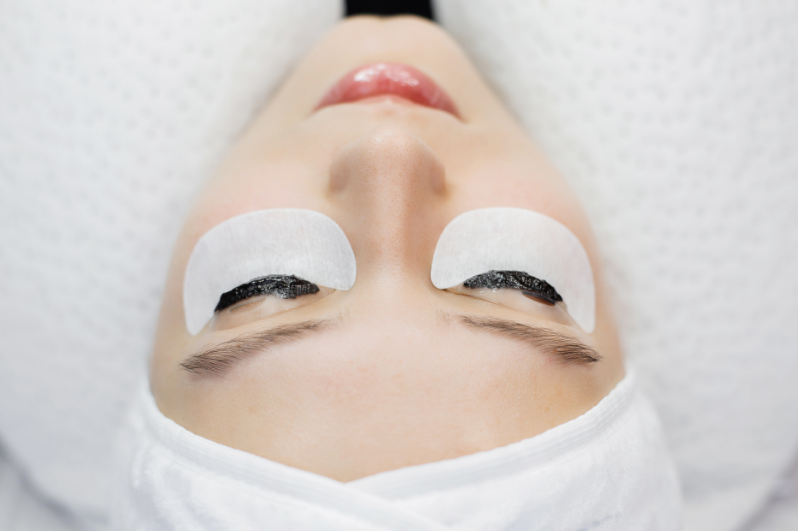 Lash Lift Pros
Your Eyes Will Look Bigger
Lash lifts enhance your natural eyelashes to look longer. They will be separated and curled upwards. This gives your eyes a bigger, more open look without having to wear mascara.
They Enhance Your Natural Beauty
Since the lash lift treatment involves curling your natural lashes to make them look longer, it's just an enhancement of what's already great about your eyes. There is nothing synthetic involved, so it's a great option for those who prefer a natural lash look.
Your Wallet Will Thank You
When compared with lash extensions, an eyelash lift is a cheaper lash service. It will cost you anywhere from $75 to $150 per treatment.
You Can Choose to Wear Mascara or Not
Lash lifts gives you the choice to wear mascara or not. Wearing mascara with lash extensions is not recommended.
Lasts Longer Without Touch-ups
The treatment is a semi-permanent process and does not require any touch-up appointments. One lift treatment should take less than one hour and should last for at least a month and up to two months. Many people love this treatment because it lasts a long time and is low maintenance.
Lash Lift Cons
Not for Those with Sensitive Eyes
The solution used for the lash lift process can be irritating for those of us with sensitive eyes. If you can't wear contacts or eyeliner on the waterline without your eyes getting irritated, don't go for this treatment. You should look for a better option to get noticeable lashes.
Small Risk of Harm
It is crucial to choose a licensed and trained technician for your lift. A lack of experience or training could potentially lead to dry eyes, chemical burns, or damage to your natural lashes.
What Are Lash Extensions?
Lash extensions are individual fake lashes; a lash technician places them on your individual natural lash with a special glue formulated to not cause damage. Technicians use anywhere from 80 to 140 extensions for each eye. This gives the illusion that they are your real lashes.
A lash extension treatment requires daily cleanings and biweekly fill-ins, so they are more high maintenance than lash lifts.
Process
The process starts with an evaluation to make sure eyelash extensions are suitable for you. Let the artist know your desired look, and they will help you decide on the length and curl of the lashes.
Before application they will clean the area to remove any makeup, oil, or germs from the area. It is a good idea to skip the makeup for these lash services.
Your eyes will be closed for the whole application process, which usually takes 1 to 2 hours. You may even be able to take a lash nap while the professional artist works!
The technician will apply an under-eye gel to your newly cleansed lower lash line. This keeps your lower lashes out of the way and helps the artist see your lashes clearly to apply the extensions.
The individual lash extensions are dipped in lash glue and applied to your individual lashes using tweezers. The lash glue dries quickly. They will usually have you wait for 10 minutes after they finish to make sure they are fully dry before removing the under-eye gel. They will brush out your lashes as a finishing touch.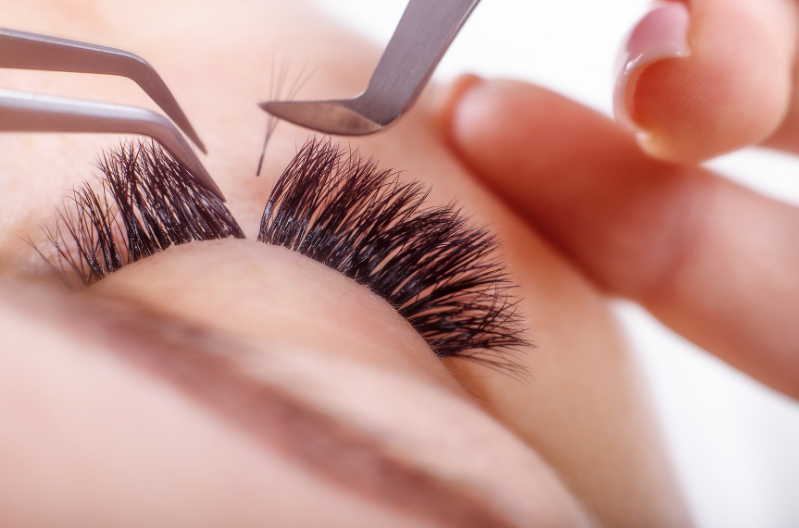 Lash Extensions Pros
They Are Virtually Waterproof
You can't get them wet for the first 2 days, but after that, they can get wet. The dryer you keep them the longer they will last, but you can still shower or go swimming.
They Are Customizable
You can go as natural or as dramatic as your heart desires. Chat with your aesthetician to let them know what look you are going for, and they can help you decide on an ideal length and curl combination for your extensions.
Lash Extensions Cons
Risks of Irritation and Infection
Eyes are sensitive organs. They can be irritated by almost anything. It is best to do a patch test before committing to the full set to make sure you do not have any adverse reactions.
Doctors recommend asking your aesthetician to use a glue that does not have latex or formaldehyde in the formula to decrease this risk.
It Takes Quite a Bit of Time and Money
The initial set will usually cost somewhere between $100 and $300 and can take up to 2 hours to put on. Refills will be needed every 2 to 4 weeks and usually cost around $50 to $150 per appointment. The refills usually take about an hour.
Natural Lashes May Be Damaged
As your lashes grow out and the extensions get further away from the root of the lash, the weight can become too much for the lash to support. This can lead to breakage. Rubbing the lashes can damage them too.
They Fall Out Unevenly
Your lashes, like your hair, grows and falls out naturally at different times. That means the lash extensions will fall out at different times. This can lead to an uneven look if the extension refills are not done on schedule.
No Rubbing Your Eyes
Rubbing your eyes is a no-no when wearing lash extensions. This can make washing your face a little tricky.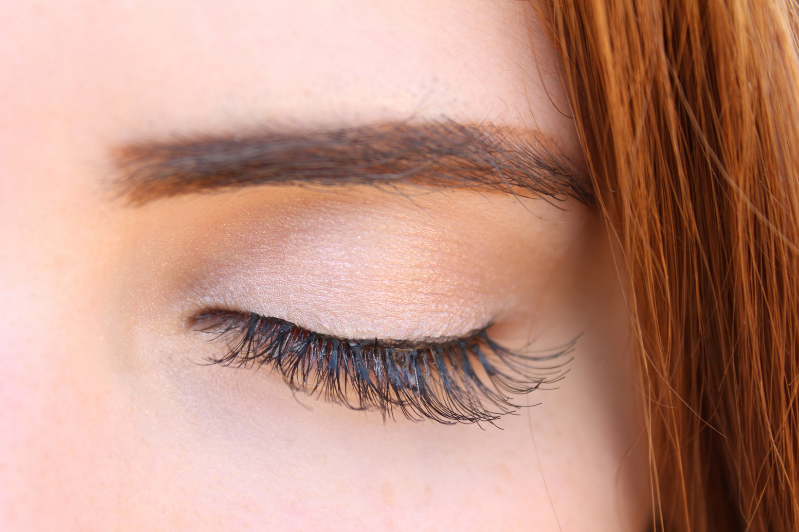 Choosing the Right One for You
Choosing the best treatment for you is truly about personal preference. For a more natural look that comes with less maintenance and a lower price tag, a lash lift is what you're after.
If you are after a more dramatic style where you don't need mascara to be event-ready, lash extensions may be for you. These will take more time, come with more maintenance, and cost more.
Someone with short or thin lashes would also probably see better results with lash extensions, since a lash lift only enhances what you already have.
FAQ
Do lash lifts damage your eyelashes?
No, lash lifts should not damage your eyelashes. If the lash lift goes wrong, the effects will not be long lasting. Eyelashes naturally fall out every 6 weeks or so.
Can you still use mascara with a lash lift?
How do you remove mascara with a lash lift?
You can wear mascara with lash lifts if you want. It will accentuate the look of the lashes making them look thicker.

If you do choose to wear mascara, try to stay away from the waterproof ones. Waterproof mascara needs an oil-based remover and the oil will break down the lash lift.
Do you wear mascara with lash extensions?
It is not a good idea to wear mascara with lash extensions because it can lead to eyelash breakage. However, it is not dangerous to wear mascara with eyelash extensions though, so if you break this rule, nothing will happen besides possibly needing a refill sooner.
How long does an eyelash lift last?
Lash lifts last anywhere from 4 to 6 weeks. This will vary depending on how fast your lashes grow. Proper care extends their life as well.
Not quite ready for a professional treatment? Why not try one of these heated eyelash curlers?
Give your lips some love too with one of these DIY lip masks!