Have you recently cut lilacs, brought them inside and loved the beauty and scent they filled your home with? Maybe now you're wondering how to keep lilacs from wilting after cutting them after you realized they just don't last all that long.
Fresh cut lilacs have enough fragrance to fill a room. They're perfect for summer celebrations or simply brightening up a home. But the only problem is they just don't last long in your home!
I grew up with lilacs in my yard and quickly fell in love with the smell and the way they helped welcome summer to Minnesota.
As an adult I've always wanted a lilac bush, and this year we realized the home we just moved into has a gigantic one. Cue the excitement!!
No more trying to find friends who would be willing to share their bounty this year — now I can start sharing my beautiful lilacs with all my friends and neighbors!
I'm sure we all would love to have our lilacs last just a bit longer indoors, so today I wanted to share some tips for keeping your fresh cut lilacs happy and fresh for longer!
How to Keep Lilacs from Wilting After Cutting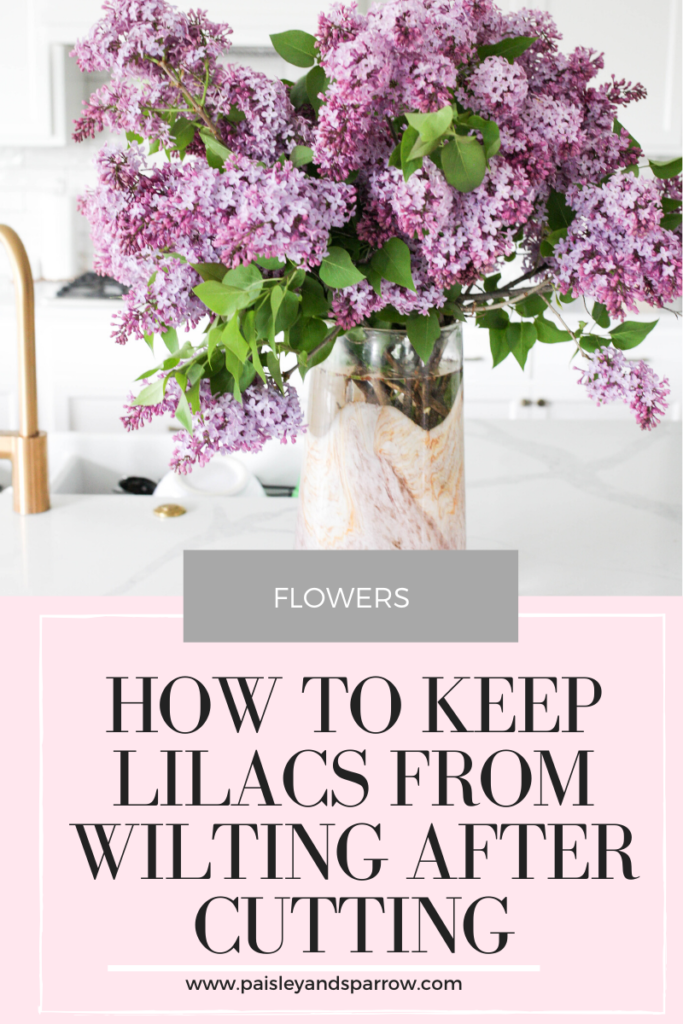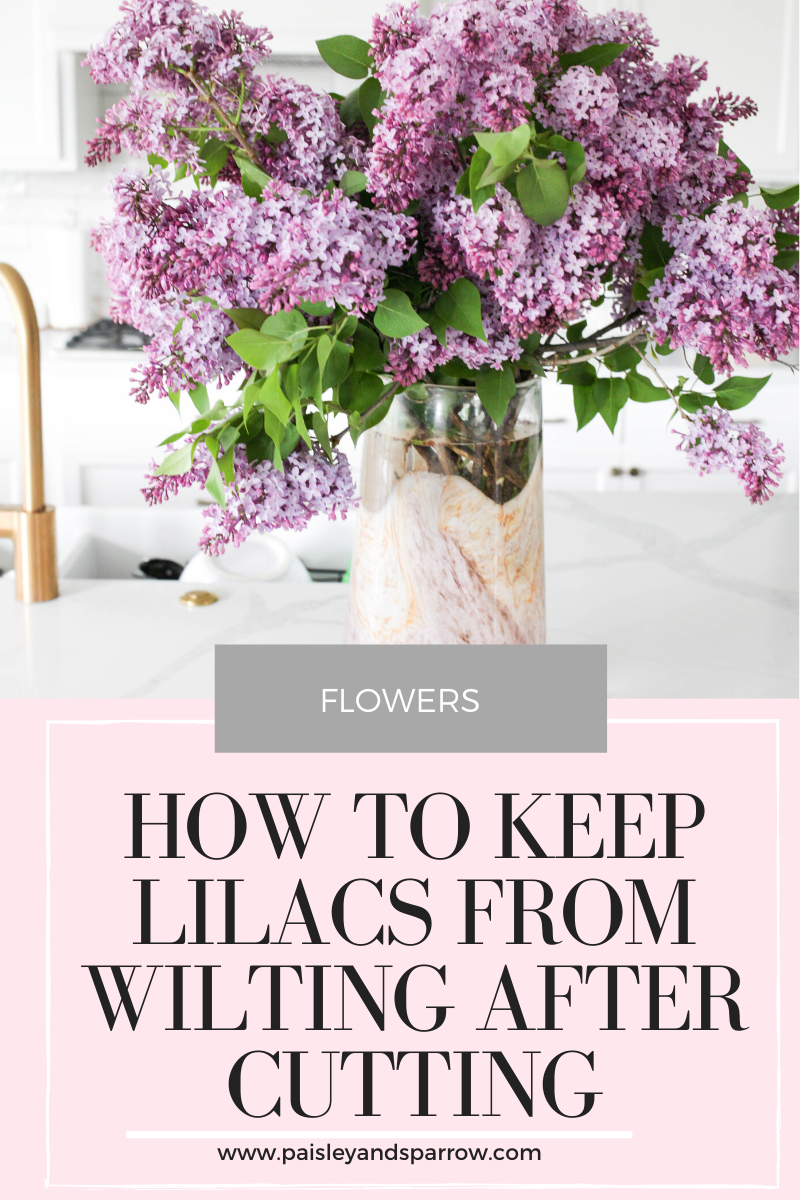 Paisley + Sparrow is a participant in the Amazon Services LLC Associates Program. This post may include affiliate links which means I may earn a small commission if you shop using the links below at no additional cost to you.
1. Cut them in the morning or evening.
This allows them to have the most amount of water in them. If you cut them midday there's a much better chance of them being dehydrated from the warm sun.
Ideally morning is better than evening so do it then if possible.
2. Cut them with sharp pruning shears.
Don't attempt to cut them with a regular scissor! Use (or pick up) a pair of pruning shears to make sure you get a good cut.
Cut them at a 45-degree angle to provide more surface area for the lilacs to take in water.
You should bring a bucket of cool water out into the garden with you when you go to cut the lilacs. As soon as you cut a stem, stick it in the water to keep it from getting dehydrated.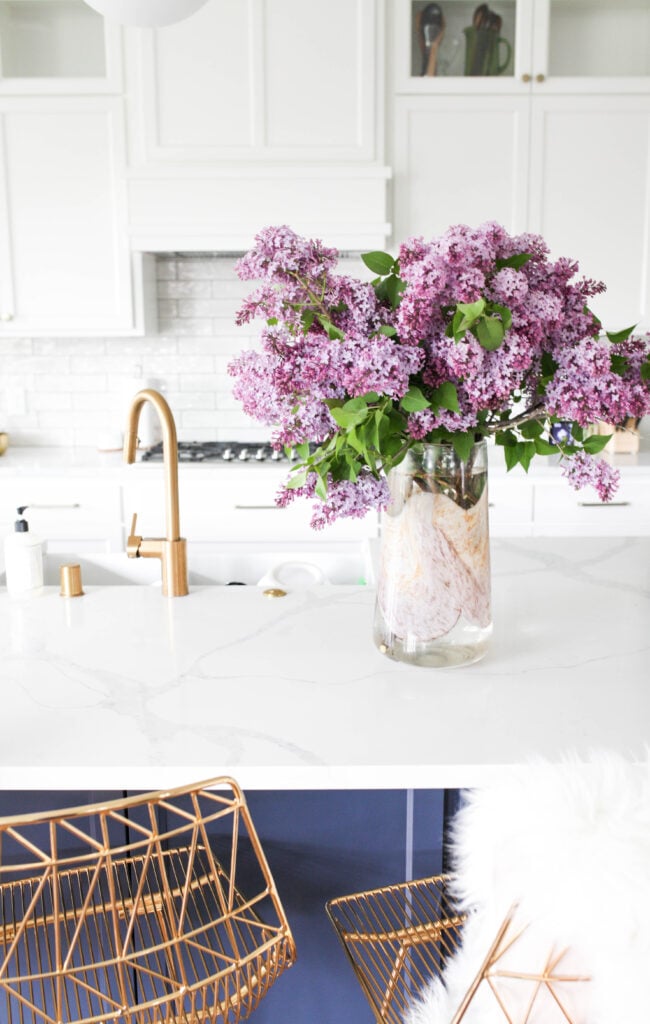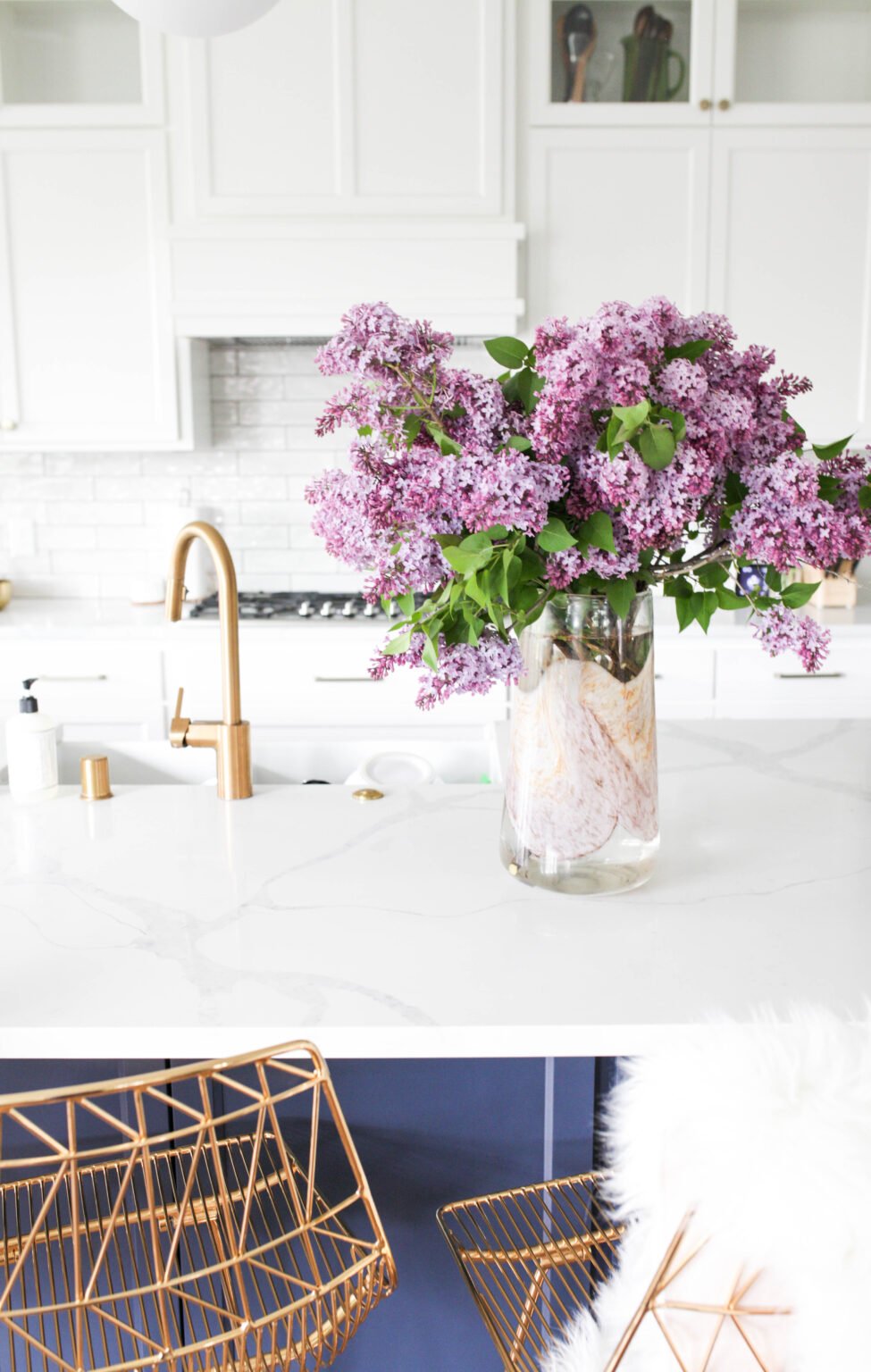 3. Remove excess leaves.
There are 2 reasons to remove extra leaves. First, be sure to remove any leaves that would potentially be submerged in the water in the vase you plan on using. That will help keep your water from getting disgusting. 🙂
And second, depending on the branch you cut, some have a lot of extra leaves on them. I like to keep some leaves on for added green, but just remember that any leaves you keep will take away from the water needed to keep your cut lilacs alive.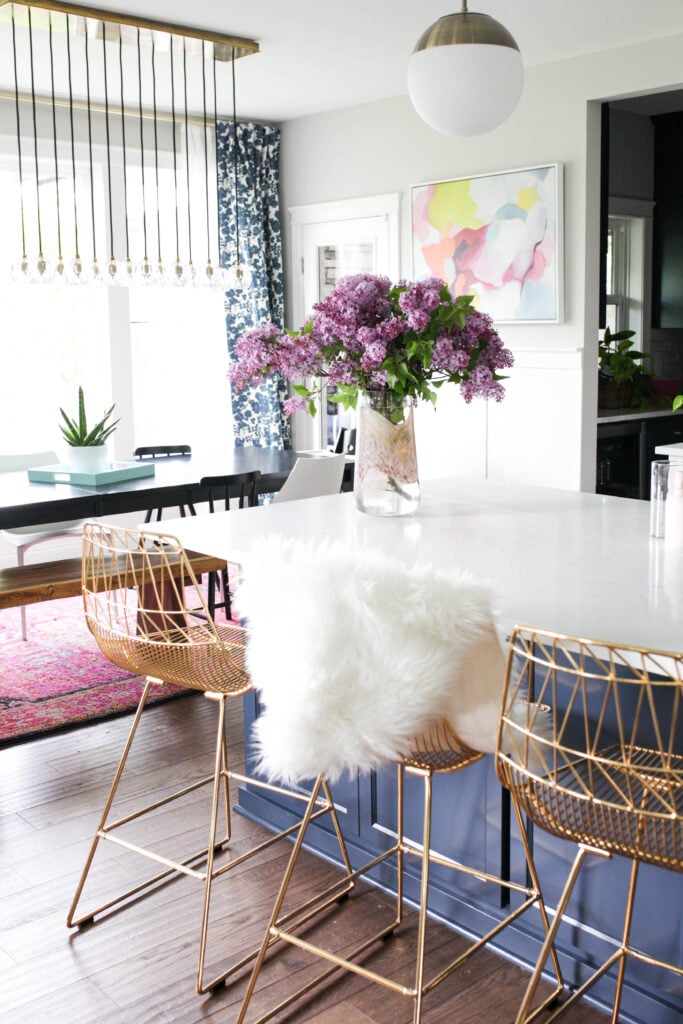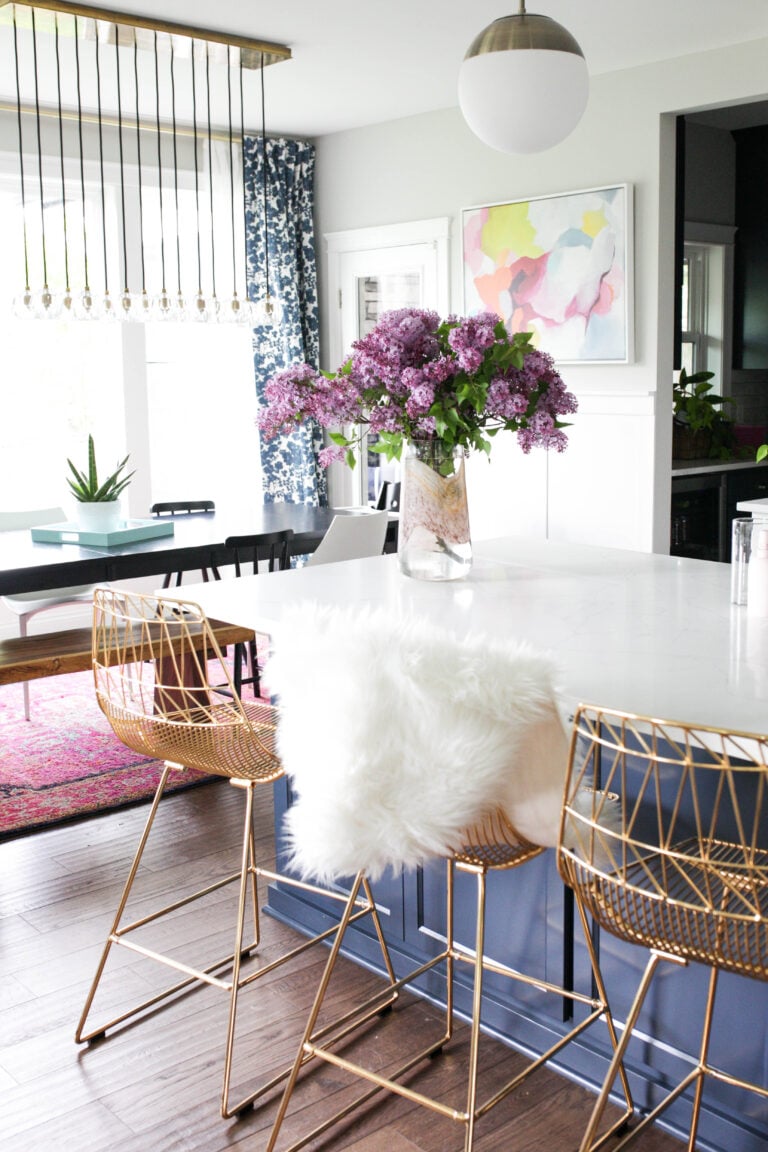 4. Get your vase ready!
Be sure that the vase you're using is clean and large enough for your cut lilac flowers. Ones that have skinny bases are at risk of toppling over so be careful!
Fill it up with warm water and flower food. Personally if you like fresh flowers in your home, it's a great idea to pick up some flower food to have on hand!
If you don't have flower food, you can add a sugary citrus soft drink to the water or a spoonful of sugar, along with a teaspoon of white vinegar or bleach to help control bacteria. Other experts suggest crushed aspirin as a flower food alternative to keep the water clean.
You'll want to keep your lilacs out of direct sunlight so they won't dry out and wilt as quickly.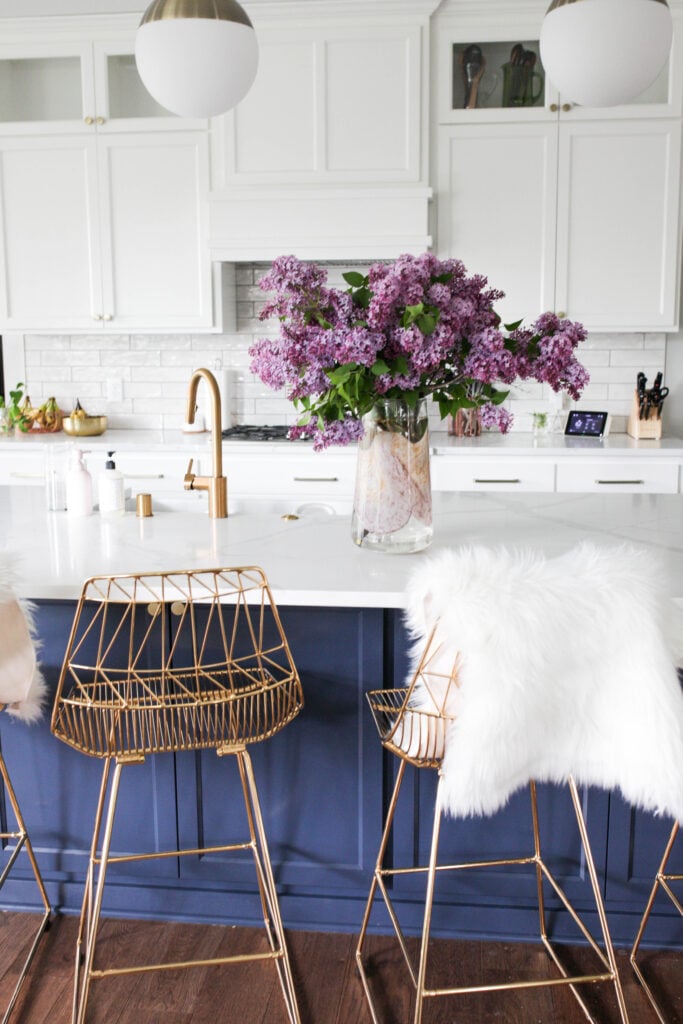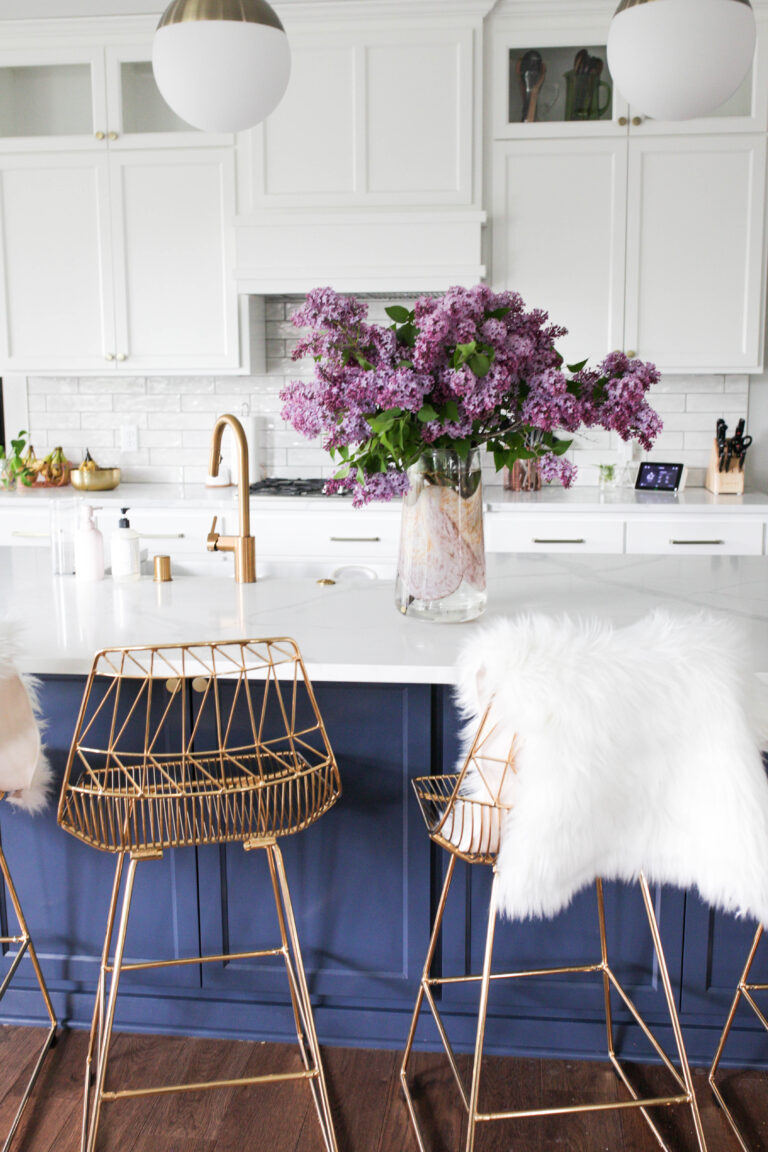 5. Split the bottom of the stems.
Before arranging your lilacs in the vase you're using, split the bottom of the stems. You can do this by either taking a hammer to the bottom (I recommend doing this outside so you don't ruin your table!) or create an x at the bottom with your shears.
This will allow more water to be soaked up into the stems to prevent your lilacs from wilting too quickly.
More Tips To Keep Lilacs Fresh Longer
Start with longer stems at the bottom and trim them each day to ensure they're continuing to get more water. Make sure you keep cutting them at a 45-degree angle.
You should add water regularly to keep them in the best shape.
When to Cut Back Lilac Bushes
After your lilacs have all bloomed, now is the time to prune them. Doing them too late could mean cutting off next year's blooms so be sure to trim them as soon as they have finished blooming.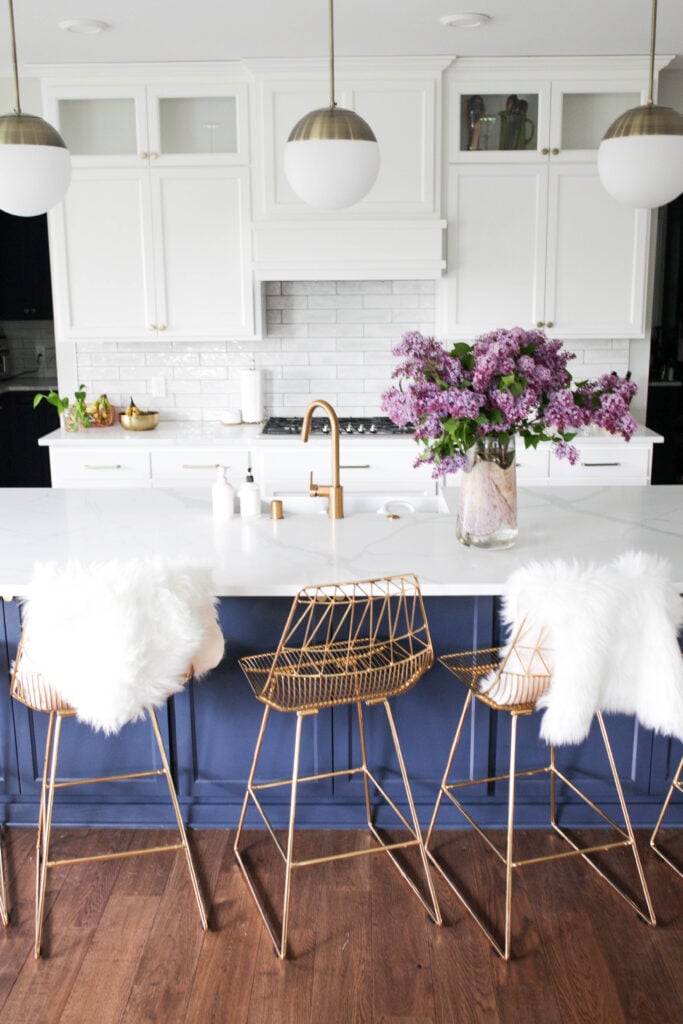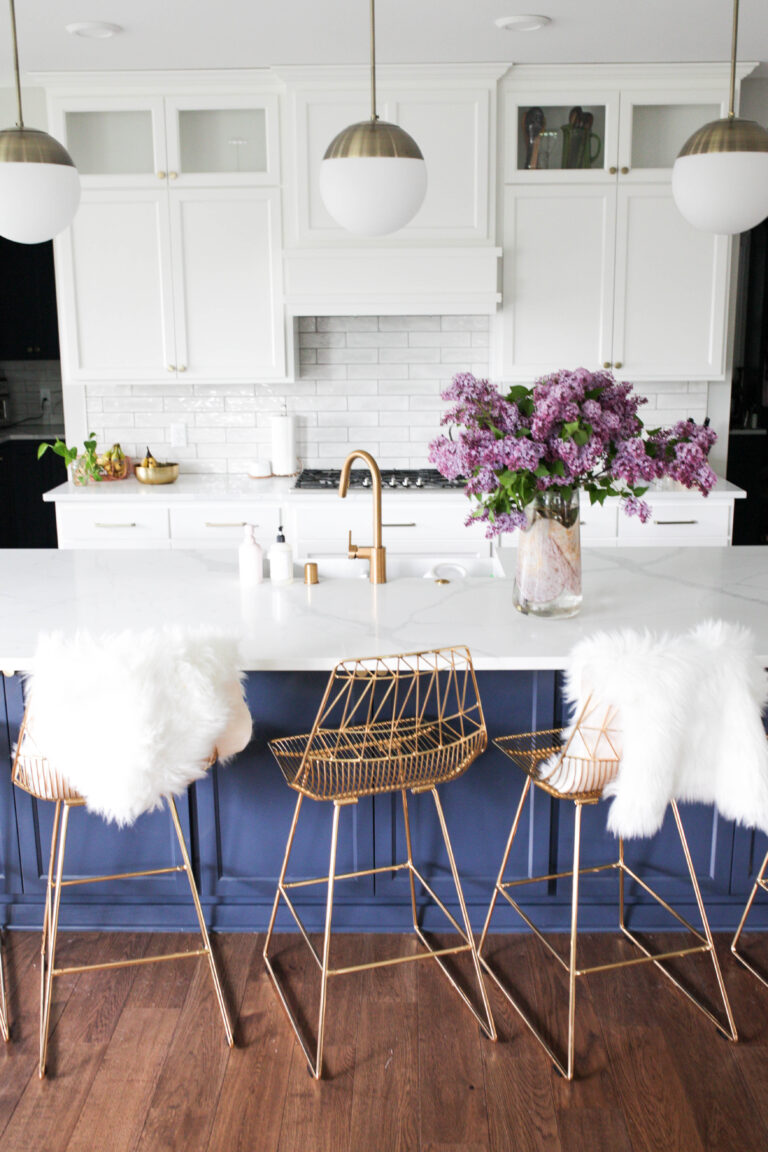 Background and Fun Facts
Lilac bushes can grow to be older than 100 years old, so your beautiful flowering shrubs could last generations! Lilacs are part of the Oleaceae family; other members of this family include jasmine and olive trees.
There are more than 1000 varieties of lilacs, and the blooms come in many different colors, though the light purple color is the most well known. The first lilacs in the U.S. likely arrived from its native Europe around 1750 and were planted in New Hampshire. The plant became a favorite of American presidents George Washington and Thomas Jefferson.
Lilacs are often used as a symbol of springtime because they bloom earlier than many other flowers. Different colors also have different meanings: white for innocence, violet for spirituality, blue for happiness, magenta for passion, and lilac for first love.
FAQ
How long will fresh cut lilacs last?
After you cut your lilacs, they will only last between three and five days. 
How do you make your own flower food?
If you don't have flower food, you can add a sugary citrus soft drink to the water or a spoonful of sugar, along with a teaspoon of white vinegar or bleach to help control bacteria.

Other experts suggest crushed aspirin as a flower food alternative to keep the water clean.
Will lilacs bloom in vase?
No, your lilacs won't open much more once you've cut them. But fully bloomed lilacs will wilt faster, so you want to cut them before they're fully bloomed.

You'll figure out the best time for your preferences and wilting after several years of bringing your blooms inside, but about 3/4 bloomed is a good place to start.
There you go! I hope this helps you enjoy your lilacs for longer inside and for years and years to come!
If you also love hydrangeas, be sure to check out this post to learn how to revive wilted blooms!