One common trend I hear among couples is that the master bedroom is always the last thing to be decorated! I have no idea why that is, especially since it's a place where we all spend quite a bit of time in every single night, but it's a sad truth.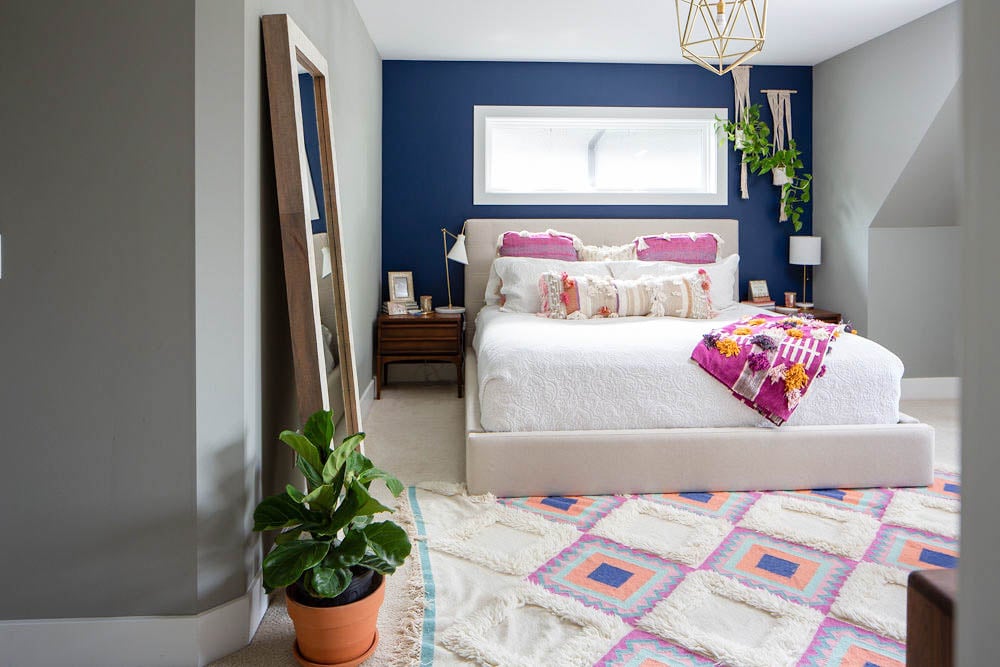 Today I wanted to share our bedroom reveal AND 5 tips to help you know how to decorate your bedroom!


Since we moved in to our home, our master bedroom was the last thing we really tackled as far as decorating goes. We did a few things but I never felt like it was exactly right. Over the past 3.5 years, we've slowly switched up our curtains and mirror, got bedding we really like and finally decided on a rug that we both feel completes the room!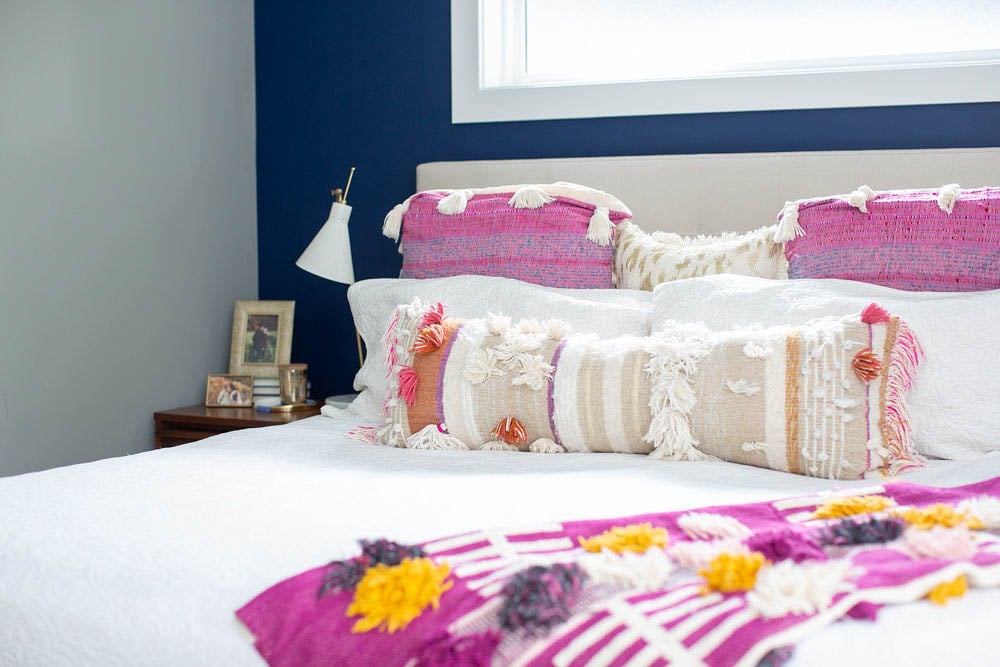 I've decided that I want to create a corner gallery wall on the weird part of the room where the wall juts out, but otherwise I'm feeling really good about our bedroom. So without further ado, here it is!
5 Tips for How to Decorate Your Bedroom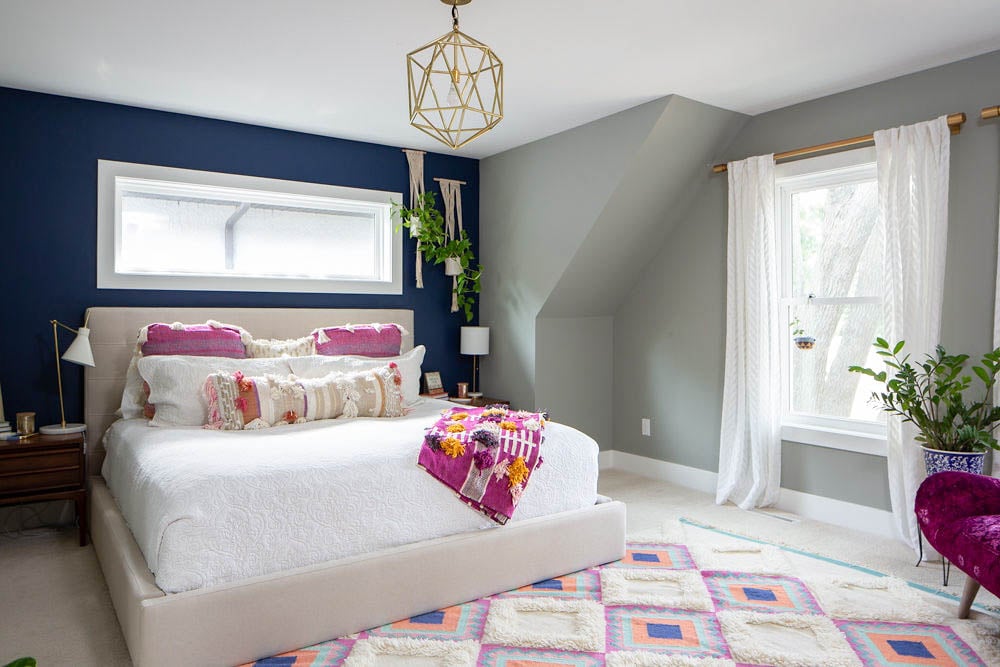 *this post may contain affiliate links which means I may earn a small commission on something you purchase at no additional cost to you. Thank you for helping me support my family through Paisley + Sparrow!
1. Start with neutral bedding.
Bedding is something that is SO easy to go crazy on. I'm guilty of changing all of my bedding every 6 months because I get sick of the crazy print I bought. That's definitely not sustainable (or good for you pocketbook) so I highly recommend starting with something neutral. Grey, white, beige, etc.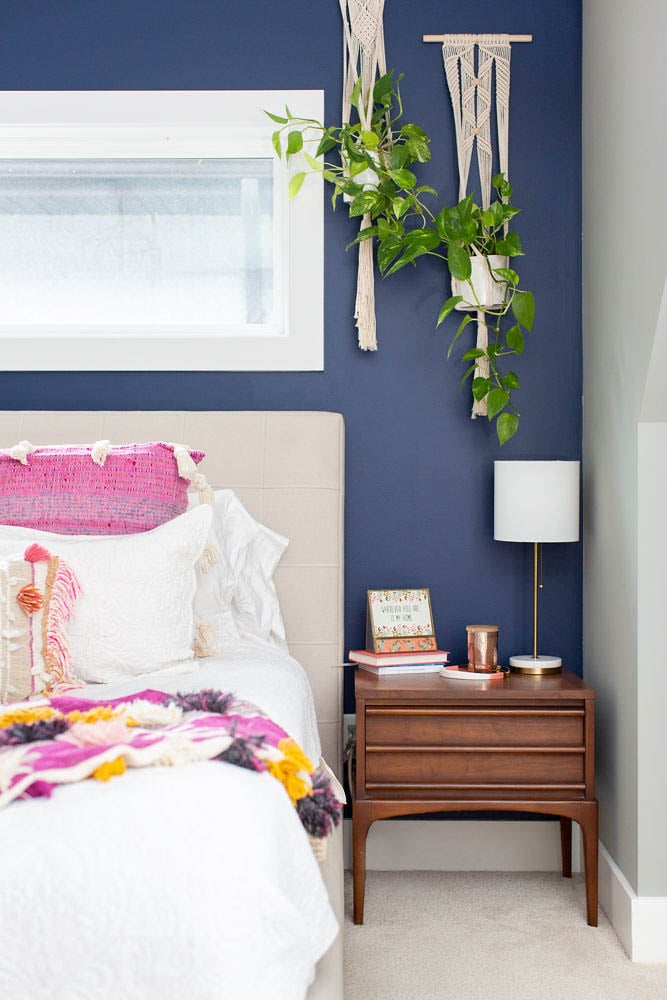 Then, add crazy pillows! Pillows are way less expensive than an entirely new quilt or duvet. Add in a throw as well and you're good to go!
2. Follow the "minimum of 3 plants per room" rule.
Plants are amazing for so many reasons – they help purify the air, they encourage relaxation and the make a room feel more alive! We've had pothos and ZZ plants in ours because they're easy and grow in all sorts of light situations.
The fiddle leaf is new to our bedroom but I'm not sure it'll stay since we don't get quite as much natural light in here with the big trees outside.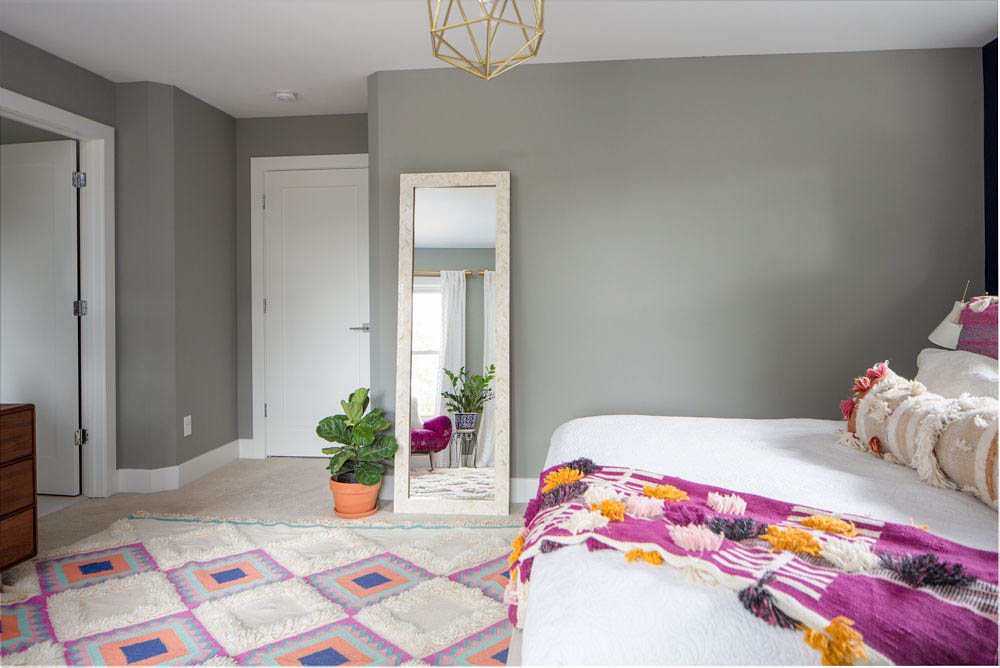 3. Incorporate things that make you feel happy!
We do this mainly through our gallery wall. This gallery wall has been rearranged about 400 time. Check out one variation on this post for new uses for an old mirror!

One of my favorite additions to this wall is the MN and CA cut out shapes that the lovely Pink Linen Designs sent me. Rishi grew up in California so I love having California pieces in our home!
We have a map from the apple orchard where we got engaged framed and some of our favorite photos from the last 5 years. Gallery walls in your bedroom are a great way to include some of your favorite memories without having to explain them to everyone who walks into your home!
I have a whole post with all my best tips on curating the perfect gallery wall here!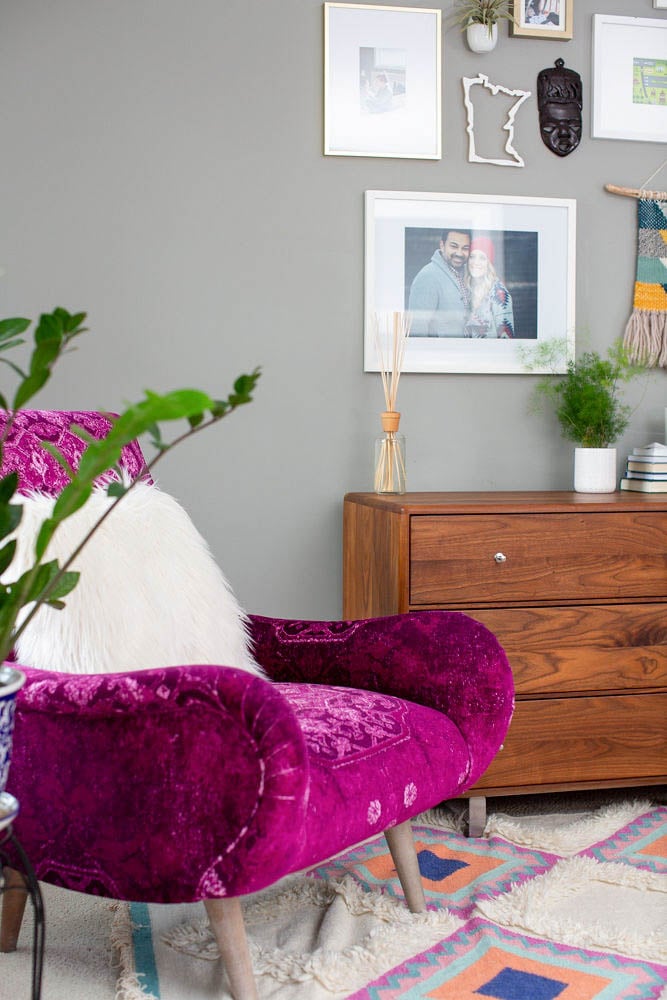 4. Have things of different textures.
We achieve this through our throw and pillows that have tassels, the furry pillow and the woven tapestries from Junah Woods.
Our rug is also a cool texture (it's literally called the "Textured Rhombus Rug") with it's tufted wool and the chair is a velvety style fabric. Don't be afraid to mix fabrics and textures – it really adds a fun, warm dynamic to a room!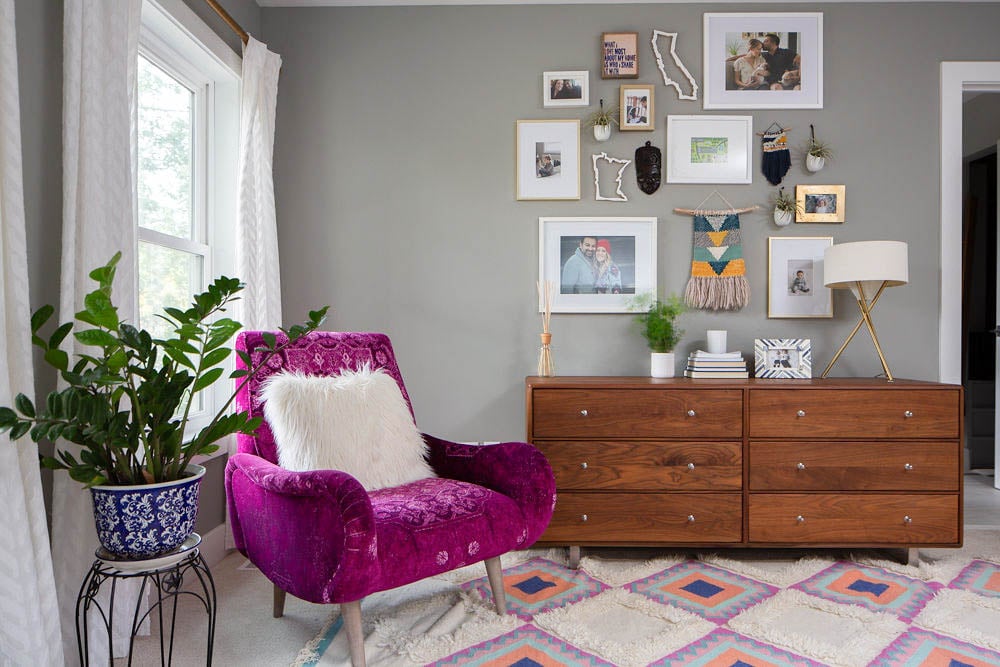 5. Don't be afraid to experiment.
On a whim, we decided to paint a navy accent wall in our bedroom. We've added things, taken away things and moved things around.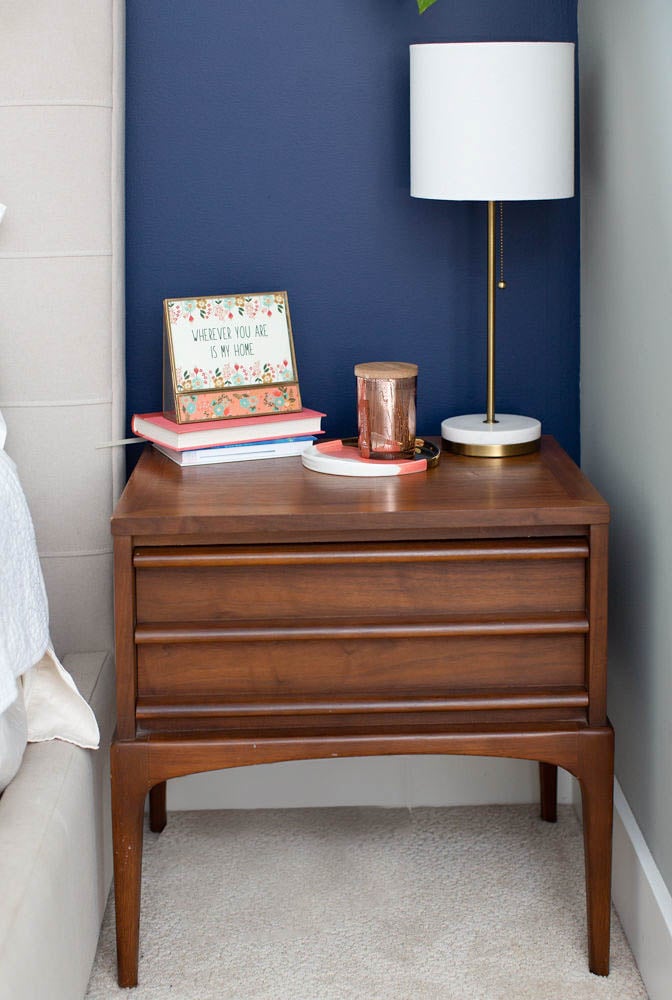 Don't feel like every decision has to be the right decision every single time! You can paint over walls, switch up art or move furniture from one room to another.
Decorating should be fun! If it's stressing you out, take a pause and come back to it later.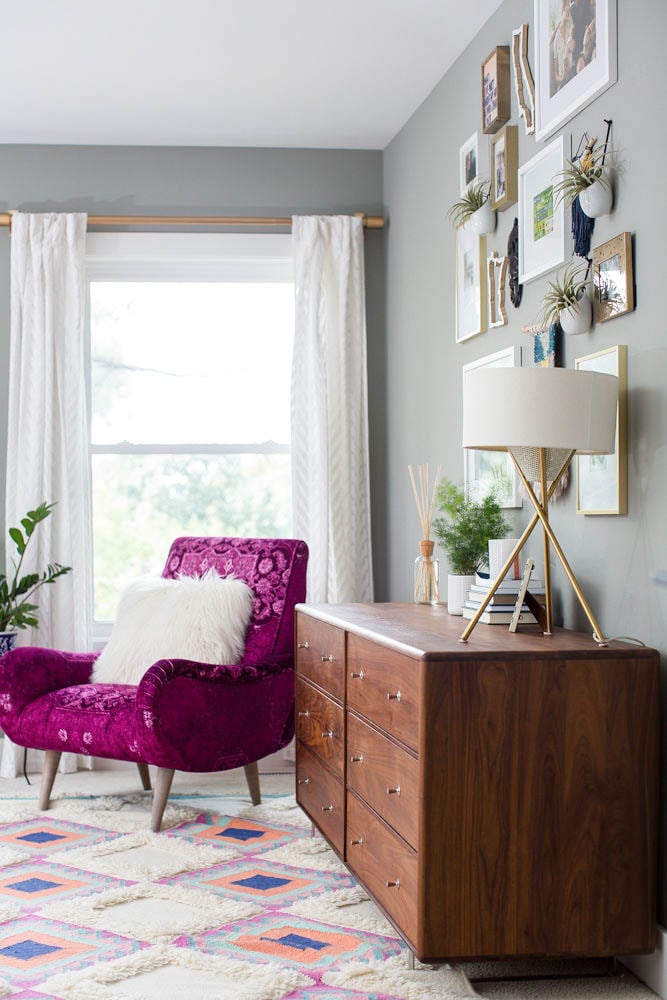 all photos by Emily John Photography
Shop my bedroom
Bed (Room & Board – old) | Dresser | Rug | Light | Plant Hanger | Curtains | Curtain Rod | State Cut Outs | Woven Wall Hanging | Throw Blanket | Pillows | Mirror |
I hope you liked our bedroom and I hope these tips help you with decorating yours!


As always, thanks for reading and I would love it it you shared this with a friend (or perhaps pinning one of the images?). 🙂
With love,
Jen