Low-rise jeans have definitely made a full comeback in the last year. And if you were growing up in the early 2000s, this might be one of the fashion trends you wish had stayed out of style! But if you give it a chance, you might find that you like the low-rise trend this time around when you find the right jeans to fit your own personal style.
Luckily for all of us, in 2023 both high rise and low rise jeans are considered fashionable! You can figure out which jeans rise suits your style and body type best to make you feel great.
So which type of jeans is right for you? Read on to learn more about these different cuts and decide which one is best for you.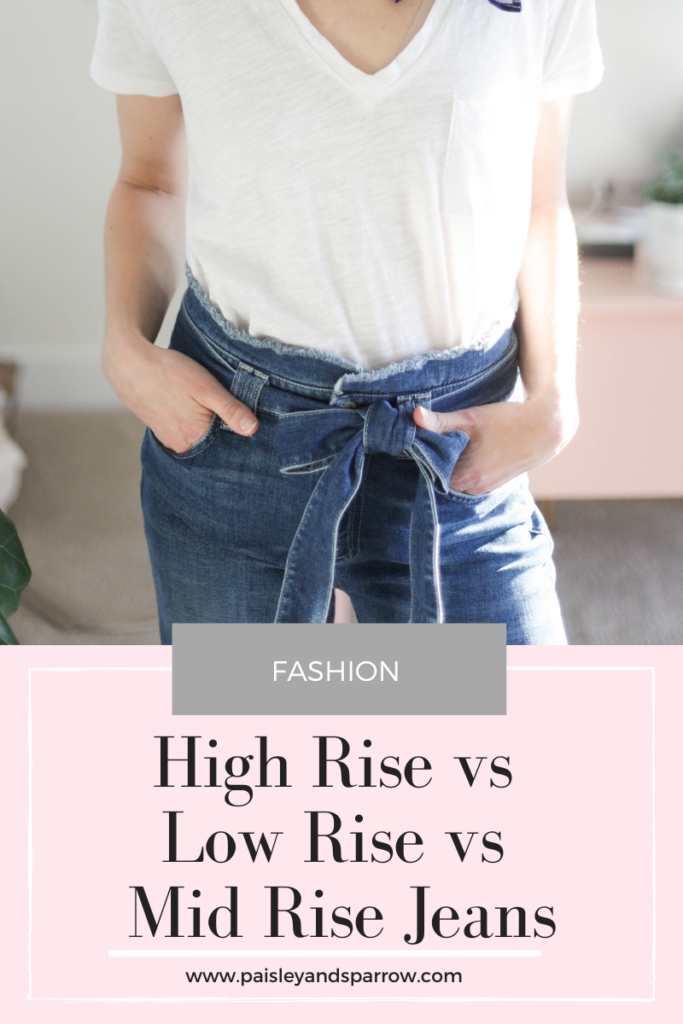 What Are High Rise Jeans?
First things first, what are we talking about when we refer to the rise of your pants? When referring to jeans, the rise is the measurement from the bottom of the crotch seam to the top of the waistband.
High rise style jeans are denim pants that typically have a rise between 9"-11" in the front. For most people, the waistband of high rise jeans will land just above your belly button. That being said, the exact fit can vary depending on your overall torso length.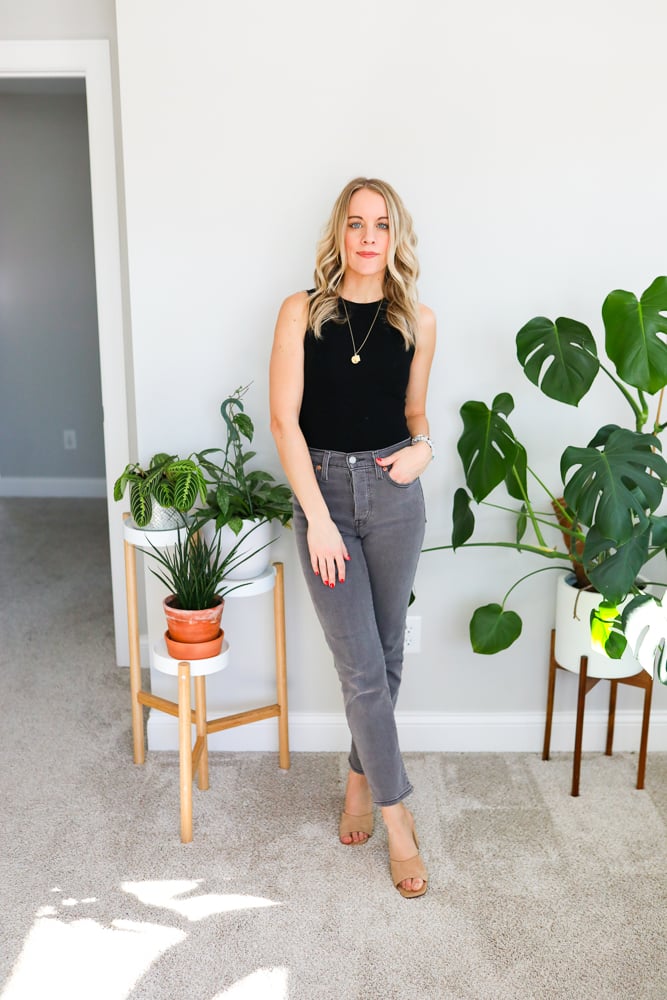 Up until the past decade, high rise jeans were generally associated as being a vintage or retro style. But in recent years, jeans with a higher rise have become extremely popular in mainstream fashion.
What Are Low Rise Jeans?
Low-rise jeans usually sit right around a 7.5" rise. In general, this puts the waistband of your jeans right at the top of the hip bones on most people.
Low-rise denim was all the rage in the early 2000s (even extremely low rise!) and has recently started to make a comeback in modern fashion.
What Are Mid Rise Jeans?
Mid rise jeans are – you guessed it – somewhere in the middle of low and high rise jeans. Often referred to as medium-rise jeans, this style of pants typically has rise measurements of about 9" in the front.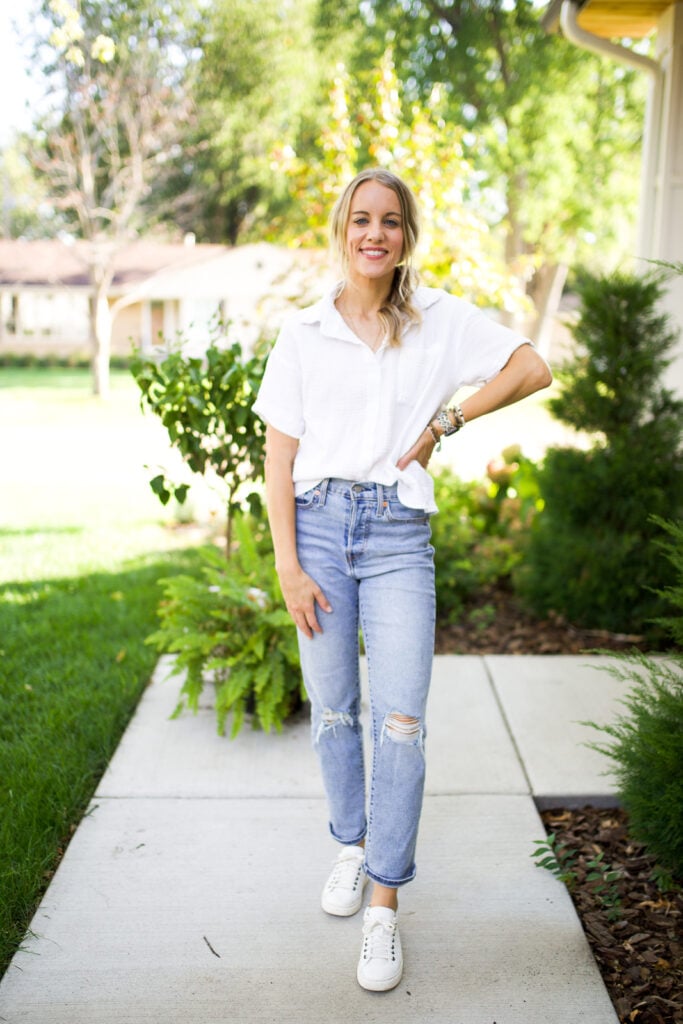 This pant style is the perfect in-between option for anyone who wants a little extra torso coverage, but doesn't want the full height that comes with high rise jeans.
Pros of Wearing High Rise Jeans
There are many qualities that people love about high rise jeans. One of the main ones is that they offer extra coverage compared to other styles of jeans. Sometimes affectionately labeled as "mom jeans," the high-waisted style offers security and comfort for anyone who is looking for a little extra tummy control. By wearing high rise jeans, you'll never have to worry about a muffin top!
High rise jeans are also much less likely to fall down during wear. Due to the fact that the waistband sits so high on the torso, as long as you ensure a proper fit it's unlikely that you'll ever have to worry about your high waisted jeans slipping off or showing a peek of your underwear.
Another great benefit of higher rise pants is that they can create an illusion of elongated legs. By adding to the overall length of the jeans, wearers who have naturally shorter legs may enjoy the fact that their legs appear longer while wearing high waisted jeans.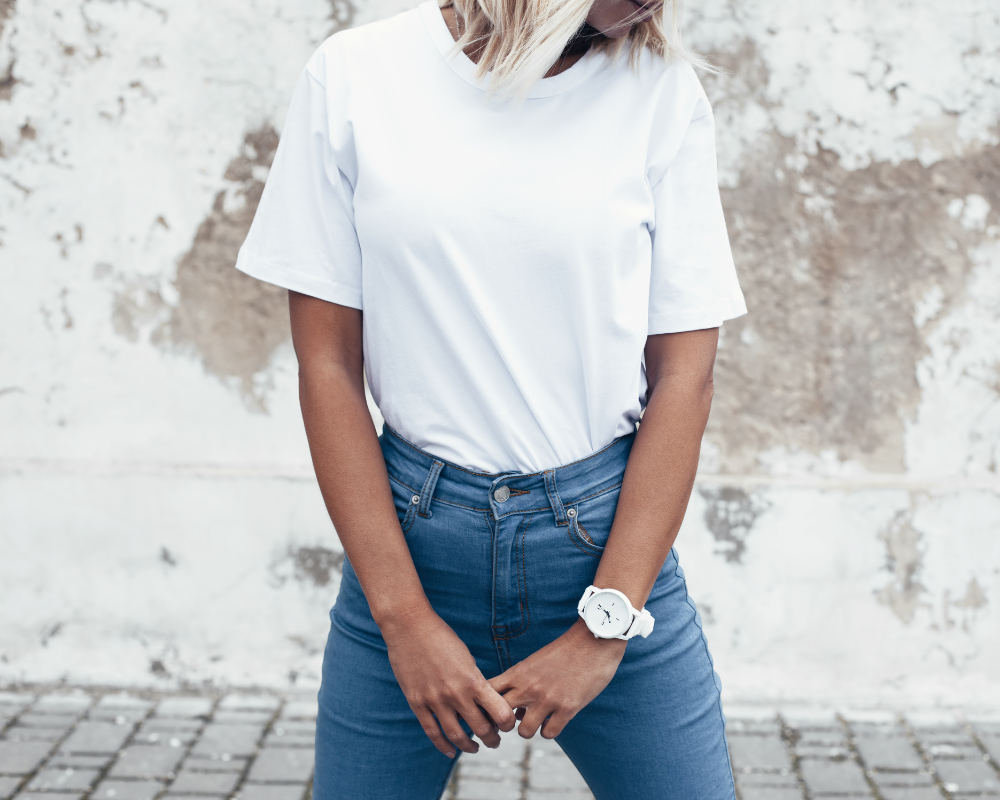 Cons of Wearing High Rise Jeans
While high waisted jeans do offer many benefits, there are definitely some potentially negative aspects that need to be taken into consideration as well.
For instance, while they typically do give the illusion of longer legs, on certain body types they can give the appearance of a short torso. This is especially true if you already have a fairly short midsection. For people with this body type, high-waisted pants may not be the best option.
Another potential con about high rise pants is that sizing may be difficult. They're generally designed with a smaller waist, larger hip area, and tapered legs. But not all bodies are built this way. If you are someone who has a body type that doesn't fit this pattern, you may have issues with too-tight waistbands or other sizing issues.
Pros of Wearing Low Rise Jeans
Low rise pants were all the rage around the turn of the century. Celebrities like Jennifer Lopez, Christina Aguilera, and Britney Spears could all be seen showing off their abs above shockingly low-cut jeans. And while they may have fallen out of favor for a decade or so, the low rise jeans have definitely made a comeback in recent years.
One positive aspect of low-cut jeans is their ability to accentuate body types. If you're interested in flaunting what you've got, low rise jeans are definitely the way to go. The shorter rise of this jean style leaves little to the imagination, allowing you to show off a little skin.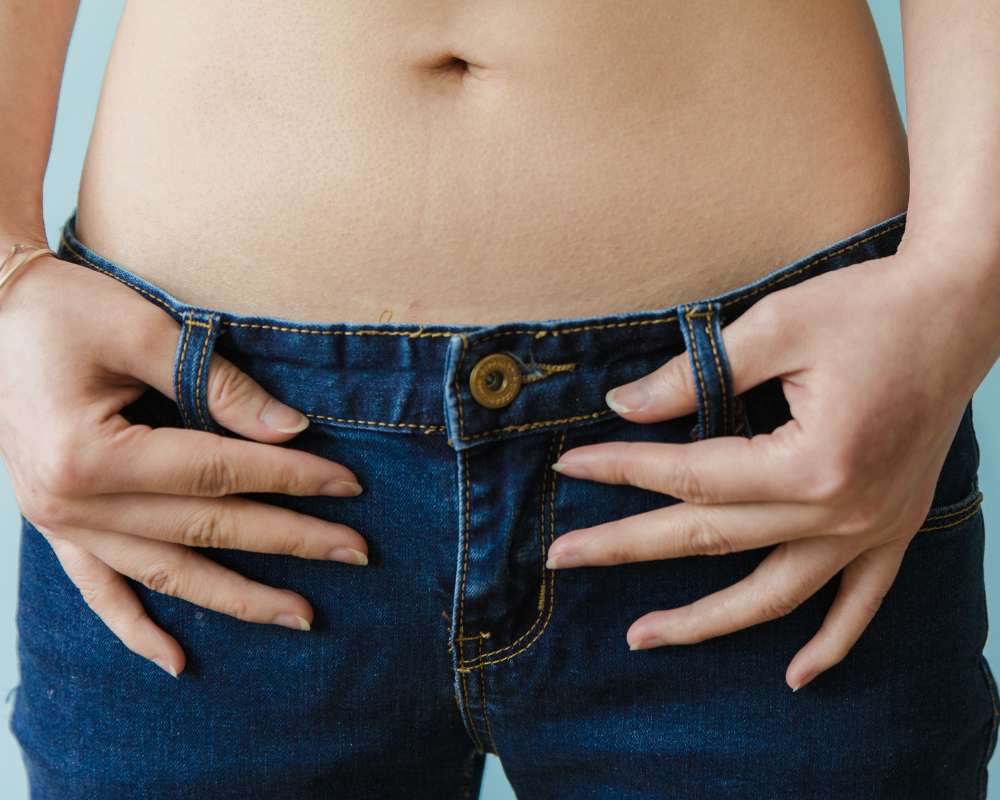 Another pro of wearing lower rise jeans is that you will be considered on-trend among fashion gurus who covet this nostalgic style. Y2K style has made a resurgence both among people who witnessed early 2000's style firsthand, as well as within the younger generation who feel they missed out on this iconic fashion era.
Whichever group you fall into, rocking low-cut jeans will without a doubt place you among those who are "in-the-know" about the latest trends.
Cons of Wearing Low Rise Jeans
While the low-cut jean may have a bit of a cult following among fashion enthusiasts, they definitely receive their fair share of hate from people outside of these circles. For the everyday wearer, there are a few cons to take into consideration regarding low rise jeans.
First and foremost, they can be considered unflattering on many body types. This style of jean can accentuate body features such as love handles and muffin tops, therefore many people who are uncomfortable having a waistband hug these areas will avoid the low-rise pants.
Additionally, low cut jeans are also notorious for slipping down. Unless you happen to find the perfect fitting pair of jeans, due to the fact that these jeans sit underneath your natural waistline makes them prone to falling down constantly. Even if you add a belt, you may find yourself hiking up your pants much more often than you would prefer.
Which Rise Best Fits Each Body Type?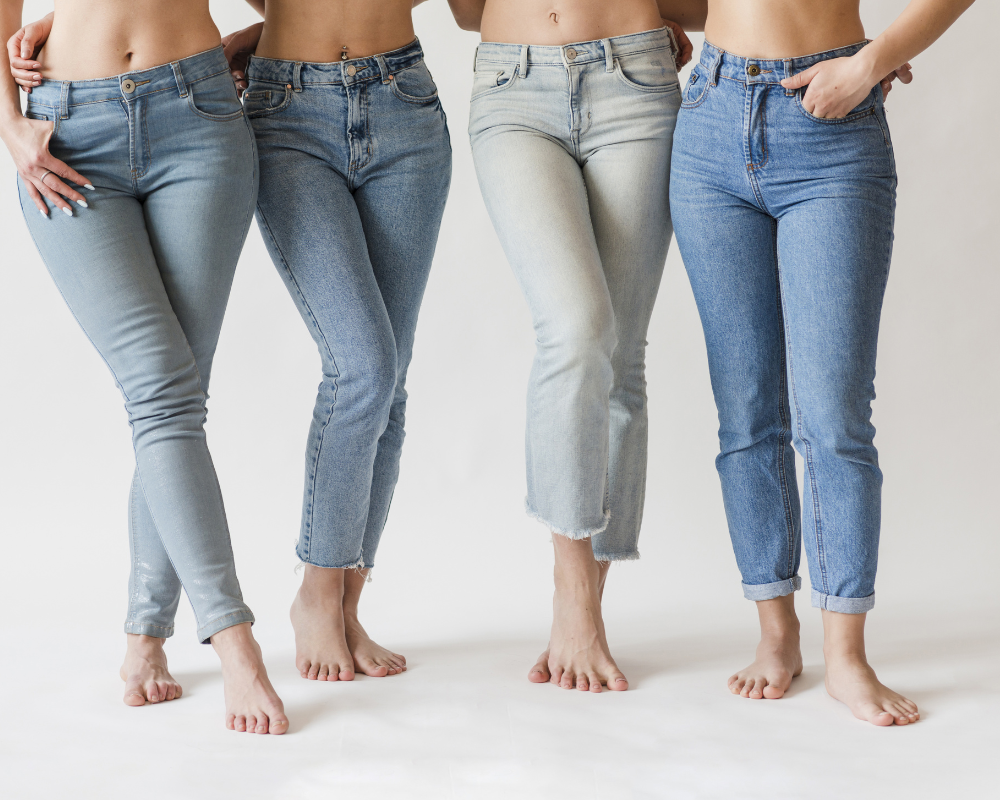 Curves and High Rise Jeans
If you consider yourself to be on the curvier side, high rise jeans may be the most flattering for you. That being said, there are a couple of exceptions to this rule.
For one, if your torso is very short, you may want to select a pair of jeans with a shorter rise to help give the illusion that you have a long torso. And as we mentioned earlier, if you are someone whose measurements just don't match up with the standard fit of high rise jeans, you will likely have to search for pants with a lower waistband to help achieve the best fit possible.
Average Body Type and Mid Rise Jeans
For most people, the mid-rise jean will be your safest bet. This style of jean allows for some of the coverage that is provided by high-rise jeans without going to the lengths of exposing as much skin as the low-rise jean. No matter what your body type, there is a mid-rise jean option out there for nearly everyone.
Low Rise Jeans and Lean Body Types
While anyone is allowed to wear whatever kind of clothing they feel the most comfortable in, it's widely known that low rise jeans are the most flattering on a leaner body shape. Due to the amount of torso that is exposed by this style of jean, wearers with curves may find that low rise jeans hug them in all the wrong places. For many people who don't fall into this body style, mid to high rise jeans will be much more flattering, as well as more comfortable.
How to Style High Rise Jeans
The possibilities for styling high waisted jeans are endless! Some of my favorite styling options include:
● High-waisted jeans, crop top, and Converse shoes
● High rise jeans with a tucked in t-shirt
● Button-down blouse and high waisted jeans
● Bodysuit tank top, high waisted jeans, and sandals
● High rise jeans with a chunky knit sweater
How to Style Low Rise Jeans
● Low rise jeans with a retro ringer tee
● Cropped tank top with low cut jeans
● Low cut jeans with a cropped tee shirt
● Cardigan, flared low-cut jeans, and leather ankle boots
● Low rise jeans and a tube top
High Rise and Low Rise – Both Trends On the Rise!
No matter what your style or body type is, there is a style of jeans out there for you. Choose to show off your midriff with a pair of plunging low cut jeans, rock a classically cool look with a pair of high rise jeans, or even meet somewhere in the middle with a pair of oh-so flattering mid-rise jeans.
And if you aren't sure which style of jeans best suits you, don't be afraid to experiment until you find the best fit for you!
What is your favorite rise option in your jeans? Have you been considering mixing it up and trying a new style of jeans? We'd love to hear your thoughts on these different types of denim.