Looking for some art for your wall but can't find anything perfect? Try making something yourself! I did a fun faux floral wall hanging this past fall and loved how it ended up looking. It was unique, tied in the colors of the entryway and was quite the statement!
Now that spring has sprung, I thought it was time to replace it for a more springlike wall hanging. This time instead of just florals I opted for a greenery wall with a hint of flowers.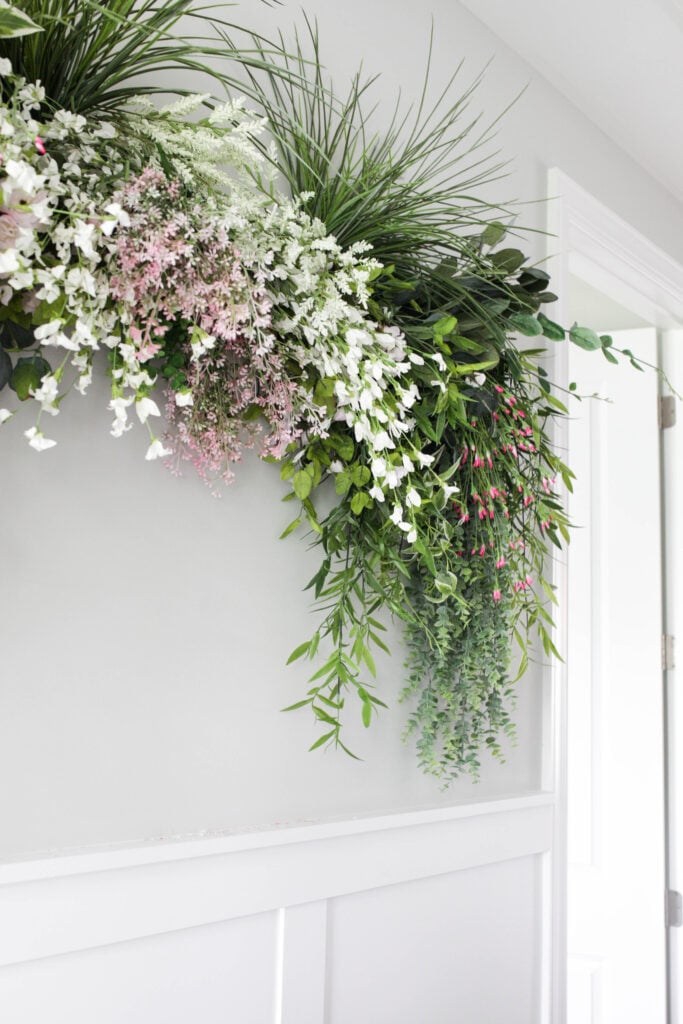 I love plants and have them all over our home so it was a natural fit for the space. Here's how I did it!
It's the same instructions as the fall one (and I used many of the same hooks, etc) so if you're familiar with that one, you'll recognize the instructions!
Spring Faux Greenery Wall Hanging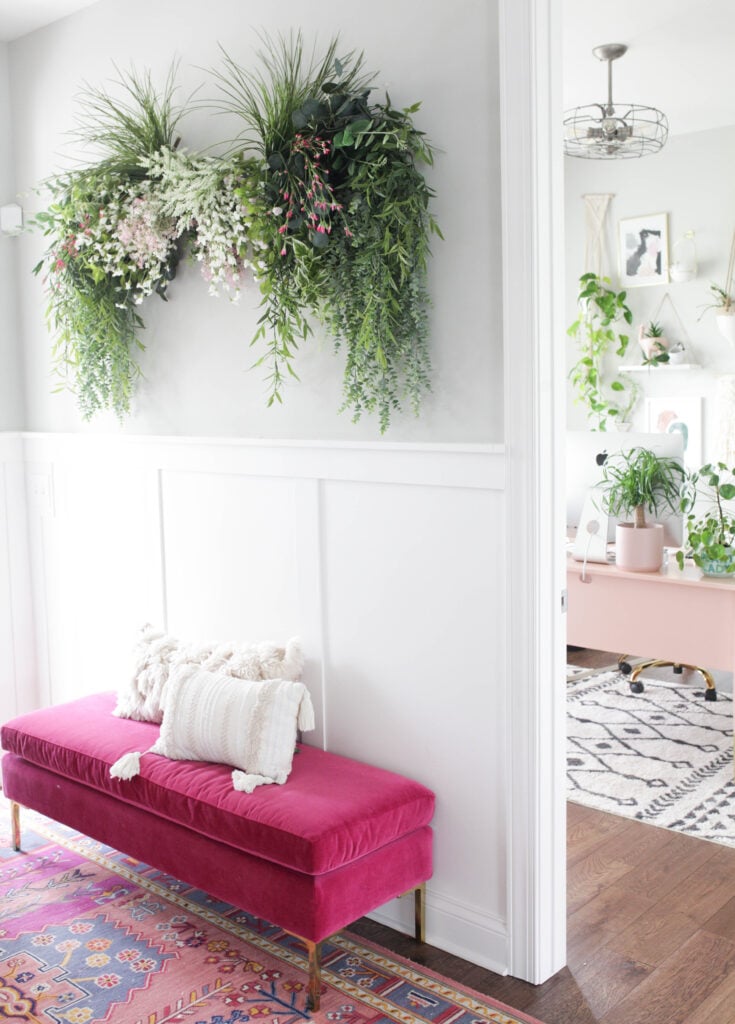 Paisley + Sparrow is a participant in the Amazon Services LLC Associates Program This post may include affiliate links which means I may earn a small commission if you shop using the links below at no additional cost to you. Thanks so much for supporting me and this blog!
Supplies
1. Faux Greenery and Floral
Get a LOT of faux greenery floral! And get multiple of each style to make sure you have a cohesive look. I got about 2-3 of each style.
You'll also want to get a variety of textures. Get some fluffy, spiky, smooth, etc. You'll want some that hang and droop and others that will stick straight!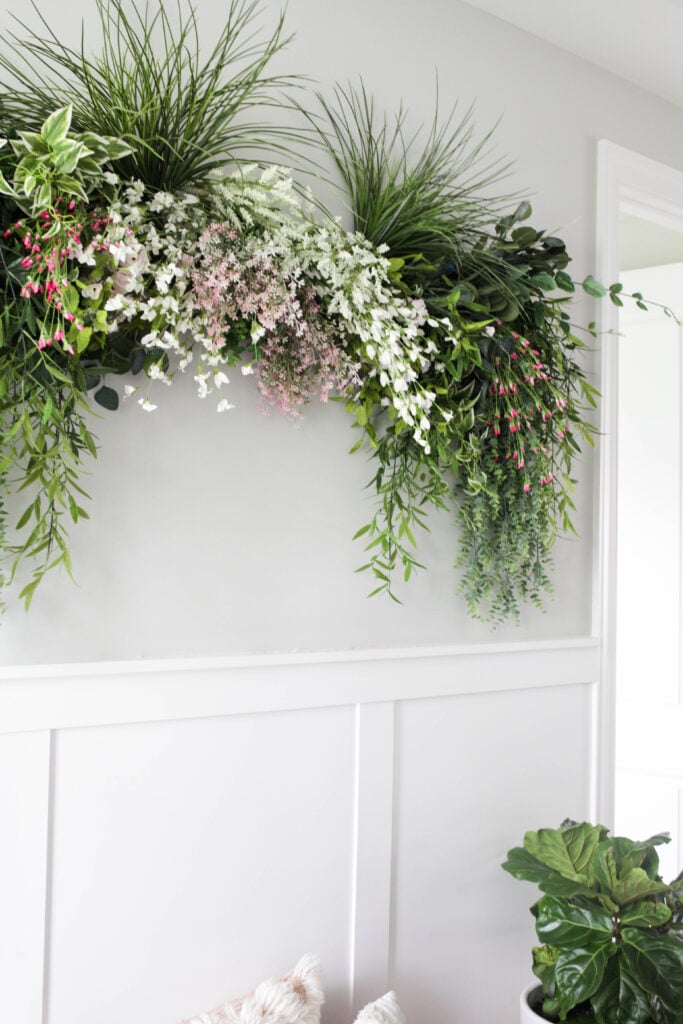 I used floral wire to combine bunches together. You won't combine the entire wall hanging together but rather chunks together.
3. Command Hooks
We used both the larger style command hooks and small style command hooks.
Bet you can't tell we used painters tape! This just helped us tape down the stems to make sure they went in the direction we wanted them to go.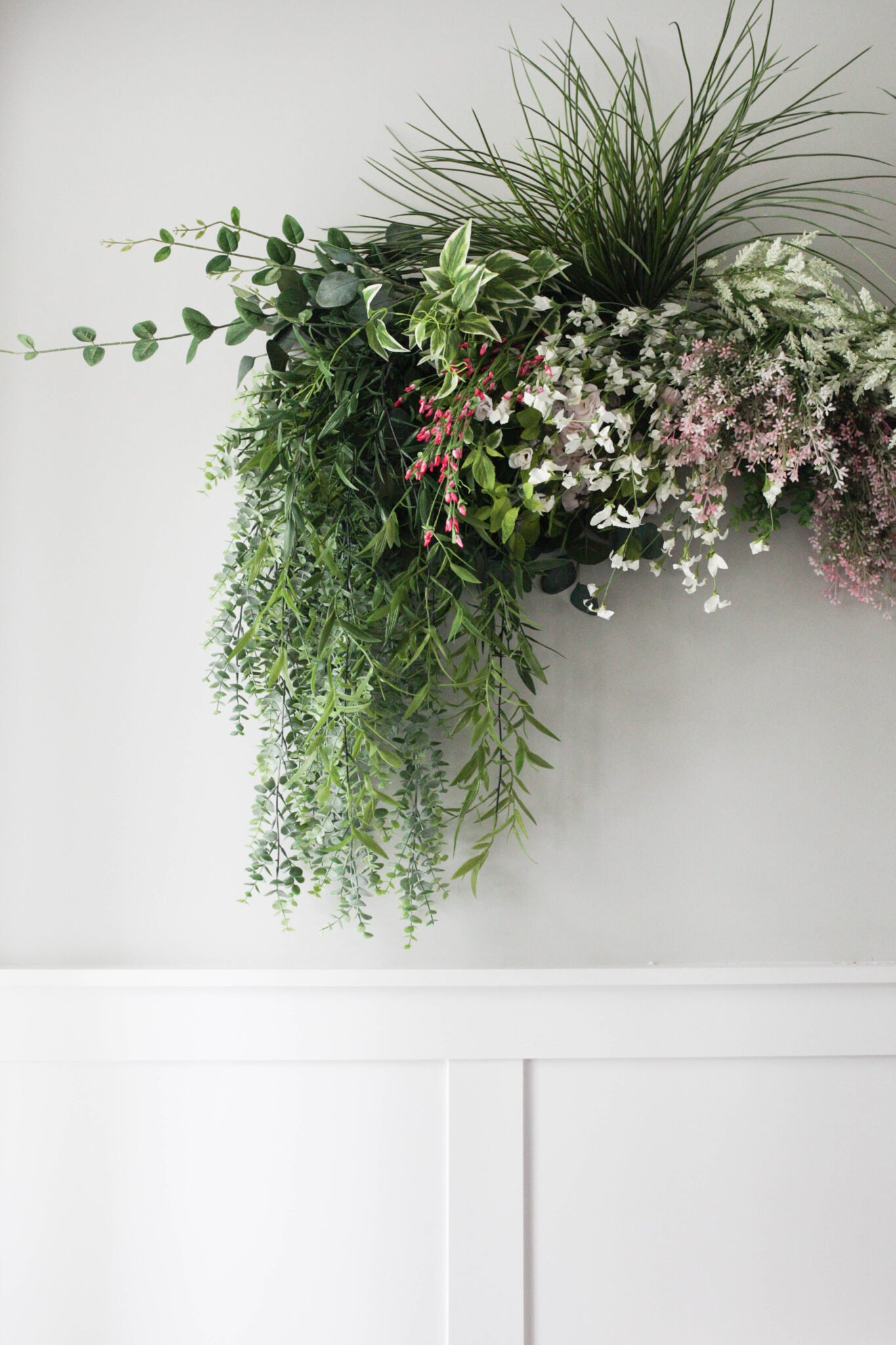 Wall Hanging Tutorial
1. Measure your wall.
First you'll want to measure your wall so you know how big of a space you have to use. Mark this off on the floor to make sure you don't make your wall hanging too small or too big.
2. Lay out your greenery.
You'll next want to lay out your greenery in a general idea of how you'll want them to look on the wall. It obviously won't stay like that but just a general idea will be great.
Make sure you have enough space to move around!
3. Start hanging the outside pieces first.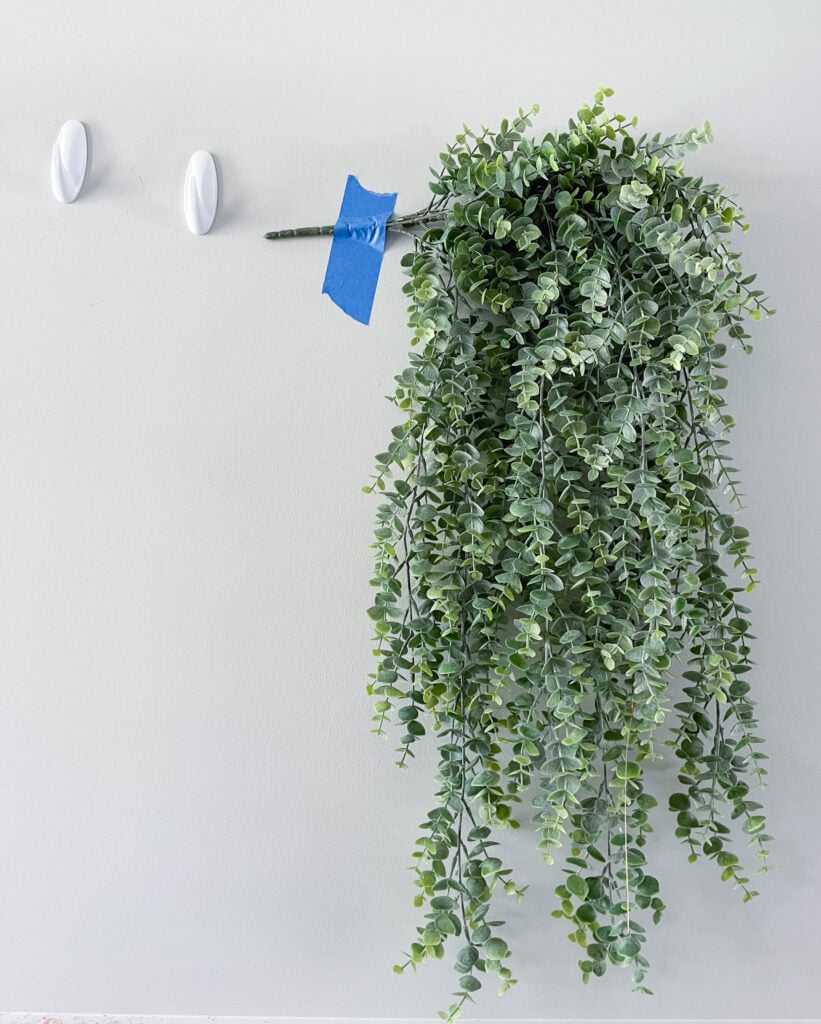 Starting on the outside, begin to hang your greenery! In some cases we combined a few bunches together for both sides using the wire hanger to keep them together. Then we hung them up using our command hooks.
Make sure these are nice and secure! This will be where many of your other floral pieces get connected to so you want this be very solid. You can't see it in the photo but these are resting on a command hook, not just taped up!
4. Continue adding from outside to inside.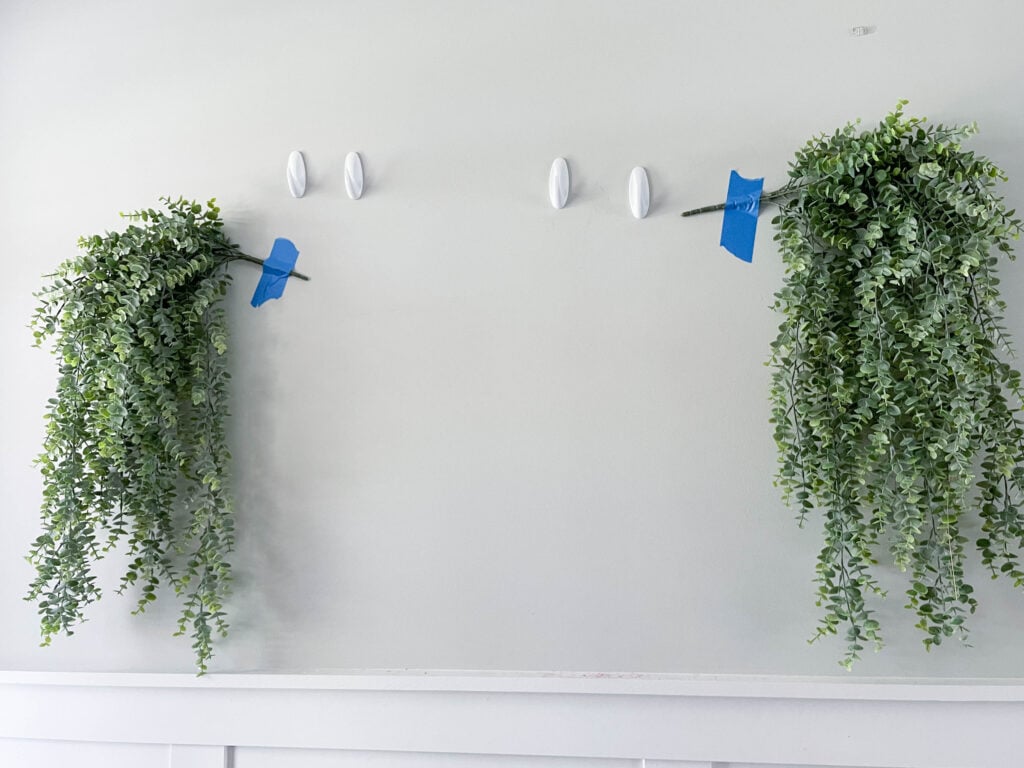 Next you'll want to add more greenery from the outside to the inside. If you want it to look like mine, try to put them in similar spots. I wanted mine to hang to the same spot below so I hung one a bit lower than the other, knowing it would be covered up by other pieces.
5. Keep going!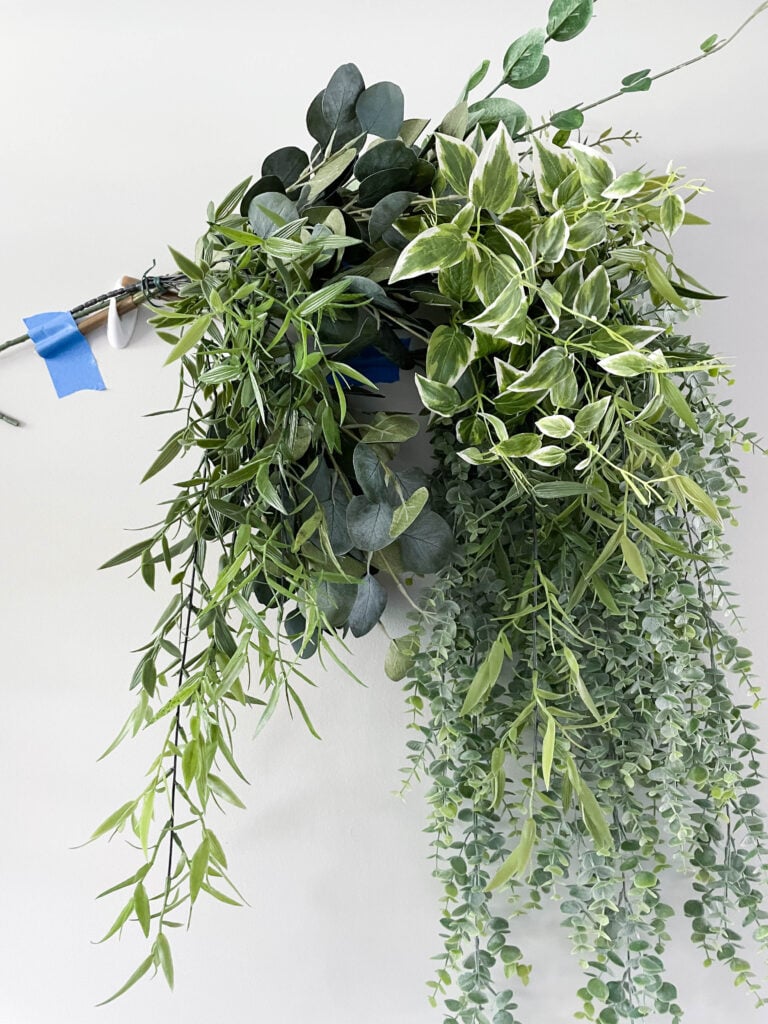 Keep adding and adding until you're all set! My best tip is to take a step back after you add each item to make sure it looks right or have a friend who can hold things up while you adjust them.
You don't want to add a ton of things only to realized one side looks too different from the other.
You'll likely need to adjust it after it's all placed to get it looking exactly how you want it but that's the general idea on how to put up a greenery wall!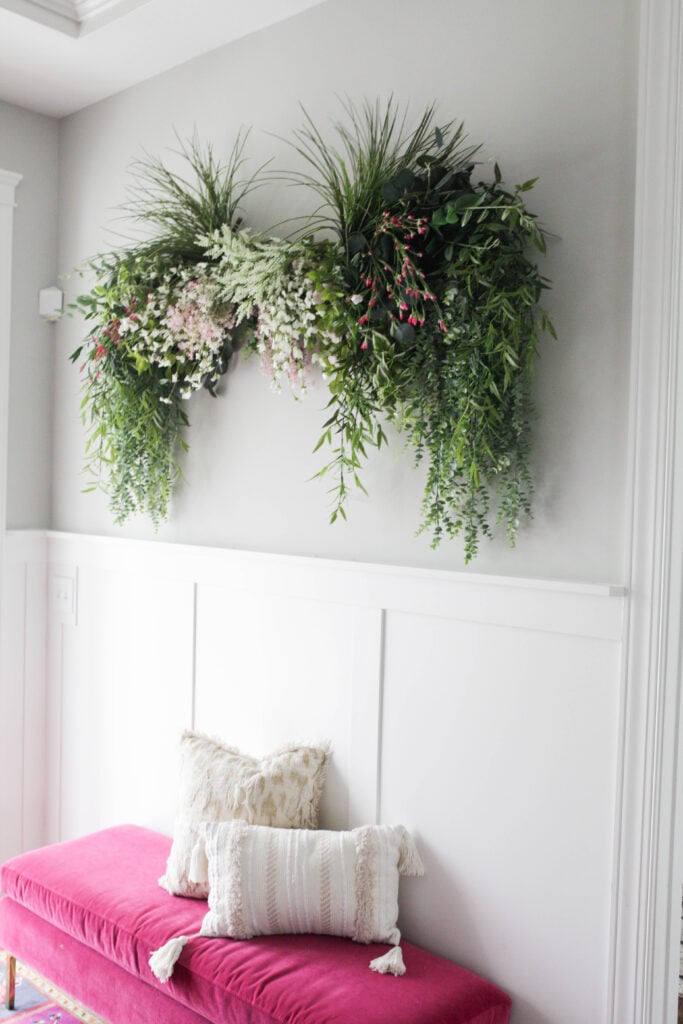 And that's it! ENJOY!
I am so happy with how it turned out and hopefully this inspires you to make your own!
Shop the post