If you haven't heard about a Favorite Things Party, you're in for a serious treat. We all have products that we absolutely adore. Have you ever tried a new brand of deodorant or swear by a particular brand of mascara and love to tell everyone you know about these products?
We naturally want to share our favorite things with our friends so that they can have the same fantastic experience and benefits with the products we recommend. That's the idea behind a Favorite things party, sharing your favorite items with your friends.
What Exactly is a Favorite Things Party?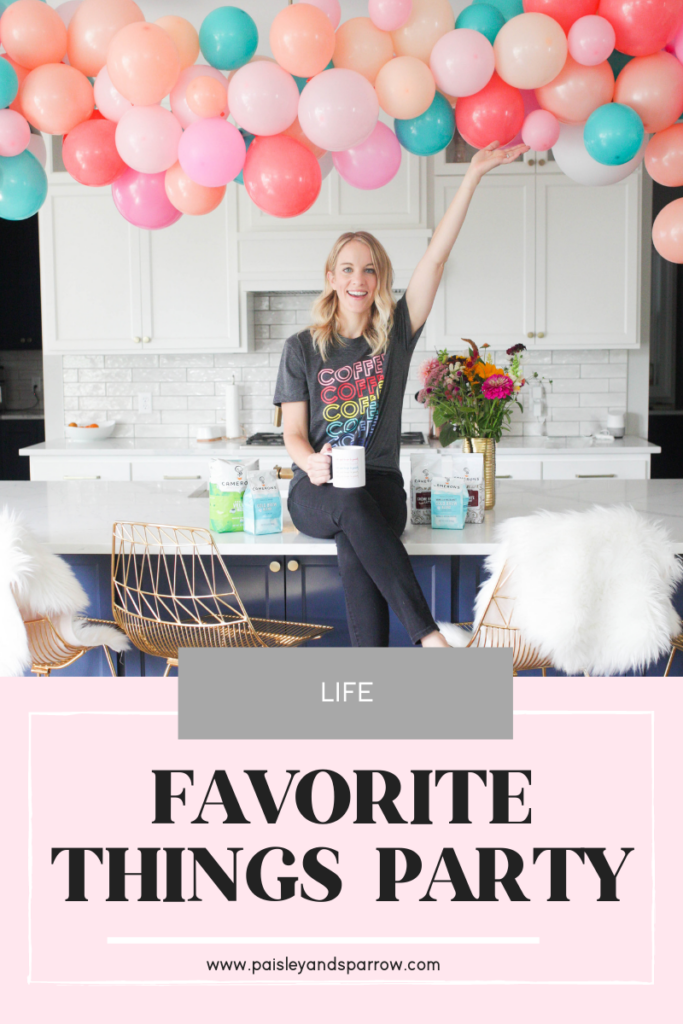 A favorite things party is a party where you share, or gift, your favorite items in your life with your friends. You can choose to invite as few or as many friends, neighbors, and co-workers as you want to enjoy the party with you.
Typically, this type of party will last anywhere from one to three hours. If a Favorite Things Party sounds fun, follow these steps to create your own party.
How to Host a Favorite Things Party
1. Start by Setting a Budget
Before sending out the invitations, you need to set a budget limit. The idea is that each guest will bring a certain number of items depending on how many guests are attending. That means if 10 guests are going to show up, you guest will bring 10 gifts to the party.
If you're planning on inviting a ton of guests, use a low budget limit of $5 per gift to ensure that everyone can participate. However, if you're inviting fewer guests, you could change the limit to be anywhere between $10-$30.
It's super important to determine the budget and make it clear to every invitee so that everyone is on the same page.
2. Pick Your Favorite Things Party Strategy
There are three different ways you can choose to run your Favorite Things Party. There is no right way. It just depends on what sounds more fun to you.
a. Classic Favorite Things Party
The classic favorite things party is when each guest brings enough items for every other guest at the party to enjoy. When the guest arrives, they can use a name tag to display their products.
Every person gets a turn to showcase their specific item and talk about why they chose it. After everyone has spoken about the things they brought, each guest will get to take one of each to take home.
b. Unwrapped Favorite Things Party
In this alternative, instead of bringing an item for every person at the party, your guest will bring three unwrapped gifts. Everybody will draw a number from a bowl to see who gets to choose an item first.
Whoever draws the first number will get to choose which item on the table they would like to take. After the first round, guests will choose numbers again and repeat the process.
This will be done a total of three times, so every person will get to take home three items. Just like the original favorite things party, each guest will have a turn to talk about why they choose those specific items.
c. Wrapped Favorite Things Party
A wrapped favorite things party is similar to unwrapped because you need to bring three gifts to the party, regardless of how many people are at the party. The difference is that this exchange is done in white elephant style.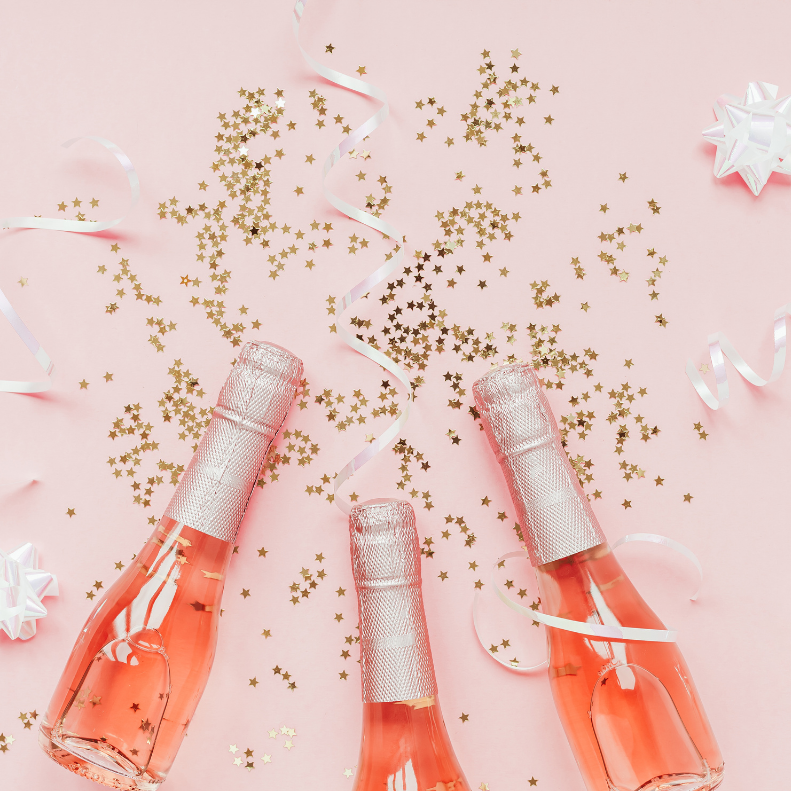 You'll again choose numbers from a bowl to see who gets to pick first. Participants can either choose a gift on the table or steal from someone who already opened a gift. You can steal a gift a total of two times. After that, it is unable to be stolen, and the person who has it will keep the gift. Once all gifts have been distributed, each person can talk about why they choose each of the items they brought.
Before choosing one of these three options, think about the guests you are going to invite and what will be affordable based on the number of guests you will have at your party. You want to make sure that everyone can attend and will not opt-out due to budgeting reasons.
3. Invite Your Guests
It's time to create a guest list and send out your invites. Start by choosing a time, date, and location for your party. You can choose to host the party in your own home or host your event at a restaurant. A home is preferable because you don't have to set a time limit for your party.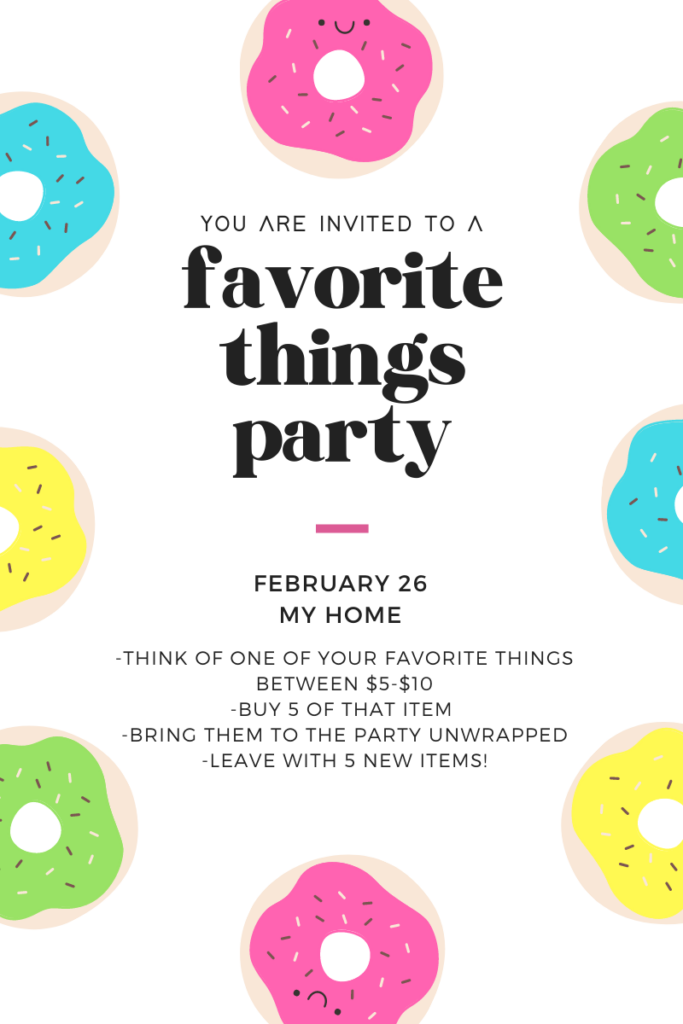 Send out your invitations at least two weeks in advance. You can keep this simple with a phone call or text, a custom invite or use an online platform to send out free digital invitations.
Make sure you include the party's rules, as many of your guests may not be familiar with this type of event. Track your RSVPs, and let your guests know the final party count so they know how many items they need to buy.
4. Choose Your Food & Beverages
You don't need to go crazy when choosing what type of food or beverages you plan to supply at your party. Simple appetizers like veggies, fruits, cheese board, or any other kind of finger foods are excellent for these types of parties. If you're having a morning party, donuts and mimosas are a perfect, easy option!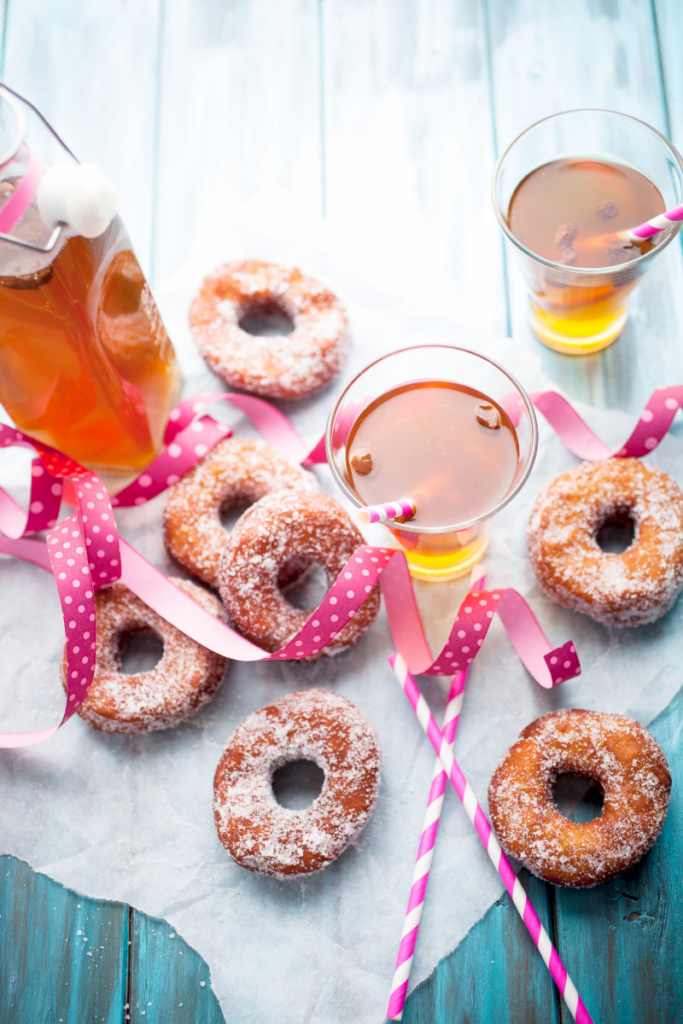 If you want to offer beverages, grab a few bottles of wine to put out with your appetizers or stick with coffee, orange juice and mimosas for a morning favorite things party.
However, if you're planning to host this party around the holidays, you might want to do something a little fancier. You can create a special dinner and use the time after the meal to start the gift exchanging.
5. Purchase Your Supplies
You can't throw a party without a trip to your local store or shopping on Amazon. Besides buying food and drinks, you want to make sure that you also purchase labels or gift tags, gift bags, and a sharpie marker.
Your guests will use the labels to identify which of the products they brought and will use the sharpie to write out their name. Gift bags are practical so that your guests can collect all their goodies in one place to take home at the end of the night.
And let's be real, a balloon garland is always a nice touch for any kind of party! So pick up a balloon garland kit, follow these simple instructions and add a bit of flair to your party!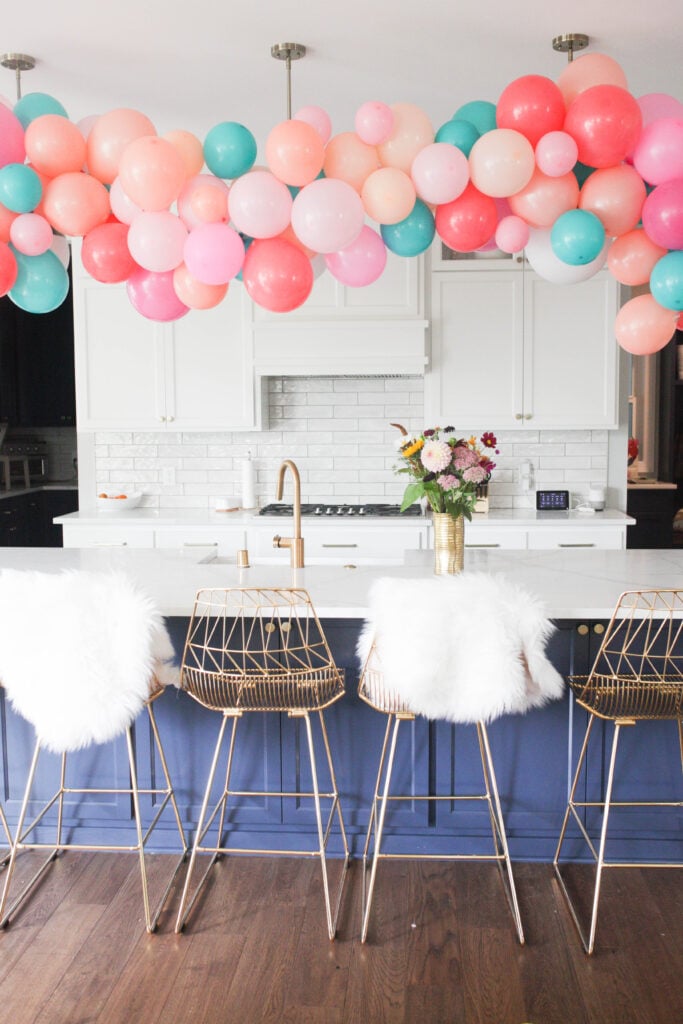 Favorite Things Party Gift Ideas
Now that you have your party planned and supplies purchased, it's time to pick your gifts! We've put together a collection of different gifts you can choose from depending on your specific budget.
Favorite Thing Party Gift Ideas Under $5
Hair Ties – Hair ties are a girls best friend and we could all use a few extra in our drawer!
Sunrise StoneWare Mug – This mug is both durable, beautiful, and under $5.
Bath Bomb – Who doesn't love an excuse to take a relaxing bath? Bath bombs are a fun gift to exchange with your friends.
Elf Bite-Size Eyeshadow – This eyeshadow kit is available in 8 different colors. You could buy all the same shade or purchase different varieties for your guests to choose from.
Dry Shampoo – Dry shampoo is a girl's best friend. This dove dry shampoo is affordable and works great.
Socks – There are so many types of socks you can choose from.
Special Recipes – Do you have a special recipe passed down in your family, or does everyone admire a specific dish you make at parties? Create recipe cards for your favorite dish to share with everyone at the party.
Snacks – Bring your favorite snacks for everyone. You can look for party packs or individually wrapped portions.
Your Favorite Coffee or Tea
Favorite Thing Party Gift Ideas Under $10
Nail Polish – Show off your favorite nail polish brand. You can order individually or buy a multi-pack so everyone can choose their favorite color.
Face Masks – Who doesn't love to have a spa experience at home? Face masks have so many benefits, and you can purchase a variety for guests to choose from.
Scrub Mommy or Scrub Daddy
Favorite Mascara
Favorite Book
Crafting Supplies
Your Favorite Coffee or Tea
Still Stuck on Gift Ideas?
We've curated a list of additional, unique gift ideas you can purchase for your next favorite things party. Some ideas you might want to check out:
Favorite Lotions
Hair Tie Holder Bracelet – This cute little bracelet makes wearing a hair tie 100 times more appealing!
Cross-Body Bags
Favorite Makeup Products
Jewelry
Journal and Pen
Bathrobe
Final Favorite Things Party Notes
Hosting a Favorite Things Party can be as extravagant or as simple as you want. There is no official standard you need to maintain, so make sure to have fun with it. You can even make it a themed party like a Great Gatsby costume party or a pajama party.
A favorite things party can be hosted at any time of the year. It could be a fun Christmas party alternative or make a random weekend in March a little more exciting.
A Favorite Things Party is not only a great way to score some unique gifts, but it allows you the opportunity to learn more about your friends and the things they love so much.
If you want something a bit more goal centered, try a Vision Board Party! It's another fun way to gather some friends together for a fun party with the added benefit of setting some goals and creating a vision board!