Christmas is here! I love all things Christmas – the decorations, the movies, the lights, the traditions – it's the best! Having kids makes it even more fun because of how excited Roy gets about everything.
Today I wanted to share some simple neutral Christmas decor ideas that we did in our own home to give you some Christmas decor ideas for your own home!!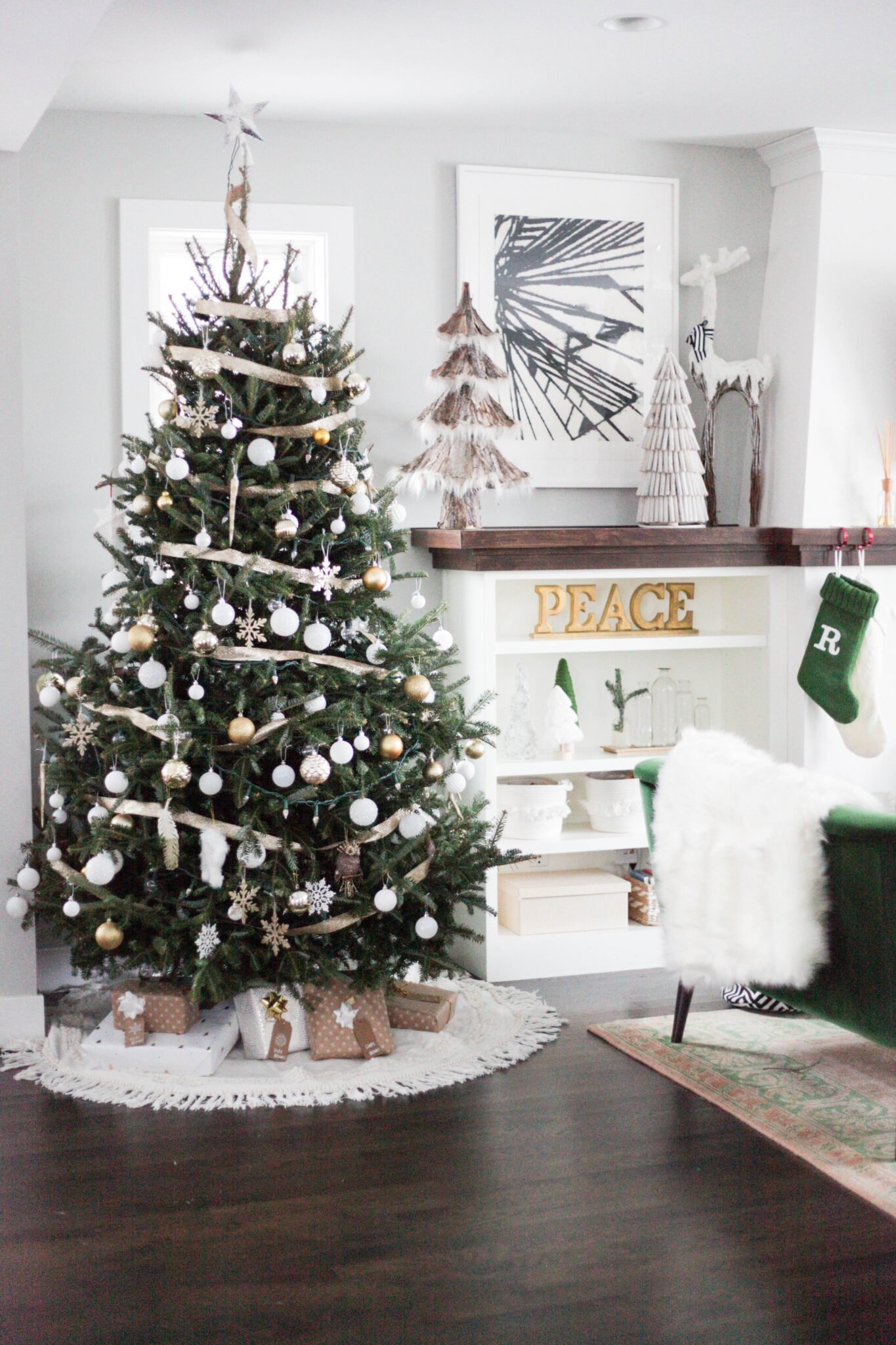 I typically switch up my decor each year, even just a little bit, to keep things fresh. The last 2 years I've done the traditional red, green, gold and silver colors. Below is a look at our living room with a more traditional decor approach.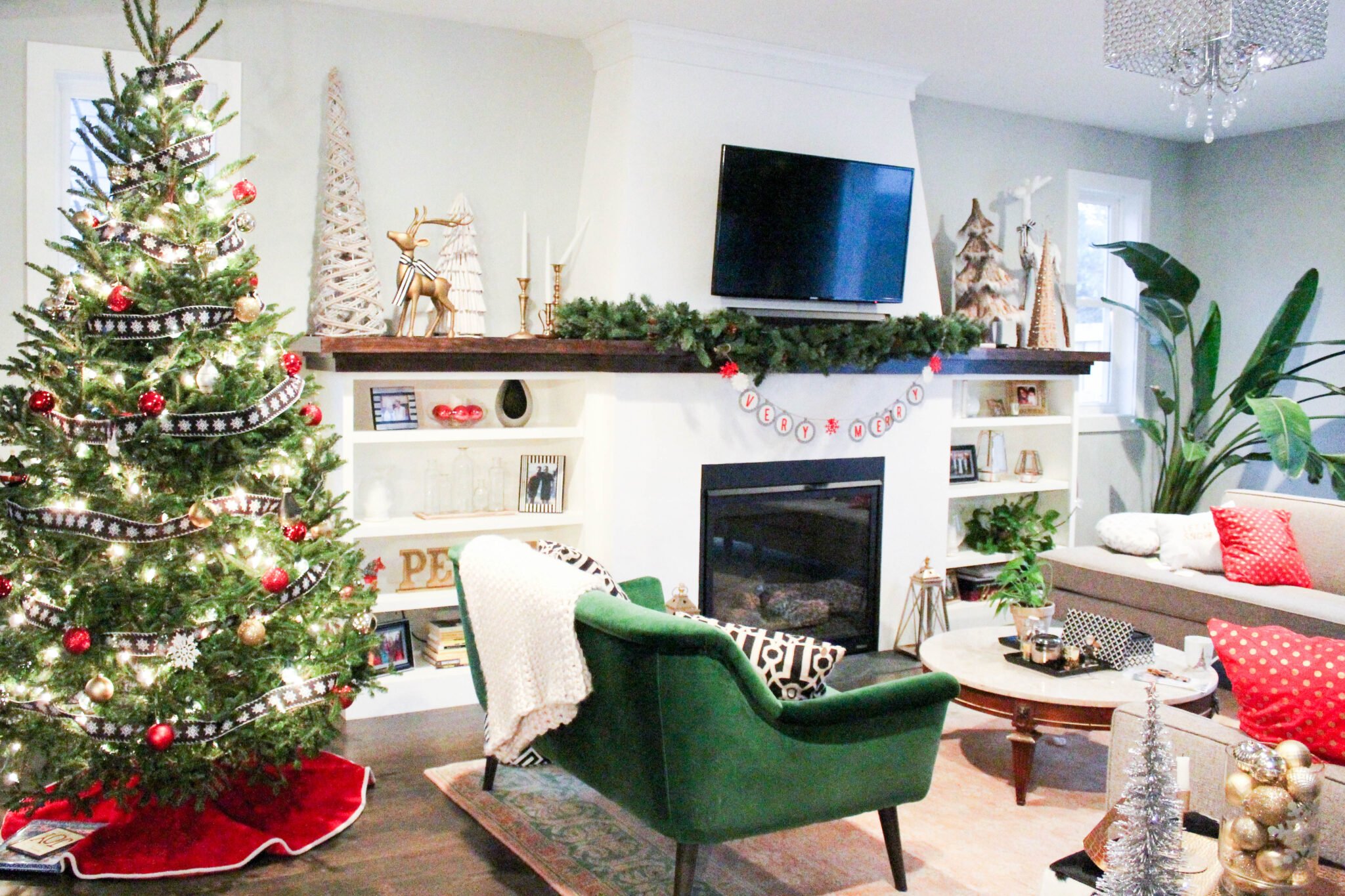 This post may include affiliate links which means I may earn a small commission if you shop using the links below at no additional cost to you. Paisley + Sparrow is a participant in the Amazon Services LLC Associates Program. Thanks so much for supporting me and this blog!
Living Room | White, Gold, Silver Neutral Christmas Tree
This year I decided to not use red anywhere and go with neutral Christmas decor. I bought a bunch of inexpensive white ball ornaments and a white tree skirt to use instead of the red ones we have and let me tell you, I'm obsessed with our tree this year!!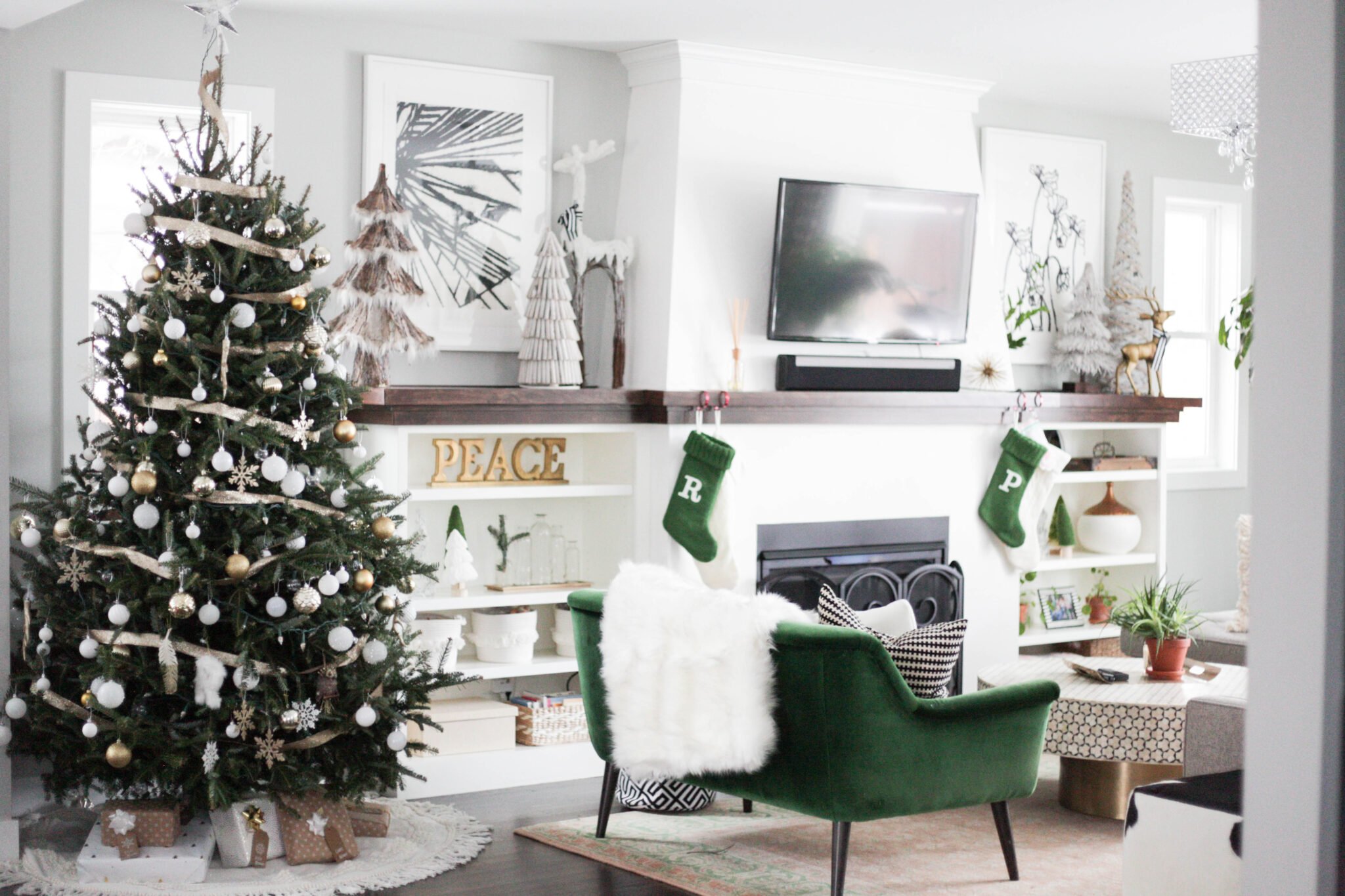 I actually originally bought the super inexpensive white bulbs on Amazon so I could splurge a little bit on our tree skirt and I'm so glad I did it that way because they're kid proof!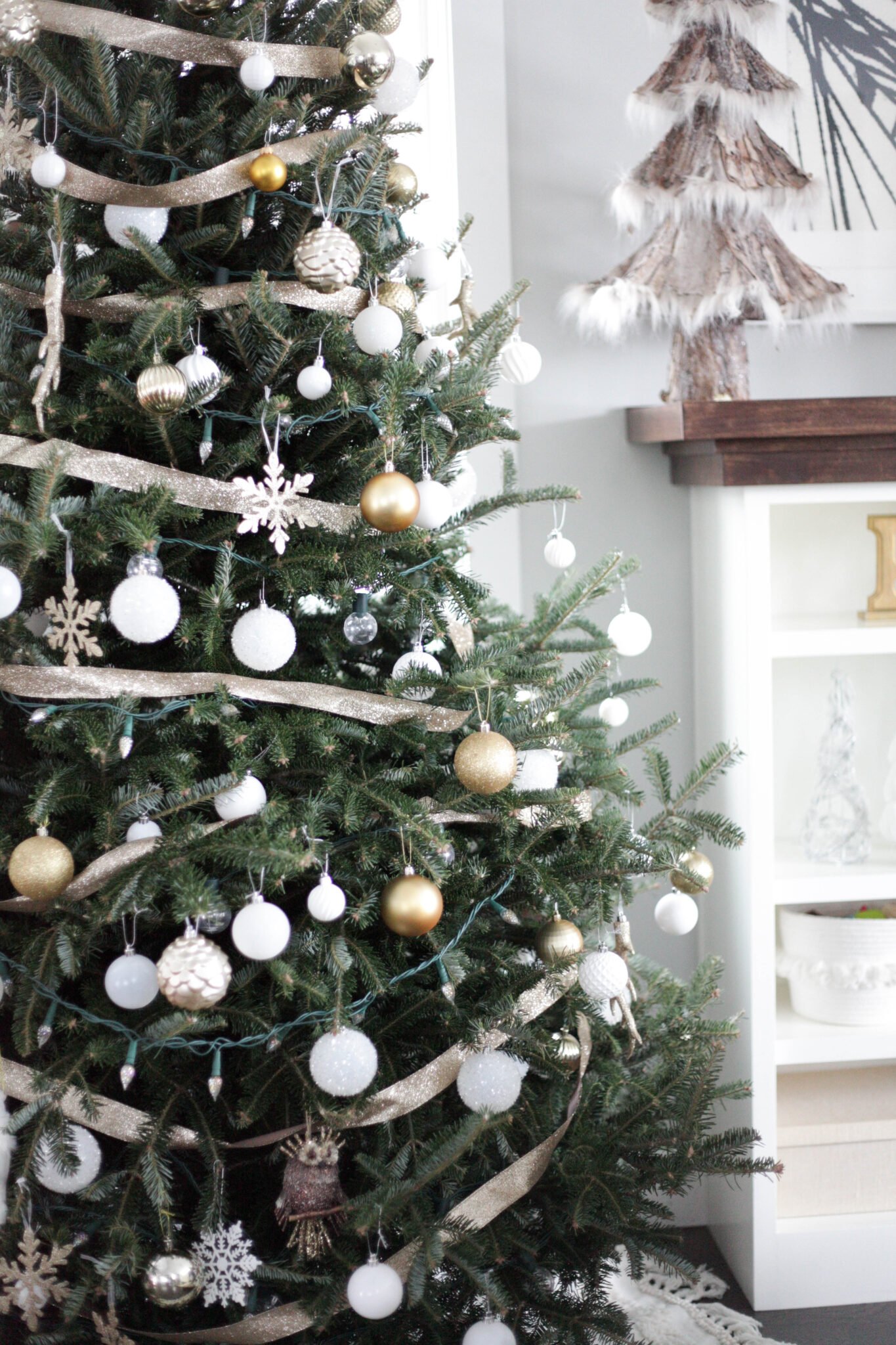 You can't tell the bulbs aren't fancy ones and they're shatterproof! So when our kids inevitably want to help put them on (or take them off and play soccer with them – I mean, I guess they do sorta look like white soccer balls haha!), I don't have to stress that they're going to shatter everywhere! I highly recommend them and they come in a variety of colors!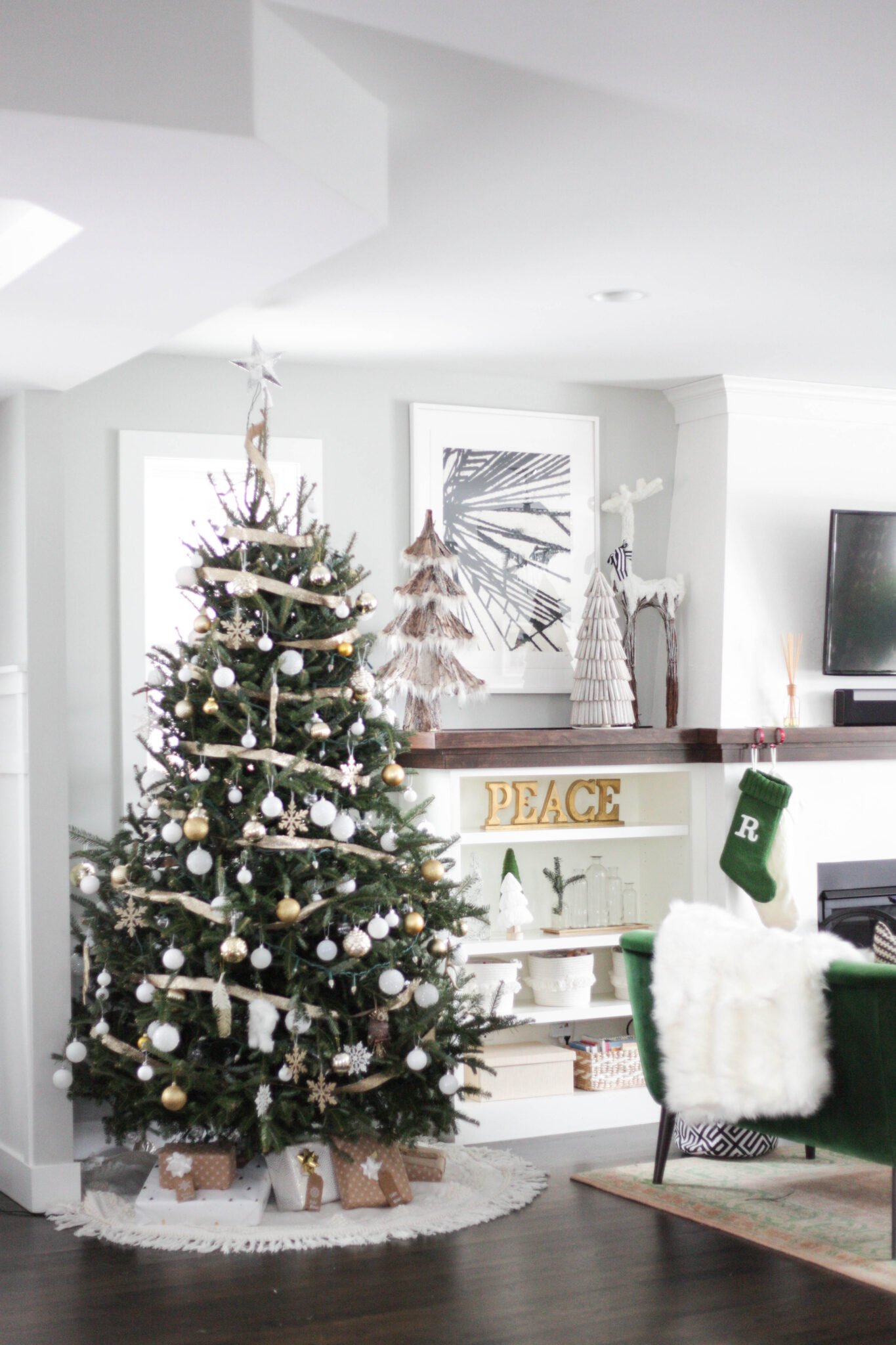 I like to wrap the tree with some sort of ribbon and got glittery gold ribbon (similar gold ribbon here) this year (Rishi was so thrilled haha!). I chose to keep all the ornaments that weren't white, gold or silver off the tree.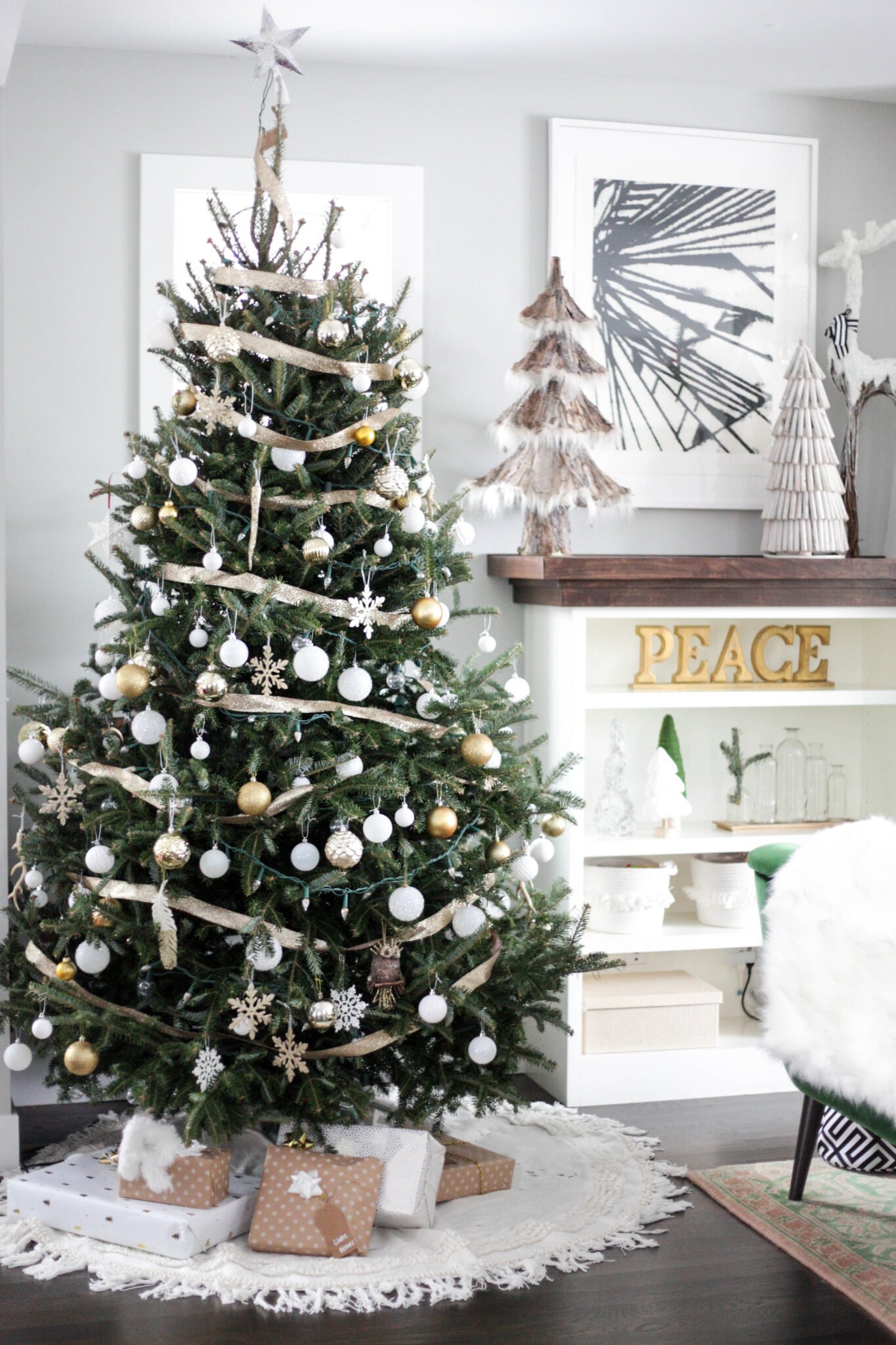 Next year I'm planning on doing a kid tree in out downstairs that the kids can cover with all of the funky, weird ornaments I've collected over the years!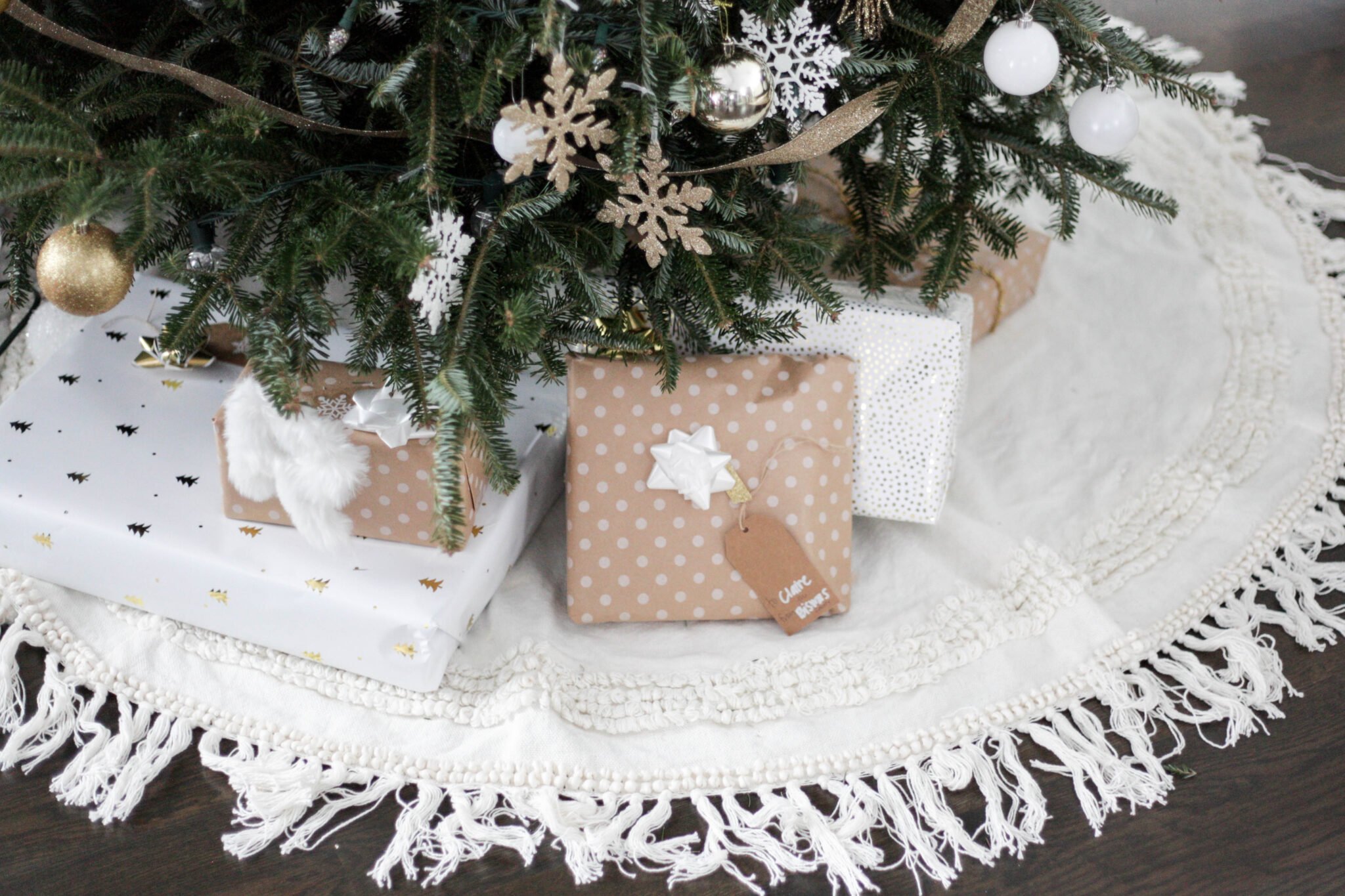 I picked up a faux fur throw from West Elm and I love it! Adding different textures to rooms is one of my favorite ways to make it more cozy and eclectic.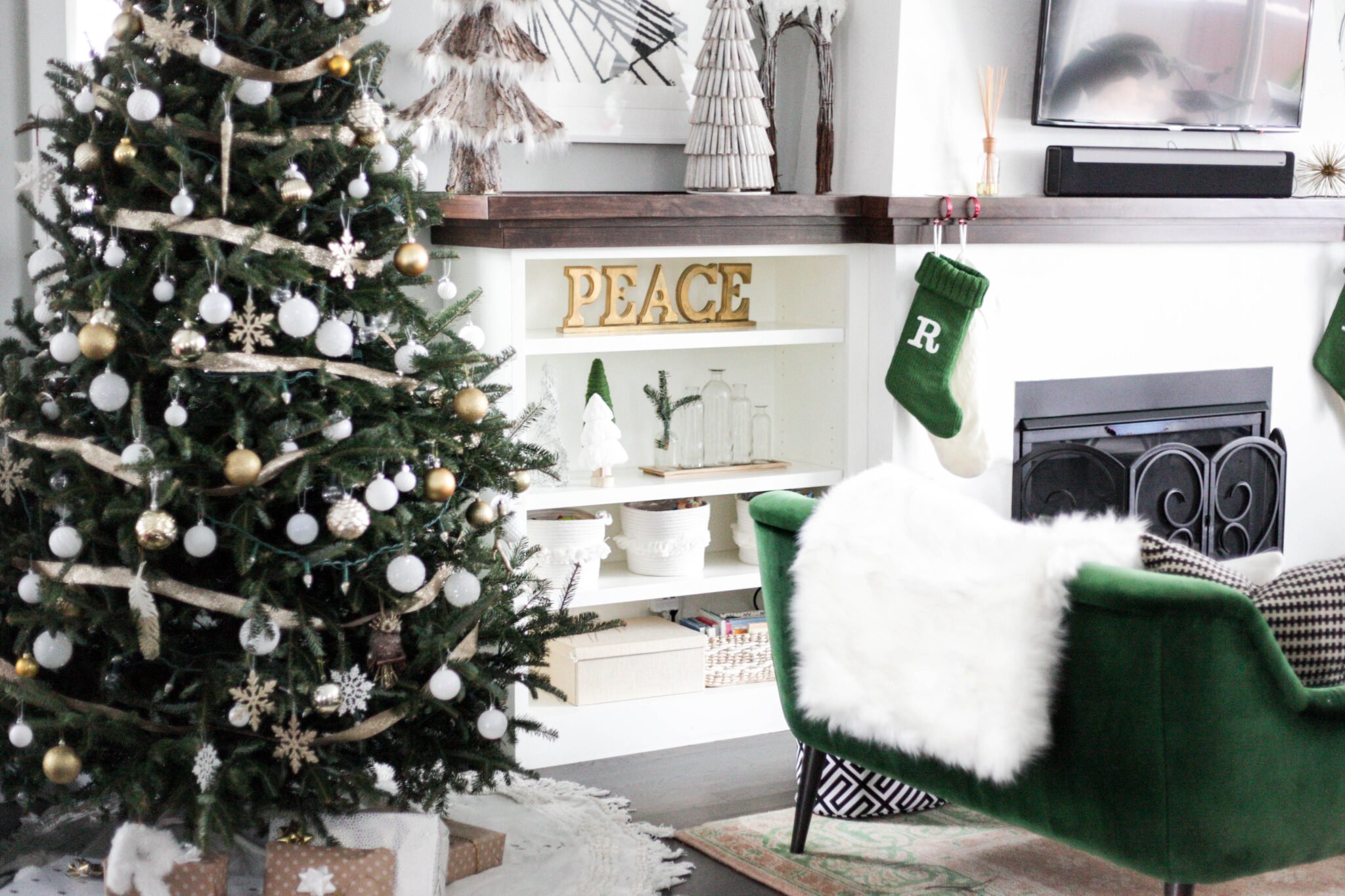 Trees
My favorite way to decorate for Christmas is with trees. Since they don't scream "Christmas" I put them up at the beginning of November and keep them up until I'm tired of them – typically sometime in February.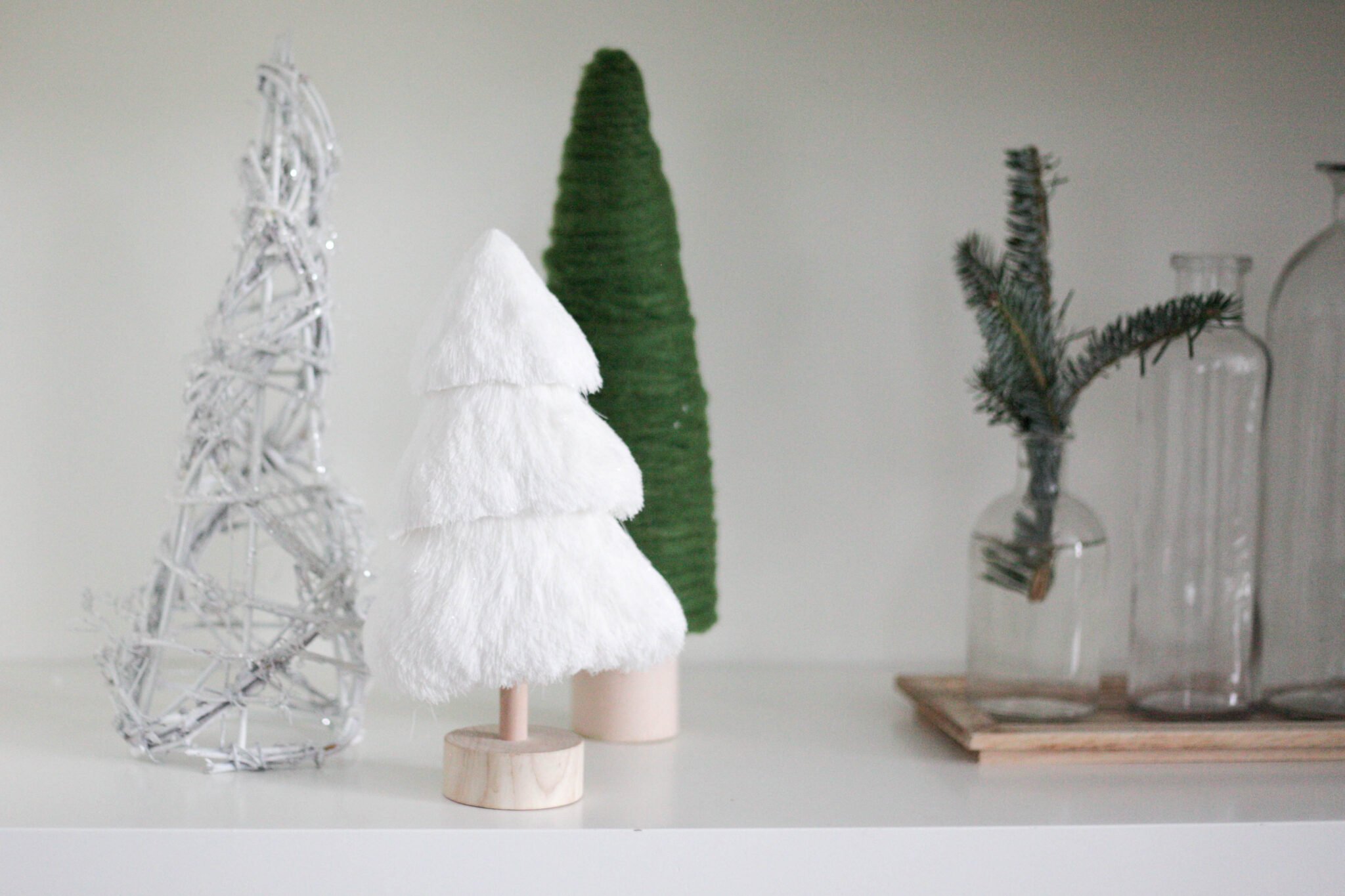 I like decorating with seasonal items rather than all holiday specific items since I can keep them out longer! Obviously we have a few things that are only for Christmas that come down after New Years Day but generally I do more seasonal items.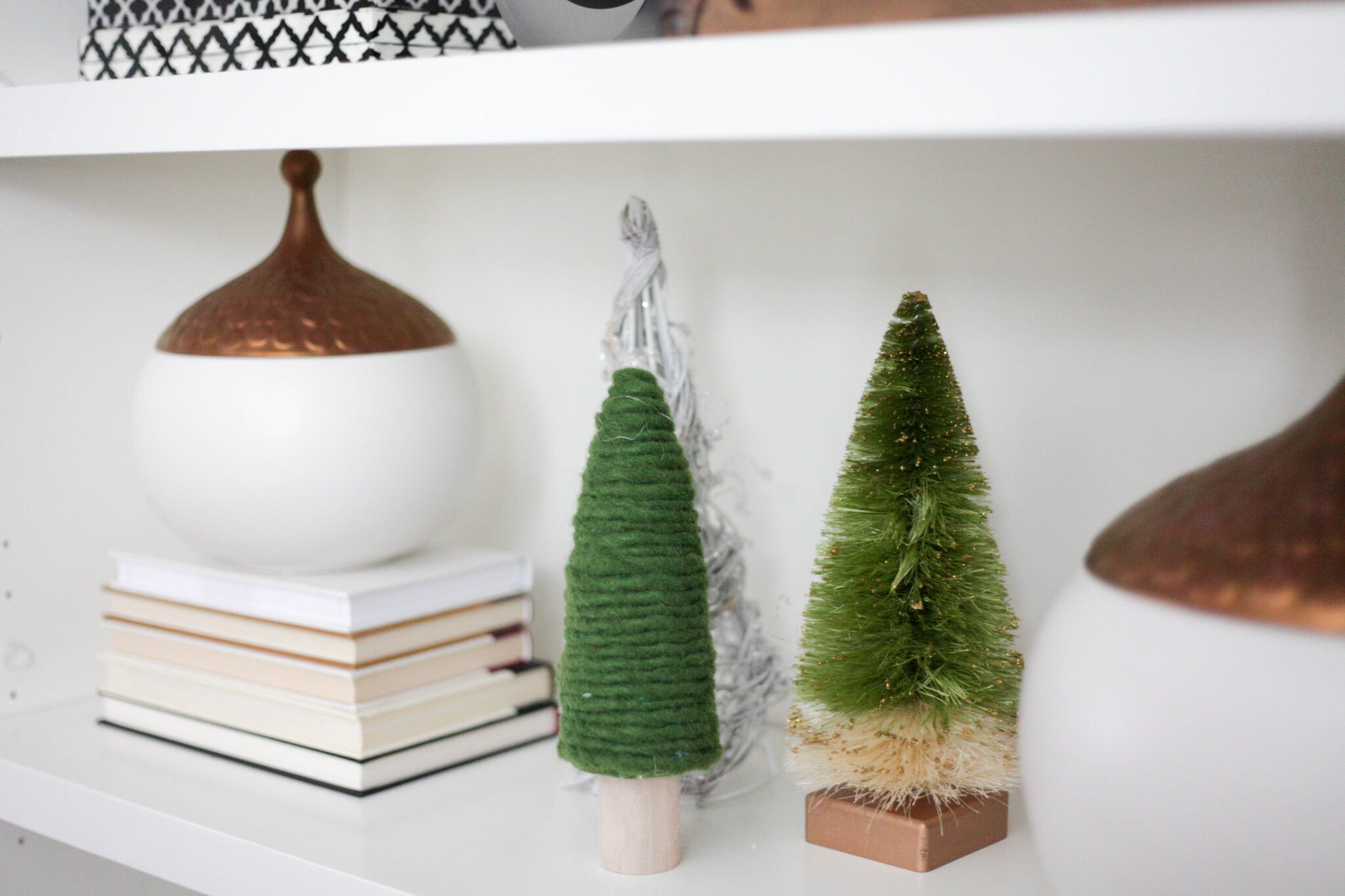 Most of my decorating is on the main level – our living room, dining room, kitchen and entryway. I have a couple things upstairs for the kids and will probably do more all over the house when the kids are a little older and can appreciate it more!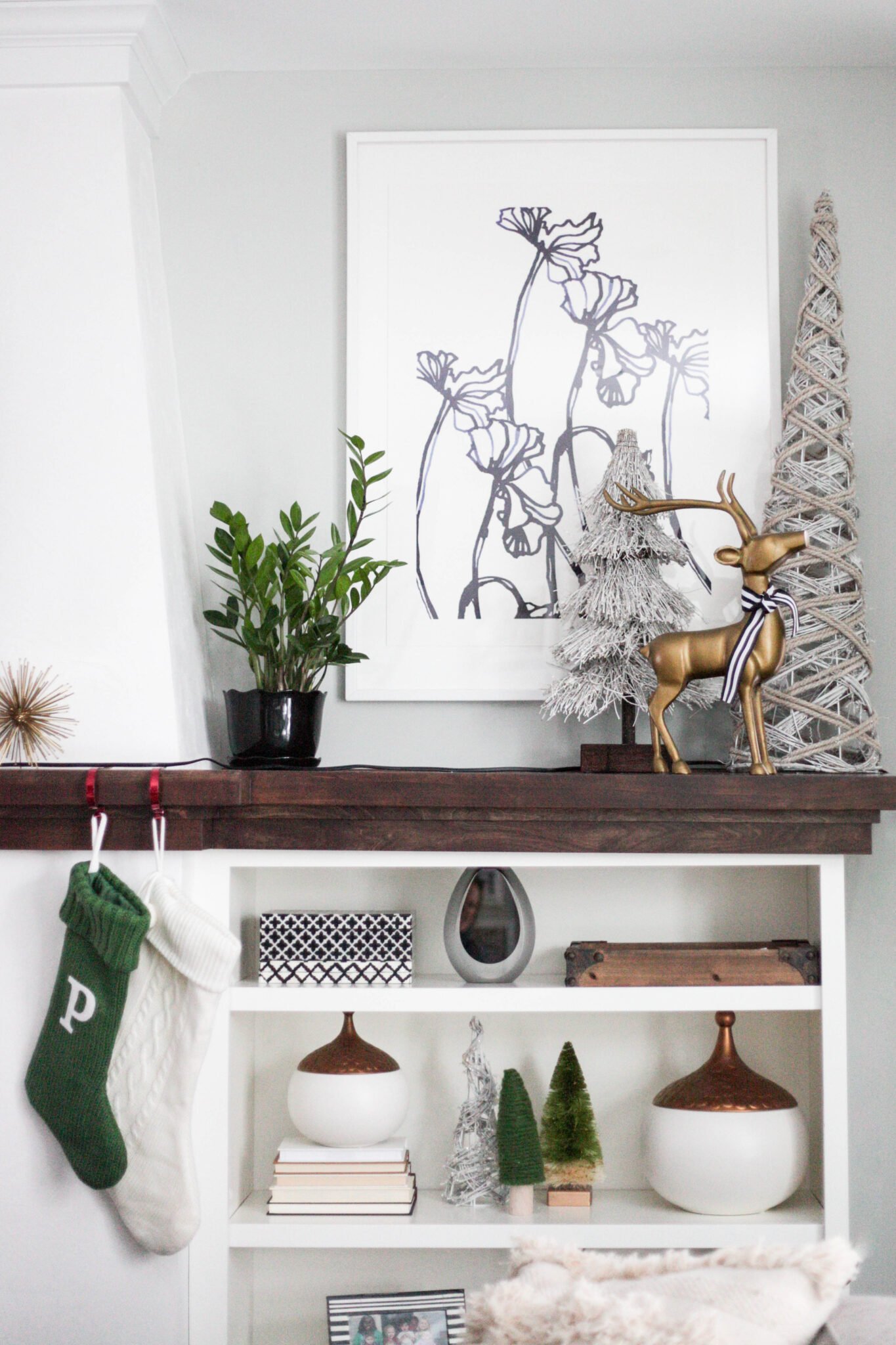 Most of my trees are also in greens, white and gold which fit perfectly with my neutral Christmas decor theme! I have a full post all about bottle brush Christmas trees with ideas on how to decorate them and where to buy them. Be sure to check it out!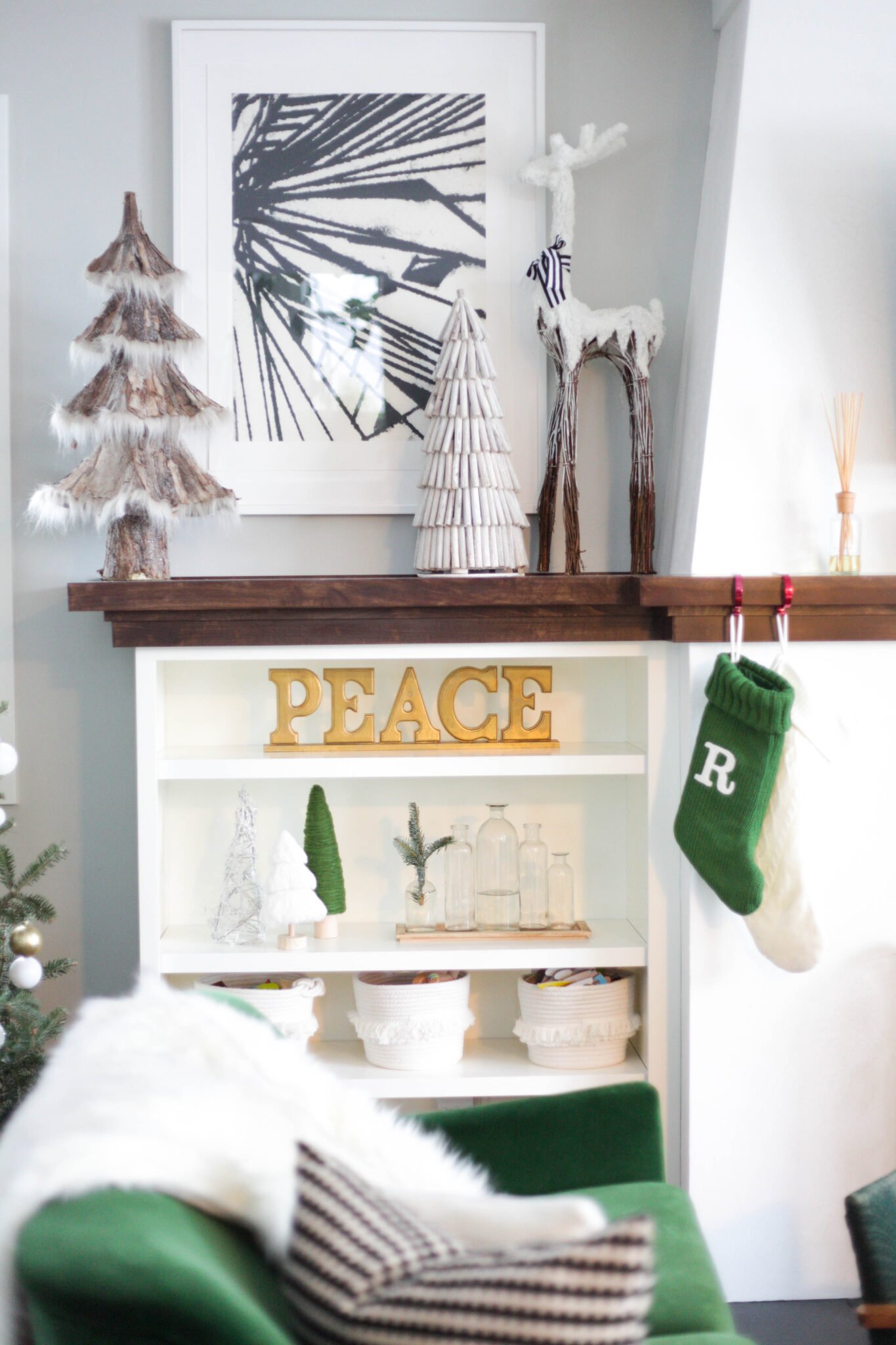 Entryway
I always decorate our entryway for the season and the holidays. This year I picked up this super cute "Fa La La" pillow.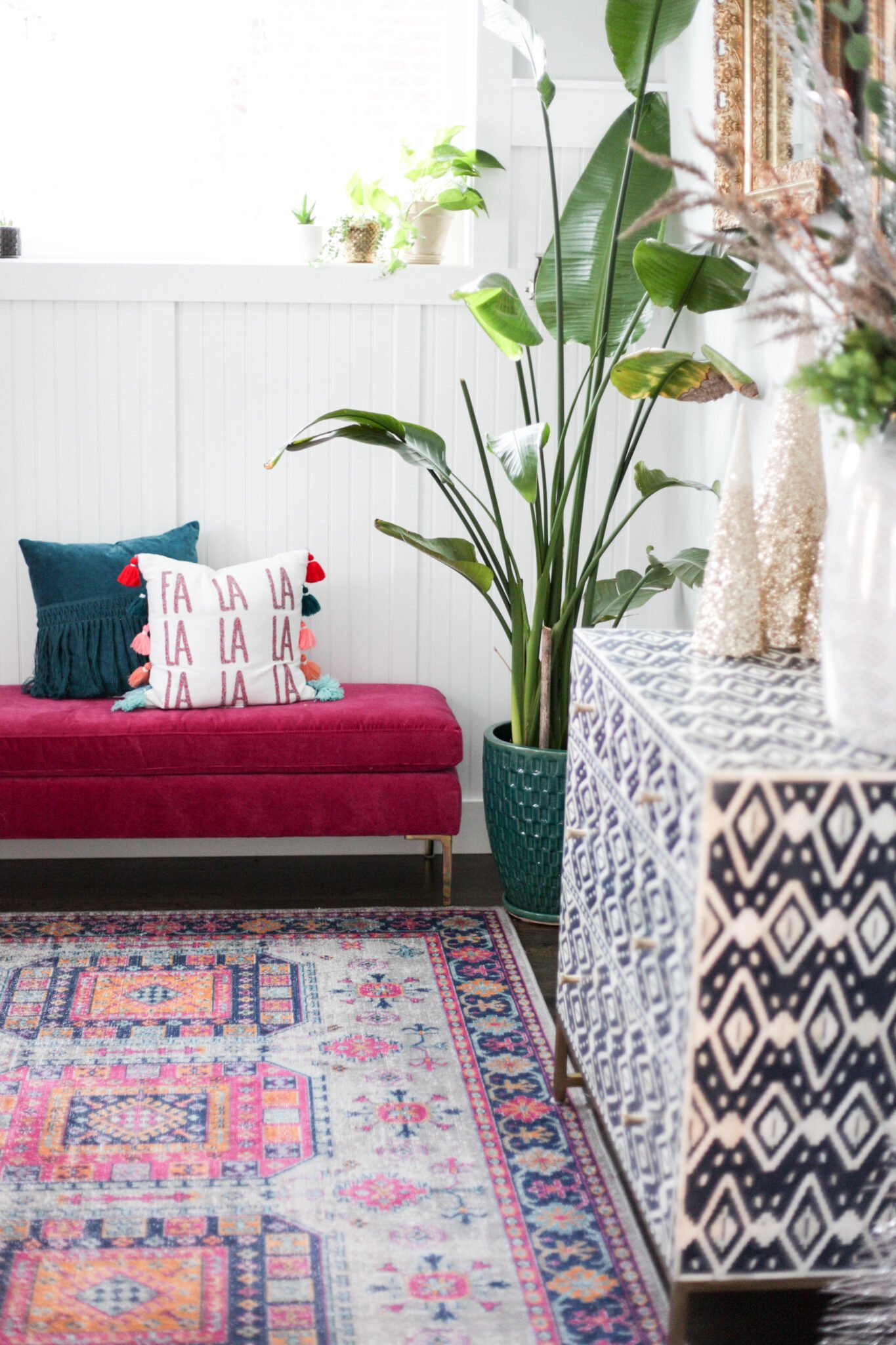 I was thrilled to find that pillow because I didn't know how I was going to decorate the entryway for Christmas with it being heavy on the pinks! 🙂 It fit the space perfectly.
I also added some gold and silver foliage to our entryway vase that was already filled with some greenery to give it a more holiday feel but still be neutral.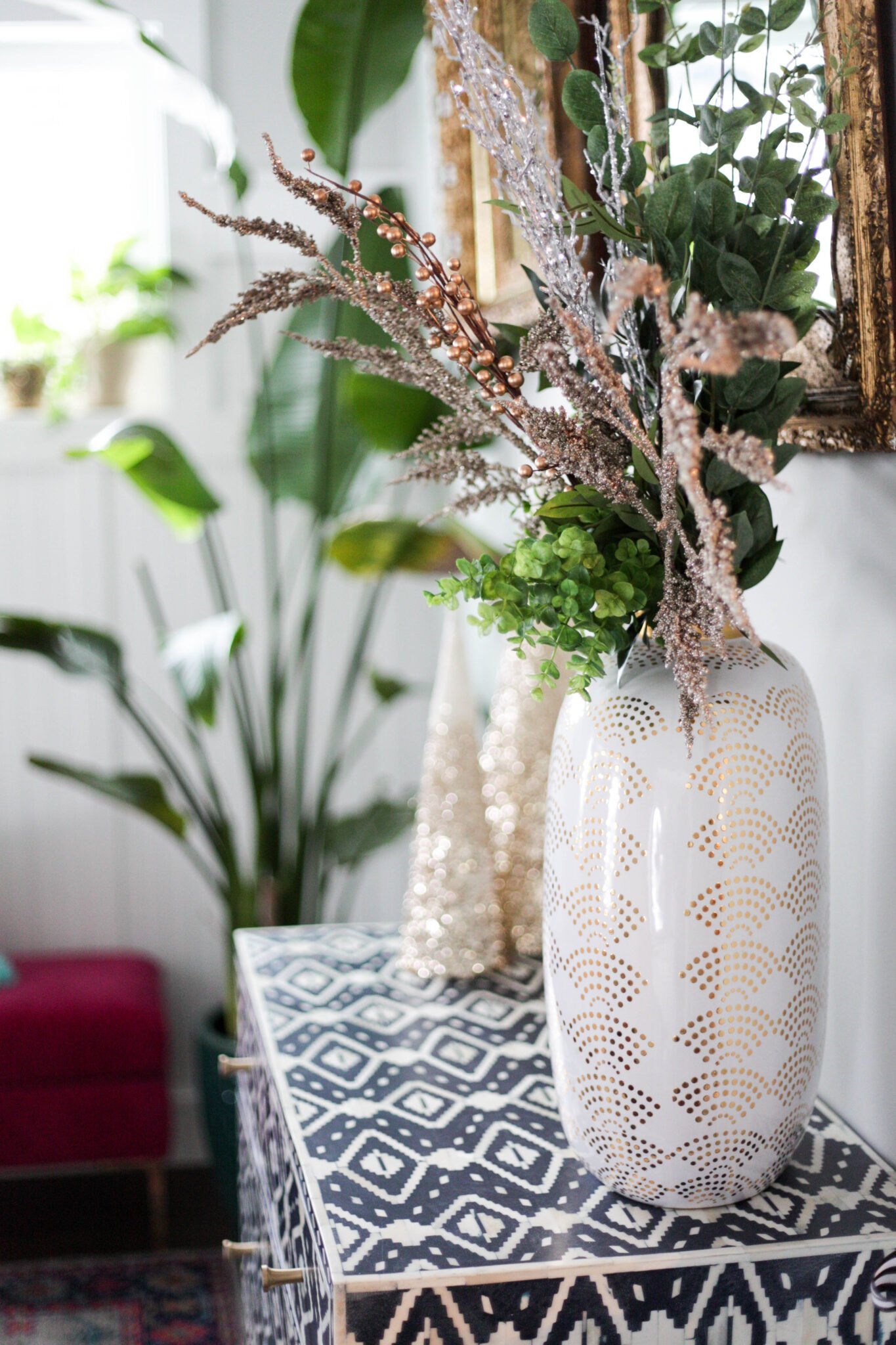 I love having trees all over my home so I put out gold cone trees (similar cone trees here) to make our entryway more festive.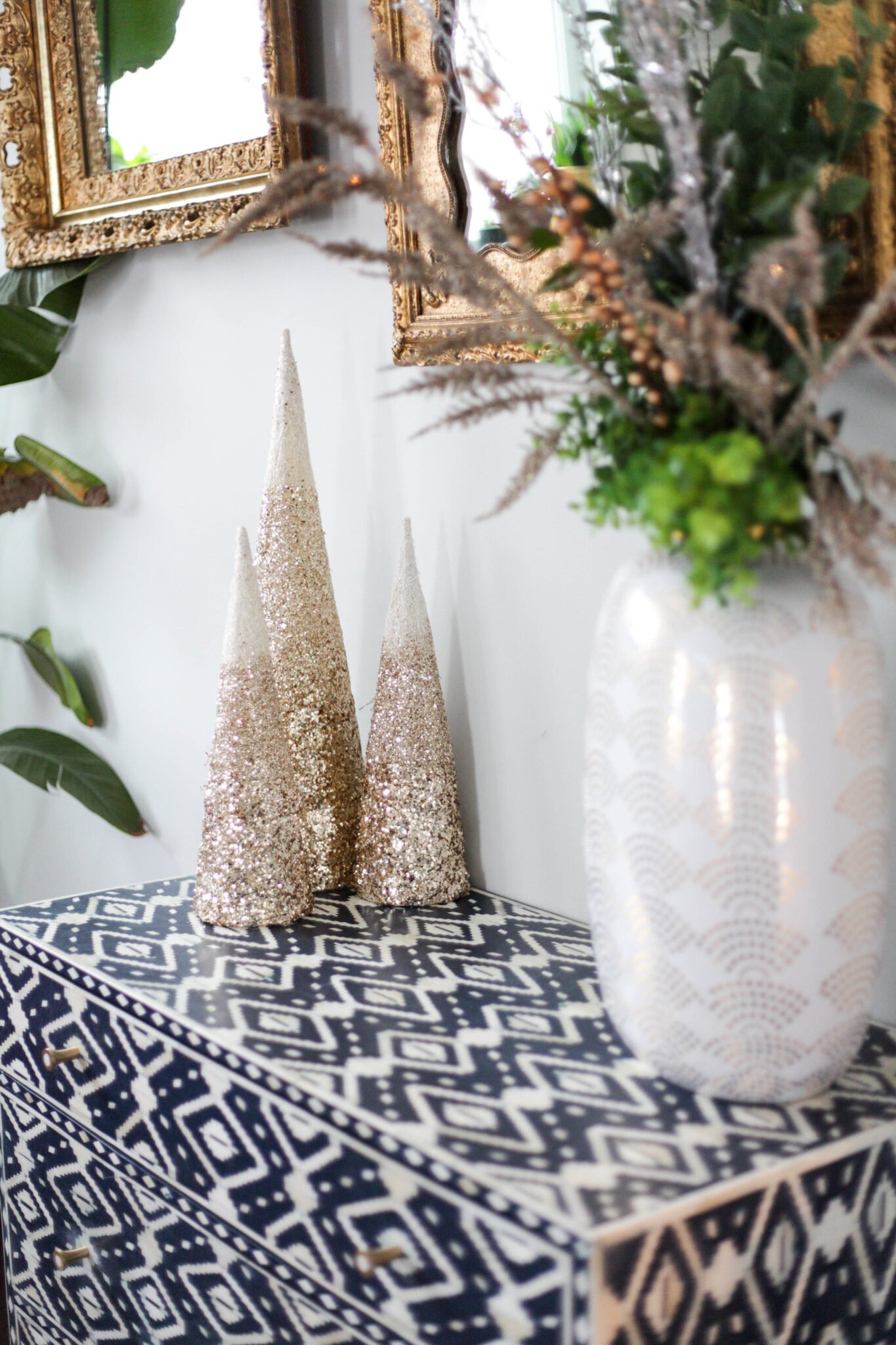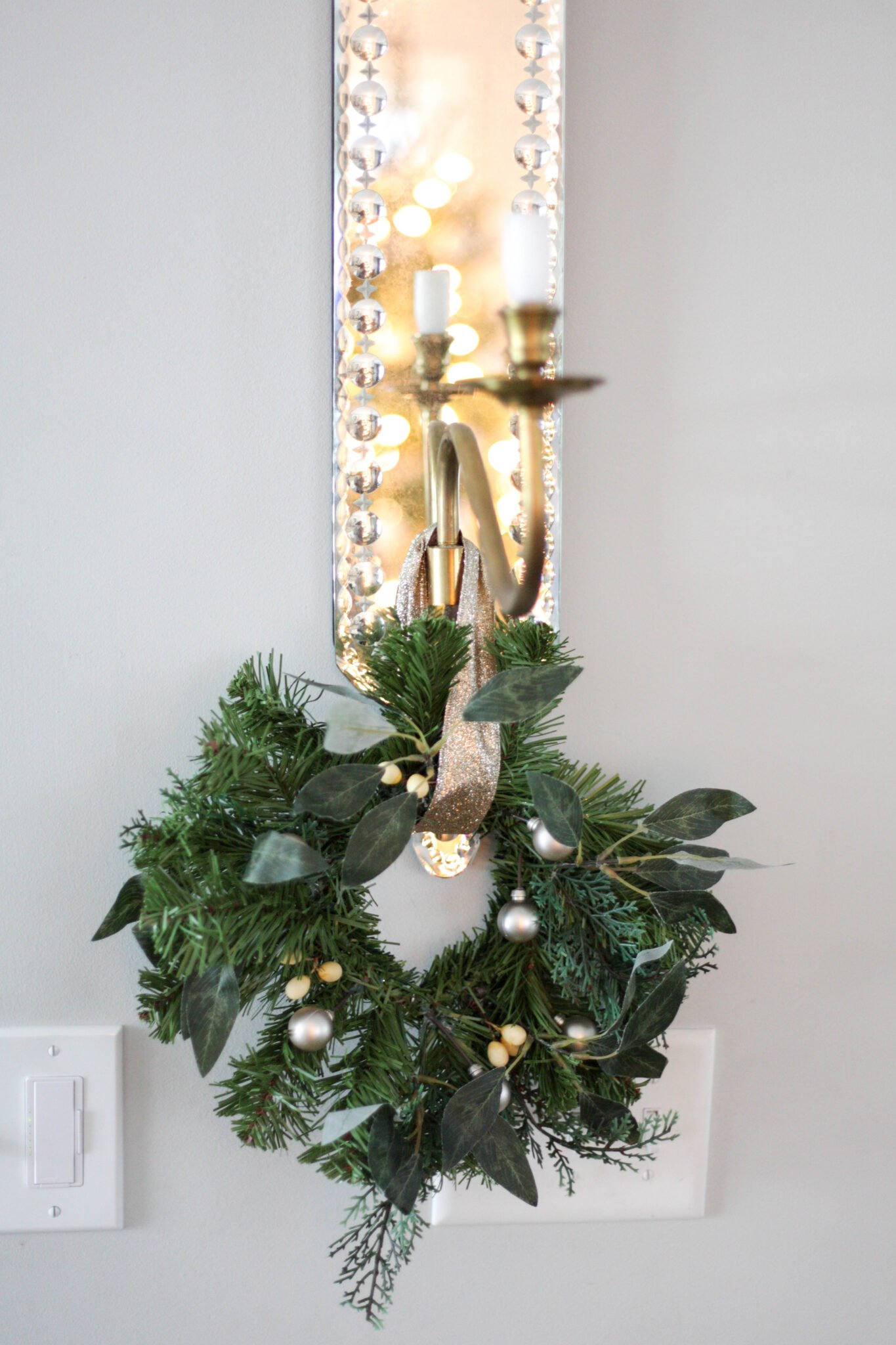 The Office
I didn't do a ton in my office but I wanted to do a little bit since it's right off of our entryway.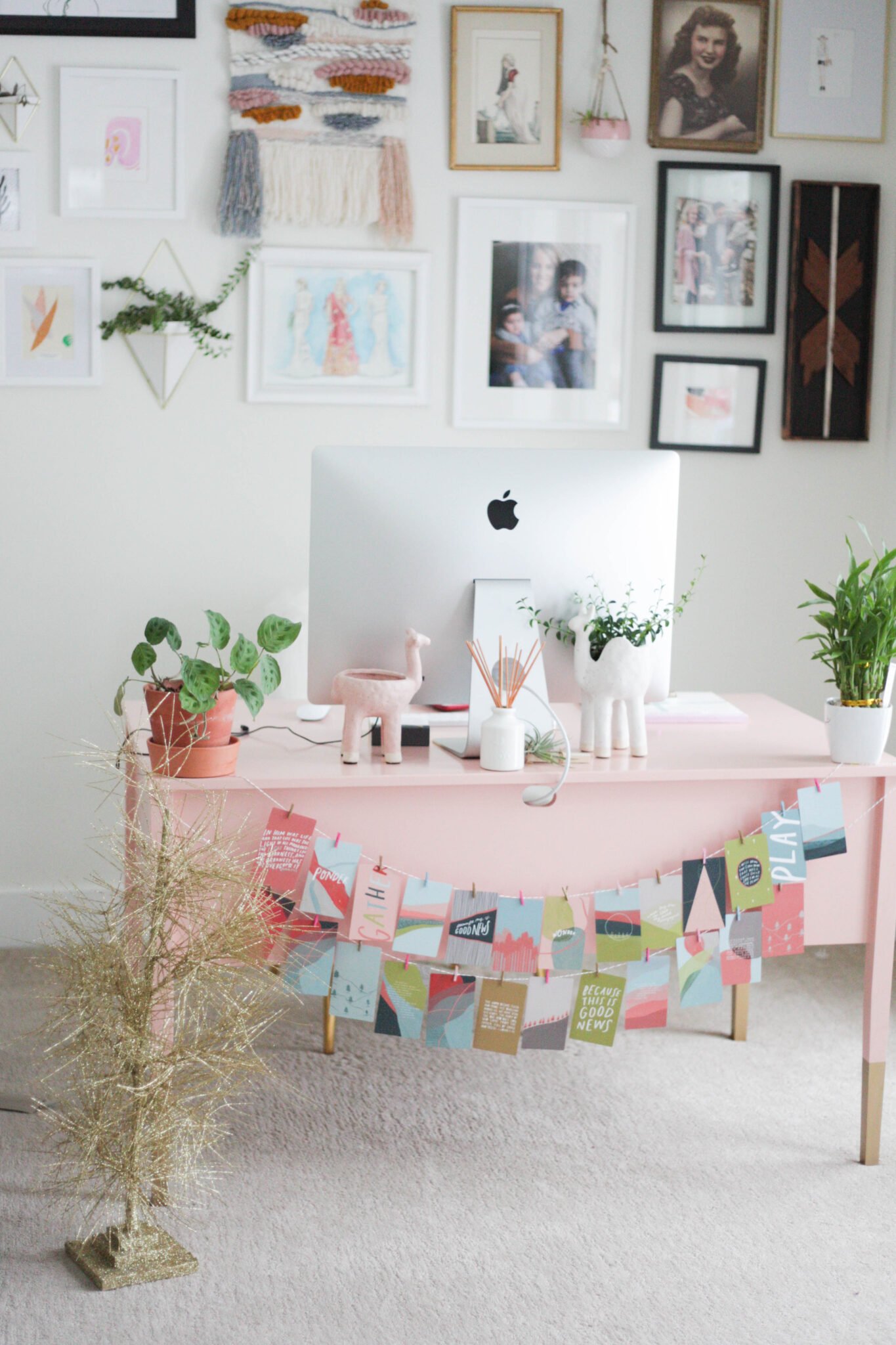 This year I'm doing the All Good Things Collective advent so I strung it up on my desk to display it! I love that the pinks match perfectly to my desk!! I also put one of my crazy gold glitter trees in here to make it more festive.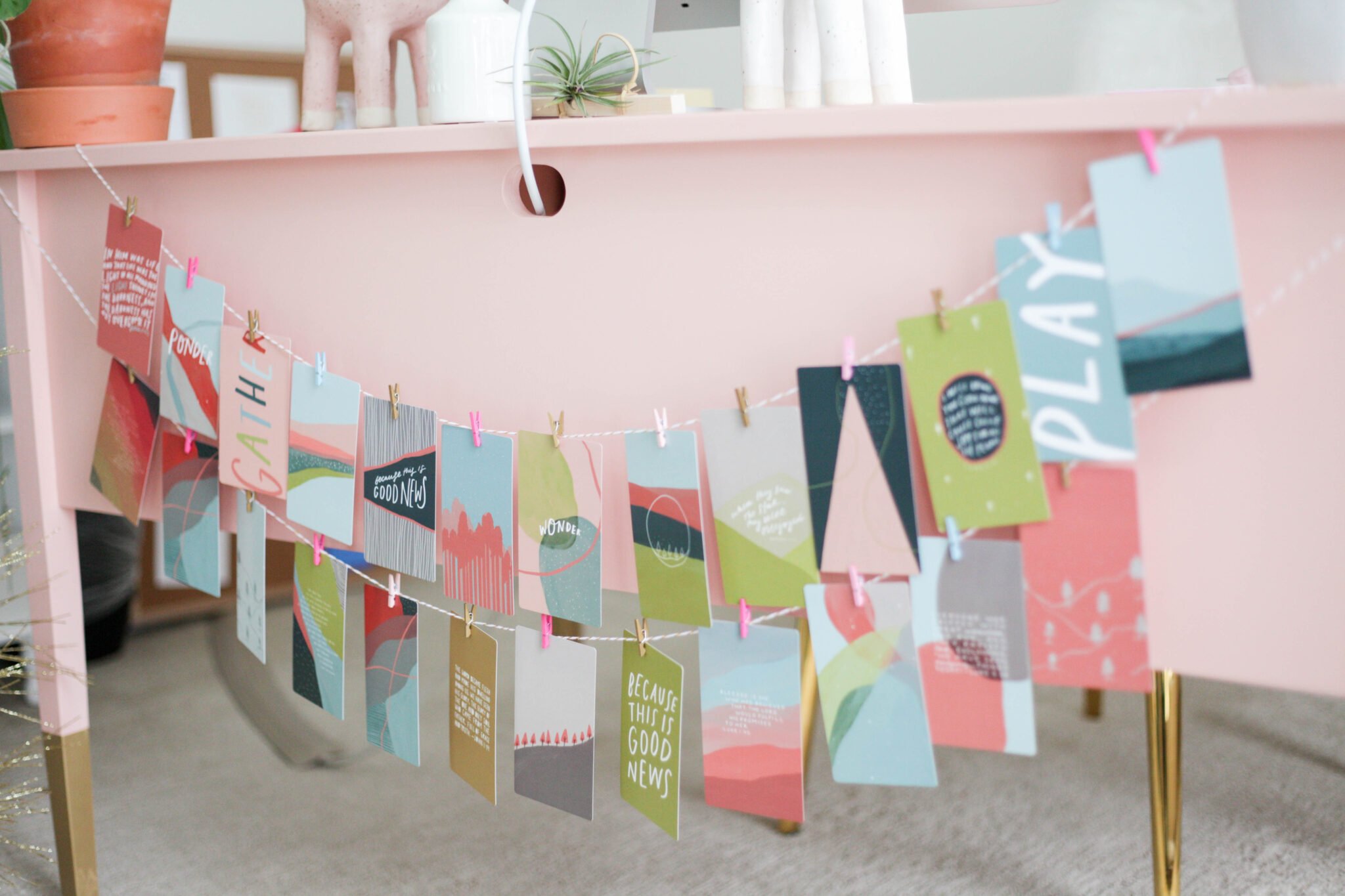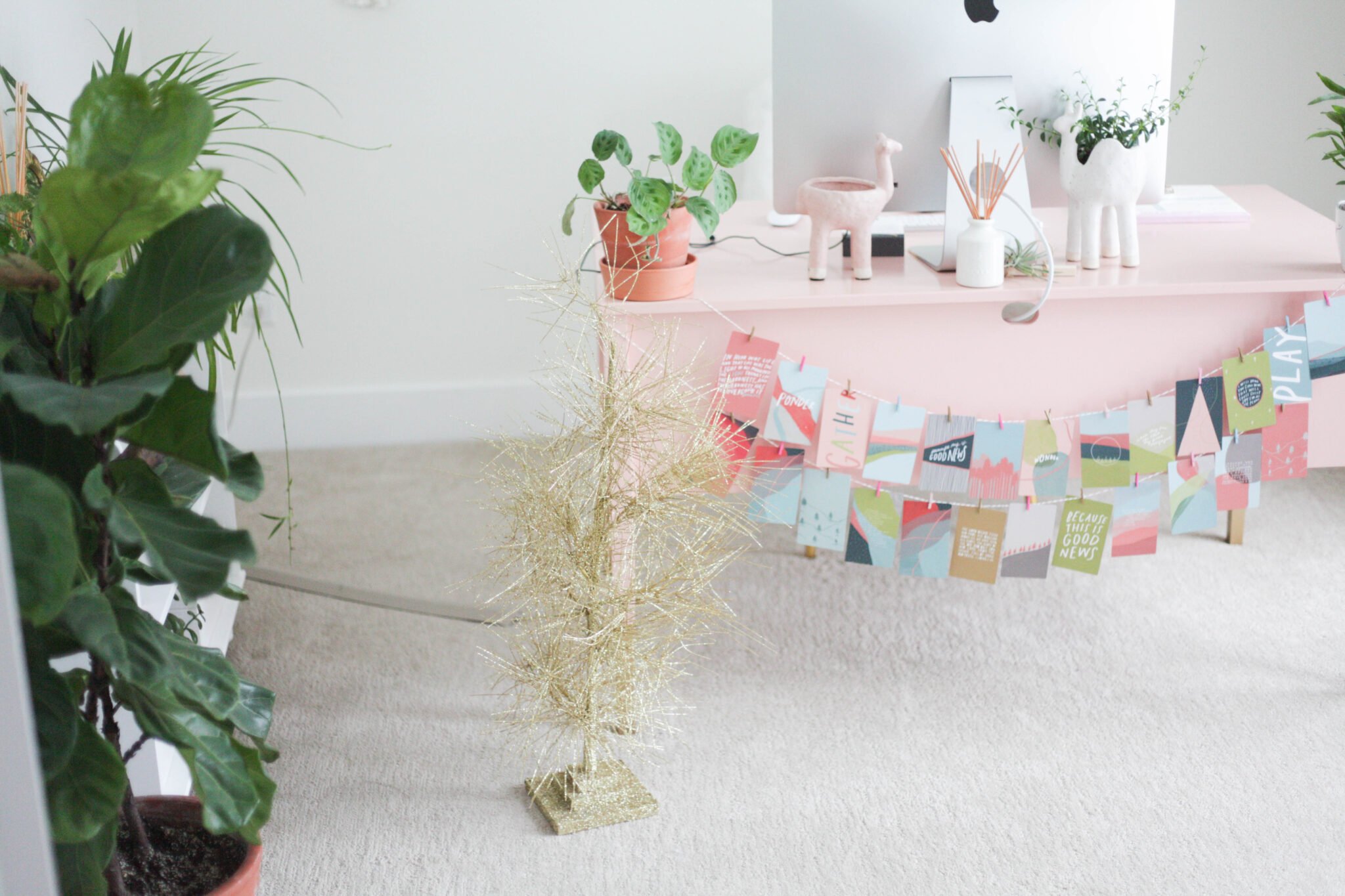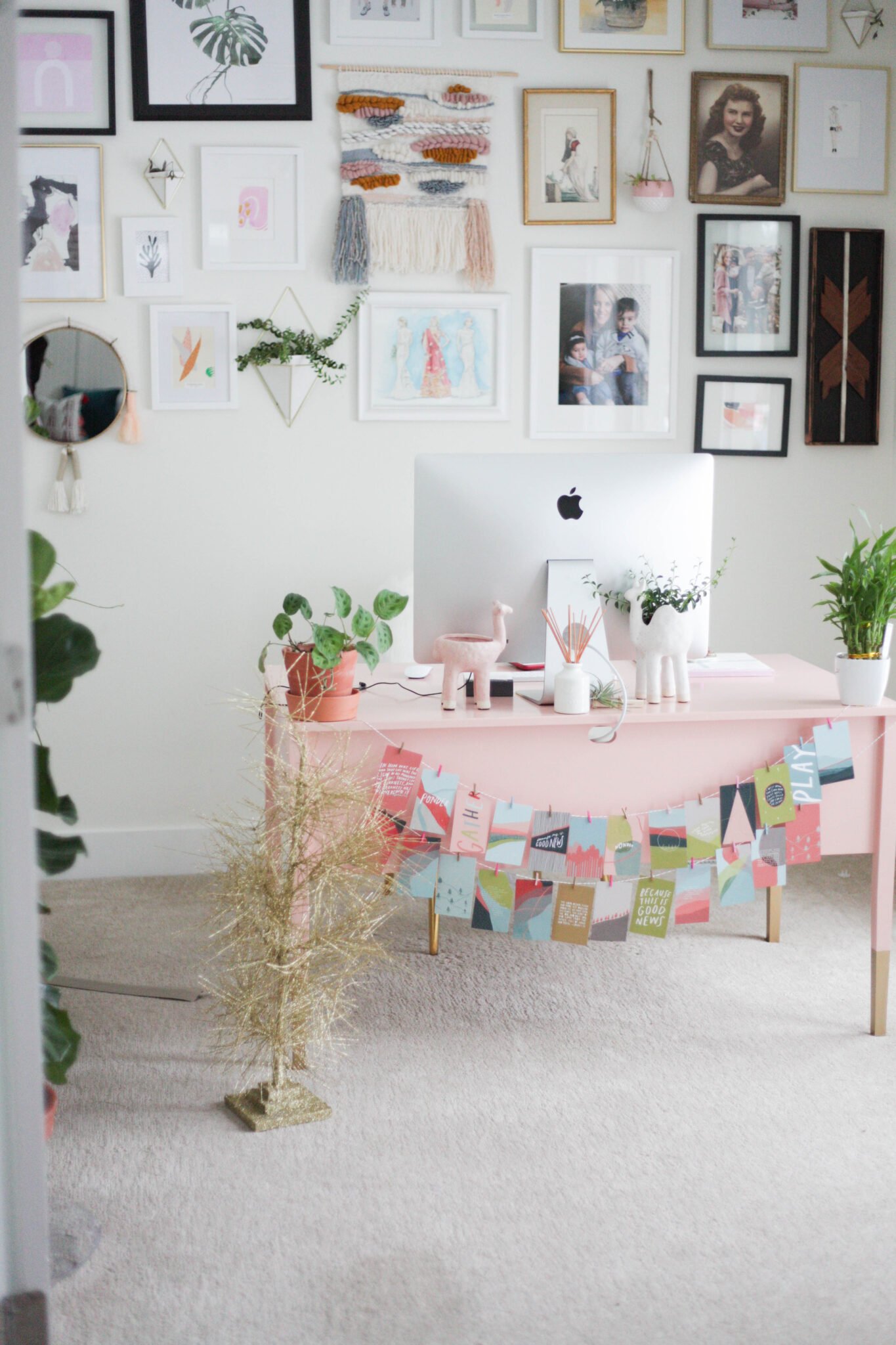 That about sums it up! I love decorating for Christmas and always switching things up year after year. What do you think of this year's decor?
Be sure to head to this post for 64 FREE Christmas Gift Tags!
I hope you enjoyed my Christmas decor home tour! Thanks for reading!
With love,
Jen
Shop my house: