As the temperatures fall and the cold becomes unbearable, layering can only do so much! The frigid winter demands something more actively warm when you're relaxing at home. That's why you should consider space heaters.
Even if you have central heating, you may find that it has to run constantly to heat up a large living room and can cause other rooms to get too hot. If you need the warm air concentrated in one or two rooms (say a living room and a home office), space heaters are a great answer.
A portable device, a space heater can amp up your living room's heating system efficiently. And you can move it to wherever you need it most. Sounds like the perfect solution for ice-cold winters, doesn't it?
Here are the 9 top space heaters for your living room. You're sure to find one that fits your needs and keeps you cozy all winter long!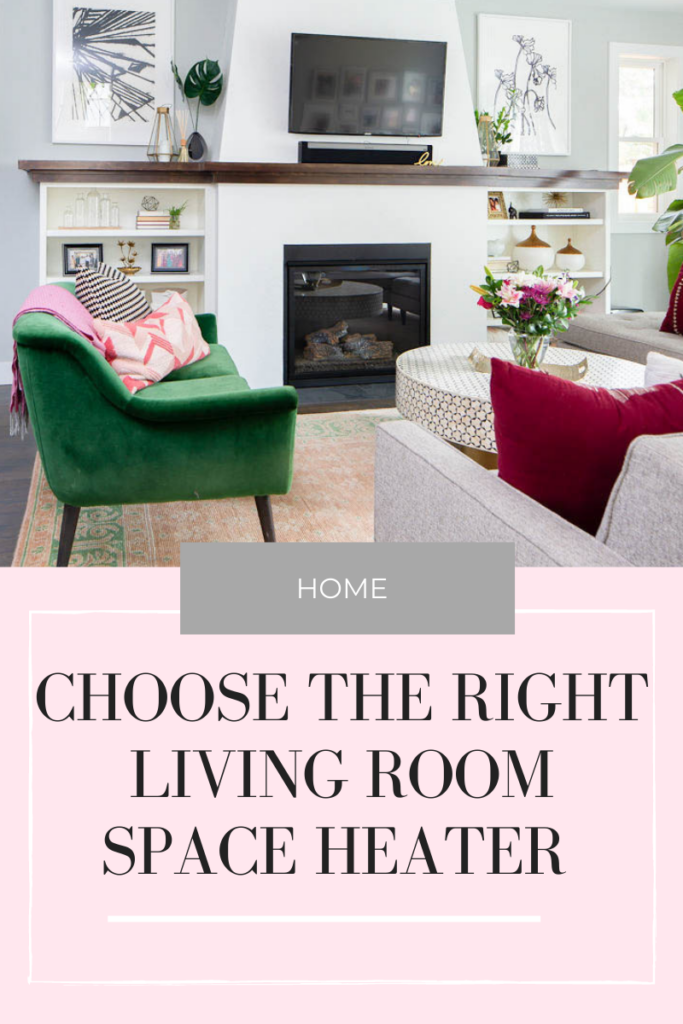 Paisley + Sparrow is a participant in the Amazon Services LLC Associates Program. This post may include affiliate links which means I may earn a small commission if you shop using the links below at no additional cost to you. 
Different Types of Space Heaters
Before we get into which specific brand and model of space heaters work best, let's take a look at the types of heaters on the market today and what you should look out for when shopping for one.
Ceramic Space Heaters
Outfitted with ceramic plates attached to metal coils, the ceramic space heater is the most efficient electric heater on the market today.
Electricity passes through the metal coils heating the ceramic plates. As the ceramic plates continue absorbing heat, the heat eventually gets conducted and spreads through the room.
Ceramic space heaters have zero downtime. More importantly, they instantly heat up courtesy of their heat conductive properties.
There are two types of ceramic space heaters. One comes with a fan (convection ceramic heater) while the other doesn't (radiant ceramic heater).
The former distributes air into the room more quickly with the help of the fan. The latter takes a little longer to complete the same process because it has no fan.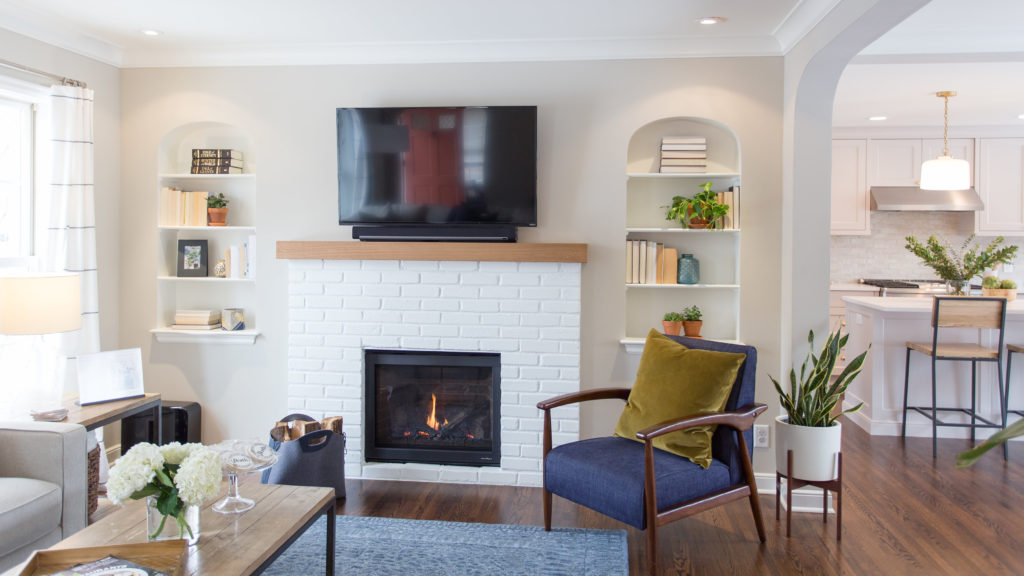 (Image courtesy JKath)
Infrared Space Heaters
Infrared models use electromagnetic waves to warm up your space. By emitting electromagnetic waves, they warm up the physical objects like carpets, furniture, and walls in the room. Infrared heaters can even focus the heat on human bodies, which is efficient since it doesn't waste any heat by heating the whole room equally.
The use of infrared technology for household heating is relatively new. However, its low cost of operation and zero emissions is drawing consumers as the world turns to greener, more sustainable solutions.
Infrared space heaters come in two variants. One has a fan while the other is fanless. As the heating process is significantly different than that of ceramic or fan heaters, infrared space heaters don't necessarily need a fan to operate. Albeit, the fan does help distribute heat throughout the space faster.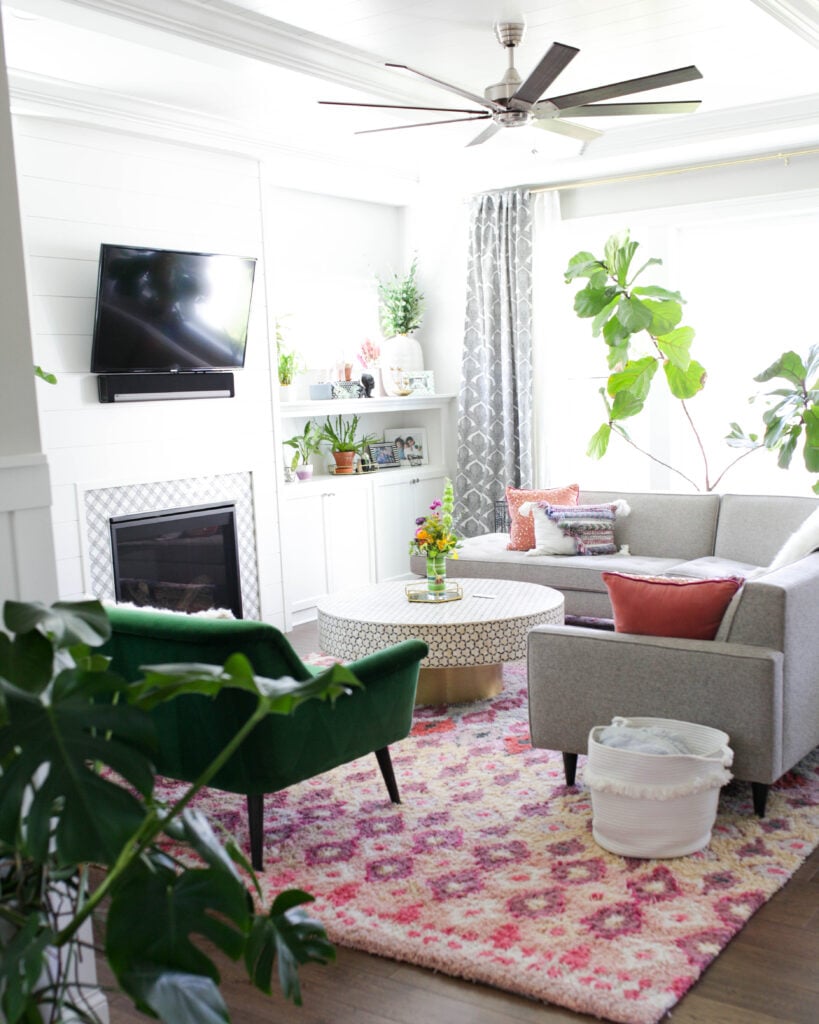 Radiant Space Heaters
Radiant space heaters are much like infrared heaters. They too heat objects and people in the room instead of heating the air. Radiant heaters use light to quickly warm up specific targets.
Since they can be targeted, they are more efficient than other heater designs. Radiant heaters are very efficient in heating the people in front of it and are in direct line of the beam.
They're silent, energy-efficient, and ideal for quick heating. You can even use it to relieve arthritis pain since the heat gets absorbed into the skin quickly.
Nonetheless, you should be aware that radiant space heaters come with specific dangers. Granted the concentrated light beam, you should always maintain a safe distance. Get too close and it can burn you. This is an important consideration, especially if you have small children in the house.
Moreover, a radiant heater shouldn't be targeted towards flammable substances/materials.
Things To Consider When Shopping for a Space Heater
Sure, a space heater sounds like a good idea when compared to layering and cranking up the thermostat, especially if you have a single room that's always freezing. But don't jump the gun just yet.
Be mindful of the following consideration before you make your purchase.
Safety Features
Space heaters can cause fires so keep an eye out for the safety features of the space heater you're interested in. The features you should be looking for are built-in thermostats and overheat protection systems.
With these features, your space heater will shut down automatically if it overheats, and you have better control of the set temperature.
Space
Are you using a space heater merely as an add-on or do you want it to do all the heavy lifting when it comes to heat? Your usage will determine the wattage you're looking for.
Remember to always check your room's square footage to ensure you're not purchasing a heater that will overheat the room. Small rooms don't need nearly as much power as heating a larger area, so think of where you plan to use the portable space heaters most.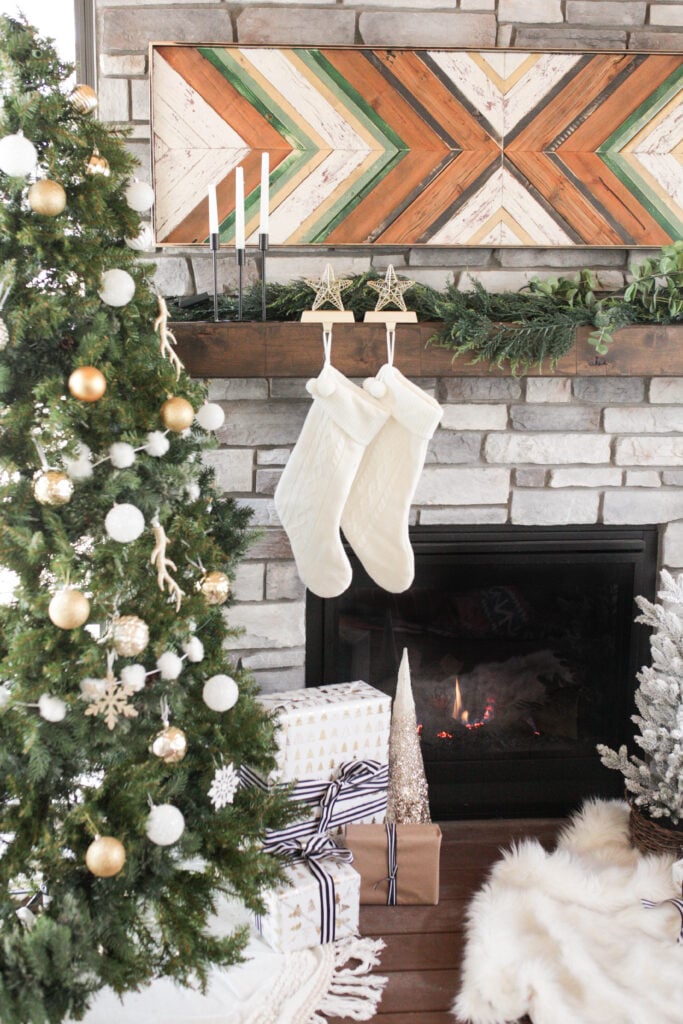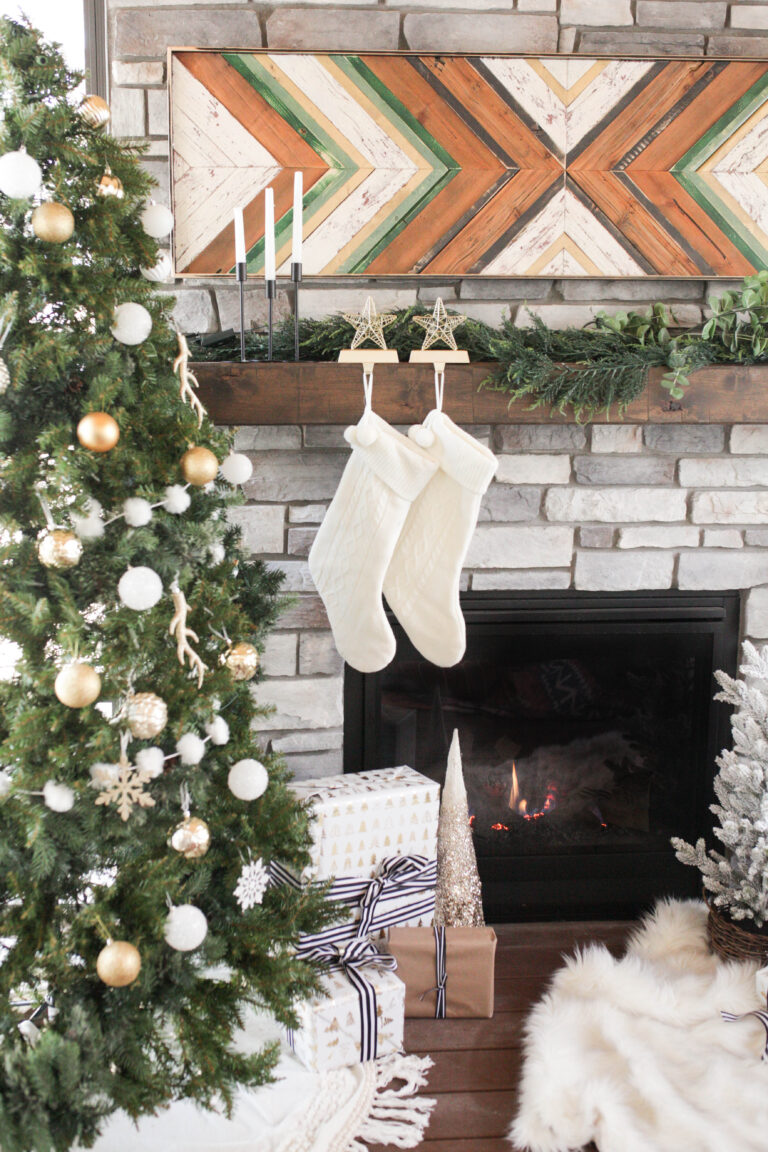 Utility Costs
The wattage of your space heater can help determine the kind of utility costs you should expect from using it regularly. To get a rough idea, multiply the wattage with the utility cost rate in your area.
Timer
The timer option allows you to set a specific time in which you'll use the space heater. Once you've entered the details, the heater will automatically switch on at the time you've specified. You can use this as an automation feature that will allow you to preheat the space when you're about to use it based on your routine.
10 Best Space Heaters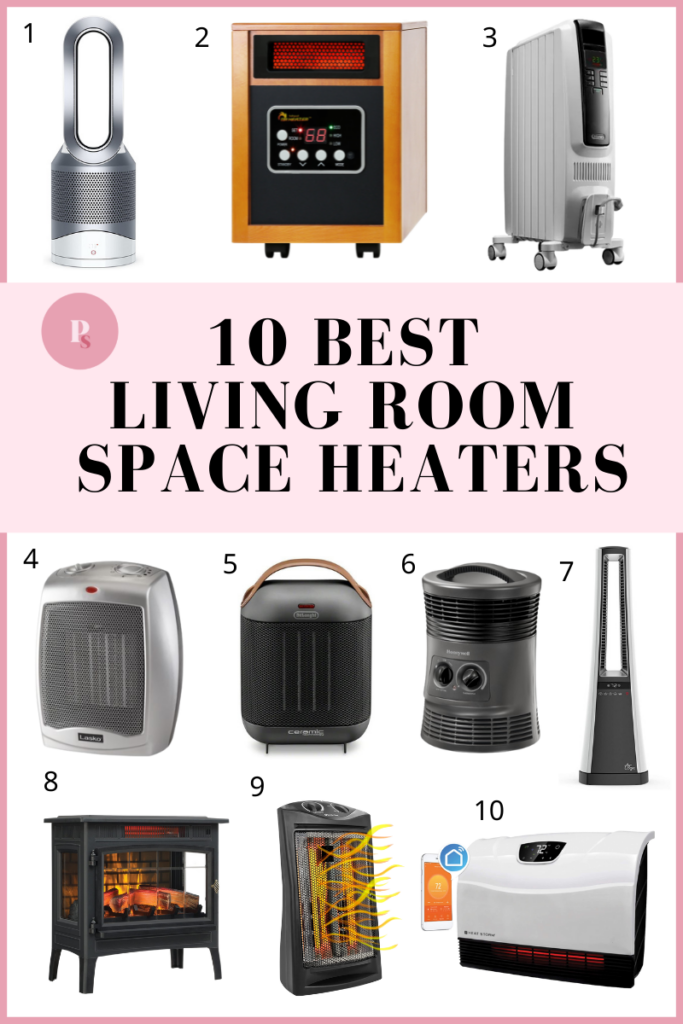 With so many types, brands, and models on the market, finding the perfect space heater can be a very tedious process. Luckily for you, I've done the heavy lifting. Read on to find about the space heaters that make the cut.

Let's start with the one I personally own but let me warn you – it's a splurge! And although it's the most expensive option on this list, it's by far the most amazing.
The Dyson Pure Hot + Cool link will keep your living cool in the summer and warm in the winter, all while purifies the air of allergens and pollutants. This is a fantastic option for anyone who deals with allergies or asthma! In fact, it's certified asthma and allergy friendly!
Pros:
Purifies air with year-round cooling and heating features.
Includes an app and wifi.
Amazing features like auto mode, sleep timer and night time mode.
Safe for kids.
Cons: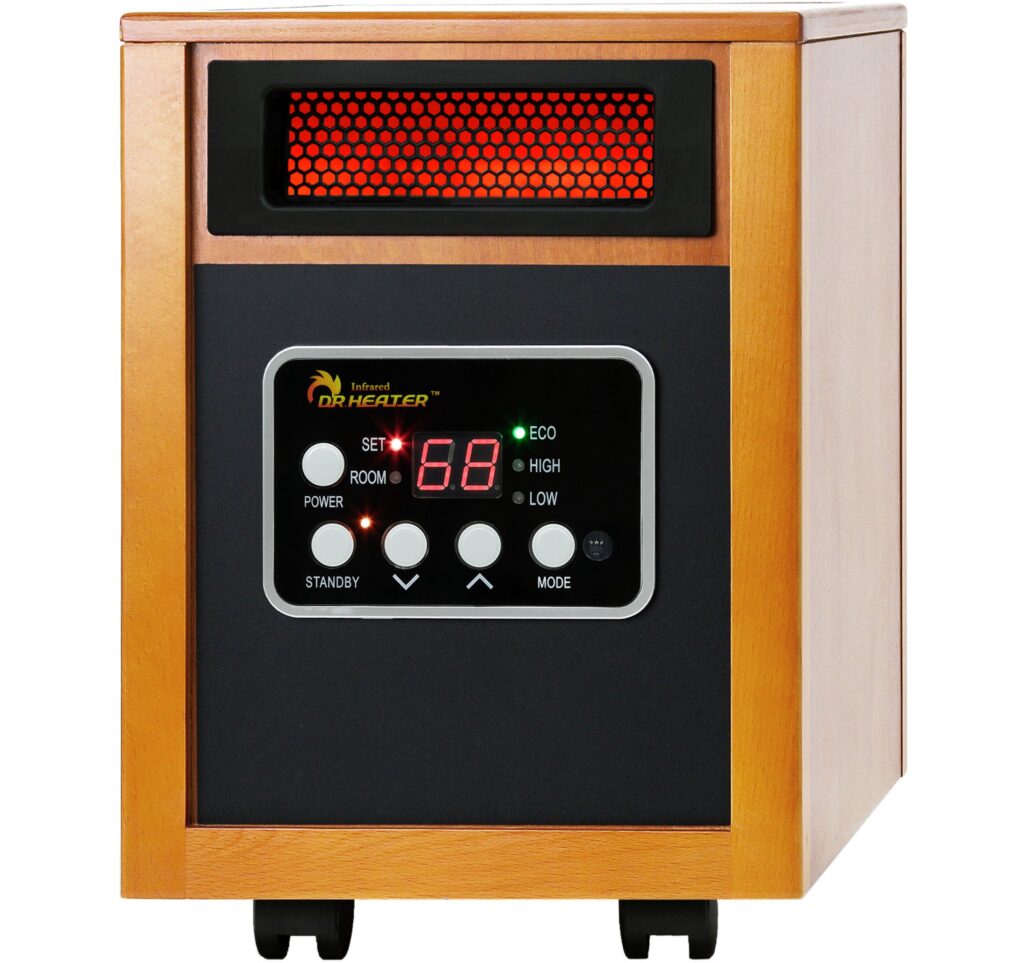 Dr. Infrared Portable Space Heater features up to 1500 watts of power, making it one of the best space heaters for a large room. It features a dual heating system through an infrared quartz tube and a PTC heating element.
It also has a remote control that allows you to set the timer among other features. You can easily control the preferred temperature between 50-86 degrees through its digital control pad.
Safety Features: The Dr. Infrared heater has a built-in overheat and tip-over protection.
Pros:
Built to last, cost-efficient.
Processes large volumes of air at low blowing speed.
Great safety features.
Cons:
Remote is required to use the timer.
At 25 pounds, it can be on the heavier side.
Must be turned on manually.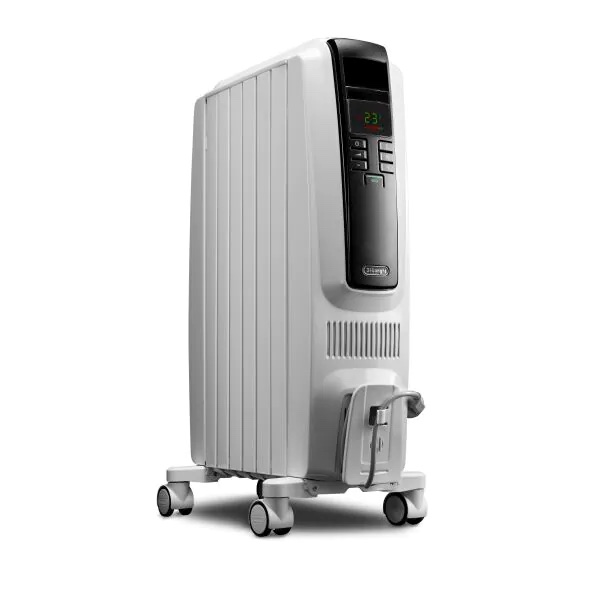 Equipped with a digital display thermostat, the De'Longhi TRD40615E Space Heater allows you to set the heat settings anywhere between 50-82 degrees Fahrenheit to suit your preferences. It features an eco mode for energy savings and is constructed with patented thermal slots, which makes it an ideal fit for families with children and pets.
The De'Longhi TRD40615E Space Heater covers an area of 150-300 square feet and is usually used as an addition to a house furnace or boiler.
Safety Features: Enclosed heating element and thermal shutoff to prevent overheating.
Pros:
Great controls and functionality.
Distributed heat evenly with 1500 watts of heating power.
Enhanced safety features.
Cons:
Noise level.
Can have a slight chemical smell.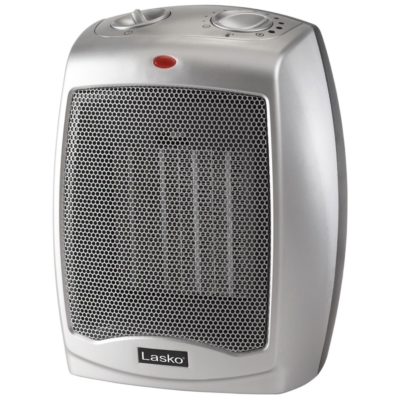 The Lasko ceramic space heater is a compact space heating solution with an adjustable thermostat. It is capable of great warmth through 1500 watts of heating power, which is more than enough for a 300-square-foot room.
The easy-to-use manual controls paired with the adjustable thermostat help users get their personalized levels of comfort efficiently.
Its size and carry handle make the Lasko space heater incredibly portable. You can easily carry it from one room to the other as needed.
Safety Features: Overheat protection and cool-touch exterior.
Pros:
Great design, compact and lightweight body.
Widespread oscillation.
Comes with 3 quiet settings.
Cons:
Lacks an automatic tip-over kill switch.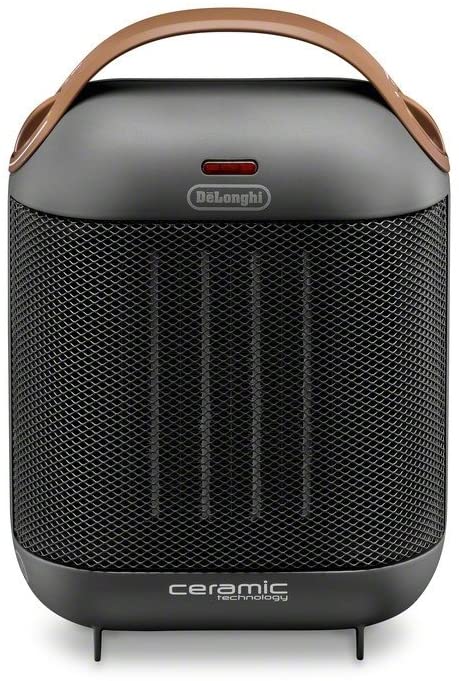 De'Longhi Capsule Compact Ceramic Heater packs great power in a small, compact size and delivers fast, focused heat in a matter of minutes. It features an adjustable thermostat and a fan setting. It also comes equipped with a two-level power adjustment to offer more ease of use.
As it is packed with safety features, the De'Longhi Capsule Compact Ceramic Heater is ideal for family use and offers very little scope for damage and injuries.
Safety Features: Antifreeze standby setting and thermal shut-off and tip-over switch.
Pros:
Compact, stylish design.
Good heat output.
Works best in enclosed spaces.
Cons: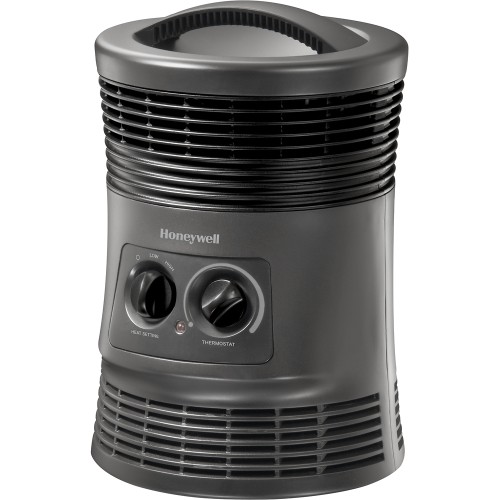 Honeywell 360 Degree Surround Heater offers 360 degrees comfort with 1500 watt output and works best for small to mid-sized rooms. It comes equipped with an adjustable thermostat and offers two heat settings for an added personalized touch.
Its fan-forced technology offers all-around comfort and adds an element of warmth to the entire room all while offering smart savings.
Safety Features: 360-degree tip-over switch, automatic off timer option, cool touch carry handle and 2x overheat protection.
Pros:
Offers powerful heat power.
Easily portable.
Great and reliable safety features.
Analog power dial.
360-degree heating.
Cons:
Can be a little noisy.
Not the best pick for a living room.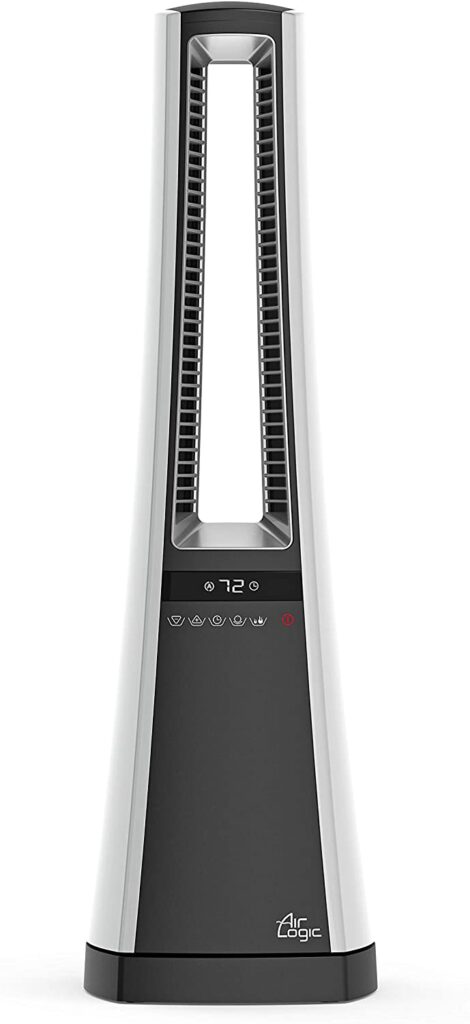 Lasko's ceramic heater makes long-range heat protection a possibility through its exclusive heat channels powered by 1500 watts of power. Weighing only 9 pounds, it's lightweight, portable, and easy to carry.
You can manually use the buttons or use a remote control to activate functions, the choice is yours. Keep in mind that the base tends to oscillate so it would be wise to allow room for the unit to turn.
Safety Features: Overheat protection, self-regulating ceramic element, and cool-touch exterior.
Pros:
Sleek design.
Easy to use.
Remote control for customizing the experience.
3 quiet settings.
Cons:
No auto tip-over shut-off feature.
Is not effective in heating a large room.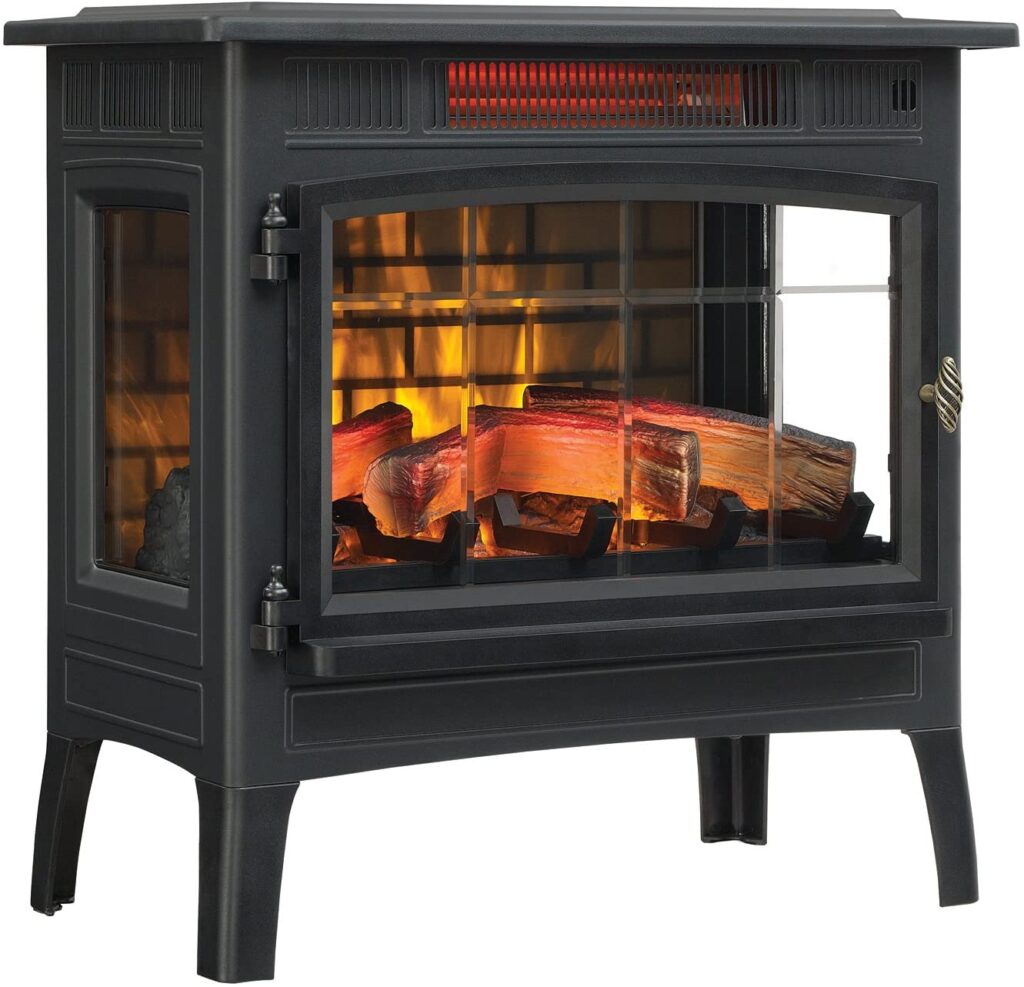 Best for heating up to 1,000 square feet of space, the Duraflame Electric Fireplace offers great supplemental zone heating. It uses a 3D flame effect technology that amps up the appearance of a fireplace. It also has great flame effects.
You can manipulate the color, brightness, and speed settings as desired and set the temperature to your liking through the adjustable, digital thermostat. The infrared quartz heat regulates the humidity in the air and offers great heat protection without drying out the room.
Safety Features: Overheat protection
Pros:
Great 3D projection of flames.
Remote control feature is very convenient.
Heat output is excellent.
Cons:
Some reviewers faced problems with the auto-shutdown of the flames or the entire space heater in a matter of weeks.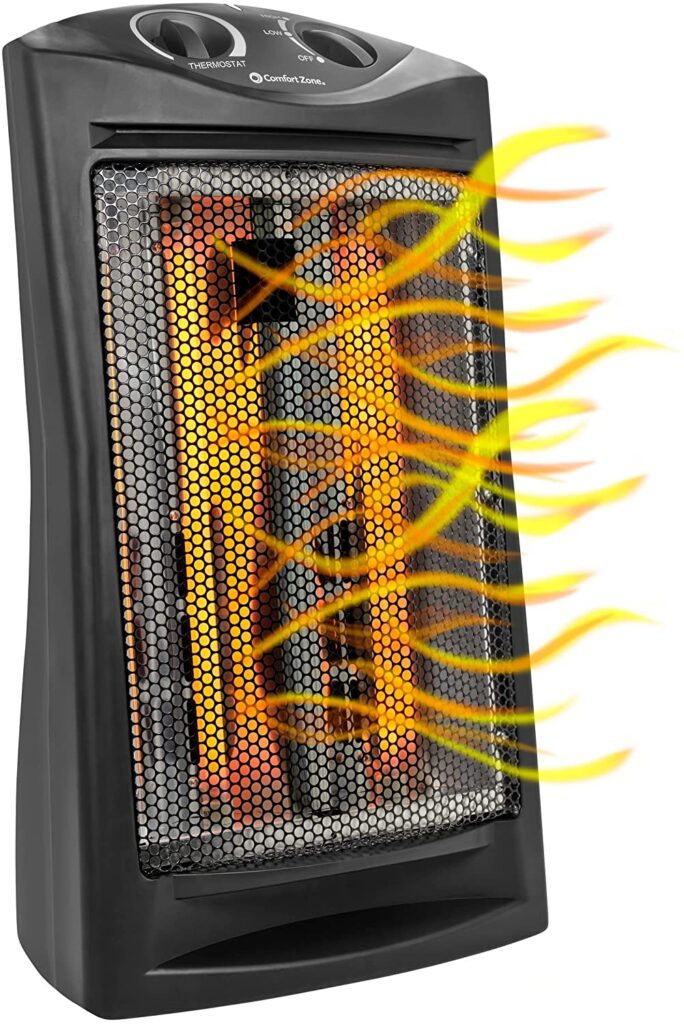 The Comfort Zone radiant heater uses an enhanced fan-assisted heat dispersion system to efficiently disperse heat throughout the room. It warms people and objects in front of it thoroughly through its two quartz tubes.
The 2-top mounted control knobs add to the convenience by easily allowing users to switch between high and low-temperature settings and work best in medium-sized rooms. They also make it easy to adjust the thermostat to the required setting.
Safety Features: Tip-over switch, overheat protection system, stay-cool molded handle.
Pros:
Compact and stylish.
Great coverage for small spaces.
Puts out a lot of heat.
Adjustable temperature settings.
Cons:
Can spike up your utility bills when run on high settings.
The fan may seem loud to some.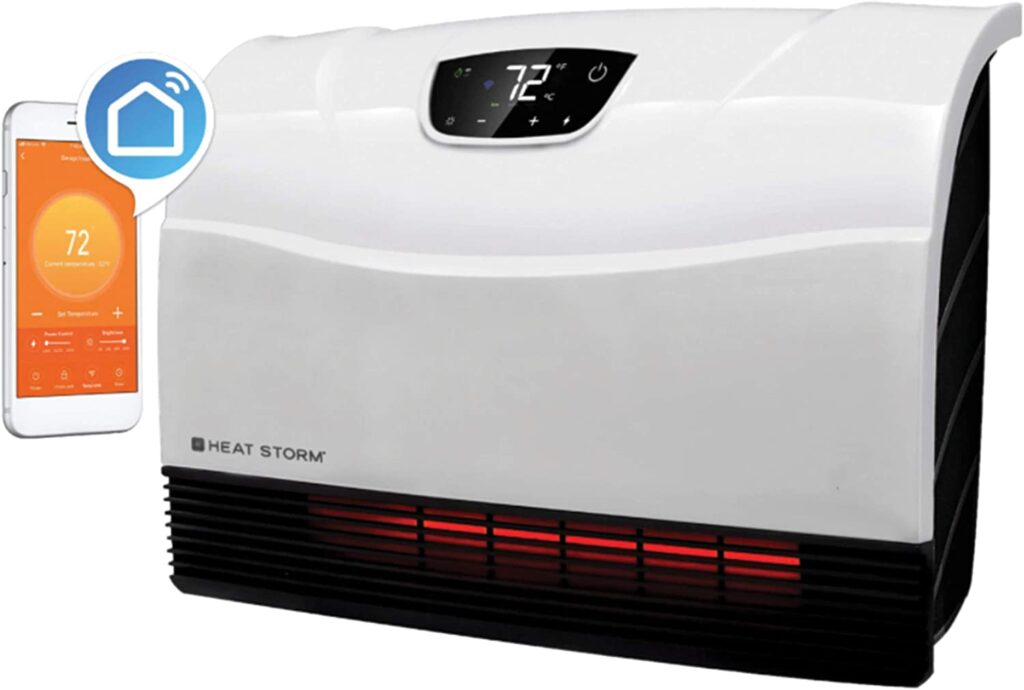 The Heat Storm Infrared Heater offers great heat outage through 1500 watts of power and is, wait for it, WiFi-enabled. This makes it easier to control the temperature from your smartphone without moving an inch from where you're resting.
The wall mounting features make for a great interior setting as you don't lose quality space to a heater and don't have to tiptoe around it for fear of injury and damages.
Safety Features: Safe-to-the-touch grill.
Pros:
Easy WiFi-setup
Heats up fast and disperses heat efficiently.
Great heat regulation.
Cons:
Does not have advanced settings.
Lacks safety features.
Frequently Asked Questions (FAQs)
What size space heater do I need for my living room?
It depends on the size of your living room. Ideally, a 150-square-foot room should have a 1500-watt heater as the primary heat source.
What's the most efficient way to heat a large room?
As long as it comes packed with safety features, any type of heater should be great for heating a large room. If you're looking to use the heater around the clock, you may want to consider investing in oil-filled heaters.
What is the least expensive way to heat a house?
Propane and natural gas heating is the least expensive way to heat a house.
Want more tips for this winter? Learn how to wash your weighted blanket, or keep the winter blues away this season!
And don't forget to brush up on your fire safety tips, just in case!