It's almost Mother's Day!! The perfect time to get spoiled or spoil your sweet mom (or both!). To help out all of those anyone buying you a gift, here is my annual Mother's Day Gift guide for 2023!
I'm in the camp of it's better to ask for what you want than be disappointed your loved ones didn't read your mind. Send this post to the gift-givers in your life and tell them exactly what you want!
And also, don't be ashamed to buy a little something for yourself AND ask for these items. 😉
Treat yourself, mamas. You deserve it!
As usual, a lot of the items in this guide are ones I know, love and have personally. A few others are ones that are on my wishlist or I know the moms in my life would love!
You can shop in two ways: look through this quick table, or read more below to check out my thoughts on each product to get a bit more insight.
The Best Mother's Day Gift Guide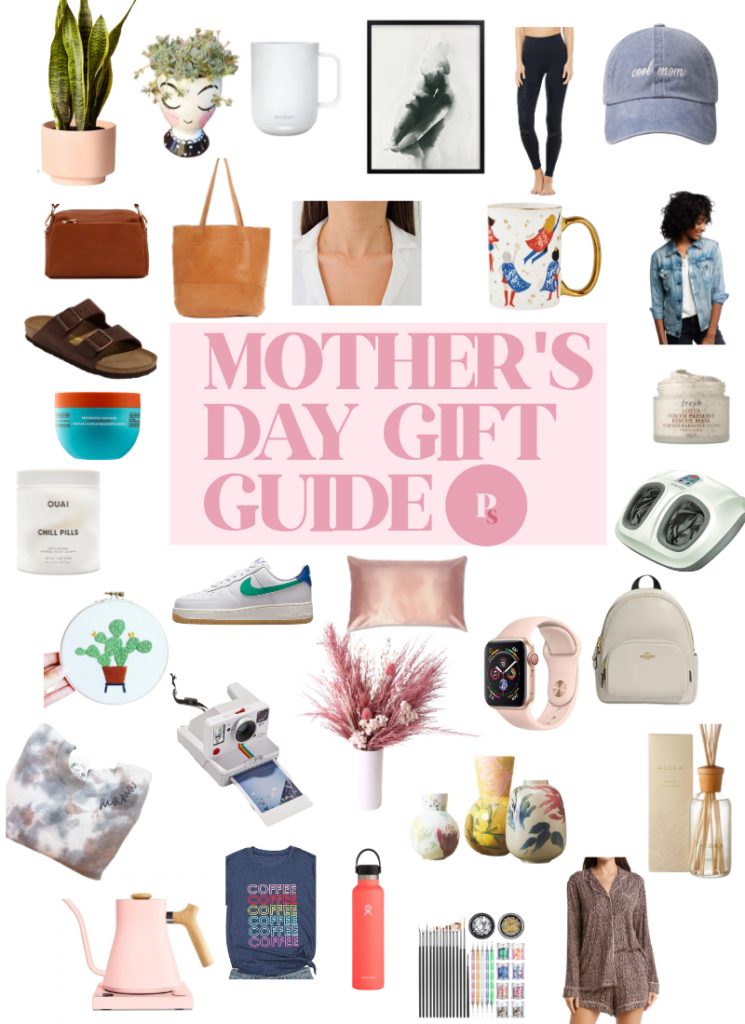 Please note: Paisley + Sparrow is a participant in the Amazon Services LLC Associates Program. This post may include affiliate links which means I may earn a small commission if you shop using the links below at no additional cost to you.
Let her know that she's a cool mom! She'll wear this cute baseball cap running errands, on summer outings and to cart kids around to after-school activities.
This little backpack is going to be her new favorite accessory. She can run after the kids hands-free or take her essentials on the town in a stylish and handy bag.
Freshen up her shoe game with some new sneakers. You know she's running all over the place to keep the household running, so show your appreciation with these Nike Air Force Ones.
Give her a moment to really relax with this eye massager. I have friends who swear by these for headaches and tension. They're especially helpful for anyone who has to look at screens for long periods of time!
For the mom who gets overwhelmed by all the noise, these Loop Earplugs allow her to turn down the volume on her life while still being able to hear the important things going on. They come in different size ear pieces so she can get the right fit.
Give her a piece of art that captures the beauty of motherhood. This Minted art print is a lovely and subtle representation of the warmth of a mom's embrace. You can choose from 4 shades and different frame options to make it fit into your home decor style.
Plants are a mom's best friend! It's one dependent that can't talk back, only needs to be fed once a week and does what it's supposed to do (clean the air, look pretty, reduce stress) without being asked!
Pick up a snake plant from The Sill for the newbie plant mom, a subscription box from Horti for the mama who is looking to create a jungle in your home (at a reasonable pace) or a fiddle leaf fig for a more experienced plant mom!
*Love plants? Head to my other blog Paisley Plants!
This is such a unique take on the face pots you see everywhere (and that I own!). This planter can be used as a vase or a pot, you choose!
For the coffee lover in your home that's always reheating her coffee, this is the PERFECT gift! This smart temperature control mug allows you to set an exact drinking temperature so it's never too hot or too cold!
It then keeps the chosen temperature for 1.5 hours with the Ember Mug2 10oz or 80 minutes with the Ember Mug2 14oz.
If you're not wanting too crazy of a mug like the Ember mug above, these adorable Rifle Paper Mugs are the perfect way to add some joy to your mornings! There's even a Super Mom mug that will put a pep in her step each morning.
If you know me, you know I am not a cook. I'm not a big fan of it and my dishes don't always come out that great. BUT. I was gifted this Smitten Kitchen Cookbook from my cousin and every single dish I have made from it has been amazing!
My go to is now looking in this book for recipes when I want to try something new or am meal planning. I highly recommend this for chefs and non-chefs alike!
Anthropologie always has the prettiest vases! We've had a set from there for a couple years now, and they're my favorite spring/summer vases! We always fill them with fresh flowers when we go to the farmers market.
You could buy one or all three of these hand-painted vases as a gift. Split them up around your home or nestle them together as a stunning centerpiece, these are a great addition to any home!
*Pro tip – buy these and fill them up with flowers to surprise the mama in your life with both vases AND fresh flowers!
Does the mama you're shopping for often times lose keys, their wallet or phone? This is the perfect gift for her!
I use this exact bag for my essentials. I also picked up this beautiful strap to customize it a bit!
It's the perfect way to beautifully never lose anything ever again!
Find more crossbody bags here!
I own this bag in 2 colors (Cognac and Bone) and love it's versatility! It holds up extremely well because let's be honest, I'm a little rough with my bags! ?I'm constantly stuffing it full with my laptop, snacks, kid toys and more.
This tote is handcrafted in both Ethiopia and Mexico using 100% distressed leather. There is one small interior pocket. It's also available in whiskey and they're always coming out with new colors! Get 30% off with the code MAMA30.
This gorgeous initial necklace is the perfect gift for moms! Pick any initials in any order – include your own initial, your spouse's or just your kids, you pick!
Simple yet stunning, this necklace. It comes in a variety of lengths as well as different color of metals.
Every mama needs a "mom" shirt or two! This cozy Mama Sweatshirt is one of the best selling sweatshirts on Etsy!
The Mama is embroidered on making it extra special and totally on trend.
If you want even more options check out these other 9 mama shirts from Etsy!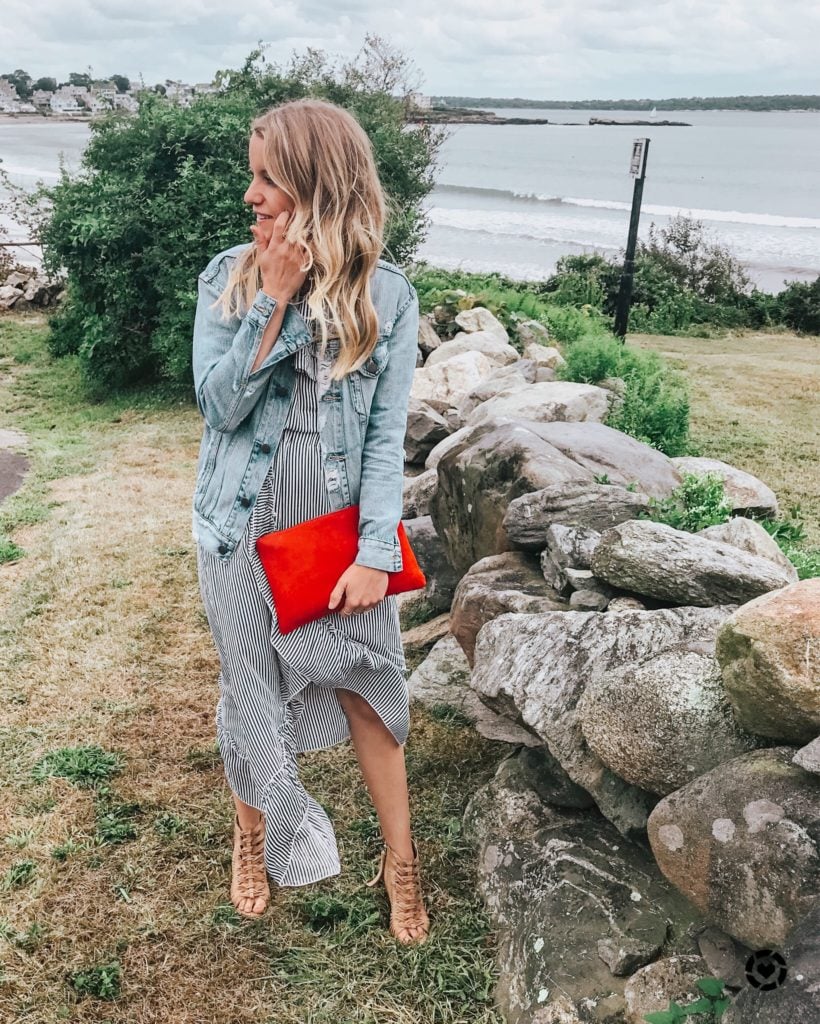 I own this Merly jacket and LOVE it. I have a whole post with different ways to wear it!
The Jacket Fit: This denim jacket's slightly dropped shoulder, slim arms, relaxed body, and waist pockets make this style ultra wearable.
If the mama on your list doesn't own a denim jacket this is a MUST buy! It's a crowd favorite with the perfect combo of vintage tomboy and feminine, with a faded ripped wash that you can wear in any season. This is an essential in your wardrobe to layer in with any look.
Regardless of whether she does yoga or even works out, these alo leggings will be well loved! alo has a variety of leggings (their high-waist moto leggings are a celebrity fav!) and come in a ton of colors!
They are also 100% sweatshop free and they've earned a globally accredited platinum certification from WRAP (the largest independent watchdog organization) which verifies their factories and offices are operating in the most ethical and humane way.
My sister, sister-in-law and I all bought our first pair of Birkenstock Sandals a couple years ago and they rarely left our feet!
Birkenstocks live up to the hype — they're iconic, soft, and won't leave you with sore feet or a hurting back after a long day on your feet.
I bought this Moroccan Oil Hair Mask after my third baby was born to help with my postpartum hair loss and it's amazing! It makes my hair feel so soft and healthy and I love the smell of it.
It helps hydrate your hair (perfect for when we're using our hair driers and styling tools too much!), nurtures damaged and broken hair and split ends.
It's full of Argan Oil, Shea Butter and Caryocar Brasiliense Fruit Oil!
Let's be real, most moms could use some (real) chill pills. 😉 Help her relax with these fun fizzy, jasmine-scented chill pill bath bombs!
These bath bombs are paraben-free, sulfate-free, phthalate-free, silicone-free, gluten-free, cruelty-free and made in the USA! What more could you want?
This is a bit of splurge but perfect for moms!! I use this every single night to treat my hands to some amazing hand cream and also help myself relax a bit before going to sleep!
The hand creme is ultra rich and perfect for dry hands. The aroma includes lavender, lavandin and clary sage and has been proven to reduce feelings of stress!
Can't make it to the spa? Bring the spa to your mom (or the mom of your kids!). This fresh Lotus Youth Preserve Rescue Mask is one of my go to masks when my face is feeling dull.
This 5 minute masks targets dull, rough and uneven skin and makes your skin smoother and brighter. It makes an amazing difference in the appearance and feel of your skin!
Know a mama who's always asking for foot massages? She needs this HoMedics Foot Massager!
I received this last year and it is amazing! You have options for deep kneading, air pressure massage, soothing heat and different speed and intensity options.
I highly recommend this foot massager for any mama on your list!
If you don't follow the Nester on Instagram you should! She wrote this book – Welcome Home – which would be a great option for women who love to decorate!
This book helps you decorate for the seasons without bins and bins of stuff or spending tons of money!
Have a crafty mom in your life? These adorable Embroidery Kits are sure to delight her!
These kits come fully stocked with fabric with the pattern drawn on, a 6″ hoop, thread and so much more. This Etsy shop has tons of different patterns from quotes to abstract art to snowflakes and flowers.
This goes on pretty much all of my gift guides because I love mine so much! Slip Silk Pillowcase help do so many amazing things – prevent wrinkles, prevent damage to your hair and prevent those annoying creases that show up on your face.
These pillows come recommended by dermatologists, plastic surgeons, hairdressers and beauty experts alike!
This Apple Watch is a splurge but it's a great gifts for moms! I wear mine every single day and it helps me to be not so attached to my phone since I'm able to see texts/calls come through on my watch!
Get this for someone who's constantly losing their phone (there's a button to ping it!), wanting to be less attached to their phone or wanting to move their body a bit more (the activity section is my fav!).
I FINALLY bought myself a set of matching pajamas this year and finally feel a grown up! The ones I got were a short-sleeve version of these Ugg ones which I love but the top is just a bit heavy for me (yet they're incredibly soft!).
Moonlight Pajamas get amazing reviews, so you know they're worth it! A great buy for any mama on your list!
Always having to find a blanket for the mama you're shopping for when you settle in to watch a movie or enjoy a glass of wine? This cozy throw will add some joy each night as she gets comfy cozy!
I have this throw both at our home and our cabin and I've bought it for my own sister – that's how much I love it!
For those who like to document their life and the life of their kids, enter in this Polaroid! This is such a fun way to actually get photos printed out immediately (because all of us are probably terrible at that!).
This Polaroid has everything you need including a remote trigger, rechargeable batteries and a portrait lens for close-up sharpness.
This a one bouquet that will never die! This gorgeous Dried Bouquet from Urban Stems will bring joy for long after Mother's Day is over.
This arrangement comes with the vase and is a striking mix of pink and texture that will make a huge impact in any home. The dried bouquet collection is led by Kelsea Olivia, a women-led floral agency that knows a thing or two about dried florals!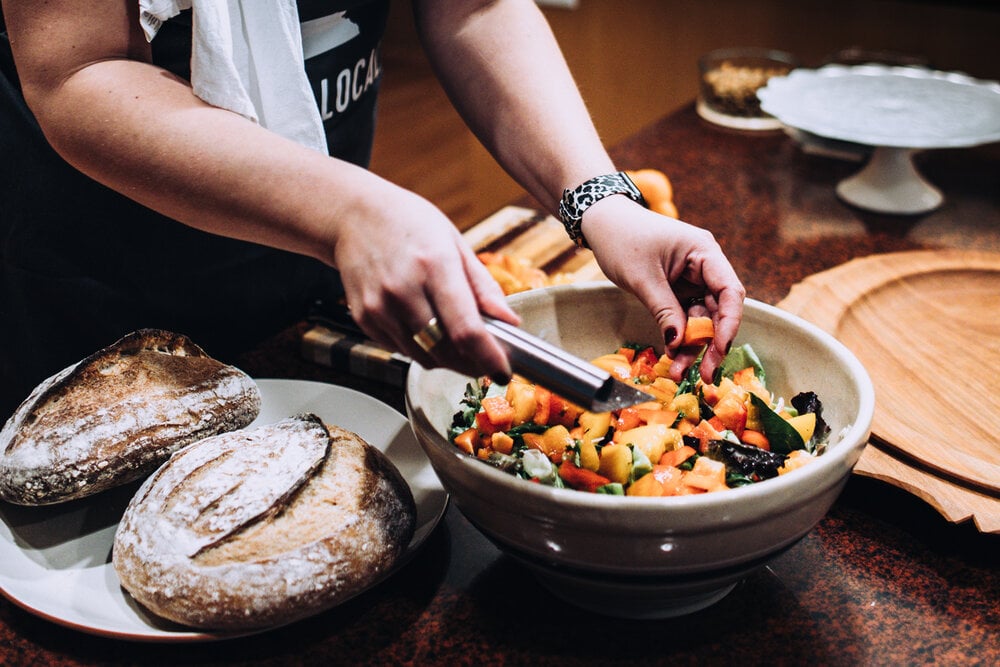 What's a pain point that the mama in your life has? Maybe it's meal planning or meal prep. Take that away from her with a meal delivery service!
There's tons of national options like Hello Fresh, Blue Apron or check out a local option like Minneapolis based Nosh & Gather!
I've been a long time fan of Alora Ambiance and they make the perfect gift. Their reed diffusers are absolutely amazing – never overpowering but always filling a room with the most delightful smell!
Based out of MN, this brand is run by 2 sisters who are bringing a luxury fragrance to your home!
One thing is true for moms – they love their coffee! Upgrade their morning joe or cup of tea with this beautiful Fellow Pour Over Kettle.
You can set it to the ideal water temperature and forget it! It keeps it at that temperature until you turn it off.
We own this and I am in love with it! Perfect for making oatmeal for the kids as well as my aeropress coffee and afternoon cup of tea!
Always seeing makeup brushes all over your vanity or sink? This Makeup Brush Organizer will help keep the makeup lover your shopping for all organized and tidy!
Fitting with the mamas love coffee shirt is this fun Coffee t-shirt. I own this tee and it's a fun option for everyday wear.
This is a great gift for the coffee guzzler in your life! Pair with one of the coffee mugs above and a bag of beans and you're good to go!
HydroFlask bottles are the perfect way to keep any drink hot or cold whether you're to the beach or heading out on a winter walk! This bottle keeps drinks hot for up to 6 hours and cold for up to 24 hours.
Comes in a variety of colors and sizes, this is a great gift for the active mama!
For the mama who loves fancy nails, help her keep up her manicures at home! I recently picked up a Nail Art Brushes and have had so much fun doing at home manis.
Give her this with a few shades of new nail polish (I love Olive and June!) and a few hours to perfect her new mani!
40. A Day in Bed!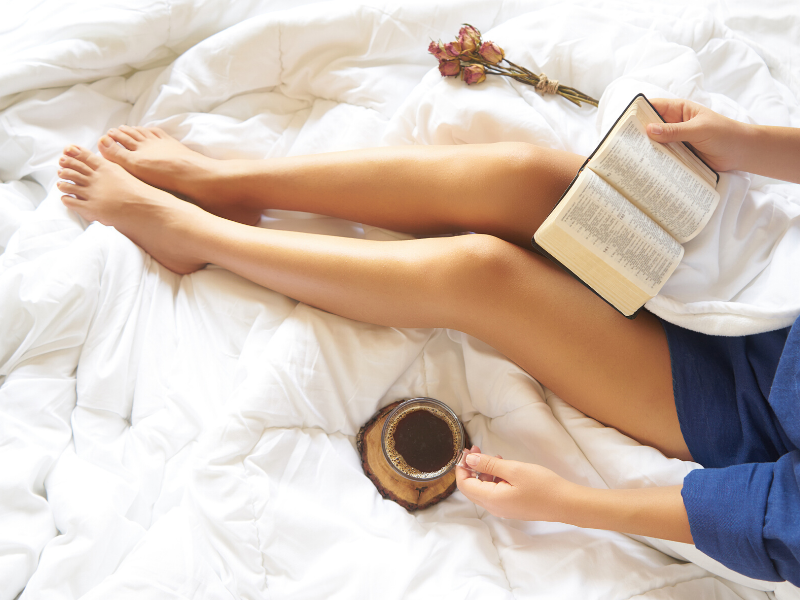 Start with breakfast in bed and let her stay there all day! No making meals, no cleaning up and no diaper changes (or playing referee). A full day of whatever she wants to do!
41. Donation in Her Name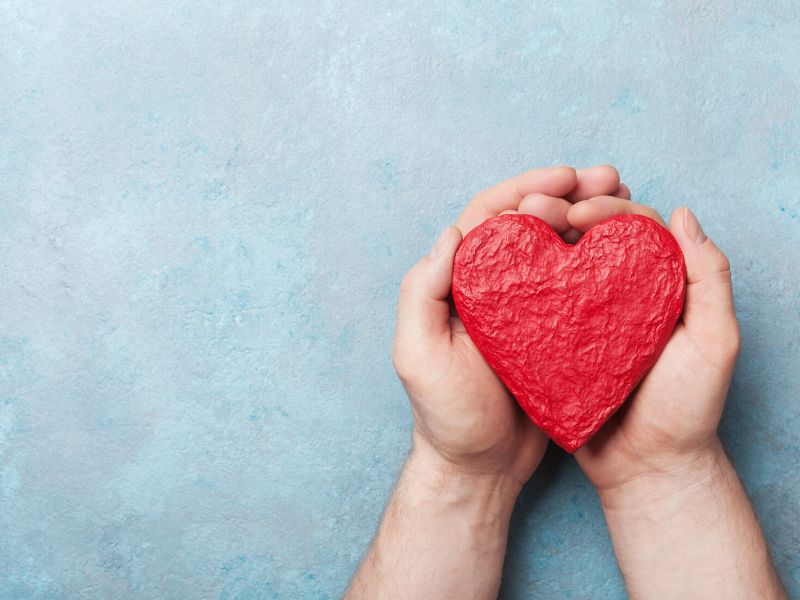 For the mom who has everything, donate to a charity she loves! Maybe it's money or time, show her that you pay attention to the things she loves with giving back.
So there you go! Dozens of my best Mother's Day Gift ideas! I hope these ideas help you create the most amazing mother's day for the mama in your life.