While many people don't talk about it (it is hidden in the bathroom or closet, after all), finding the perfect laundry hamper and basket is essential to a house that runs efficiently.
No matter what your style is, finding the right basket or hamper that will last a long time without wearing out is a crucial factor in staying organized and on top of the perpetual mountain of laundry.
There are so many options to choose from, but here are the best laundry hampers and baskets I've found and why you should consider these for your dirty clothes.
20 Best Laundry Hampers and Baskets on Amazon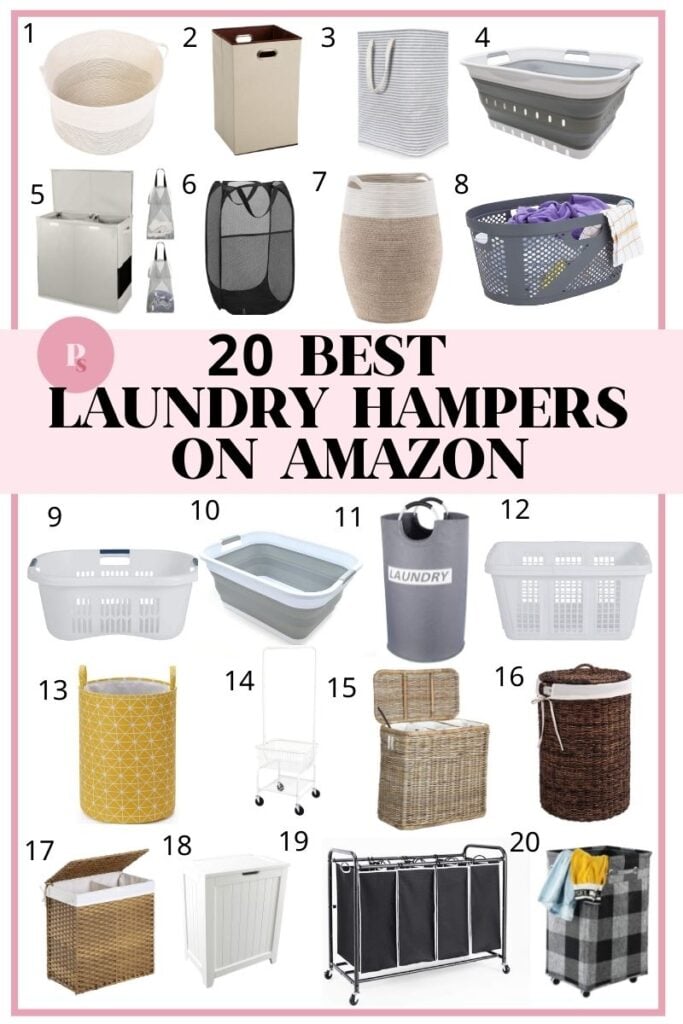 This post contains affiliate links.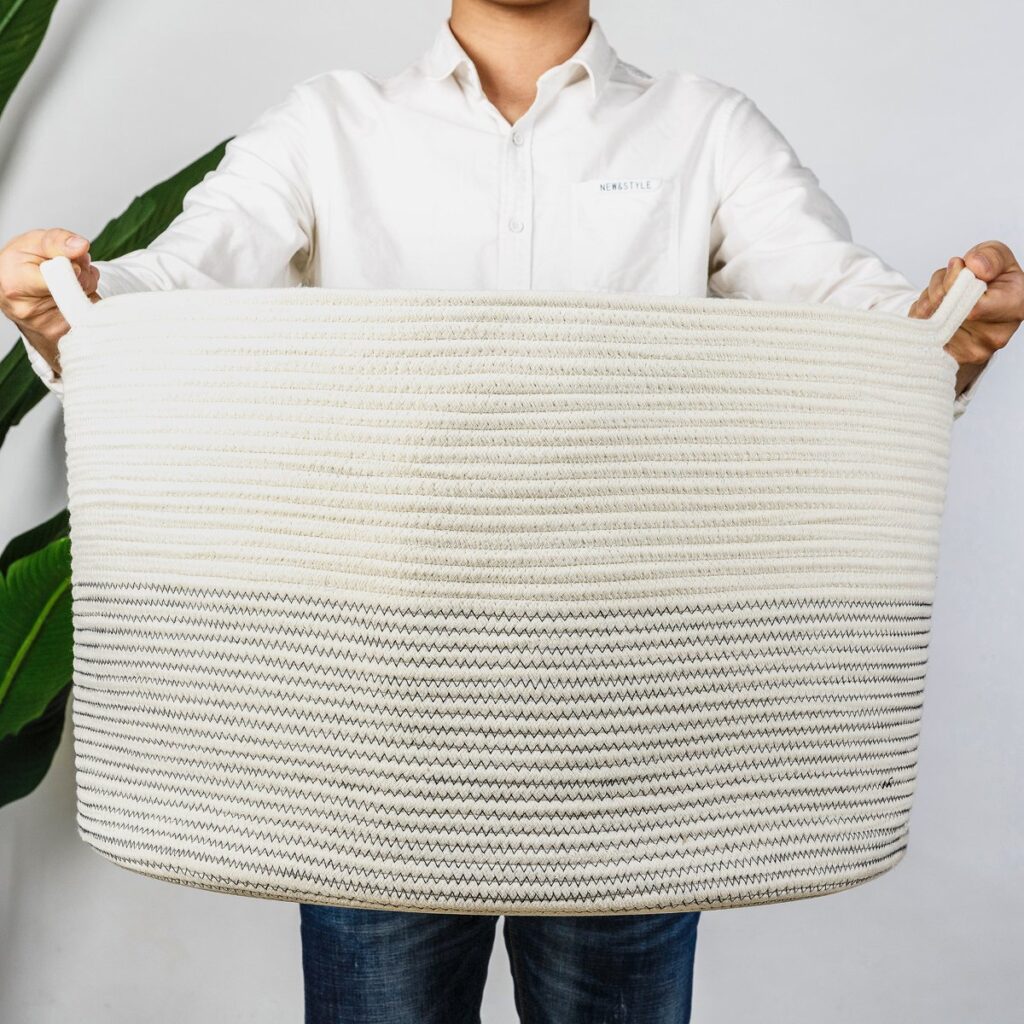 While not the material you might expect in a traditional laundry basket or hamper, this rope basket is a great alternative for people who are looking for a more stylish choice for their laundry.
It's almost 2 feet wide, leaving a lot of space for you to keep all of your family's laundry in one place.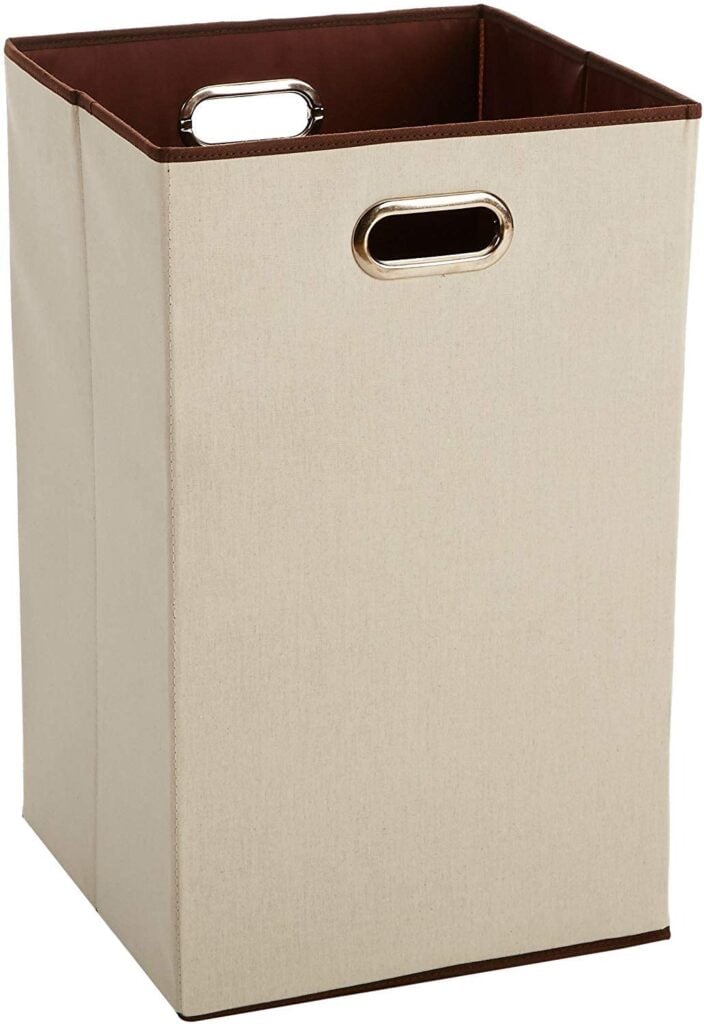 If you're looking for a simple design for your hamper, this basic folding laundry basket is an essential item to have in your home. It's a neutral color and is dependably sturdy because of its durable canvas material.
It's great for college students or those looking for a compact solution for their dirty laundry.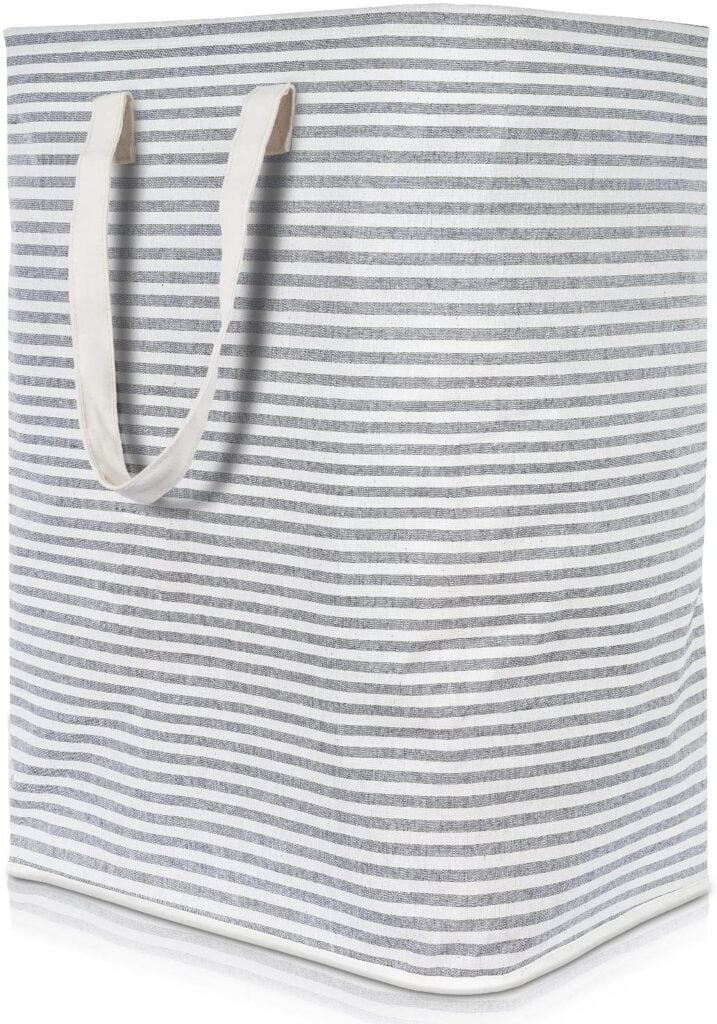 This is another great hamper that is collapsible and convenient to use on-the-go. No matter if you're going to the laundromat or downstairs to your basement, this is a great choice for those looking for a simple hamper.
It also has handles to make it easy to carry, and its polyester material makes it strong.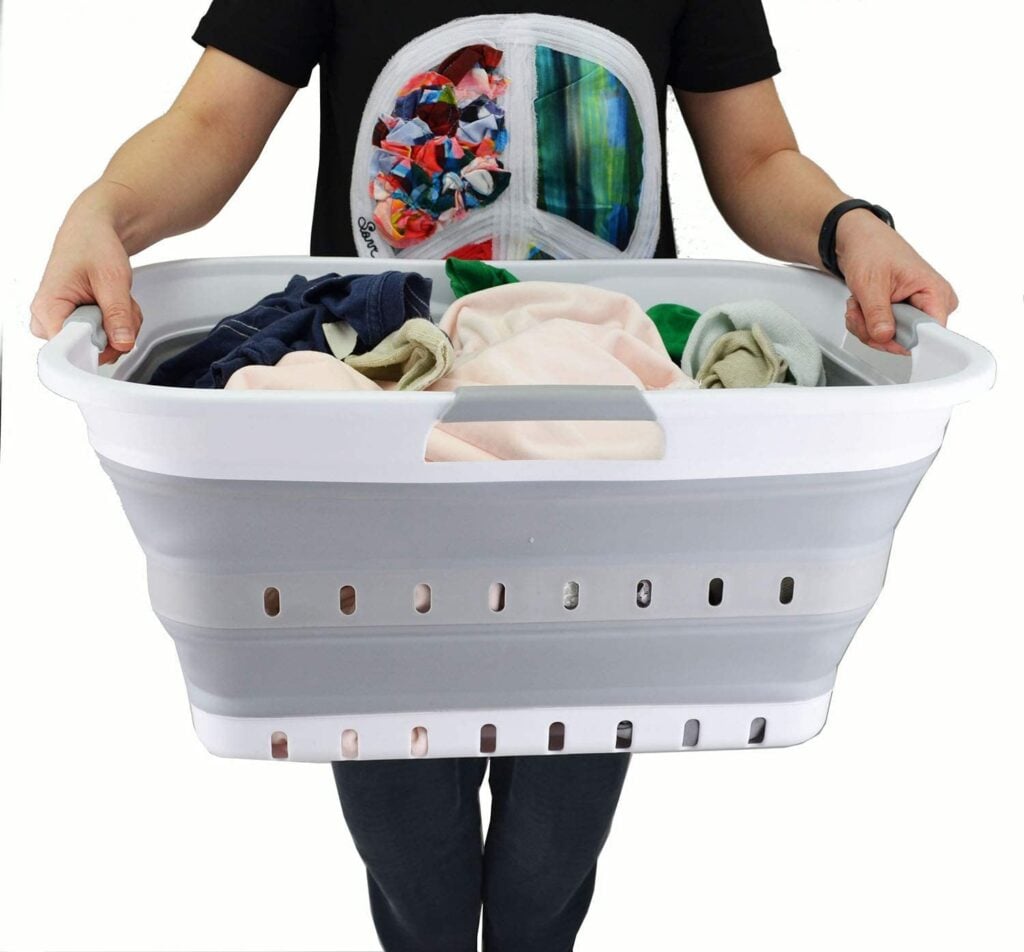 This is a classic item that you'll find in many homes. This collapsible plastic laundry basket is a great small-space option for those looking for an easy way to store their laundry.
When not in use, it can be folded away and collapsed to slide between your washing machine and the wall. It's a great space saver and very sturdy despite being collapsible.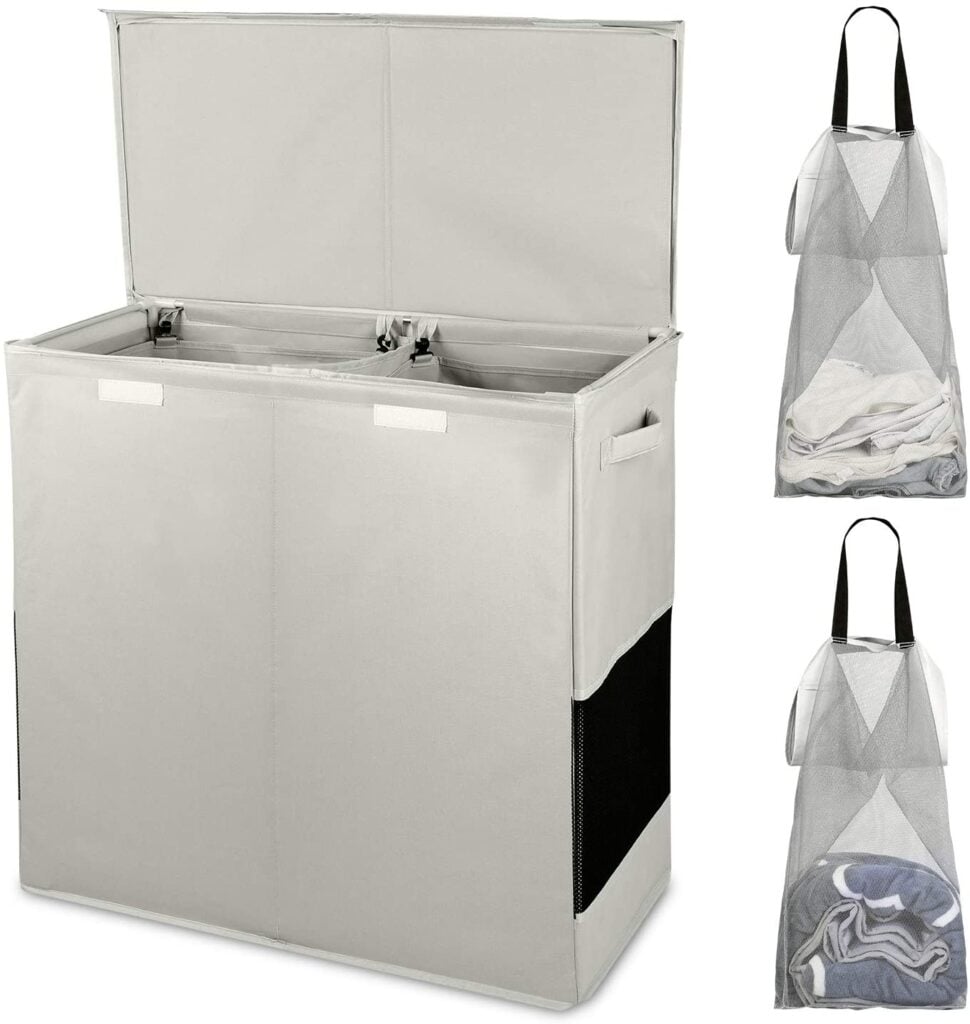 For those who have multiple loads of laundry (raise your hand if you have a load to wash, fold, or put away right now!) and want to have more organization, this is a great hamper that comes with a lid and removable laundry bags.
It can easily fit in your closet, along the wall in your bedroom or in the bathroom. It's a simple solution made of Oxford cloth, making it extremely practical and durable. It's even recommended for family use because of its size.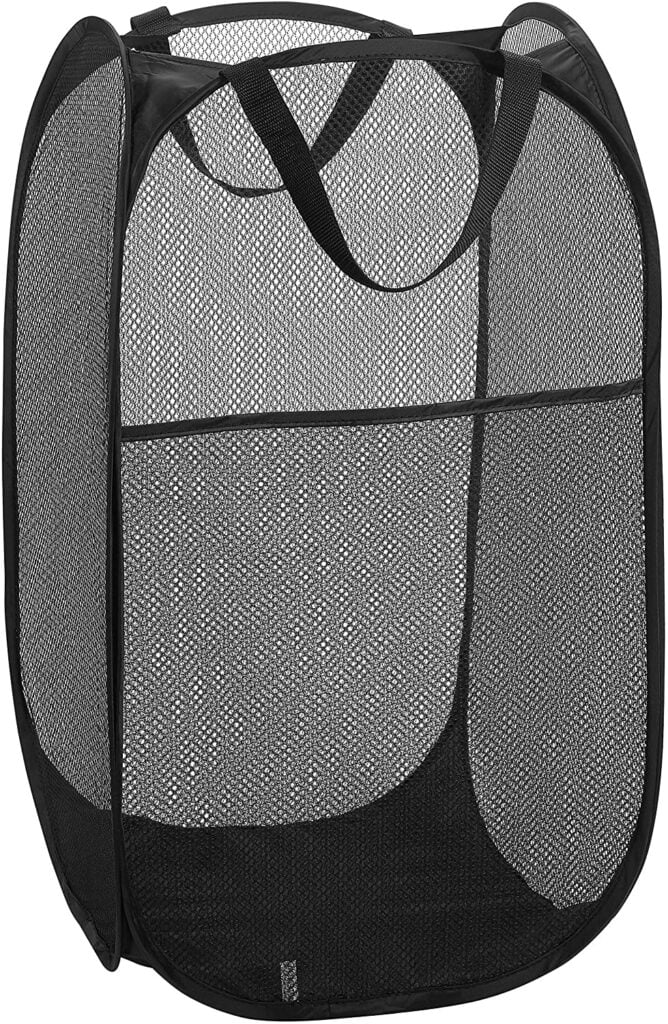 For those who enjoy simple laundry baskets and hampers, this handy foldable mesh hamper comes in a variety of colors. It is also one of the cheaper options on my list.
And for those who don't have enough space to have a large hamper or basket, this hamper could be the answer. It's great for traveling, too!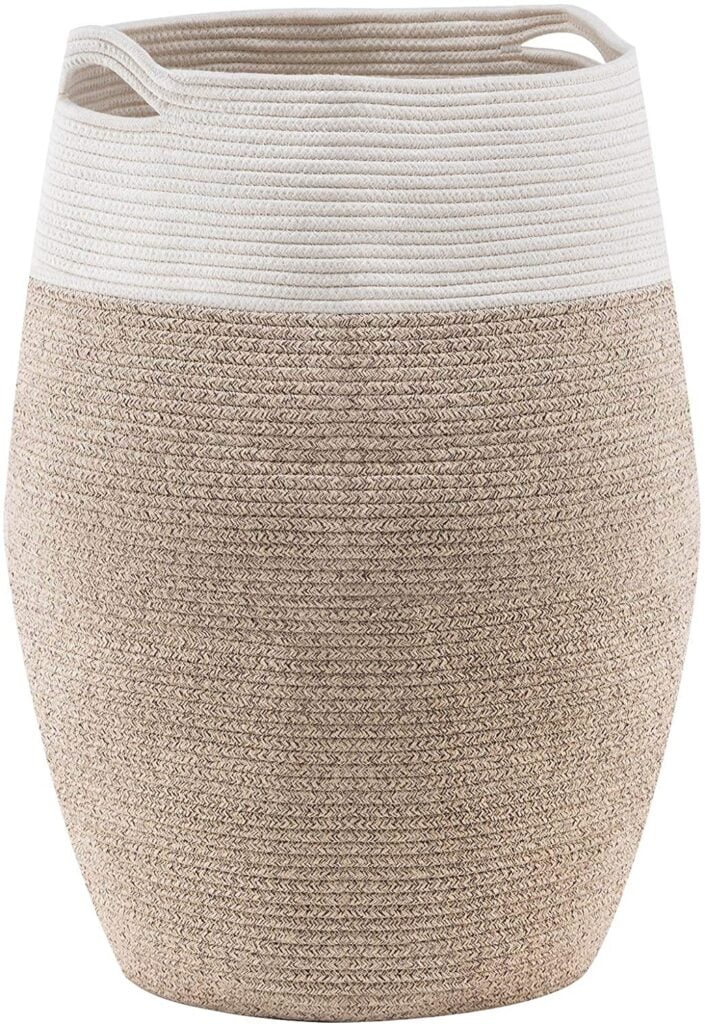 Similar to some other cotton rope laundry basket options, this is an even sturdier option for those who are looking to add a little style to their chores.
This laundry hamper has built-in handles, and it comes in a variety of colors. It can hold up to 15 liters of laundry, making it perfect for families and those who want to do laundry in bulk.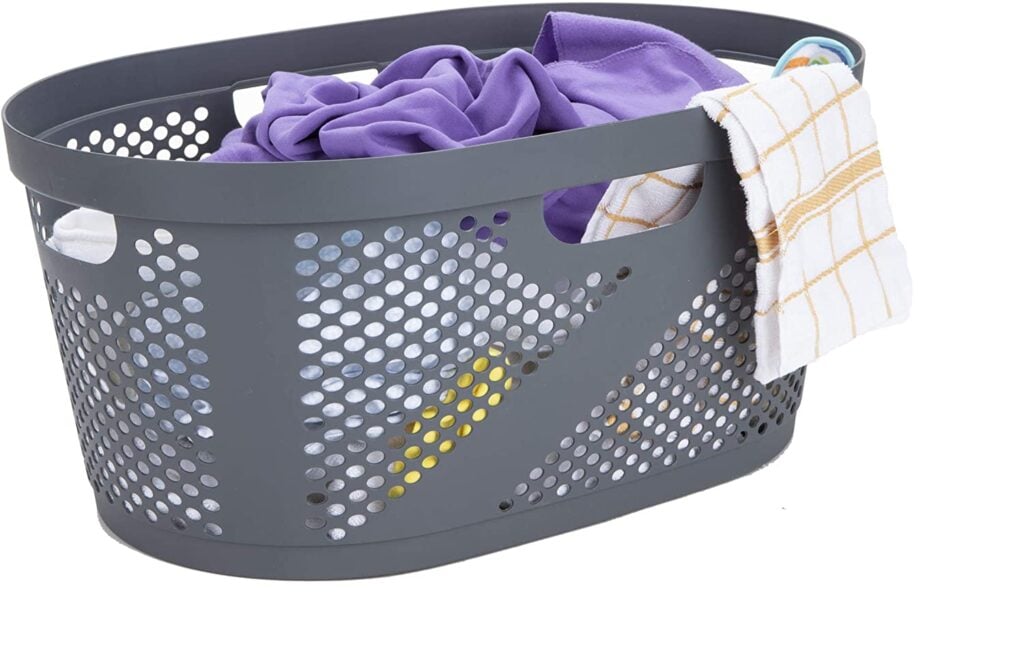 This laundry basket can hold up to 40 liters of clothes. It has deep storage, cut-out handles, and a design that allows nice airflow. Your nose will thank you for the proper ventilation, which prevents odor buildup while you're waiting to do your laundry.
It's also wide enough and sleek enough for your space and storage needs.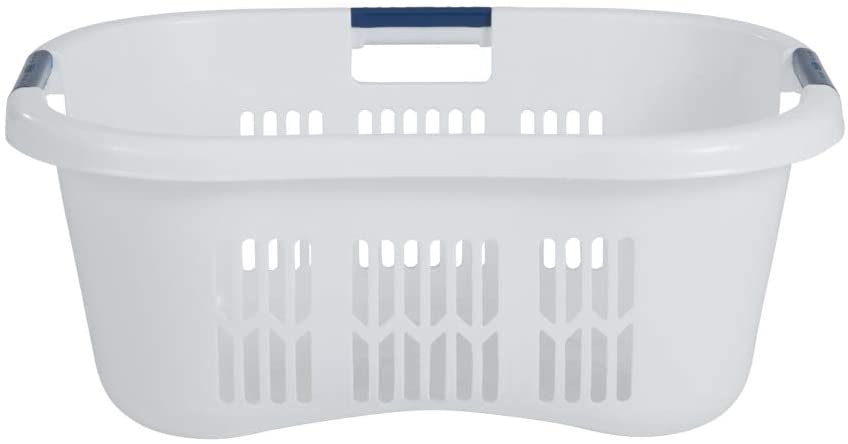 There's a reason Rubbermaid is a classic: It is one of the most popular brands and produces some of the best laundry baskets. This one has handles on three sides, with the ability to have a small hip hug basket layout.
It comes in a variety of sizes but is made of a sturdy and durable plastic that is hard to break and lasts years.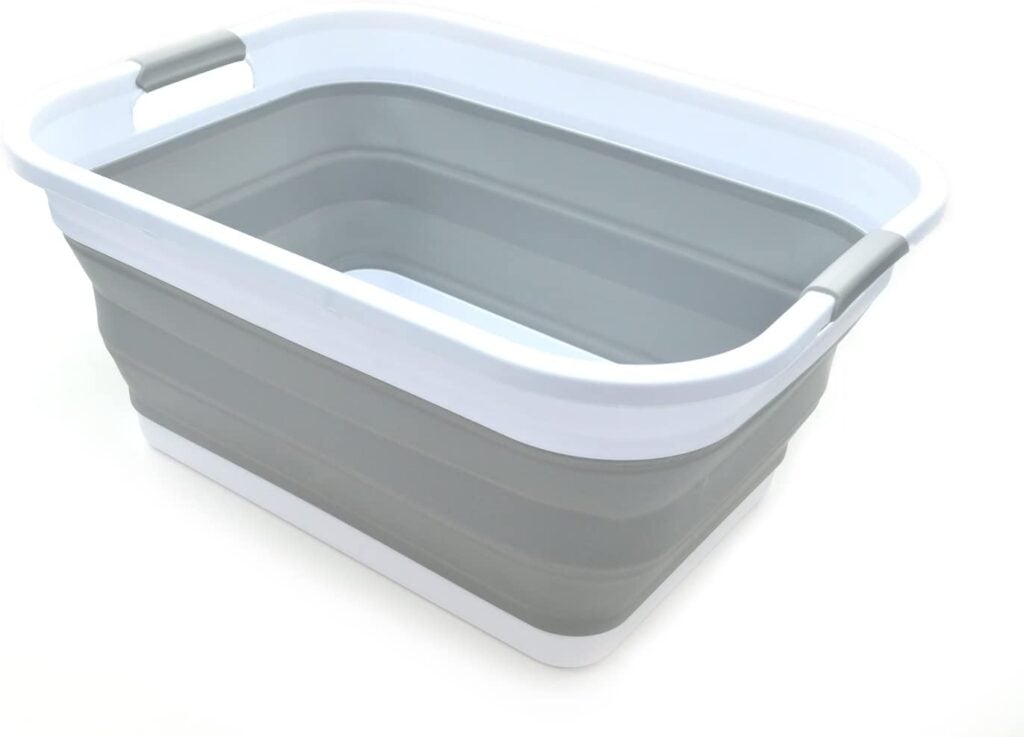 For those who prefer collapsible baskets, take a look at this one. No matter what color you like or the capacity of laundry you do every week, this is a great laundry basket that is able to withstand the normal wear and tear that you put your hampers through over the years.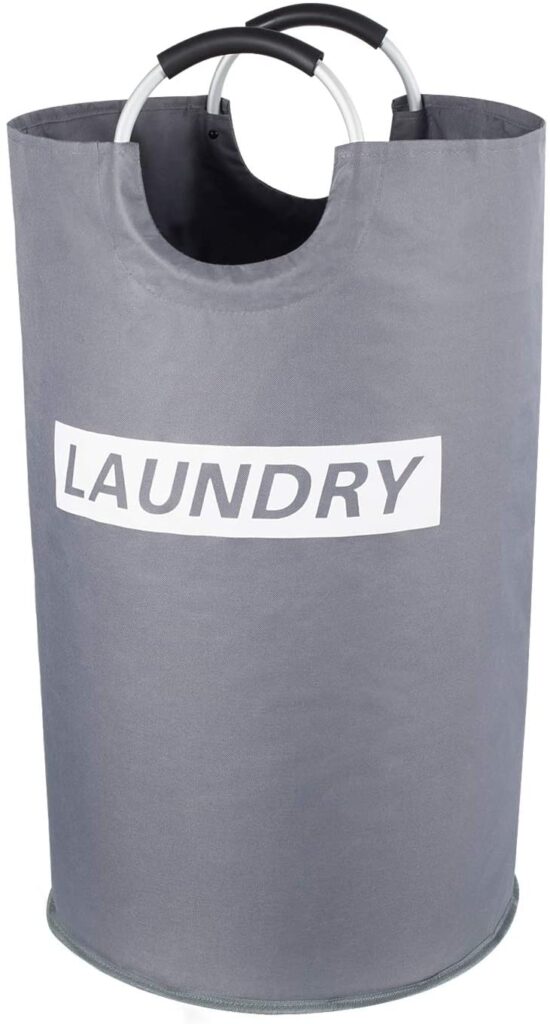 For those looking for a simple basket that's made to last, this is another Oxford cloth material bag that is collapsible and extremely simple to use.
It can hold up to 1.5 loads of clothes, and there are two sizes that you can choose from. It's great for anyone looking for something you can store easily and gets the job done.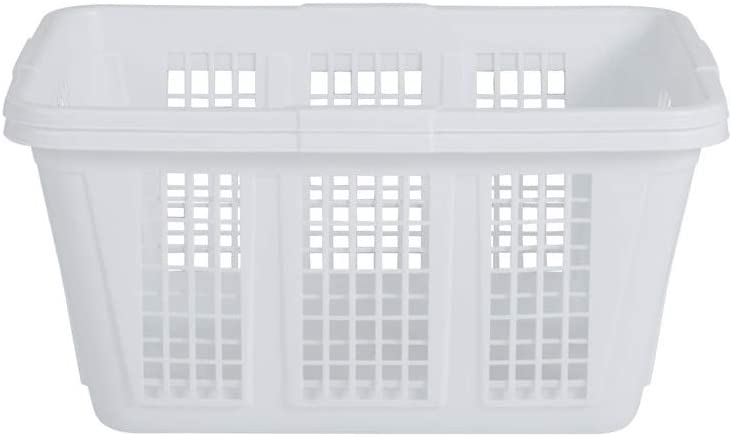 For the Rubbermaid lovers, this is another style option that is slightly less expensive than the previous model. It's not as sleek as the other design, but it still has the same Rubbermaid durability.
This basket has a rugged construction that can handle your heaviest loads, making sure that you never have to worry about your laundry basket breaking.
This also is the perfect type of laundry basket for bathing your baby in!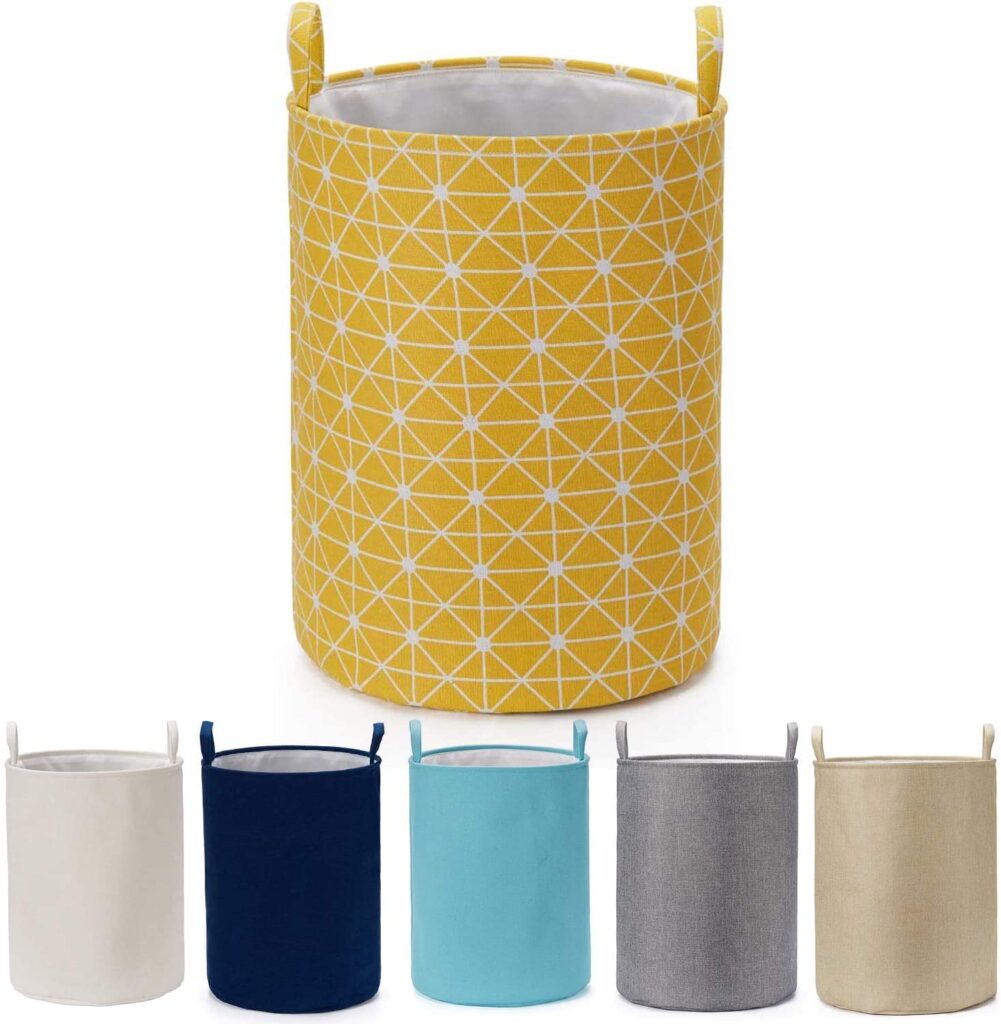 For those who tend toward more sophisticated design, this is another smaller but still versatile laundry basket for your home. It's collapsible, and it even comes in a variety of colors.
It's a small size, but perfect for those looking for laundry baskets for each kid's room.
For those who feel like they're always doing laundry, investing in a butler cart like this one is a great alternative for those who need the space. It comes with a space for hanging up clothes to dry and a basket for those that need to be folded.
It has a built-in wire basket with the bottom shelf as well. You can have up to 83 pounds on this, making it great for even the largest of families.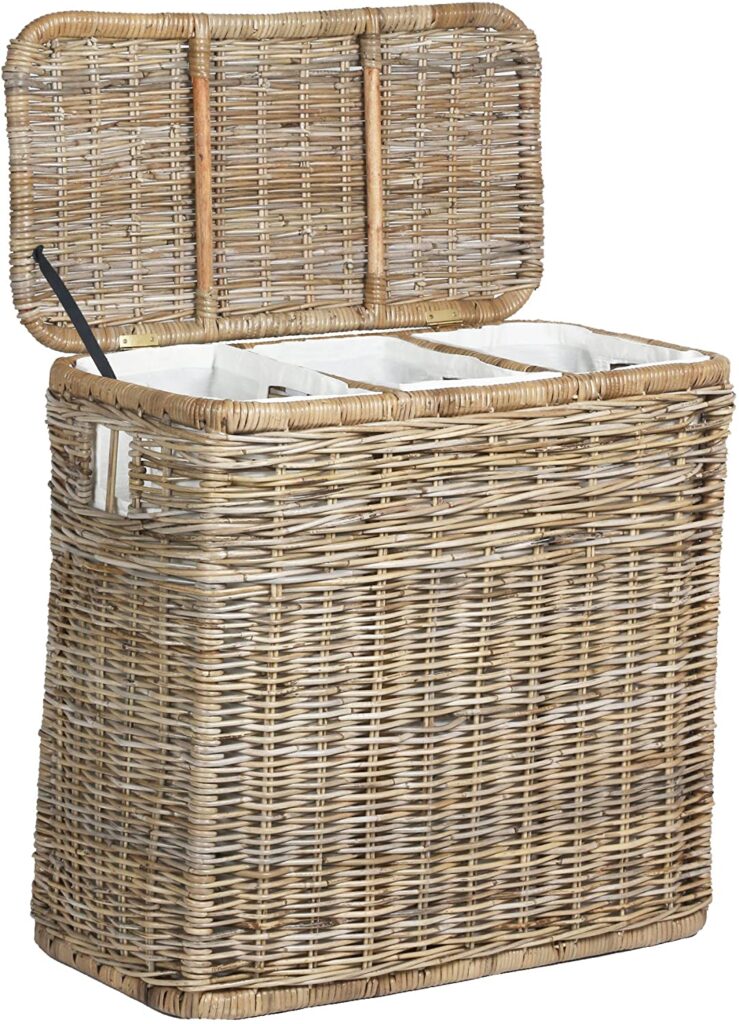 Consider this sophisticated model, with three compartments to sort your clothes before doing your washing. Made of rattan and wicker, it's an antique style that adds flair to your home décor.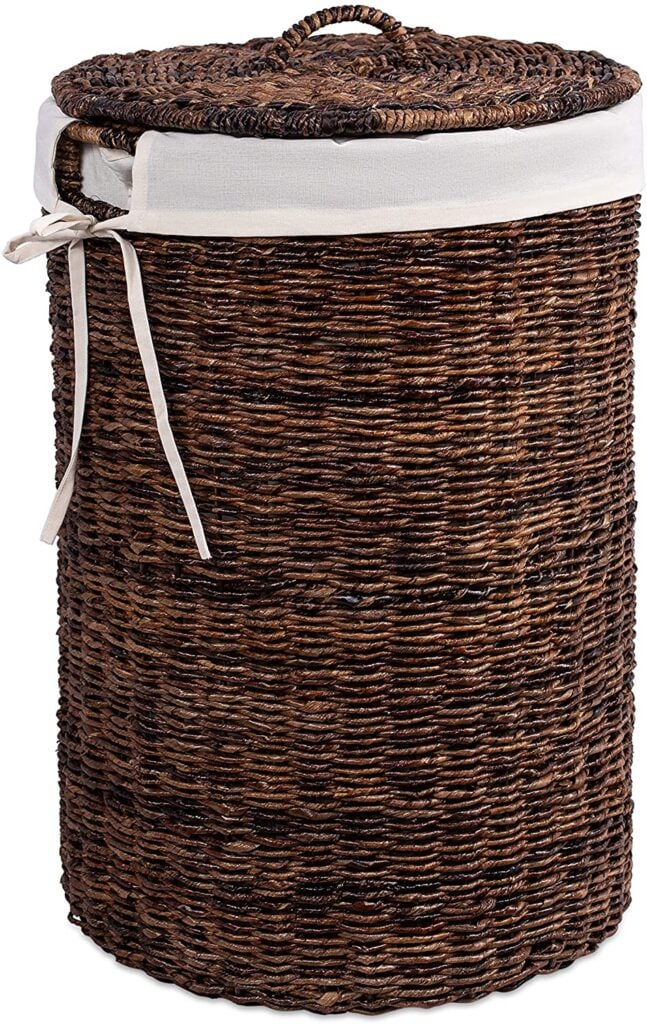 This one's a beautiful choice for anyone who loves vintage design. It's a natural style and even has a removable liner. This makes it easy to transport your clothes to the washing machine.
The bag also conceals any odor your clothes might be holding, making it easy for you to keep your space clean and odor-free.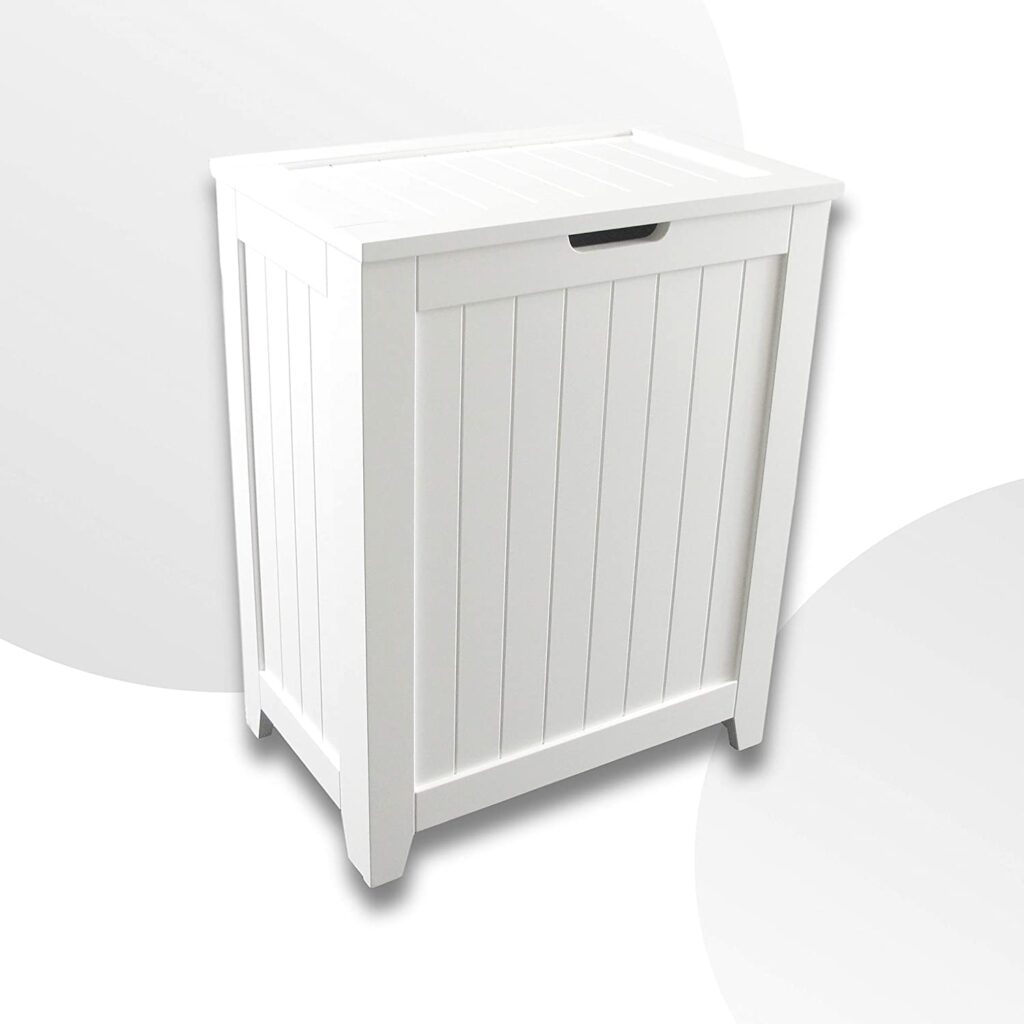 Another attractive design, this white wooden hamper has a flip lid and even allows you to organize your clothes. It's high quality and doesn't allow for any odor to escape.
It's easy to assemble, and it's one of the more affordable but stylish models you can choose for your laundry hamper.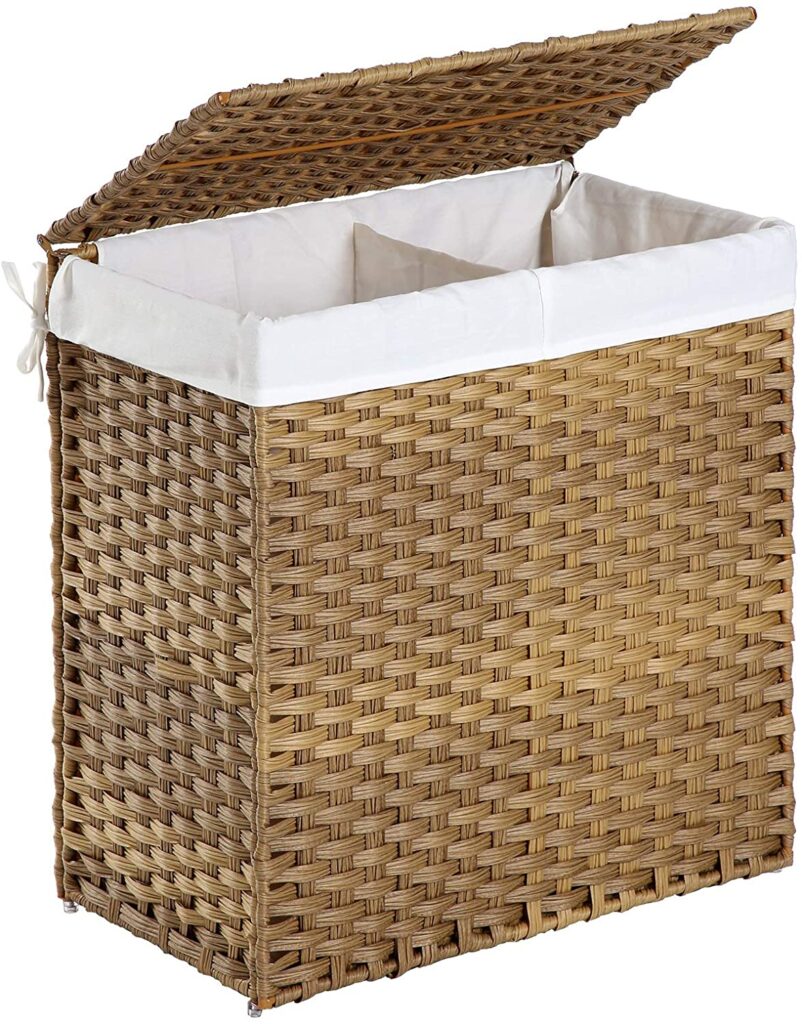 This design is another divided hamper, which comes with a removable liner and is made of synthetic rattan. You can get the look you want but for less money. It's a beautiful bathroom companion and helps you organize dirty clothes before you wash them.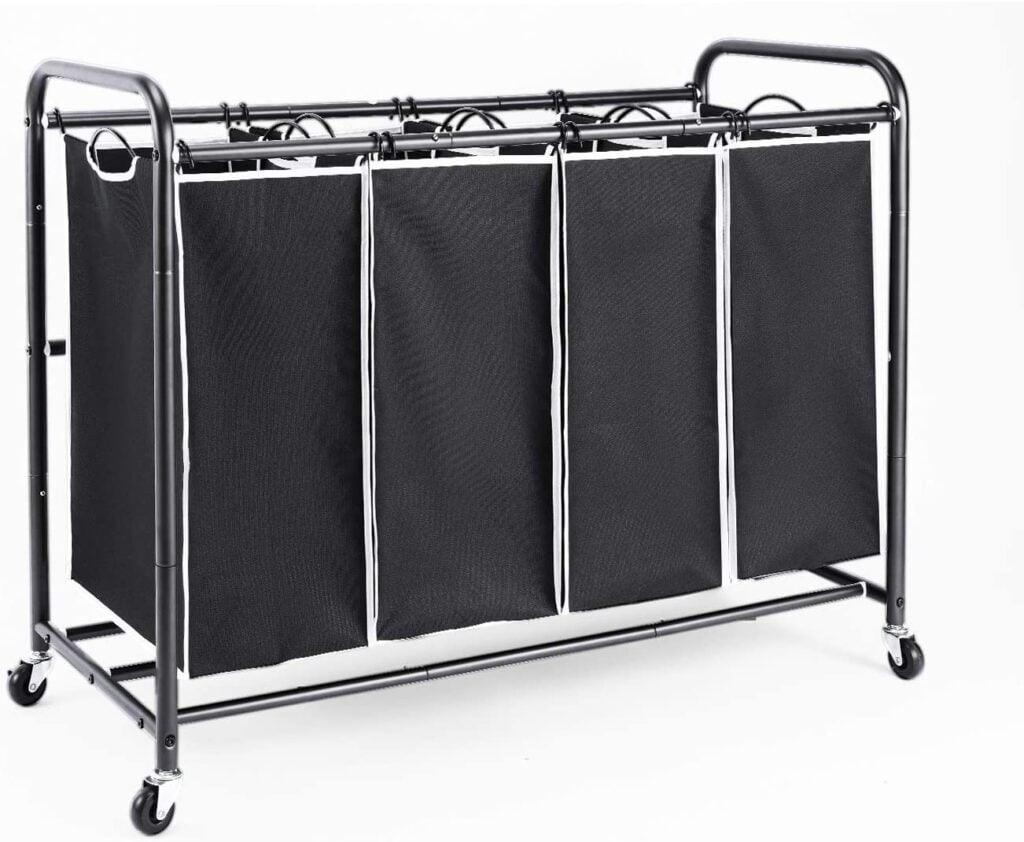 This laundry hamper must've been made with big families in mind; it has four different bags for you to use, and each one can hold up to 25 pounds. It even comes on wheels and is a sleek black design.
Additionally, the lining on the inside of the bags will prevent any odor from wafting throughout the house.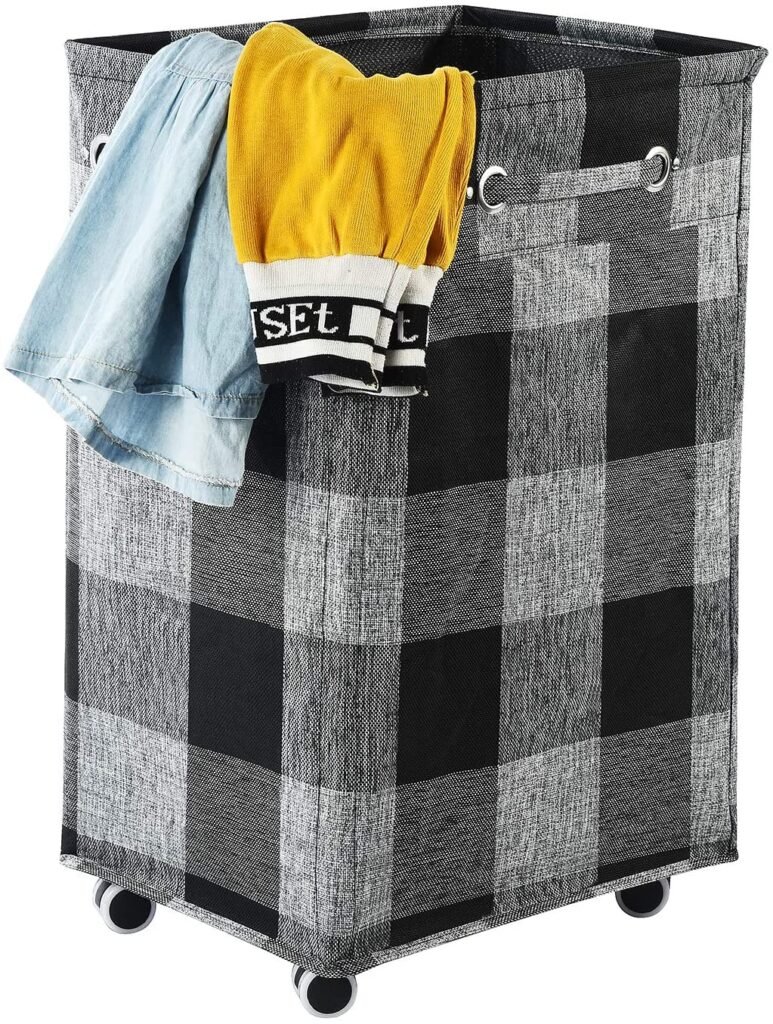 For those who want the classic flannel design but need something that's portable, this is a great option. It's waterproof, holds one large load of clothes, and can prevent odor from sneaking out.
The sturdy Oxford fabric makes it thick, durable, and extremely gentle on your clothes. This hamper's also collapsible so you can store it in your space, however small or big it is.
No matter what design style you gravitate toward in your home, there's something for everybody on this list. Let us know in the comments below what your favorite hamper is, what your laundry system looks like in your house, and how you like to accessorize your home with your laundry baskets and hampers!
I recently did a full remodel of my laundry room – painted, fun floating shelves and some new decor. If you want to check out my laundry room head over to this post!