We just spent a week out in Nags Head, North Carolina for a family vacation and had a blast! This is our second time going with my whole family in the last few years and I also went there as a little kid with my cousins!
We spent a week in the Outer Banks of North Carolina under one roof with my brother and his family, my sister and her family and my parents. There's a total of 9 kids ages 1-13 and 7 adults and man, do we have fun!
We rent one giant beach house with enough rooms (and bathrooms!) for all of us to comfortably stay that's right on the beach with a pool in the backyard. (Yes, my parents do spoil us for a week!!)
Even with the pool and ocean in our backyard, we still like to get out and about throughout the week to experience some of the best places in and around Nags Head.
Today I'm going to share a handful of things that we did during our Outer Banks vacation and some things that are on my list for our next visit! I hope it helps you plan your trip.
15 Things to Do in Nags Head, NC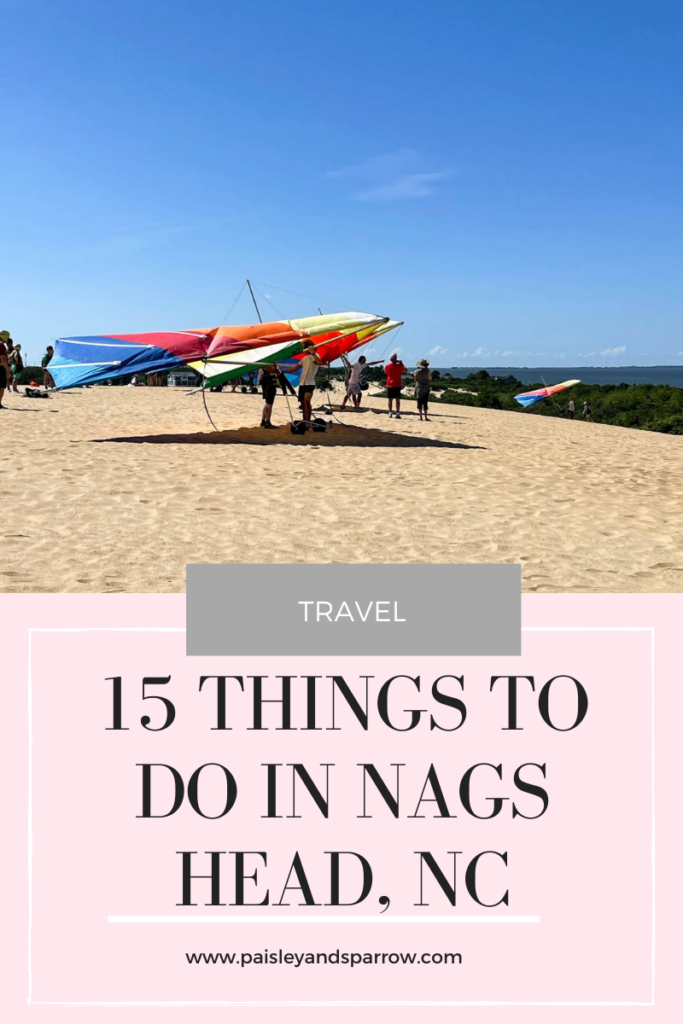 This post contains affiliate links.
If you're planning a trip to Nags Head, here's some fun things to check out!
1. Visit the Sand Dunes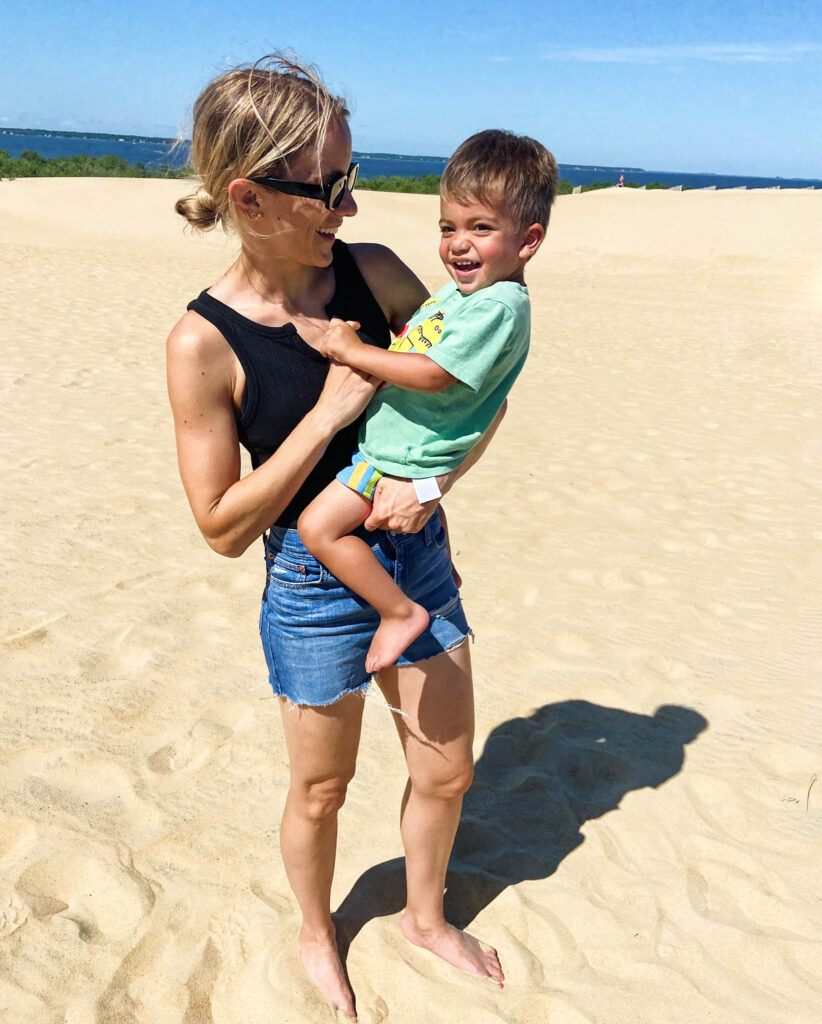 One of the most popular Outer Banks attractions is the sand dunes at Jockey's Ridge State Park! Pictures don't do the tallest sand dune in the Outer Banks justice. This is a must do and one of a great place for families and kids of all ages! Walk around the tallest active sand dune system in the eastern United States.
Here you can walk around on hills made of sand, something you likely may never have done before! You'll likely see hang gliding classes or experts sailing through the air as well as tons of kites being flown and kids racing down the hills as fast as they can.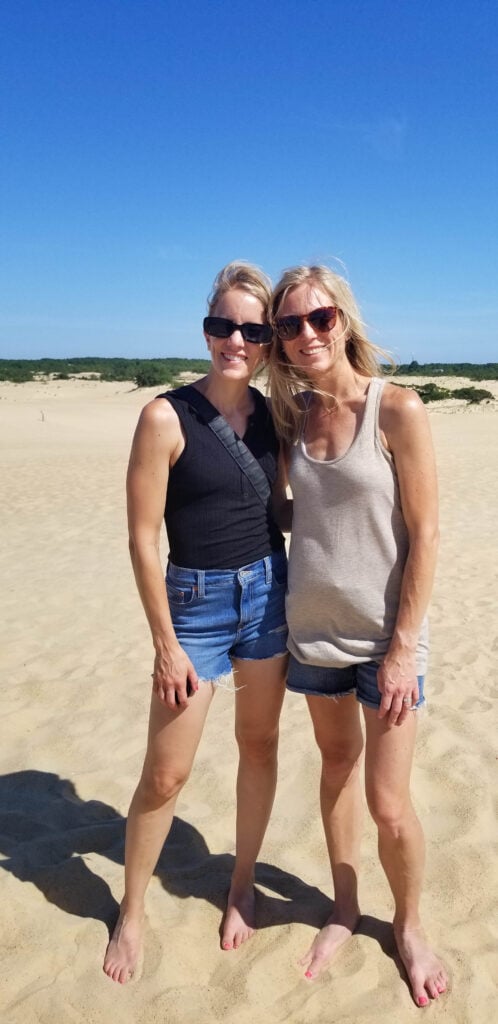 You can also try hang gliding yourself (through Kitty Hawk Kites) or try sandboarding! People say that Jockey's Ridge State Park is the best sandboarding sport on the East Coast. Keep in mind that you need a permit before you head out and it's only allowed from October through March.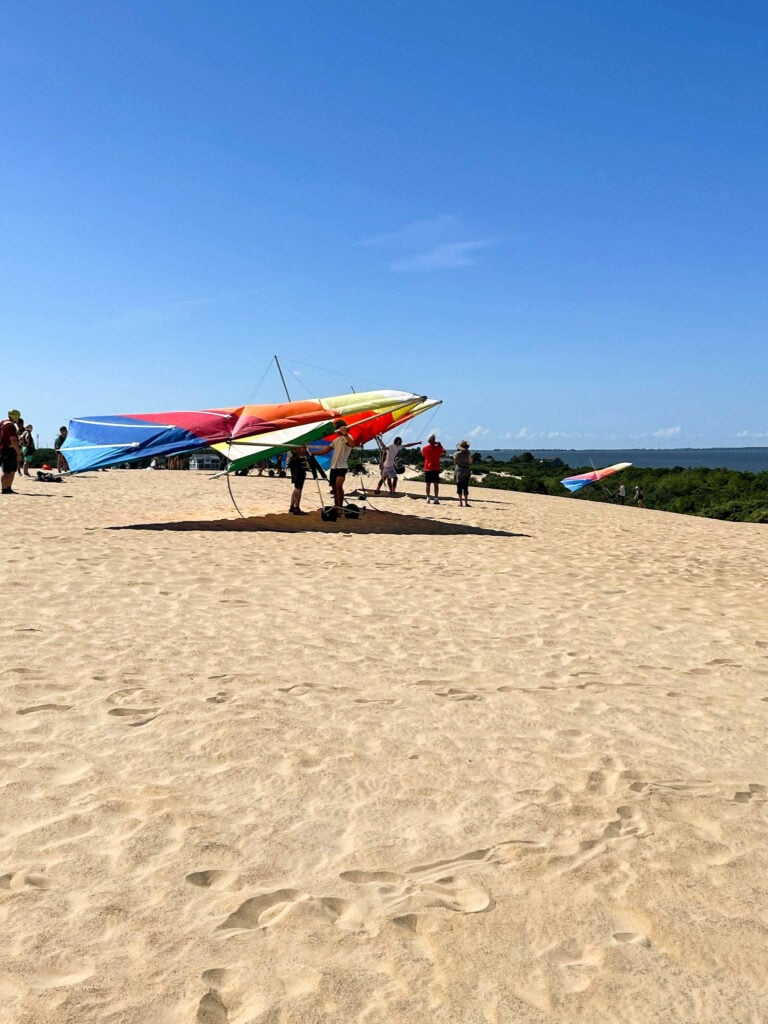 If you go to the Sand Dunes, try to go as early as possible or later in the day because the sand gets HOT! I recommend kicking your shoes off at the stairs leading down to the sand unless you have shoes that work well for walking in the sand.
2. Go to the Wright Brothers National Memorial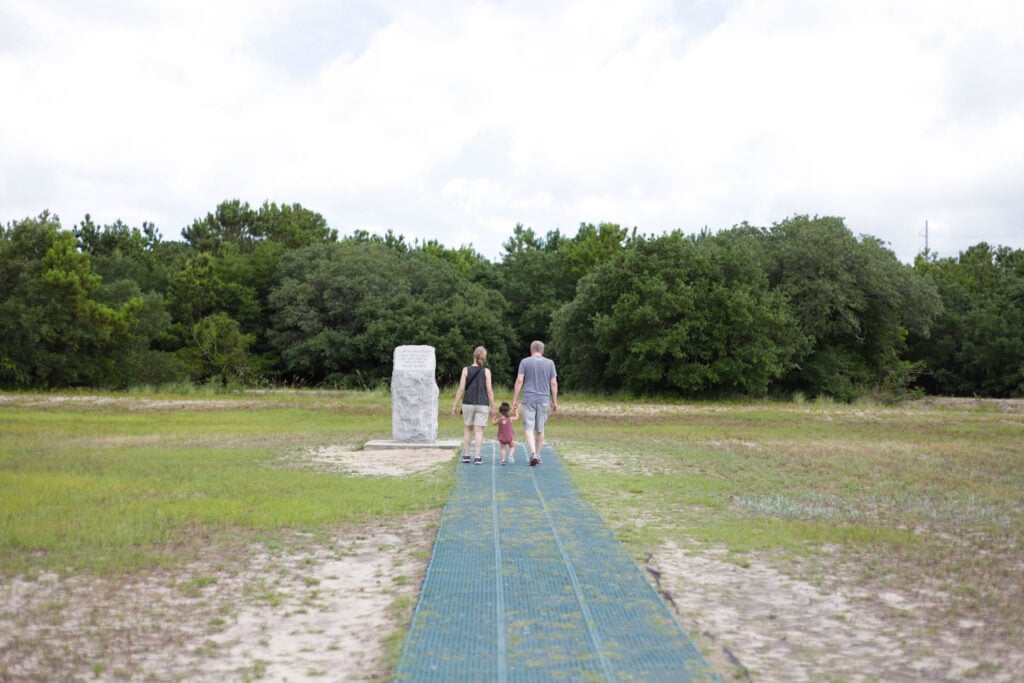 Just a short drive from Nags Head is the Wright Brothers National Memorial located in Kill Devil Hills. Regardless of the ages of your kids, this is a fun place to visit that's open year round!
We visited this museum during our first trip to Nags Head and the kids all loved it. You can visit the spot where Orville and Wilbur first took flight and where they landed, you can see the camp buildings where they stayed in addition to the visitor center which is full of tons of hands-on learning to teach you and your kids about the Wright Brothers.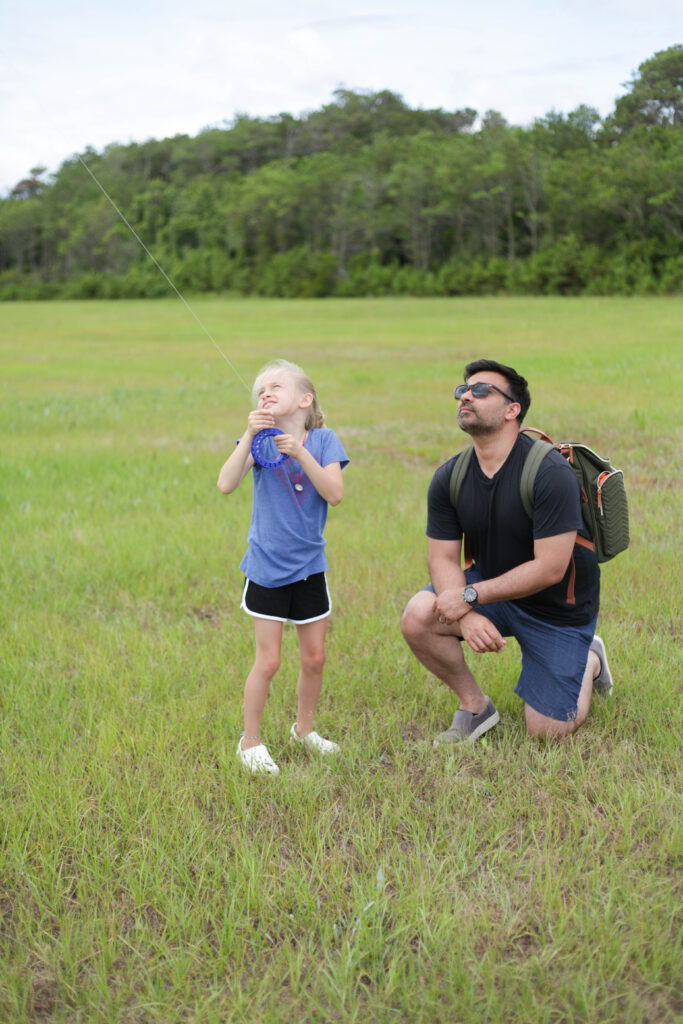 There's even a "please-touch" sculpture that represents the Wright brother's first flight!
There's also an open field where you can fly kites, just like Wilbur and Orville. That's how the tested out their experiments! There's even a Wright Kite Festival each year that you can participate in.
3. Eat Booty Treats Ice Cream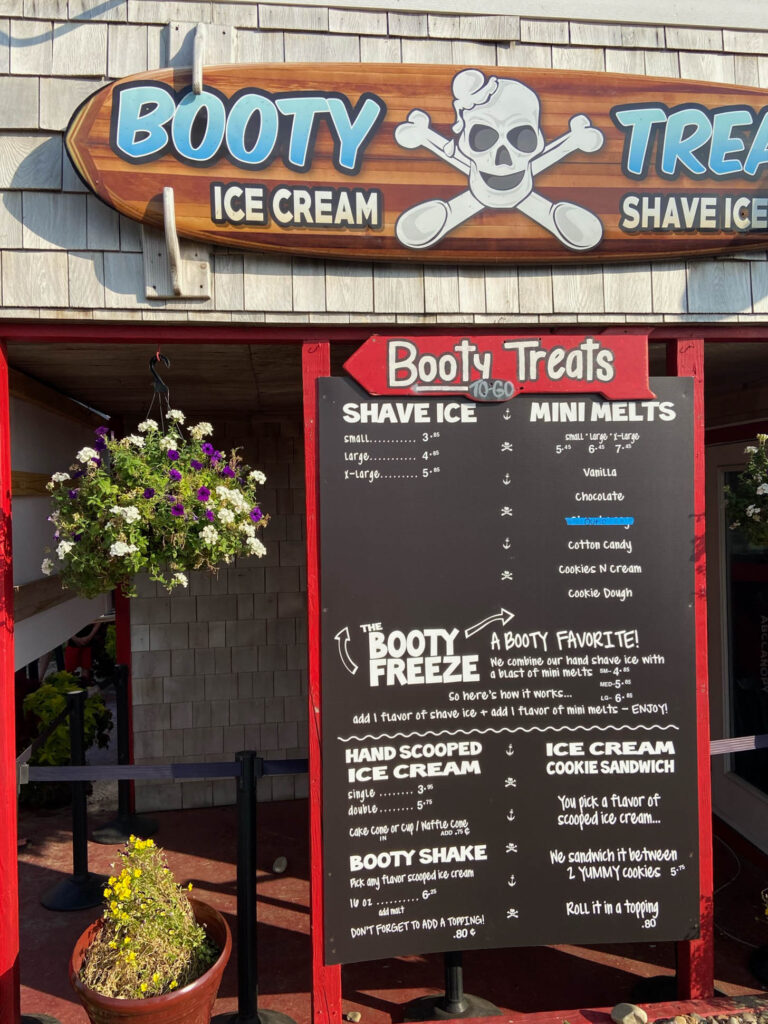 If you're going to Nags Head, you have to go to Booty Treats! Our first trip out there all of the adult ladies went out one night for ice cream there. There was a LONG line but it was 100% worth it.
This past year we stayed in a house across the street from Booty Treats so we went there a LOT! It was fun because we could see the line from our porch so we would race over there when the line was small.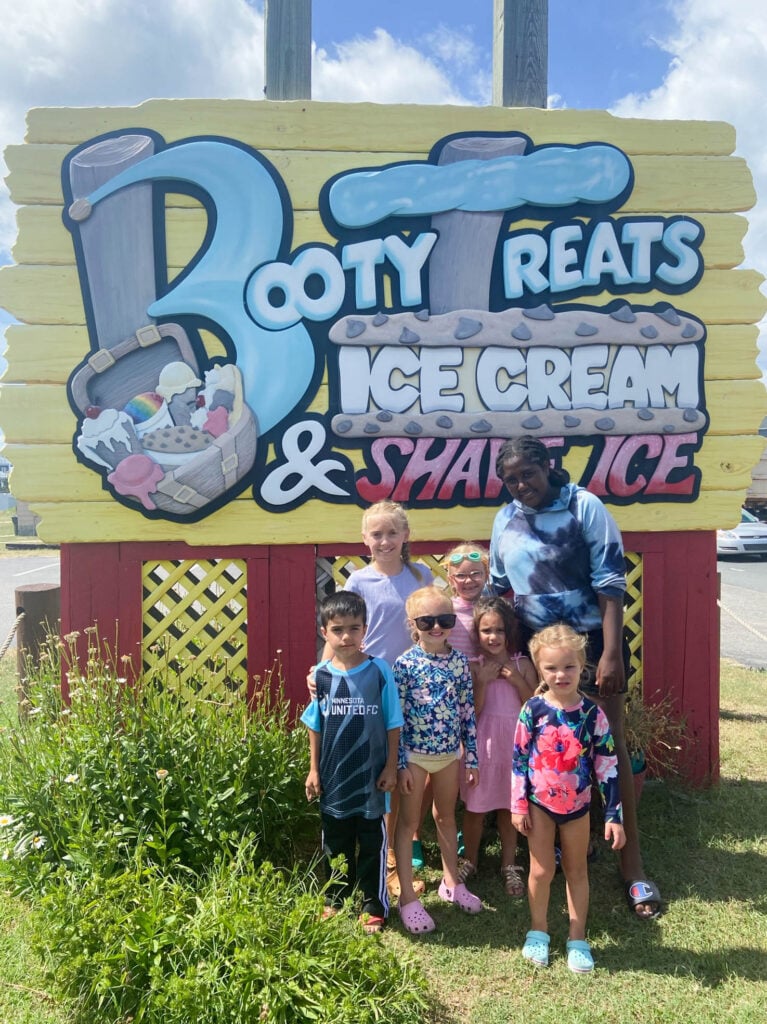 They have delicious ice cream flavors as well as shaved ice and is one of the best places for ice cream!
4. Go Fishing on the Pier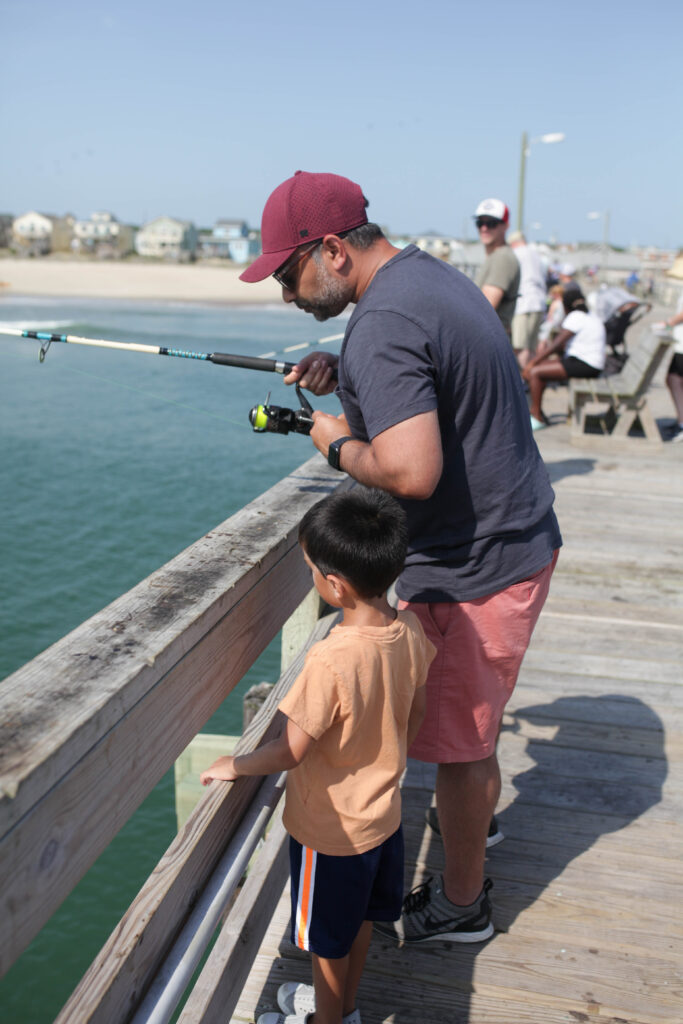 Both of the times that we went to Nags Head as adults, we went fishing! There are a few different piers to fish from and we went to 2 different ones.
This year we went to Nags Head Fishing Pier. Whether you're an expert fisherperson or just want to try it out, it's so easy to do!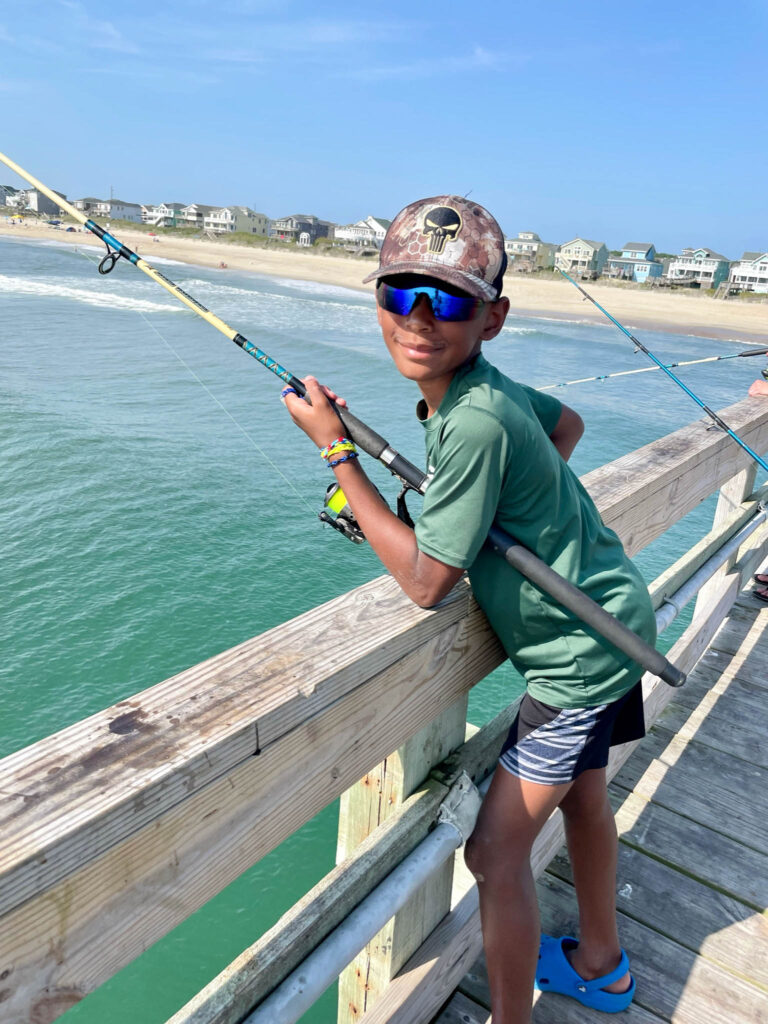 You can rent fishing poles and buy bait right on site. They'll also give you tips on how to best cast your line and what type of fish you can potentially catch.
Nags Head Fishing Pier also has the Pier House Restaurant where you can get beautiful views of the Atlantic Ocean. One of the most fun things about this spot is if you catch a fish while fishing on the pier, they'll cook it for you!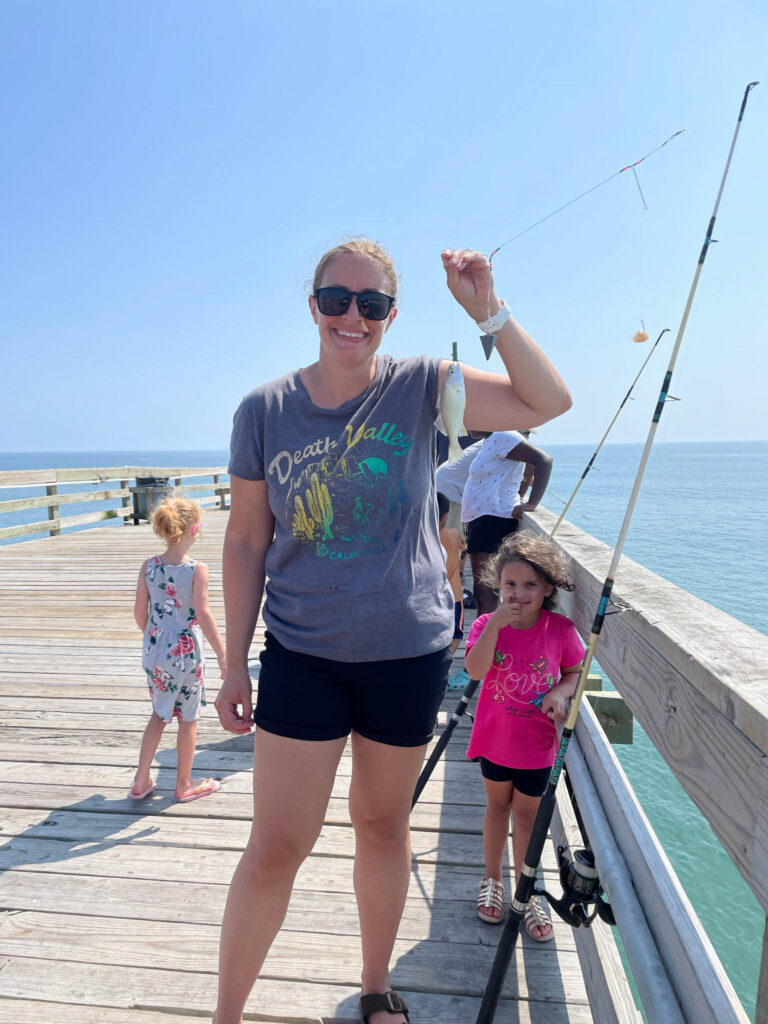 One of the most popular ones is Jennette's Pier which is part of the North Carolina Aquarium. Jennette's Pier has a fishing report so you can see what fish have biting and what fish have been caught complete with pictures. It's really cool!
It's also fun to see people surfing or boogy boarding and even watching for dolphins! We saw a school of dolphins off the pier this year!
5. Go to the Beach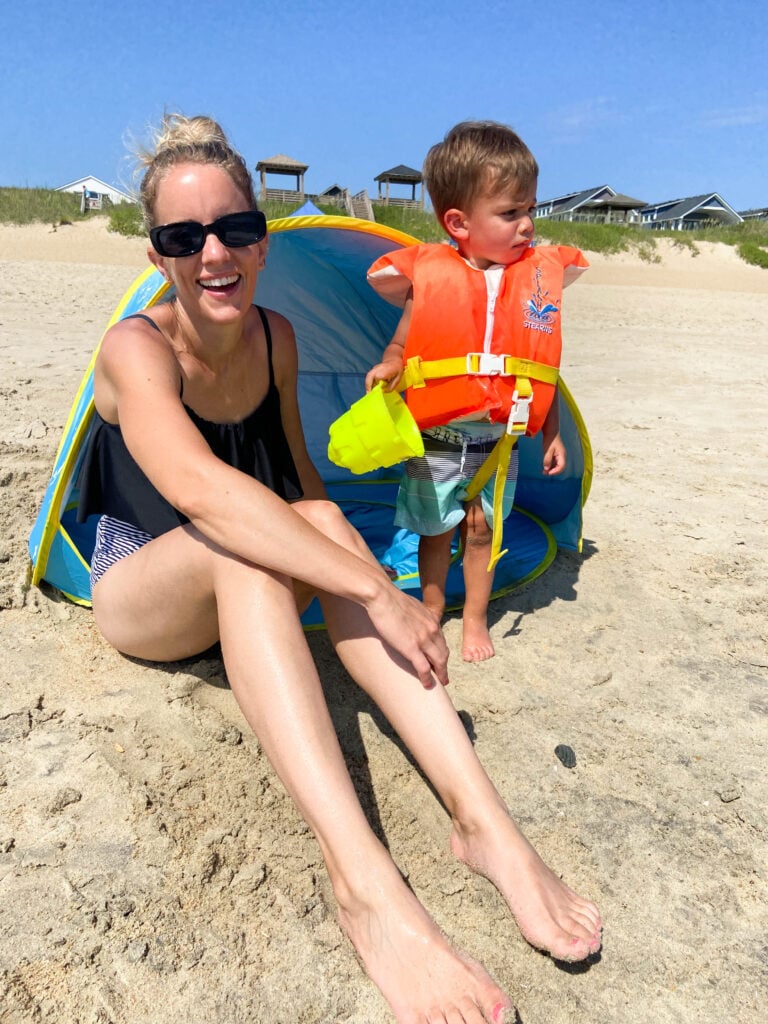 I'd imagine if you're going on an Outer Banks vacation, you're going to spend some time on the beach! The Atlantic coast is a great spot for enjoying the ocean and sand. We hung out on the beach every single day of our vacation.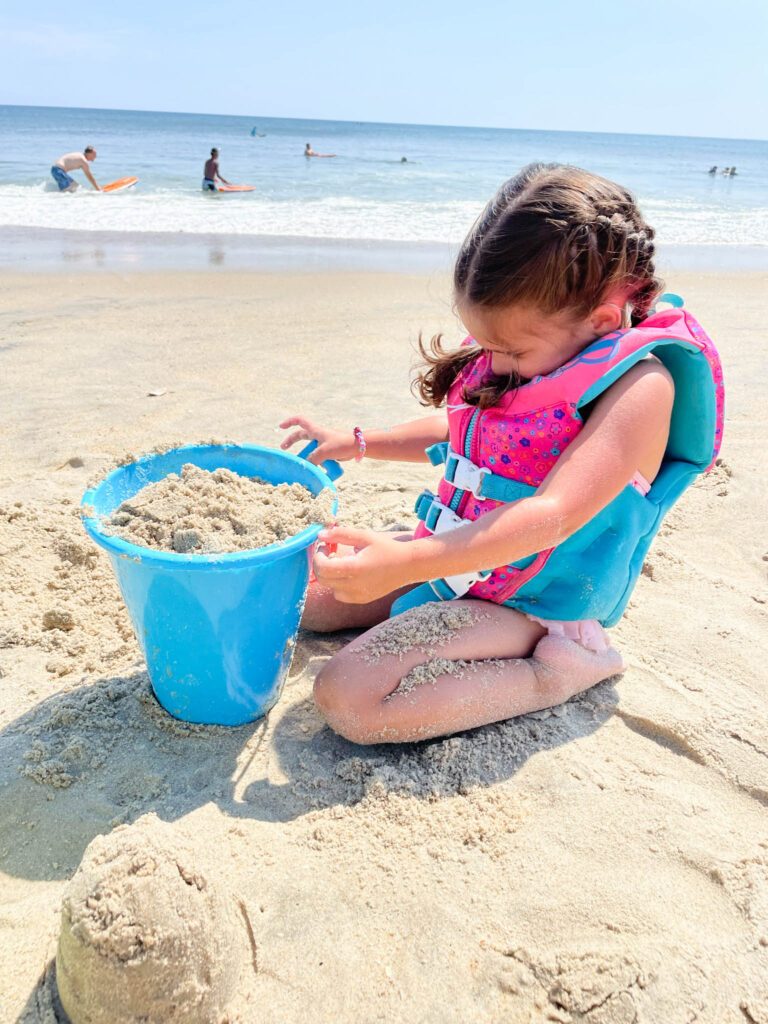 You can pick seashells (I recommend getting one of these shell bags), go boogie boarding (they're easy to rent!), or just relax on the beach with a good book.
Keep your eyes on the water for dolphins too! We saw dolphins almost every day during our trip in July and it was so fun!
6. Mini Golf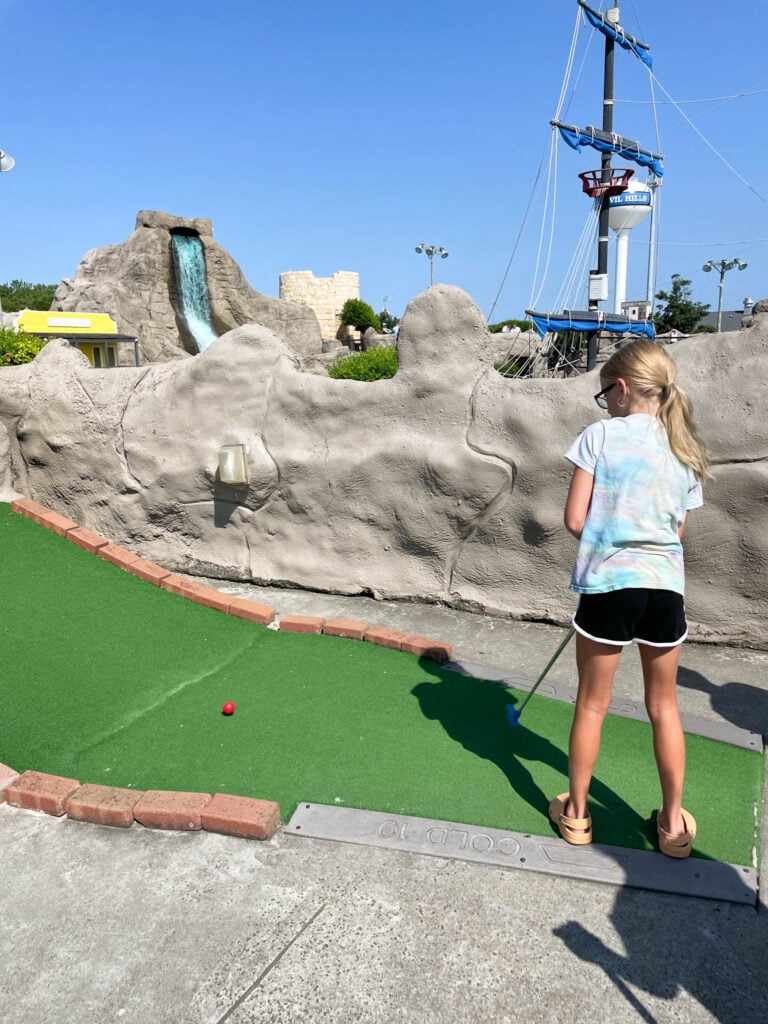 I didn't go mini golfing but my parents took a bunch of the kids to one of the mini golf courses and had a blast! There's a handful of different places to go putt putt golfing depending on your groups interests.
There's one course that's pirate themed called Mutiny Bay and a dinosaur themed course called Jurassic Putt. You'll likely see the giant T-rex on your way down the main street in Nags Head!
7. Go Shopping
Whether you want a classic "Outer Banks" t-shirt, unique jewelry or gifts, or something from an authentic surf shop, there's tons of great options for shopping!
We stayed near one gift shop, Gulf Street Gifts and I frequented there a handful of times to get some items for some of the kids as well as myself! They have fun jewelry and earrings (I bought all my nieces with pierced ears earrings from here), sea shells (in case you don't find the perfect one on the beach) and even some simple beach supplies like shovels, pails and sunscreen!
We visited a handful of surf shops to get a feel for the less touristy shops and they were so cool! Rows of surf boards, tons of surfing gear and friendly staff. If you like surfing be sure to check them out!
If you want a more touristy vibe, all of the Wings shops have tons of OBX apparel and products. We tend to visit these to pick up some fun shirts for the kids to commemorate their trip to the Outer Banks.
8. Try Water Sports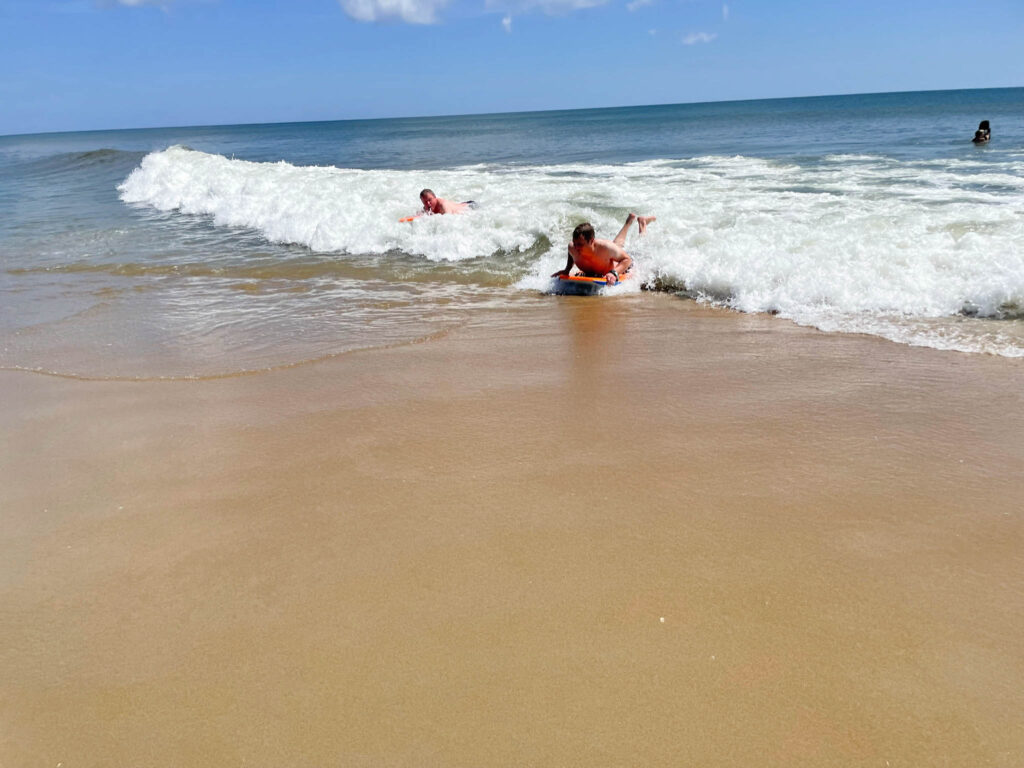 When you're hanging out on the beach you'll see tons of different water sports from surfing to boogie boarding to stand up paddle boarding. One of the best things to do while on the Atlantic coast is to try something new!
Whether it's surfing or parasailing or even taking out a jet ski, there's tons of different things to do. You don't have to worry about bringing your own though! There's lots of options for rent these items.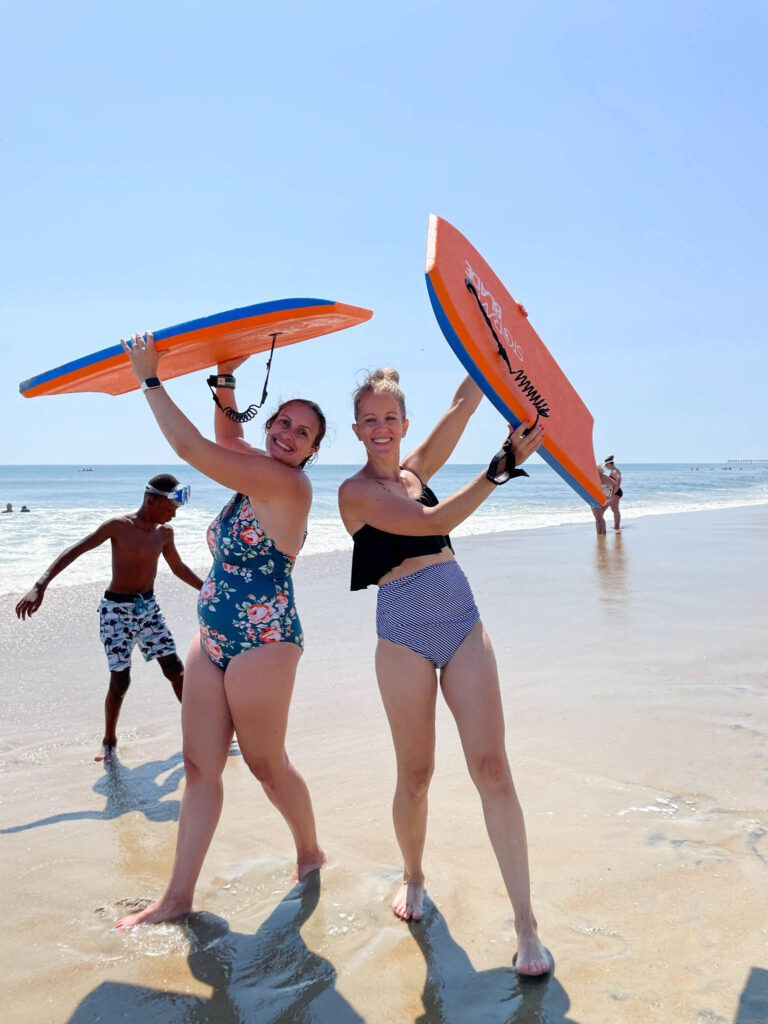 We rented some items from Just For The Beach (a crib, high chair, etc) and they have lots of watersport equipment rentals! Kitty Hawk Watersports also has tons of bigger things to rent like jet skis and tiki boats!
Ok, those are all things that we did during our Outer Banks vacation. The following are some other things to potentially do on your trip to Nags Head!
9. Go to an Art Gallery
One thing I didn't get to do on our trip but wanted to do is visit an art gallery! The Outer Banks and Nags Head is full of different art galleries. You can spend an entire afternoon popping in and out of all the different galleries.
Seaside Art Gallery gets amazing reviews and has fun art shows throughout the year. One they put on the "Outer Banks Squared" where different artists show some of their favorite spots of the Outer Banks in 12 x 12 inches of art.
There's also Seagreen Gallery that has repurposed antiques, local art and recycled art, The Bird Store with antique decoys as well as lighthouse art, hunting prints and tons more as well as lots of other galleries!
10. Visit Bodie Island Lighthouse
Are you a lighthouse fan? My grandma is someone who visited every lighthouse possible and painted many of the ones she visited. If you're anything like her, check out the Bodie Island Lighthouse that's located just outside of Nags Head.
This is going on my list of things to do the next time we're go here! I love the black and white stripe look of this lighthouse that was built in 1871. This is actually the 3rd attempt at a lighthouse in this area because the first 2 were destroyed.
It was remodeled in 2013 and servers as the visitors center. You can go on a guided tour and climb up to the top for a small fee.
11. Go on a Dolphin Tour
We saw a ton of dolphins during our trip but if you want to see some even closer, try a Nags Head Dolphin Tour! You'll get a close up look at dolphins in the ocean and it's actually not crazy expensive.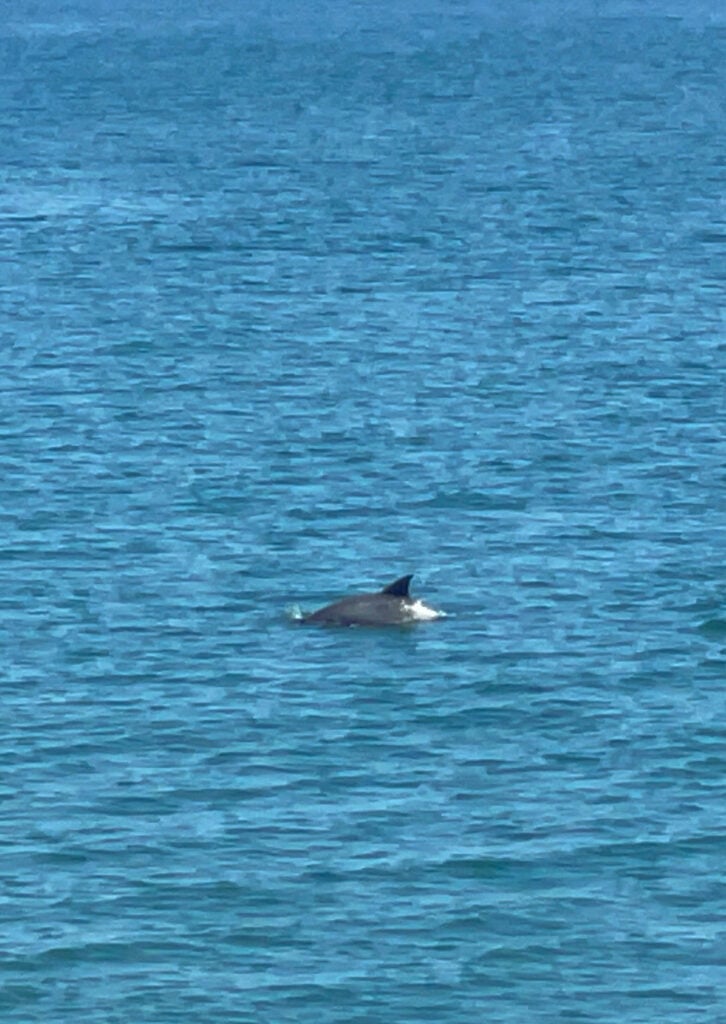 You can easily book dolphin tours through Kitty Hawk Kites. Biologists run theses tours which makes it extra cool! They use them as part of their research so you'll get a first hand look at how they conduct their research.
These tours are done on 40 foot covered pontoon boats on the Roanoke Sound which separates Roanoke Island from Bodie Island.
12. Visit the Elizabethan Gardens
Calling all flower lovers! These beautiful Elizabethan Gardens are an elaborate garden designed to entertain Queen Elizabeth I during her reign. If they're good enough for a queen, they've got to be good enough for you! 😉
They have a variety of seasonal events throughout the year including a Butterfly Festival, Harvest HayDay and more. The fun thing about these gardens is they are constantly changing with the seasons so you can visit multiple times and get different perspectives each time!
13. Go Hiking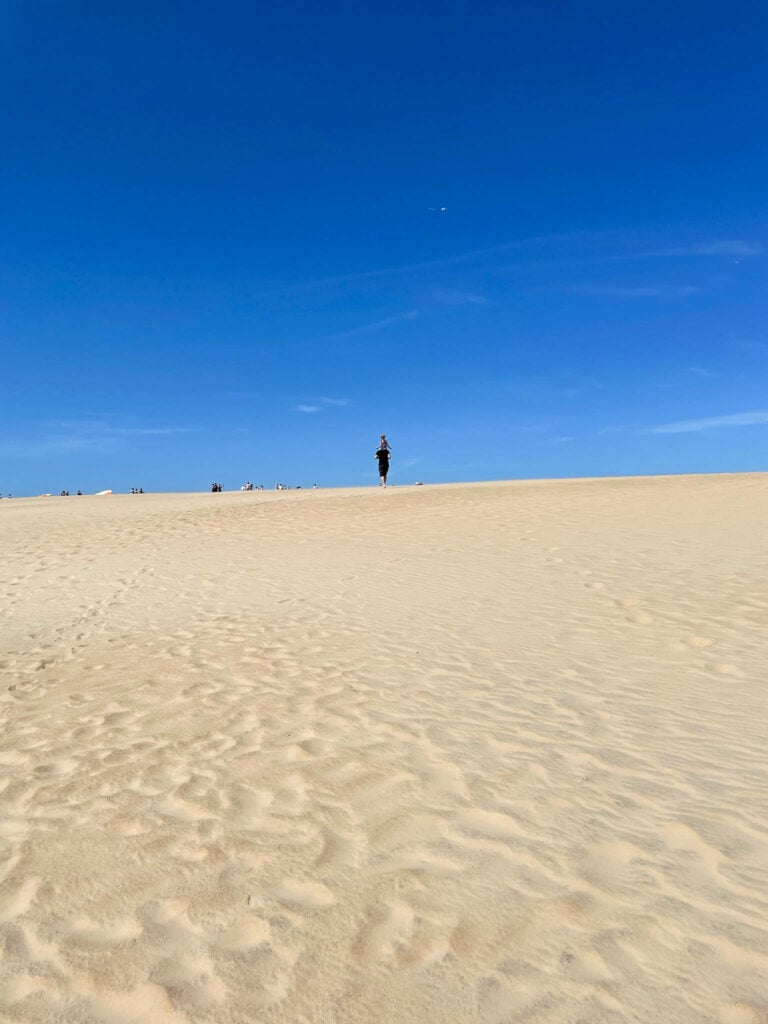 If you're someone who loves to hike, there are a bunch of great hiking trails in the Outer Banks! The Track in the Sand Trail at Jockey's Ridge State Park is one that is well loved by hikers in the OBX.
There's also a Nature Trail at Bodie Island and Nags Head Town Trail and the Nags Head Woods Preserve that has a playground for little ones.
Alltrails.com has tons a few different options of nature trails near Nags Head to check out!
14. Do Go Karting on Full Throttle Speedway
Have the need for speed? Need a break from the beach? Check out Full Throttle Speedway! This isn't something we didn't on our trip but once all of our kids are a bit older it will definitely be one place we stop at during our Outer Banks vacations.
The Full Throttle Speedway is a fun way to race around a track in Gas Powered Indy Style Go Karts! You can race up to 20 Karts at a time so your whole family can get involved!
There's also ice cream, snowballs and cotton candy at the Pit Stop Concessions for after the big race.
15. Golf on Nags Head Golf Links
Golf fans unite! If you want to golf a round of golf on a true Scottish links-style championship course, check out Nags Head Golf Links! I'm not a golfer but this course gets amazing reviews and I'm told that the views are incredible.
Where else can you get views overlooking the Atlantic Ocean accompanied by coastal winds, rolling dunes and wild sea grass? Check it out!
There you have it. 15 different things to try out the next time you visit Nags Head, North Carolina. Don't worry about doing all of them during your vacation but pick a few that seem fun!
I hope this helps!