When you open up your bedroom closet, what do you see? Stuff falling out on top of you the second you open the door? A heaping pile on the floor? Does it stress you out to even open the door to pull out something to wear?
It can be easy for your bedroom closet to be crammed full of stuff when there's nothing to keep it organized. And whether you have a tiny closet or a giant walk in, there are different things you can use to keep it clean and organized.
Here are some of my favorite organizational products for your bedroom closet.
Bedroom Closet Organization Ideas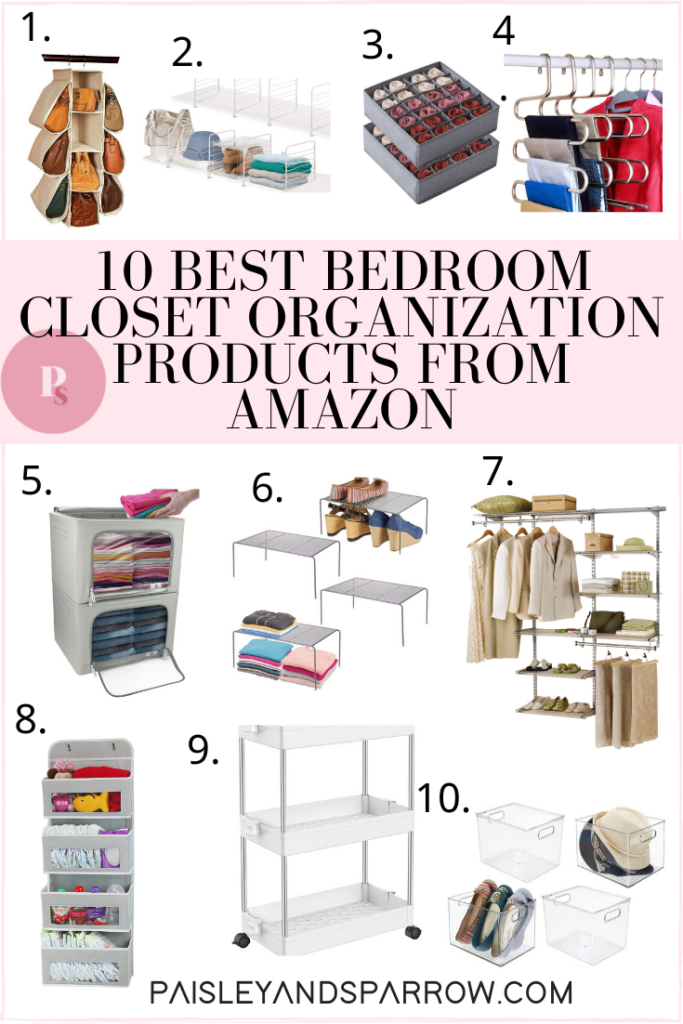 This post may include affiliate links which means I may earn a small commission if you shop using the links below at no additional cost to you. Paisley + Sparrow is a participant in the Amazon Services LLC Associates Program. Thanks so much for supporting me and this blog!
1. Purse Organizer | 2. Shelf Divider | 3. Underwear/Sock Organizer | 4. Pants/Scarf Hanger | 5. Storage Bins | 6. Metal Shelves | 7. Closet Kit | 8. Over the Door Organizer | 9. Storage Cart | 10. Storage Bins
Are your purses stuffed in a drawer or in a heap on the floor? This handbag organizer is perfect for keeping your bags neatly organized and easy to access. This is also multi purpose – use it for scarves, sweaters or anything else that could use a home!
I have this and love it!
If hanging up your purses isn't an option, try using a shelf divider! You can use shelf dividers to hold your bags, sweaters, jeans, or any variety of things.
These will help keep your shelves nice and tidy so everything doesn't fall on top of one another.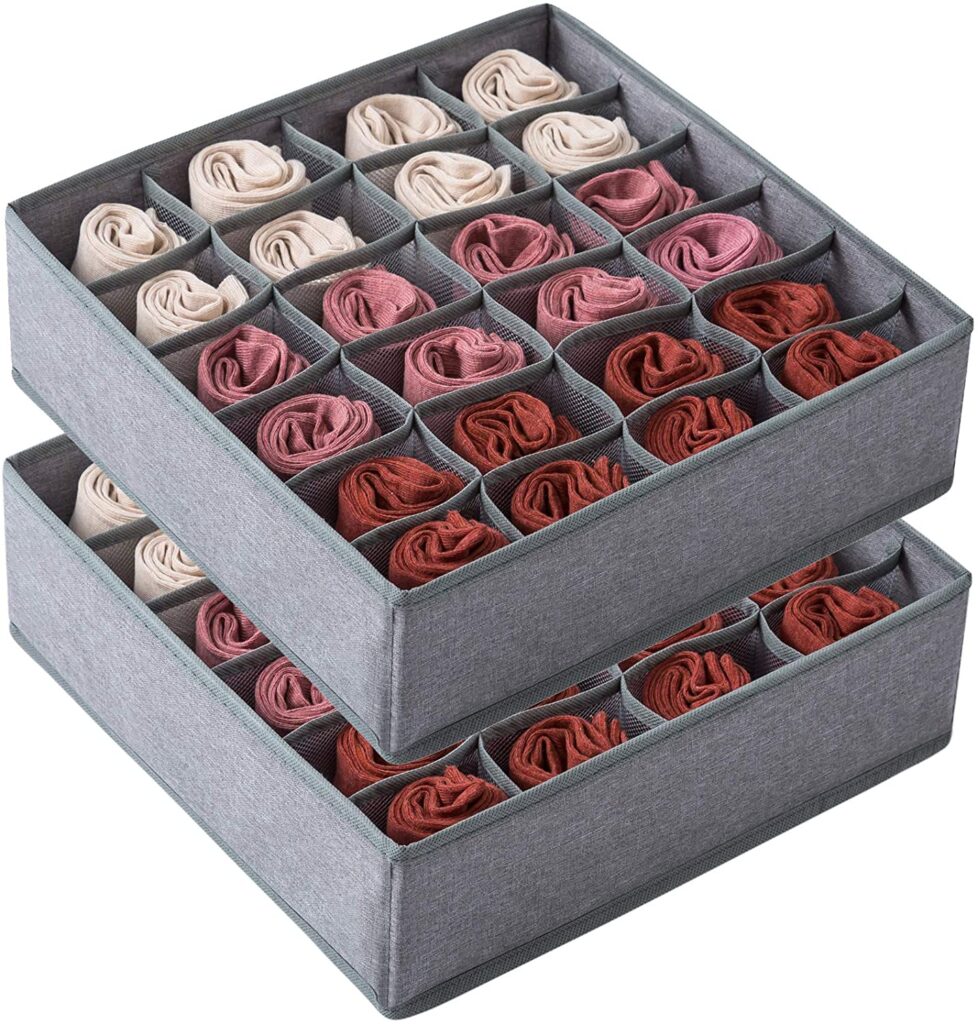 This can be used in a drawer, on a shelf or even tucked under a hanging rack! I keep all of my intimates in storage boxes like this on the floor under my hanging racks. It gives me more space in my dresser and the floor space where it is couldn't be used for much else!
The organizers will make it easy to see what you have and pick what you want.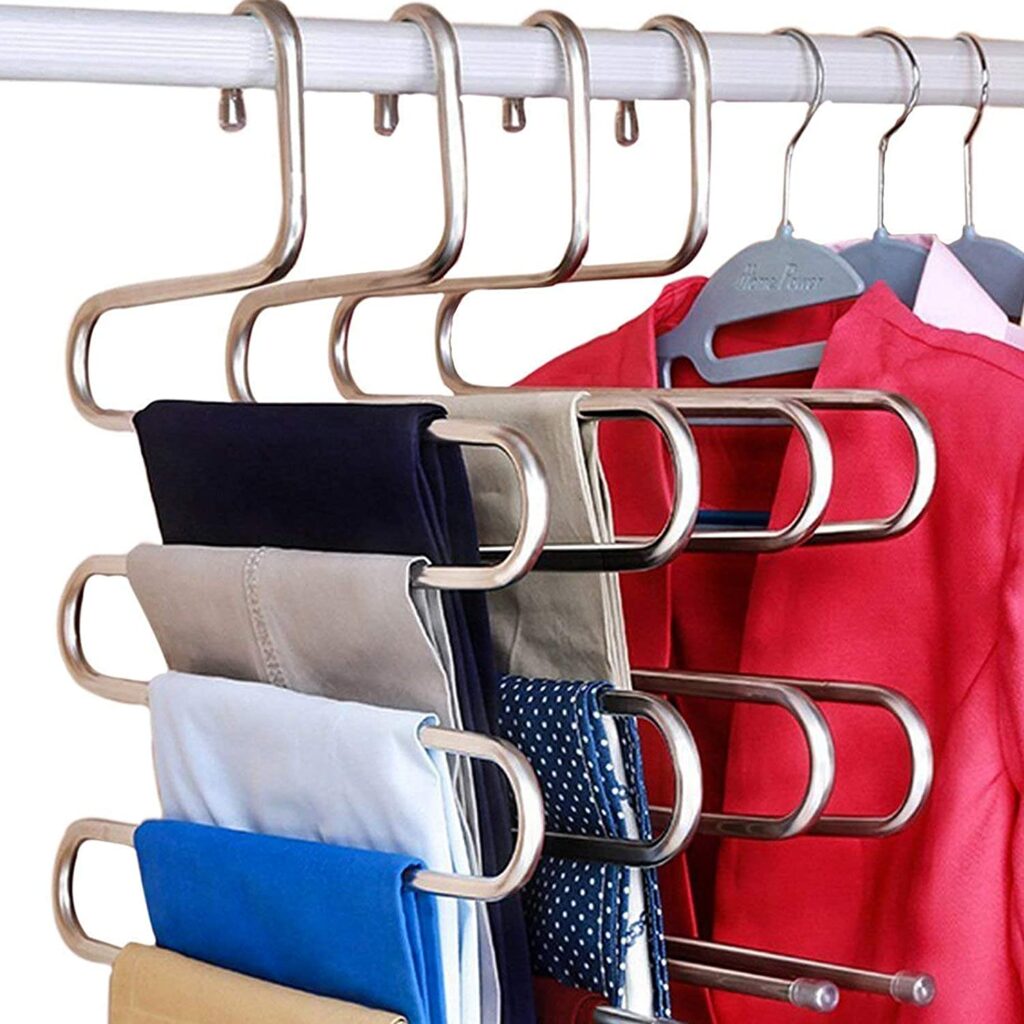 Don't waste that precious hanging space! These hangers will allow you to hang multiple pants, scarves, etc. all on one hanger.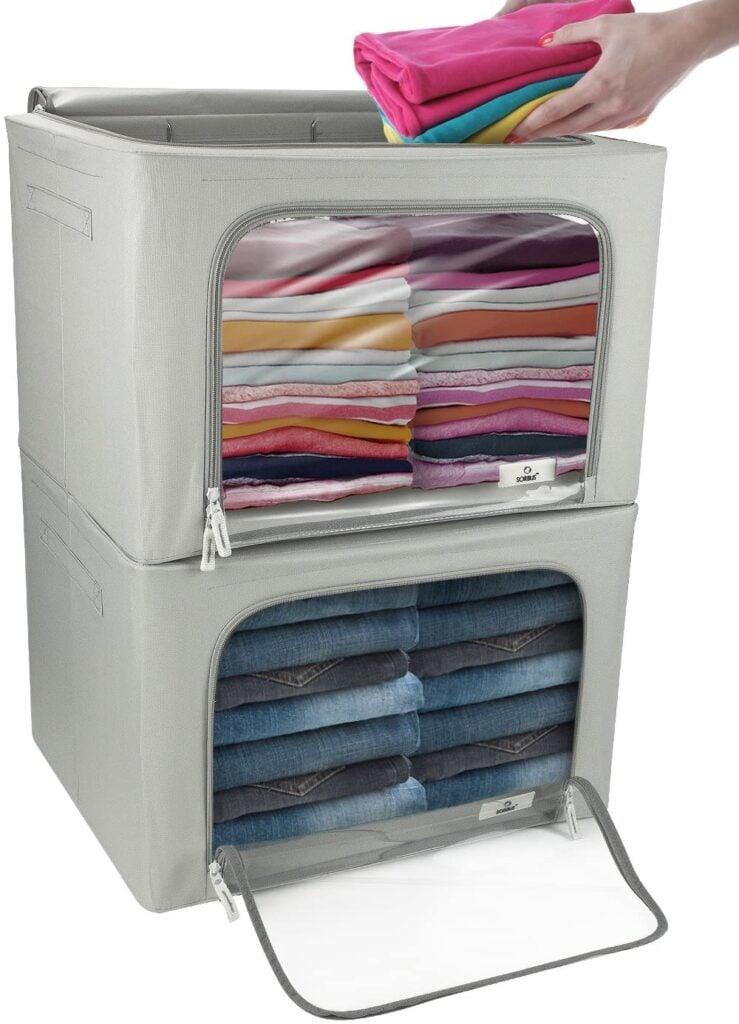 If you have a smaller closet it helps to store your out of season clothes someplace else! Use these storage bins to store winter sweaters or summer dresses! These bins can be put on the floor in the closet or on a high shelf to add extra organization to unused areas.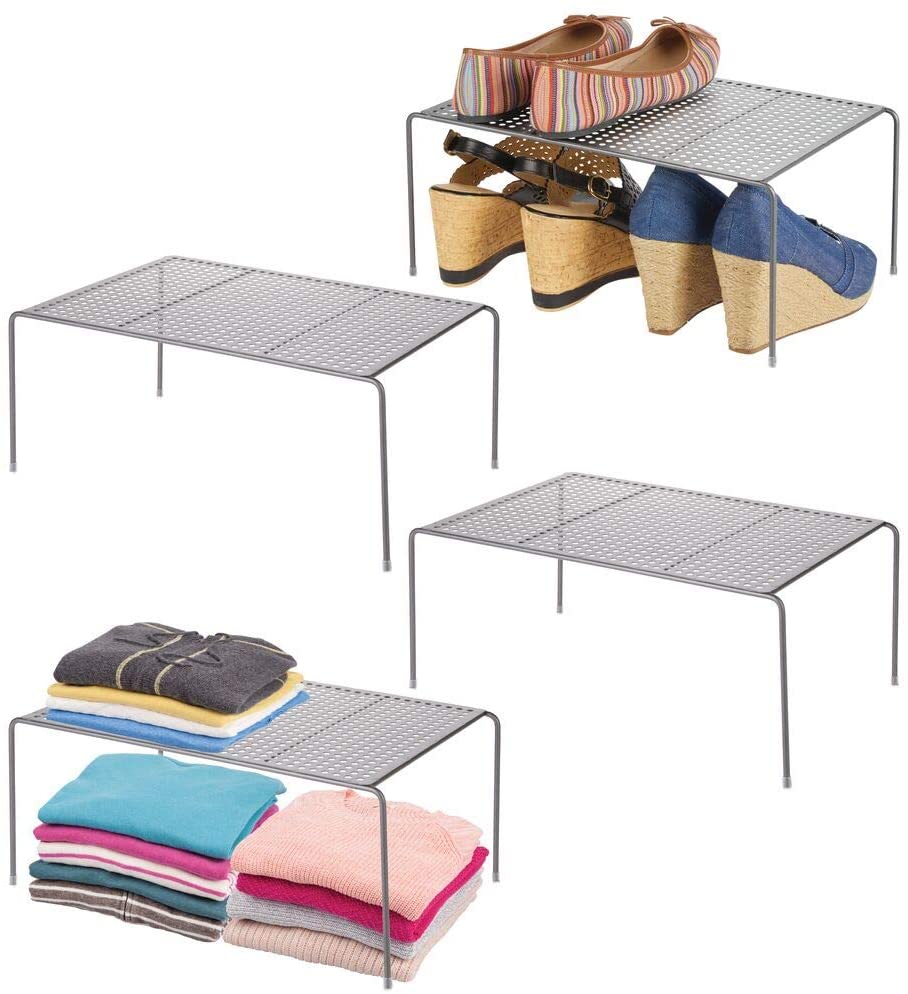 Use these metal shelves to add an extra shelf inside your closet! You don't have to remodel your entire closet to add extra shelving – these shelves will do the trick! You can also put them on the floor to add extra shoe storage space.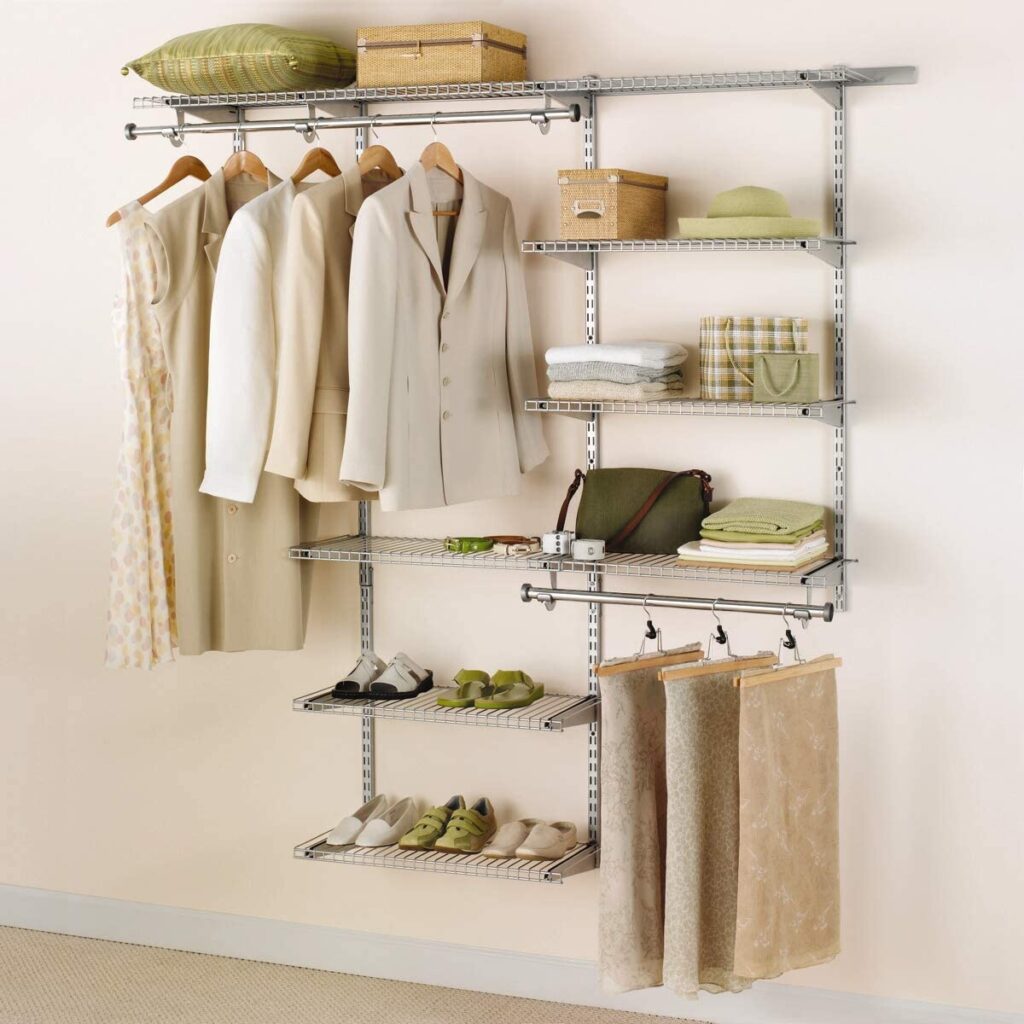 If you are looking upgrade your closet check out this affordable closet kit. This works for both walk in or reach-in closets – all you need is a wall and 3-6 feet of space. This also has a 6-10 foot wide option!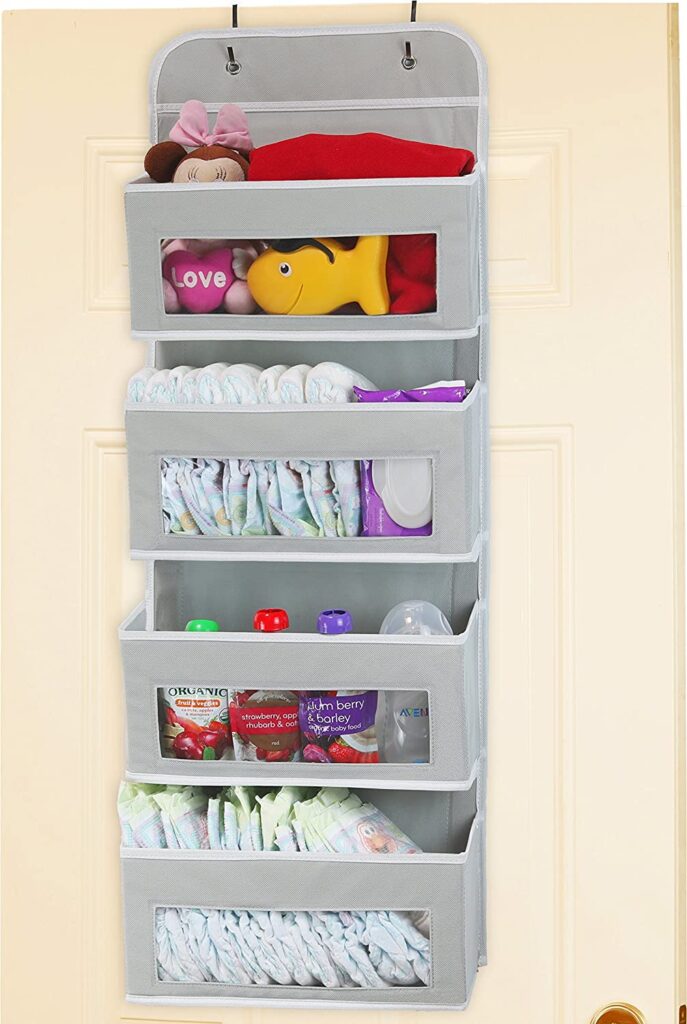 This over the door hanger is extremely versatile! Hang it on the outside of a closet door for daily use items such as diapers in a nursery or small stuffed animals in a kids room. Put it on the inside of a door for literally anything: scarves, sports bras, extra wallets or clutches, or belts!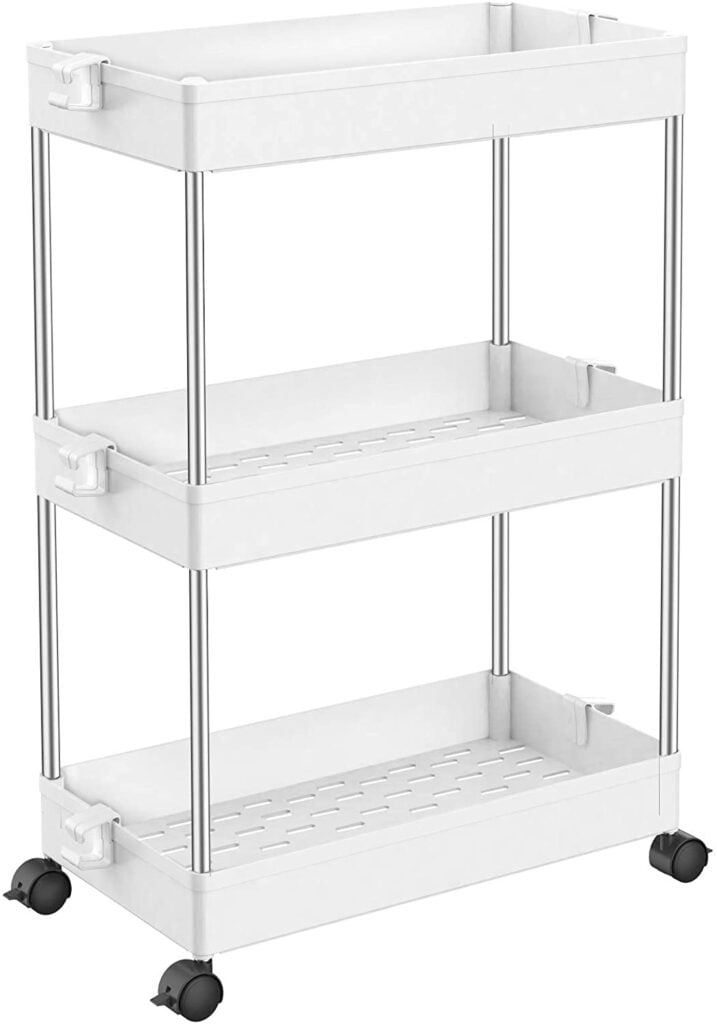 Storage cars are one of the best, most versatile items you can have in your home. These are great for a closet because the size gives you 3 extra shelves without it taking up much room. Throw a basket on these to corral loose items (scarves or baseball hats) or keep handy items like your clothes steamer here!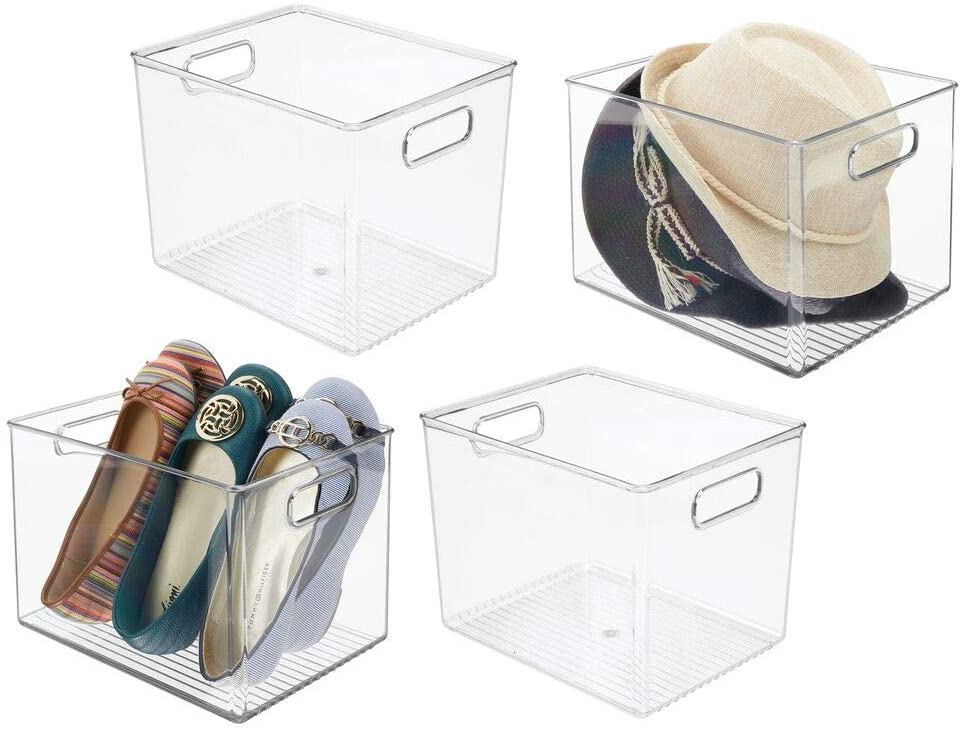 These storage bins can be used for literally anything – shoes, workout clothes, socks, accessories, diapers, onesies – you name it. I love clear bins because it helps to see exactly what is in each container – making it more likely to be used!
Want more tips for purging and organizing? This 30 Day Declutter Challenge is a great place to start!