Find yourself asking the question what to wear to a funeral or celebration of life is never a fun experience to go through. You're likely dealing with many emotions after experiencing a loss. To eliminate any stress or frustration trying to figure out what to wear to a funeral, I've created this simple guide to help you.
Whether you're attending a funeral or memorial service, the rule of thumb is to dress appropriately to show respect for the deceased whose life you are remembering or celebrating and convey your sympathies to the bereaved family members.
Does It Have To Be Black?
For a traditional funeral service, black is the traditional color worn when attending a funeral. When the bereaved family has not explicitly requested that a certain color be worn, it is safe to go with black and other darker hues like dark blue and dark gray.
Today, many families opt not to follow this traditional color code and choose white instead. Wearing white at funerals lessens the overbearing sadness and helps make the overall ambiance peaceful and less rigid.
Some families opt for a theme for the funeral, like wearing the deceased's favorite color. In this case, you may forego the black outfit and heed the family's request. If the family wants the guests to dress in a more upbeat or festive way avoiding black and somber hues altogether, then go ahead and dress accordingly. It's always best to follow the requests of the individuals hosting the funeral.
You should also remember the culture of different countries—China, for instance, where white is the traditional color of mourning.
Keep in mind the religion of the family—Muslims generally wear white while dark colors are acceptable too; Hindus usually wear white to a funeral to symbolize purity and as a mark of respect to the departed.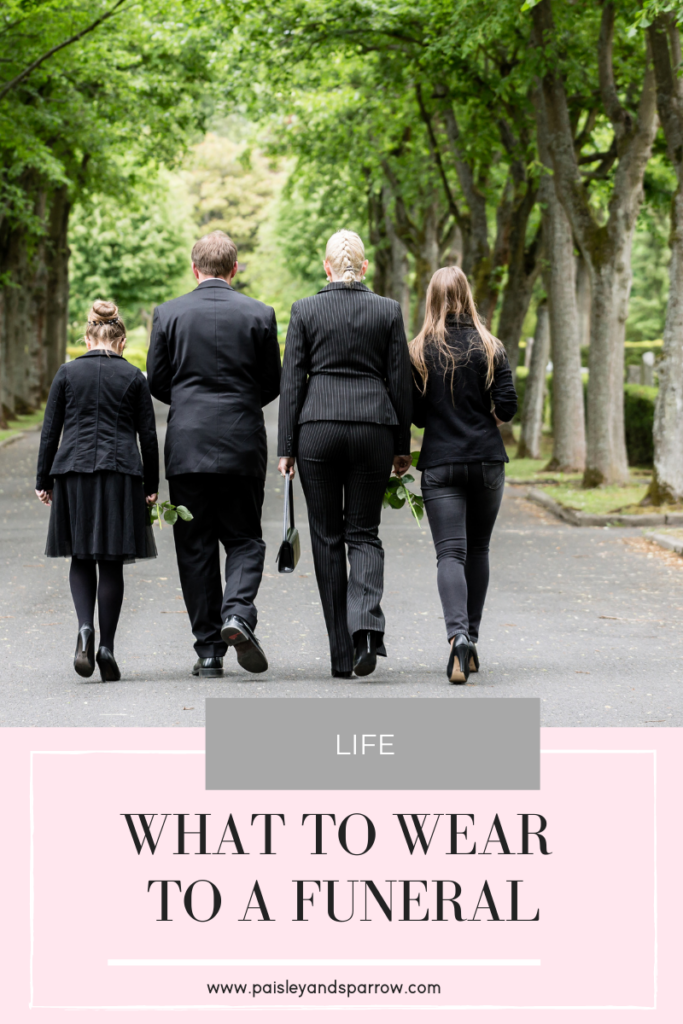 General Guidelines
Remember, you can always ask the funeral director or religious leader if you are questioning what to wear. A funeral dress code is similar to what you would wear to a job interview.
Here is a general guideline onwhat to wear to traditional services. You may decide based on the following considerations:
How Formal Is It?
This is dictated by how the family plans on having the funeral. The funeral venue will give you a good idea of how formal the occasion will be.
For instance, if it will be held in a place of worship and the funeral will be traditional and high profile, the guests are expected to wear formal attire—men in buttoned suits and women in mourning dresses.
The expectations may vary, but the essential requirement is to wear something tasteful in darker hues.
Meanwhile, if the location is more casual, like in a garden or somewhere outdoors, you can wear a less formal outfit.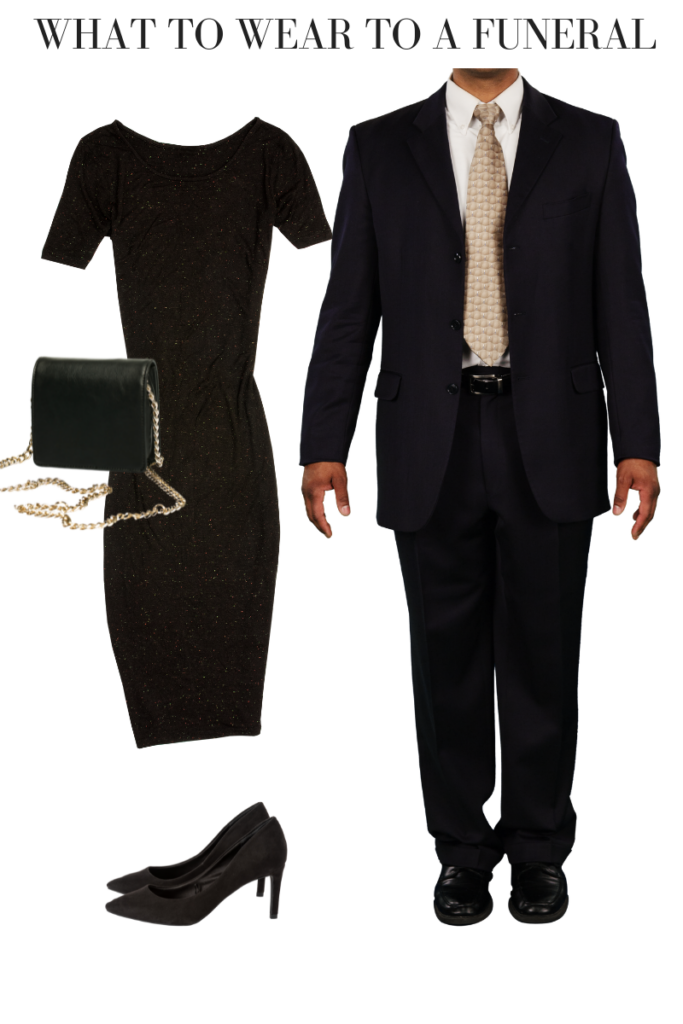 Dress Conservatively
Regardless of whether the funeral celebrations require you to wear a suit or dress, your priority is to be conservative, wearing appropriate funeral attire, especially if it is a religious funeral. Now is not the time to make a fashion statement.
Women can opt for low-heeled shoes. Women may wear doll shoes or ballet flats instead of towering heels. You may need to stand for a major part of the service, so be prepared.
The general code is to dress modestly, avoid low necklines and anything too revealing, and keep your shoulders and knees covered.
Paisley + Sparrow is a participant in the Amazon Services LLC Associates Program. This post may include affiliate links which means I may earn a small commission if you shop using the links below at no additional cost to you. 
What Can Men Wear To A Funeral?
The traditional funeral attire for men would usually entail a suit either in black, dark blue, or gray, a collared dress shirt, and a matching tie.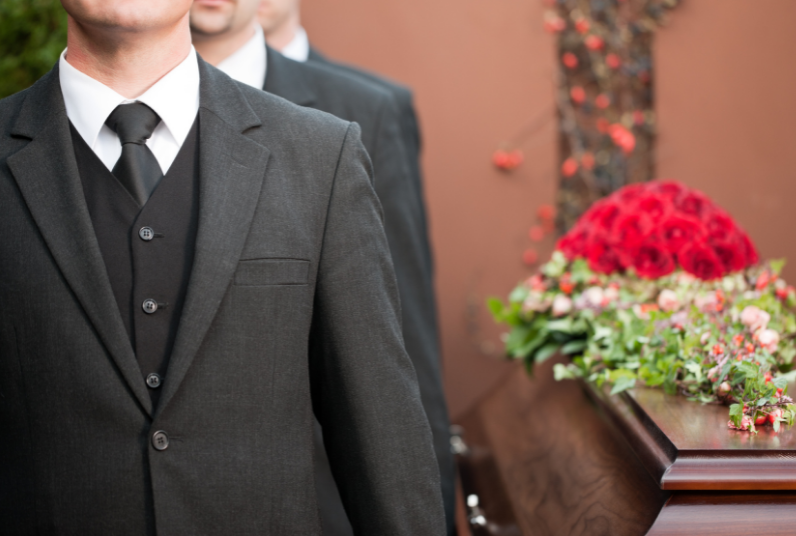 However, this traditional attire is no longer an absolute requirement. Business casual attire is almost always the unwritten dress code that is comfortable and probably available in your closet.
Here are some ideas that you can experiment with:
Dress suit with a standard tie
Slacks paired with a polo shirt and a belt
Slacks paired with a button-down shirt and a belt
Any of the three ideas above with a blazer or sport coat
Pair any of the ideas above with dark or black shoes such as loafers, dress shoes, or leather shoes
Your best choice is to just go with a black suit or dark suit and white shirt. If you're a close family member or part of the service, a three piece suit could also be an appropriate choice.
What Can Women Wear To A Funeral?
This is where your favorite black dress comes in handy, especially when teamed with the right accessories.
But if you are not in the mood for a dress or the weather and location make it challenging to be in a dress, you can opt for a black business dress suit or other formal attire instead.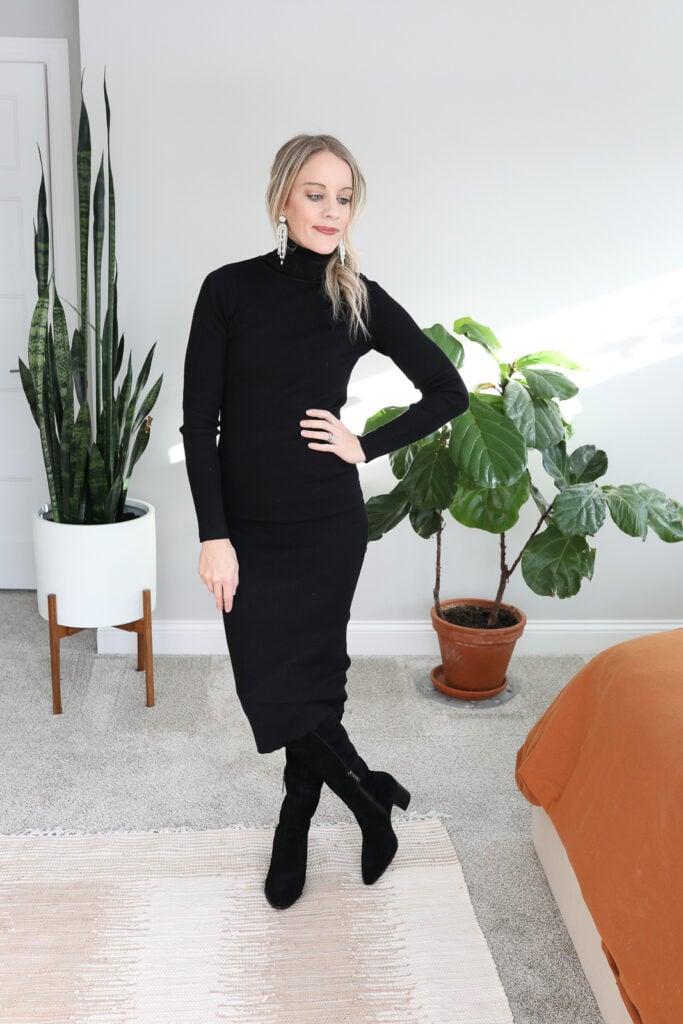 A sweater dress like this one with black boots is a great option for a winter funeral.
Conservative and straightforward business casual attire is acceptable outfit for a funeral.
If you are still unsure, these suggestions may inspire you:
Knee-length black or dark-colored dresses
Short-sleeved and sleeveless dresses but with an available topper, light jacket, or shawl (or pashmina) to cover up as needed
Dark-colored suits, business coordinates such as dark dress pants and suit jackets, and formal jumpsuits
Minimal and tasteful accessories
Medium to high heels depending on your tolerance, ballet flats, and sandals
When in doubt, go with a simple dress in dark colors and comfortable, easy to walk in shoes.
What Can Teens Wear to a Funeral?
The same clothing etiquette applies to teens. Boys can wear darker-colored Sunday wear that includes a polo shirt, button up shirt and slacks while girls can wear knee-length dresses.
Remember that even if "teenagers" are almost synonymous with casual clothing, denim jeans, casual tops, and sneakers are not appropriate for this occasion.
What Can Kids Wear To A Funeral?
There is more flexibility when it comes to dressing kids. Society knows that they won't be comfortable in tight and formal clothes, and although girls may enjoy dressing up at first, the joy of being in an itchy and uncomfortable dress will soon wear off.
It is best to dress the kids as you would when they attend their Sunday services. Of course, unless specified, stick with darker or black clothing, and avoid the pinks and glitters.
Boys can be in loafers and girls in sandals or Mary Jane shoes.
Always bring a change of clothes because you never know when it may come in handy.
What To Wear To Winter Funeral
You need to carefully plan and layer when attending a winter funeral. The usual dress code when attending a funeral is still applicable but with the addition of a coat, a pair of gloves, scarves, and an appropriate hat.
You have to be warm during the service and other activities planned after such as a graveside service
Both men and women can opt for a classic wool coat in black or dark colors as outer gear to stay warm in colder weather.
You can also layer your coat with knitted wear for a formal but fashionable look. And if the funeral is to be held outside, make sure that you wear appropriate shoes for the snow or the slippery pavements.
What To Wear To Summer Funeral
When attending a funeral during the summer, ensure you are aware of the location. This is an important thing because you have to dress prepared for the heat and the unforgiving sun for an outdoor gathering.
It is best to keep your attire lightweight. Skip the layers and opt for clothing made from airy and light fabrics like linen and cotton. This does not mean that wearing shorts or flip-flops is appropriate.
Men may opt for dress pants or a set of lightweight slacks. You can match it with a button-up shirt or a polo shirt. Skip the Hawaiian or loud palm trees as shirt designs unless the funeral theme is a luau.
While pants in khaki and other lighter colors are suitable, make sure that your upper outfit's color leans toward darker shades to keep with the overall theme—again, that is, unless the bereaved family barred black or dark colors.
You can finish your outfit with a pair of dark sneakers, loafers, or dress shoes with dark socks.
Women, likewise, can wear a knee-length skirt with a blouse to match or a dress.
As a general rule, short-sleeves are acceptable, but avoid spaghetti straps and low-cut blouses.
Choose a fabric that is also lightweight and billowy so the wind can cool you.
Alternately, you can also bring an umbrella with you. A black umbrella should be suitable, but any plain colored ones can also work.
Wearing sunglasses during the funeral is also fine if you keep the design simple.
What Not To Wear At A Funeral
Understandably, you want to fit in and be at your best when attending a funeral. Regardless of how deep your relationship is with the deceased, you'd like to be dressed appropriately.
Here are some of the mistakes to avoid when attending a funeral. Again, these are general guidelines that are applicable for most services.
● Avoid bright colors, loud patterns, and neon-colored hues like orange and hot pink. The only exception is if the bereaved family explicitly stated that these colors could be worn to comply with a specific theme.
● Men should not wear jeans, especially tattered ones, short sleeves, muscle tees, athletic shoes, shorts, and baseball caps.
● Women should, at all costs, refrain from suggestive and provocative clothing.
● Athletic and active sportswear like you just came from a workout then went straight to the funeral is also a no-no.
● Accessories should not be distracting, loud and glittery.
● Avoid clothes that require constant adjustments because they distract you from the very purpose of being in attendance at the gathering.
Conclusion
Sure, the bereaved family would value your presence more than what you are wearing, but be considerate and exert a little effort to show respect to the deceased.
You may find it difficult to express the loss, so let your garment reflect your sympathy.