Looking for things to do in Sedona? If you have a day or two to spend there, here's some ideas on what to do!
My sister and sister-in-law and I just spent a long weekend in Arizona. I've spent some time in Sedona in the past and fell in love with it so I was itching to go back!
Living in Minneapolis means enduring long winters. This year we decided to take a break from the cold and head somewhere warm. It's fairly inexpensive to fly to Phoenix from Minneapolis so we booked a last minute flight and off we went!
We ended up getting a rental car and drove the 2 hours to Sedona for one night and then spent 2 nights in Phoenix. We loved both areas and were so glad we did both cities! If you have 24 hours in Sedona, here's what we did!
What to do in Sedona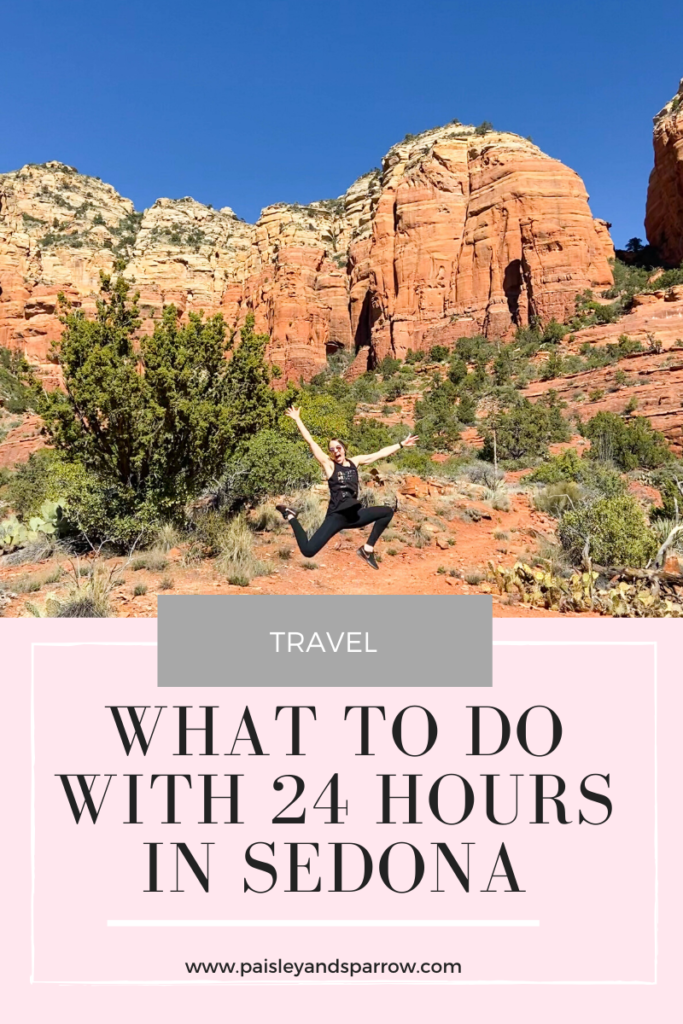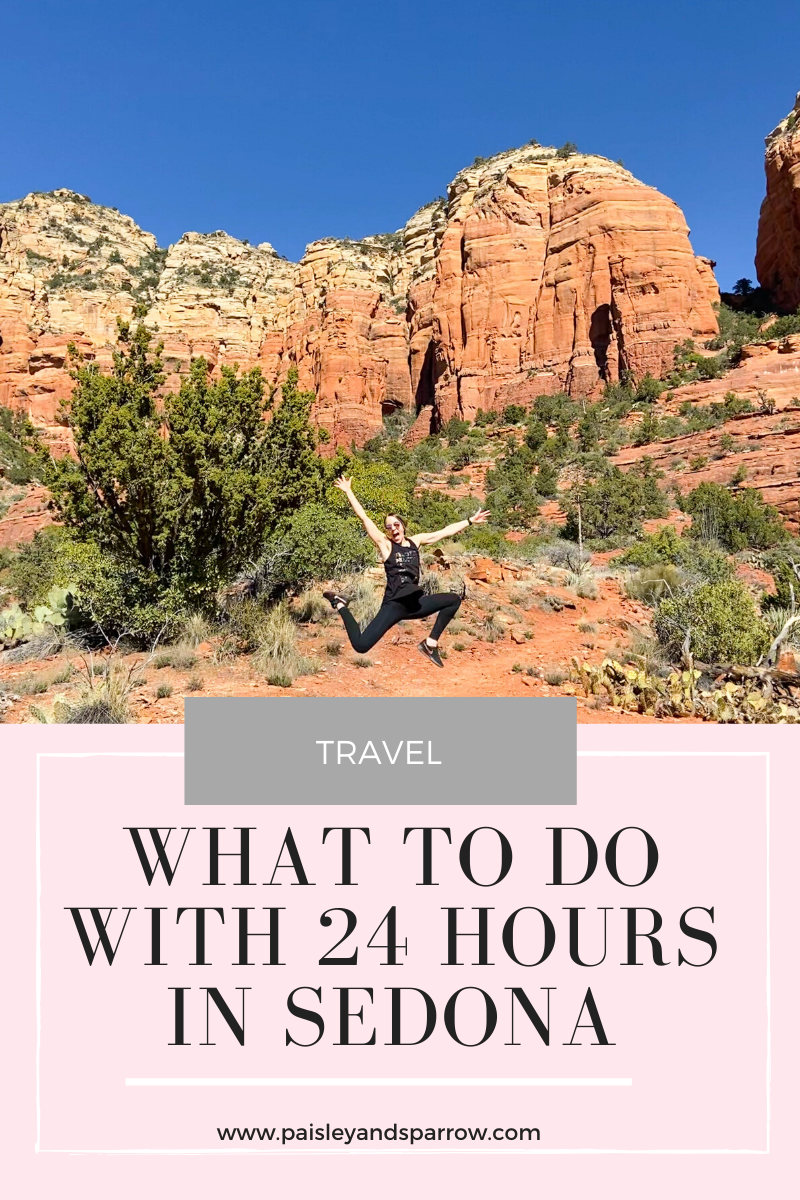 Visit the Tlaquepaque Arts & Crafts Village Shops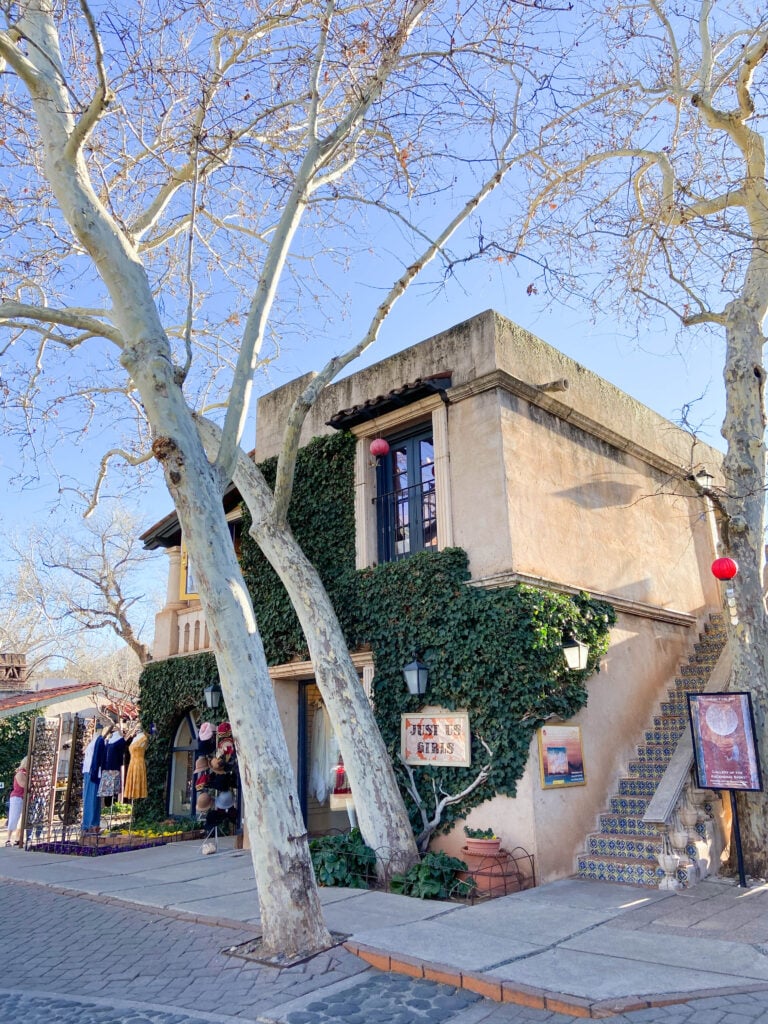 We wanted to do a bit of shopping on this trip and so we stopped into the Tlaquepaque Arts and Crafts Village shops! It is full of super cute art and craft shops with everything from quilts to jewelry to pottery to clothing.
Both my sister and I picked up a coffee mug at Esteban's. They have the cutest options of mugs and tons of pottery that we just loved! It was all very reasonably priced and full of a variety of types of pottery created by different artists.
We also picked up our mom shawl at Just Us Girls. That was a cute clothing store with jewelry, bags and a great sale selection!
There was also a really cute chai place with tons of Indian products (clothes, snacks, etc) so I want to go back with Rishi someday!
Dinner at the Hudson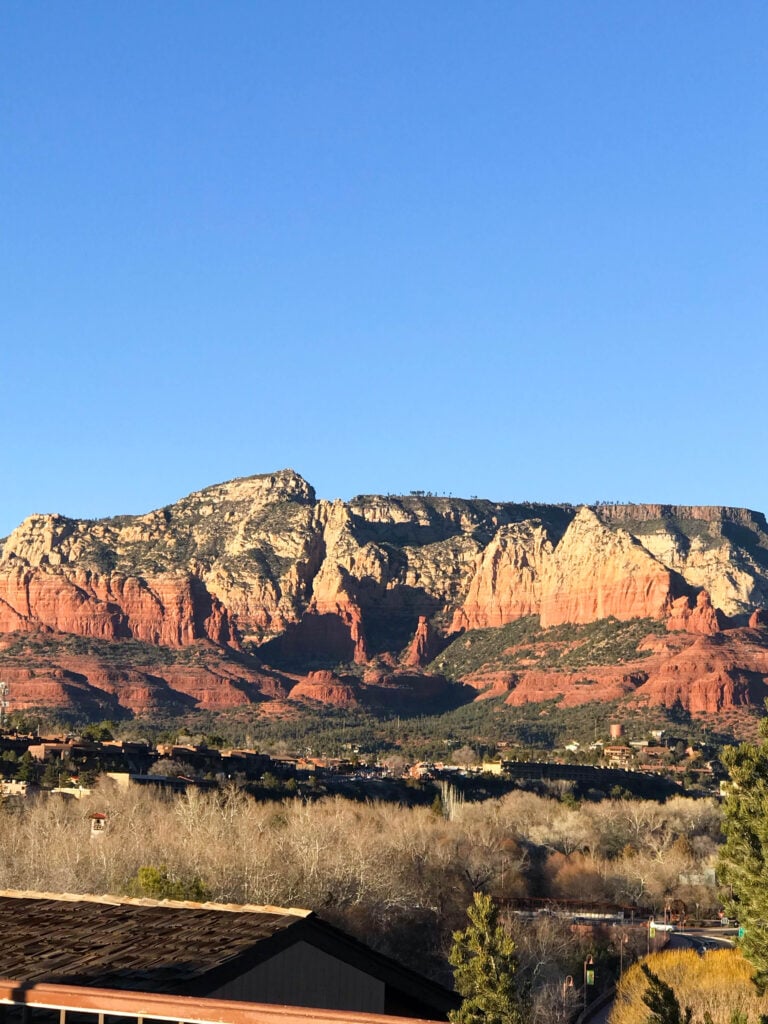 We had an impromptu dinner at the Hudson and it was one of our best decisions! It is known for one of the best views at a restaurant and it didn't disappoint.
We sat inside right next to the giant windows but the patio was FULL of space heaters so you could both enjoy the view and the outdoors when they weather was cooler (like it was when we were there).
The food was also delicious! My sister and I shared the steak and blue chop salad and the butternut squash ravioli and both were amazing! They also have some really fun cocktails there if you're into that.
We highly recommend the Hudson!
Coffee at Layla's
We popped in to the cute coffee shop across the street from our hotel for a cup of coffee and were pleasantly surprised! It had tons of different food options and the coffee was delicious!
Skip the Starbucks and try somewhere local. You'll be glad you did!
Hike at Teacup Trail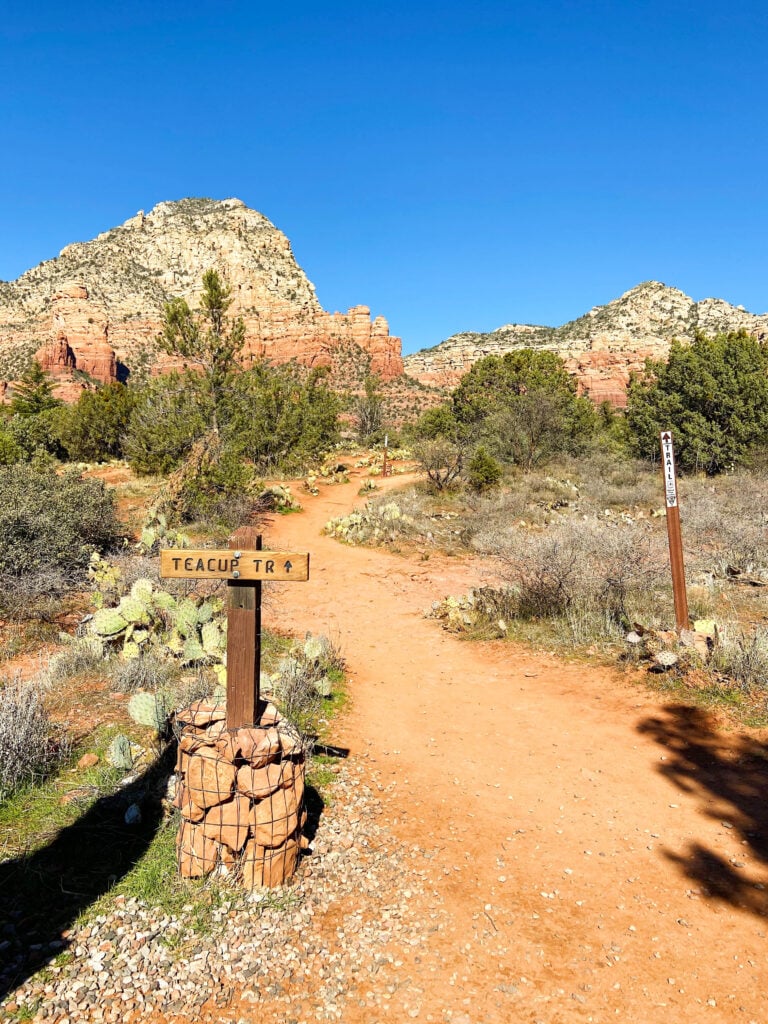 We decided to do a hike on the Teacup Trail which ended up being a super fun! We read that it was a bit hard to stay on the trail and we ended up getting turned around a few times.
At one point we started following another group of people and eventually asked them if they were doing the Teacup Trail. They quickly said no and told us to download the app "AllTrails". Apparently they kept getting turned around too and that app helped.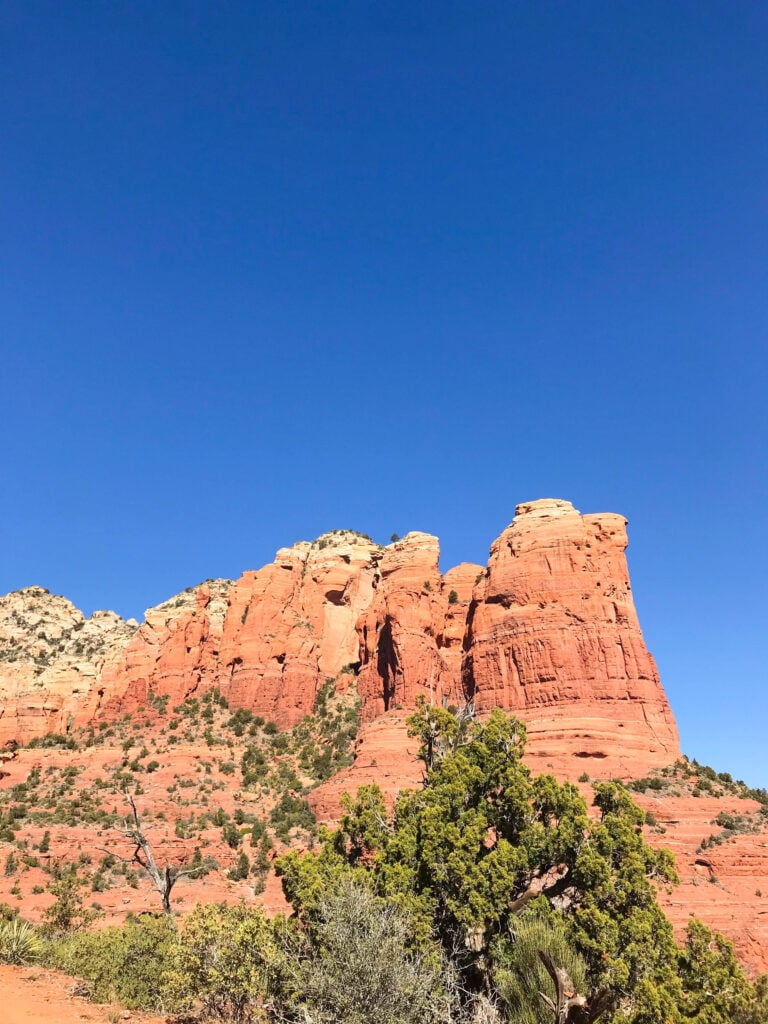 We did what they said and that helped us navigate the trail so much easier! If you're not a big hiker or don't want something too strenuous this was a great hike! It was a bit rocky so you need to pay attention to your footing but overall it was a pretty easy hike with gorgeous views.
Just be sure to download the AllTrails app before you go so you don't get lost.
Hike to the Birthing Cave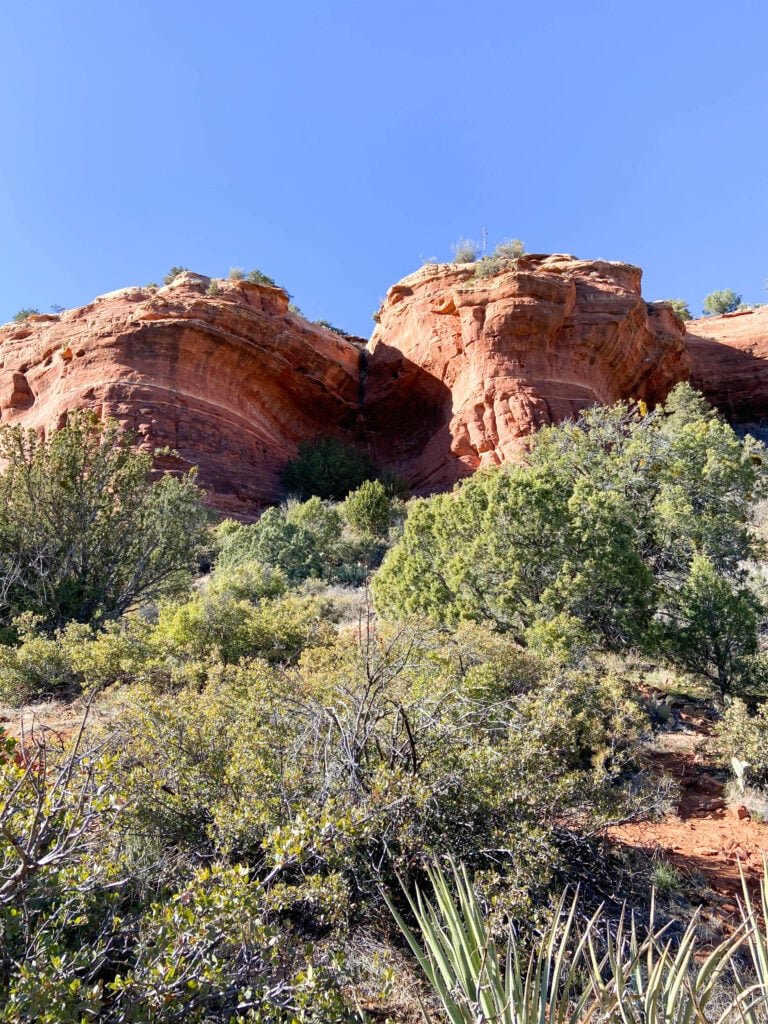 This was one of the most challenging hikes because we couldn't really find it! In the process of trying to find the Birthing Cave we ran into another group of people who sadly told they hiked 3 miles and couldn't find it! They also said they ran into numerous other people that couldn't find it either.
If you do end up going, here's what we did. We got on the Long Canyon Trailhead and walked .6 miles on the main trail. It's a pretty wide, easy to walk on, easy to see trail. At about .6 miles there was a fork. The way to the left had a tree down over it but we passed over it and followed a smaller trail. This trail kept going for probably .3 miles until you see a crevasse in the mountain range that's on your right side. Follow up the trail all the way to the Birthing Cave!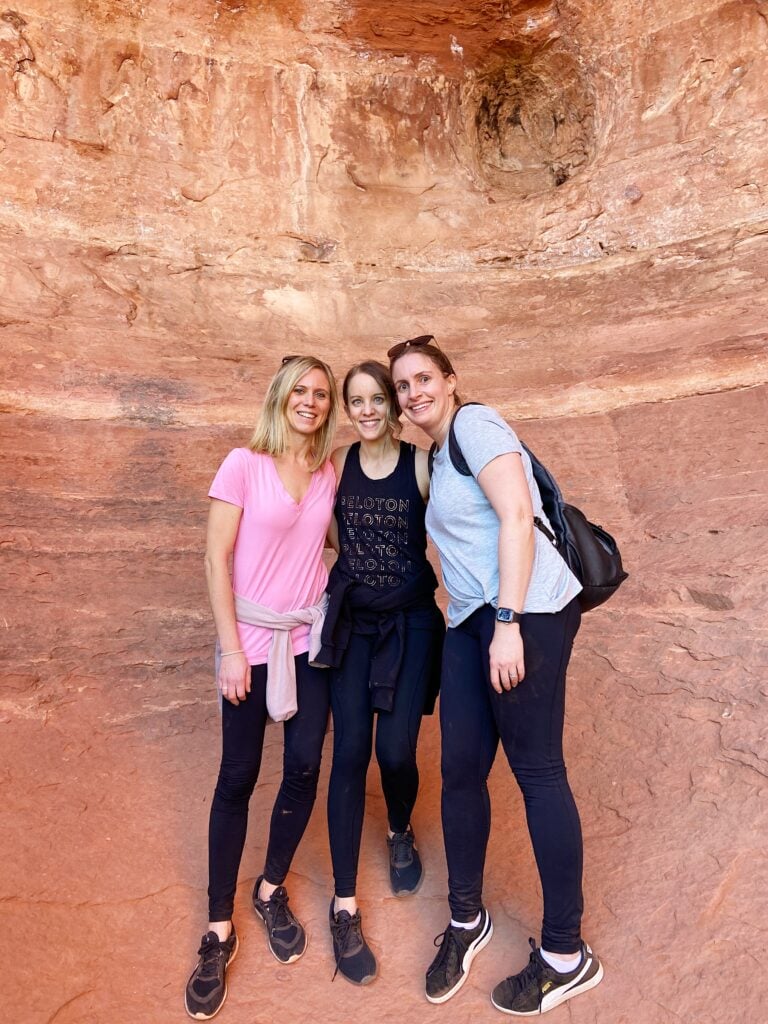 A few things to note about this hike. It's pretty easy except the last 5-10 minutes. Then it's pretty steep and gets really high really quickly. Both my sister and sister-in-law aren't big fans of heights so they got pretty freaked out when we were almost to the top. Just know that it's get relatively high and pretty steep but go slow on the way up and down and you'll be just fine. And don't look down!
Also – the pictures you see of this aren't really what it looks like! We thought it was like a round hole that you could walk through but it's basically just a rounded out cave. It was pretty cool and the view was beautiful so if heights don't freak you out and you have some time to roam around in case you get lost, I would do it!
Lodging
This time around we stated at the Sedona Real Inn and Suites in a suite. Overall it was nice! The room was big and there was a small patio off of it which was nice. It also had a fireplace!
The breakfast was mediocre though. There wasn't a ton of great options and really no fresh fruit or anything. And the coffee was less than ideal (however, we're a bit of coffee snobs). It was a fairly inexpensive spot so definitely worth checking out if you're on a budget!
I've previously stayed at the Sedona Rouge which was beautiful! It's a bit more, though, so you're definitely payer for nicer rooms, etc.