This post is sponsored by Southdale Center. All opinions are mine.
When buying Christmas presents it's so easy to go crazy and buy ALL THE THINGS! I love buying gifts, so for me it's a way I show love to those around me. To help me not get carried away, I'm trying out the "something they want, something they need, something to wear and something to read" theory of gift giving for my family!
I headed to my local mall, Southdale Center, which happens to be the very first mall ever created! It opened in 1956 and is the oldest fully enclosed, climate-controlled shopping mall in the United States. How amazing is that?
They have tons of great shops like J Crew, H&M, Madewell, Sephora, a Juut SalonSpa and so many more! It's also going to be where one of the new LifeTime Gym and work places is located.
Photos With Santa
Beginning on Friday, Nov. 22 until Tuesday, Dec. 24, 2019, families can create festive memories by taking photos with Santa as part of the Simon Santa Photo Experience. Shoppers can save time and avoid the line by reserving their magical moment with Santa online with Southdale Center's Santa FastPass. It's like Disneyworld has come to MN! 😉
Just head over to the Santa FastPass site and you can sign up for a 30 minute window to get your photos with Santa. We all know what it can be like standing in line for hours with little kids and this makes it so much easier!
I think photos with Santa are hilarious, especially with my kids because they never smile for the camera. We also try to make a whole day of it (or at least a full morning before nap time). We'll go do something festive after photos with Santa like picking out a wreath or stopping a cafe for hot chocolate to keep the fun going.
Want, Need, Wear, Read Ideas
Ok, on to the fun stuff! Here is what I pick up for all of my family members (including myself haha!), all from Southdale Center!
For Him – Rishi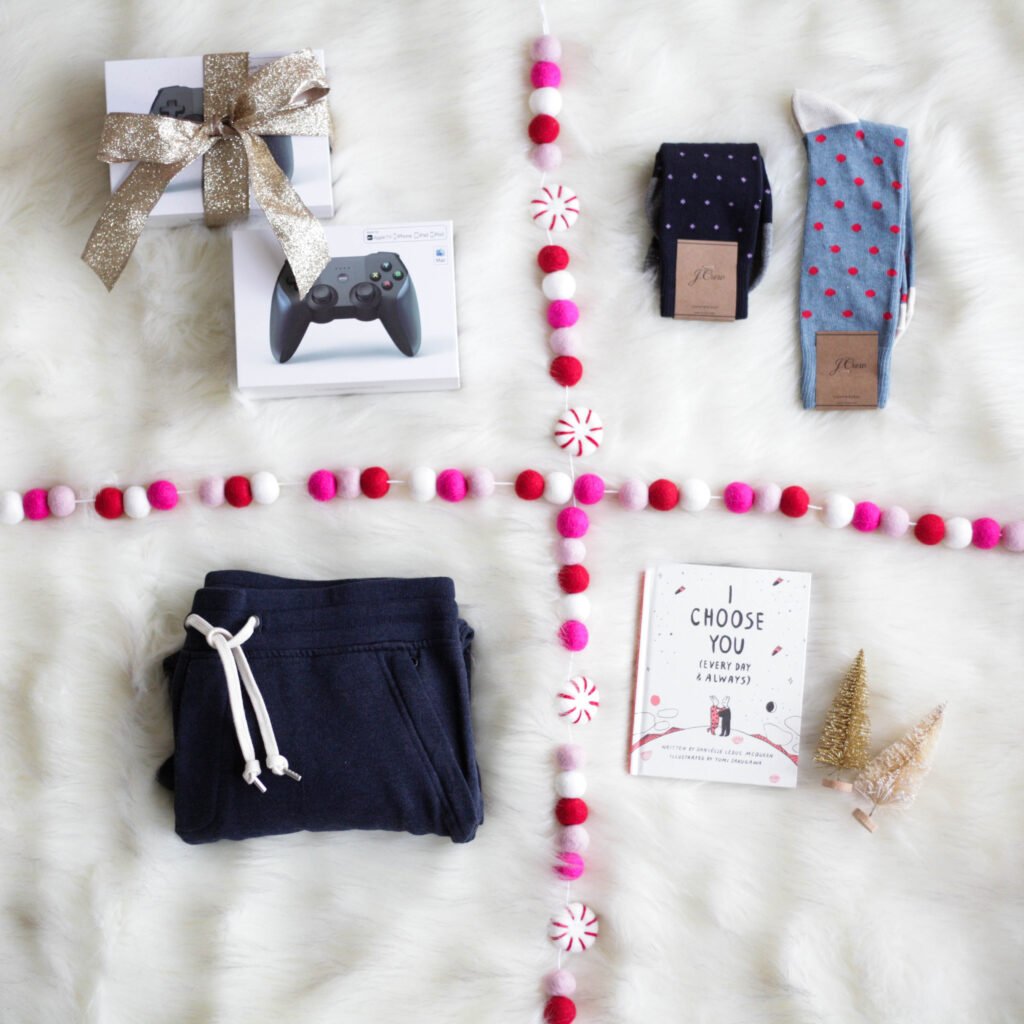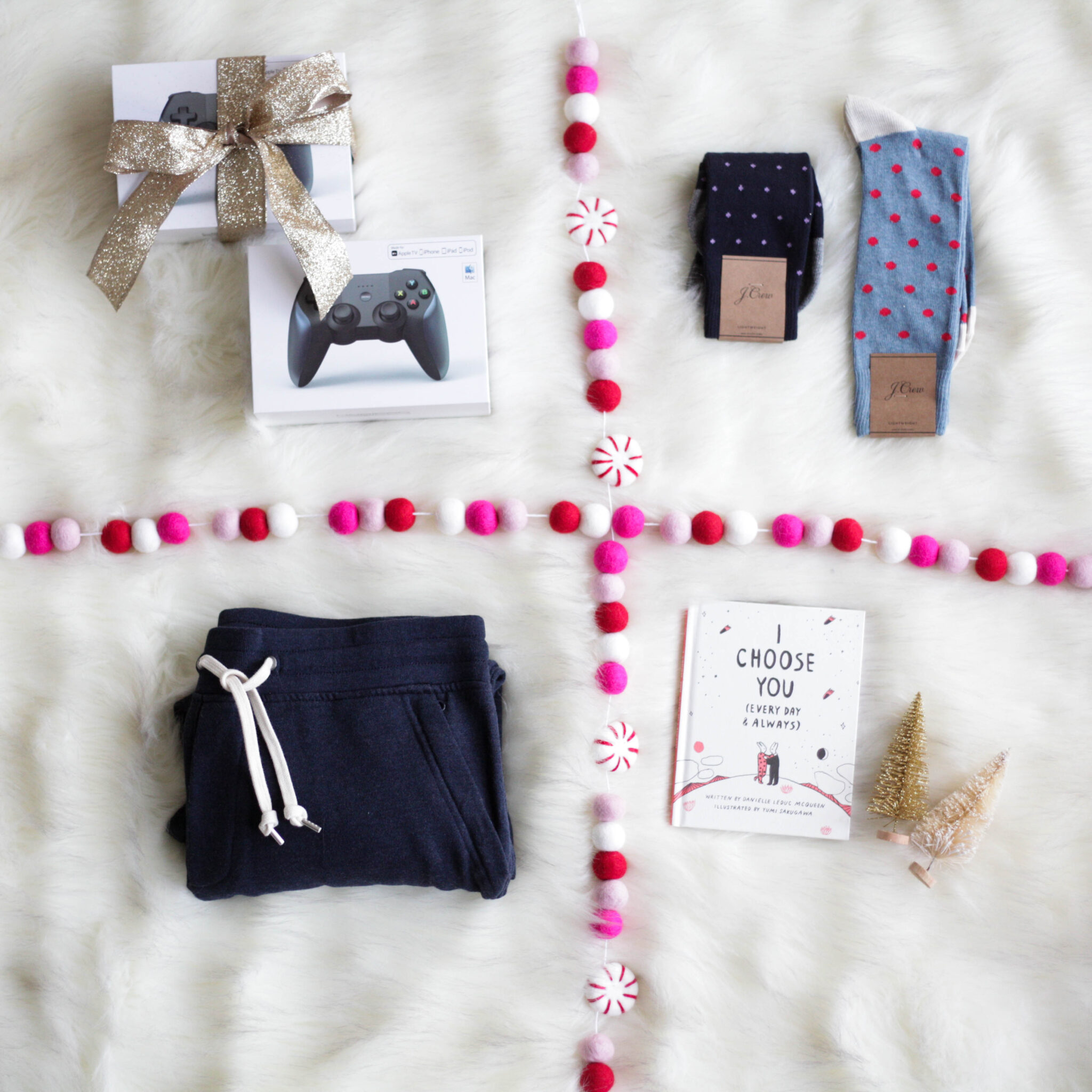 Something They Want
Rishi is one of the hardest people to shop for! 😉 I picked him up 2 Apple TV controllers from the Apple Store so we can play video games together!
Something They Need
One thing I've always loved about Rishi is how he always wears fun socks to work! His work is a slacks and button down kind of environment so to see his funky socks peeking out from under his work appropriate pants makes me smile.
He's been getting some holes in a few of his work socks, so a few fresh ones were definitely something he needed! These polka dot socks from J.Crew are super cozy and fun. J. Crew has a ton of fun socks for any guy on your list!
Something to Wear
Rishi bought his first pair of joggers this past year and they're in constant rotation! He wears them most evenings when he gets home from work as his "comfy clothes".
Because he gets such good use out of the joggers that he already owns, I knew he'd appreciate another pair! J.Crew sells these super soft joggers that Rishi's going to love!
Something to Read
I popped into the shop, Presents Gifts, and it's full of exactly what you'd think – presents and gifts! 😉 They had everything from mugs to candles to art and jewelry. There was a variety of books as well, and I found this "I Choose You" book. It's the perfect little book to remind Rishi just how much I love him.
For Her – Me!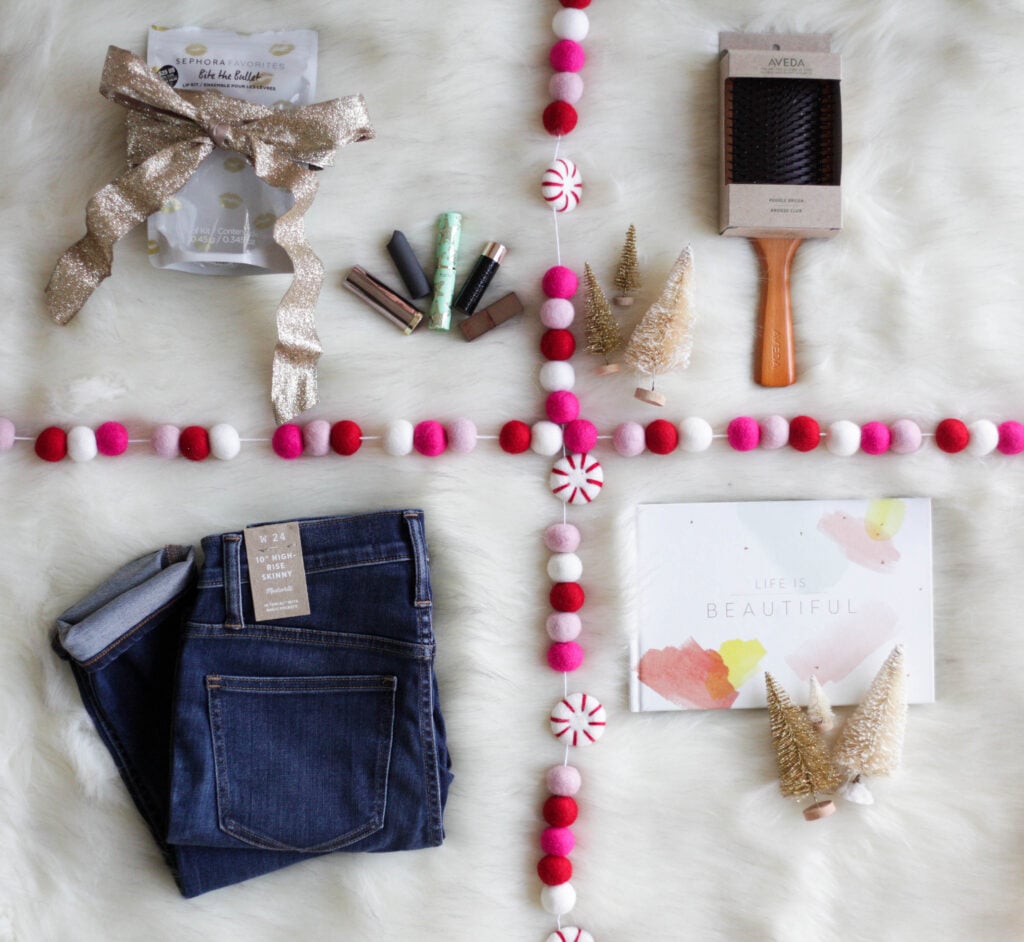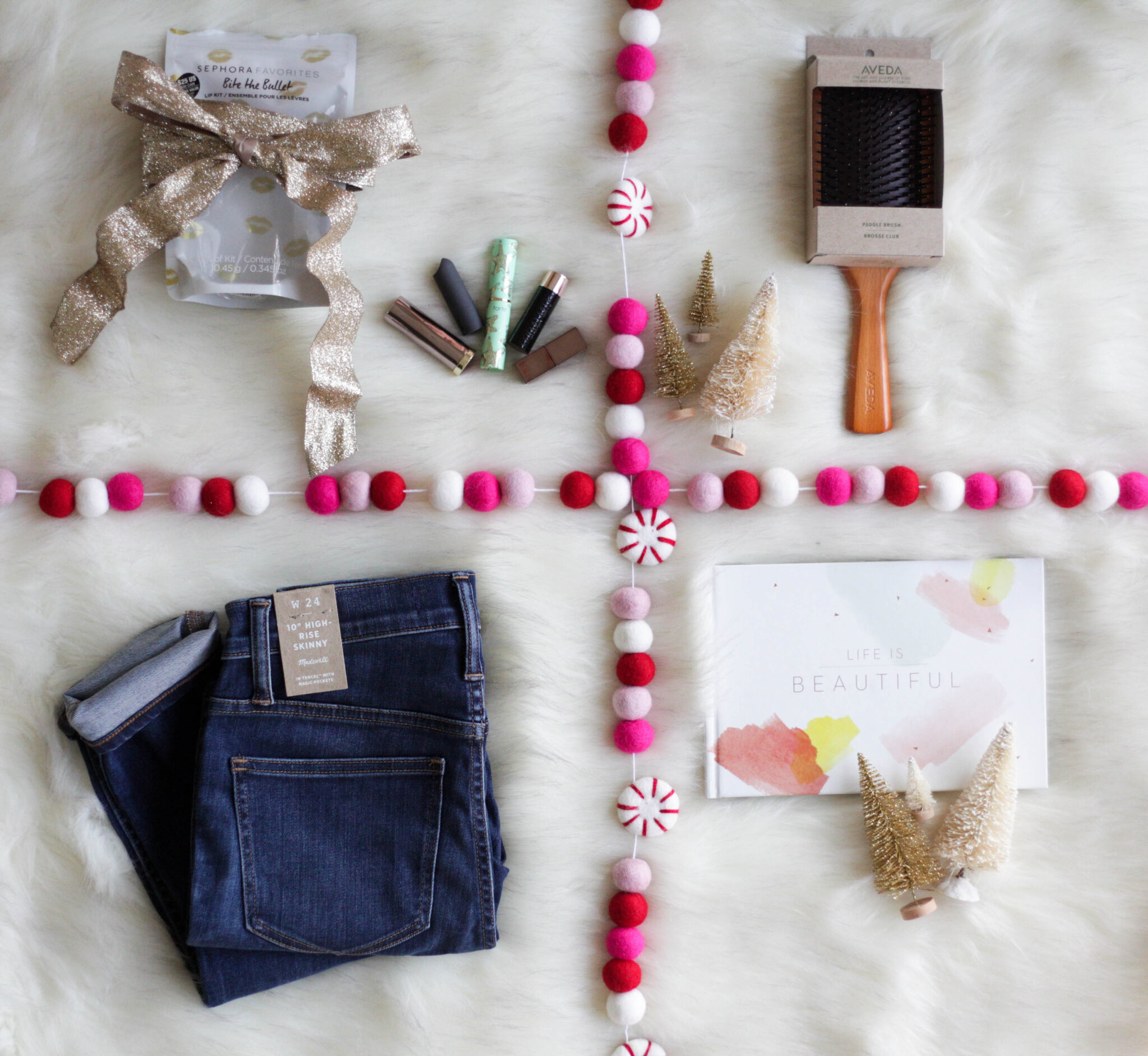 Something They Want
One of my favorite things to buy each year is Sephora's lip collections! I have SO many lipsticks and glosses so this wasn't something I needed at all but it's definitely on my want list! 🙂
I often times will try them all out and pass on any color that doesn't work for me to my sister or friends. It's the gift that will keep on giving!
Something They Need
I've needed a new hairbrush for forever now! I have a deep love for Aveda and love that they have a store at Southdale. I picked up a new hairbrush from there as well as a few "hand relief" hand creams for Roy's teachers!
Something to Wear
Now that I can finally start wearing real clothes again after feeling like I've either been pregnant, postpartum or planning on getting pregnant again for almost 4 years! That's made me not want to buy new clothes since I either couldn't wear them or I wouldn't be able to wear them for long before getting pregnant.
I've been eyeing up Madewell's jeans for so long now and finally got a pair! I've heard nothing but amazing things about their denim and I'm excited that I finally own a pair!
Something to Read
My "Life is Beautiful" book was another find at the Presents Gifts store! I love pretty books for my office and this one is beautiful!
For Toddler Boy – Roy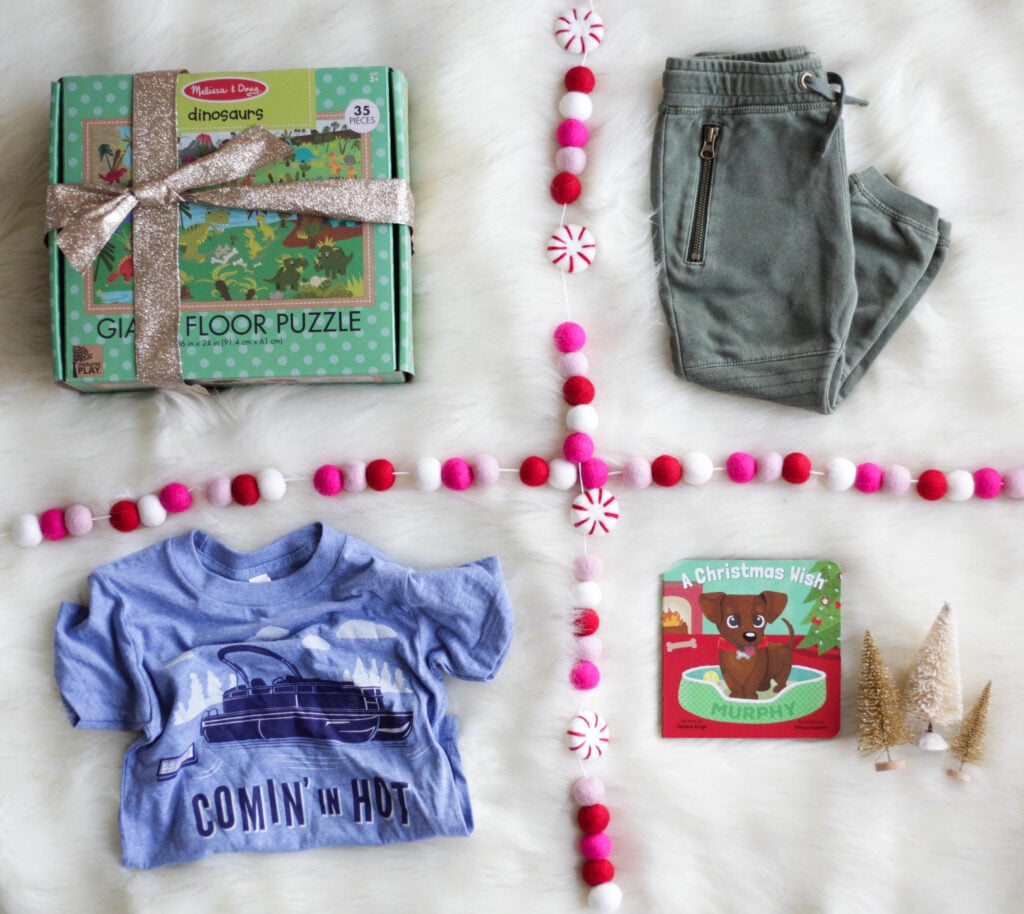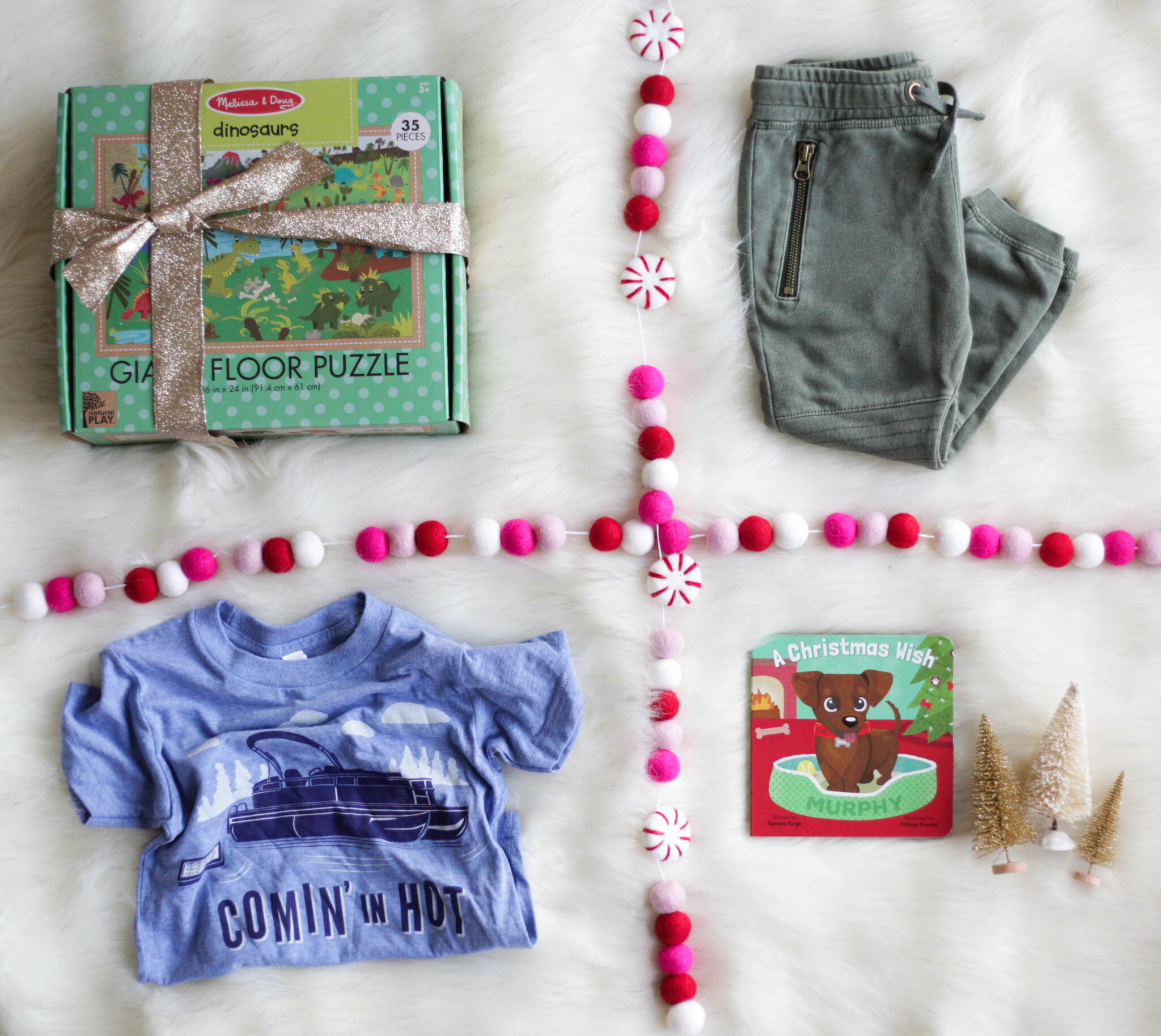 Something They Want
If you know Roy, you know he loves puzzles and dinosaurs. When I found this giant floor puzzle that's all dinosaurs I knew I had to get it for him! We love the Melissa & Doug brand and I was so excited to find this at Games by James. He's going to have a blast putting this together over and over.
Something They Need
Now that Roy's in preschool we've had to pick up a bunch of elastic waist pants (to aid in independent bathroom use – those buttons and zippers can be tough!). H&M kids has some super cute joggers so I bought Roy these green ones. I know he'll think they're extra cool with the zippers!
Something to Wear
One fun store at Southdale is Piccadilly Prairie. They have a plethora of gift items and most are from local MN makers. I saw this hilarious pontoon tee so I bought it for Roy's "something to wear"! He won't fully understand it but he'll love the boat (and I'll giggle every time he wears it!).
Something to Read
There is a Dollar Smart store in the mall so we swung in there to check out their selection. We ended up finding these adorable Christmas books for all the kids! We got Roy the puppy one because he's our dog lover and they even had a Baby's First Christmas one for Miles.
Toddler Girl – Penelope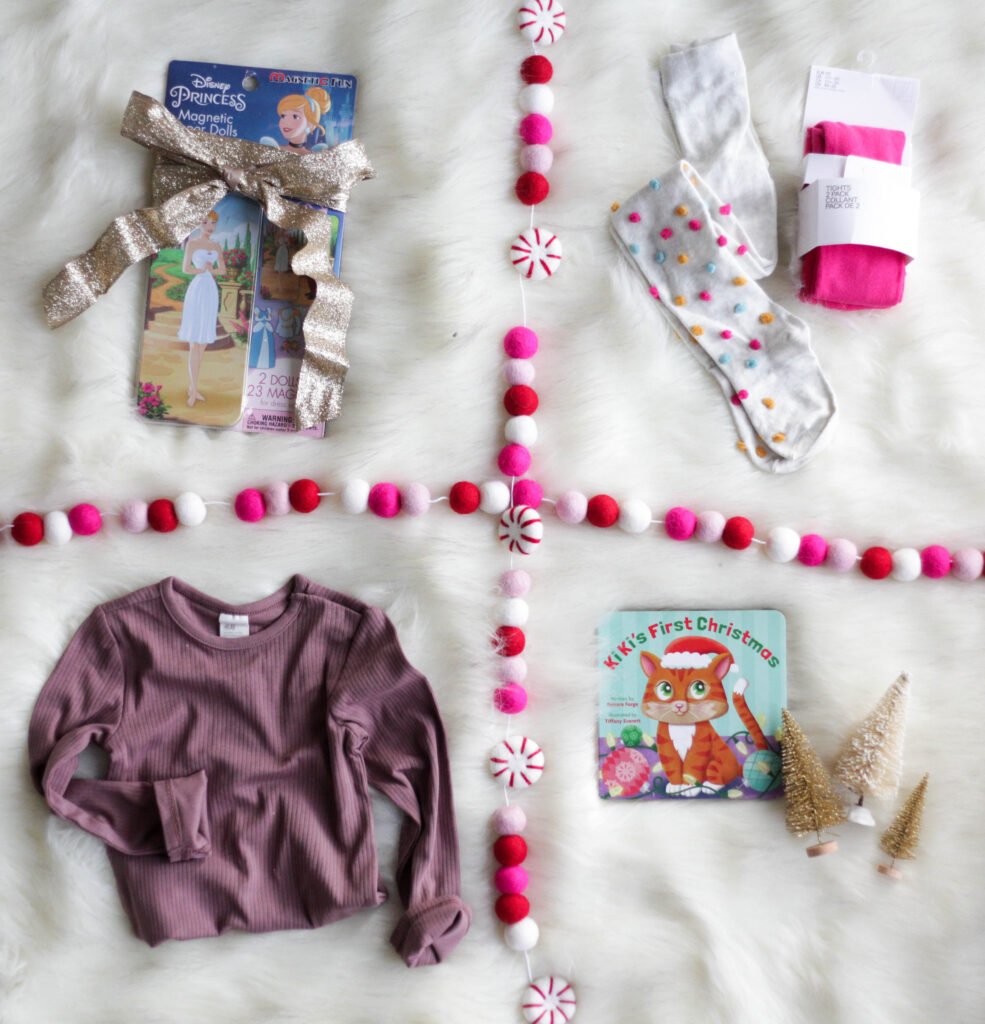 Something They Want
Penelope is really into dolls lately and is always wanting to change their clothes but she's just too little to know how to do it herself. I found these super fun Disney Princess Magnetic Dolls at Games by James! I love that she'll be able to play "dress up" with her dolls and not get frustrated!
Something They Need
One thing that Penelope LOVES is tutus. She'll wear a tutu every second she can get. That was great during the summer months but now she needs tights to help keep her warm!
I found these adorable 2 pack tights from H&M kids! I love that there's one solid print and one printed (the puff balls are so cute!) for more versatility.
Something to Wear
Another find from H&M was this simple long sleeve shirt. We've had a few shirts from H&M's Conscious line and have loved the quality! Since we walk Roy to school most days I like having cute long sleeve shirts to pair under sweaters or vests to help keep Penelope warm.
Something to Read
Another find from the Dollar Smart store was Penelope's something to read! My parents have a cat and Penelope loves her so much (to the cat's dismay haha!). This little kitty book is a perfect addition to her book collection for the holidays!
As you can see, Southdale Center is full of everything you could possible need or want for your Christmas shopping! Add in the fact that you can get photos with Santa with little to no wait and it's the perfect place to visit this Christmas season!