As you begin to focus in on goals you have for yourself, it's a great idea to create a vision board. And what better way to have some fun and set some goals than by having a Vision Board Party!
Oftentimes vision board parties happen at the end of a year or at the beginning of a new one but it doesn't have to be then! It can be any time of the year to set new goals, refocus on ones you set earlier or just create a beautiful board of inspiration.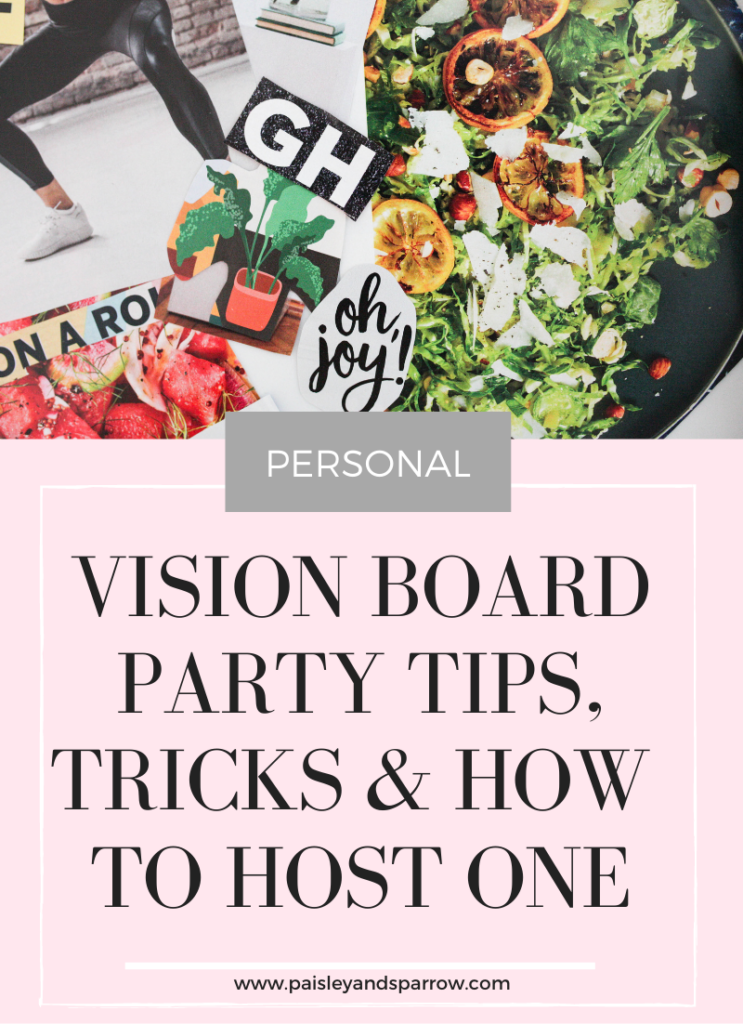 This post may include affiliate links which means I may earn a small commission if you shop using the links below at no additional cost to you. Paisley + Sparrow is a participant in the Amazon Services LLC Associates Program. Thanks so much for supporting me and this blog!
What is a Vision Board?
Let's start with the basics – what is a vision board? A vision board is a collage of photos or magazine clippings with the intent to help you achieve your goals.
A vision board is created by getting a large sheet of paper and gluing images and words that give you an image or word of a goal you have.
The intent of having a vision board is so you can clearly see your goals every day! Seeing it everyday will help you stay focused on your goals and make it more likely that you'll achieve them.
What is a Vision Board Party?
A vision board party is simply a gathering of friends with the intent of creating vision boards. It can be done virtually or all together.
Each of you will create a board with your goals and ambitions for the year (or an upcoming period of time).
How to Plan a Vision Board Party
1. Figure out who to invite!
Maybe you invite your closet friends. Or possibly your church group. Maybe other entrepreneurs (if that is you) or people at your work. Whoever it is, it's best to keep it more on the small side so people feel comfortable sharing and there's enough time for everyone to talk. You also want people who are into setting goals!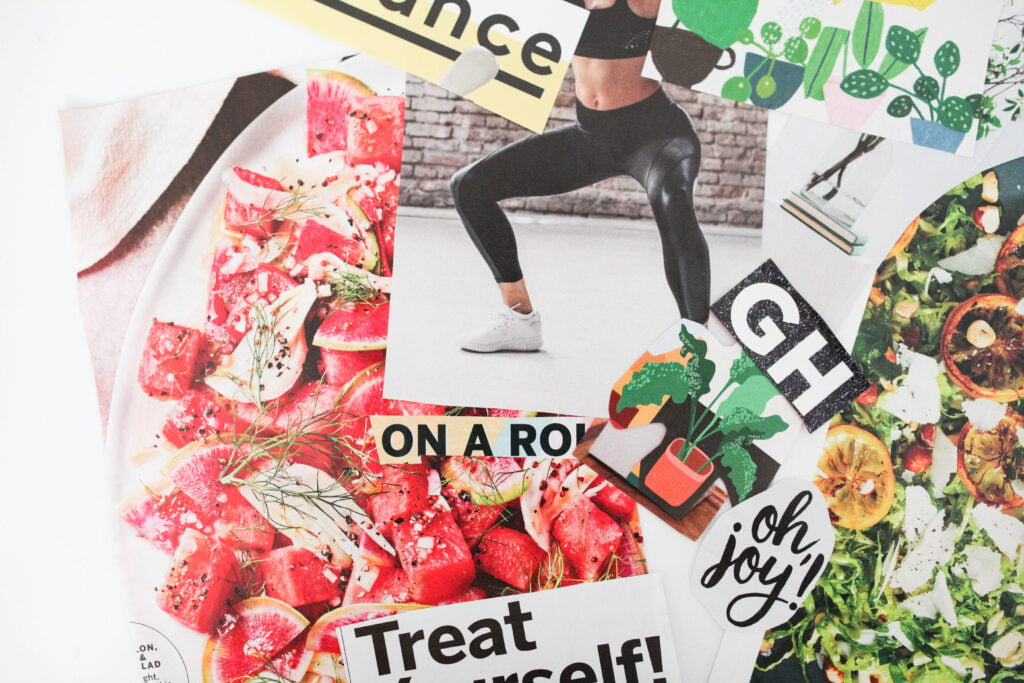 2. Invite them!
Whether you keep it informal by sending out an email or a text message, or a bit more formal with invites via snail mail, ask your friends to join us.
3. Get supplies
As the hostess it's a great idea to provide all of the supplies for making vision boards but you can definitely ask friends to bring extra magazines, glue, scissors, etc if you need them!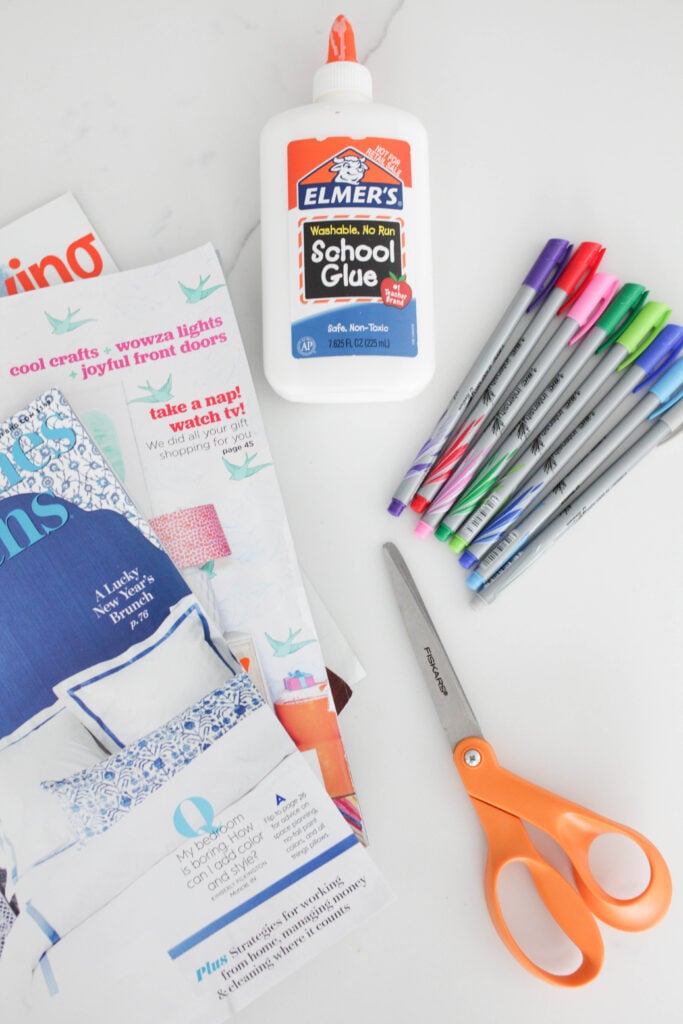 4. Pick up some snack and drinks
Or feel free to ask your friends to bring something when they come!
What to Do at a Vision Board Party
You can run your party as formally or informally as you'd like, but here are a few suggestions.
1. Introduce one another
Go around the table and share a little bit about who you are and what some of your goals are. This will be a good time for having a bite to eat as well as getting settled.
2. Explain how to create a vision board
Make sure everyone knows what they're doing before they get started! Also remind people that this doesn't need to be taken too seriously.
3. Start creating!
Cut, glue, and chat while you're creating. The only tip here is to encourage people to keep working on their vision board if they get caught up chatting. It's great when people connect but you also want to make sure their vision board gets done!
4. Set a time limit
Whether you have an hour or 3 hours, make sure everyone knows how much time they have to create their vision board. You'll be in charge of the clock so give gentle reminders as the time goes by.
5. Leave time for sharing
Leave 30ish minutes at the end of the party for everyone to share their boards! This can also be time for some people to finish up while others are sharing. Allow your guests to go as in depth as they want (or as you have time for).
How to Create a Vision Board
First you'll need your large piece of paper. Then you'll want to think through your goals.
Do you have business goals?
Are there fitness goals you want to achieve?
Do you want to travel somewhere?
Is there an area in your life you want to focus on (marriage, kids, etc)?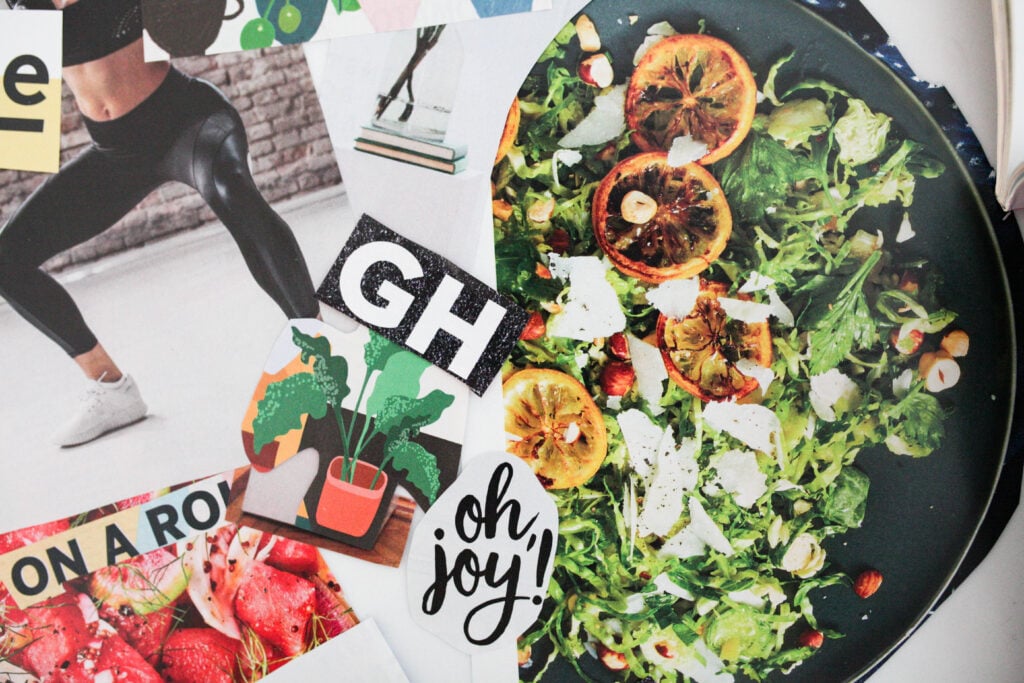 After you've decided on a handful of goals, it's time to start cutting! Flip through magazines and cut out things that catch your eye and relate to your goals. It can be images or words – whatever you'd like!
Arrange them on your paper as you cut them out. I like to wait until I have my paper filled up before gluing things down so you can make it look how you like!
Feel free to write words or specific goals you have next to images if that would help.
And wala, you're done!
Benefits of Host a Vision Board Party
1. Motivates YOU
One of the best reasons to host a vision board party is because it motivates (and forces!) you to set some time aside for you to actually plan out your goals and create your board.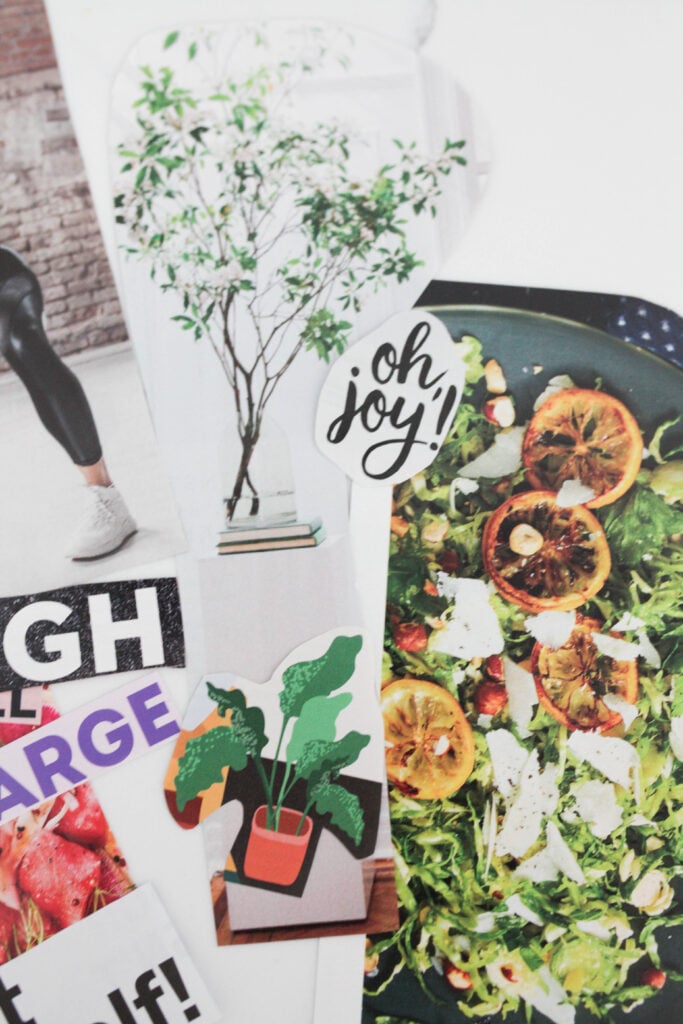 Let's be real, it's very easy for us to say we're going to do something but if it's just us taking the time to do something for ourselves, there's a good chance it won't happen.
2. Forces you to set your own goals
It can be easy to not actually sit down and set your own goals. Or not get specific about them. If we host a party and get some friends to join us, then there's a good chance we'll actually set goals (and create our vision board!) while we host our vision board party!
3. Tell others your goals
Part of hosting a vision board party is sharing everything on your board with the friends who are joining you! By telling others your goals it increases the likelihood of you actually working towards those goals and accomplishing them.
And bonus, you'll have people who can help you stay accountable to the goals you've set!
Vision Board Party Tips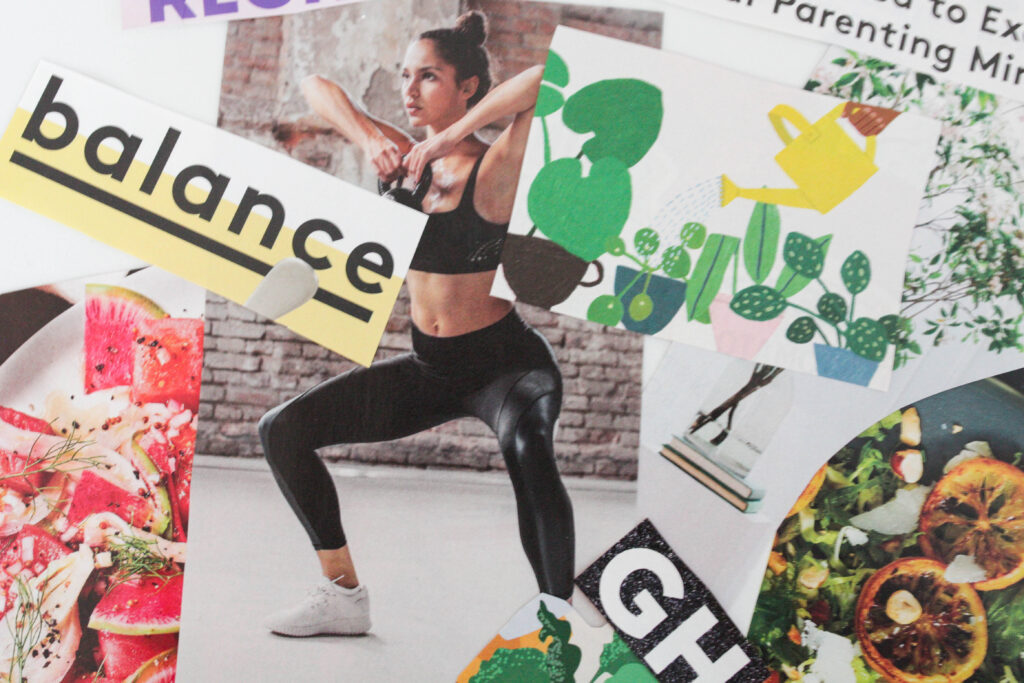 Not sure where to start when it comes to planning your vision board party? Here's some expert tips!
1. Have Snacks and Drinks
Whether it's a mid morning party or a post kids' bedtime kinda party, you'll want to have some snacks and drinks. Don't worry though, you don't have to do this all yourself! Ask your friends or attendees to bring a snack or drink to share with the group.
2. Finish Your Vision Board at the Party
It can be tempting to get too chatty to finish your vision board but finish it before the party ends! It's helpful to have an idea of things you'll want on it before the party so you can focus in on completing it.
3. Get kids involved!
Maybe you make this a family activity that you do each year rather than with friends! Encourage your kids to think about things that make them happy, goals they want to see accomplished in school or sports or maybe some place the would love to travel to.Just because they're kids doesn't mean this can't be a fun activity for them!
4. Don't stress!
This is meant to be fun so relax and allow your creativity to flow.
That's it! I hope these Vision Board Party tips and ideas help you feel confident in hosting your own vision board party whether it's via zoom, facetime or in person.