If you're looking for new workout apparel that are Luluemon quality without the Lululemon price tag, look no further! I've recently discovered Senita Athleticsand have been blow away by their workout and athleisure clothes.
Here is my full Senita Athletics review!
*If you end up purchasing something from Senita Athletics, use the code Jen15 for 15% off your purchase!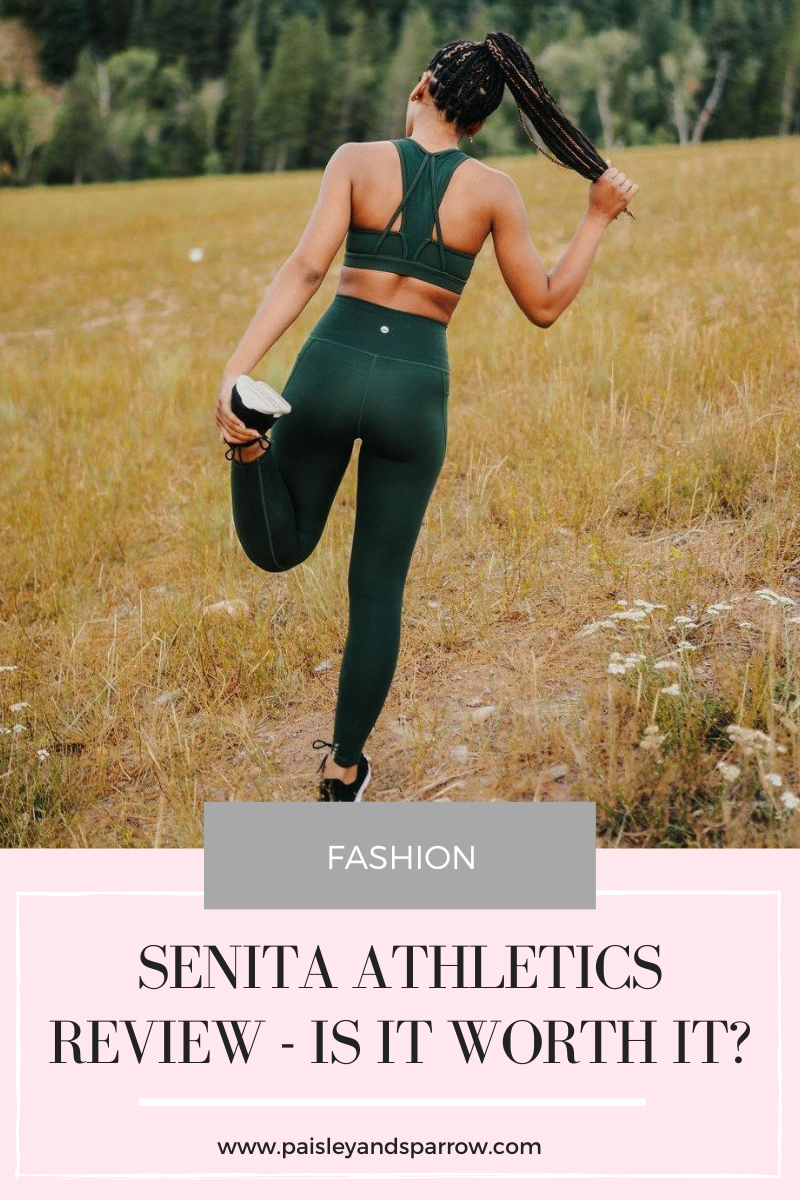 Paisley + Sparrow is a participant in the Amazon Services LLC Associates Program. This post may include affiliate links which means I may earn a small commission if you shop using the links below at no additional cost to you. 
Senita History
Senita Athletics was founded in December of 2015 by two sisters, Jenna and Maddie. I actually love how this brand got started because I can totally relate to it!
These two sisters both had babies and wanted to get back into shape. Both were former soccer players and Division 1 track athletes so they knew a thing or two about what makes good athletic apparel.
Needing new workout apparel to fit their postpartum bodies, they went to buy some only to be shocked by the price tag. They decided to create flattering, well made workout apparel that's high quality yet affordable!
They strive to create a supportive, uplifting community – Senita Sisters.
Senita Athletics business was eventually purchased by Liz Pogue, a former volleyball player and "someone who has attempted almost every workout video or fitness class available". She had a similar experience as Jenn and Maddie and wants to make Senita Athletics a place where you can find athletic apparel that help you look, feel and perform your best.
Senita Athletics is based out of Arizona.
Senita Sisters
A unique aspect to Senita Athletics is their community. They've created Senita Sisters! They have an entire Facebook community just for Senita Sisters to get updates on promotions, new arrivals, sneak peeks and more.
This is just a way for women to come together and share in a supportive community.
Senita Athletics Workout Clothes Review
I recently had the chance to try out some of Senita's clothes – here's my thoughts!
First of all, a bit about me so you know why I'm even qualified to write this review! I've been an athlete my entire life from gymnastics to track to marathon running. I've ran over 15+ half marathons, 3 marathons (including the Boston marathon) and too many shorter runs to even count them.
I'm a mom to 3 kids and still a runner! I'm currently training for my 4th marathon – my first one since becoming a mom!
Seeing as though I am running 5 days a week I've had to purchase and try out new apparel. Not only am I incredibly picking about what I wear, I don't want to spend a ton of money on one item!
My long runs are consisting of 2+ hours of running and nobody wants a pair of shorts falling down or an uncomfortable sports bra to annoy you for 2 hours.
So far I've tried out 2 different pairs of running shorts, one sports bra and one pair of joggers.
Lux High Waisted Rio Shorts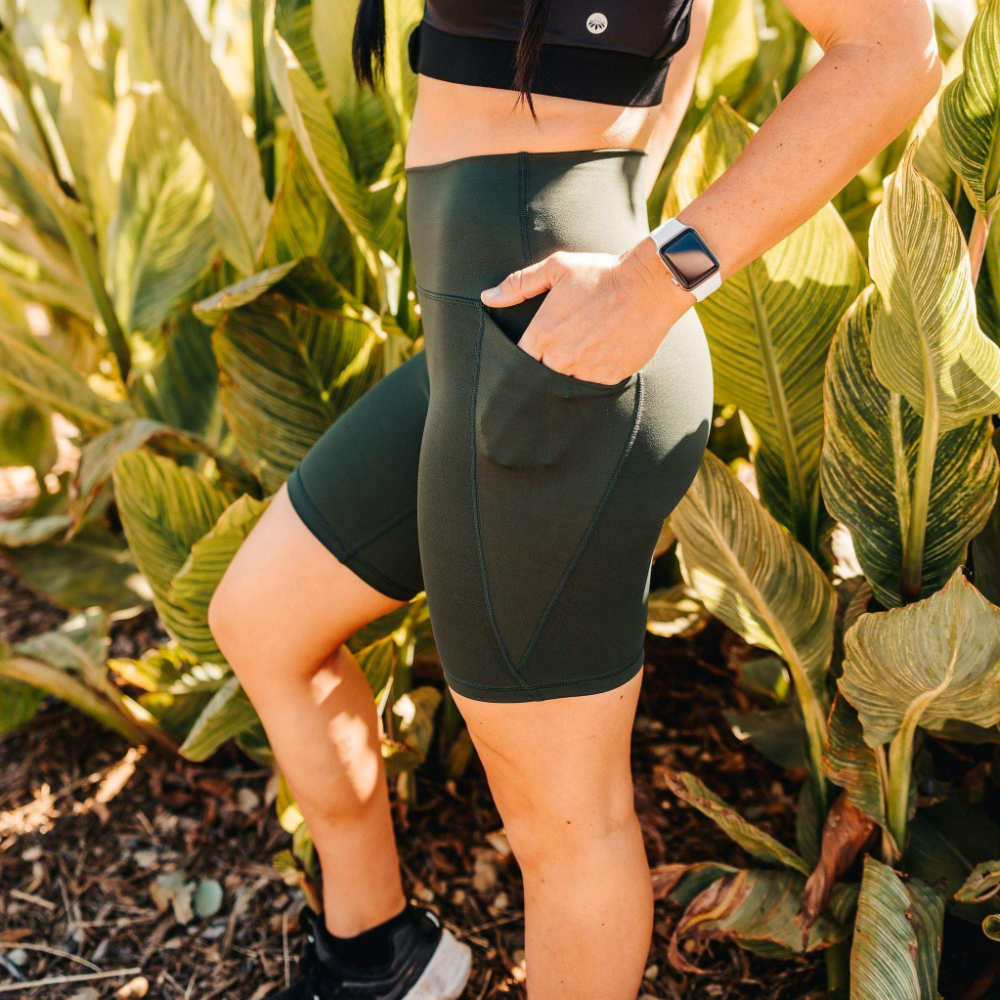 Let's start with the biker style shorts. These are the type of shorts I prefer to run in for longer runs. They prevent chaffing, have a great pocket to hold my nutrition and are high waisted.
I've tried SO many different shorts similar to these and have found some decent options. The thing that set these apart from the others are their compression and their cost!
They have the perfect amount of compression (at least for me) where I feel totally supported but not like it's too tight. These have quickly become my go to shorts for all of my long runs (13+ miles).
I've already worn and washed them countless times and you can tell they're a good quality short. These are the best!
One thing to note – I own these in black and green and the green shows sweat! The black pair doesn't. I don't love it when my sweat shoes on my shorts so keep that in mind if you're the same.
They have a variety of different styles of bike shorts and a variety of inseams that range from 2′ to 9′. The reviews are super helpful in knowing which style is right for you!
Marathon Shorts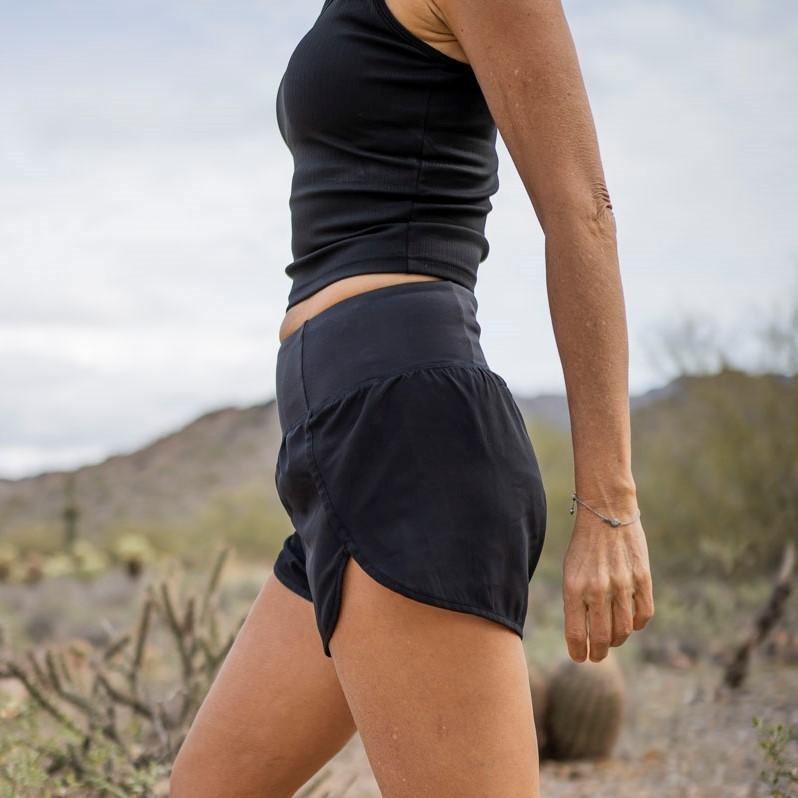 If you like a classic running short, Senita Athletics has those too! I picked up a pair of the Marathon Shorts to review them and compare them to my other classic running shorts.
One thing I love over my other running shorts is the waistband. Compared to my other shorts with a thin waistband, these have a nice thick waistband that's more high waisted than my other classic running shorts.
They have a large pocket in the back that can fit your phone is overall a great option for a tried and true style running short.
These have tons of amazing reviews!
Studio Skin Joggers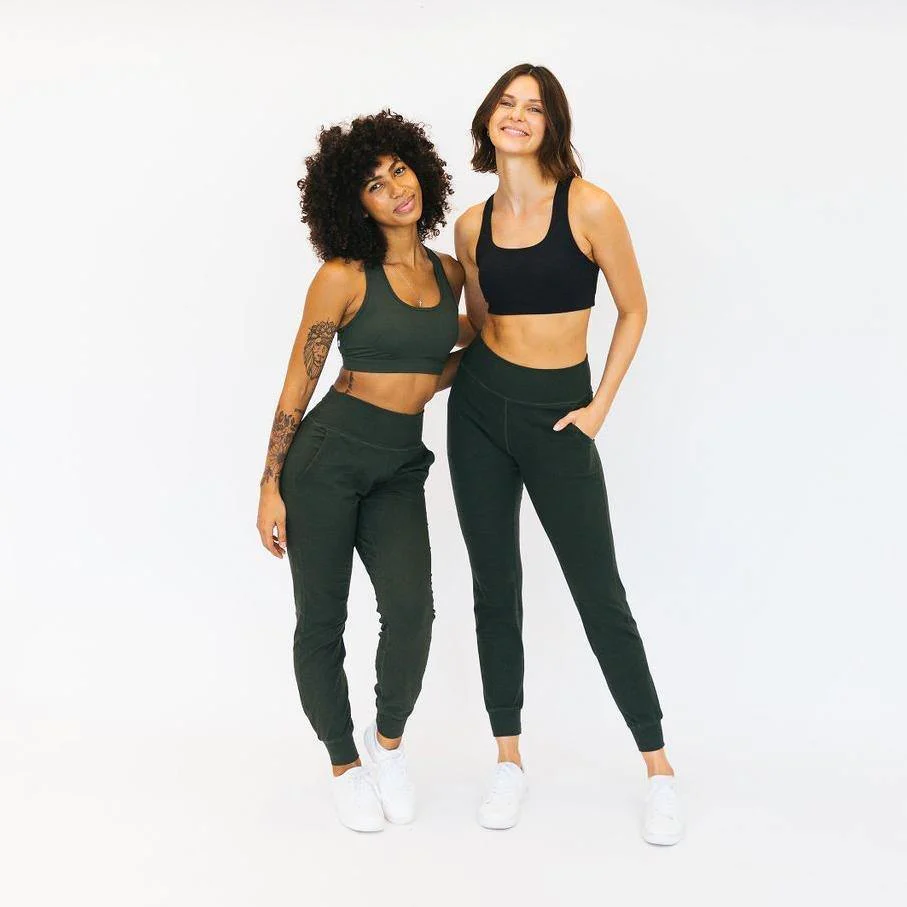 Another pair of bottoms I've tried is the Studio Skin Joggers! These joggers are so incredibly soft and comfortable. They're a more tight fit than other joggers I own (for a more loose fit you can try the Weekend Joggers) but these are a great pair of joggers to wear when you want something in between leggings and sweatpants.
They have a 4 way stretch, a cuffed bottom and a seamless waistband. They come in 3 different lengths – short, regular and tall!
I've only had them for a little over a month but so far the quality is amazing!
Sarah Sports Bra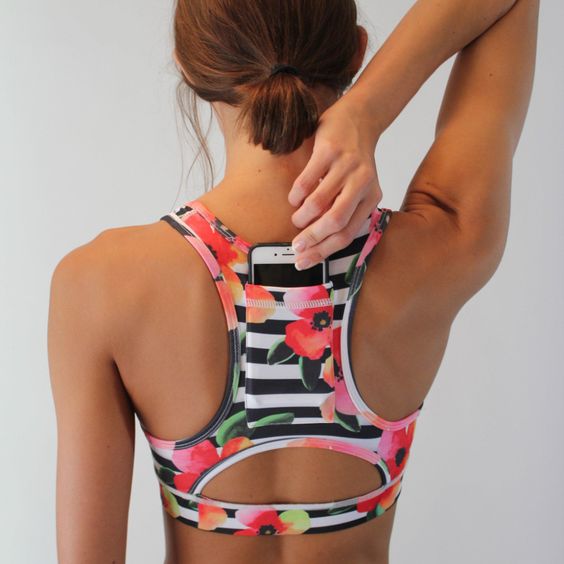 When it comes to tops, the only thing I've tried so far is the Sarah Sports Bra. I love it! I have small boobs so even though this is a medium impact support sports bra, it works well for me for running.
It fits true to size, has removal cups and even has a back pocket to keep your keys, phone or anything else safe!
It comes in a ton of different colors – I own the Black Nova!
Leggings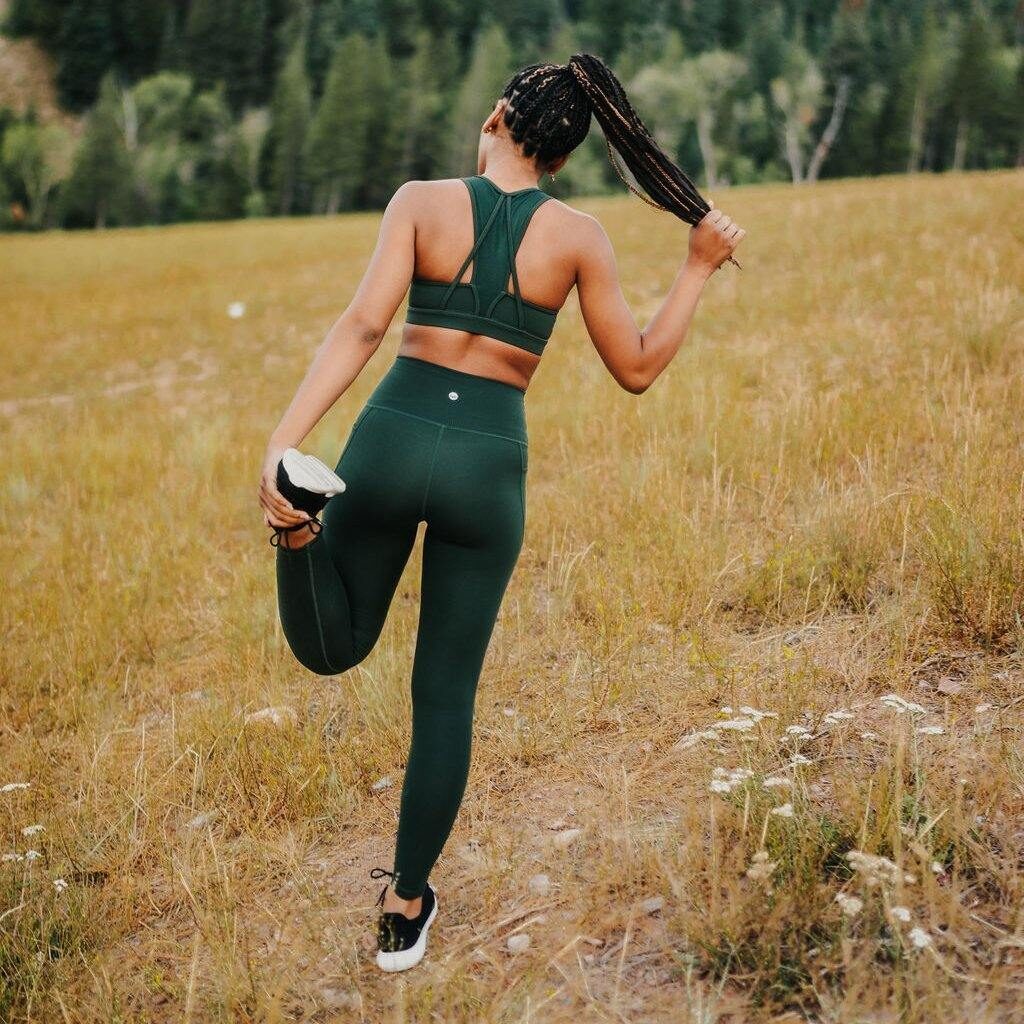 One thing I haven't yet tried yet is the leggings! They have a variety of leggings (same as the bike shorts). There's some with a side pocket and others with a waist pocket.
They have a thermal style of leggings which I want to get for MN winters! They have a fleece like lined interior as well as pockets on the side.
If you're a yoga fan, they have the Salutation Leggings with 4 way stretch and no side pockets.
There's maternity leggings, seamless leggings, laser cut leggings and so much more. There's truly a type of legging for everyone!
Maternity Athletic Clothes
In addition to their already amazing selection of athletic apparel, Senita Athletics has maternity apparel! This is something I wish I would have had when I was pregnant!
Senita Athletics has a large selection of maternity clothes from shorts to tees and leggings to swimwear.
I have not tried them but they get amazing reviews! I've read everything from the tank tops are incredibly comfortable to the leggings stay put while working out and running.
Other Products
Another thing that Senita Athletics has is mens and children's clothing! They have a limited selection of shorts and tees for men as well as joggers.
For kids there are tops and leggings and shorts – you can even match with your little!
FAQ
Where are Senita Athletics made?
Senita Ahtletics is headquartered in Scottsdale, AZ but their products are manufactured in China.
Are Senita leggings squat proof?
Yes, the leggings from Senita are all squat proof!
So whether you need a new pair of running shorts, every day leggings or just a new sports bra, be sure to check out Senita Athletics!
I have been extremely impressed by the quality of their athletic apparel and love wearing them!
*If you end up purchasing something from Senita Athletics, use the code Jen15 for 15% off your purchase!