Today I'm partnering up with Faribault Woolen Mill Co., an amazing company based in my home state, to share some of my fall favorites for you and your home!
Monday marked the first day of fall which means bring on the pumpkin flavored EVERYTHING – cozy blankets, warm scarves and everything in between!
Faribault Woolen Mill Co.
If you've never heard of Faribault, here's some things you should know. Faribault Woolen Mill Co. was founded in 1865. Yes, they've been around for a LONG time! They've provided blankets for pioneers heading west to troops through 2 world wars! They produced 100,000 blankets during World War 1 and 250,000 for World War 2. They've been the supplier to the Navy, Army, West Point Military Academy and even the Air Force.
They've been in the same mill since 1892! Everything happens at the mill. They start with a bale of wool and do everything there – dye it, card it, spin it, weave it and finish it. It's super rare to find a company that does everything in one location which is one of the things that makes Faribault so special!
The town of Faribault, where the mill is located, is 45 miles south of Minneapolis. Faribault Woolen Mill Co. is well loved by the community there! I have yet to visit the mill but it's on my list of things to do! I would love to see firsthand the work they do there and some of the old machines that they've kept!
Faribault has so graciously gifted me the items below to try out but all opinions are my own. Keep on reading for some of my favorite fall products!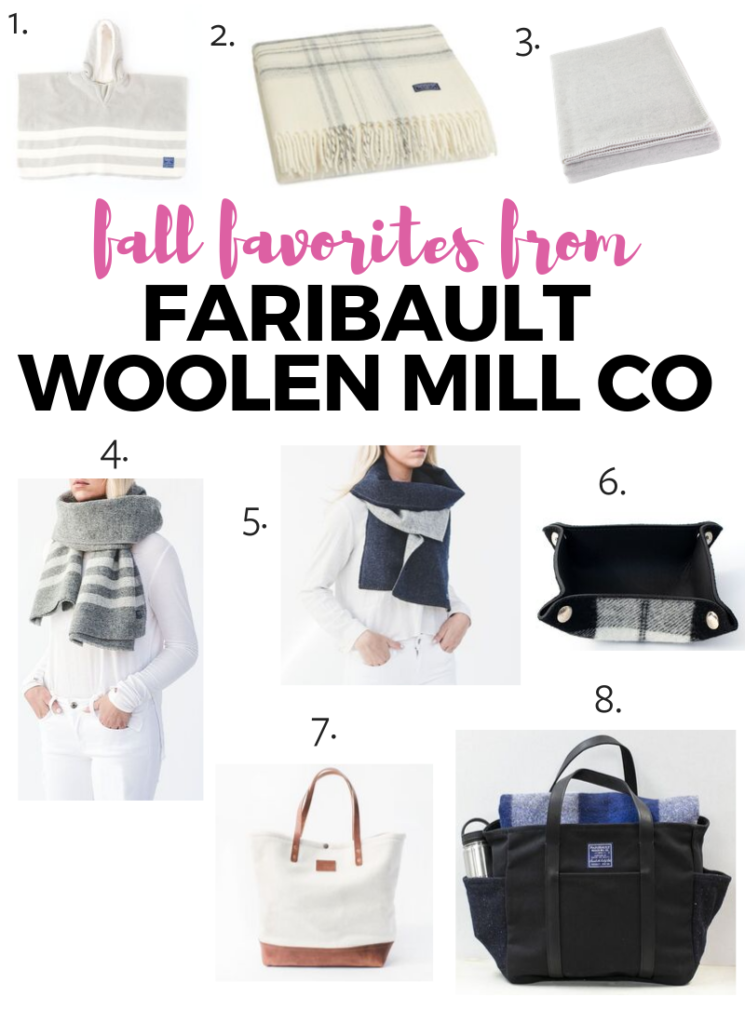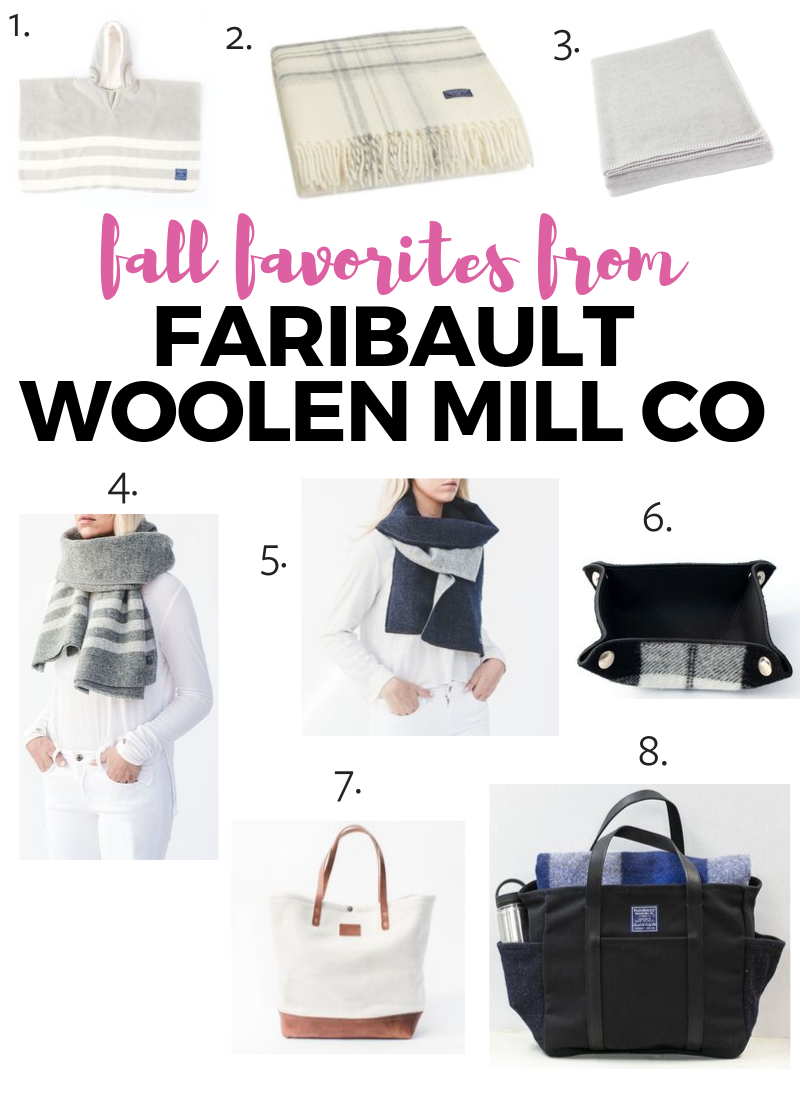 Crafted with 100% superfine Merino wool and machine washable. Sized for ages 12-36 months.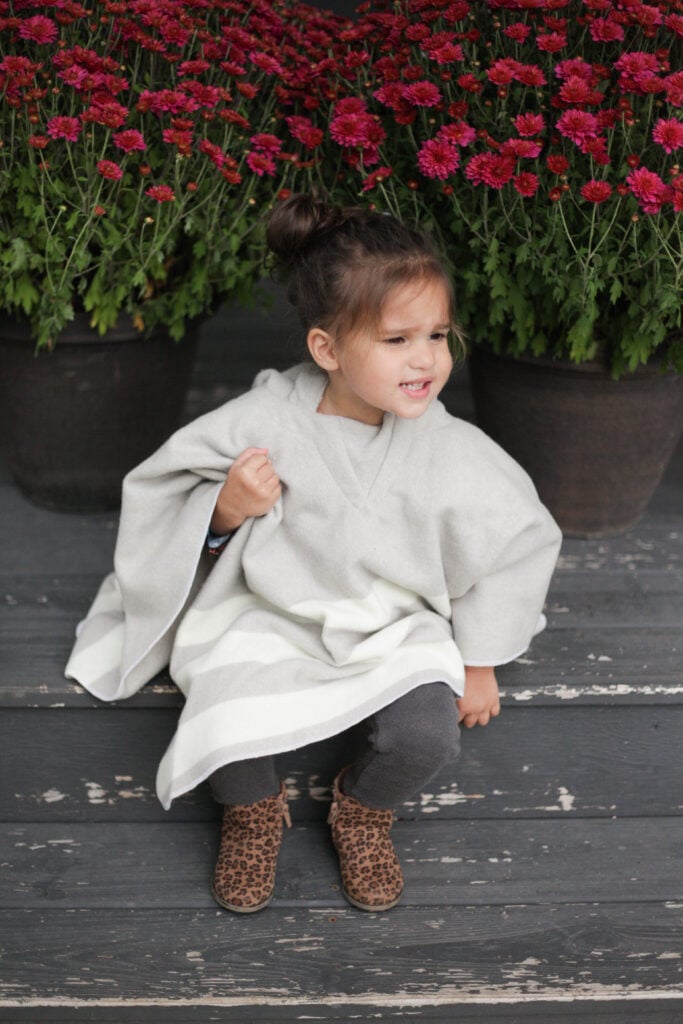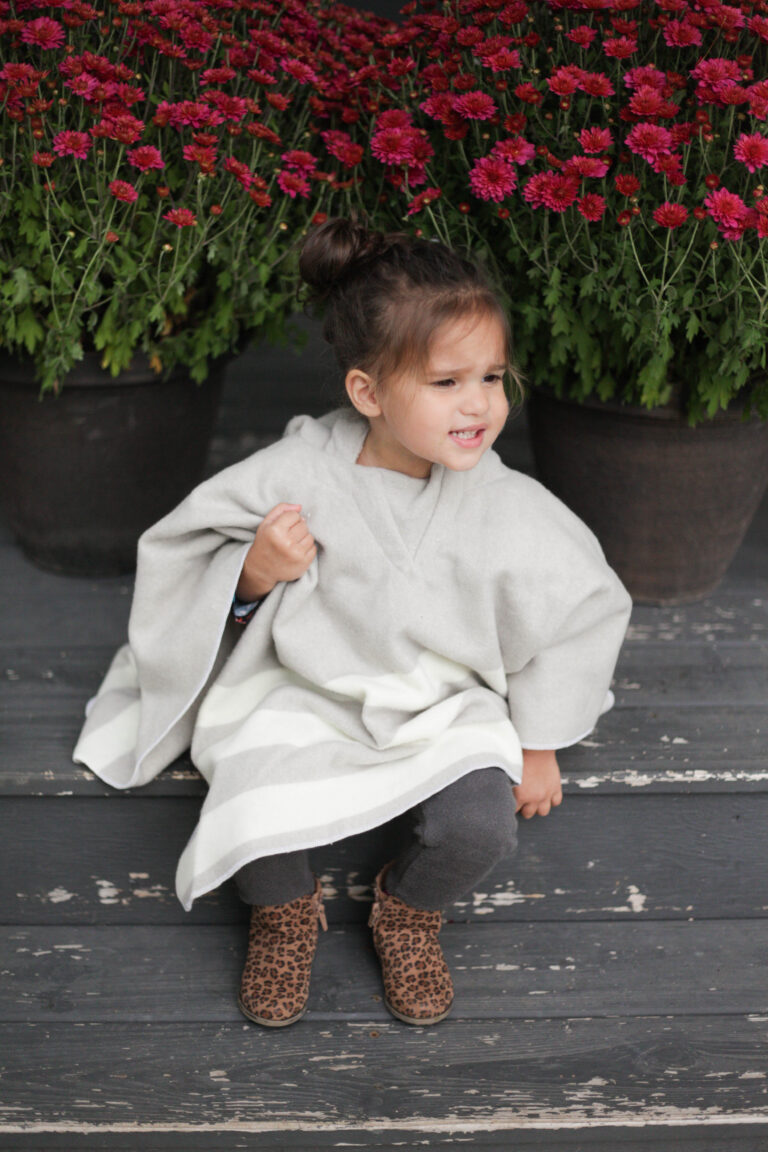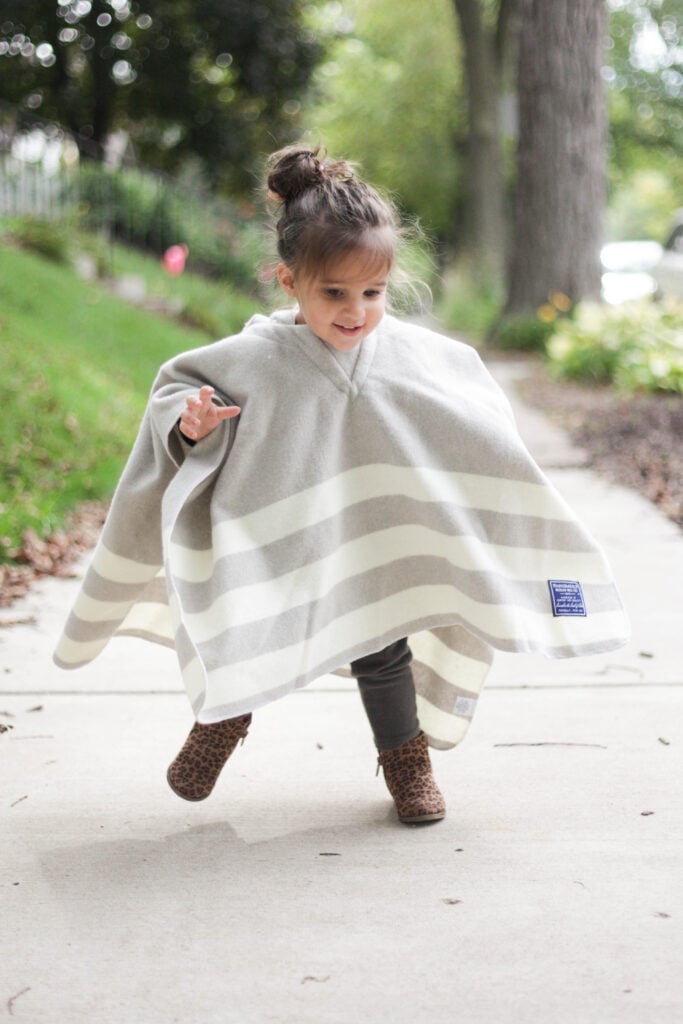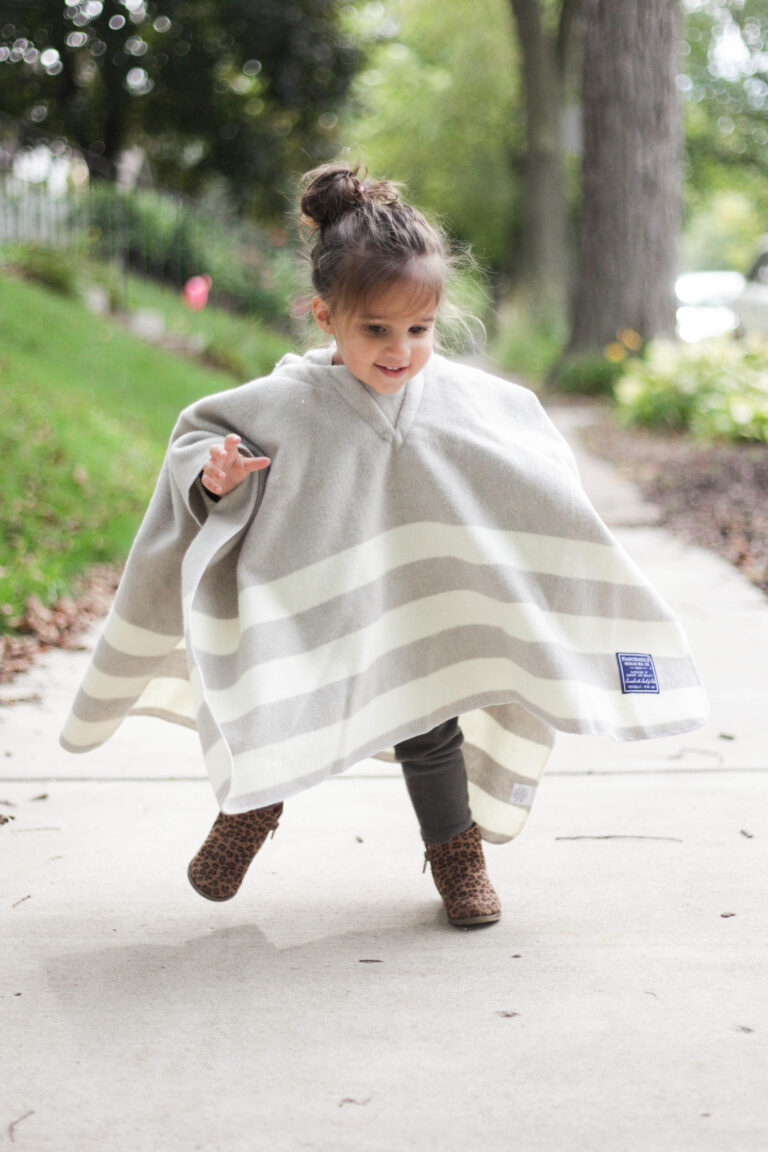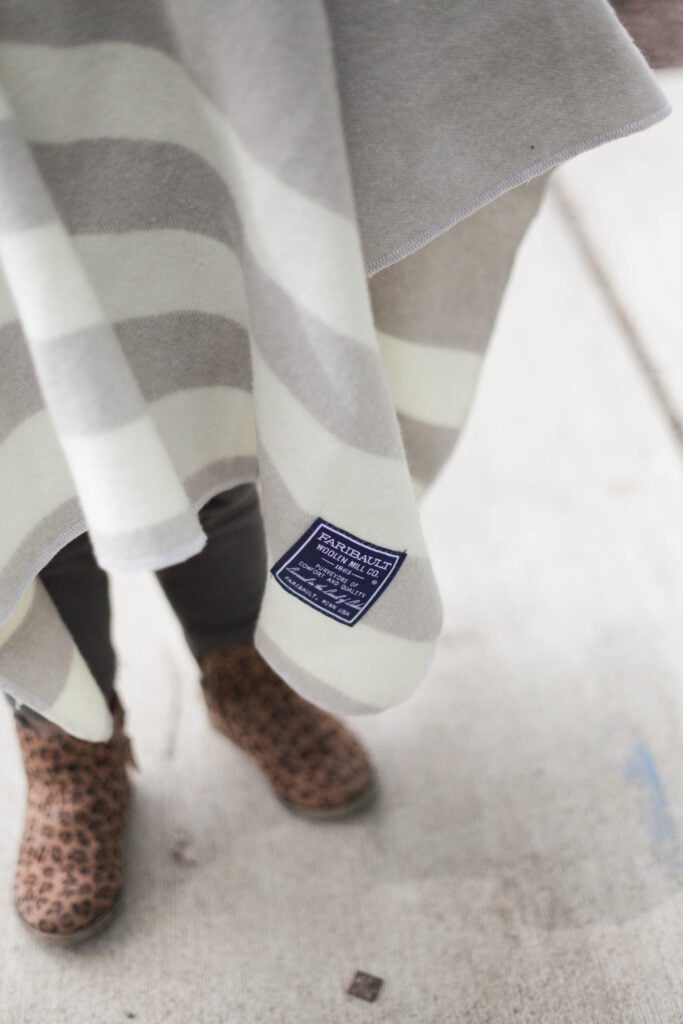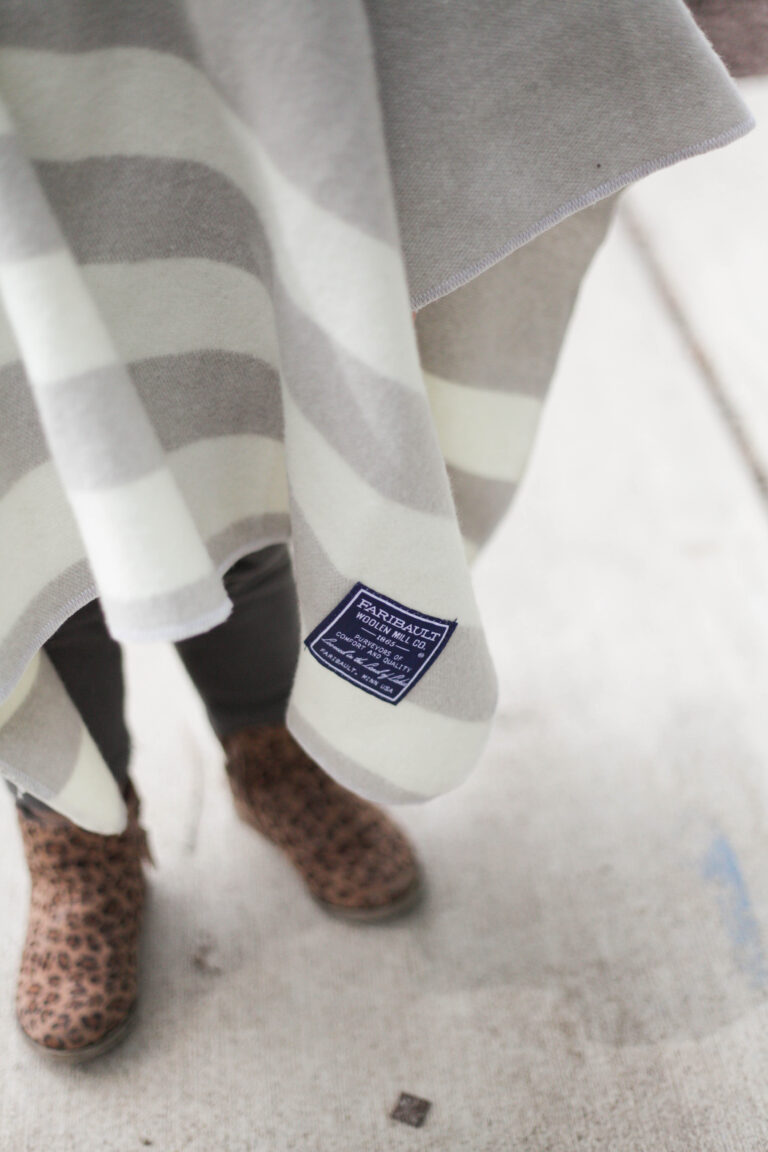 My kids absolutely adore this poncho! Our biggest issue is we only have one since they both love wearing it, spinning around in it and rocking the hood.
It's perfect for throwing on for walks outside as the weather gets cooler. Now if only they had a "mom and me" one so we could all match! 😉
Woven from a fine Merino yarns. Lighter in both weight and feel.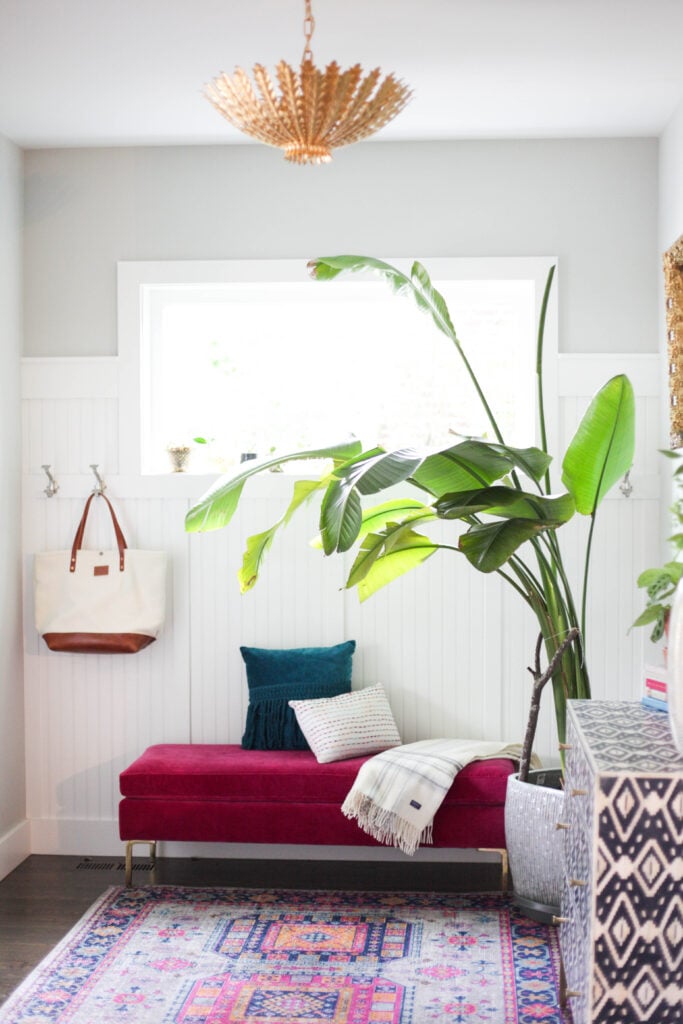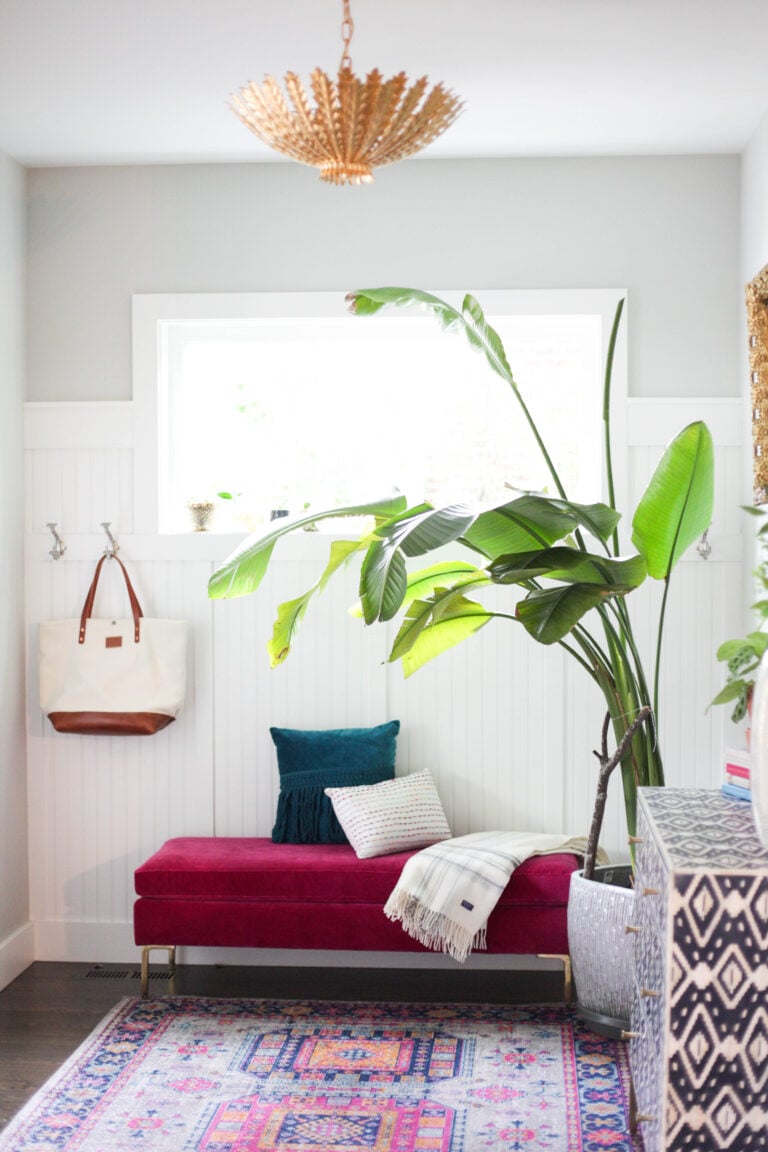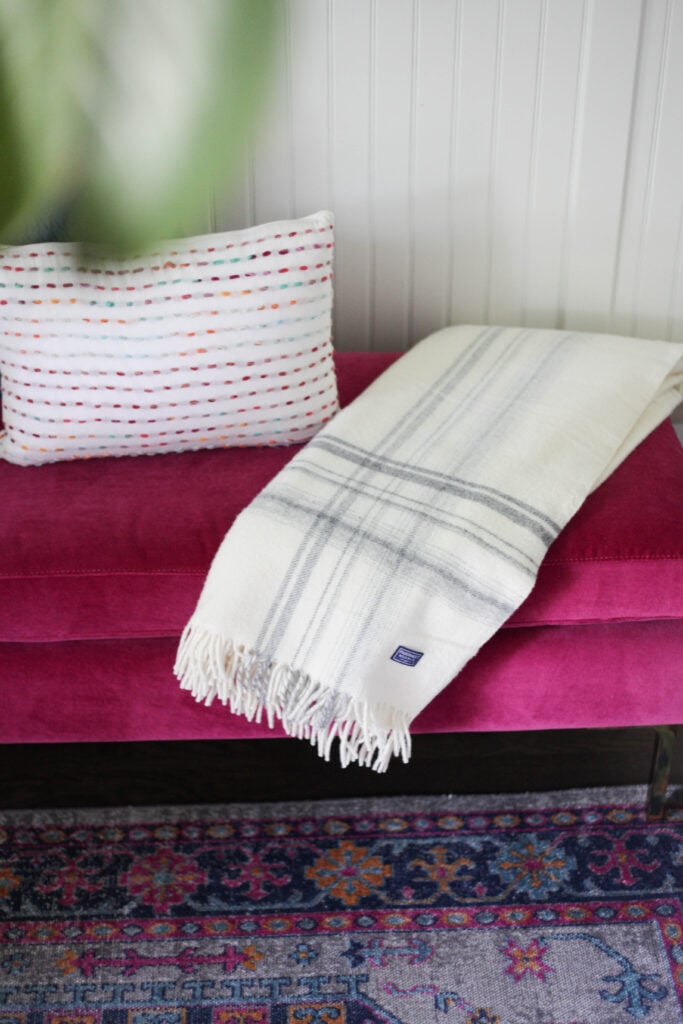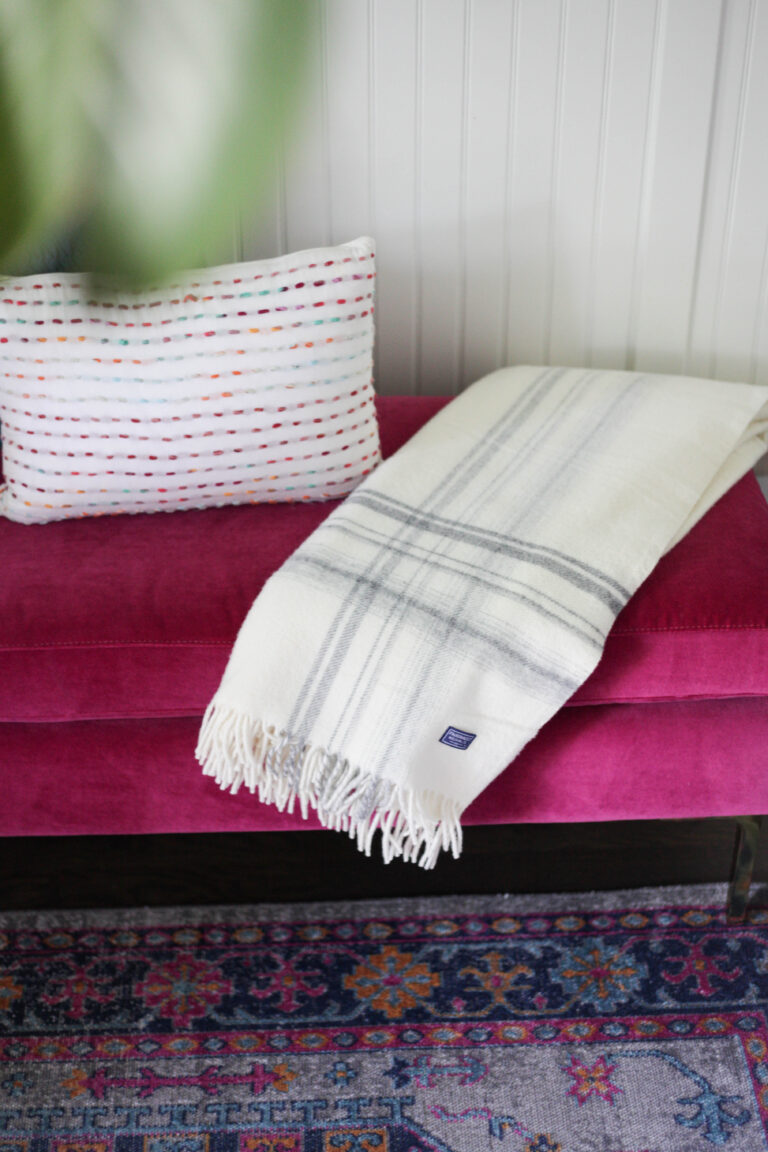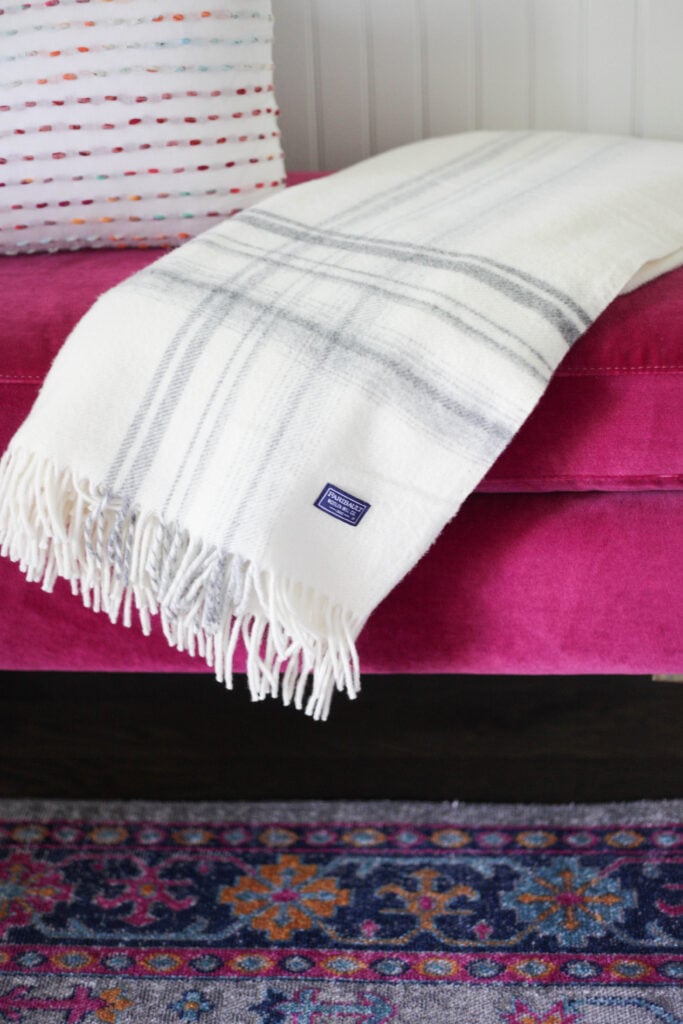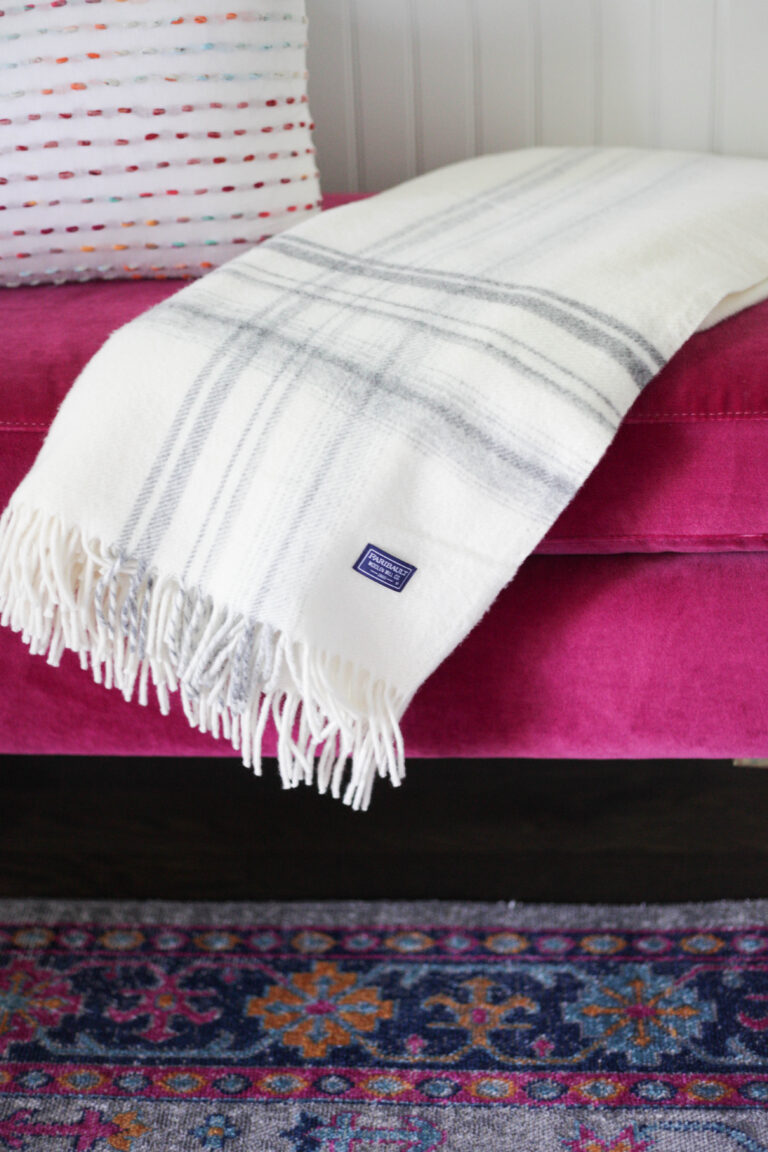 This blanket may just be my favorite item of the lot. I currently have it in my entryway which adds an element of coziness to any visitor that comes in although it will likely end up on my couch or in my office for cozying up with asap! 🙂
The pattern is beautiful and it can be used in any number of places – the foot of your bed, an armchair, blanket ladder – the options are endless!
Crafted with 100% merino wool, this blanket's heathered yarns give it a rich luxurious look making it soft and lightweight.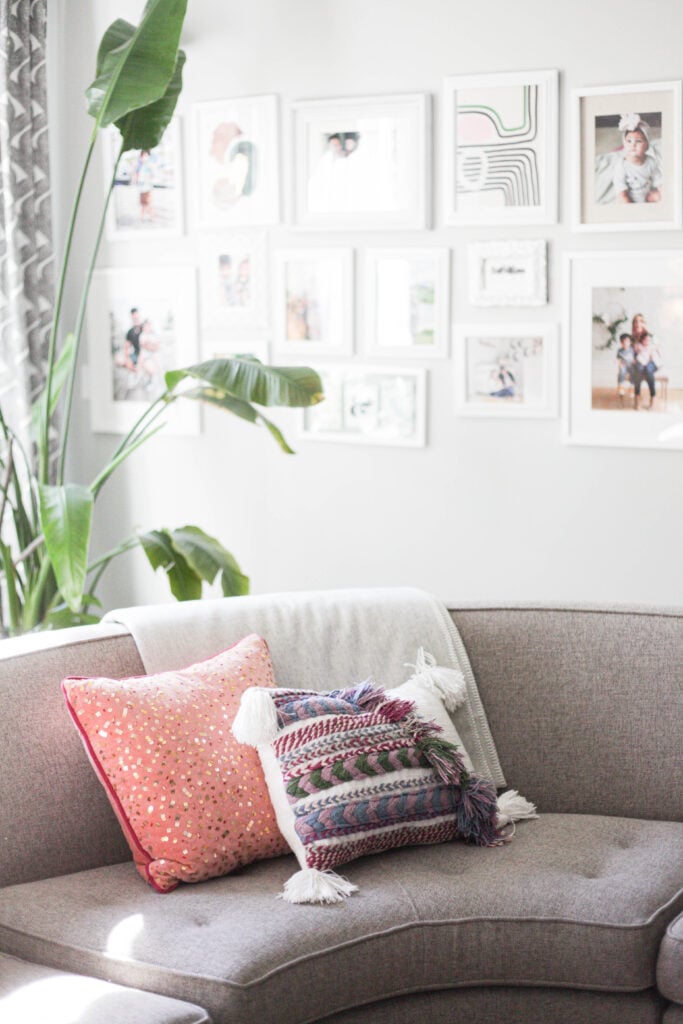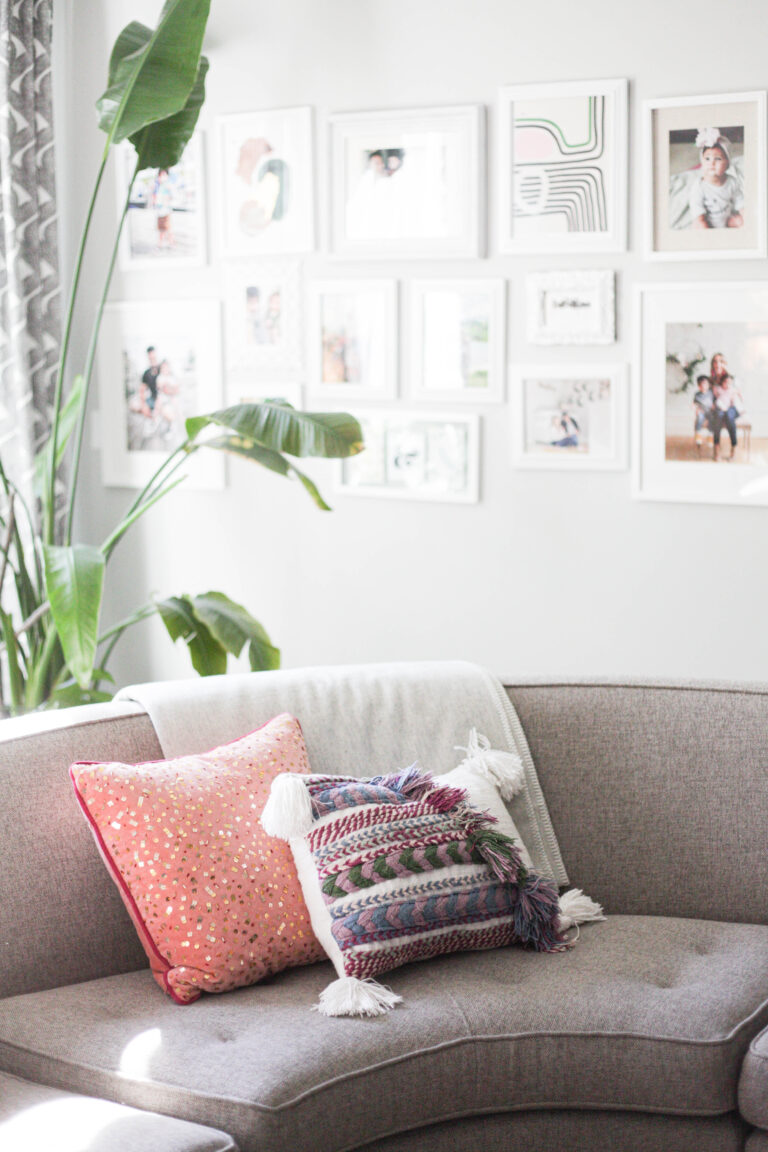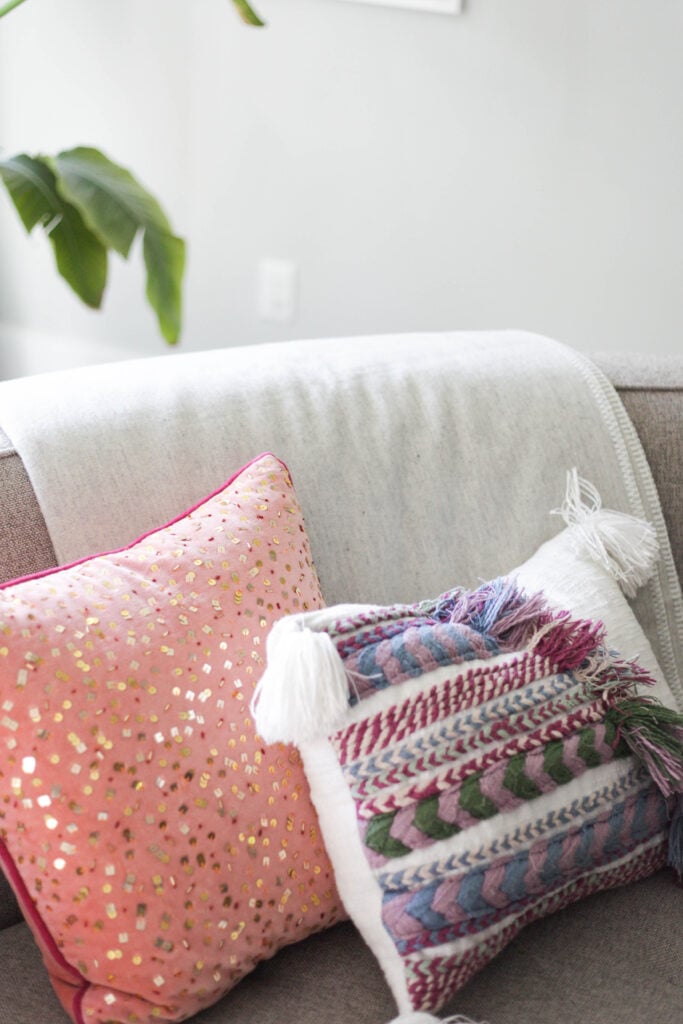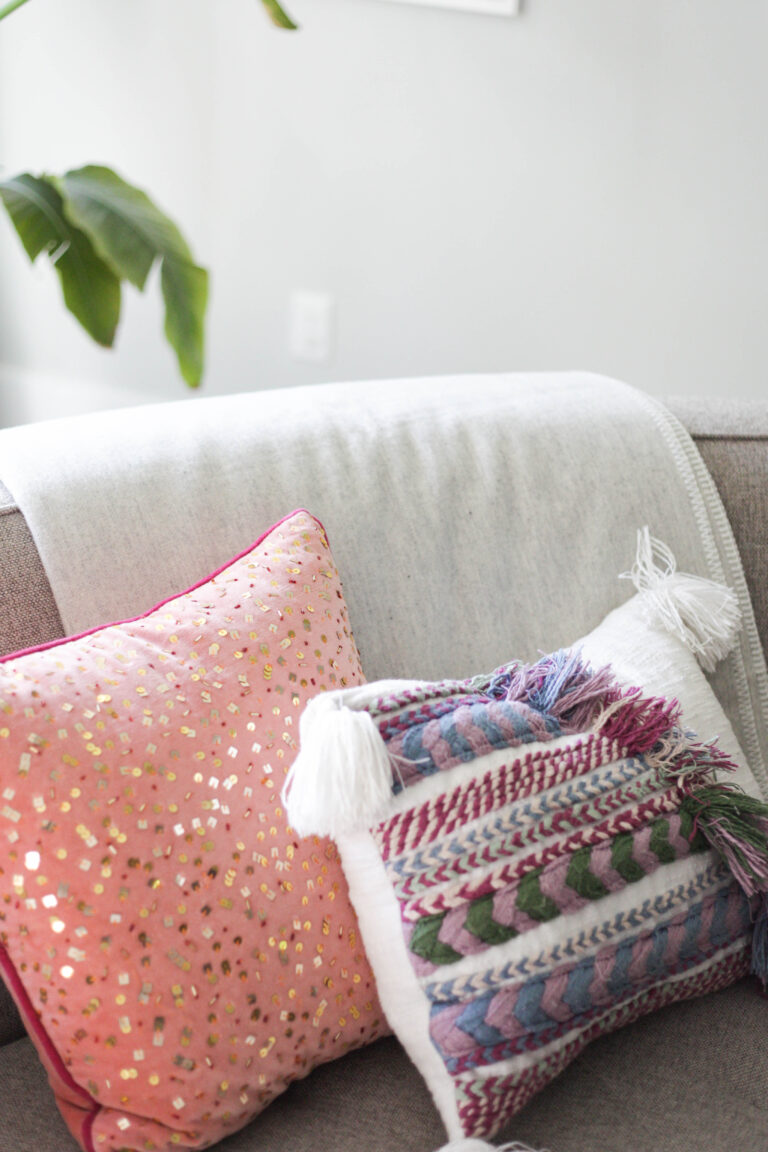 I love this big, cozy blanket! Since Roy is the only one with a bed small (and big) enough for this blanket (and there's no way I'm letting a 3 year old be the only one to enjoy it), this one is living in our living room over our couch. It's replaced my bright colored summer throws and is perfect for the transition to cooler weather! It's big enough for a few people to share or one person to hog.
Made with 100% merino wool , this newest addition to our fall line can be used as a wrap or scarf.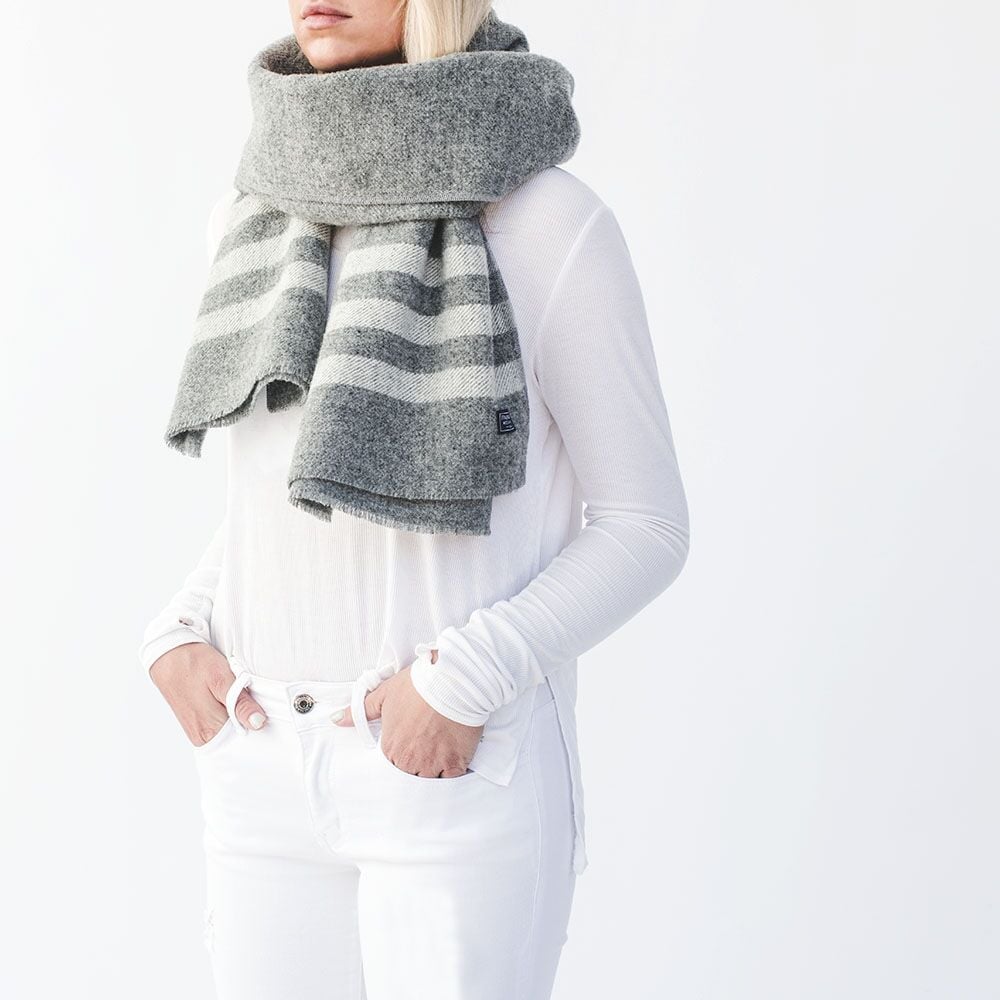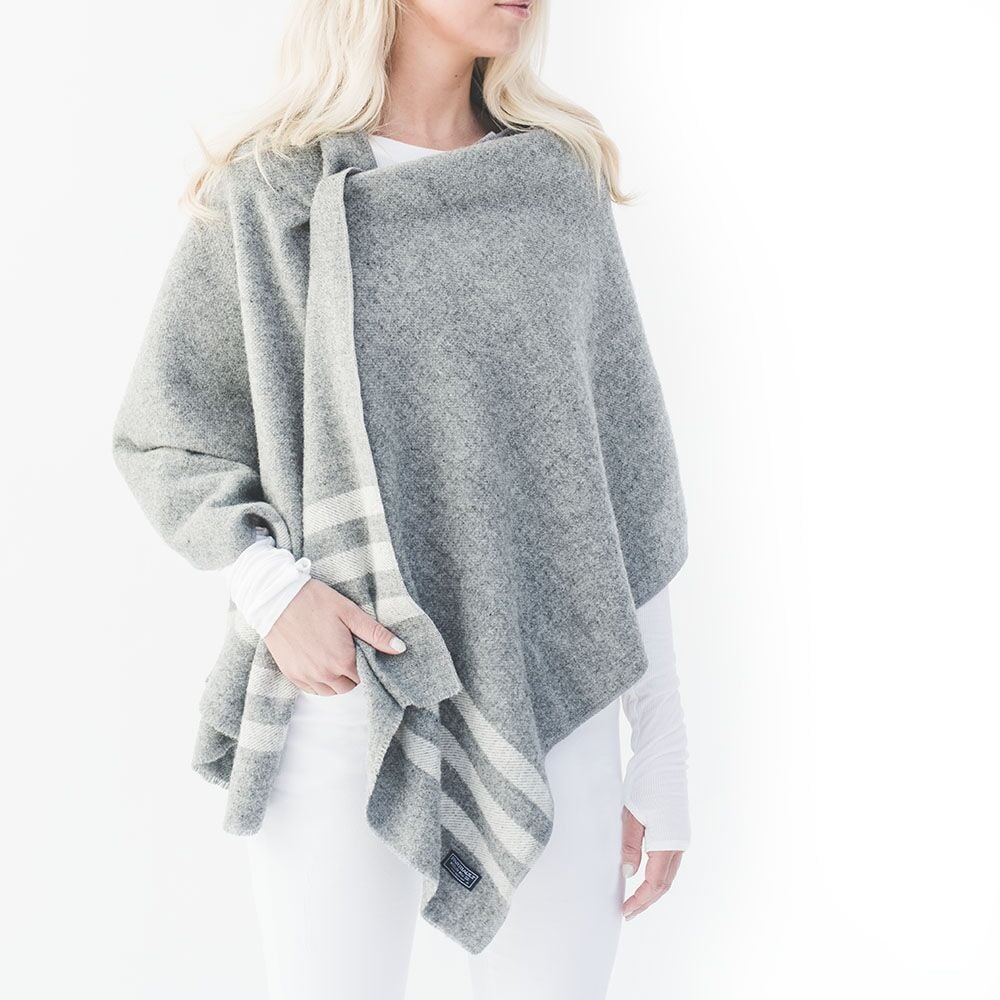 I love the uniqueness and versatility of this wrap! I've been able to cozy up with Miles while using this as a wrap – it's great for keeping both mama and baby all snug and warm!
Combination of merino wool and cotton.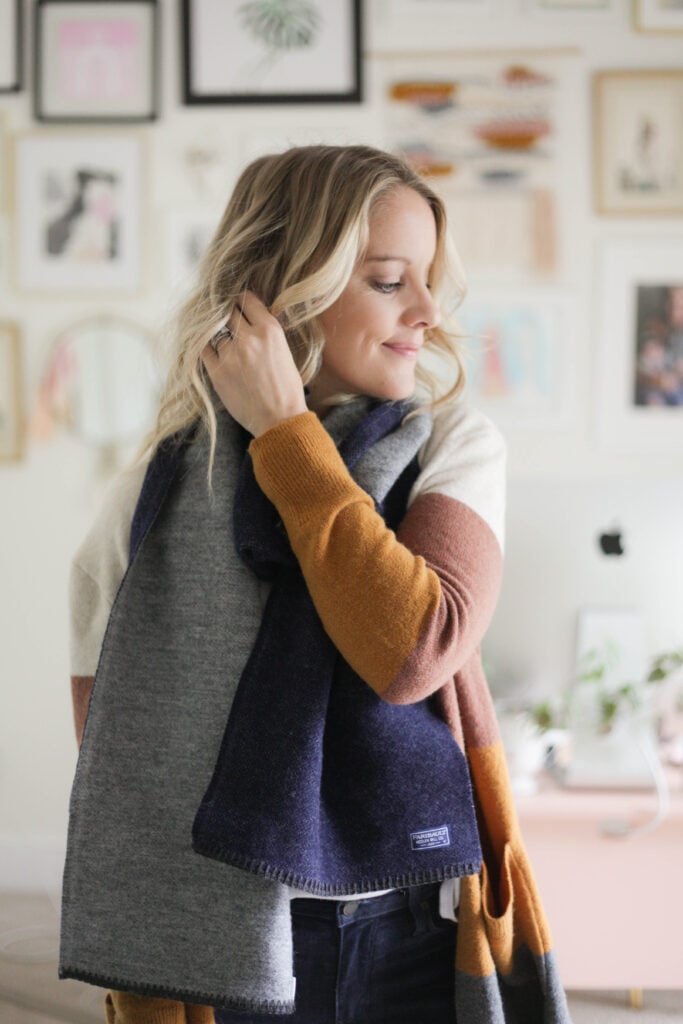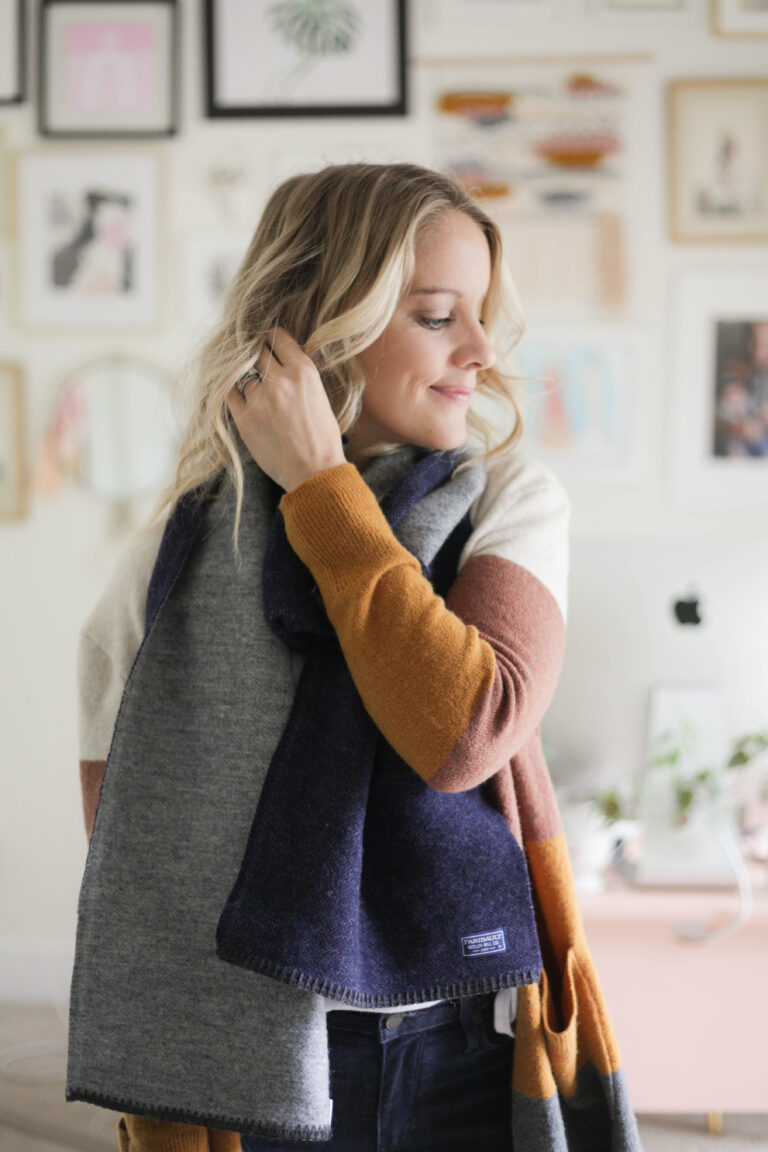 This is a great scarf for both me and Rishi! You can wear it showing just the navy or just the grey or even a mix of both like I'm showing above.
I love the soft coziness of this scarf that will amazing when the snow starts to fly!
A partnership between Leatherworks MN and Faribault.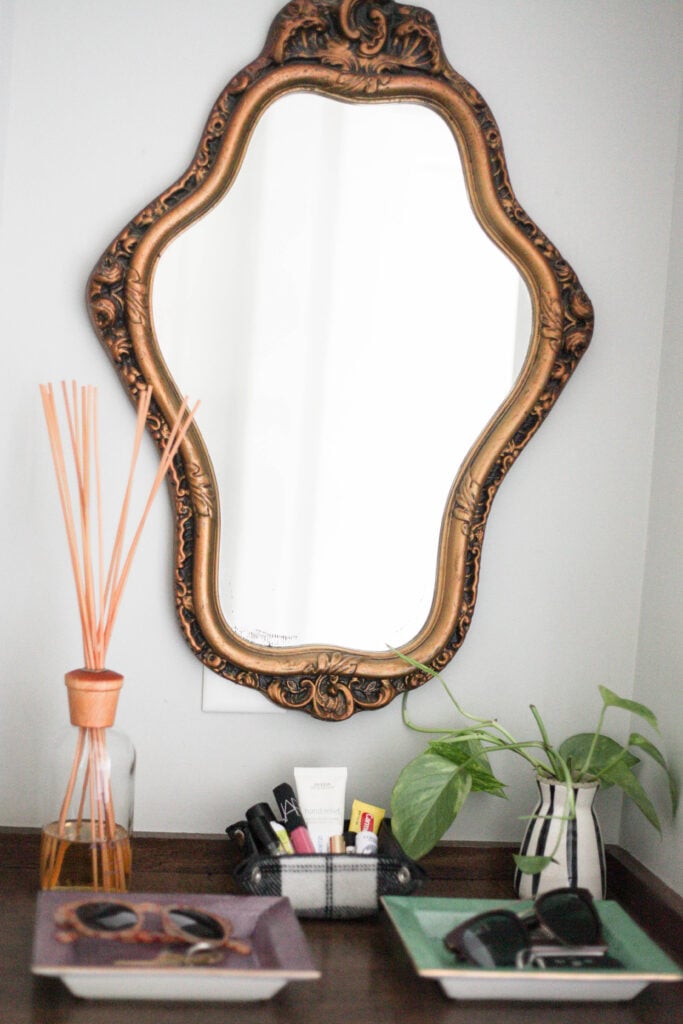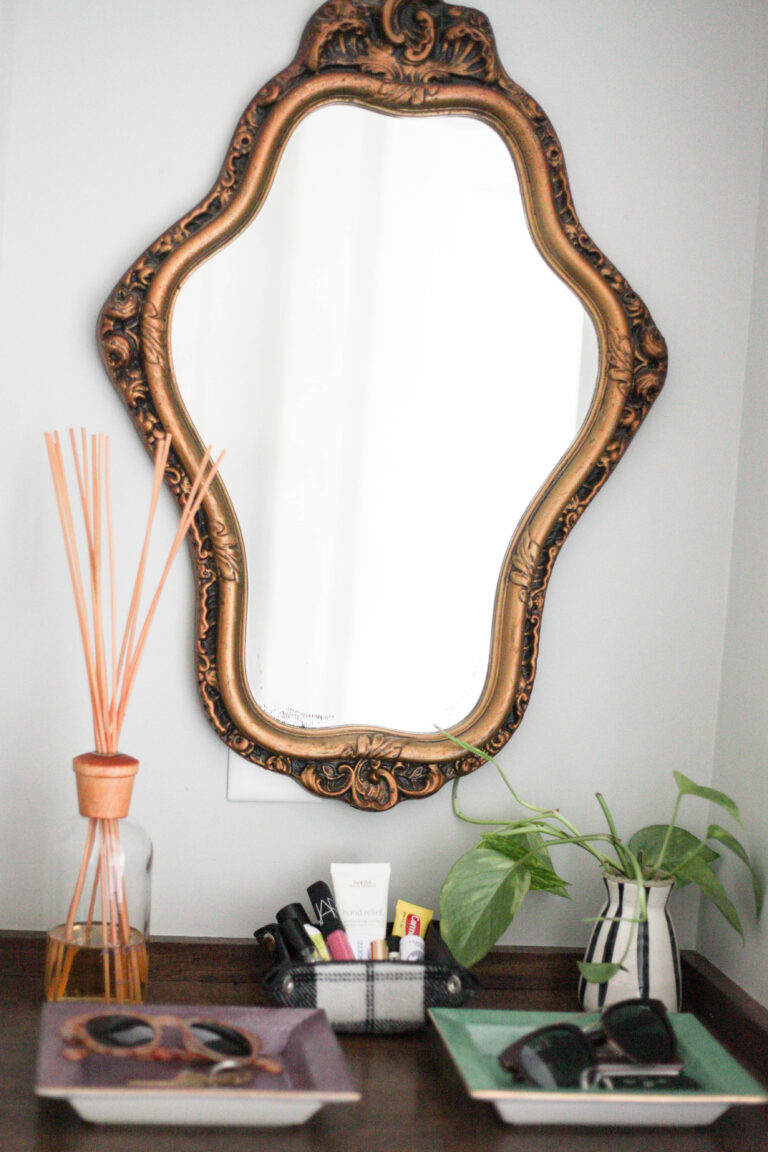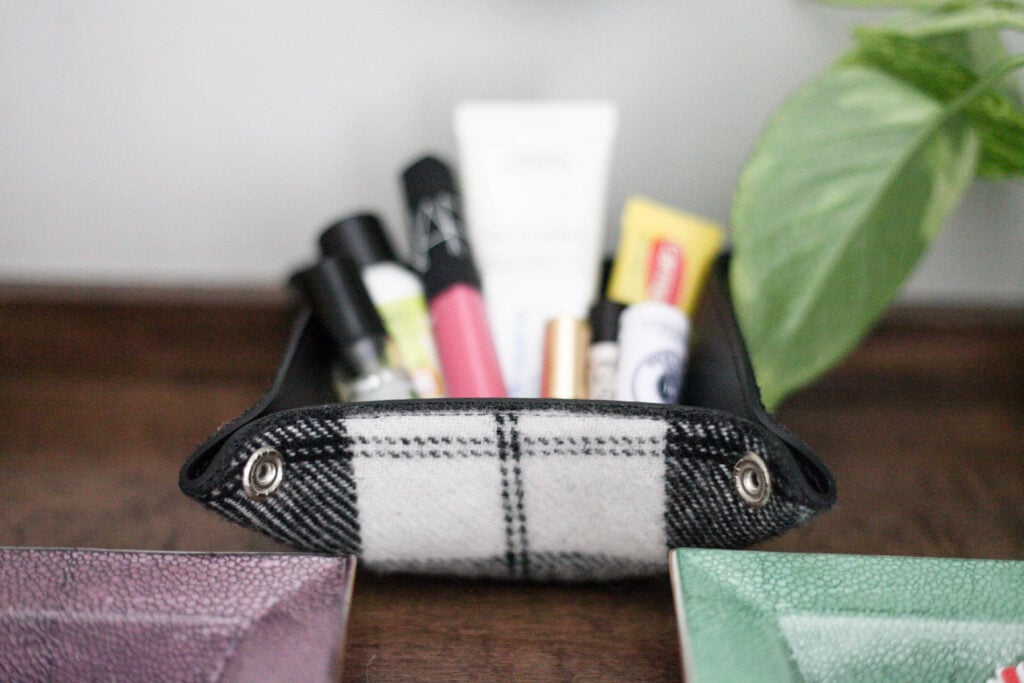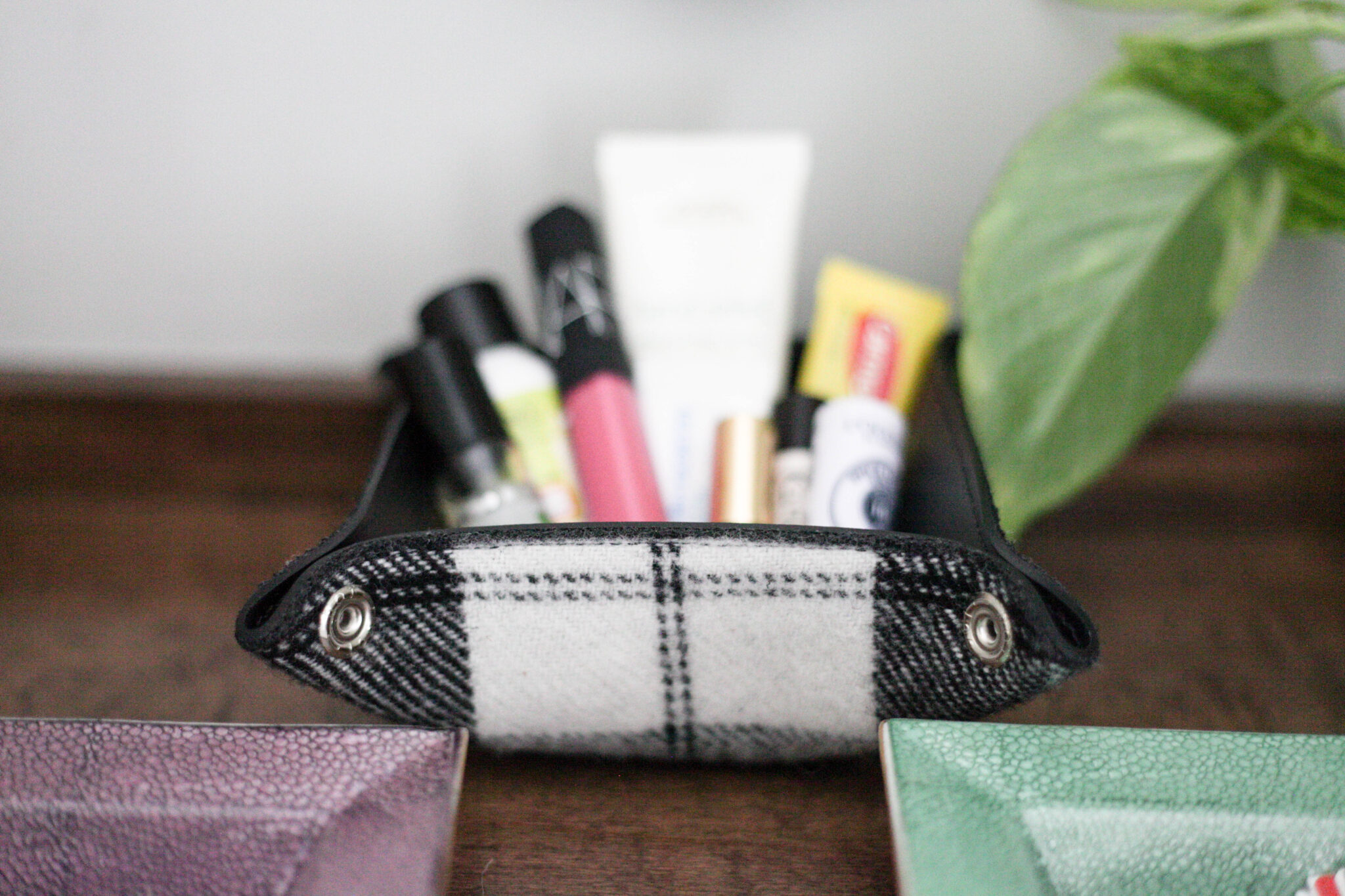 I swapped out a light pink bowl for this bison check wool valet tray to hold all of my lip gloss/lip balm in our back entryway. It's great for fall and for holding essentials (and non-essentials too)!
A collaboration between Faribault and Bradley Mountain is handcrafted with a natural-toned genuine wool, exterior leather accents around the bottom exterior, and waxed canvas interior.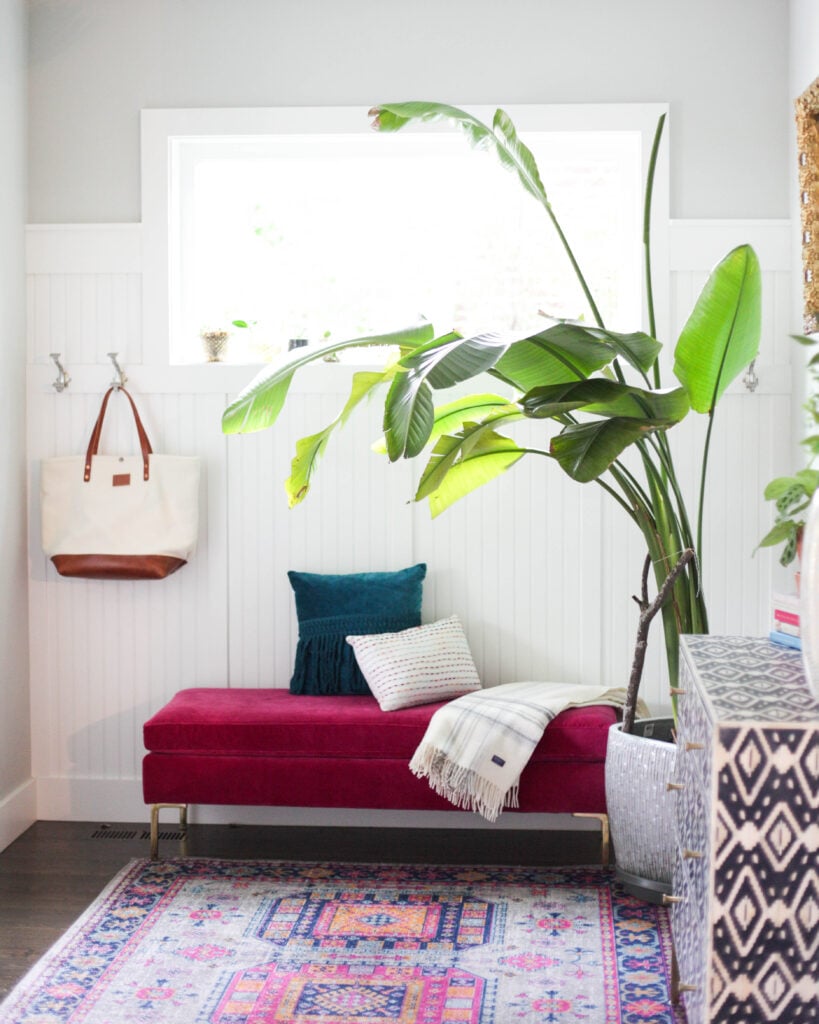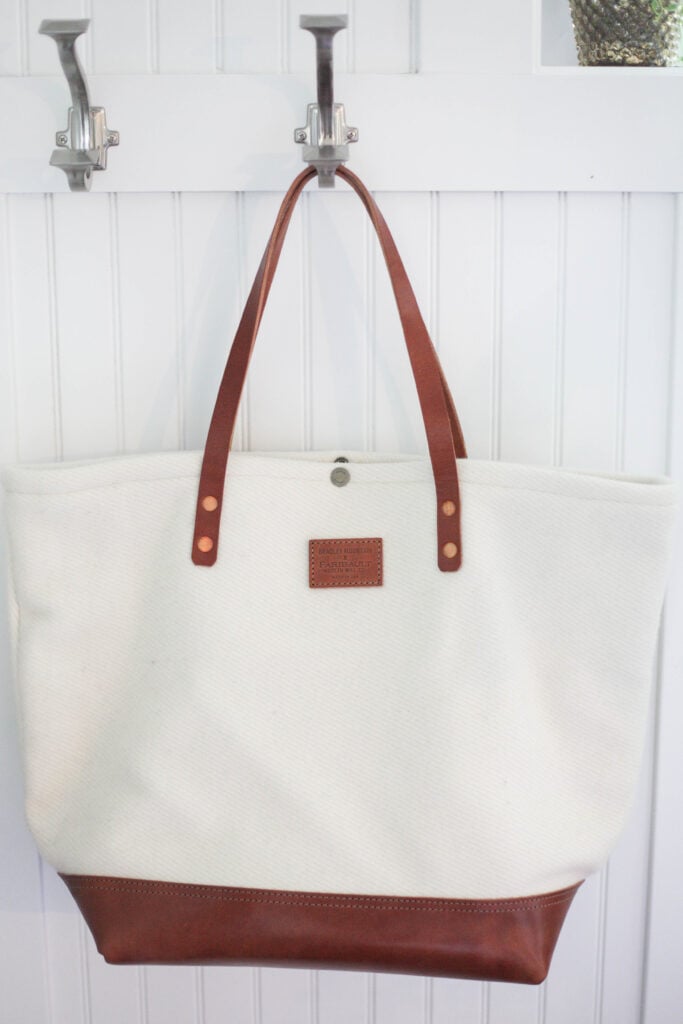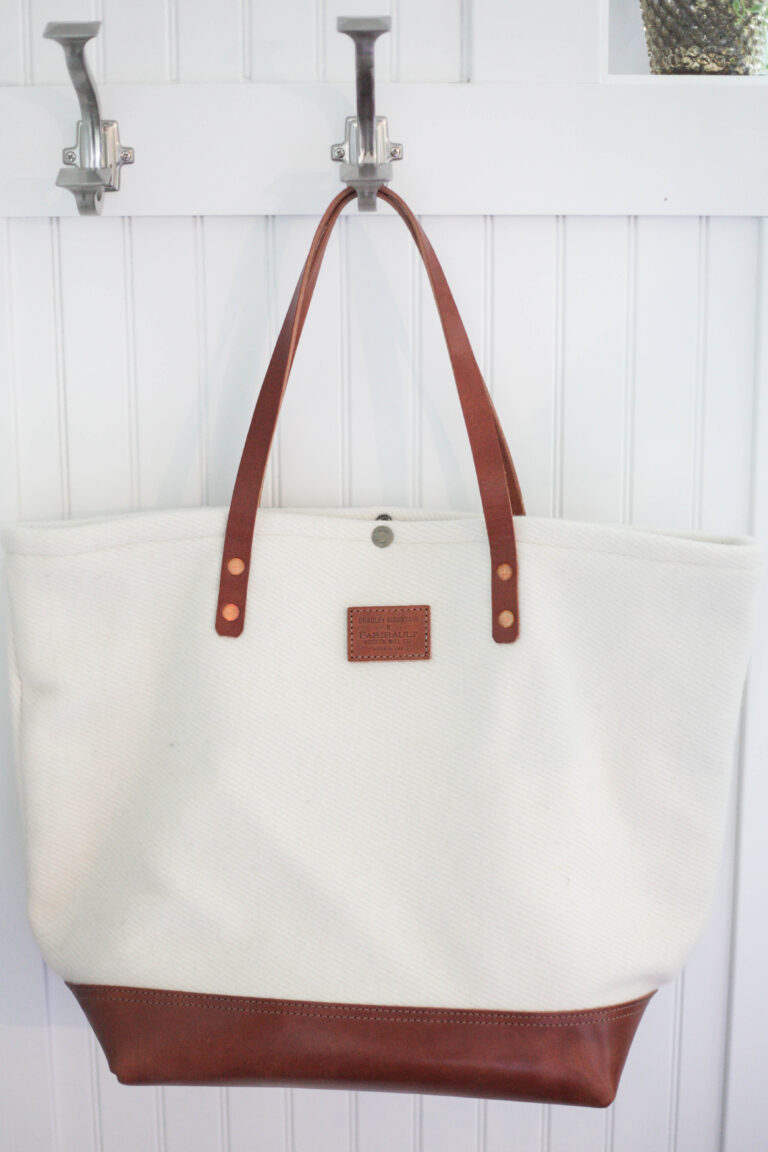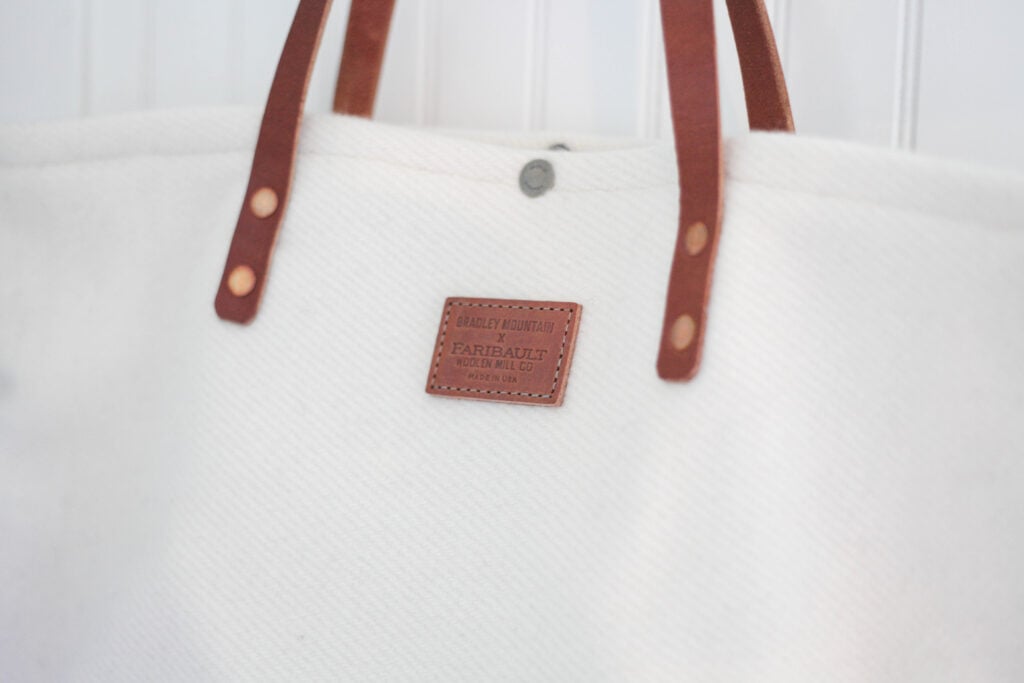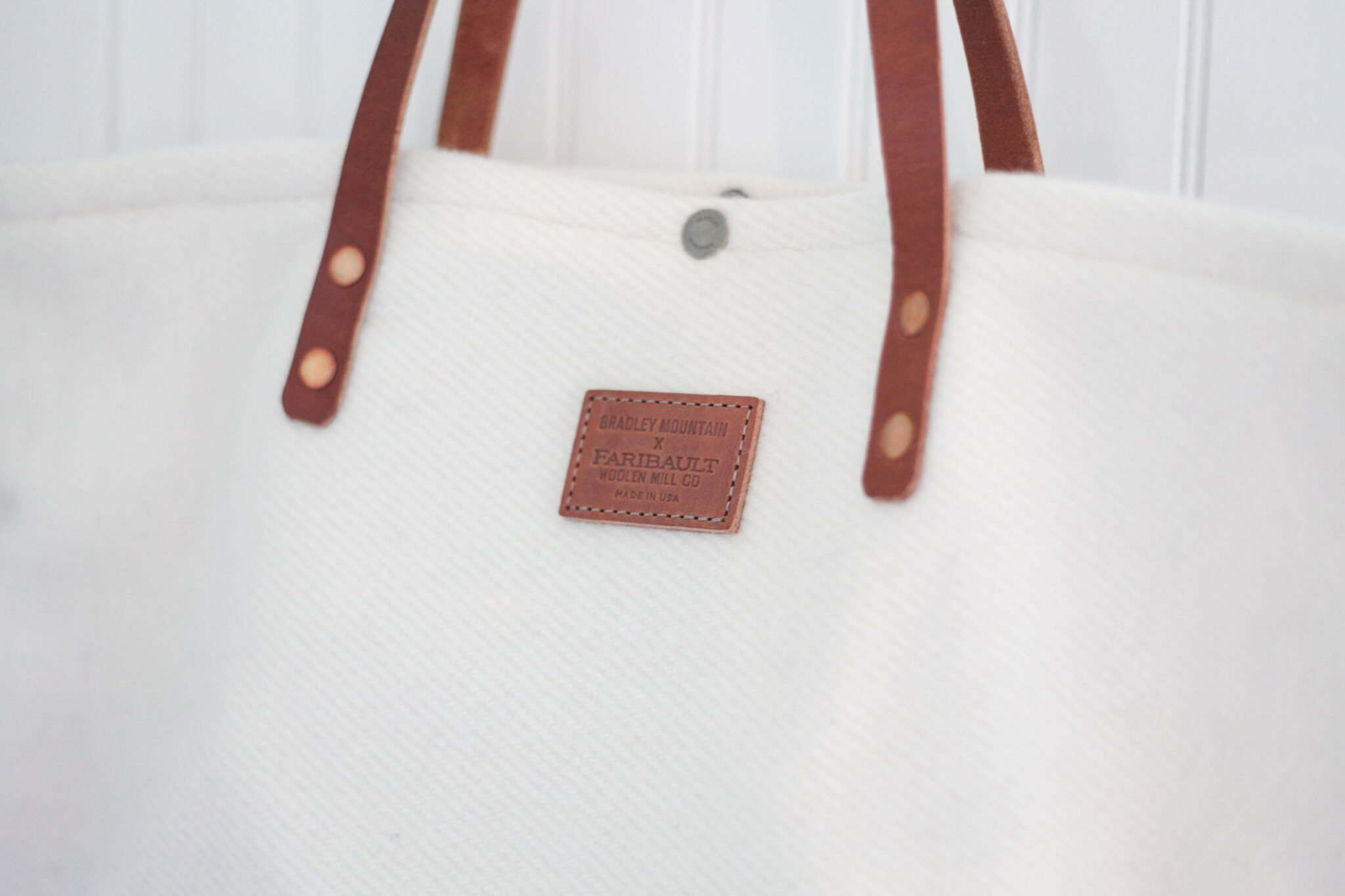 I'm in LOVE with this tote! It's big enough for all the things a mom needs – my clutch of essentials, diapers, wipes, change of clothes and ALL the snacks. 😉 And bonus, the bottom layer of leather helps protect it and keeps it clean!
This practical tote is made of canvas and recycled wool with leather accents.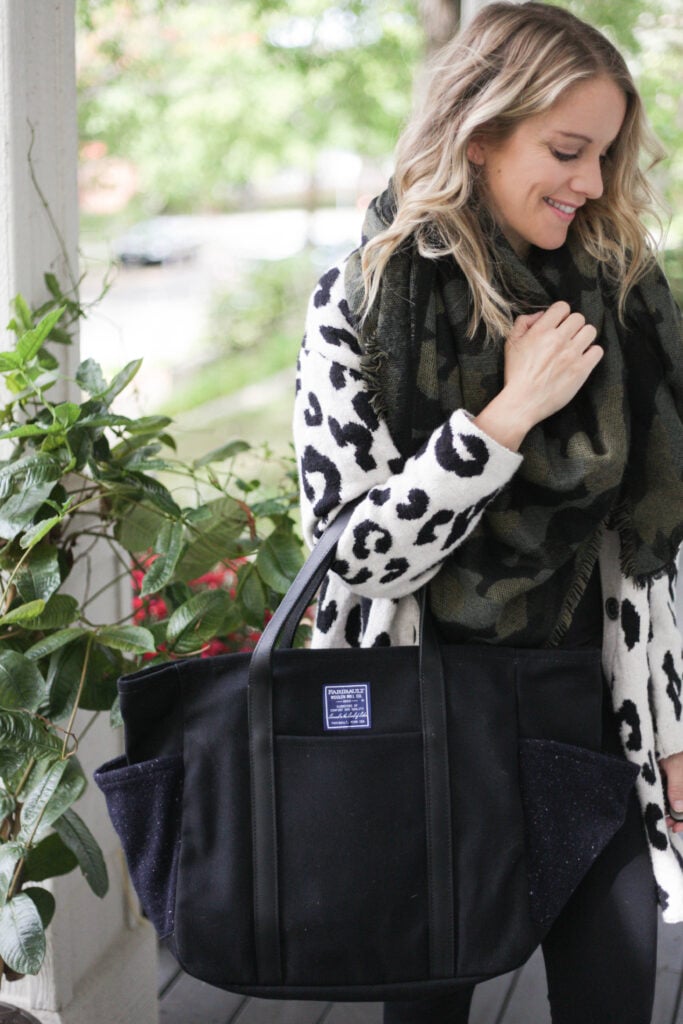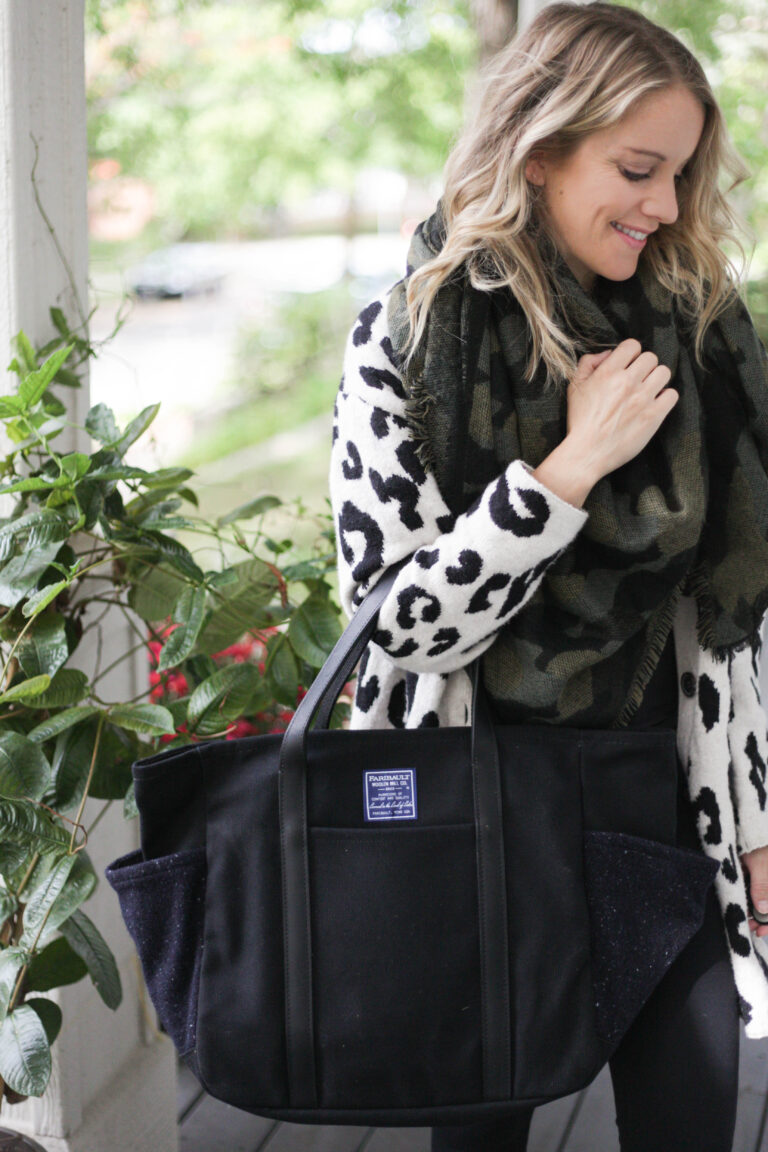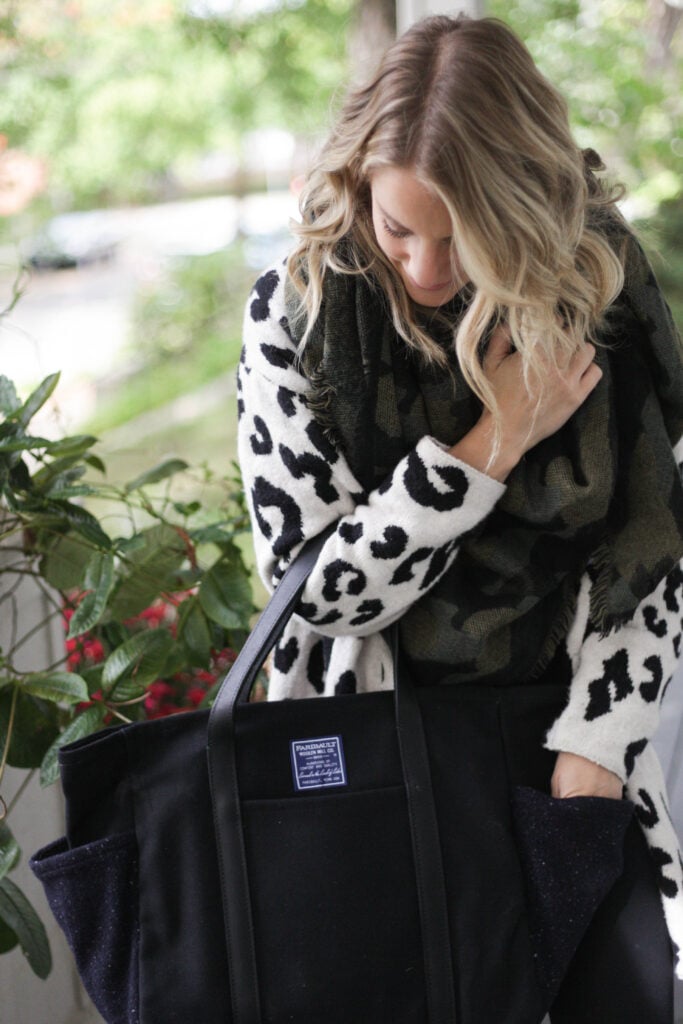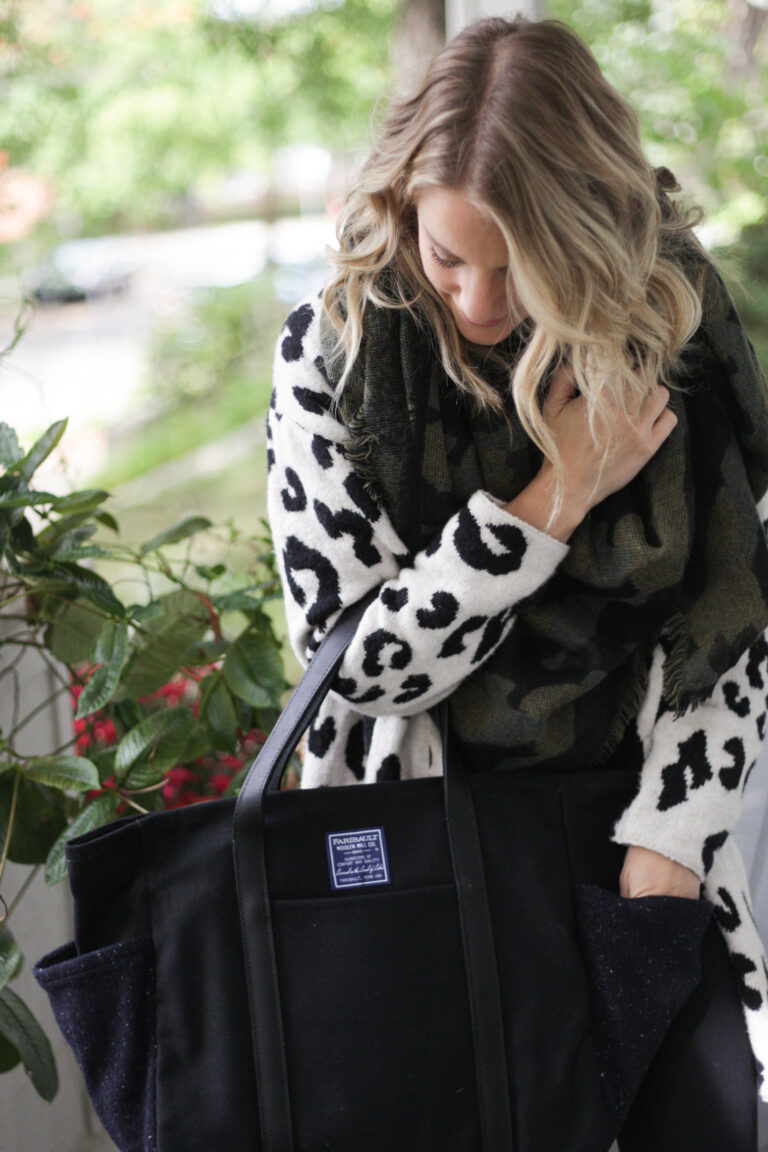 A mama can never have too many bags! 🙂 This gorgeous tote has 2 gusseted pockets on the outside – perfect for your phone and water bottle – as well as a slot pocket between the handles and an interior pocket.
This bag can be used as an overnight bag, picnic bag or just about anything!
Faribault Wool Mill Co has so many other amazing items on their site (like these adorable baby hat and mittens that I picked up for Miles) so be sure to swing over there and check it out!