Are you someone who decorates for the seasons? The transition from summer to fall is a fun time to start switching up your bright and colorful summer decor into a more cozy, fall vibe and these fall decor ideas should help get you inspired!
A few of these items are very specific to the fall season while others can be used year round (or at least all fall and winter!).
So without further ado, here are some of my favorite fall decor ideas!
13 Perfect Fall Decor Ideas for Your Home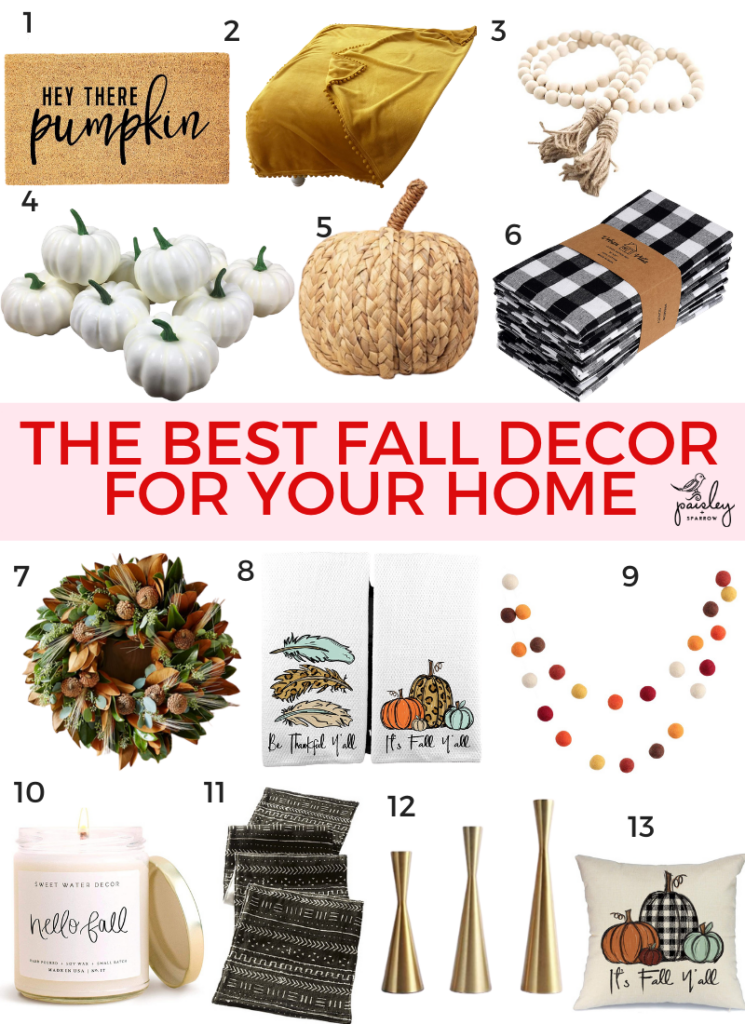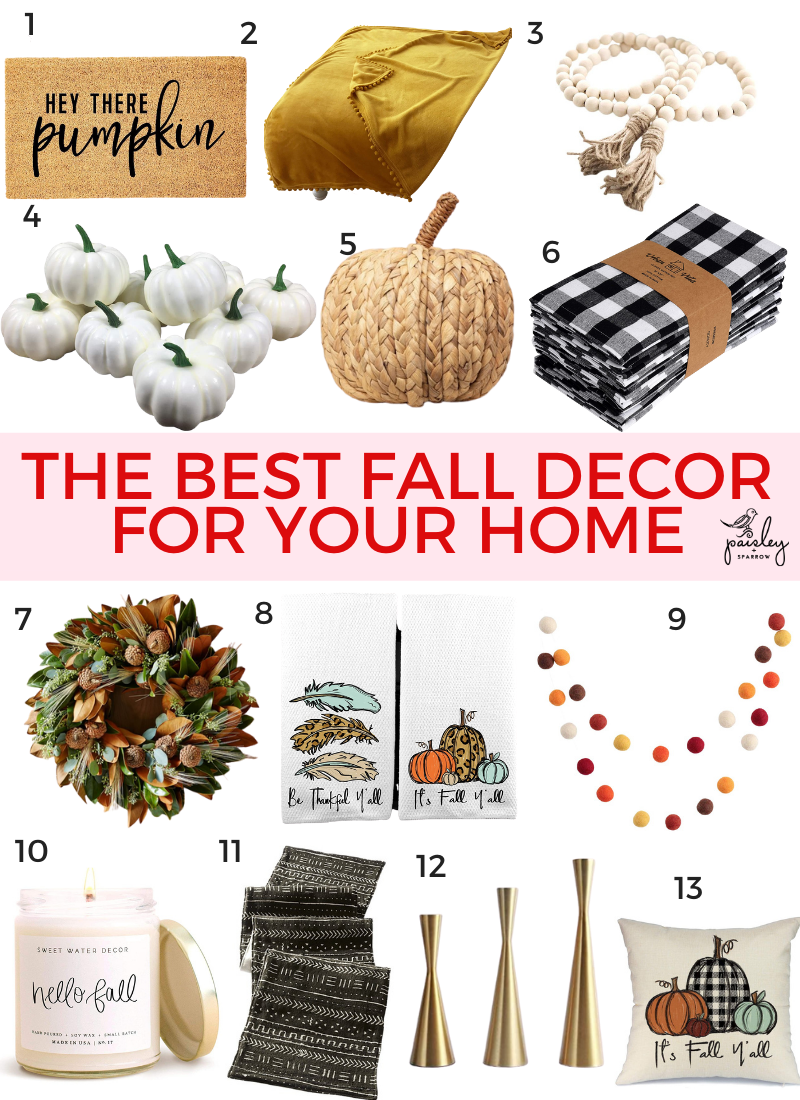 Paisley + Sparrow is a participant in the Amazon Services LLC Associates Program This post may include affiliate links which means I may earn a small commission if you shop using the links below at no additional cost to you. Thanks so much for supporting me and this blog!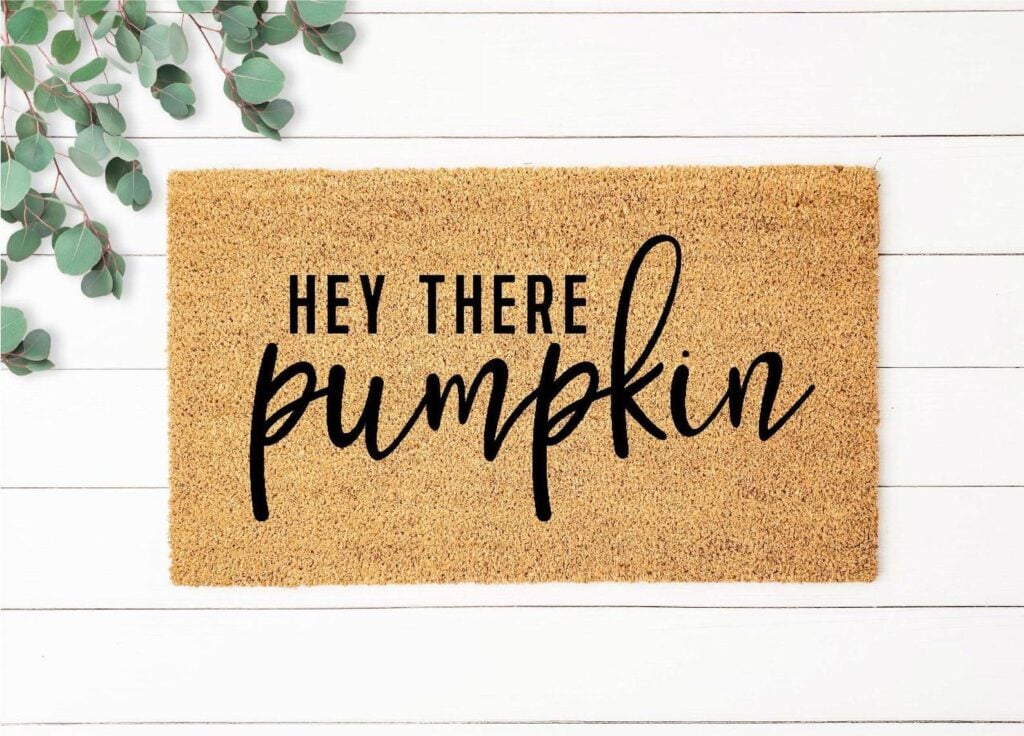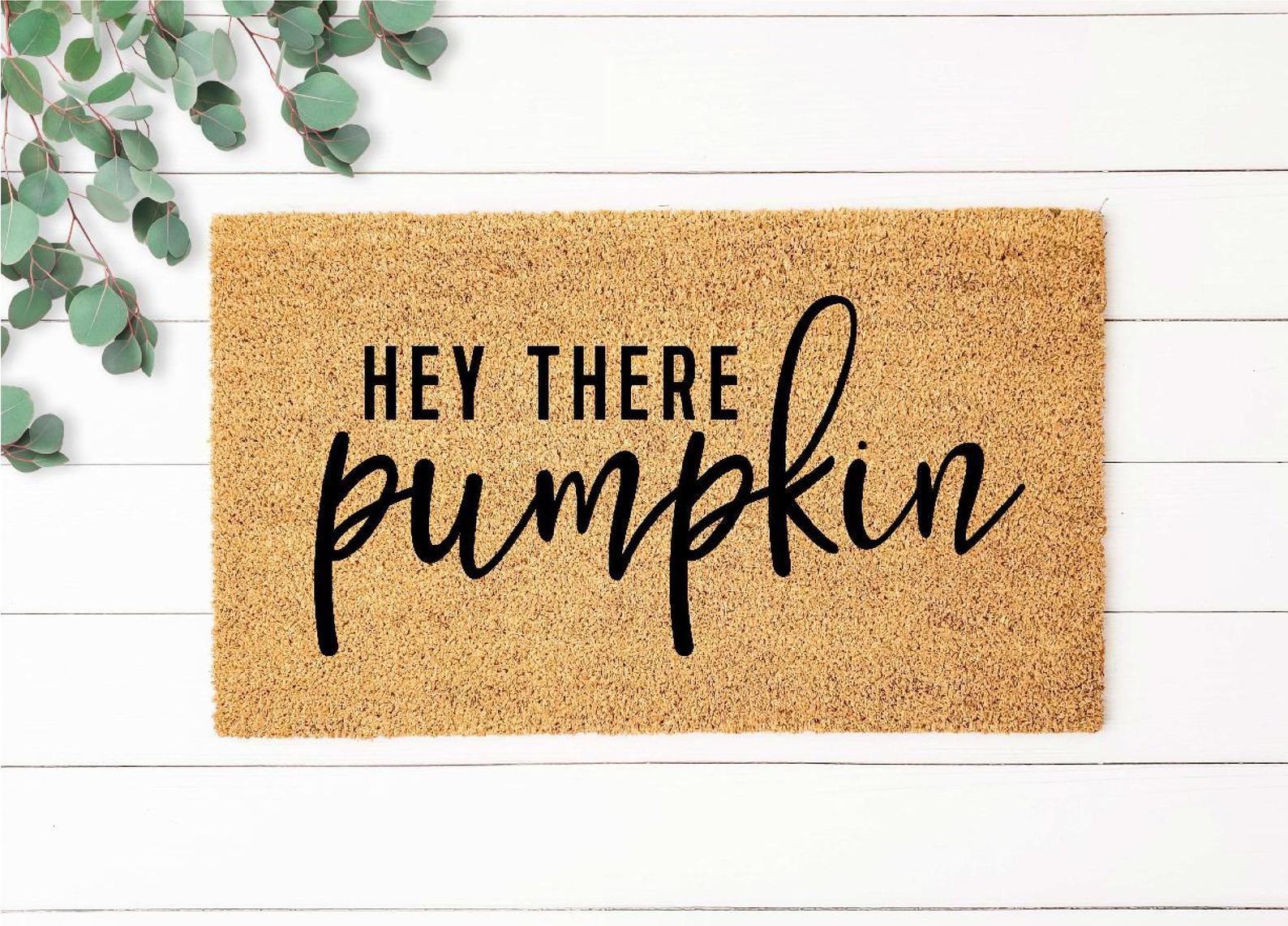 Let's start with your front porch! I love getting new mats for the seasons and this Hey There Pumpkin Doormat is perfect for fall!
We use these type of mats at our front door so be warned – they likely won't last multiple years (except maybe this year with less people coming in and out of your home most likely!). It's handmade in the US and is currently under $25.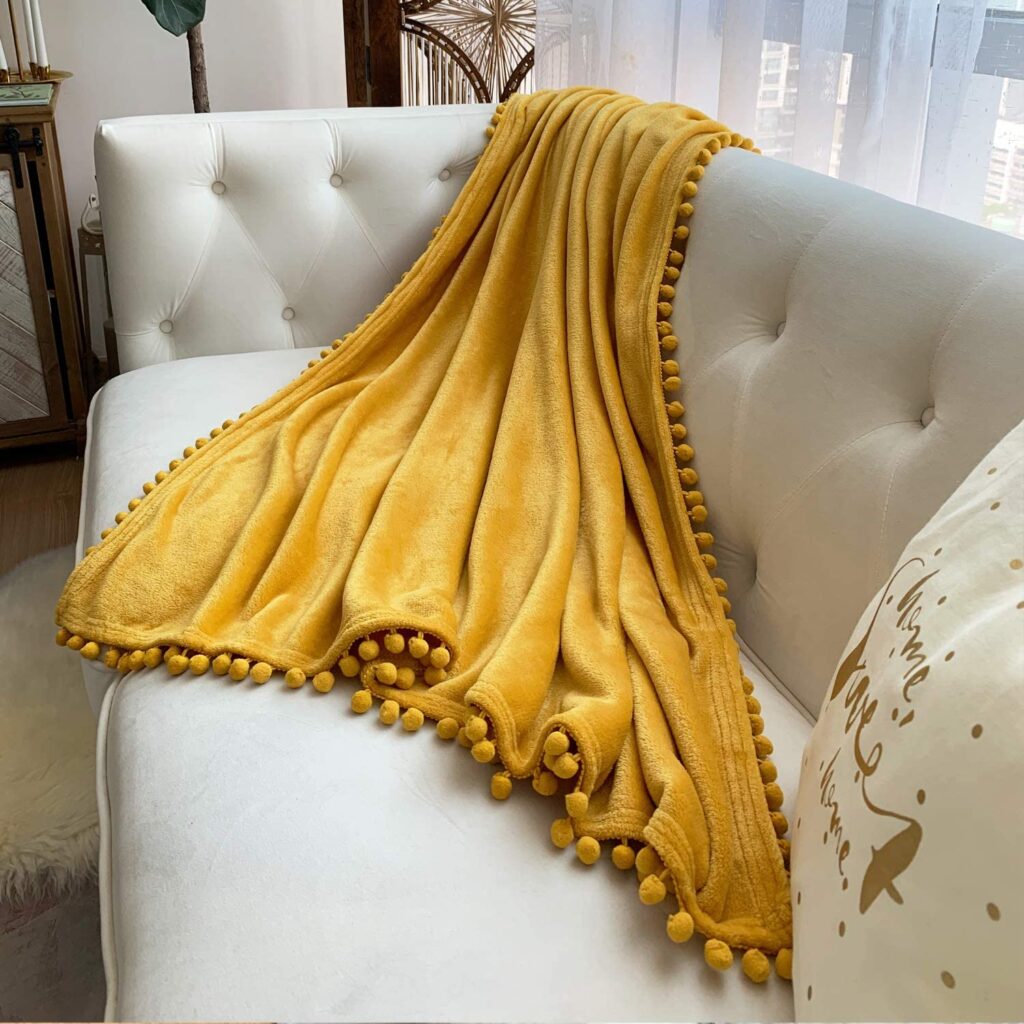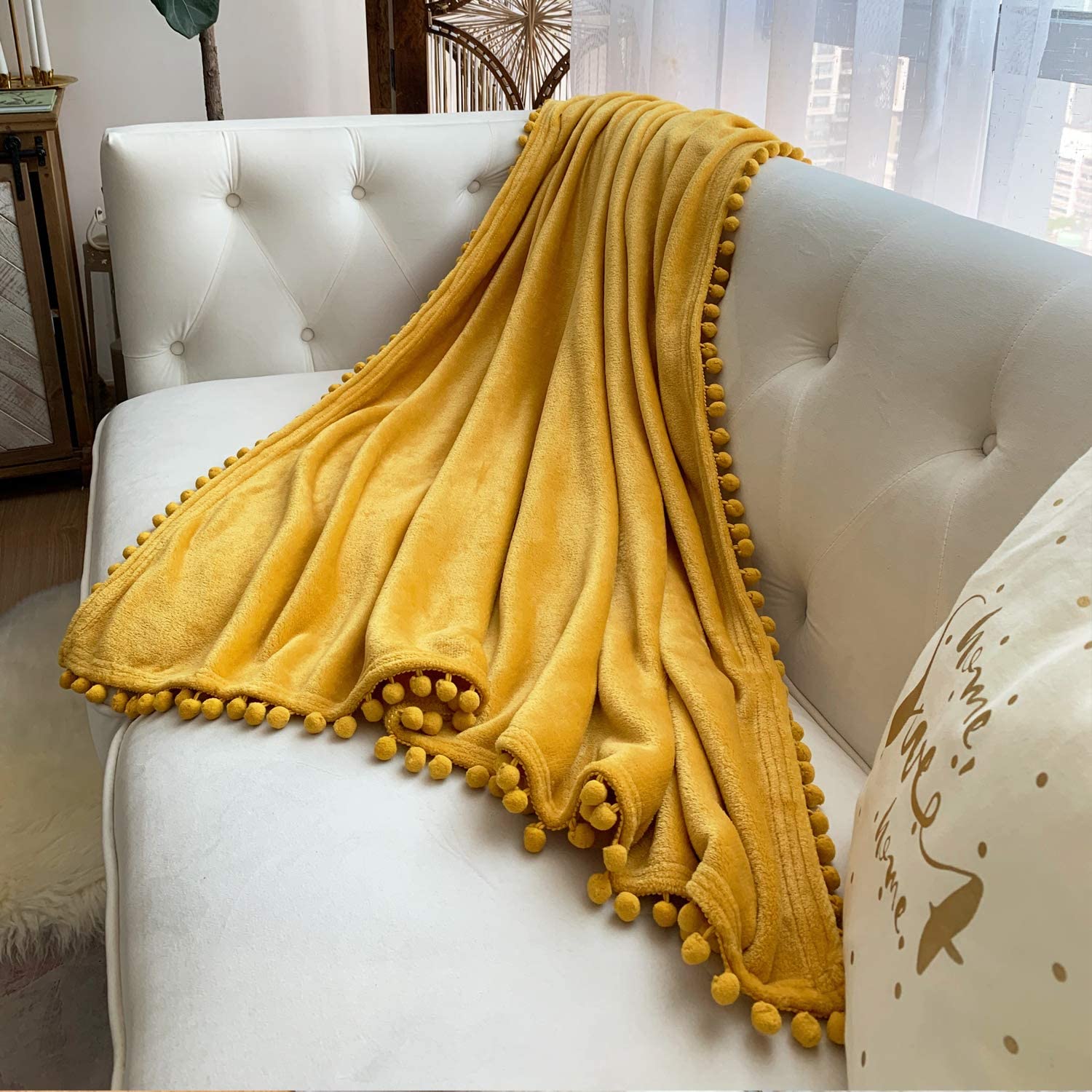 Say "see ya later" to the heat and bring on the cozy blankets again! This super soft, warm blanket from amazon is only $24 and comes in a variety of colors.
Toss over your couch or add it to your bed until it's time to bust out the down comforter, either way these cozy blankets will add a fall vibe to your home but don't scream pumpkin spice!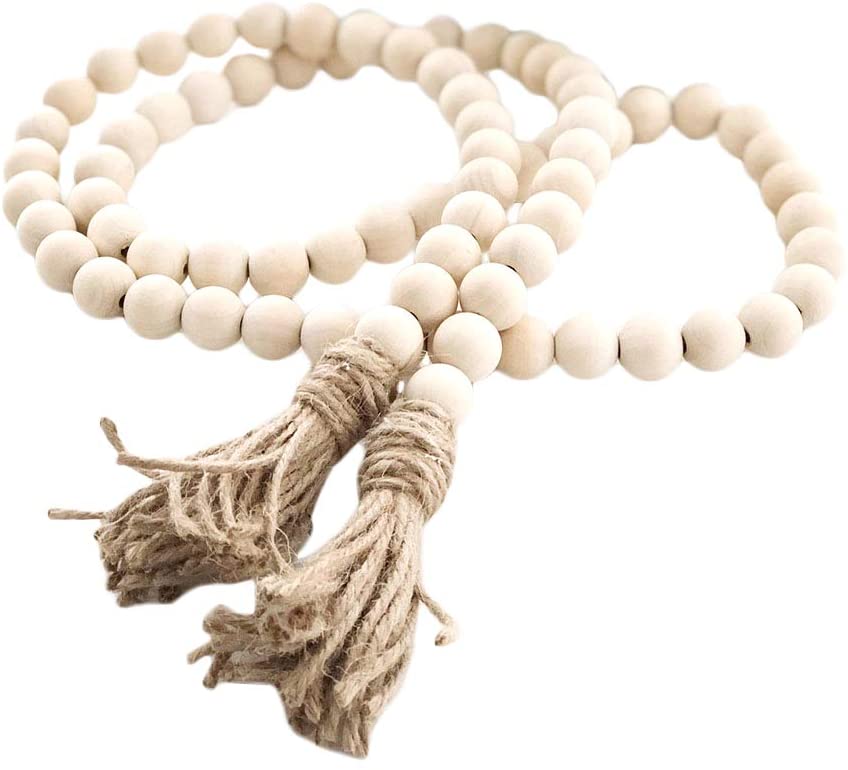 Another decor piece that doesn't scream Halloween but adds some soft texture and a fall feel is this Wood Bead Garland!
I own these and love the look and feel. And at under $15, you can't beat the price!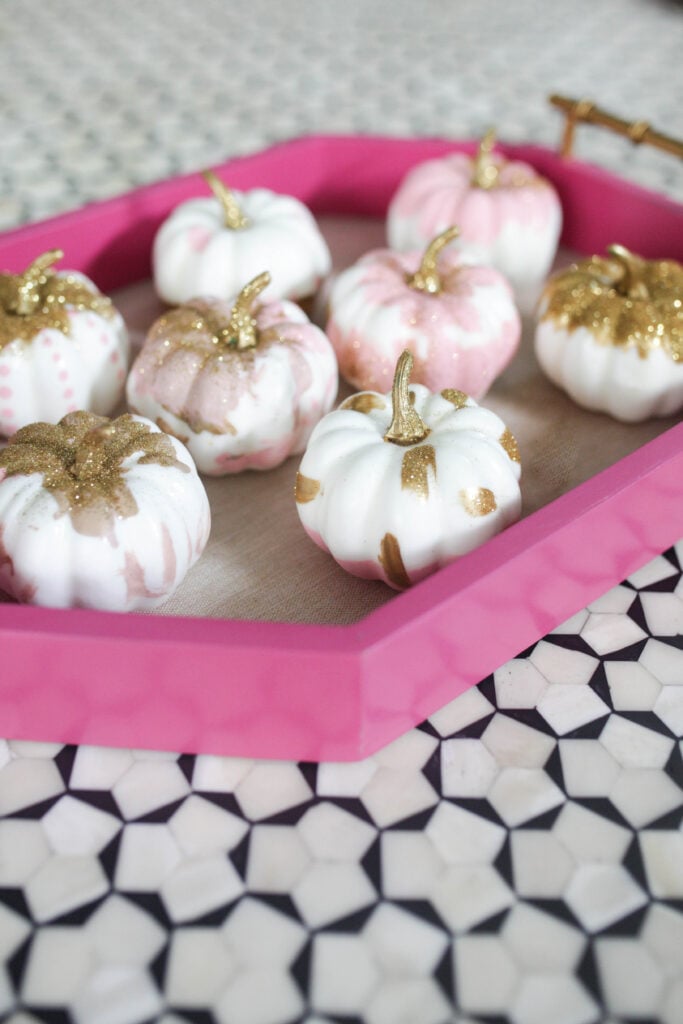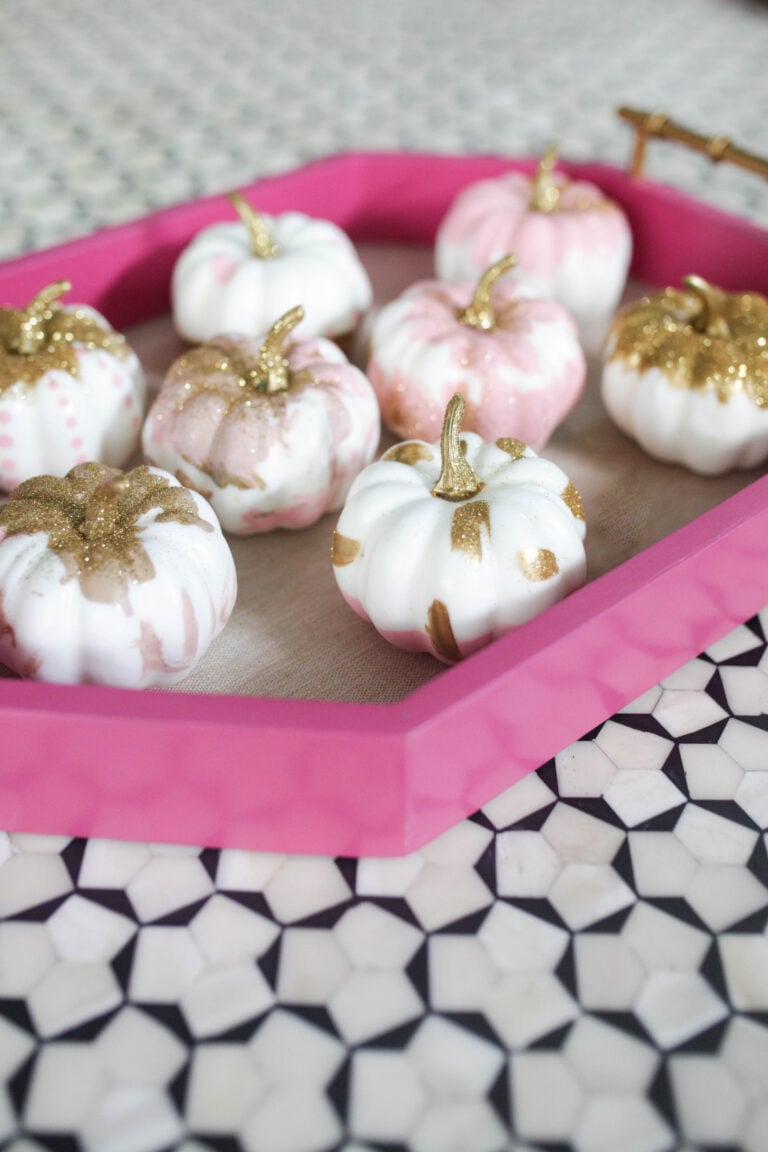 Ok, ok, I know these pumpkins don't look that great BUT they make wonderful DIY projects for you and/or your kids!
I have a full tutorial on how the kids and I made fun pink and blue glitter pumpkins using these pumpkins as a base. Now we have fun decor pieces for both the living room and the kids rooms!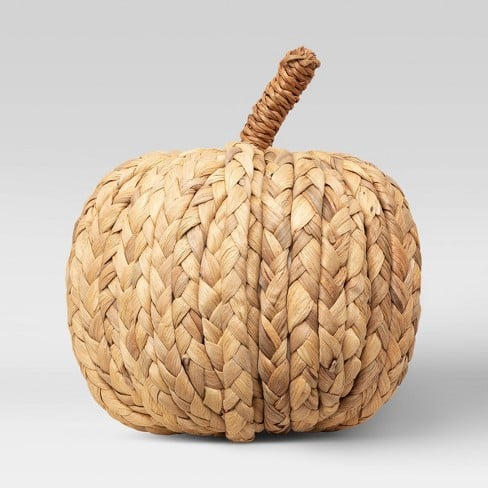 Raffia is back in style and this Raffia Pumpkin is right on trend! This cute pumpkin is perfect for neutral decor and comes in a variety of colors.
Get a few to cluster together or let it stand alone, this pumpkin is perfect all the way through Thanksgiving!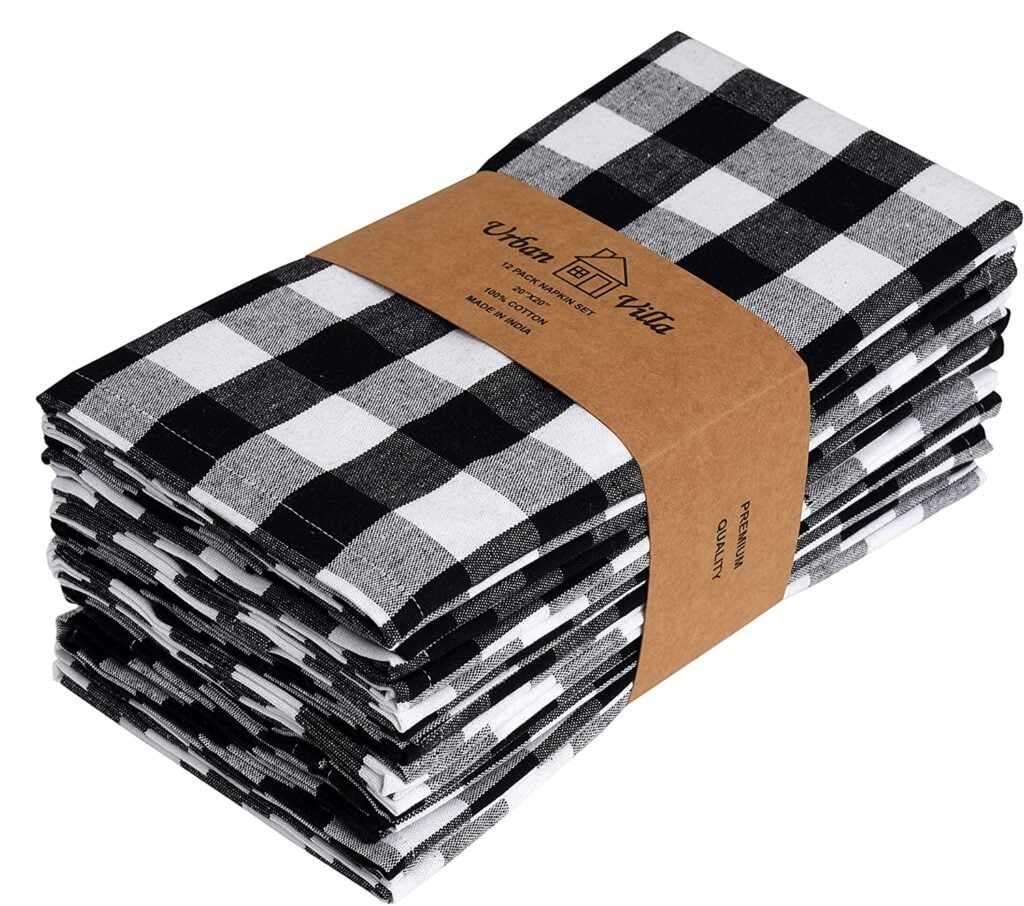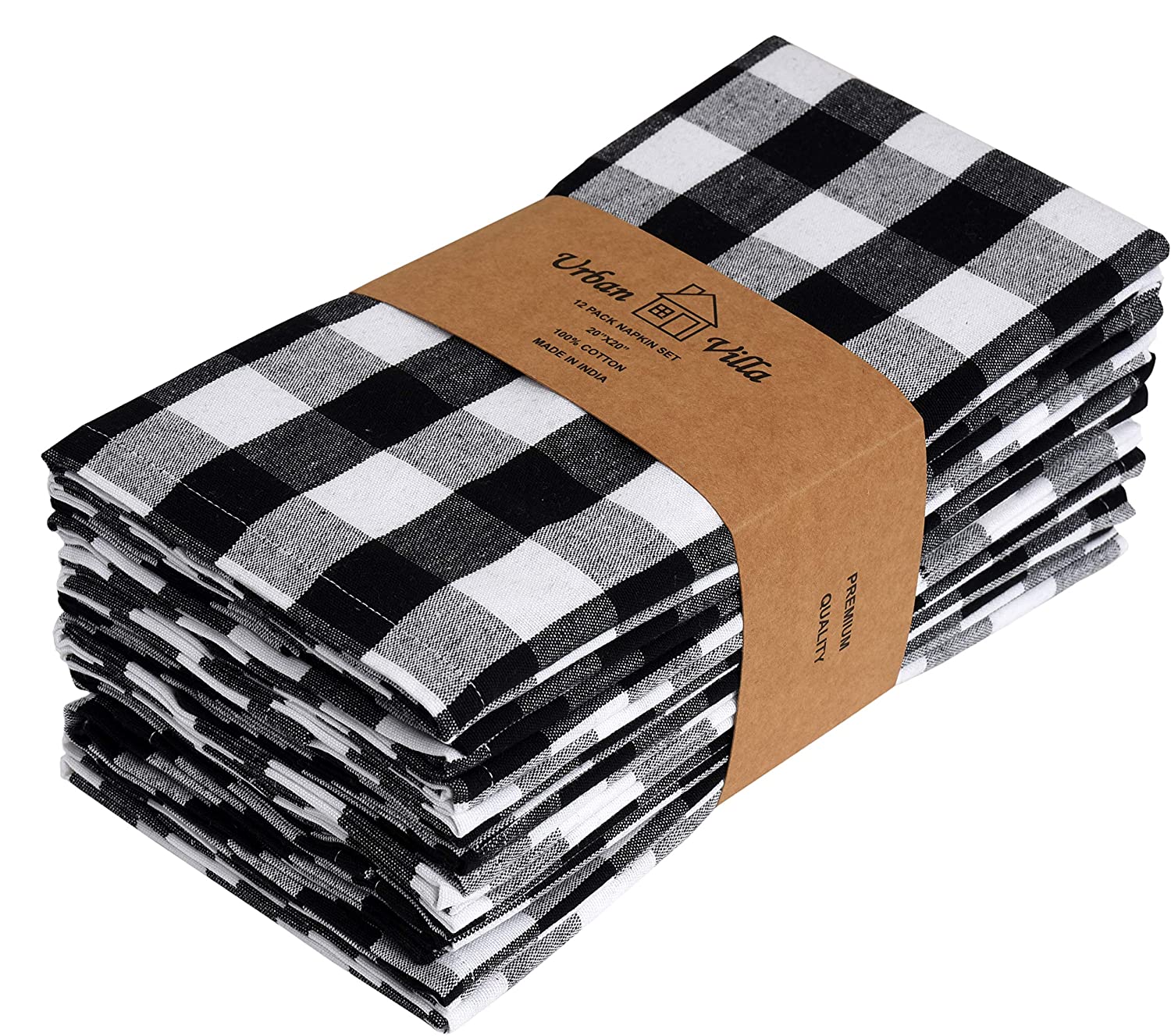 Even if you don't plan on hosting Thanksgiving or any sort of dinner party, go green and use cloth napkins for everyday use! These fun Black and White Checkered Napkins come in a set of 12 which is perfect for having napkins to use while another set is in the wash!
These napkins are 100% cotton so if you want them nice and crisp you'll need to iron them.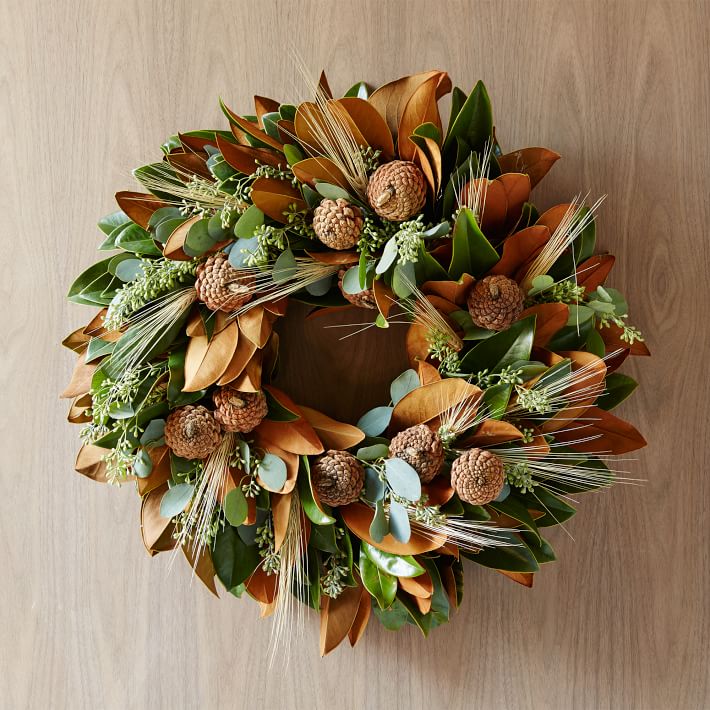 This gorgeous Magnolia Wheat Wreath is a bit of a splurge but it's a gorgeous splurge! It's handmade out of  freshly cut seasonal plants and made to order in the USA.
Or if this one's sold out, try this option!
Make quite a statement at your front door with this beautiful fall wreath!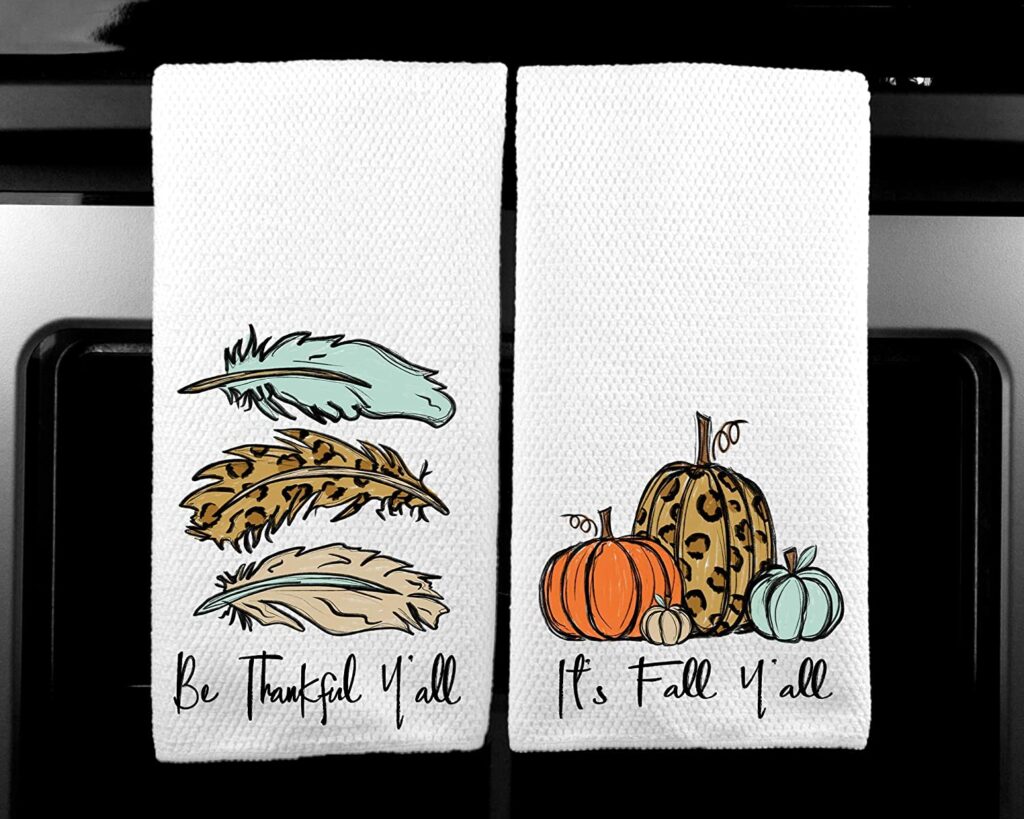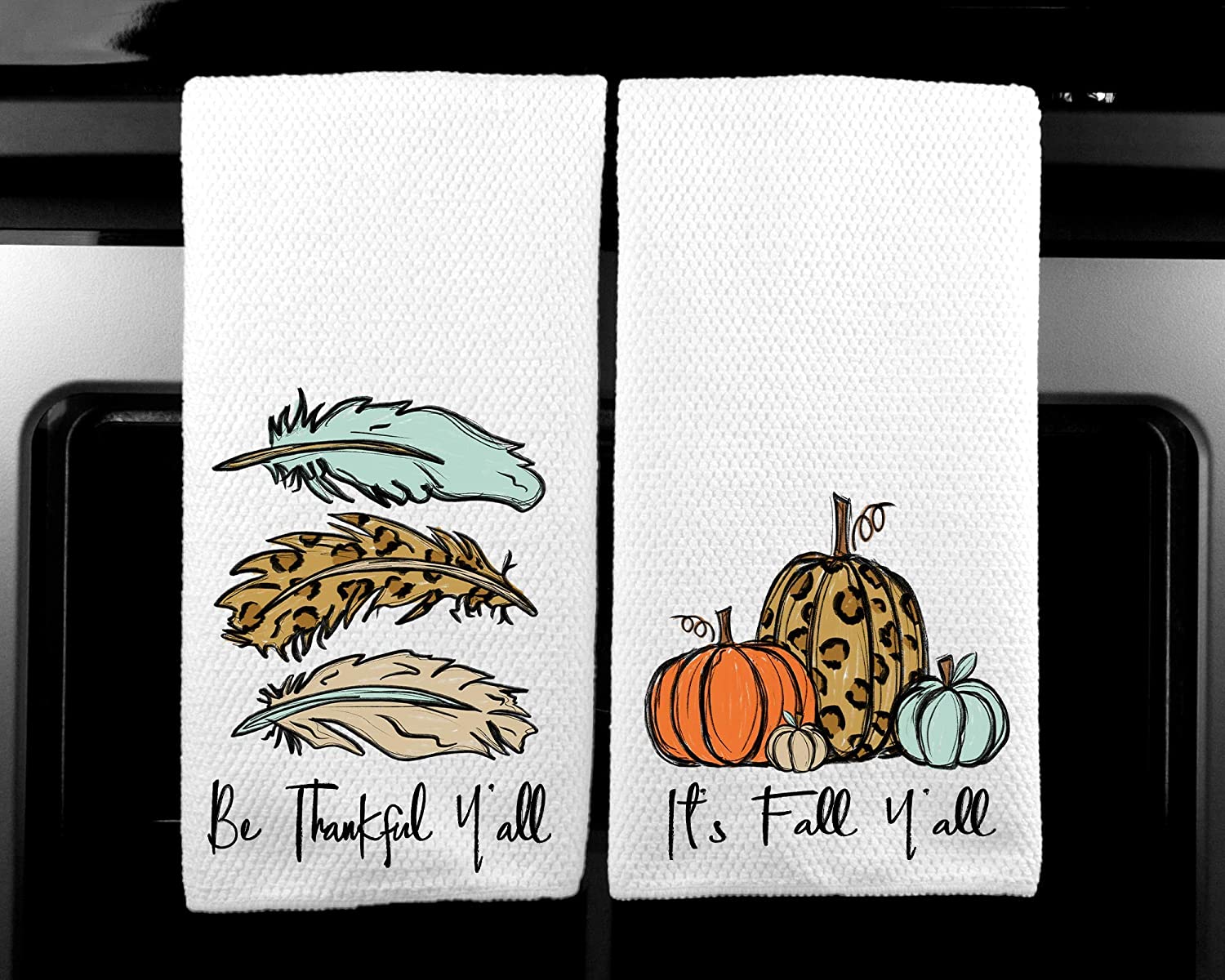 I love these adorable Fall Towels! The mix of "It's Fall, Y'all" with a leopard pumpkin (how cute!!) and a "Be Thankful Y'all" towel.
They're microfiber kitchen towels are lint free, scratch free, streak free and will leave everything sparkling!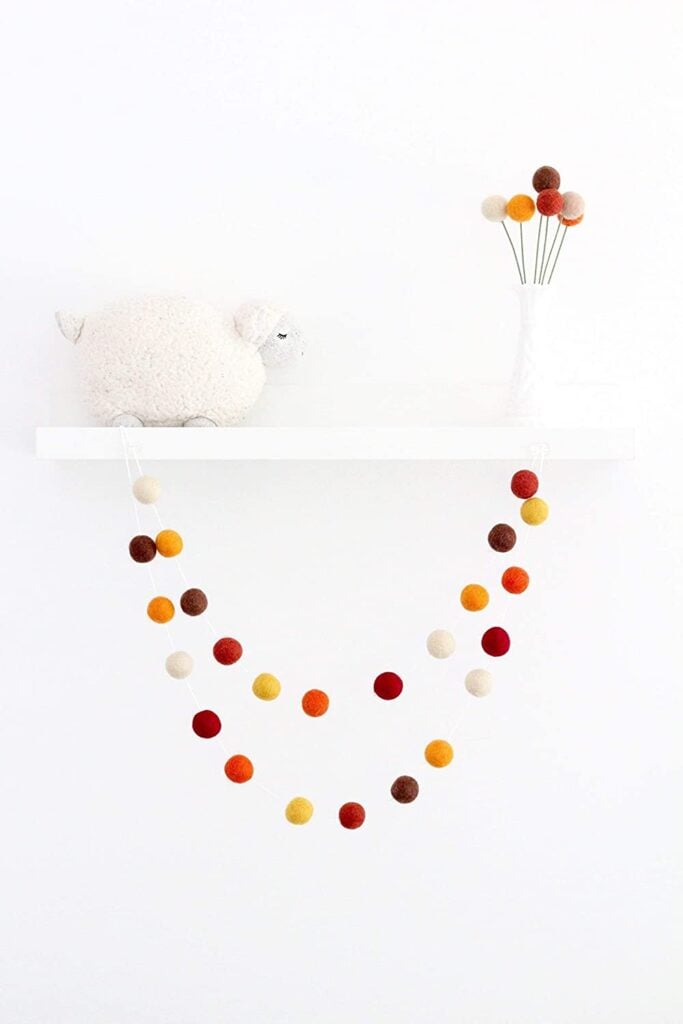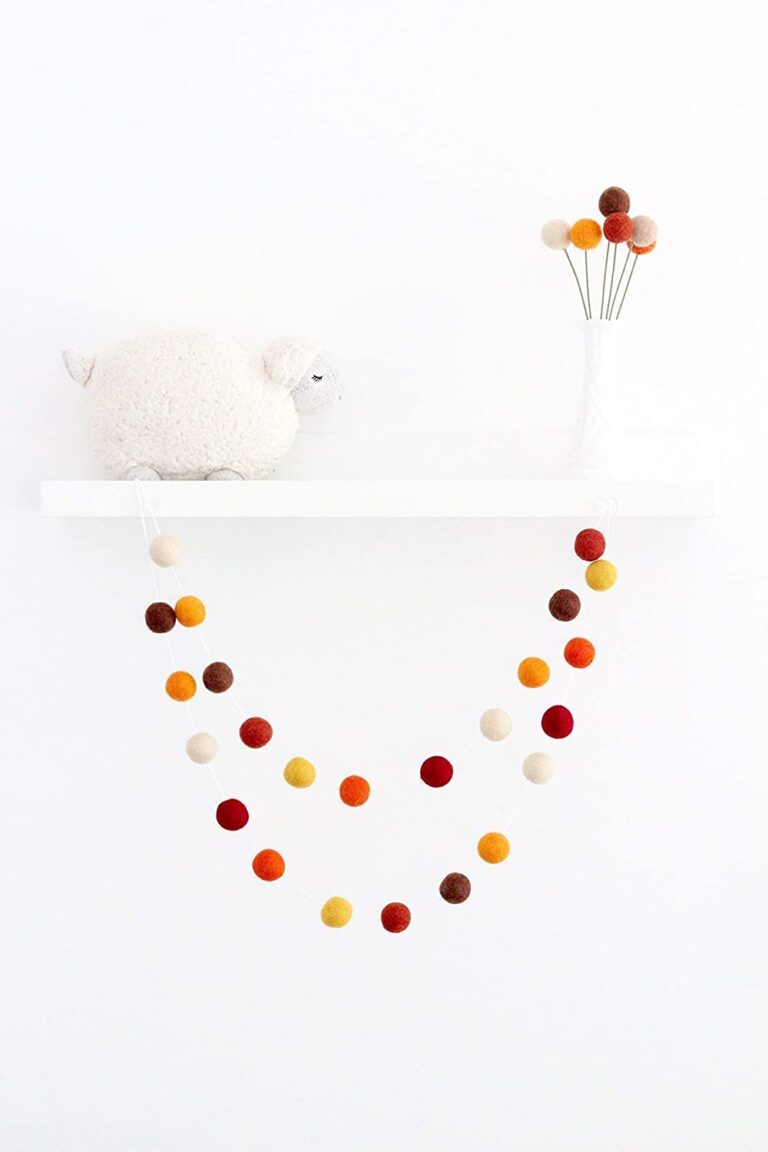 Add some fun to shelves, walls or even kids' rooms with this Fall "Autumn Leaves" Garland! This fun handmade garland is 7 feet long with 28 felt balls and a single strand with no knots.
You can easily switch up the space between each ball by tugging on the ball and sliding it on the string. The options are endless with this fall garland!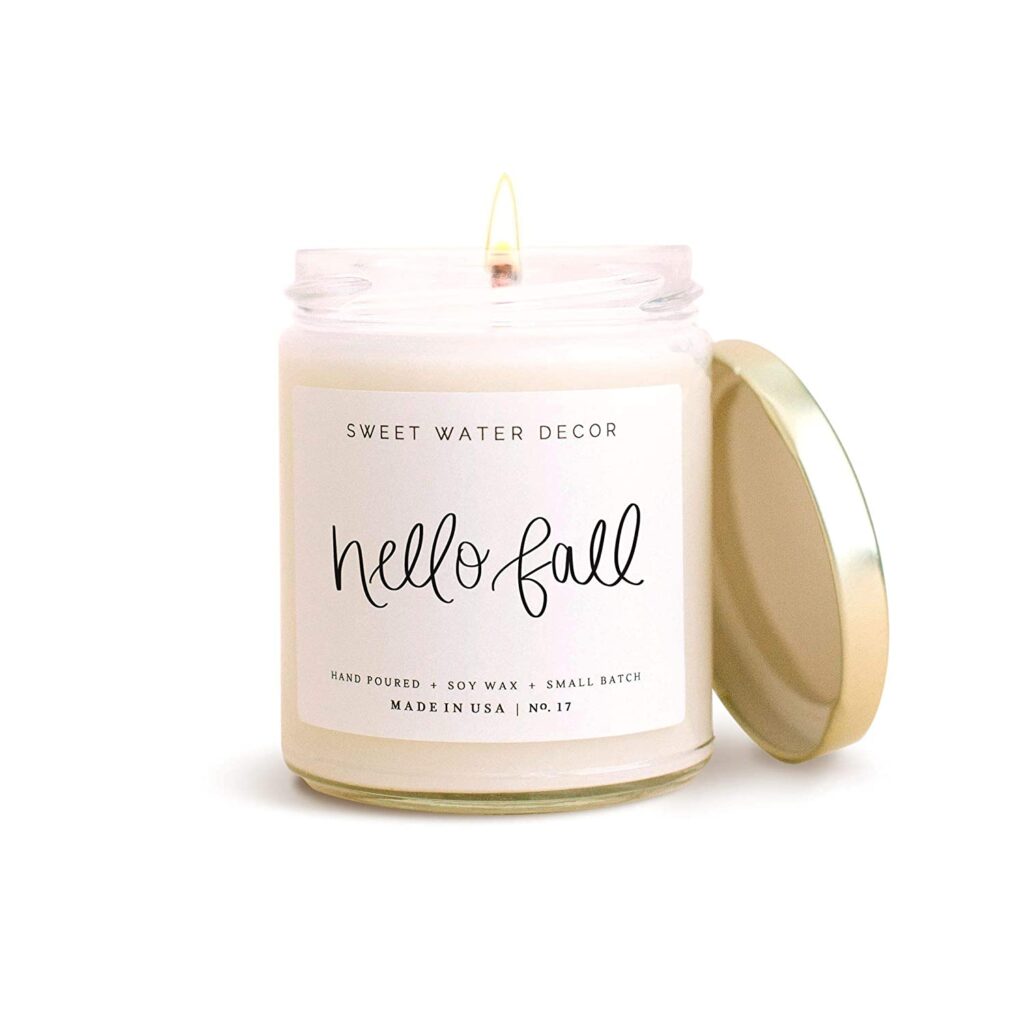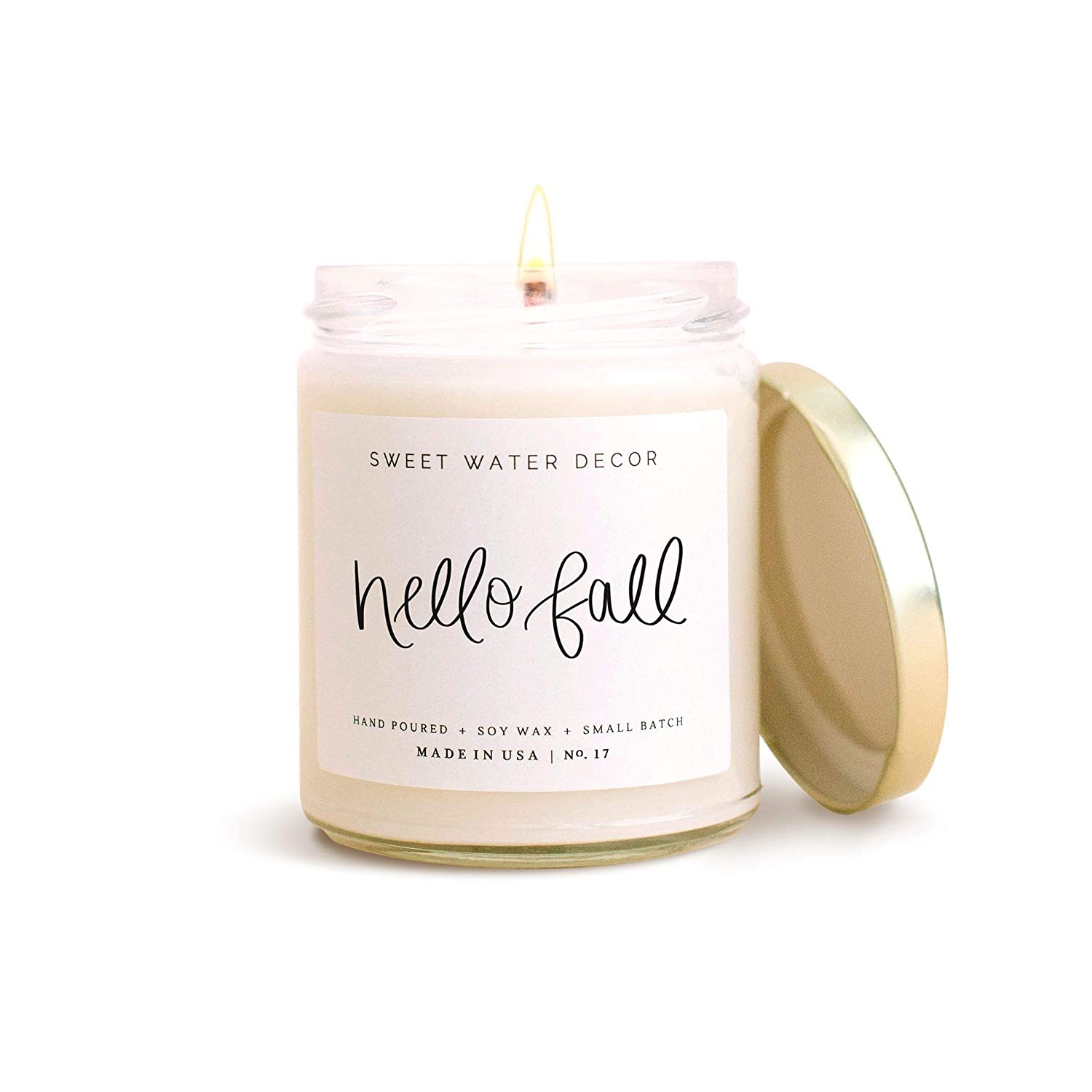 Nothing beats seasonal smelling candles! This fun Hello Fall Candle is handmade in the USA in small batches. It's a natural soy blend of cinnamon, apples, and cloves.
This candle will fill the air with fall smells for over 40 hours! This company is a small business in Pittsburg, PA – they have a variety of products from mugs, candles, water bottles and more!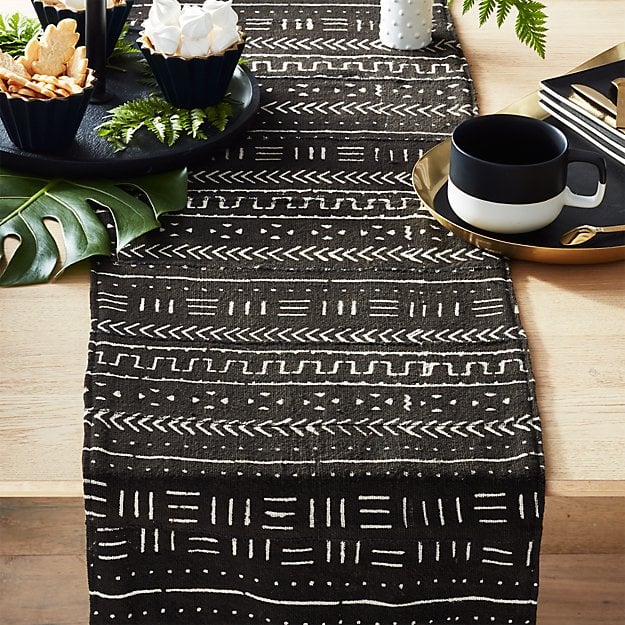 Getting a table runner that doesn't scream fall can be used through the colder months! This beautiful Black and White Runner is made in the USA.
It's made with natural dye and combined by whipstiching together cotton strips that are handloomed. Use as a base for a collection of pumpkins or other fun fall decor!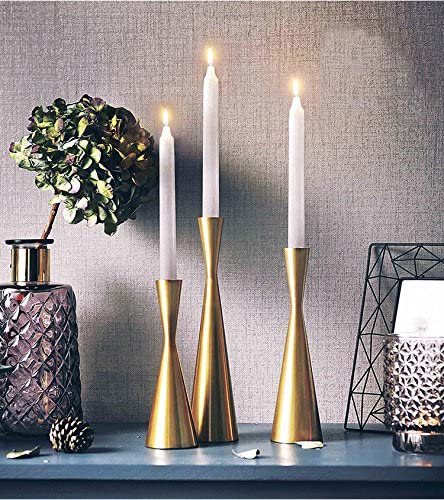 These gorgeous Set of 3 Brass Candle Holders would be beautiful with or without candles in them! Put them on a shelf or on your table, they'll make a big impact!
These candle holder come in either a set of 2 or 3 in a variety of sizes.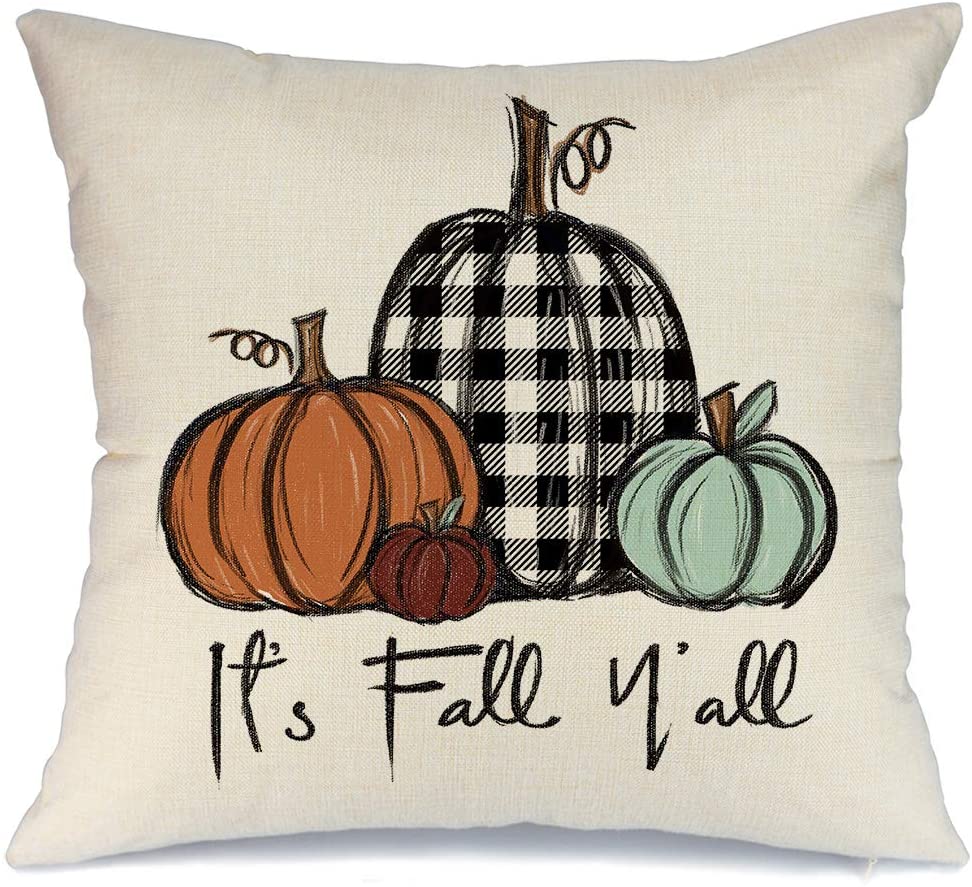 This cute It's Fall Y'all Pillow is an easy way to add some fall to your couch! This comes as just a cover so it's really easy to store and switch out as the seasons change!
This pillow cover is 18″ x 18″ and is only $10!
I hope all of these fun fall decor ideas help inspire you to add some fall fun to your home.
Now be sure to check out this post for the easiest glitter pumpkin DIY or my Fall Bucket List for 2020!