I've been noticing the coolest stacks of earrings on both celebrities on the red carpet and on my Instagram feed. They make the person look instantly cool and give a great glimpse into their style.
Having multiple piercings can give you the freedom to play around with style and earring arrangements. Maybe you are thinking about getting a new piercing and trying to decide on placement.
Or maybe you already have lots of piercings but want to change up your look. Either way, there are so many fun ideas to try!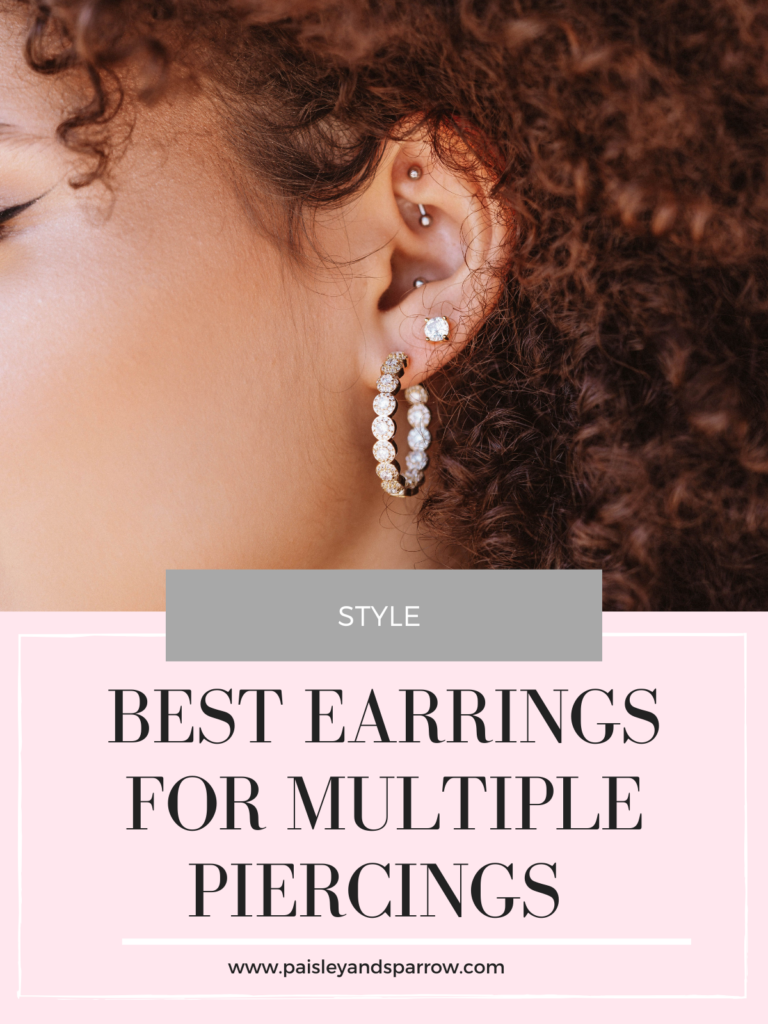 Paisley + Sparrow is a participant in the Amazon Services LLC Associates Program. This post may include affiliate links which means I may earn a small commission if you shop using the links below at no additional cost to you.
What ear piercings look good together?
If you're getting a new piercing, you'll likely want one that will look good with your existing piercings. If you already have a few lobe piercings, try adding a helix piercing for a simple and classic look.
Or, keep things all on your lower ear with a tragus, lobe, and orbital piercing. Make a statement with industrial, conch, and multiple lobe piercings.
Really, you can play around with your choice of ear piercings. Consider placement so things don't get crowded and space out your piercings for a well curated ear. If you're not sure what would look best, ask your piercing artist for advice on piercing location and coolest piercing trends.
Considerations for Your Ear Stack
The first consideration for creating the perfect combination of earrings is the size and shape of your ear. Larger lobes and ears will be able to rock some larger pieces that would overpower the look of a smaller ear.
Smaller lobes may be better for fewer piercings and you could add piercings on a higher part of the ear for your stack.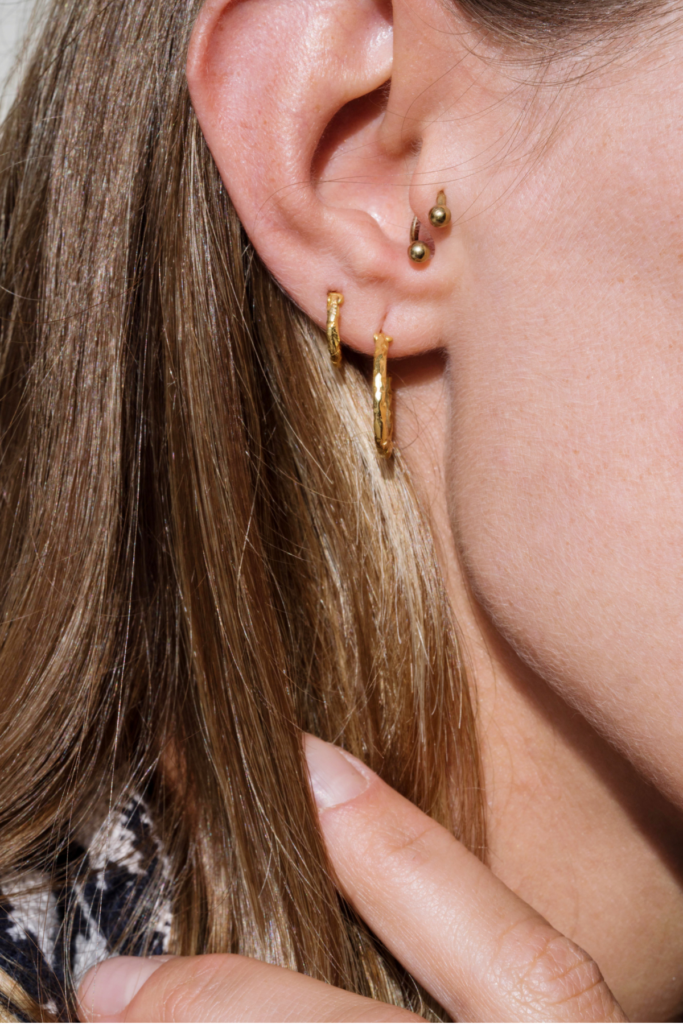 When you're picking out earrings for your multiple piercings, it's important to balance the look. You don't want too many bold earrings on one ear; you should choose smaller, more delicate earrings to keep it balanced. So if you are wearing a big statement earring on your first hole, consider a simple earring like single studs on the next holes.
Also decide when you're buying earrings whether you want both ears to match or if you're going for an asymmetrical look. This matters so you know whether you need to purchase earrings in pairs.
35 Best Earring Ideas for Multiple Piercings
Here are some of my favorite ideas for how to style your ears and where to consider new piercings. And since many earrings can work for different piercings, check out all the earrings I've linked even if you don't have the specific piercing I listed it under!
1. Earring Sets
Get the perfect ear stack with an earring set. A set will include a variety of earrings that will all match, making it easy to play around with arrangement. You can find a set that fits your personal style for a fool-proof ear party.
2. Ear Cuffs
Add an ear cuff to your stack if you want a fun look without an additional piercing. There are endless options of ear cuffs, so you can easily find one that will match with your other earrings, and it's the best thing to try if you aren't sure whether (or where) you want to commit to a new piercing.
3. Multiple Lobe Piercings
If you're just starting with one standard lobe piercing right now, double lobes are the obvious next choice. But third holes (or even fourth holes depending on the size of your ear lobe) can help you add on to your stack for that unique style you want!
4. Cartilage Piercing
A helix piercing can be a fun way to add an extra hoop or stud to your earring stack! This is a common piercing, and helix earrings come in all styles and materials.
If you love this look, you can also get a double helix piercing or triple helix piercing.
5. Forward Helix
Dainty stud flat back earrings in a forward helix piercing are a fun addition! Or, spice things up with three consecutive forward-helix piercings!
6. Conch Piercing
Conch piercings are one of my favorite inner-ear piercings! Whether you get an inner or outer conch piercing, you can get some flat back studs or cartilage hoops to play with design.
7. Collection of Studs
Simple studs can be the best option for everyday wear or a professional look. You can never go wrong with basic diamonds, gemstones, or minimalist studs!
8. Small Hoops
Fill your piercings with a collection of small hoops. This look is great, too, for multiple lobe piercings! You can do larger hoops in the first hole and do smaller huggies as you go up.
9. Hoops and Studs
Mix and match with hoops and studs. You could do a stud in your first lobe piercing, a hoop in your second, and then play around with your other piercings.
10. Diamond Stacks
Going somewhere nice, like a wedding? Keep things elegant and romantic with a stack of diamond earrings!
11. Industrial Piercing
Want a bold and edgy look? Get an industrial piercing and pair with tiny studs up your lobe.
12. Triple Flat Piercing
Add some more studs to your ear stack with a triple flat piercing. Find a fun earring set to use here or mix your metals for a fun look.
13. Gold Huggies
Gold huggies up your lobe with some gold studs in your helix make for a great look that can go with anything!
14. Daith Piercing
A daith piercing with a singular hoop can add to your curated earstack look!
15. Ear Chain
Even if you only have a few lobe piercings, you can still make your look bolder with an ear chain. There are all sorts of styles of ear chain to suit your preference!
16. Orbital Piercing
An orbital piercing paired with a helix and lobe piercings gives you lots of options to go bold with your earring choices!
17. Helix Flap Piercing
Looking for a unique piercing to add? If your ears fold over enough to where you have space, get a piercing there on the outside of your ear.
18. Anti-Tragus Piercing
Instead of piercing your tragus, why not pierce the anti-tragus? This piercing sits opposite of the tragus and makes a great spot for a hoop earring, or curved or circular barbell.
19. Rook Piercing
If you have a few lobe piercings and want to add something new, consider getting a rook piercing! This sits in the inner ear on the top ridge and is a fun way to move the ear party beyond the outer edge of your ear.
20. Snug Piercing
A snug piercing sits above the anti-tragus and is sometimes called an anti-helix piercing. It's painful, but if you're willing to go through with the pain it can be a unique look to add to your ear stack.
21. Constellation Piercings
Get multiple piercings where they are arranged like a constellation! A bunch of sparkly studs will have your piercings looking like stars or choose your favorite tiny studs to fit your style.
22. Zodiac Earrings
Get an earring that matches the constellation of your zodiac for a fun central earring in your stack.
23. Butterfly Wing
Put a butterfly wing earring in your helix with a simple butterfly earring in your lobe for a matching design.
24. The Night Sky
Curate your ear stack with a theme! Gather star, moon, and lightning bolt earrings to incorporate into your piercings.
25. Flowers
Or, go with another theme like flowers! You can keep it simple by using silver or gold flowers, or add some color by getting flower gemstone earrings.
26. Statement Piece
Pick one piercing to have a statement piece of jewelry in it. From there, build out your stack with earrings that will compliment the statement piece.
27. Alternating Studs and Hoops
Go up your ear with a pattern of studs and hoops. This will help break up the design, too!
28. Conch and Flat Piercing
These two piercings paired together with a few lobe piercings can make for a nice minimalist look.
29. Snakebites
This fast-growing trend involves having two piercings stacked close together. You can use either studs or hoops here!
30. Gold and Silver
If you normally wear all gold or all silver, try switching to the other metal! Or, have a mix of both metals in your ear stack.
31. Big Hoops
Wear some big hoops in your first lobe piercing and fill the rest of your piercings with fun studs. Or, throw in some ear chains to give the look some edge.
32. Dangling Stud
You can wear dangling studs in your piercings for something different. A dangling stud in an outer conch piercing gives you a unique look that will make the jewelry seem like it is floating.
33. Bar Earrings
Use bar earrings to fill some space on your ear and have a horizontal appearance.
34. Mid-Helix Piercing
This is a great option if you're not ready for a full-on cartilage piercing. Place a dainty hoop or more elaborate stud here to add to your ear stack.
35. Birthstones
Add your birthstone to your stack! If you want to make things even more personal, add the studs of your zodiac sign and your birth flower!
How to Get a Multiple Piercing Look With Just a Single Lobe Piercing
If you like the look of multiple piercings, but don't want to commit to more than just a single lobe piercing, fear not! You can still get that look. There are illusion hoops you can get to give the appearance of a hoop anywhere you want to place it. You can also use ear cuffs to help elevate your look.
Spiral hoop earrings are also an option, like these from Amazon. These work by twisting through your piercing to make it seem like you have two hoops on your lobe. These options are a great way to try out a new piercing look!
You can also find some uniquely shaped lobe earrings that give you a similar look to a cartilage piercing but on your lower ear. I think these are such a fun addition to your earring collection and an easy way to get an edgier look once in a while!
There are so many looks you can achieve with having multiple piercings (or getting creative with the piercings you do have!). From different types of piercings to different kinds of jewelry, the options are endless!
Looking for more information on how to style your ears? Here are my 5 favorite cubic zirconia earrings and everything you need to know about conch piercings.
And here are some tips for how to organize all your jewelry!