A 105,00 square foot sporting goods store is opening in Minnesota and let me tell you – you want to get there! DICK'S is opening up one of the incredible House of Sport stores right here in Minnetonka, MN at Ridgedale Center.
There's only two other House of Sport in the country, one in Knoxville, TN and one in Rochester, NY. From rock climbing walls to golf simulators to batting cages, this store is full of experiences for athletes of all ages and abilities.
Let's dig into the history of DICK'S before I share all about this amazing new store!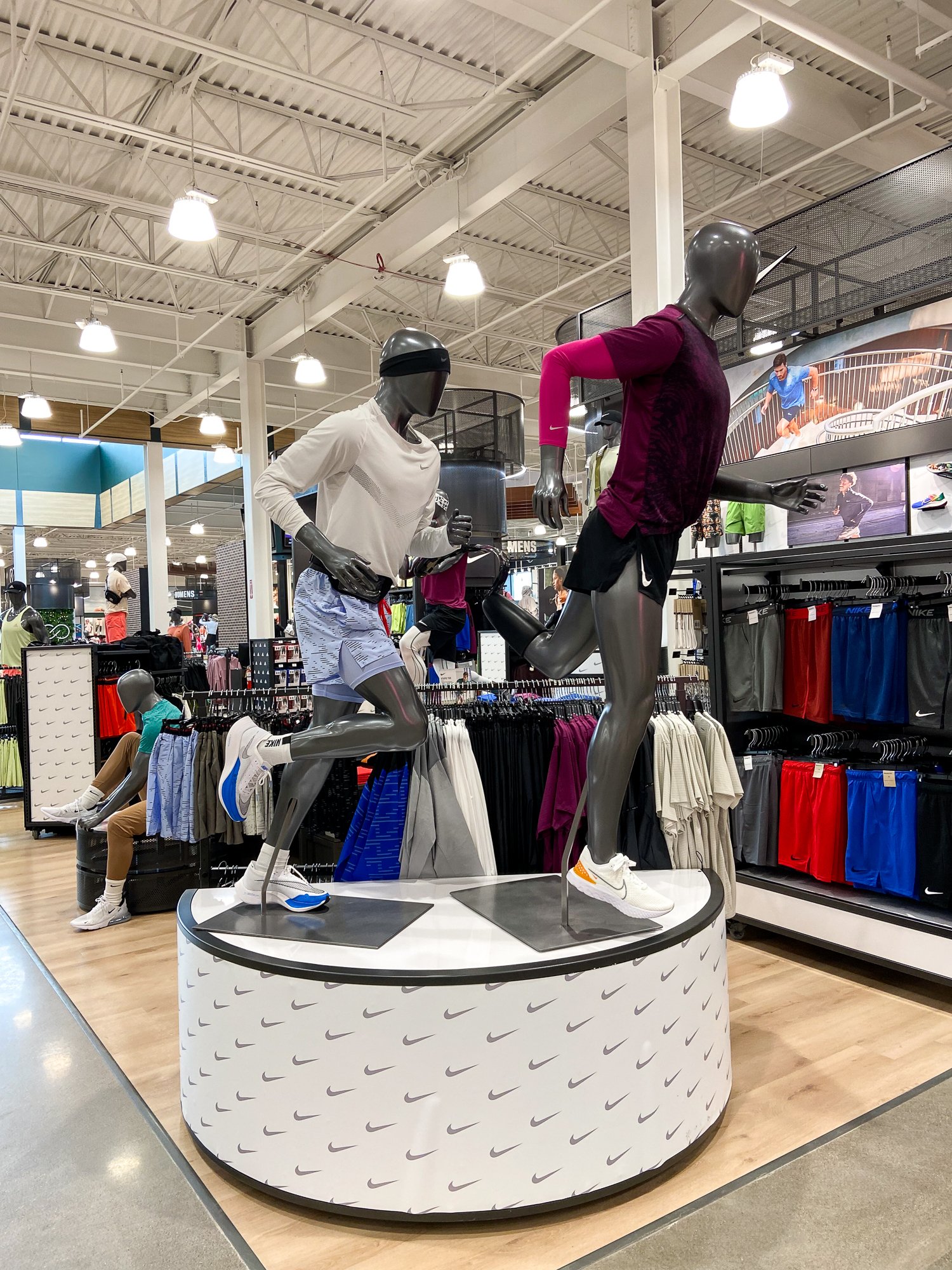 DICK'S History
DICK'S was started by Dick Stack back in 1948. He originally worked at an Army Surplus store but after being called a dumb kid when suggesting they start carrying fishing tackle he promptly quit.
After telling his grandmother what happened, she gave him the money to start his very own bait and tackle store and the rest, as they say, is history! He worked incredibly hard and eventually by the 1970s, he had expanded it to offer much of what you see in a Dick's today.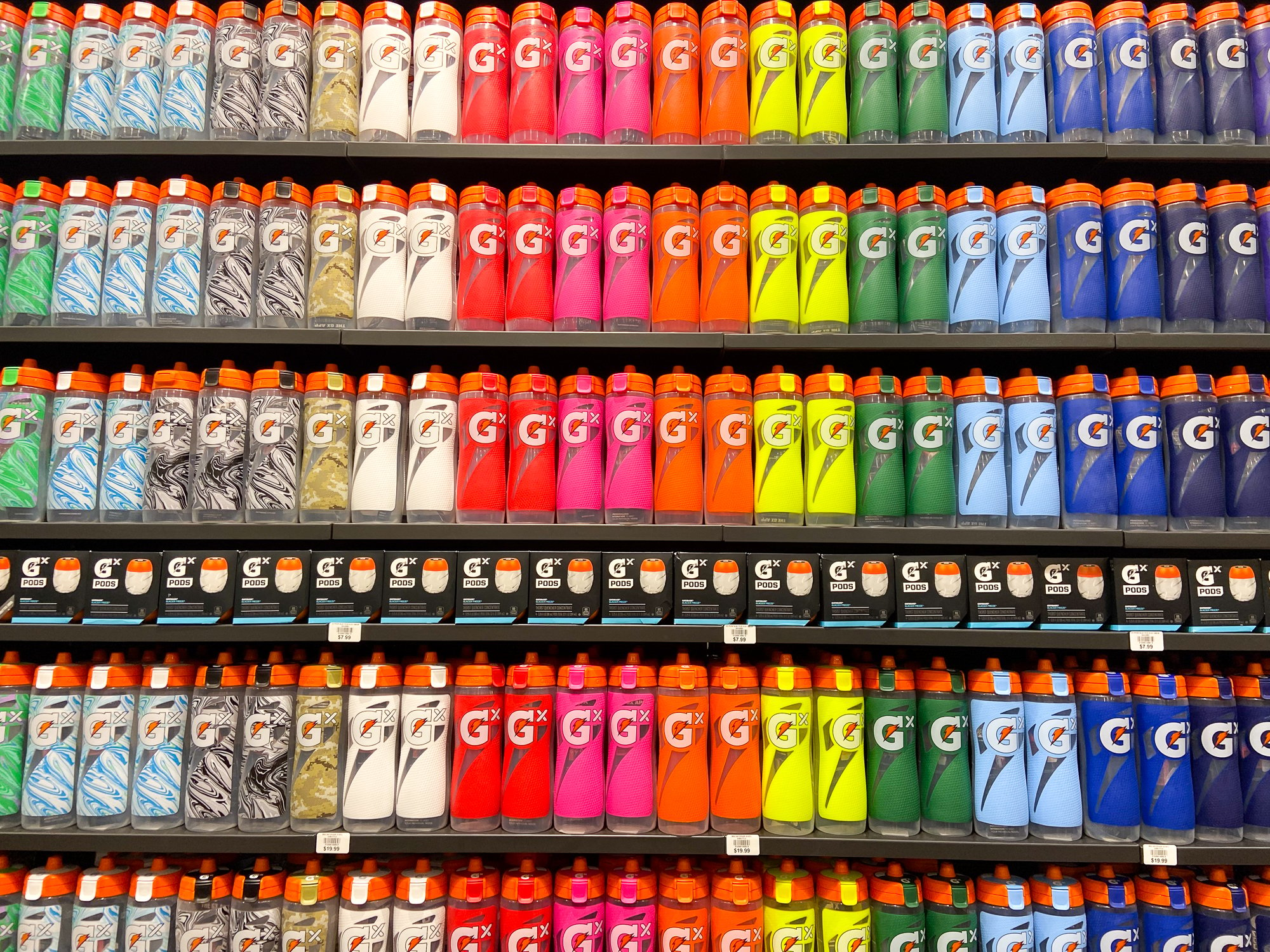 Dick's son and his siblings eventually bought DICK'S and grew it to over 500 stores, 4 distribution centers, their own clothing label and so much more. In 2021, they announced a new woman CEO, the first in DICK'S history!
House of Sports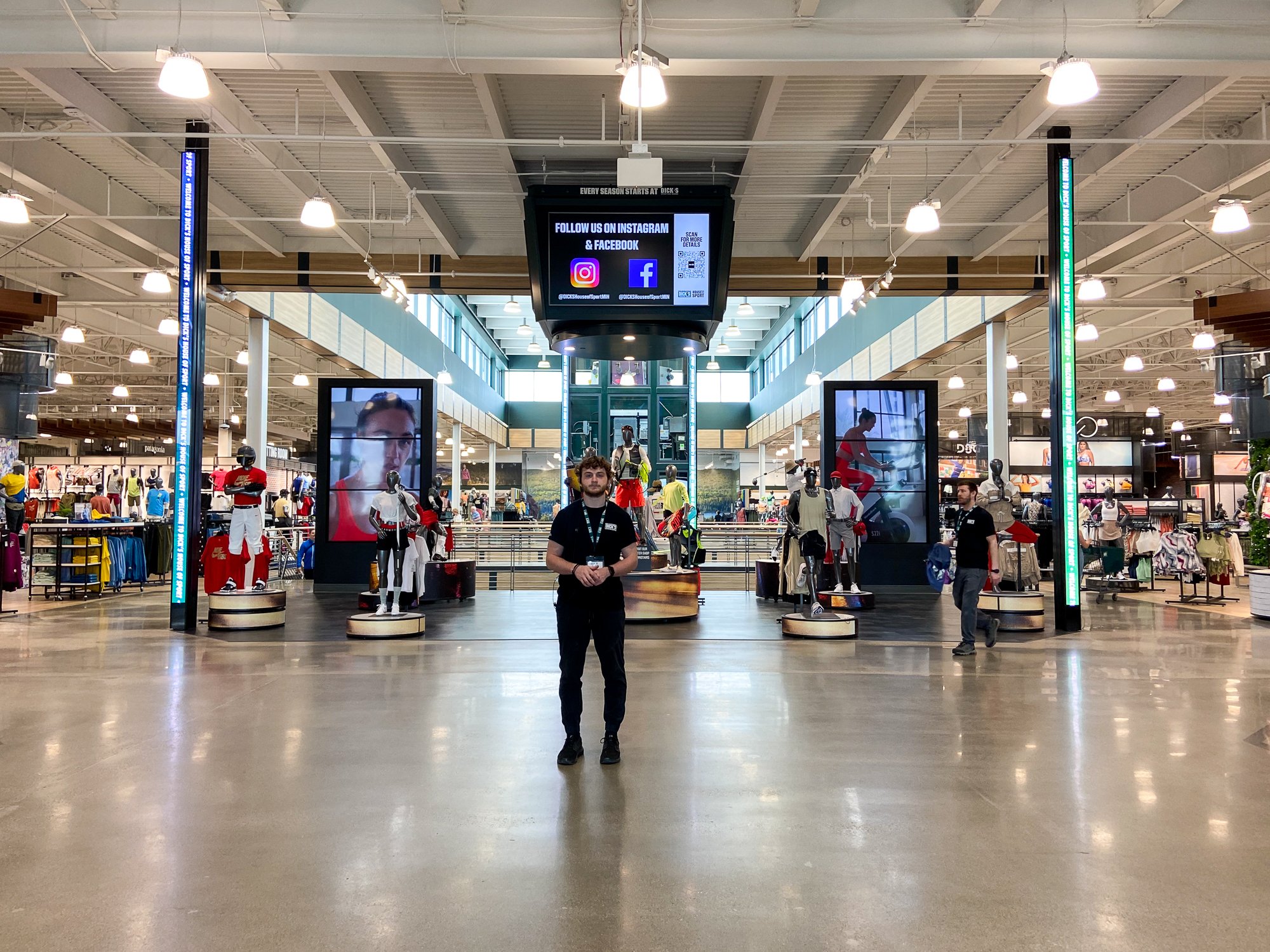 Now on to their newest store, the House of Sport! DICK's House of Sport is focused on 4 main areas:
Exciting in-store experiences
Services for sports
Community events
Best product assortment
When you walk into the store you're welcomed by a Jumbotron which broadcasts local and national games and events. You might just see your local high school sports team playing!
You'll also see a collection of some of the mannequins showcasing a seasonal fashion show. This could include lake looks (like in this photo) or the local high school team's jerseys and colors. This is changing all the time!
Apparel & Shoes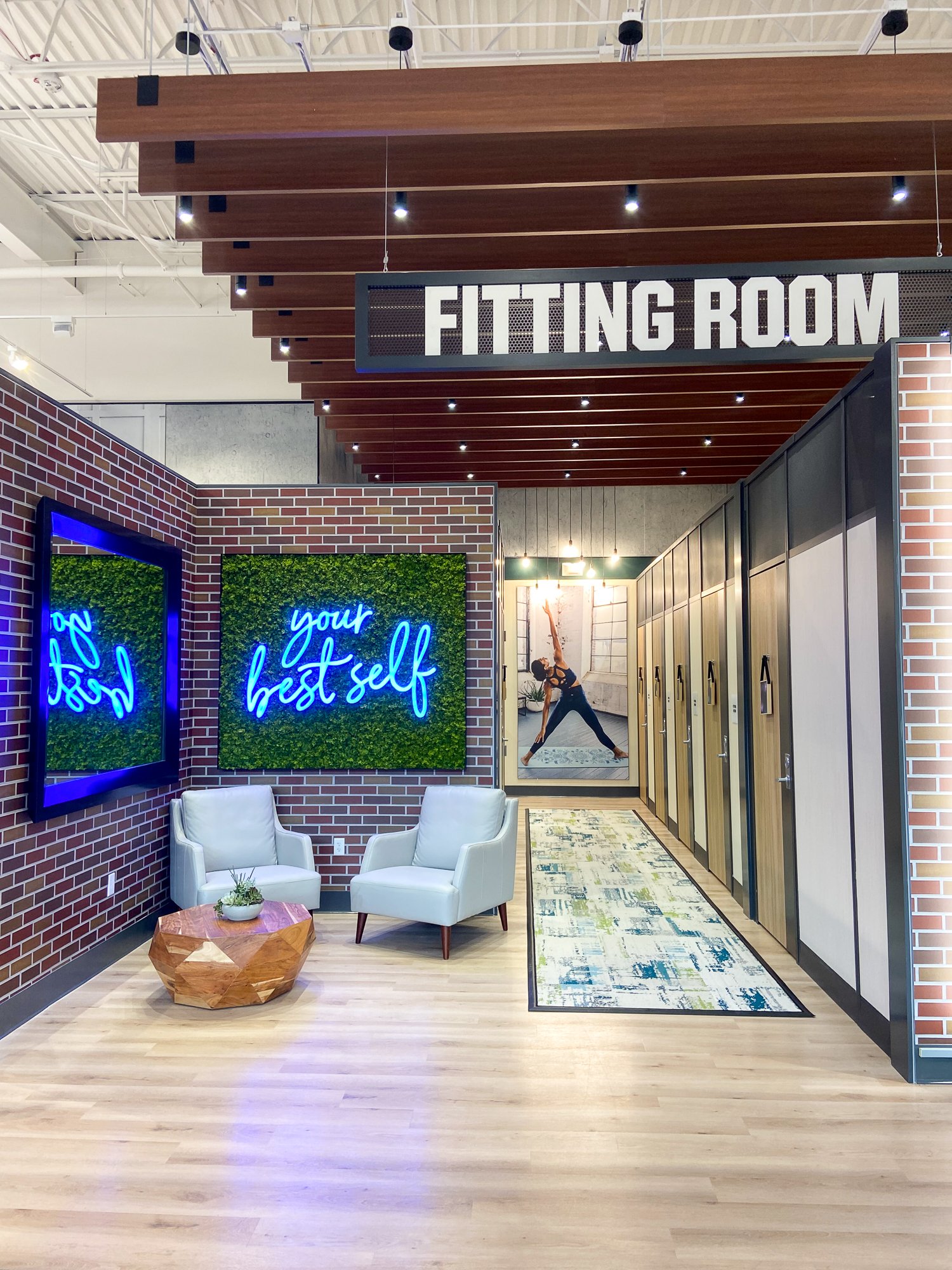 One thing you'll love at DICK'S House of Sport is the huge offering of clothing. They have clothing options for men and women, children and even toddlers!
You'll notice there's a ton of mannequins throughout the store – 750 to be exact – and all are in motion. They also have adaptive mannequins and mannequins of a variety of different sizes.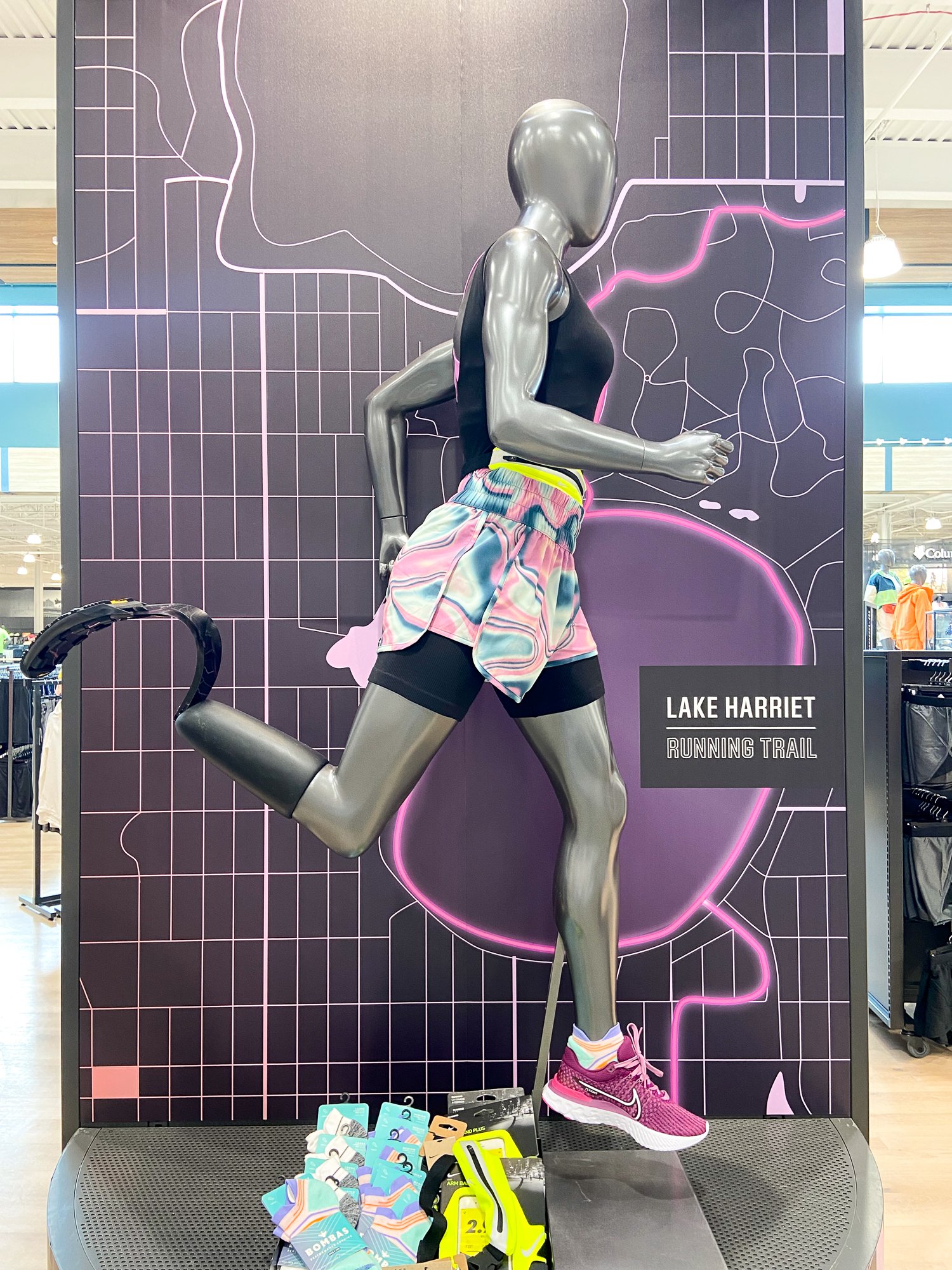 Private Labels
They have a few of their own private label brands such as Calia which includes swimwear, golf and maternity options.
There's DSG which is made for the entire family. DSG has a ton of affordable options and 1% of each purchase from this brand goes to help save youth sports.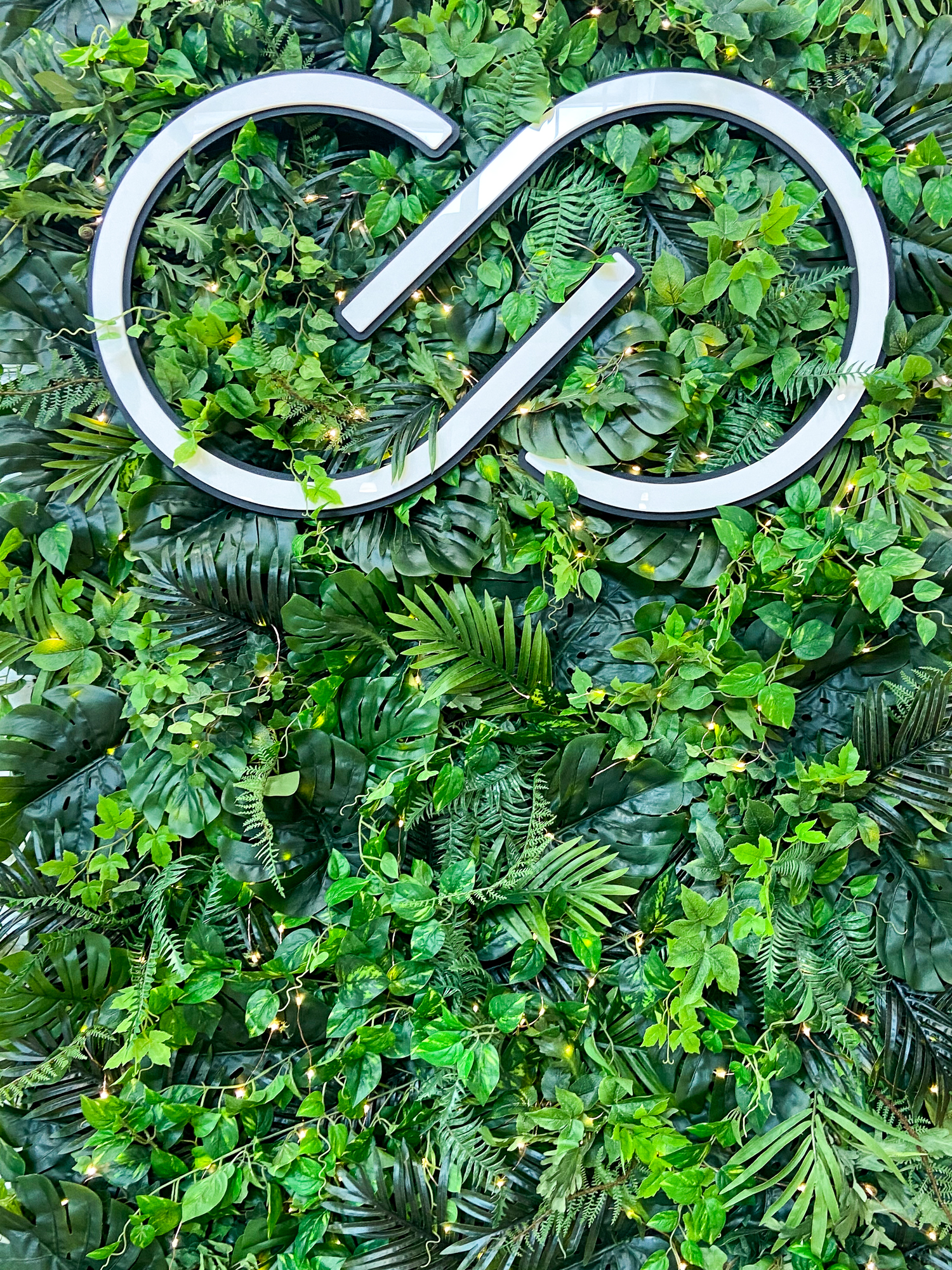 Another private label brand is VRST which is a higher end men's athletic apparel line that's great for both working out and hanging out!
Bras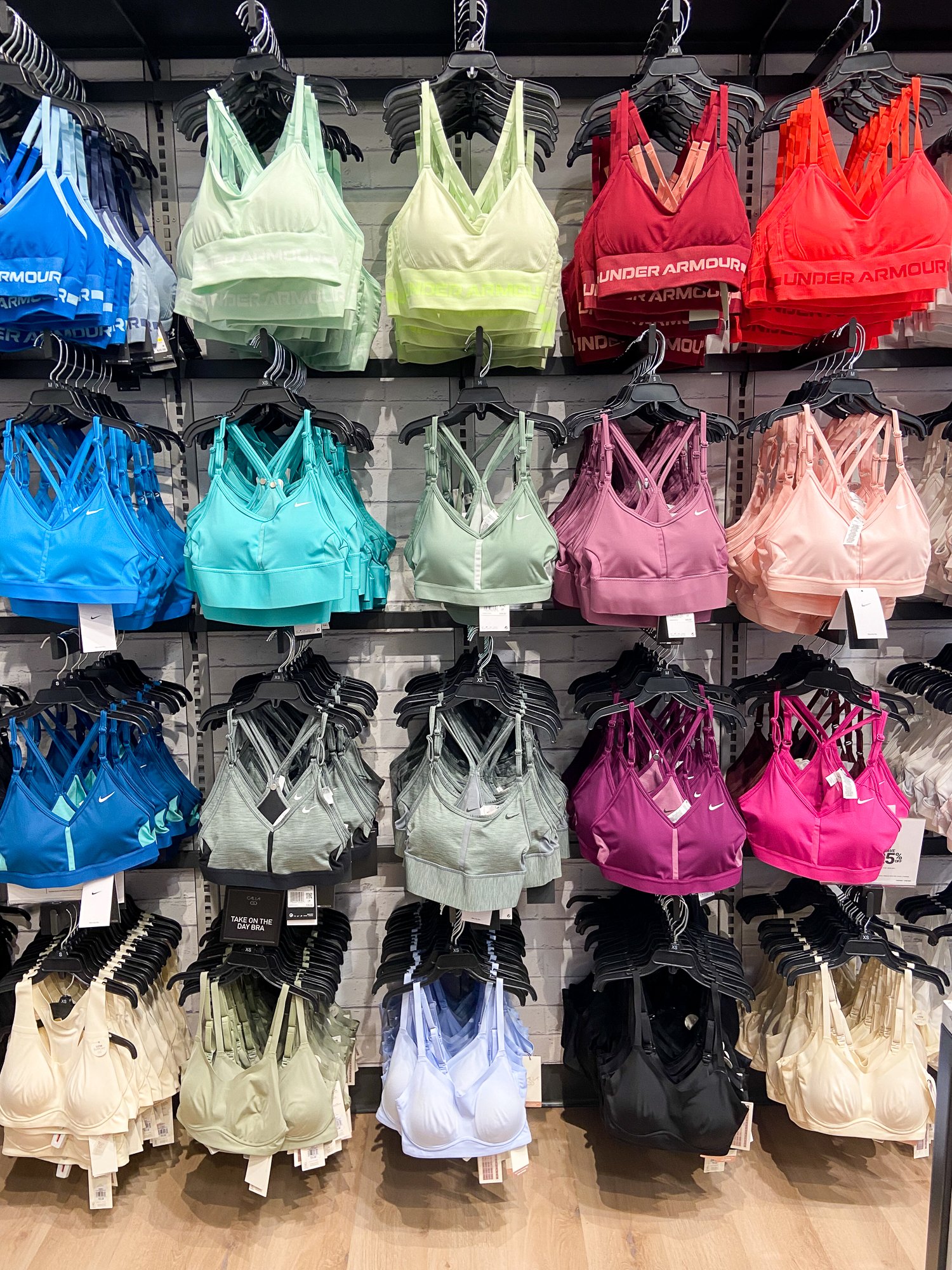 Another fun feature is their bra selection! As women know, the right kind of bra can make or break your workout. DICK'S House of Sport brought in a bra specialist from Victoria's Secret to give their bra section a makeover!
You can now find bras by support and by size all together in one spot. There's even fancy drawers that are full of different color options and brands (just like in a Victoria's Secret store!).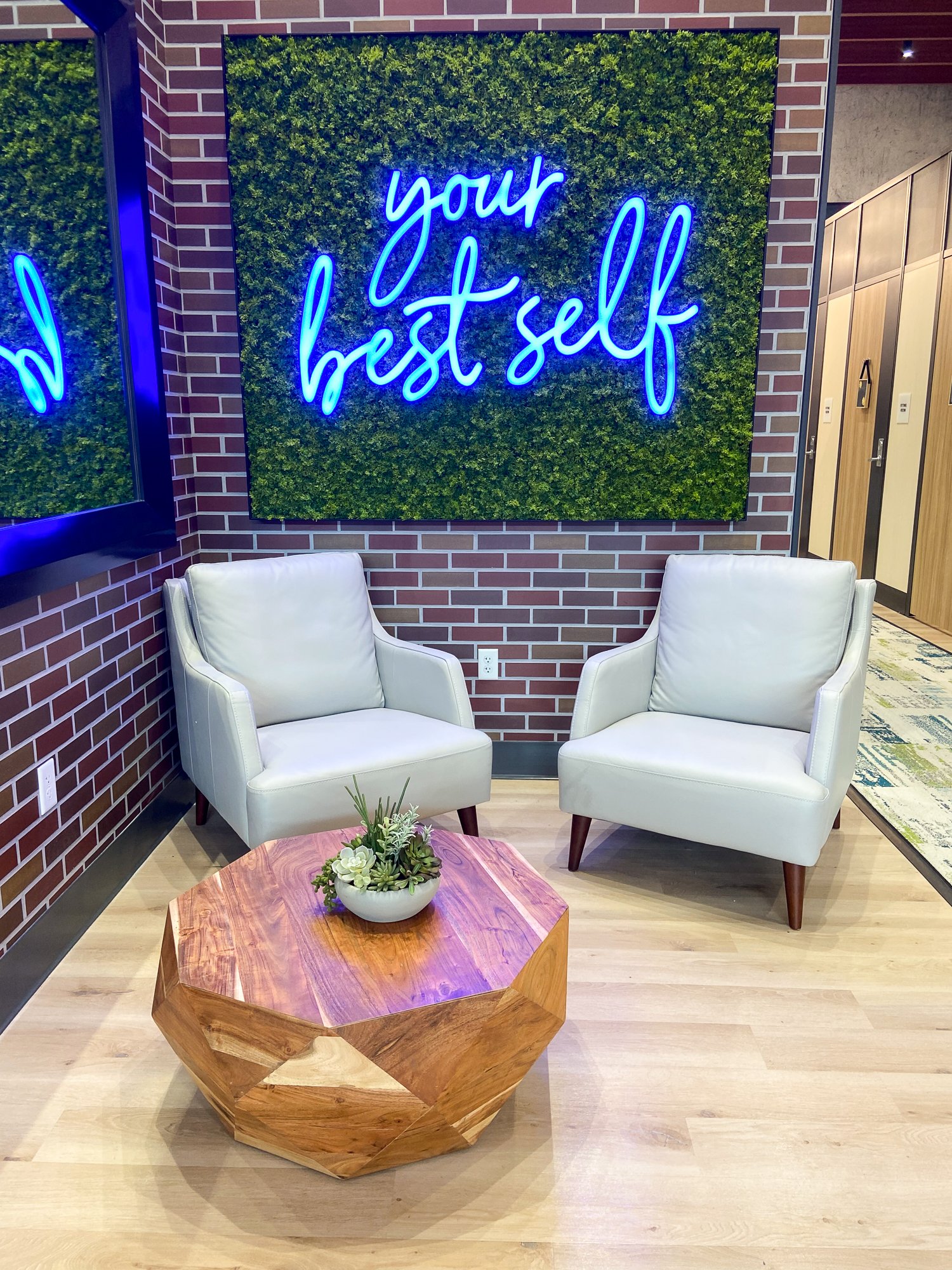 Shoes & Running Shoes
DICK'S House of Sport has one of the largest footwear decks of all DICK'S Sporting Goods stores. It's HUGE. It's 7,000 square feet and has over 2,400 options of shoes! You'll find brands like Nike, Adidas, Hoka, Birkenstocks, Vans and Dr. Martens.
Since I'm training for my next marathon, I noticed their wide assortment of running shoes. I know how important it is to be fitted for the right running shoe when training for something so this was something I was interested in learning more about.
To my surprise, I was told that not only can you be fit for the proper running shoes but they even have a Gait Analysis Treadmill to check your gait to ensure you're fit for the proper shoes! I was incredibly impressed.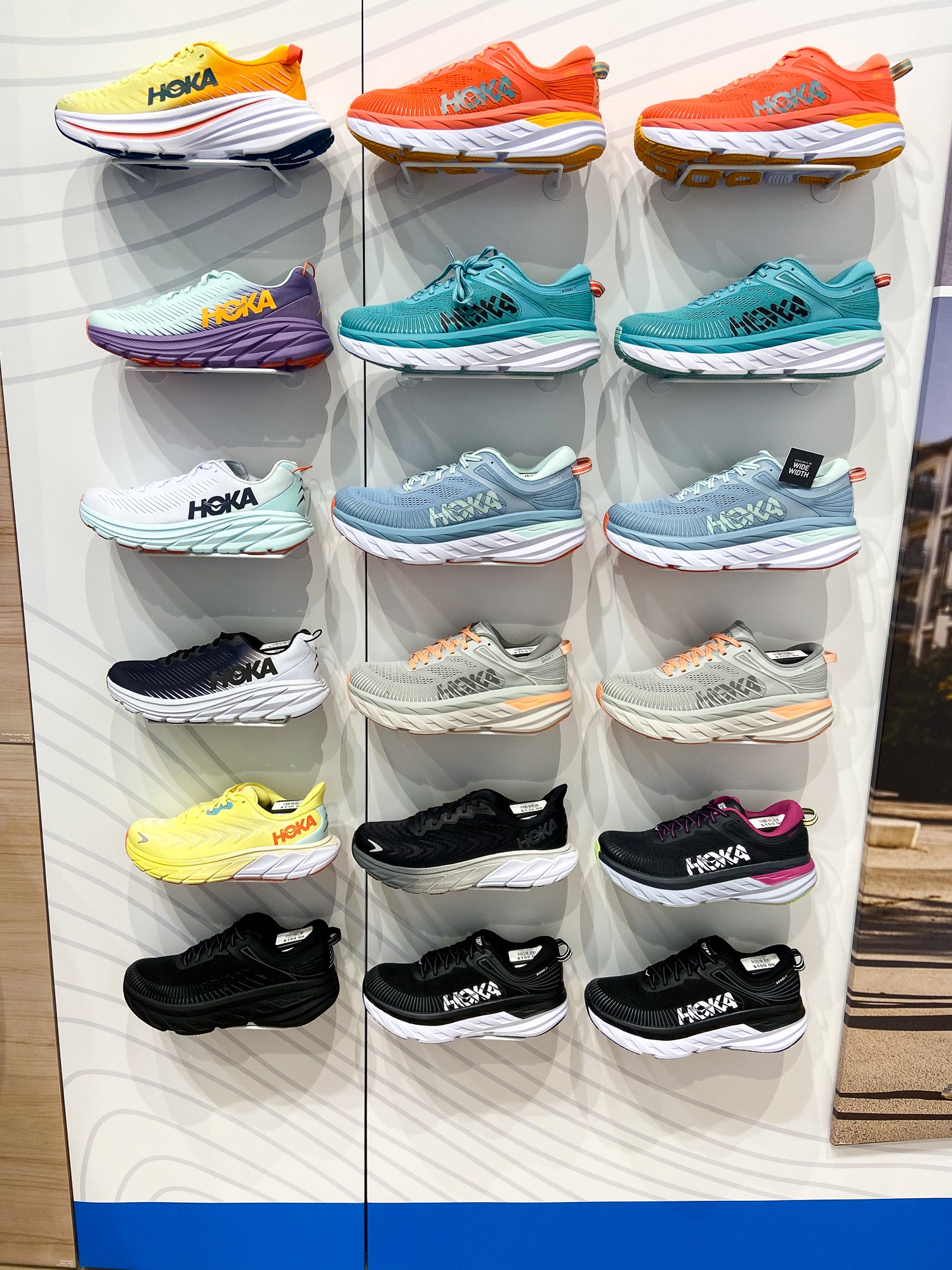 Another cool thing about their footwear deck is their shoe scanners. You can take a shoe you want to try on, scan it on one of the shoe scanners and immediately see if they have that shoe in stock in your size.
If they do, you can request a pair to be brought out to you! This is also available in their cleats section as well.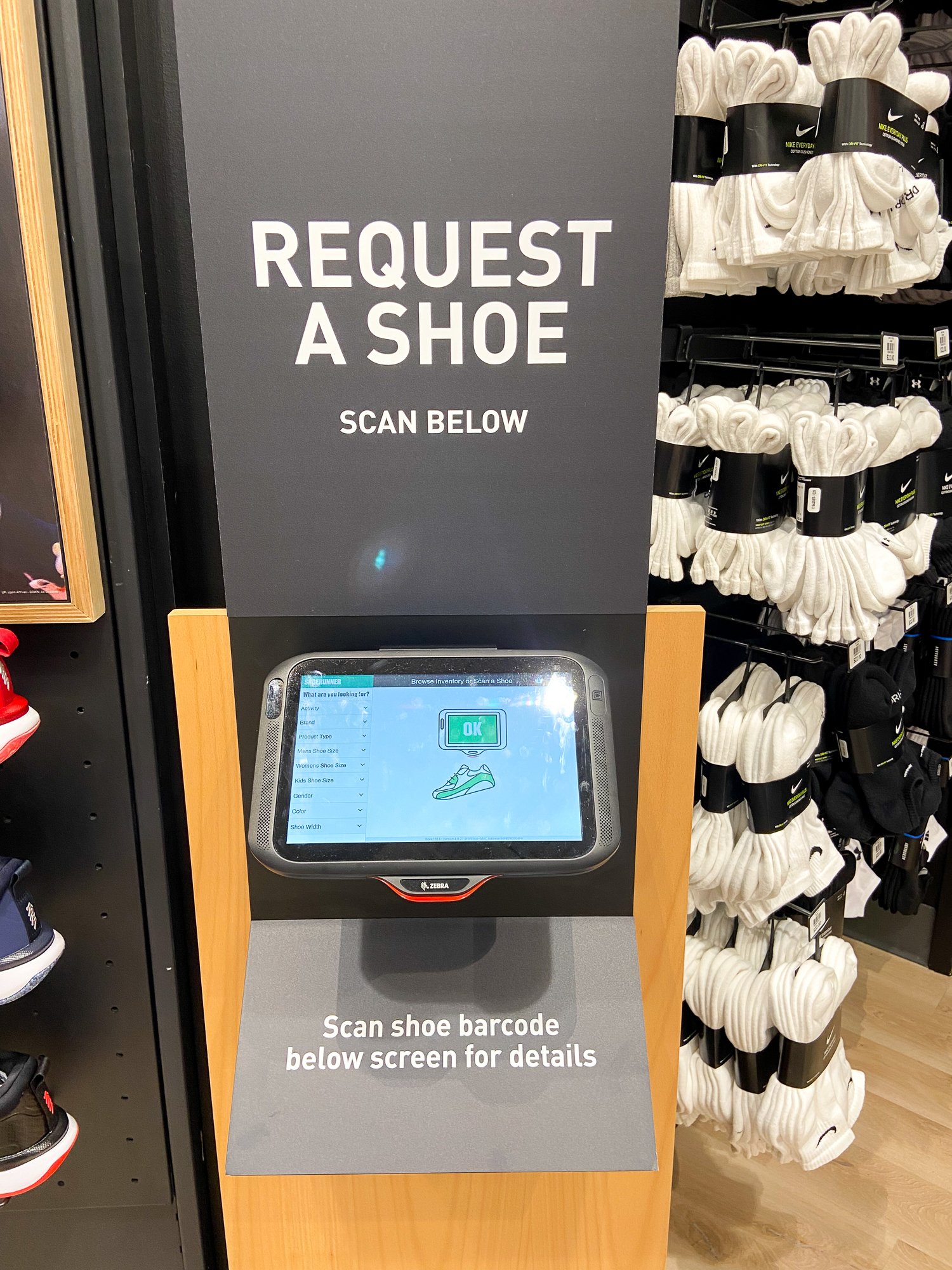 House of Cleats
Their House of Cleats (HOC) section is a 360 degree cleat buying experience with 4 entrances, 384 different cleats to view and try on, a turf floor, stadium seating and even games on the speaker to listen to while to you find the perfect cleat!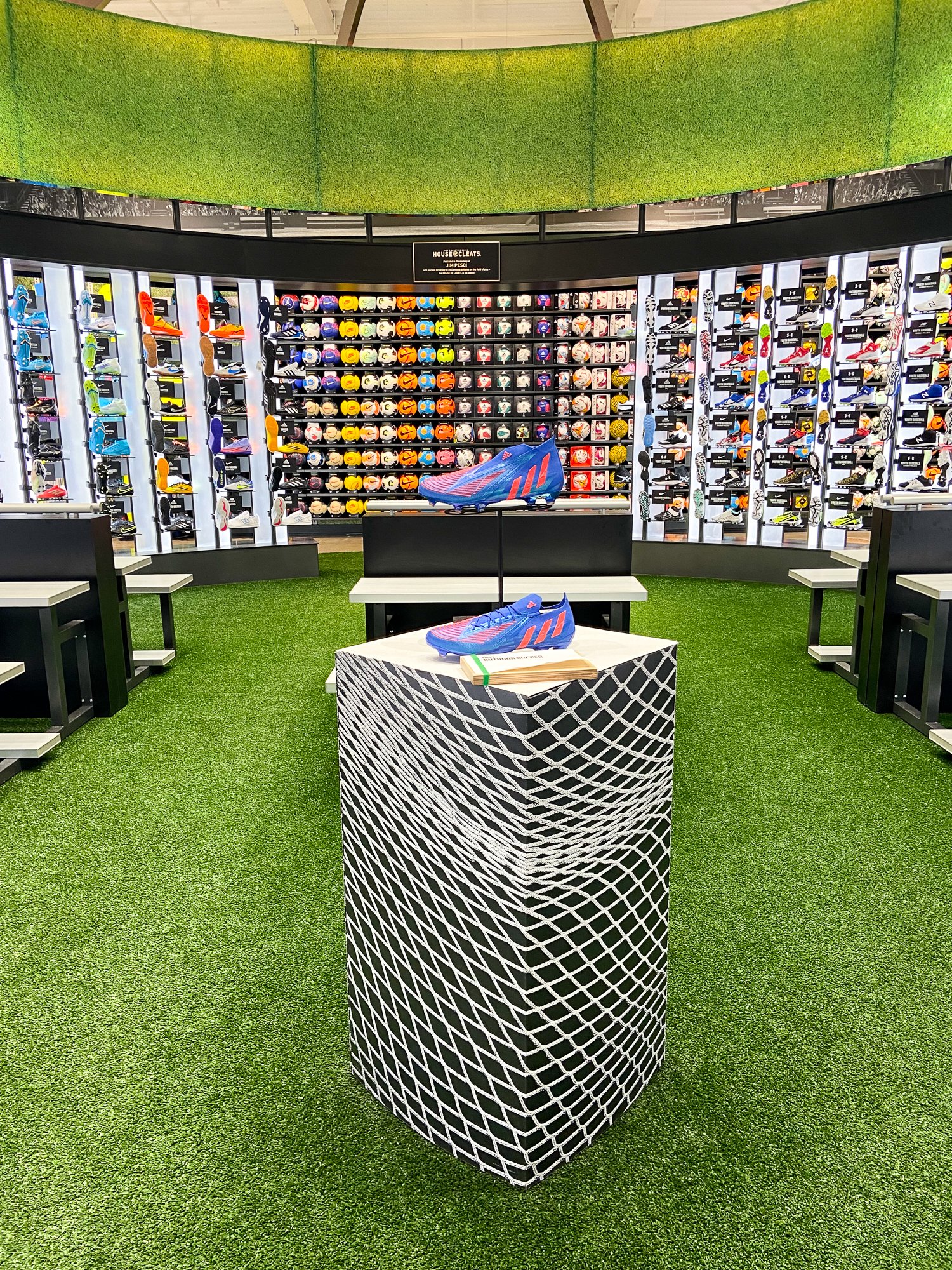 You're able to try on cleats and get the full experience by wearing them on the indoor turf pad to ensure they're the perfect cleat for you.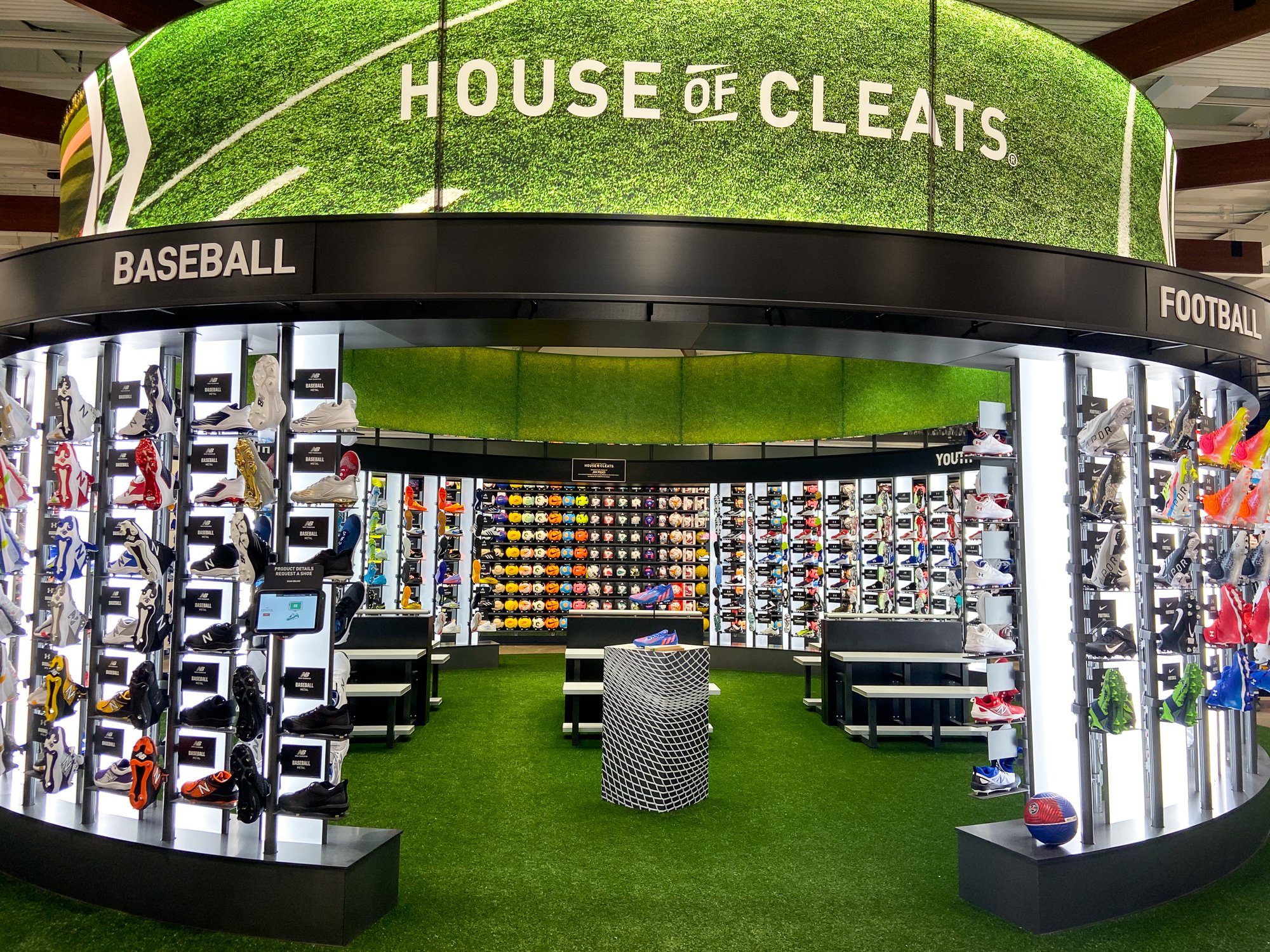 Behind the HOC is a soccer ball wall – something my oldest is going to LOVE.
Sports
DICK'S House of Sport has just about every sport represented in some degree in their store. Here's a few of the highlights!
Diamond Sports/HitTrax
If you're a baseball or softball player, you'll love to learn that DICK'S House of Sport has a giant selection of bats and gloves. They even have a service department right by the entrance to the store where you can get your new glove steamed before you leave!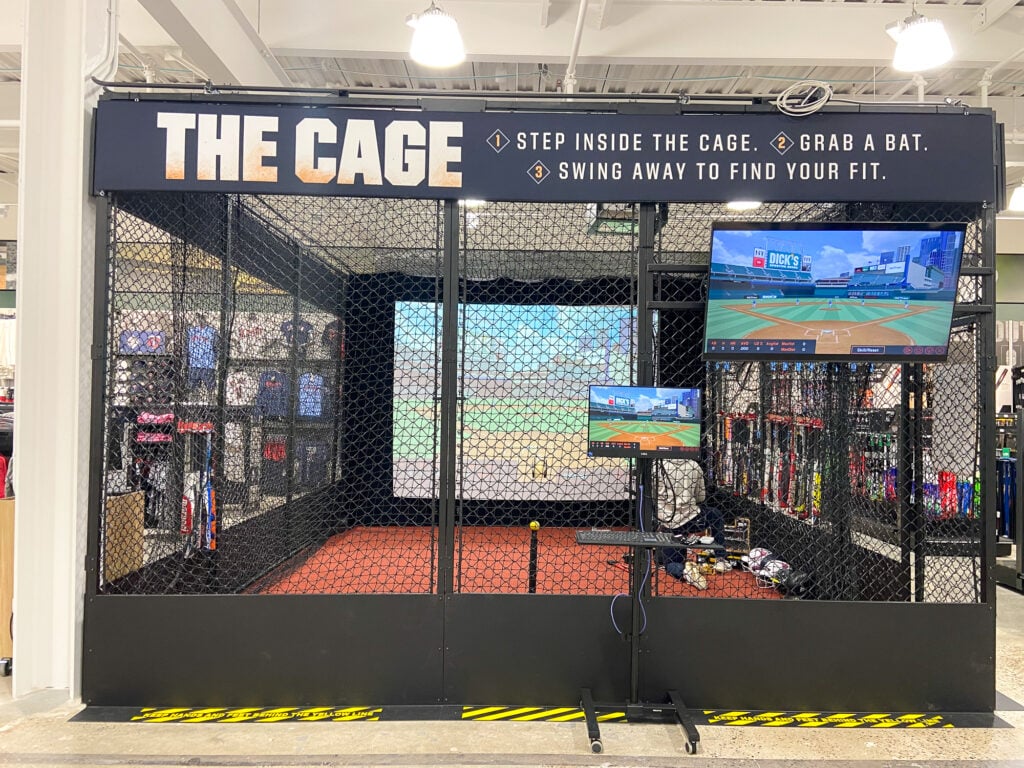 When it comes to getting bats, you can pick out a few bats, head into the HitTrax and test out each bat either by hitting it off a tee or by having it pitched to you. Not only that, but you can pick what stadium you see on the screen!
Just another way to ensure that the product you're buying is the perfect one for you.
Golf
Story time – in college I took a course all about golf. The mid-term exam was golfing 9 holes and the final exam was golfing 18. While I'm not a golfer anymore, I appreciate all the skill and practice needed for this sport!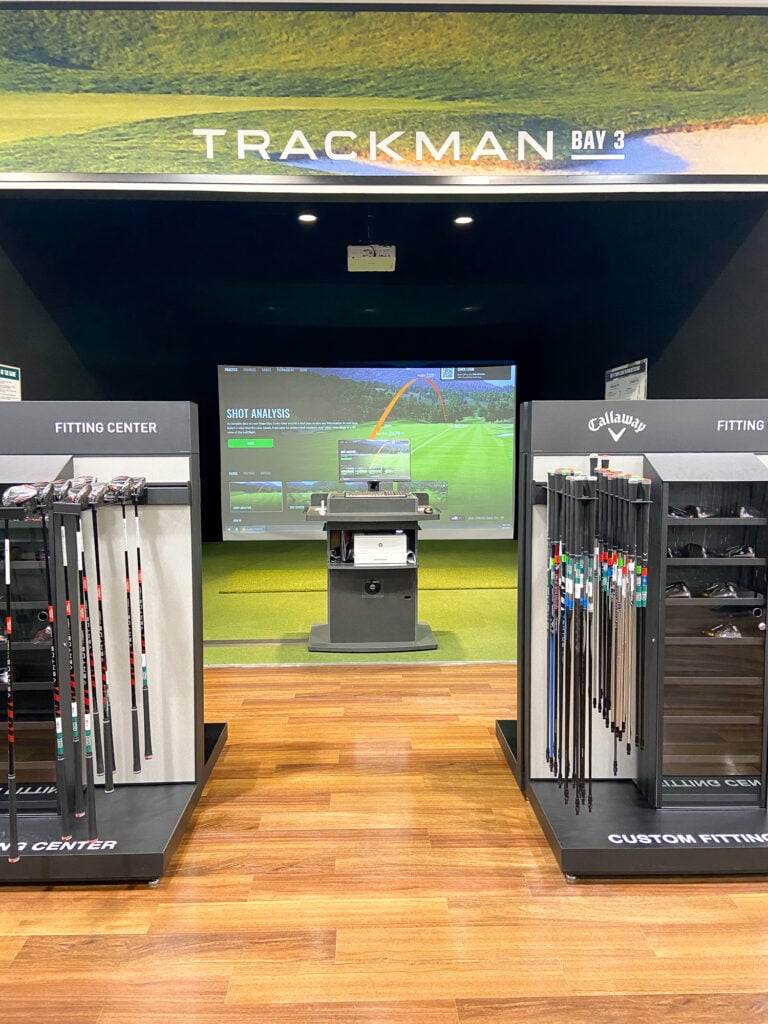 If you're in need of a new golf club, footwear or apparel, House of Sport has it all. There's a huge selection of both mens and women's apparel of all colors and prints. There's brands like Titleist, Callaway, PING and more.
What's amazing is their Trackman Simulator. You can have your swing analyzed by an on-staff PGA Golf Professional! They'll attach 20-30 different sensors on you to asses your entire swing and allow for motion to be captured and analyzed.
If you want to golf like a pro, this is definitely something to check out!
Hockey
You can't have a Minnesota sports store and not include hockey! This House of Sport is the first and only DICK'S speciality hockey shop with an on-site hockey ambassador.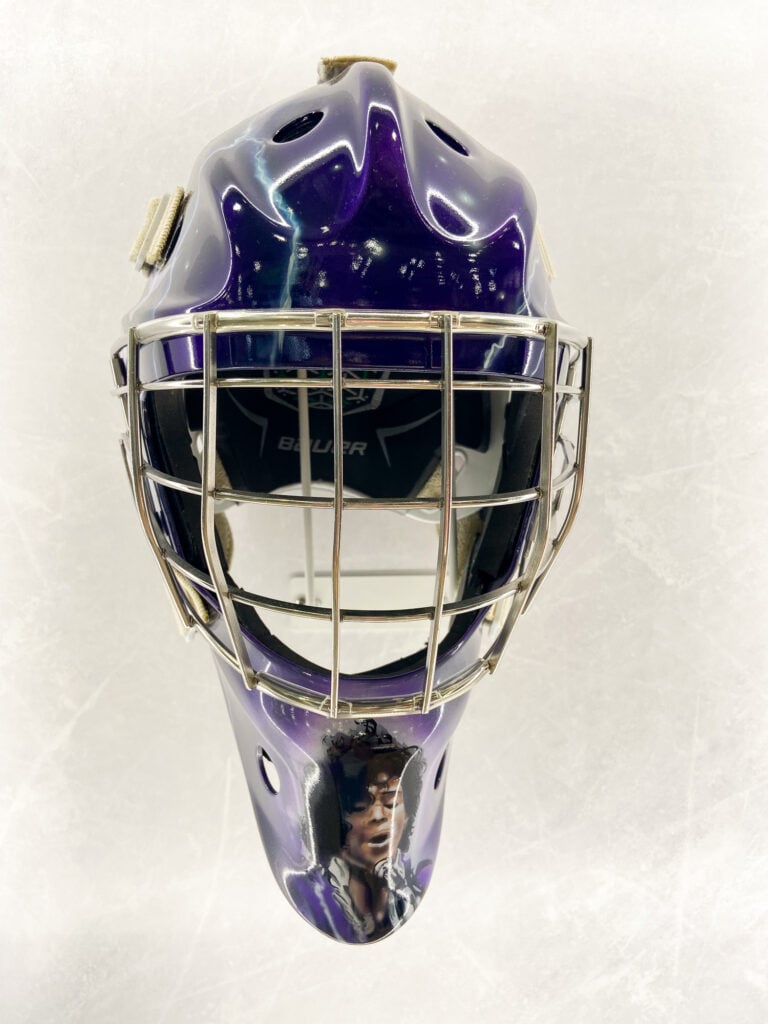 From sticks to skates, you'll find everything you need to excel in the rink here! One really cool feature is the sticks have graphics from local organizations like high schools, hockey clubs, etc.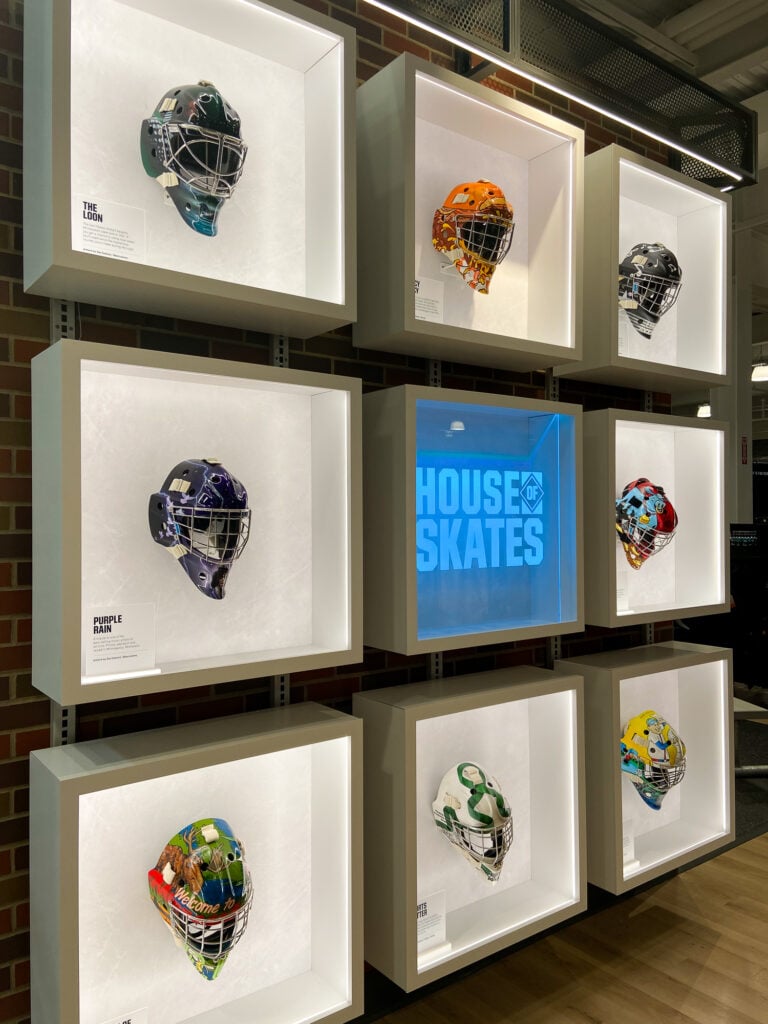 There's also a wall of custom helmets done by Minnesotan artists that highlight Minnesotan culture. You'll find nods to Prince, the Juicy Lucy and even Paul Bunyan here!
These will be changed from time to time so always be sure to stop down and check them out.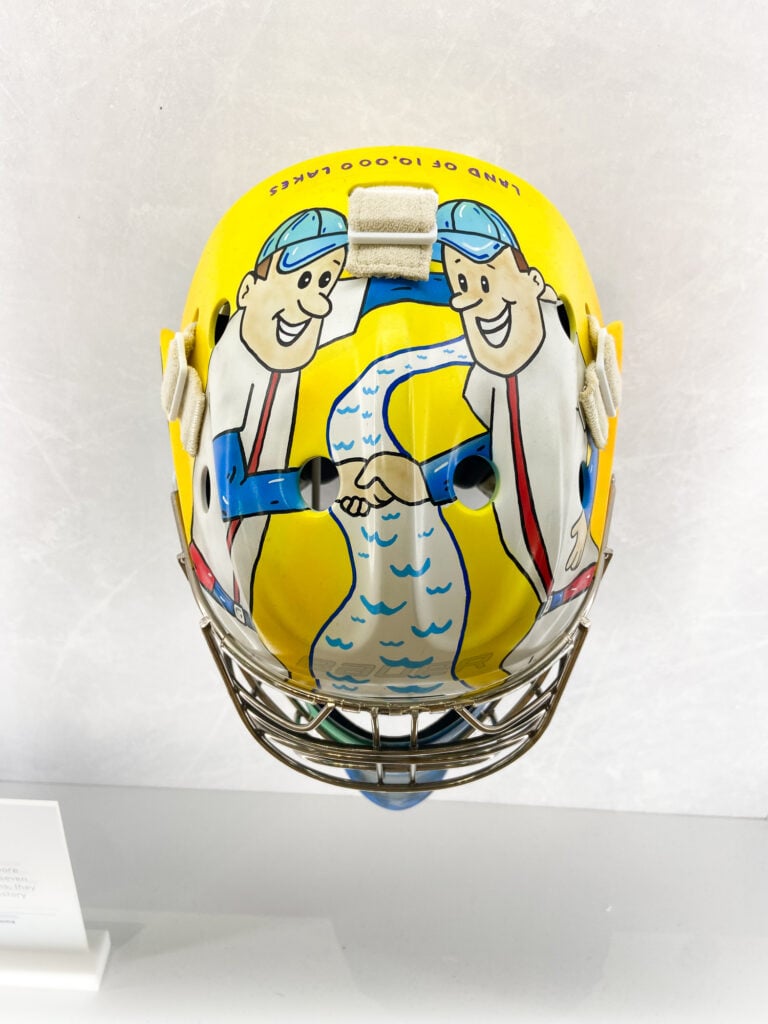 Outdoor Equipment
If you're looking to go camping and need to pick up new camping gear like tents, sleeping bags, or stoves, you can find all that here! There's also a huge variety of YETI and HydroFlask products available.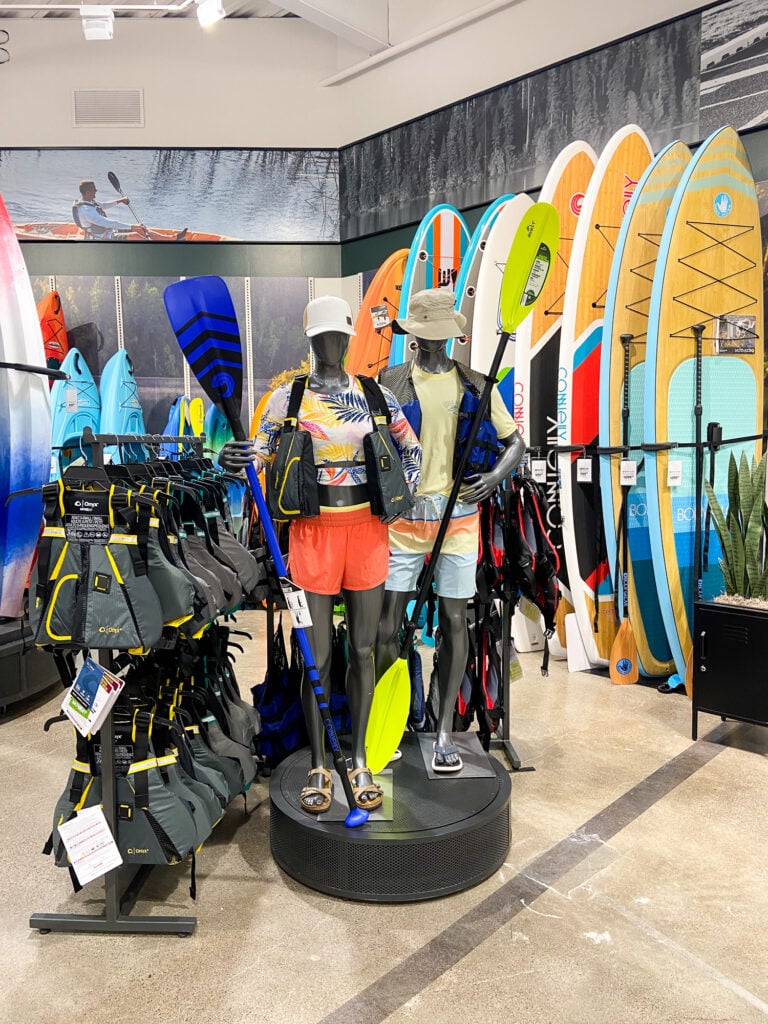 You can also find things like kayaks, stand up paddle boards and lifejackets here too! Whether you want some fun toys for the cabin or live on a lake year round, there's tons of great products for all of your outdoor adventures available.
You can also find bikes for the whole family too! There's kid bikes, cruiser bikes, mountain bikes and more.
Climbing Wall
As you walk into the store from the mall, you'll quickly notice a giant 35 foot climbing wall with auto-belay systems and a bouldering wall. You'll be able to make reservations online or in store and climb away!
You can also rent it for birthday parties, fundraising events and more.
Outdoor Track and Field
Coming in the fall is a 20,000 square feet turf field with a two lane running track! It will be open year round for classes, clinics, community gatherings, yoga glasses and more.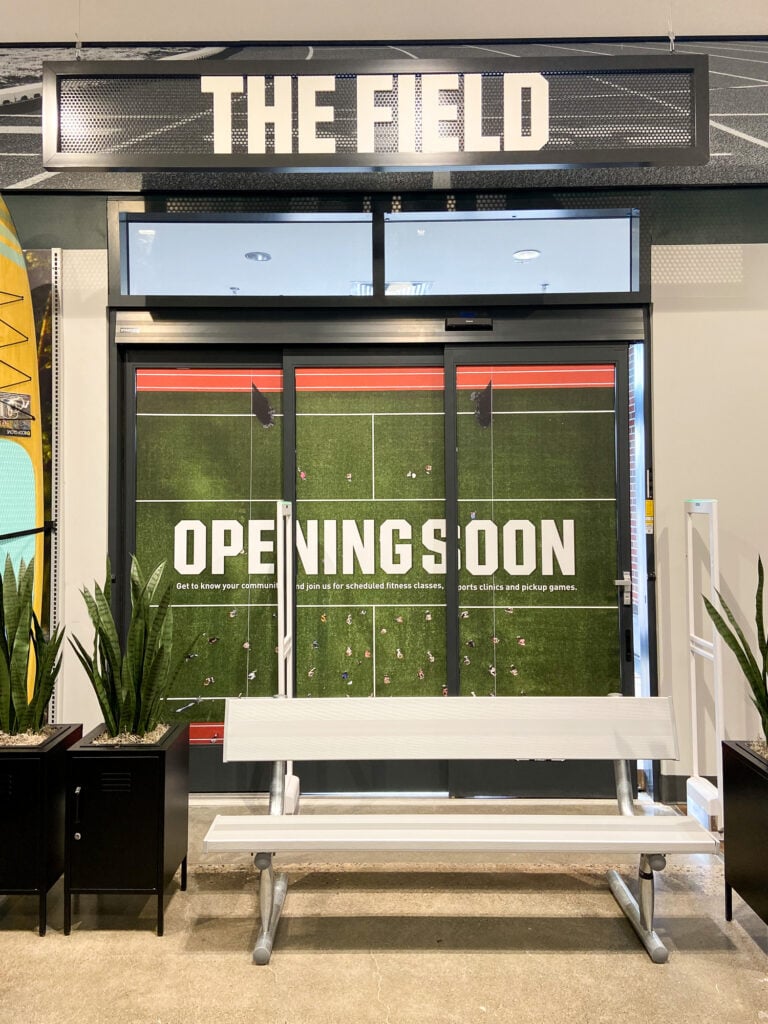 It has a turf field and the track is an Olympic quality grade track. They'll also have a sound system, lighting, fencing, a scoreboard and the ability to divide it into 2 distinct playing areas!
They also will be able to turn it into a hockey rink for the winter! Like I said earlier, you can't have a sports store in Minnesota without a lot of hockey!
Other Perks
There's a few other really cool features of this store.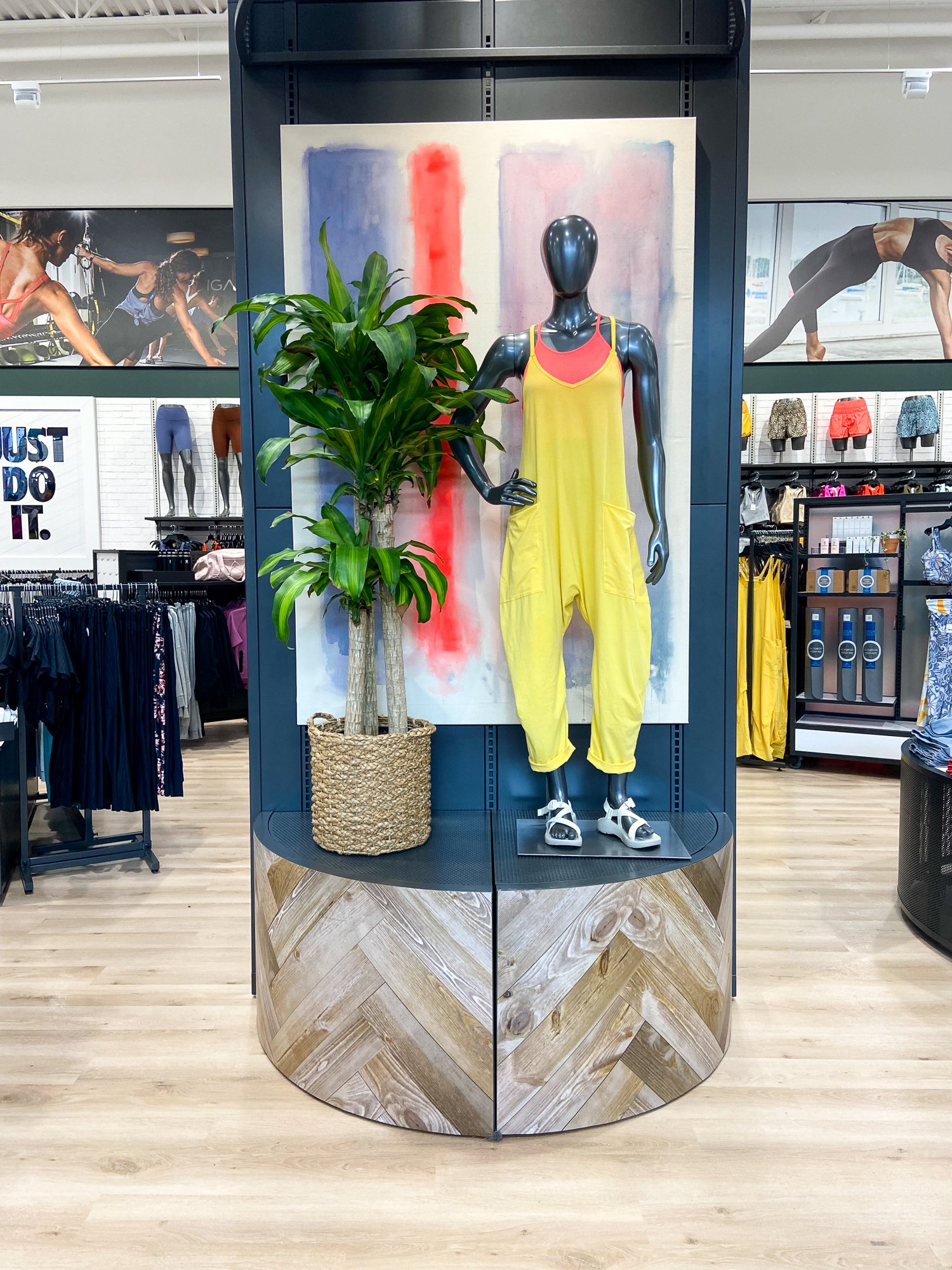 There's the Pro Services right at the entrance which is a one stop shop for all things sports. You can get your bike repaired, hockey skates sharpened, racket and lacrosse head strings and so much more.
There's a health and wellness bar full of protein powders, yoga blocks, activity trackers (like the Garmin Forerunner that I just bought!) and even yoga sessions!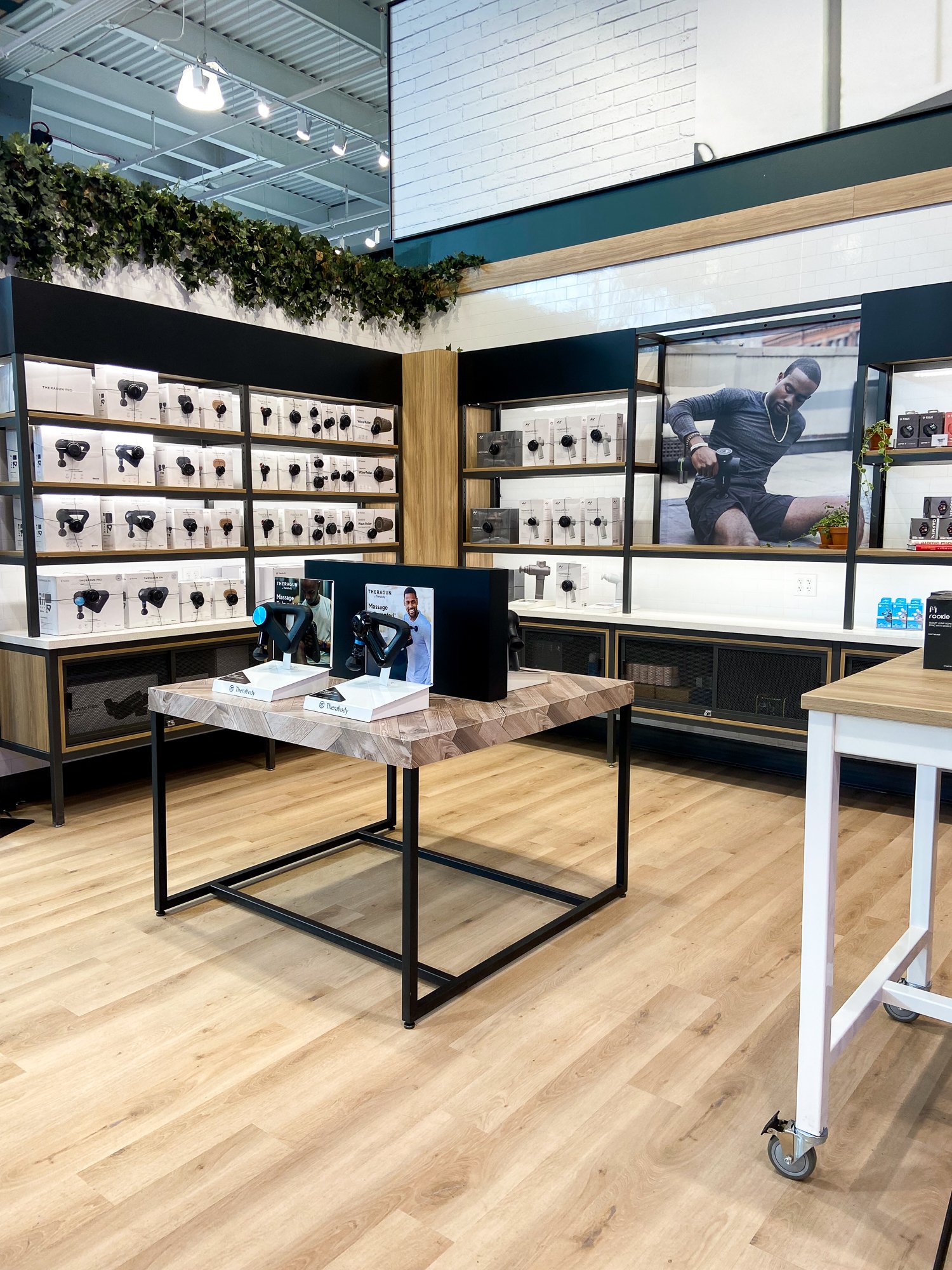 There's also a Co Lab which is a pop up store of collaborations with different brands. This will change throughout the year but will feature one brand in any way they would like!
It currently showcases Hoka who will be hosting a 5k in July.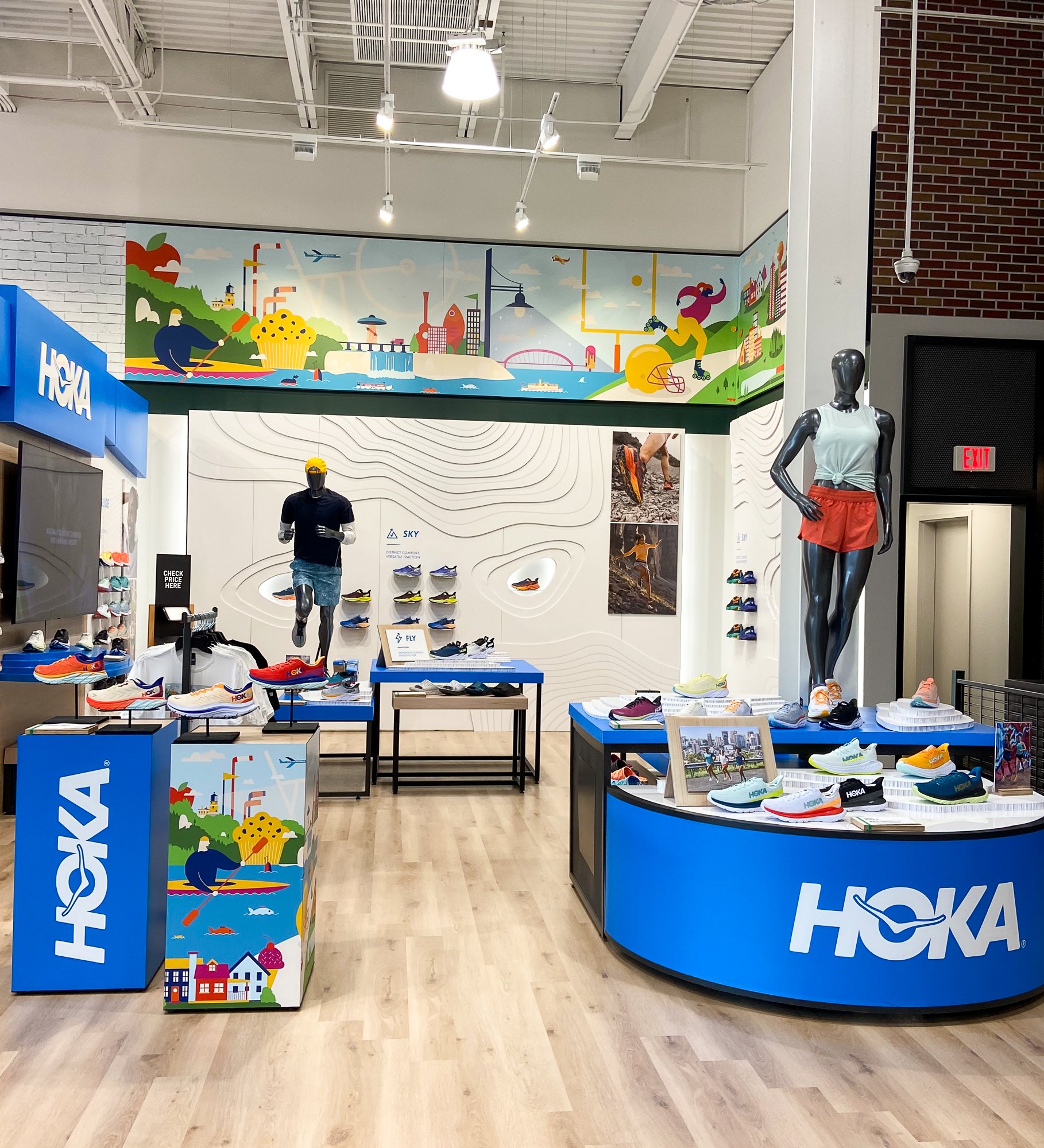 As you can see, the brand new DICK'S House of Sport Minnesota is full of everything you could possibly imagine…and more!
The next time you're in the market for a new yoga mat, running shoe, hockey stick or bike, head on up to check it out. You won't be disappointed!