Have a console table just waiting to be decorated but stumped on what to do? Here's 3 fun console table decor ideas!
What is a console table?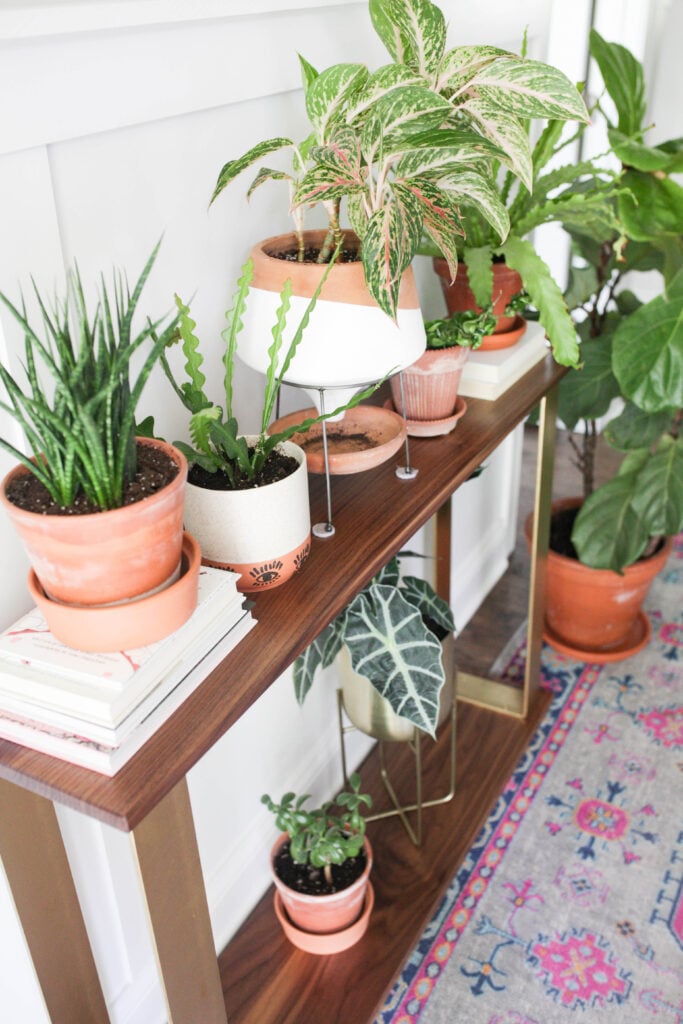 Let's start with the basics. What is a console table? This is a super common question! It was actually introduced way back in the 17th century in France.
A console table is a wide, pretty shallow table that is often used in entryways or hallways. Because it's narrow makes it great for these spaces so it doesn't take up too much space and hinder walking yet adds a place for decor, lamps or holding misc items like car keys or cell phones!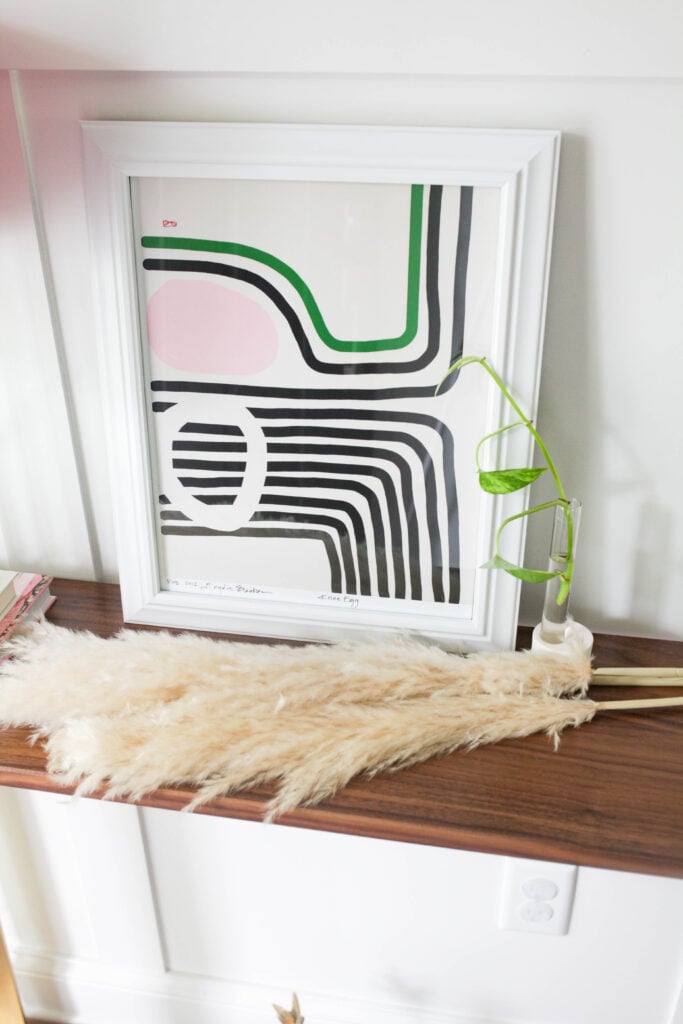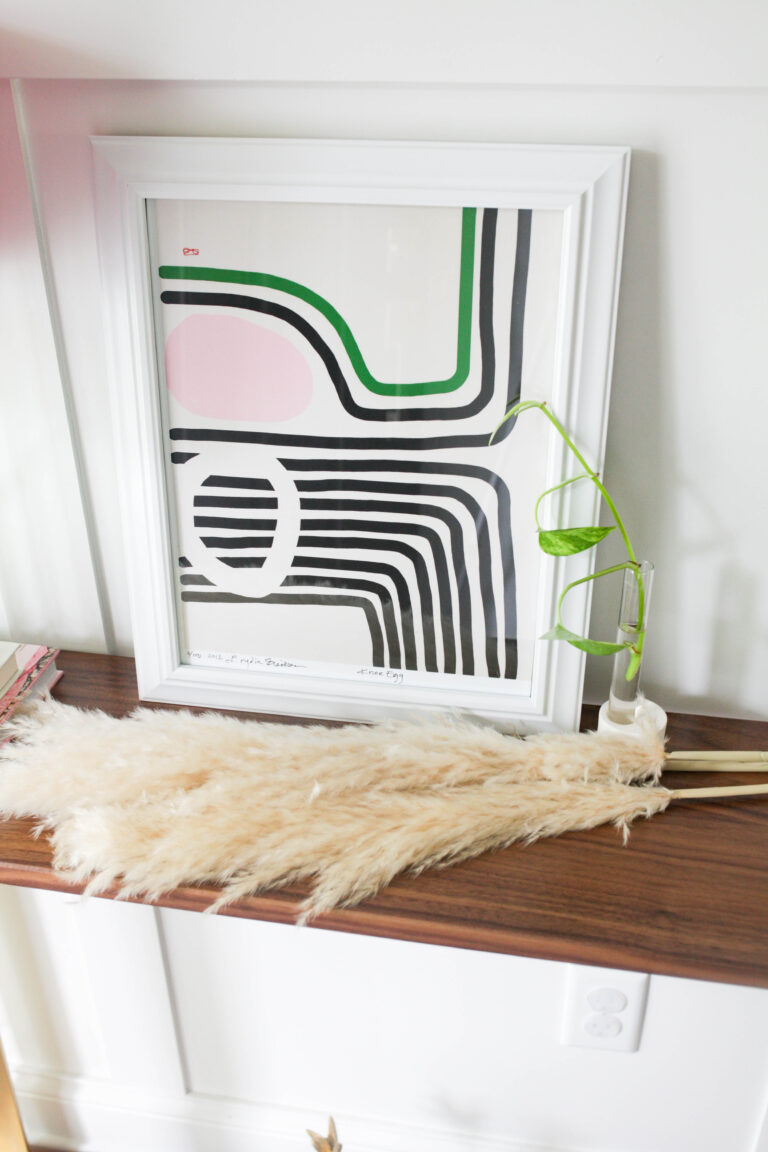 Timber & Tulip
We got out our console table from Timber & Tulip, a Minneapolis furniture company that offers high-quality furnishings with a natural modern twist! I've known the owner Brianne for a handful of years and she is an absolute gem of a human.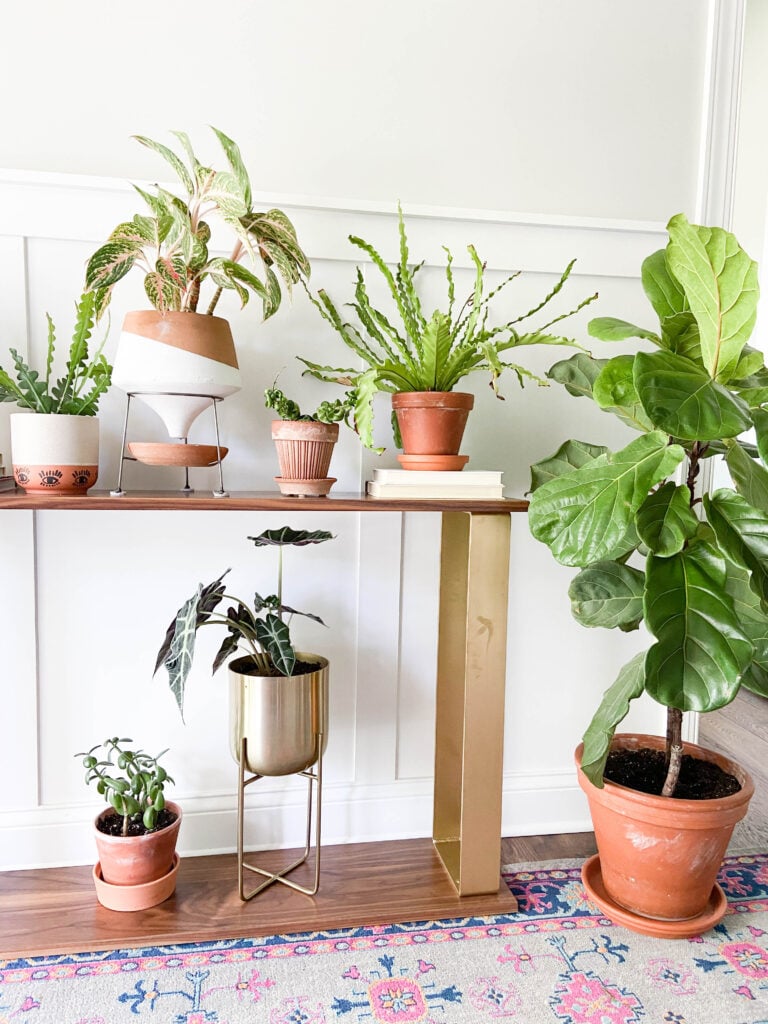 She's incredibly talented with creating gorgeous furniture and has an eye for design. Brianne and Timber & Tulip launched their first official furniture line this year and it's full of amazing pieces!
We own the Berkeley Console Table that comes 2 different colors of wood and 2 different sizes.
It can be hard to know the best way to style console tables without them looking cluttered or messy. Here are some console table decor ideas!
3 Console Table Decor Ideas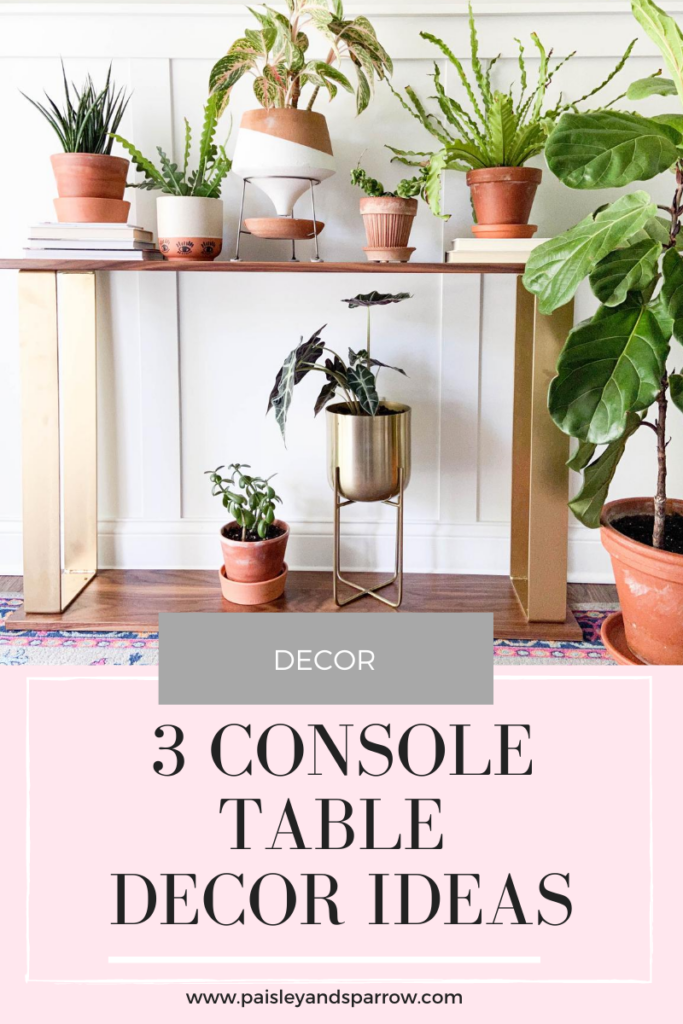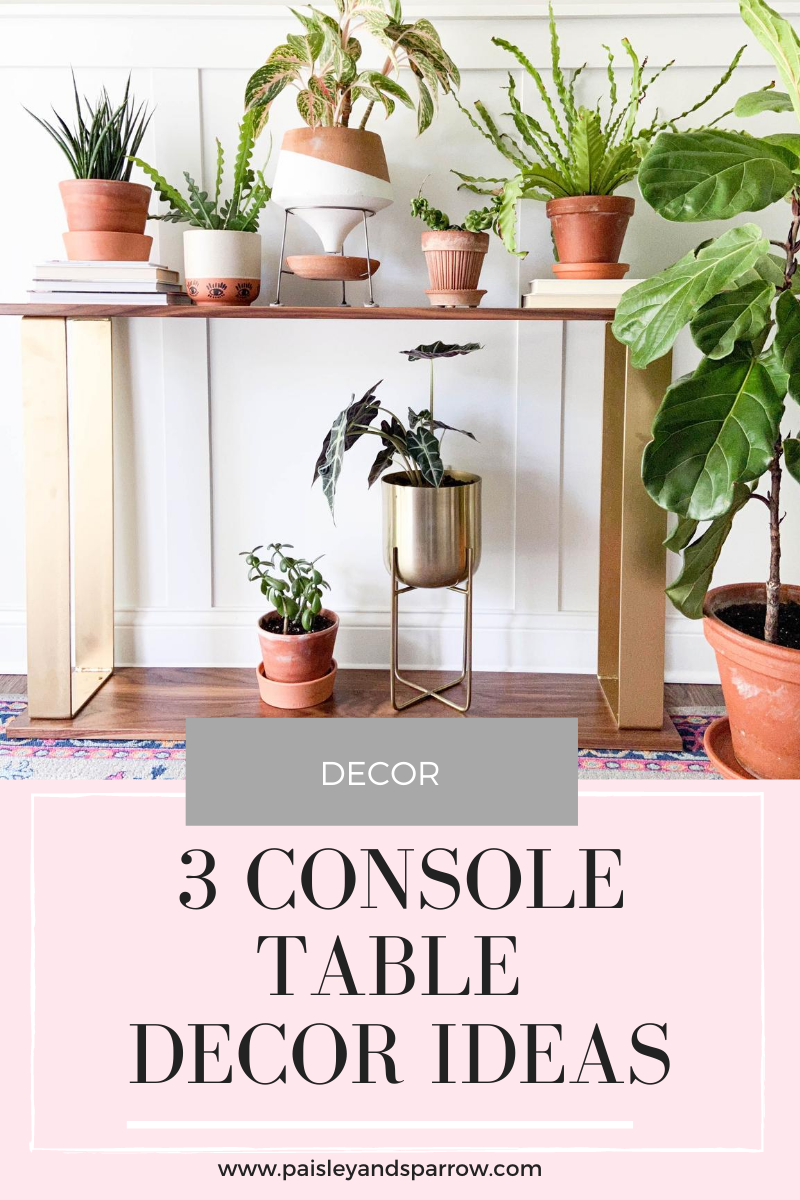 This console table was a gift from Timber & Tulip. All opinions are my own. Paisley + Sparrow is a participant in the Amazon Services LLC Associates Program. This post may include affiliate links which means I may earn a small commission if you shop using the links below at no additional cost to you. Thanks so much for supporting me and this blog!
1. Plant Lady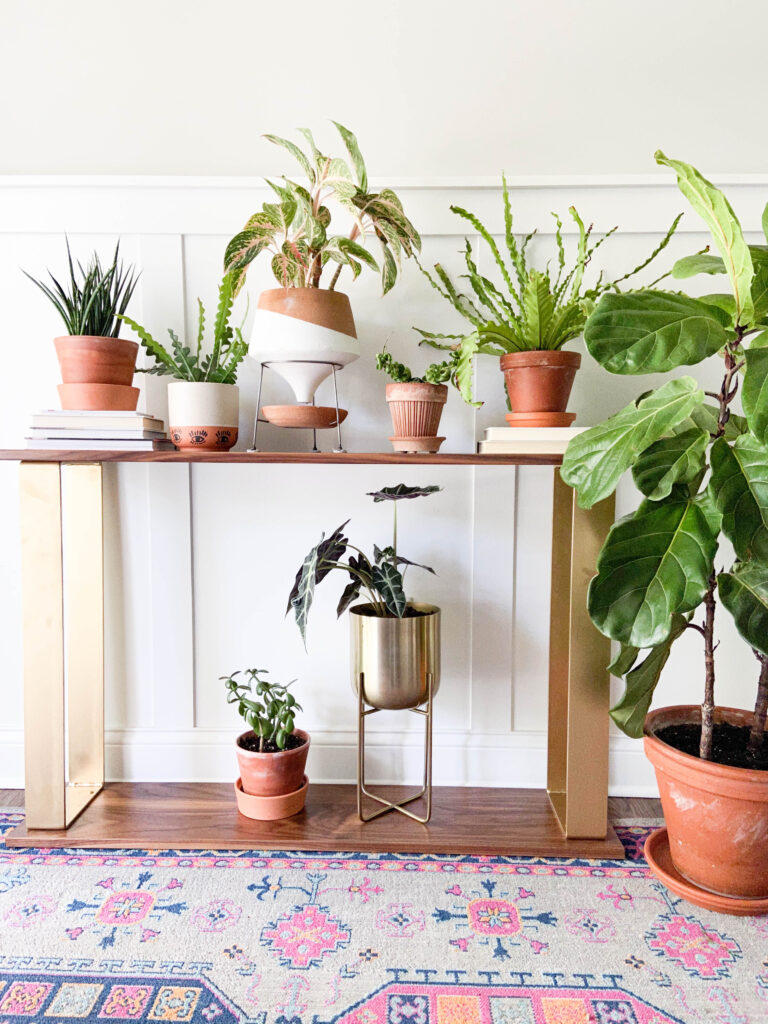 For all you crazy plant ladies out there, this one's for you! Either mix and match a variety of plants with coordinating pots OR do the opposite. Put the same plant in fun pots.
I like having a variety of plants and pots that are different sizes and styles. Stack pots on books to add height or place some in baskets for added texture. The options are endless!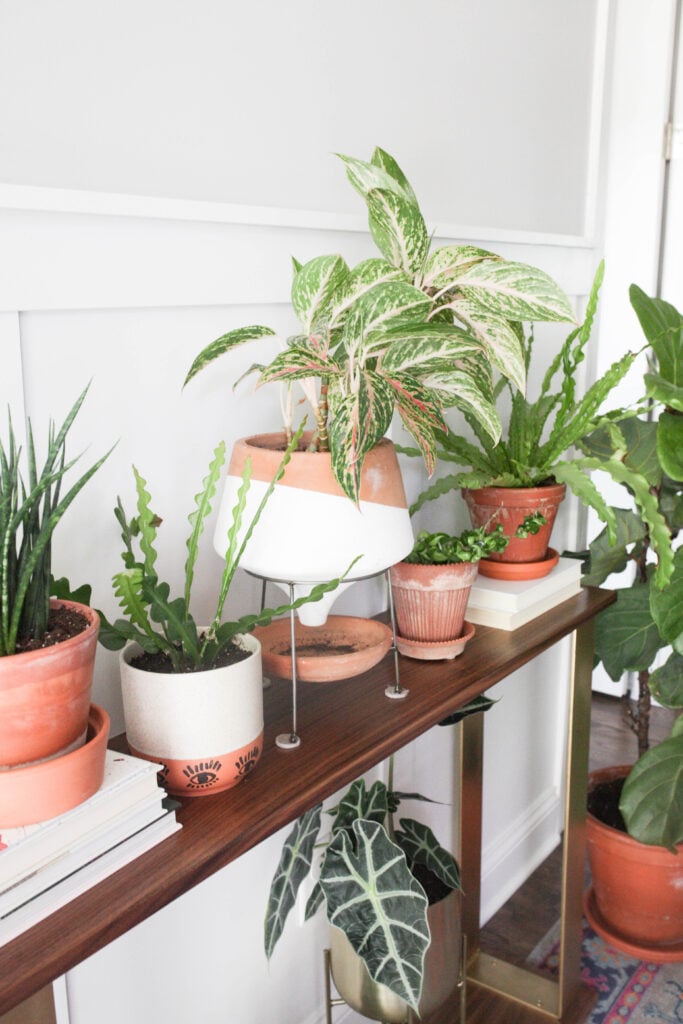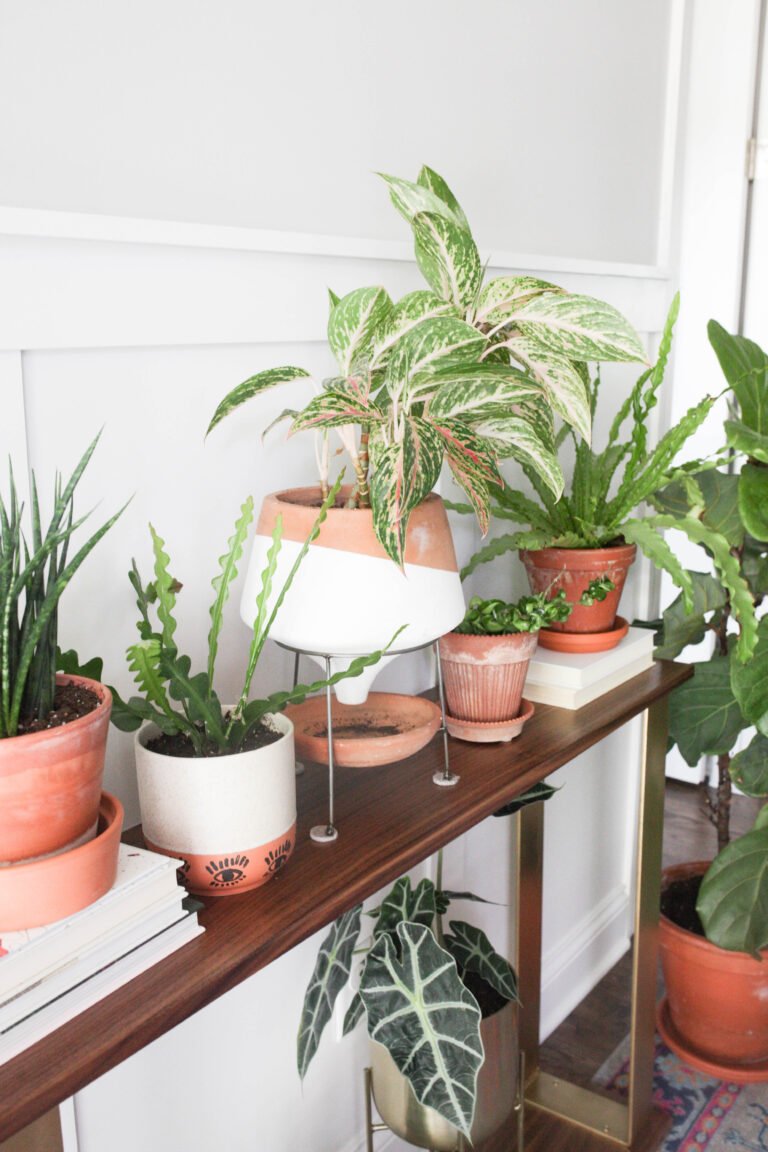 Just be sure to use plants that get the right amount of light for your space. (You can find 7 amazing low light plants here!)
Shop this table:
Dipped Clay White + Terracotta Pot | Gold Pot | Bird's Nest Fern
2. Pop of Pink Console Table Decor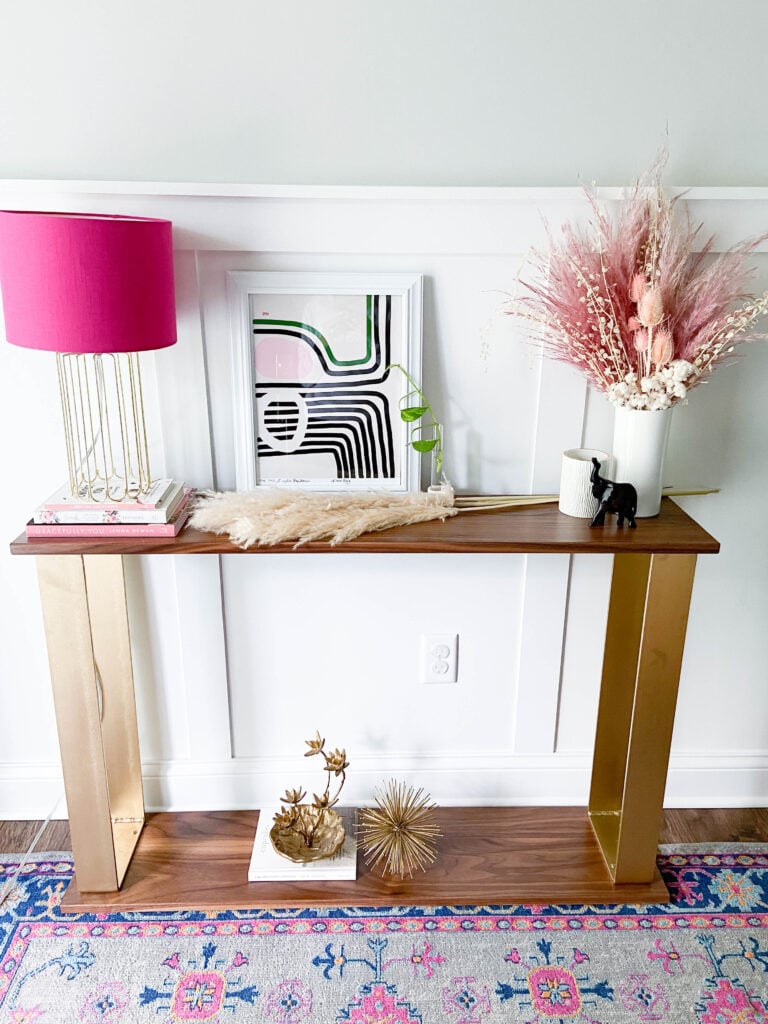 You can do any pop of color that goes with your decor! Here's a look at how it looks with pink! We have lots of pink in our home so it's only fitting I did that.
First up, shop your house! Find all types of different items in the color you like – candles, books, figures, flowers, art, etc!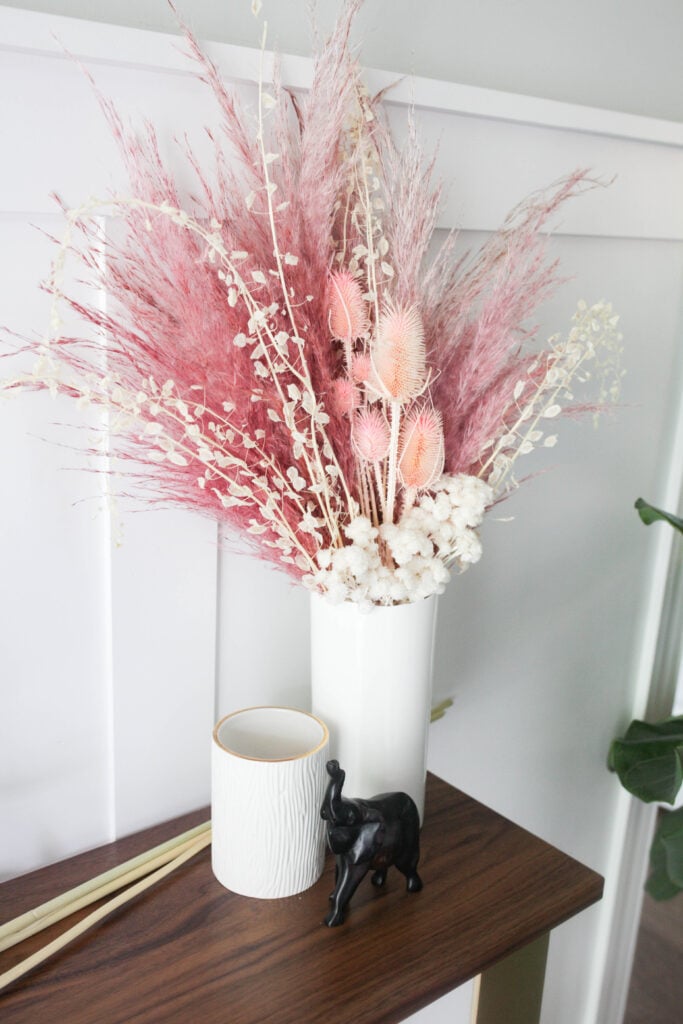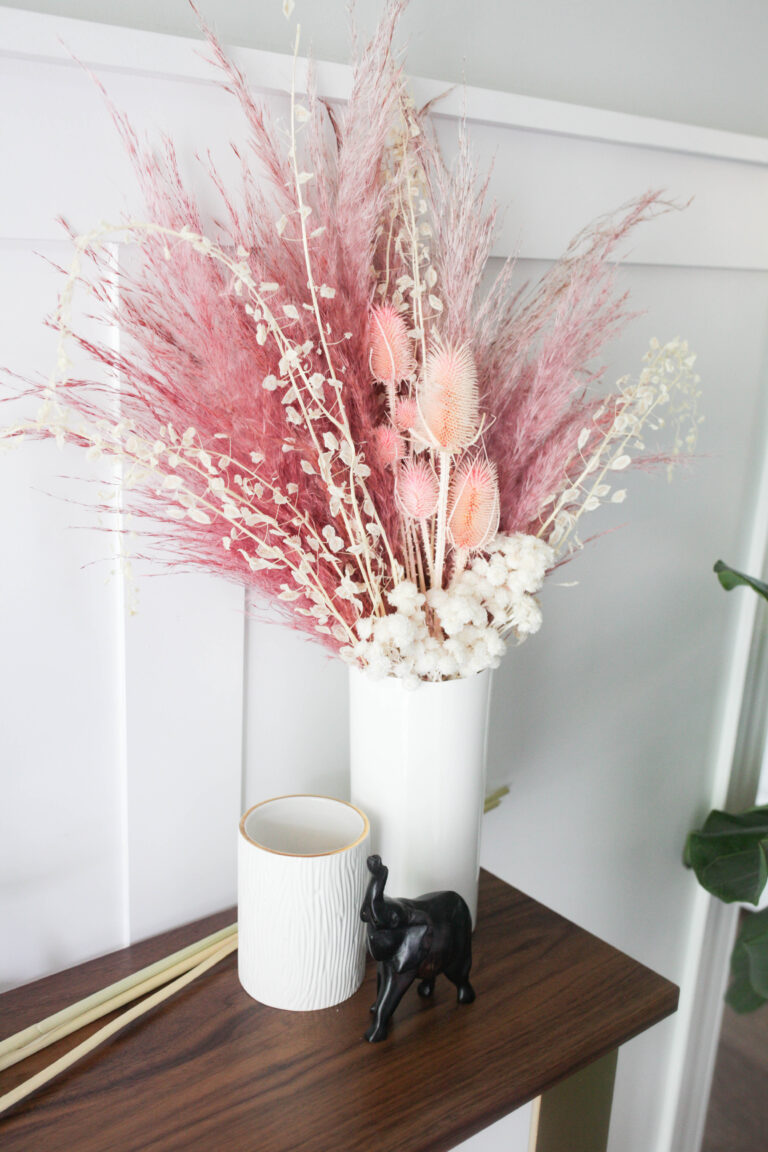 You'll also want to gather some items that aren't the color you want to focus on so it's not super overwhelming. Again, books, candles, etc are all great options.
Then arrange them! Stack books to add height, put items in 3s so they're
Shop this table:
Bouquet | Pampas Grass | Plant clipping propagation station (find more propagation stations here!) | Gold round object |
3. Neutral Boho Chic Console Table Decor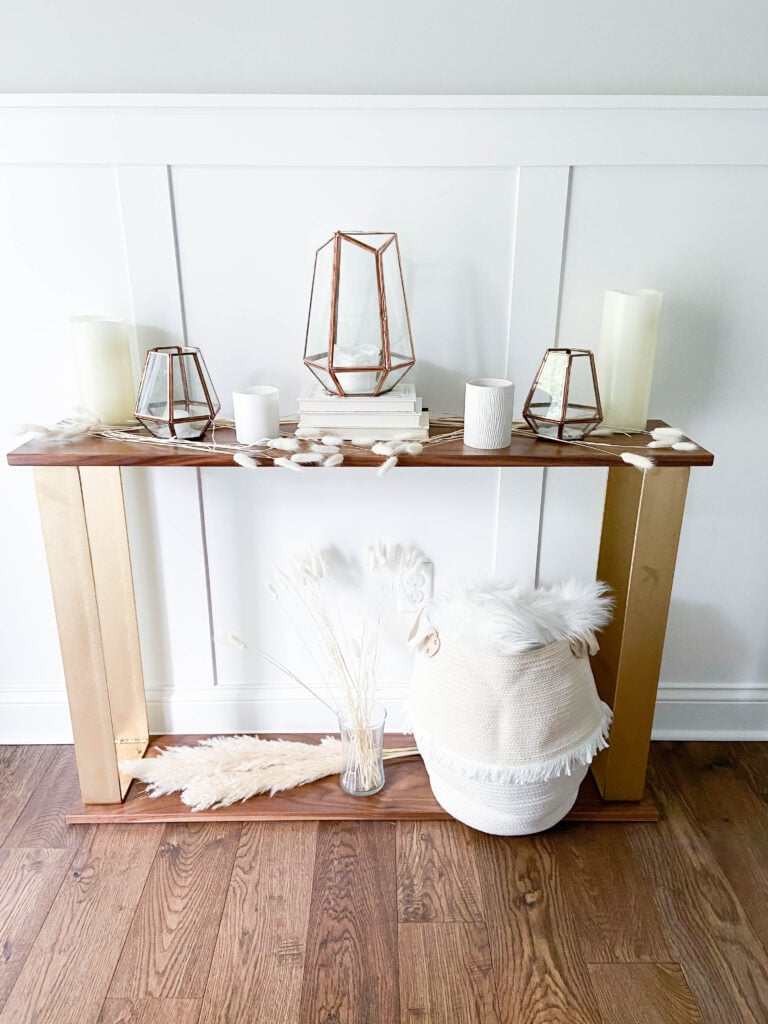 For all my boho loving, neutral girls out there, this one is for you. Keep things classic and clean with a neutral palette and a symmetrical feel.
Gather together candles, white candles, and the super popular pampas grass for a cozy vibe. My best trick for adding height is with books and turning the bindings to the back help keep things looking neutral.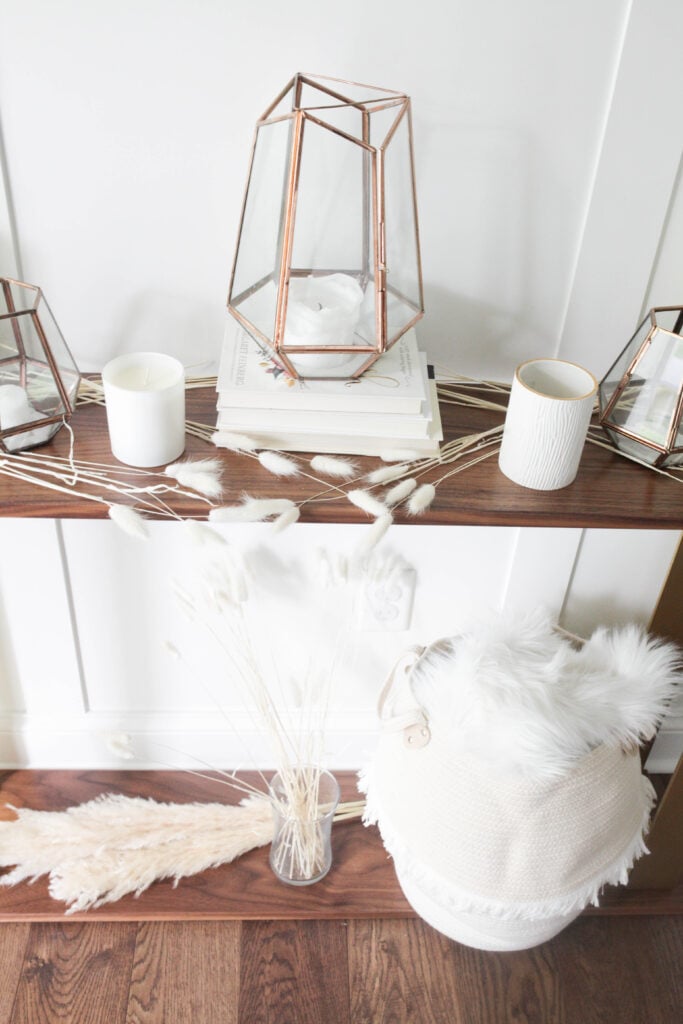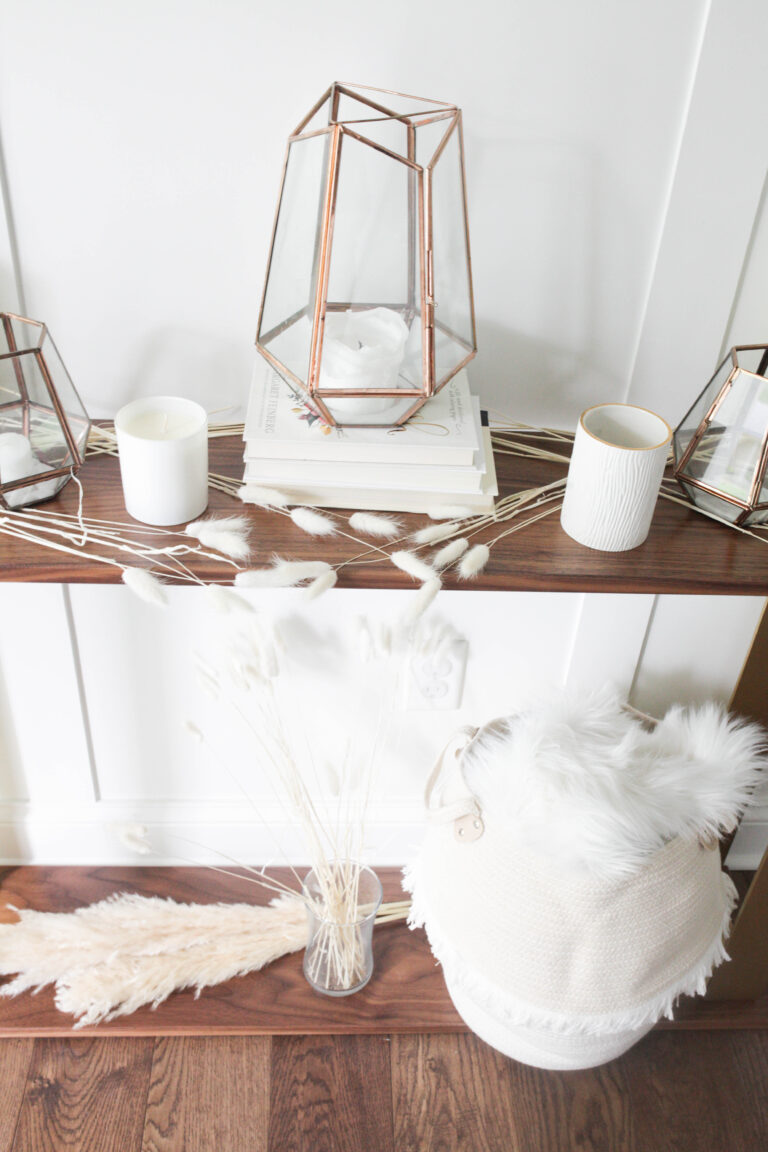 A woven basket topped with a sheepskin rug helps add additional texture and feel to the wood design (and gives you a space to hide some clutter if necessary – just pop it under that sheepskin rug!).
Shop this table:
Basket | Sheepskin Rug | Pampas Grass + Small Bunnytails | Lanterns (sold out – linked similar) |