This post is sponsored by The Beginner's Bible. Thanks for supporting brands that support Paisley + Sparrow and all of the free content you find here!
Christmas is coming! If you have kids and are looking for ways to walk through the Christmas story with them, listen up! I've created a 7 day Christmas activities for kids guide to easily talk about the Christmas story both through stories and activities in partnership with The Beginner's Bible!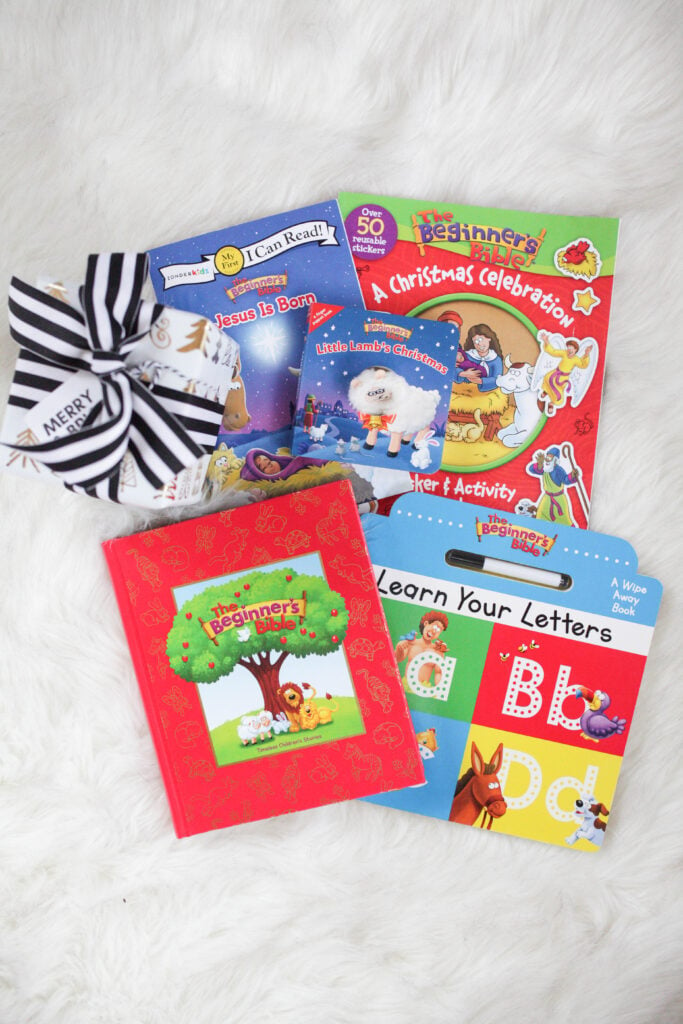 I love Christmas and love it even more that we have kids. I love reading the Christmas story with them and help them understand the reason for the season in a fun way.
Christmas Activities for Kids 7 Day Guide
This year I'm partnering with The Beginner's Bible to bring a 7 day Christmas Activities for Kids guide! This is very similar to the Easter guide I shared this year for Easter.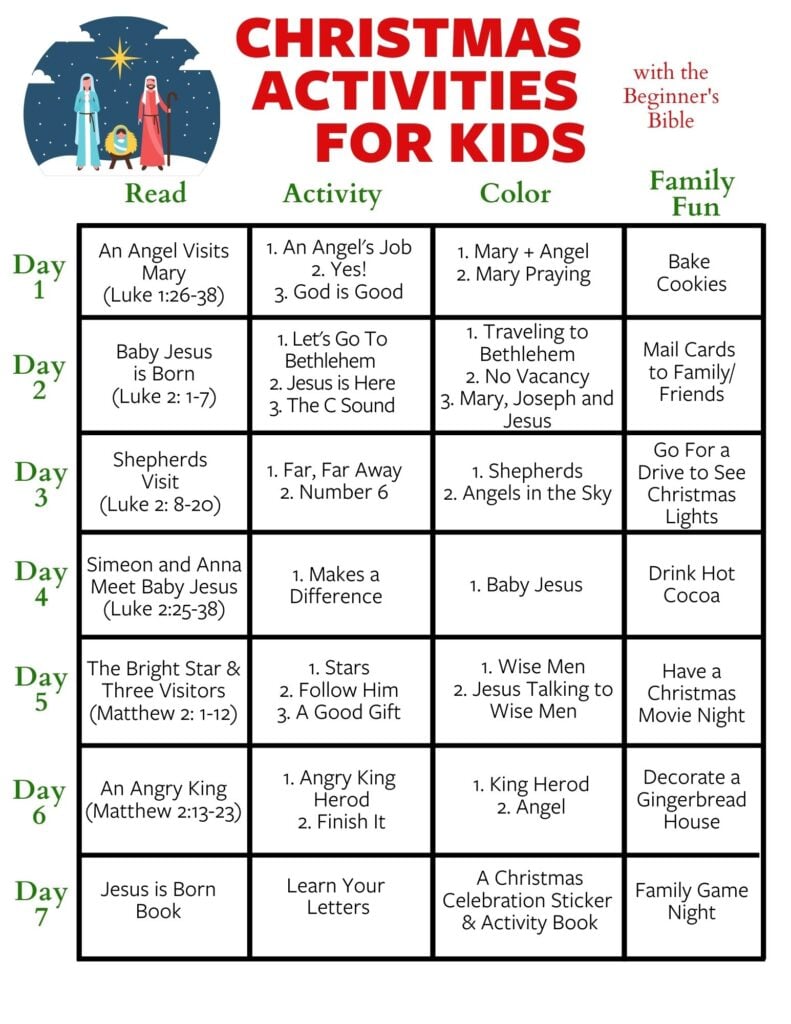 How it Works
Each day I'll give you a story to read along with an activity (or two) and some coloring pages. Depending on the ages of your kids the activities may be a bit too old or too young so use them if you want but you definitely don't have to.
I also have a "family fun" prompt! You can pick and choose which one you do or when you do them. It's just a way to encourage you to have some fun as a family this Christmas season!
You can do this 7 days in a row, pick and choose 7 different days to do each section or even pick one item to do each day (i.e. one story one day, a few coloring pages one day, etc)! There's no right or wrong way to do this so use it as it best fits your family.
Each "day" has coordinating pieces with the story, activity and coloring page so just keep that in mind if you skip around!
Books Included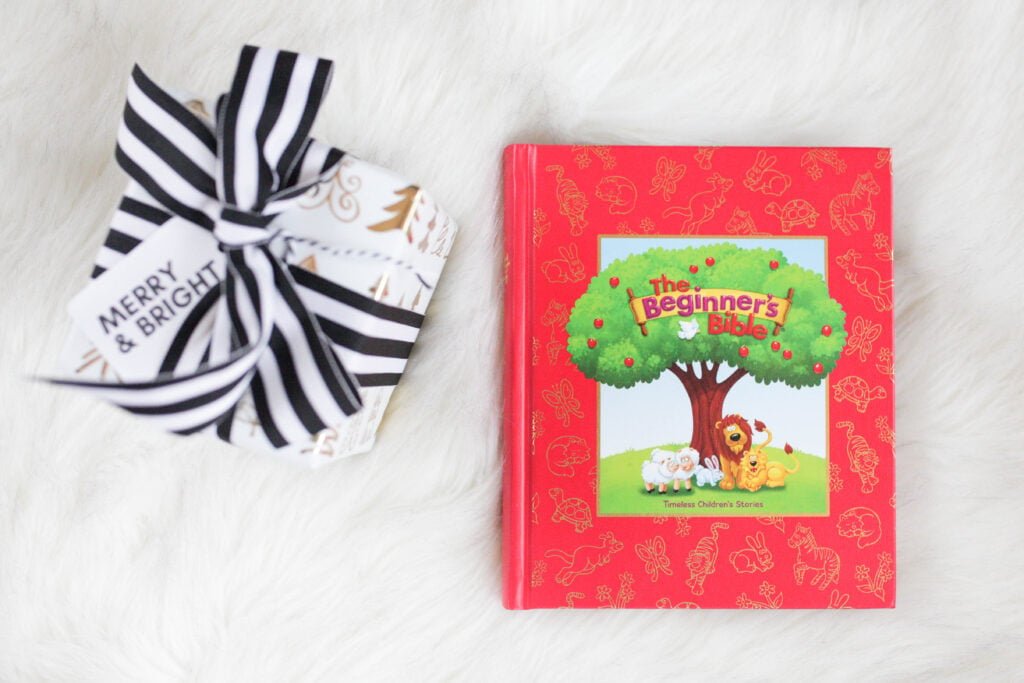 I highly recommend picking up The Beginner's Bible for your kids. It is a super simple way to read Bible stories to your kids in a way they'll understand it.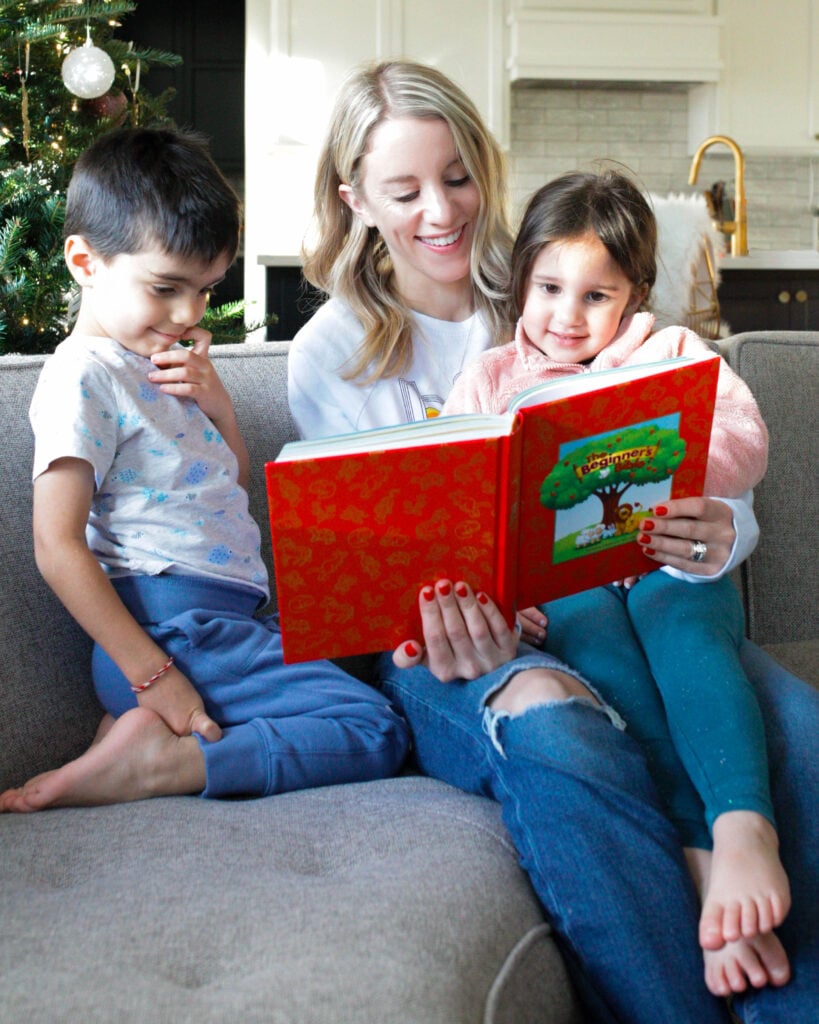 The Beginner's Bible has become a staple in our house with our kids wanting us to read from it daily! Our oldest even insisted we bring one to his preschool so he could share it with his friends there.
Other books we love that would make great stocking stuffers or Christmas gifts are: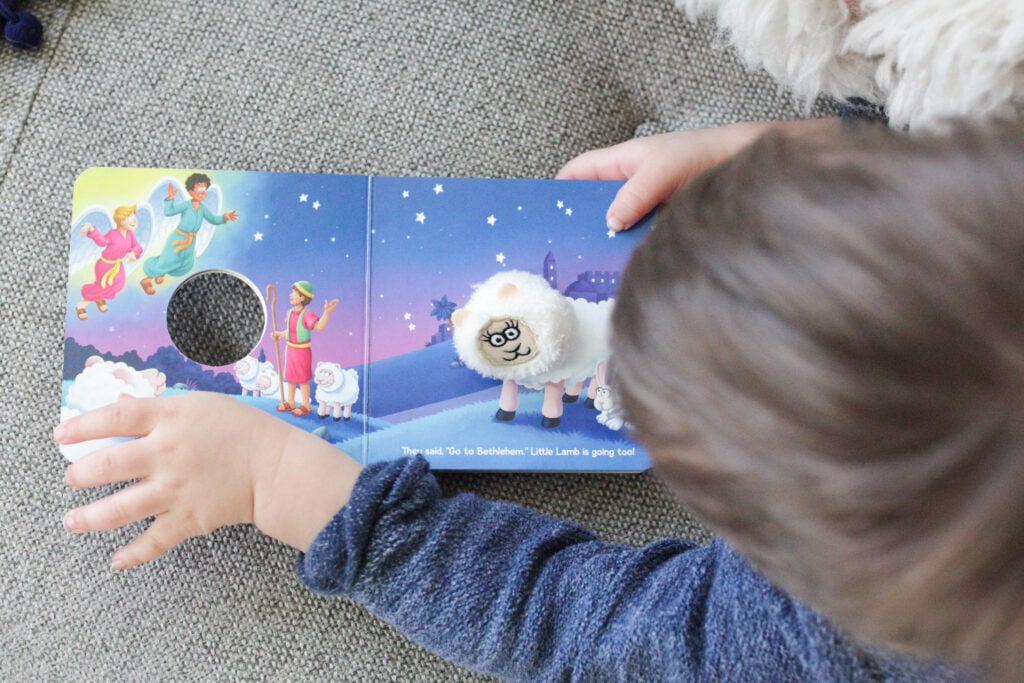 Activity Kit
You'll need to download and print off the activity kit. Zonderkidz so graciously sent over all of these free downloads for you to do these activities with your kids!
Download it here…
Coloring Kit
Another thing you'll need to print off is the coloring kit. The nice thing about these is you can print them off again and again and let your kids color with crayons or makers, paint them, etc! The options are endless.
Ok, on to the guide!
Day 1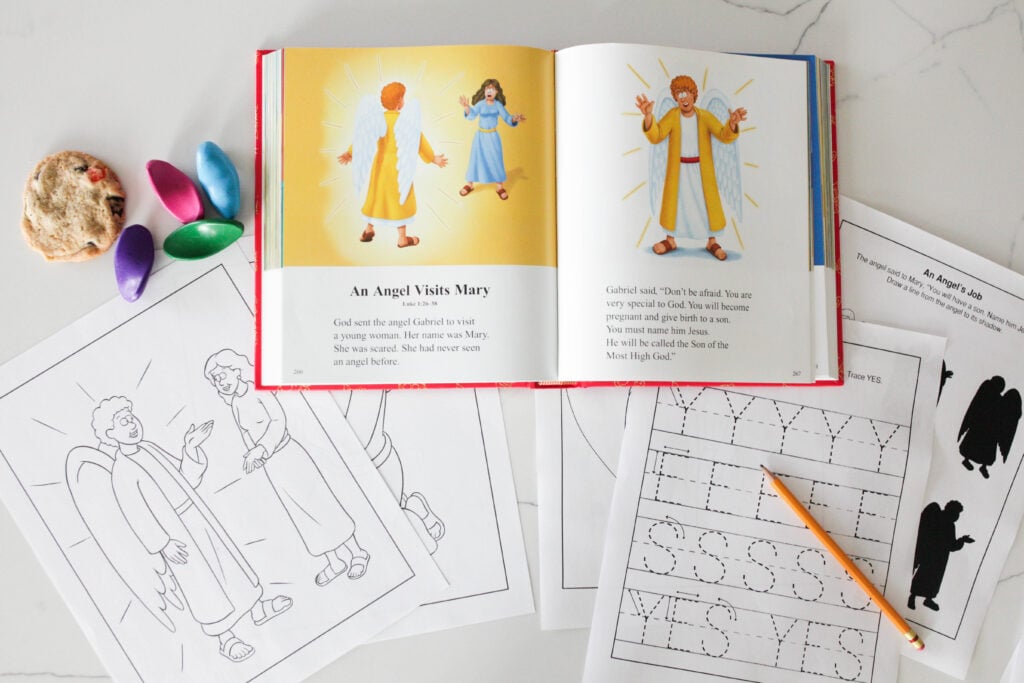 Read: The Beginner's Bible – An Angel Visits Mary (Luke 1: 26-38)
Activity: 1. An Angel's Job, 2. Yes!, 3. God is Good
Coloring: 1. Mary & Angel, 2. Mary Praying
Family Fun: Bake cookies
Day 2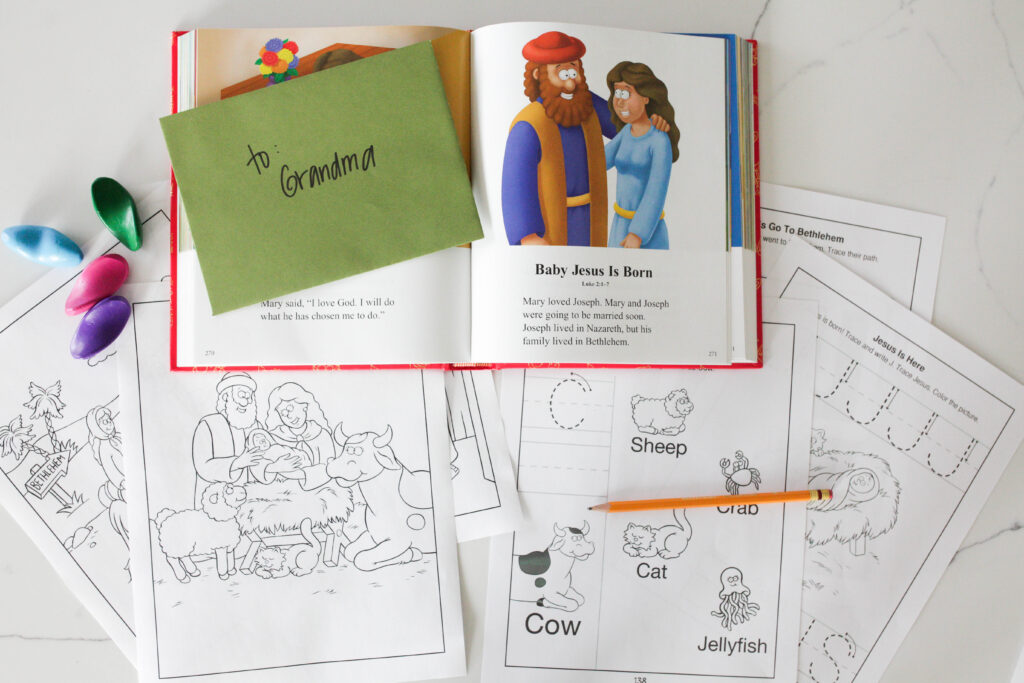 Read: The Beginner's Bible – Baby Jesus is Born (Luke 2: 1-7)
Activity: 1. Let's Go to Bethlehem, 2. Jesus is Here, 3. The C Sound
Coloring: 1. Traveling to Bethlehem, 2. Mary, Joseph and Jesus
Family Fun: Mail cards to family or friends
Day 3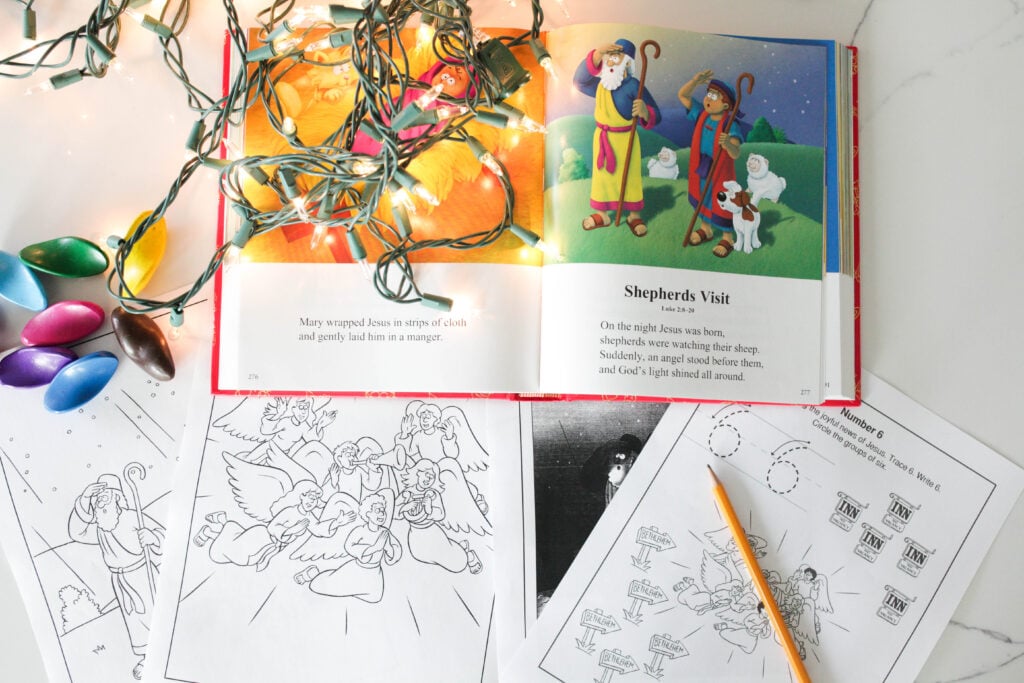 Read: The Beginner's Bible – Shepherds Visit (Luke 2: 8-20)
Activity: 1. Far, Far Away, 2. Number 6
Coloring: 1. Shepherds, 2. Angels in the Sky
Family Fun: Go for a drive to see Christmas Lights
Day 4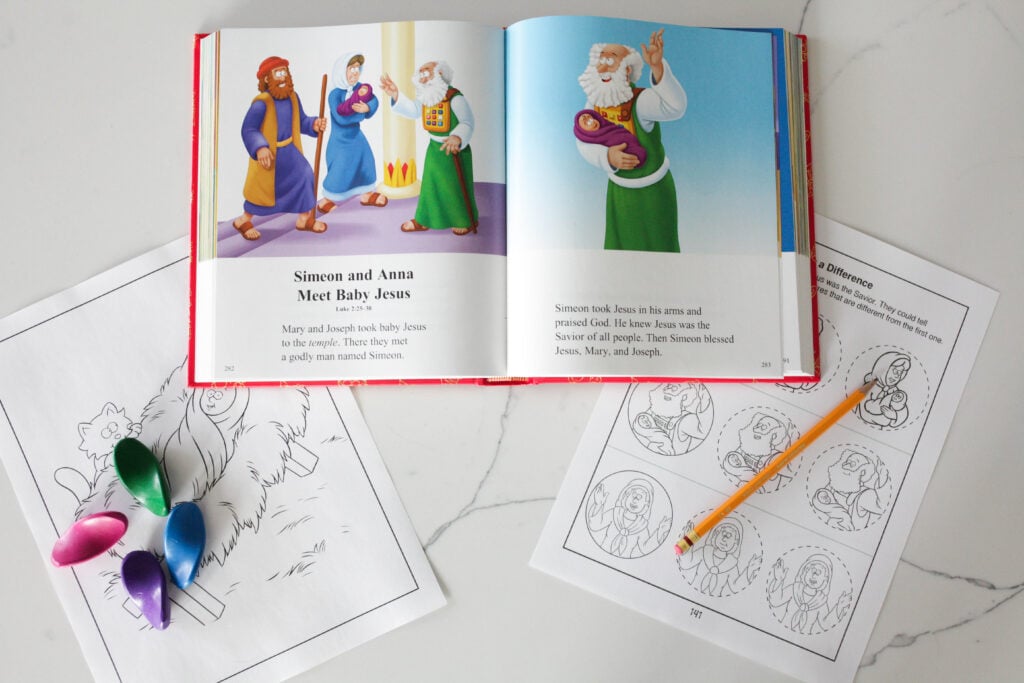 Read: The Beginner's Bible – Simeon and Anna Meet Baby Jesus (Luke 2: 25-38)
Activity: 1. Makes a Difference
Coloring: 1. Baby Jesus
Family Fun: Drink hot cocoa
Day 5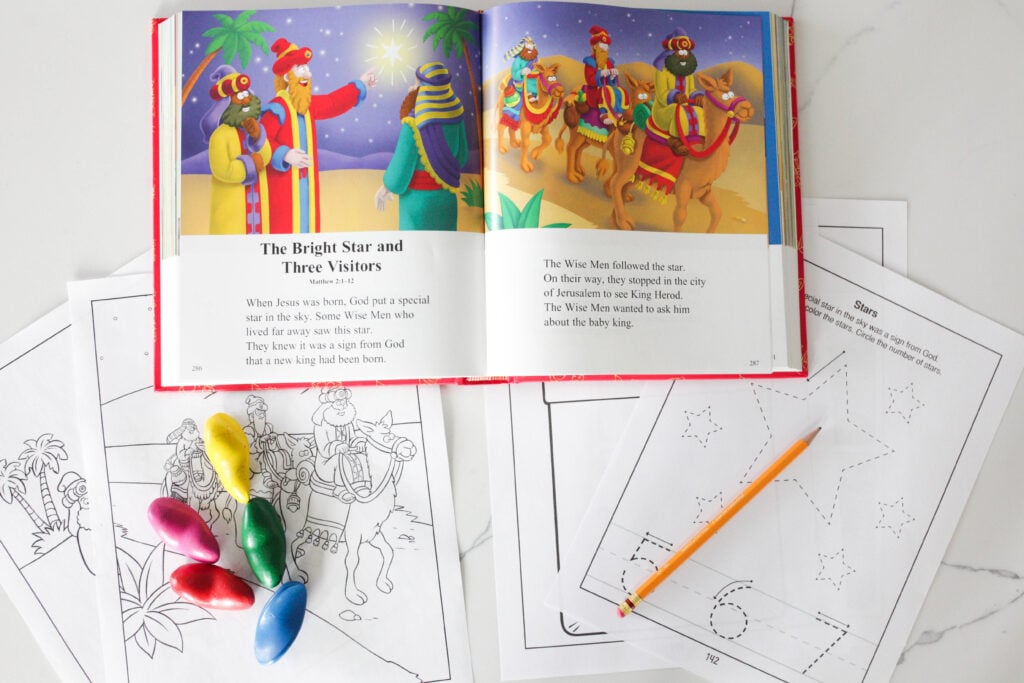 Read: The Beginner's Bible – The Bright Star & Three Visitors (Matthew 2: 25-38)
Activity: 1. Stars, 2. Follow Him, 3. A Good Gift
Coloring: 1. Wise Men, 2. Jesus Talking to Wise Men
Family Fun: Have a Christmas movie night
Day 6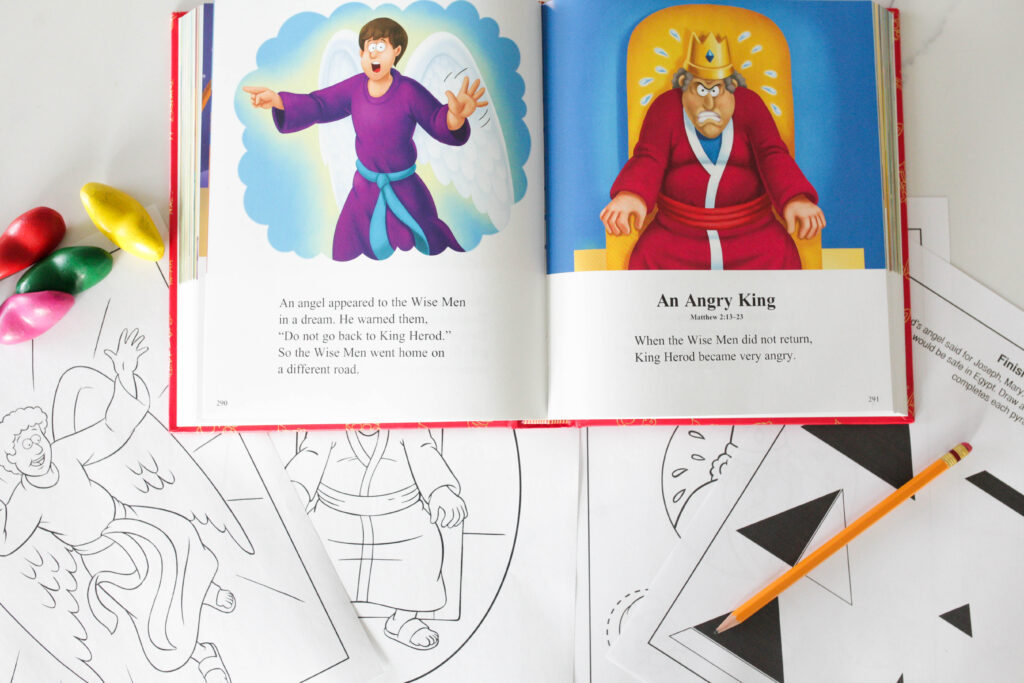 Read: The Beginner's Bible – An Angry King (Matthew 2:13-23)
Activity: 1. Angry King Herod & 2. Finish It
Coloring: 1. King Herod, 2. Angel
Family Fun: Decorate a gingerbread house
Day 7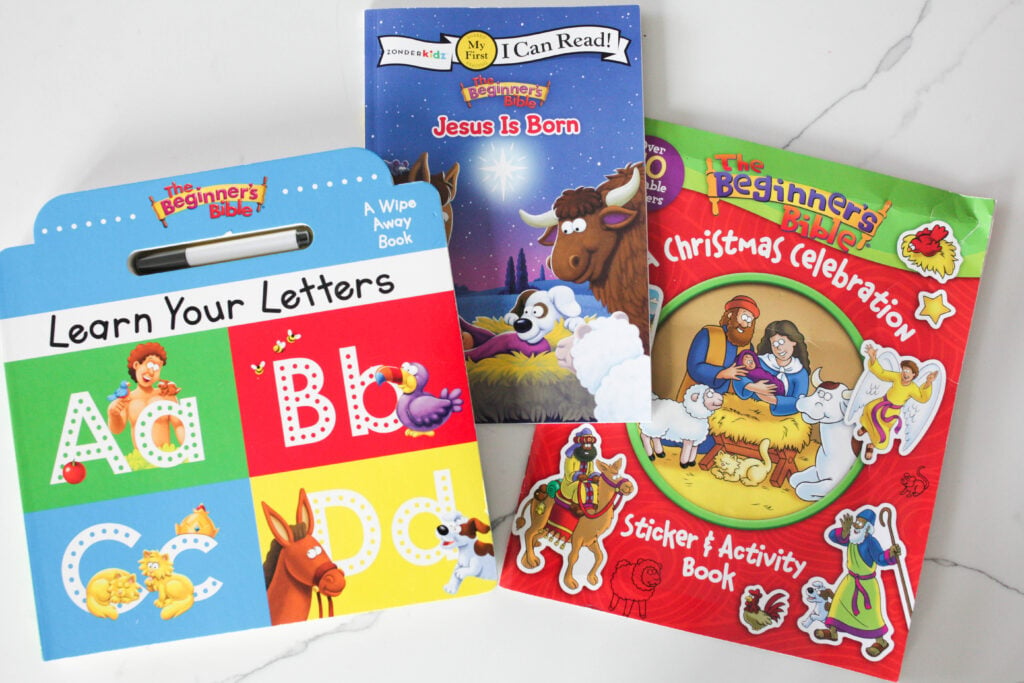 Read: Jesus is Born Book
Activity: Learn Your Letters
Coloring: A Christmas Celebration Sticker & Activity Book
Family Fun: Family game night
All you need to do is sign up below and your free downloads will be delivered to your inbox!
Be sure to check out all the amazing books that The Beginners Bible and Zonderkids has here!
I hope this helps you easily go through the Christmas story with your kids and make some wonderful memories together.
Merry Christmas!