*This post was sponsored by Buncha but all thoughts and reviews are my own.
There's a new delivery service in town and you're going to want to know about it!
For years I've relied on shopping apps like Instacart and Shipt to help me out with my grocery shopping and delivery. When my husband was working his busy 60-80 hour a week job, taking all 3 kids to the grocery store with me was a feat in itself.
Ordering my groceries and getting them delivered was one thing that saved me a ton of time. Money, on the other hand, was not saved.
That's why I was so pleased to hear about Buncha. Buncha is a new grocery delivery app and unlike other delivery services, they do deliveries by store to your entire neighborhood!
Buncha is better for your neighborhood, the environment and your wallet. Want to know how?
Let's learn more!
(In a hurry? Get $15 off your first order with the code PAISLEY15!)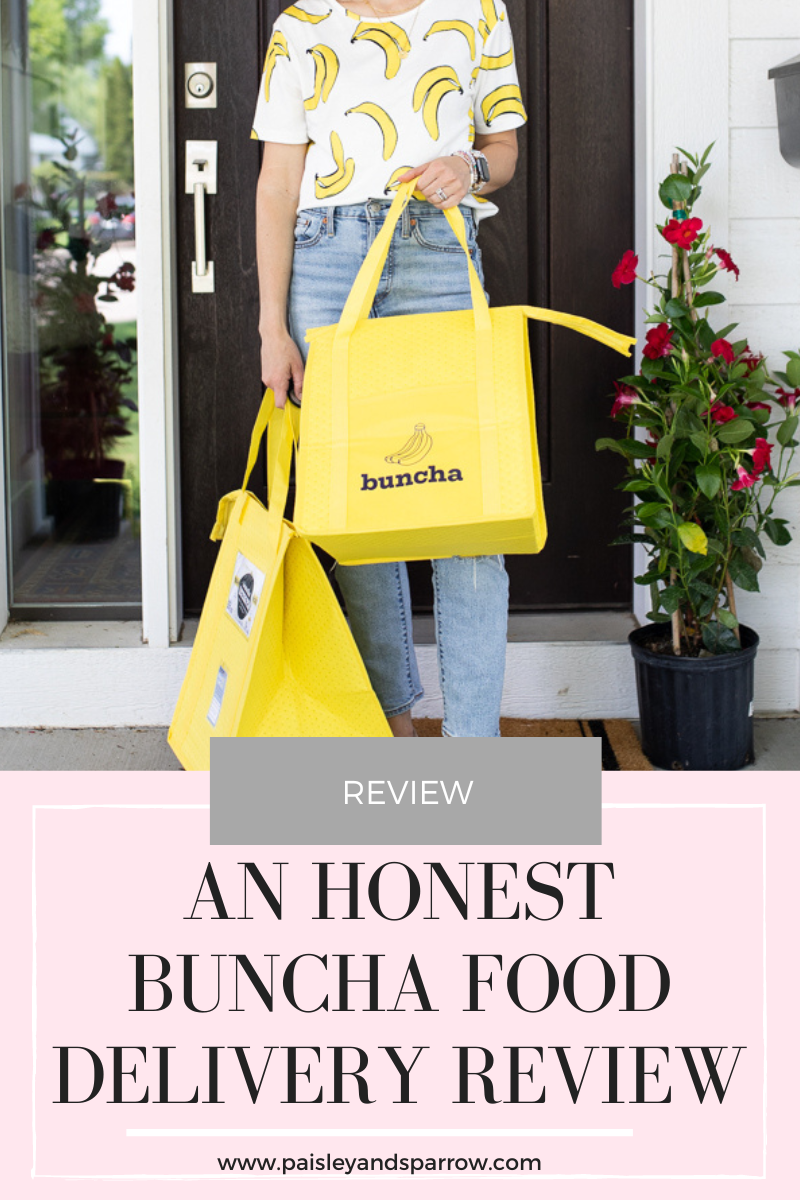 Paisley + Sparrow is a participant in the Amazon Services LLC Associates Program. This post may include affiliate links which means I may earn a small commission if you shop using the links below at no additional cost to you. 
What is Buncha?
Buncha is a weekly neighborhood delivery service that works with local retailers to have timed deliveries to your neighborhood.
You pay only $1.45 per delivery and they're not marking up the groceries from the retailers you're shopping from.

Yes you heard that right. $1.45 per delivery. And there's no subscription you have to pay for! Way better than the other apps I was using.
HOW is it only $1.45?? Think about it this way. Since your neighborhood is all ordering from one store, it's being shopped for by one person and being delivered all at the same time, it's like you're sharing the cost with all of your neighbors! Rather than footing the entire bill for a personal shopper, you're still getting that personal shopper experience but sharing it with your neighbors…and then splitting the cost!
They work with tons of retailers – large ones like Target and Aldi to smaller mom and pop shops that you may not frequent as often as you like due to their location or limited offerings.
The bonus is you can get deliveries from Costco without needing a membership! Yes, no membership needed to stock up on all those Costco goodies.
How Buncha Works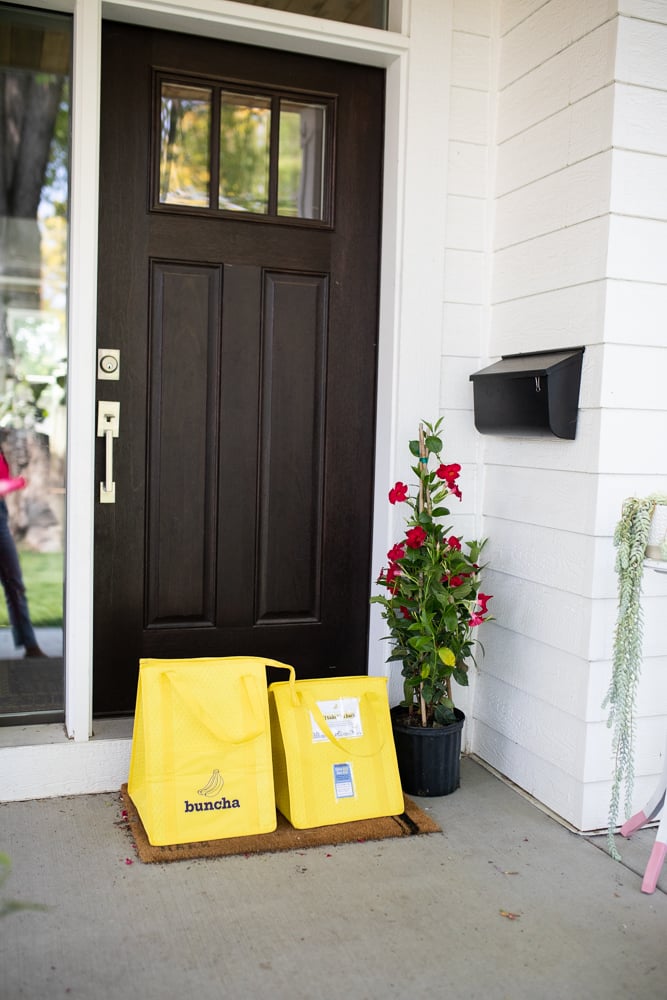 Rather than delivering whenever you want them, Buncha works with your neighborhood and set retailers to have a set schedule based on the store you want to shop from.
This requires you to plan ahead a bit but trust me, a little planning goes a long way when you're saving so much money. I've also found that the delivery times are frequent enough to not require extra trips to the store or using a faster service.
The shopper will get your order and do your shopping. If something is out of stock or your shopper has a question, they'll shoot you a text.
Once they're done, they'll put your order and your neighbor's orders in their refrigerated truck and bring it to your home.
They put all of your cold items in insulated Buncha bags so don't worry if you happen to not be home for a bit when they deliver.
My Buncha Experience
My first order with Buncha was a Costco order. I was honestly so pleased that Costco was an option, even though we have a Costco membership, that I had to try that out first!
We typically go to Coscto at least every other week for things like milk, eggs, bananas, peppers, as well as a host of other essentials. Not having to bring all 3 kids to Costco on a busy weekend or spend my work day getting groceries sounded like a dream.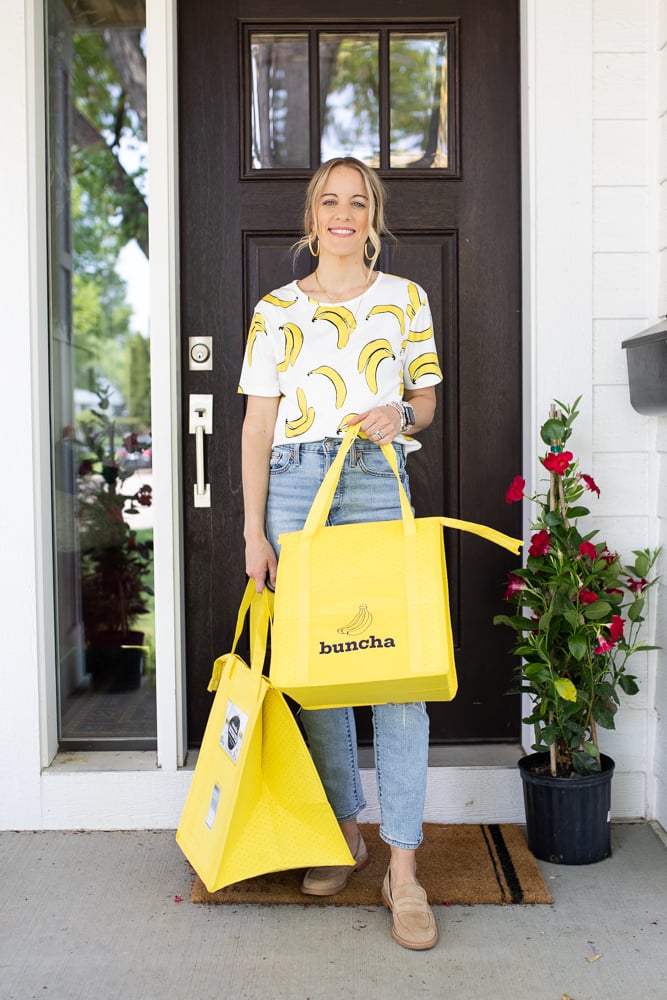 My delivery day and time was Monday between 3-6pm. I ordered all the items on my list in the morning. A few hours later I realized I forgot to order the greens for my morning smoothies so I hopped back on the app to see if I can add them.
One thing that I noticed about ordering is that there's a limit as to how many items the driver can get for one delivery. This made sense since they're delivering to a buncha homes (hehe) and not just one.
With a few hours to go before my shopper was about to begin, they still had about 30 items available. I added my greens no problem.
Around 10:30 I got a message that my shopper was getting ready to shop and I had 30 minutes to add anything to my order. This was a nice reminder!
A couple hours later later I got a text telling me that the shopper had started shopping and provided their name and telephone number if I needed to contact them. Shortly later I got a text stating that something on my list wasn't available and a substitution was offered. I quickly agreed to the substitution and that was that!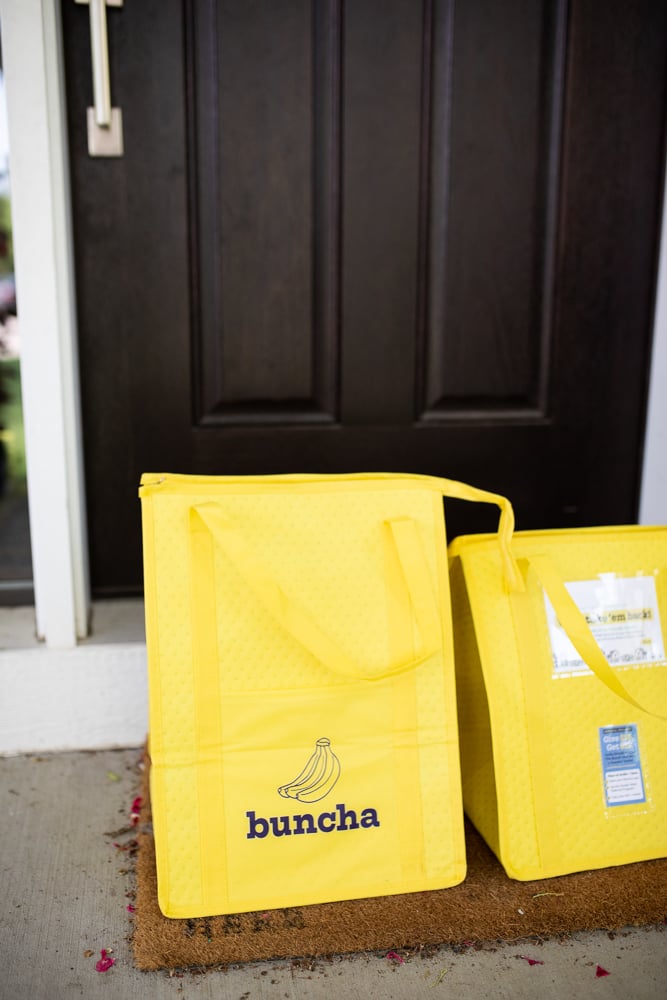 I was at swimming for a couple hours during my delivery time but I was able to watch the app to see if my groceries were delivered. When they were delivered, I also got a text letting me know that they were at my front step.
Everything that was picked was perfect – no bad apples, moldy strawberries or missing items. I was so pleased!
Buncha Retailers
Buncha doesn't go to all stores but they do go to a lot! Here's a look at some of them:
Costco
Sam's Club
Target
Cub
Aldi
Lunds & Byerlys
Hy-Vee
India Bazaar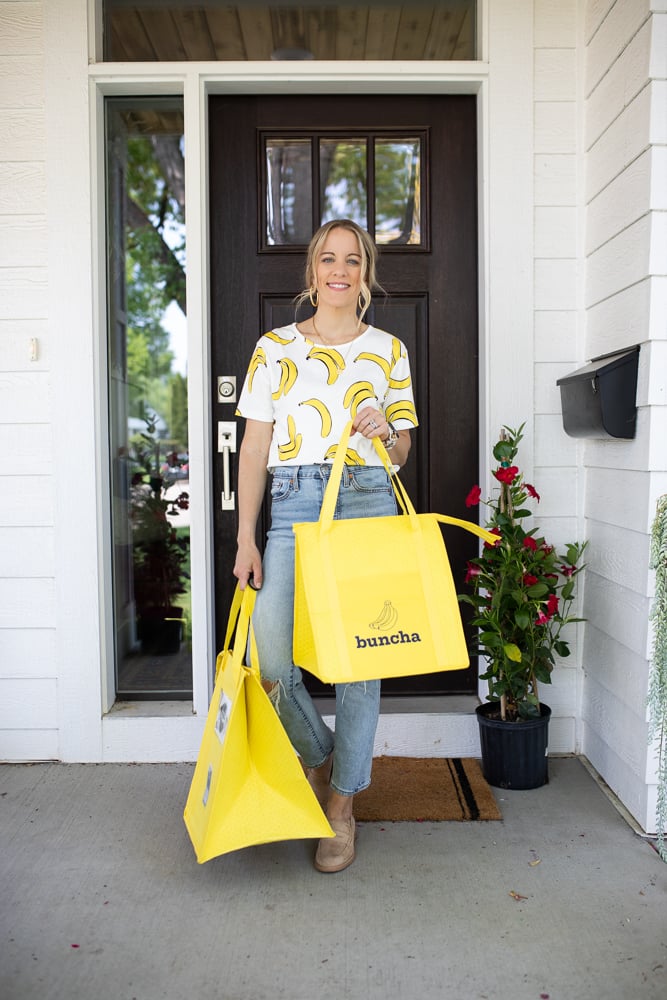 Conclusion
So would I recommend Buncha my friends and family? 100% yes!!! After I found out about it I immediately texted my mom and sister to tell them about it. Grocery delivery for $1.45?? What more could you want?
Give them a try and don't forget – you can get $15 off your first order with the code Paisley15! I'd love to know what you think – I promise you won't be disappointed!