If you're a luxury bag enthusiast, you've probably tried many different styles of purses in the past. Tote bags, crossbody bags, and even belt bags are likely all a part of your repertoire.
But there's an extremely useful type of bag that's become more trendy in recent years: the backpack.
Sometimes thought of as being reserved only for students or hikers, the backpack can actually be extremely fashionable. Check out this list of some of my favorite luxury backpacks on the market today.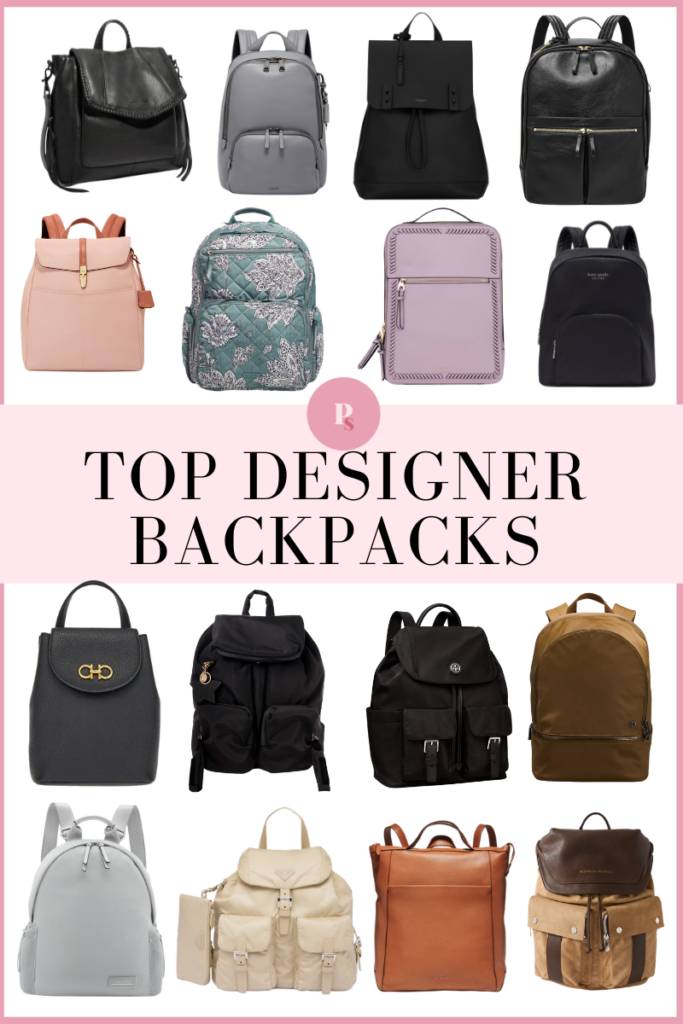 This post contains affiliate links.
Best Leather Backpacks
Have the best of both worlds with this luxurious convertible backpack. With the ability to transition from a two-strap backpack to a single-strap crossbody, this bag has the ability to adapt according to whatever your day requires. It also features a fun animal print lining on the inside, and a stunning outer design.
The Tumi Voyageur backpack is the perfect bag to take with you on the go, whether you're traveling or just running errands around town.
It features adjustable straps and lots of dedicated spots for your essentials. Keep all of your things organized with ease in this sleek Pearl Grey backpack.
This minimal YSL bag is as useful as it is beautiful. Featuring a large storage compartment with an interior zipper pocket and leather straps, this genuine leather bag is the perfect everyday go-to.
Keep your items safe with both the functional drawstring and magnetic snap closure. You'll love the clean lines and practical design of this stunning bag.
This unisex leather backpack features multiple roomy compartments and stunning silver hardware. With a padded laptop sleeve in the back, this backpack is perfect for work or school use.
Looking for a smaller bag that can be worn as a mini backpack? The Gancini minibag is for you! Featuring a stunning golden clasp on the front, this petite beauty converts from a backpack to a crossbody bag with ease.
Best Backpacks for Everyday
Featuring a large drawstring compartment, 2 zipper pockets on the front, and an adorable star keychain, the Joy Rider backpack is fun and fashionable. Made from recycled textile, this pack is perfect for hauling your everyday items.
For days that call for casual accessories, the Tory Burch Nylon Flap backpack delivers. With magnetic flap closures and silver buckle details, this handy bag combines classic style and everyday utility.
Made for fitness fashionistas, the City Adventurer backpack can hold all of your on-the-go items with ease. It has a discreet, exterior pocket for your water bottle pocket for easy access.
With reinforced adjustable shoulder straps, this bag allows you to comfortably carry all of life's necessities all day long.
Combining luxury with everyday style, Tumi backpacks also come with a 5 year warranty to help protect your purchase. Including a luggage strap on the back, this adorable backpack is ideal for carrying to the office or to your next adventure.
Made with durable water resistant nylon, this trendy pack is great for hauling all of your everyday items. This medium-sized bag comes in three different colors and features two side drink pockets.
Use this practical but chic backpack to carry all your essentials. It's made from Prada's sustainable fabric with Saffiano leather details.
(Plus, if you buy this one, you get to quote 10 Things I Hate About You to everyone: "There's a difference between like and love. Because I like my Skechers, but I love my Prada backpack.")
Best Laptop Backpacks
This backpack was designed to hold multiple devices, including a laptop up to 15" and an iPhone® 14 Pro Max and Samsung Galaxy S22 Ultra® (or other similar sized phone.)
Including multiple exterior and interior pockets, this luxurious leather laptop bag is ideal for hauling around campus.
For the maximalists, the Vera Bradley Commuter Backpack comes in multiple different feminine colors and prints.
Made with sleek water-repellent polyester, this stylish 22L capacity backpack will carry your laptop and many other items easily.
If you dare to be bold, the Kaya Laptop Backpack from Calpak is for you. It's available in a stunning hot pink shade as well as tons of other colors both muted and bright.
This bag is perfect as carry-on bags for the busy business traveler, the go to bag for the chic college student or even as just an everyday bag for the woman on the go. It includes eye-catching leather stitching on the front, a zippered back laptop compartment as well as a unique design with 2 main compartments.
Designed with interior compartments to fit up to a 15" laptop, this classically chic bag can handle your day to day life with style. Made with 100% recycled materials, you don't have to sacrifice your aesthetic to get the job done with this fashionable, minimalist design backpack.
There's more than meets the eye with this chic leather backpack from Cole Haan. Featuring a variety of different pockets, these versatile bags also have a padded laptop compartment. In addition, there's double carrying straps as well as to wear it as a crossbody bag or shoulder bag.
Best Men's Backpacks
This stylish men's backpack is perfect for everyday wear. Featuring a classic Givenchy signature emblem and leather zipper pulls, this backpack manages to look luxurious while still maintaining a minimal design.
This sturdy backpack is the perfect combination of utility and style. Featuring a large capacity main compartment, this bag's rugged design is inspired by the great outdoors.
Whether you're going backpacking or just traveling around town, this is an ideal bag for any modern mountain man.
Made with high-quality smooth calf leather, this men's backpack expertly combines style and masculinity. Including a laptop sleeve in the large interior compartment, this bag is ideal for work and school, or for everyday use.
Made from genuine suede and leather, this Brunello Cucinelli bag is the quite possibly the best men's leather backpack and one of the best functional backpacks.
With a classic clasp and drawstring fastening, this backpack offers rugged style as well as functionality.
Made from genuine leather, the Logan backpack comes in a stunning Cognac shade. Including three spacious zippered compartments, this distressed style pack is a luxury item that will elevate the style of any man.
This slick bag is perfect for the stylish guy. It has a subtle though large GG logo all over the bag, black leather trim and accents, and padded straps. He can bring it to work or use it for travel — it has a padded laptop case inside as well as two outer pockets with magnetic closures.
Best Luxury Diaper Bags
If you're looking for vegan backpacks, here's a great pick! Made of cruelty-free vegan leather, the Brave backpack by Matt & Nat is an elevated diaper bag.
The large inner compartment can carry everything from bottles to snacks with ease, all while looking extremely sleek and stylish.
Available in five stylish colors, this mid-sized diaper bag features tons of useful interior and exterior storage pockets. Available with either light gold or silver hardware, this stunning backpack doesn't sacrifice style for practicality.
Designed with a unique quilted V pattern, the Hero backpack really has it all. In addition to a multitude of handy interior and exterior pockets, this diaper bag also comes with an insulated bottle bag and a changing pad.
Made from nylon and polished pebble leather, this gorgeous bag is perfect for fashionable mamas. Designed with stunning gold hardware, it also includes two unique stroller attachment straps, as well as a changing pad.
With three luxurious shades to choose from, this roomy backpack makes for the perfect baby bag. Including two comfortable backpack straps as well as a convertible cross-body strap, enter motherhood in style with this gorgeous genuine leather diaper bag.
Backpacks That Go Above and Beyond
Now that you know some of the best designer backpacks, which one is your favorite? When it comes to carrying your essentials, you shouldn't have to sacrifice your style. No matter what activity your day holds, there's a stylish luxury backpack out there for everyone!
Thinking of swapping out your purse for a backpack? Let me know which of these designer packs was your favorite!
Do you love designer bags? Check out the best designer crossbody bags, the most popular Louis Vuitton bags, and how to spot a fake Chanel bag.