Imagine your perfect (weekday) morning. You wake up, walk to the kitchen, pour yourself a cup of coffee and finish preparing the breakfast you prepped the night before.
After eating, you shower, do your hair AND your makeup (because you actually have time for both) and put on a perfectly styled outfit (complete with accessories!). You leisurely walk out the door and drive blissfully to work, ready to tackle the day.
Is this how your morning is?
Or is more of a mad dash to get 1/2 the things that should get down a daily basis actually done since you don't have enough time to compete it all.
We've all been there. Trust me.
Here are things to help you take back your mornings and start the day out right…and it all begins the night before.
These are things that work well for me but I encourage you to change things to fit you and your life!
Bedtime Routine for Adults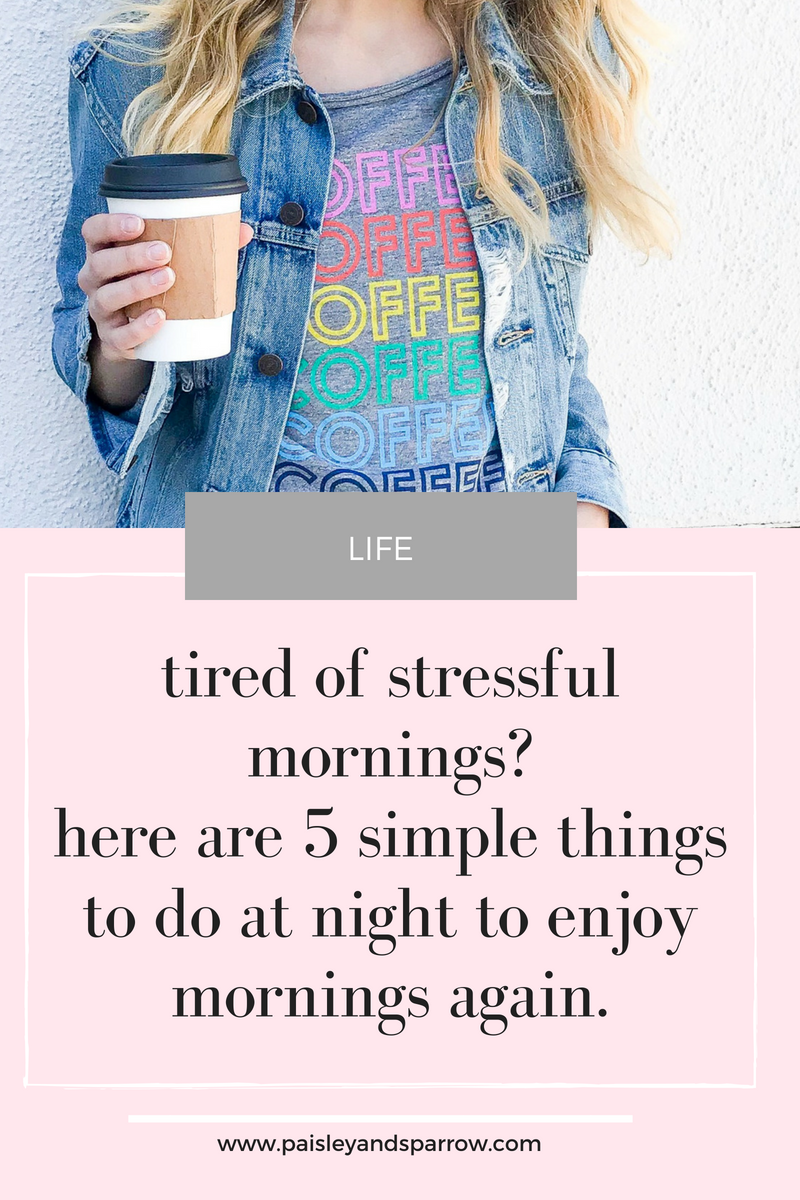 1. Clear the Clutter and Clean Up
Before bed is not the time to do a major purge of the giant junk drawer in your kitchen or organize your makeup drawer. However, it IS a good time to throw out the junk mail arrived that day, put away the dishes and hang up the clothes you wore that day.
The last thing you want to do is to wake up to a dirty kitchen that you have to spend 20 minutes cleaning each morning just to make the coffee (or leaving it a disaster and hope nobody swings by after work)!
And speaking of coffee…
2. Prepare Your Morning Drink/Food as Much as Possible
I highly recommend getting a coffee pot with a timer. At the very least grind your beans and fill your pot with water so all you need to do is push the button to get things brewing.
If you like fruit in the morning, make sure it's washed and cut. If you do smoothies, get the blender out and other ingredients ready to go. Do as much possible work the night before so you're mornings are that much smooth.
3. Pick Out Your Outfit (including shoes and accessories)
The thing that always slows me down is picking out my outfit. This may sound tedious but literally try on the outfit you plan on wearing the next day. That way you'll know if it needs to be ironed, there happens to be a stain or anything else that may come out.
Put out the jewelry and shoes you plan on wearing too! How many times have we all been racing around the house at the last minute trying to find that darn shoe that somehow disappeared?
4. Pack Your Bag.
I know, I know, these are starting to feel like you're in kindergarten again. But there was good reason your mom made you lay out your clothes and pack your school bag the night before school!
It saved her (and you) a major headache in the morning!
Take a cue from good ole mom and pack your bag, whatever that looks like to you. Whenever I have a meeting or our nanny is coming so I can go work, I make sure my laptop is charged and in my bag, my planner is in my bag, and my clutch of essentials (wallet, lipgloss, etc) is in my tote.
(Side note. If you're someone who switches bags a ton get a small clutch to hold all of your essentials that you simply transfer from one bag to the next. It will save you a huge headache the next time you're trying to find your car keys!)
5. Go to Bed 30 Minutes Earlier.
I'm preaching this one to myself. Figure out how many hours of sleep you need. Work you way backwards from when you're alarm goes off.
Start getting ready for bed at least 30 minutes before you're supposed to be in bed. When you're actually getting the amount of sleep you need, then you won't be tempted to snooze your alarm!
And there you go! 5 things for your bedtime routine to help you take back your mornings and start your day off right. I encourage you to do one of these until it becomes a habit and then add another rather than doing all of them right at once.
What are things you do at night to help you out in the morning? I'd love any additional tips!
Thanks for reading and sharing!