A good pair of leggings are a girls best friend. They're comfy, versatile and perfect for both casual and dress outfits! Here's a few ideas on what to wear with leggings to get more use out of them.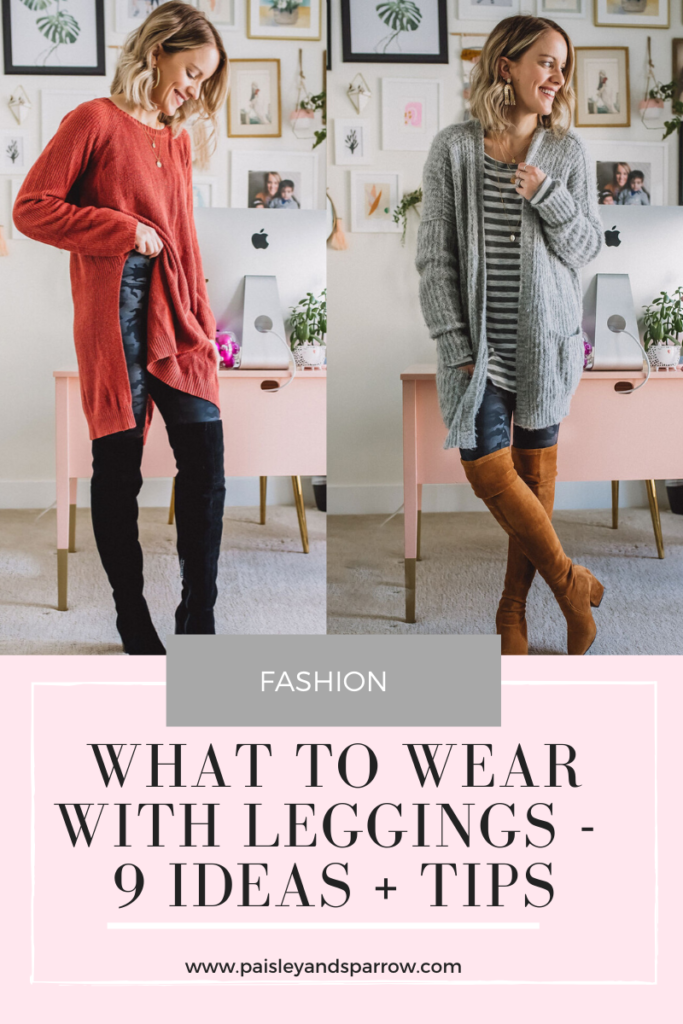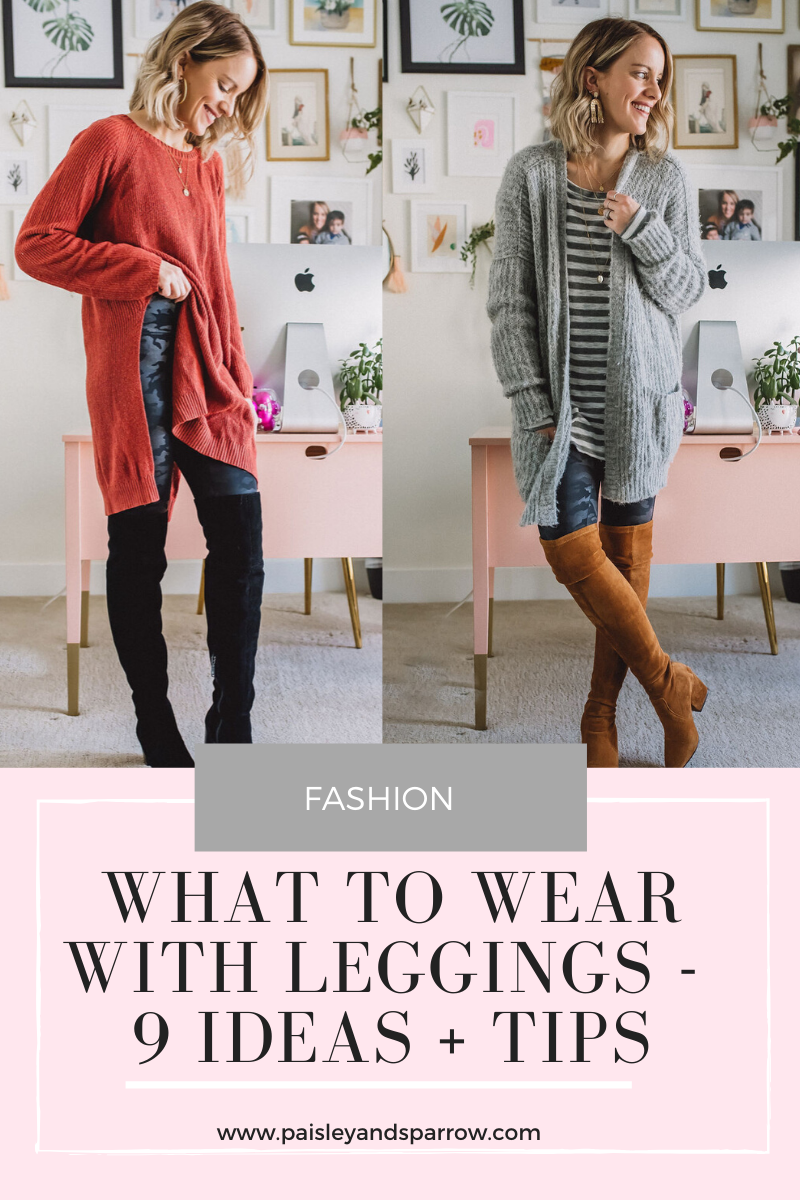 But first, let's talk about a few tips for when you do venture out in leggings somewhere other than the gym.
Style Tips for How To Wear Leggings
1. Make sure they are thick! The last thing you want is for the world to know you're wearing polka dot print underwear under those precious leggings of yours. Ask a spouse, friend or roommate to see if they pass the "see through" test.
2. Make sure your butt is covered! Take a note from schools – if your butt isn't covered you can't leave the house (unless of course you're heading out to workout).
3. Pair looser tops with your tight leggings. Keep it classy by not having your outfit head to toe be skin tight.
4. Layer it up! A scarf, vest or jacket can elevate your look.
5. Play with prints! Printed leggings can be paired with solid tops and over the knee boots to tone down the print if necessary. I personally love Spanx camo leggings (as shown below). It adds an element of print without being too over the top.
6. Or stick with all black for a classic look.
Ok let's get to the good stuff. Here are some ideas on what to wear with leggings!
9 Perfect Ideas on What to Wear With Leggings
*this post may contain affiliate links which means I may earn a small commission on something you purchase at no additional cost to you. Thank you for helping me support my family through Paisley + Sparrow!
1. A Cardigan + Over The Knee Boots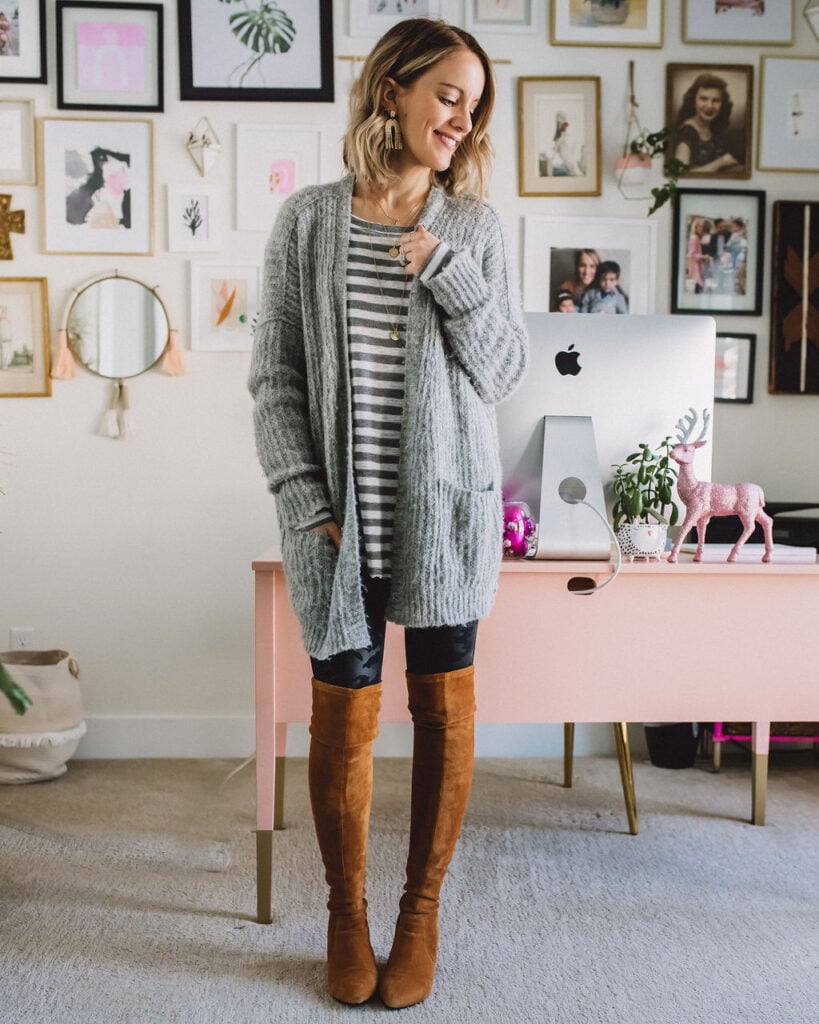 A long cozy cardigan over a long tank, tee or long sleeve paired with over the knee boots is a classic wear to wear your leggings as an outfit! It's super easy to switch up with different tops and different colored boots to give it totally different vibes.
SHOP THE OUTFIT
Spanx camo leggings (also available at Anthropologie)| boots | cardigan (old – similar here)
2. Split Seam Sweater Dress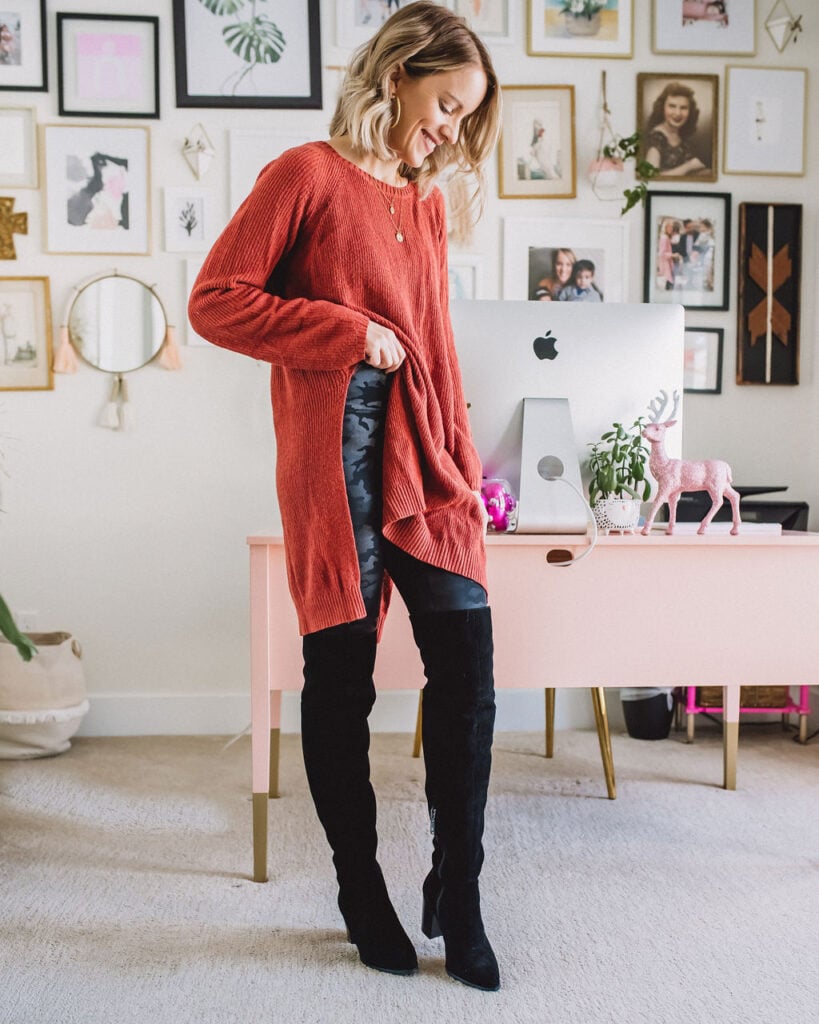 This sweater is one that's perfect for leggings! Jeans are usually too bulky for this sweater while leggings seamlessly pull it all together.
SHOP THE OUTFIT
Spanx camo leggings (also available at Anthropologie)| boots | sweater (old!)
3. A Poncho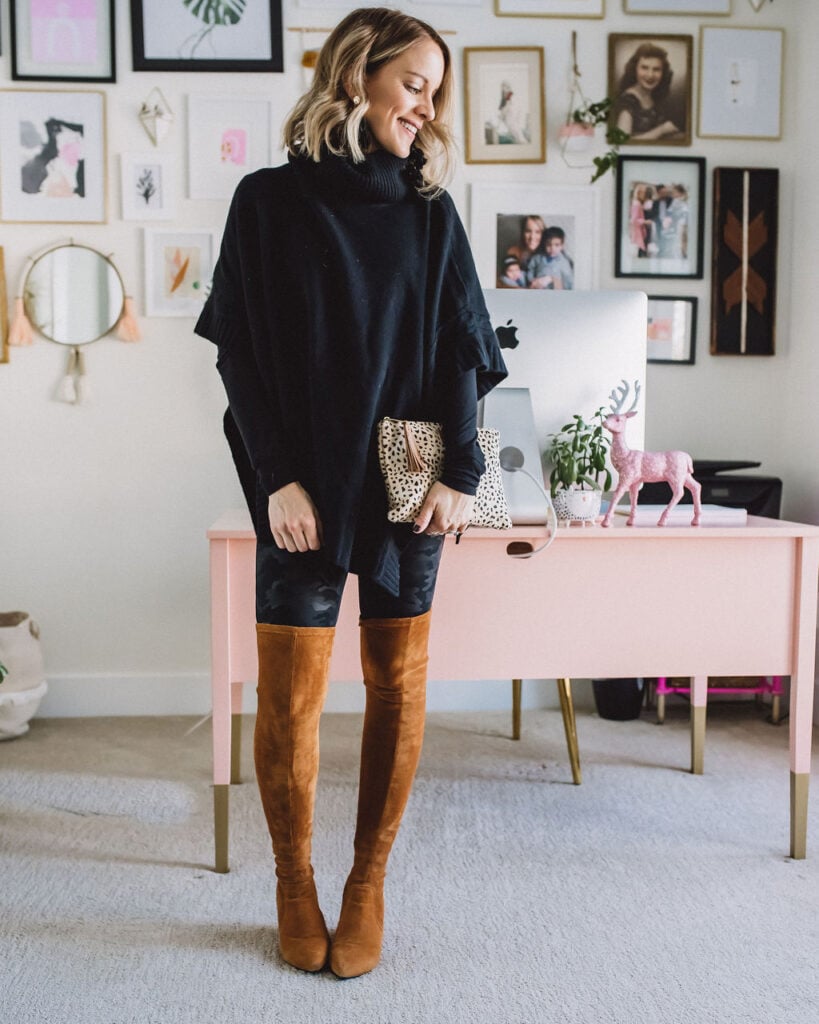 I love cozy ponchos, especially classic black ones that are super versatile. I paired this one with a simple black long sleeve, my favorite tan boots and this clutch for a perfect date night outfit.
SHOP THE OUTFIT
Spanx camo leggings (also available at Anthropologie) | boots | poncho (old – similar here) | clutch
4. All Black with Printed Leggings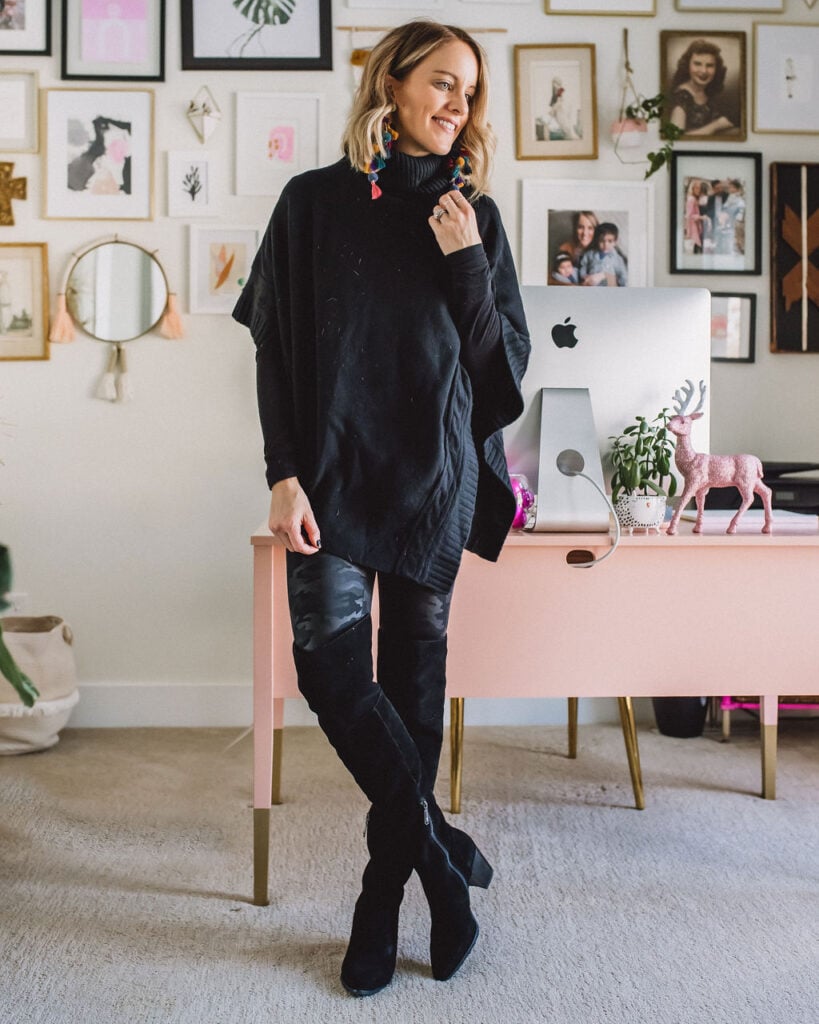 This is basically the same outfit as above with different colored boots and earrings! Admittedly my photographer and my sister and I could decide which outfit we liked best so we shot them both. 🙂
All black outfits are perfect for days when you don't want to think about what to wear but still want to look and feel polished.
SHOP THE OUTFIT
Spanx camo leggings (also available at Anthropologie)| boots | poncho (old – similar here)
5. Casual With A Denim Jacket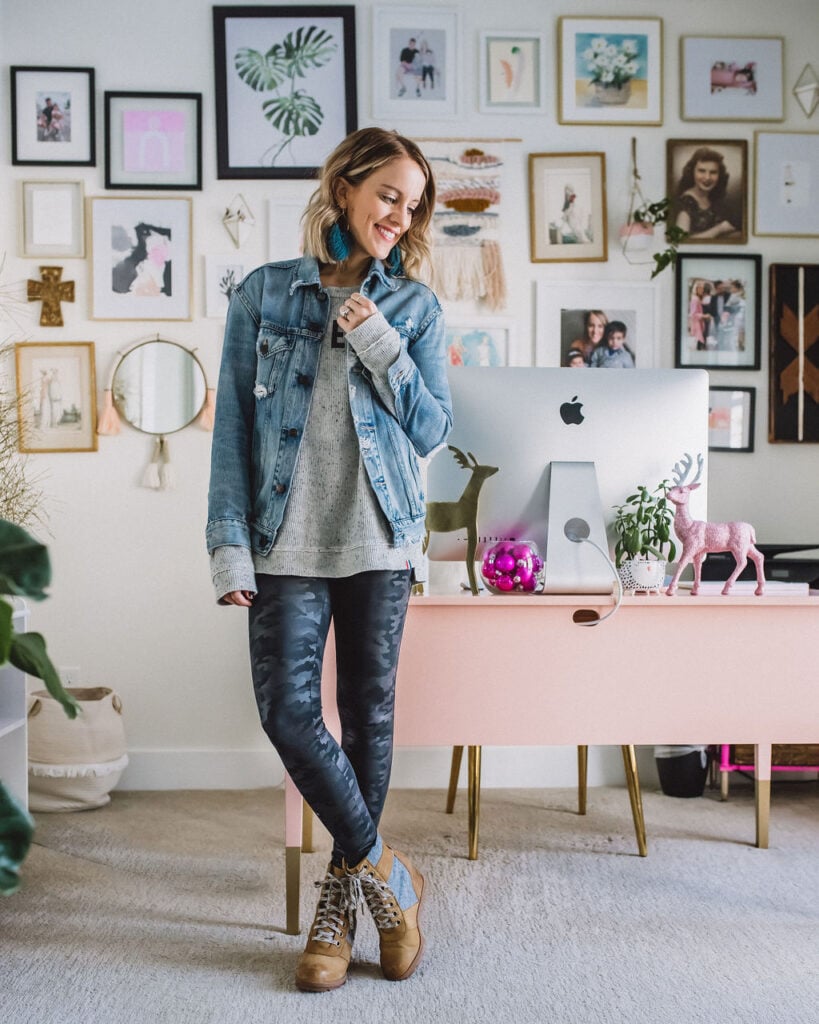 This is a great running errands or heading to the zoo outfit. Easy to walk in wedges (that keep your feet warm), a long tunic top with a denim jacket over the top keeps things casual yet cute!
SHOP THE OUTFIT
Spanx camo leggings (also available at Anthropologie)| Sorel boots | long sleeve top | jacket
6. With a Long Sweater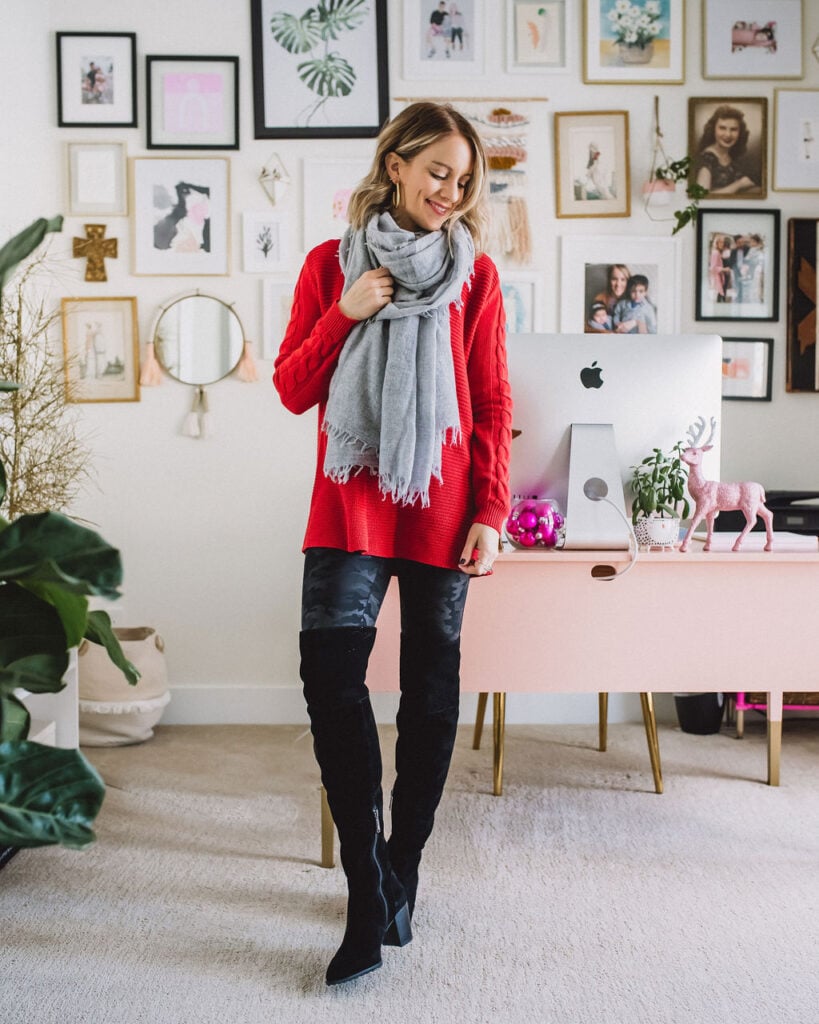 SHOP THE OUTFIT
Spanx camo leggings (also available at Anthropologie)| boots | sweater | scarf (similar here)
This is a great outfit for the office! A long sweater that covers your butt make is office friendly while the over the knee boots tones down the fact that you're actually super comfy in your leggings. 😉
Top it off with a classy, simple scarf and you're ready to go!
7. Sneakers + Sweatshirt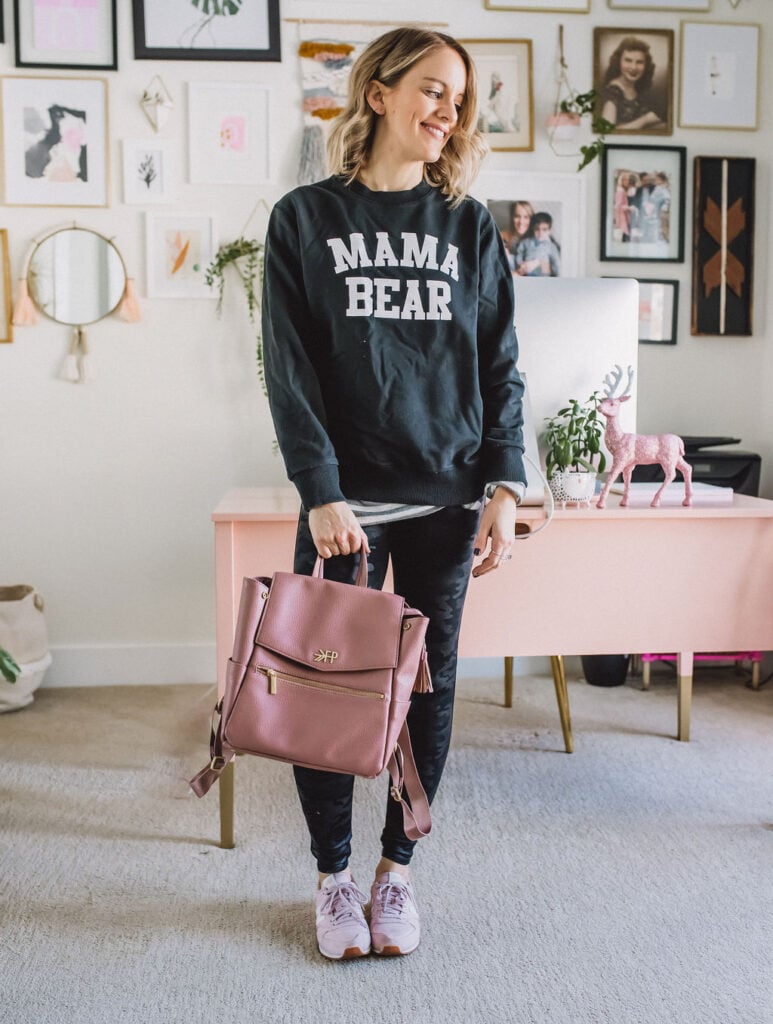 I fondly refer to this as my preschool drop off outfit! More often than not I drop off Roy and P at school in leggings because I workout first thing in the morning and don't always have time for a shower!
A longer top underneath a fun graphic sweatshirt is a great way to wear your leggings! I love adding a pop of color with my shoes if everything else is all black and I use my Freshly Picked mini bag for school drop off since I don't need to lug in my usual bag! 🙂
(Find even more mom shirts on my 9 best mom shirts on etsy post!)
SHOP THE OUTFIT
Spanx camo leggings (also available at Anthropologie)| mama sweatshirt | Freshly Picked bag | New Balance shoes
8. Sherpa Vest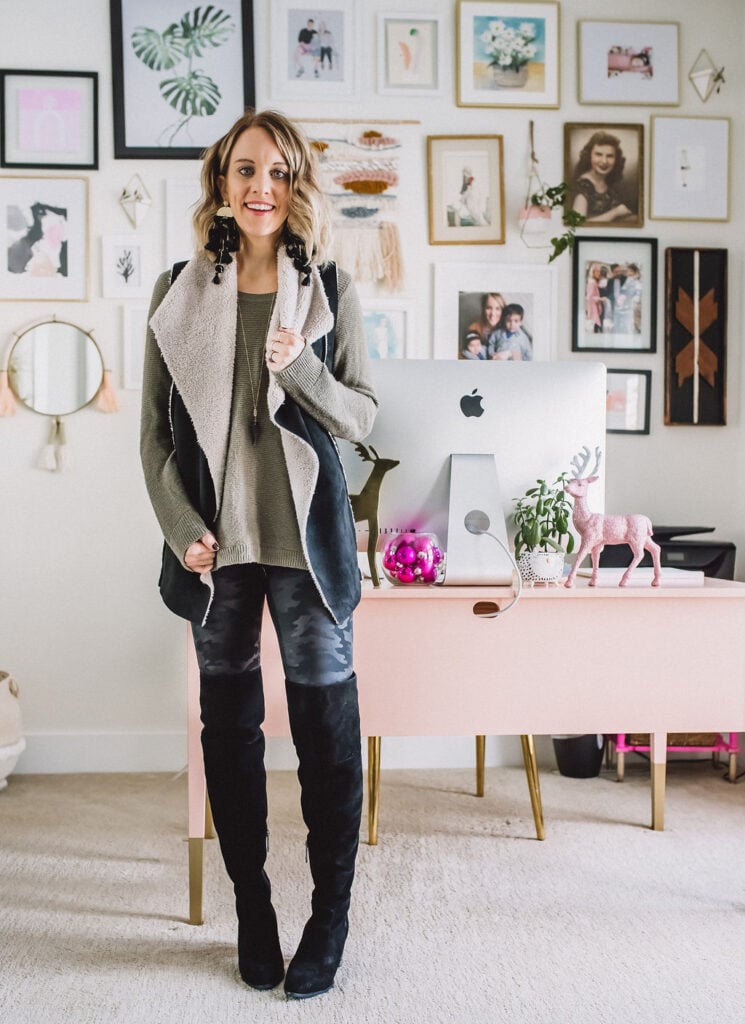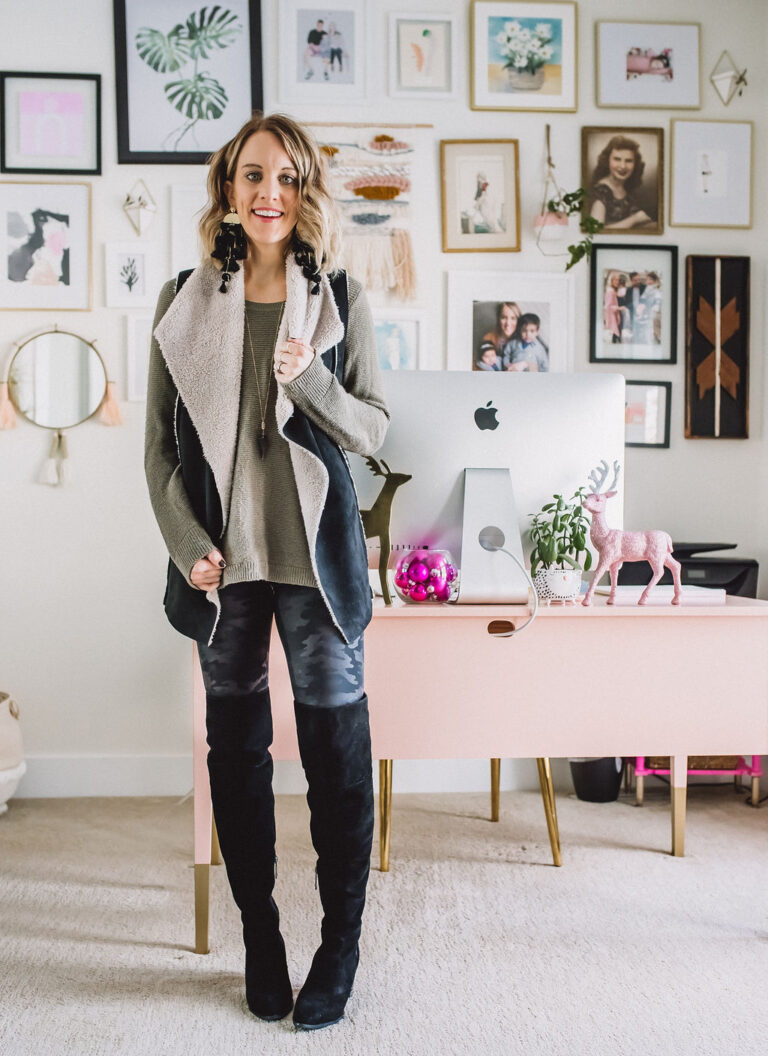 I love vests in the winter. They're such a great way to create a more sophisticated look while actually staying cozy warm! If you've been around P+S for a bit, you'll remember this vest from my fall style challenge! I've worn this for 2 seasons now and absolutely love it.
SHOP THE OUTFIT
Spanx camo leggings (also available at Anthropologie) | boots | sweater | vest
9. A Blazer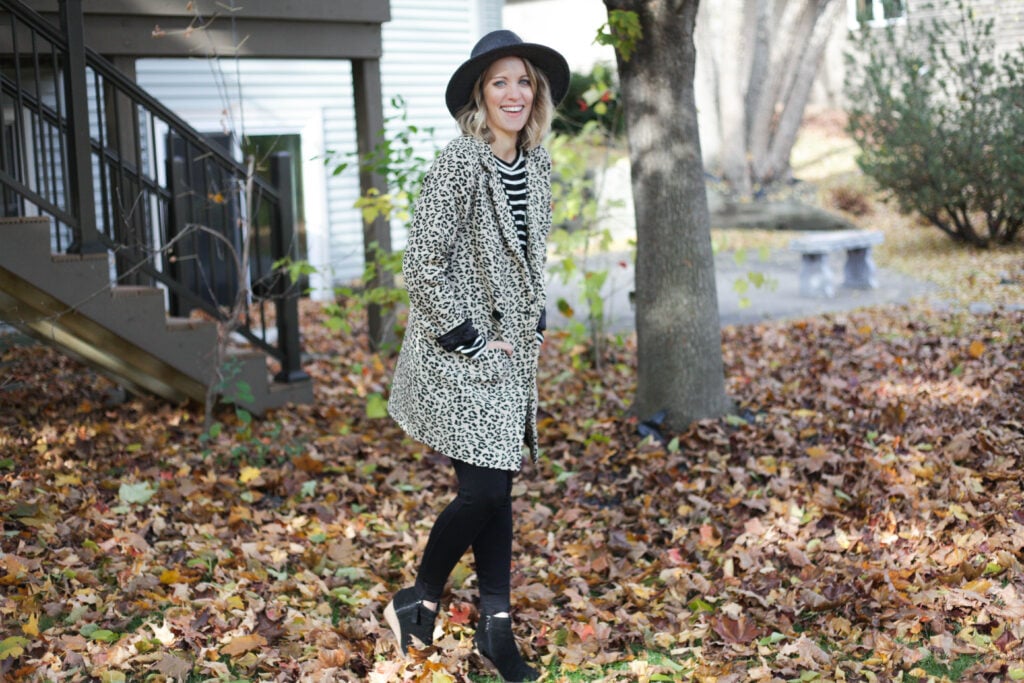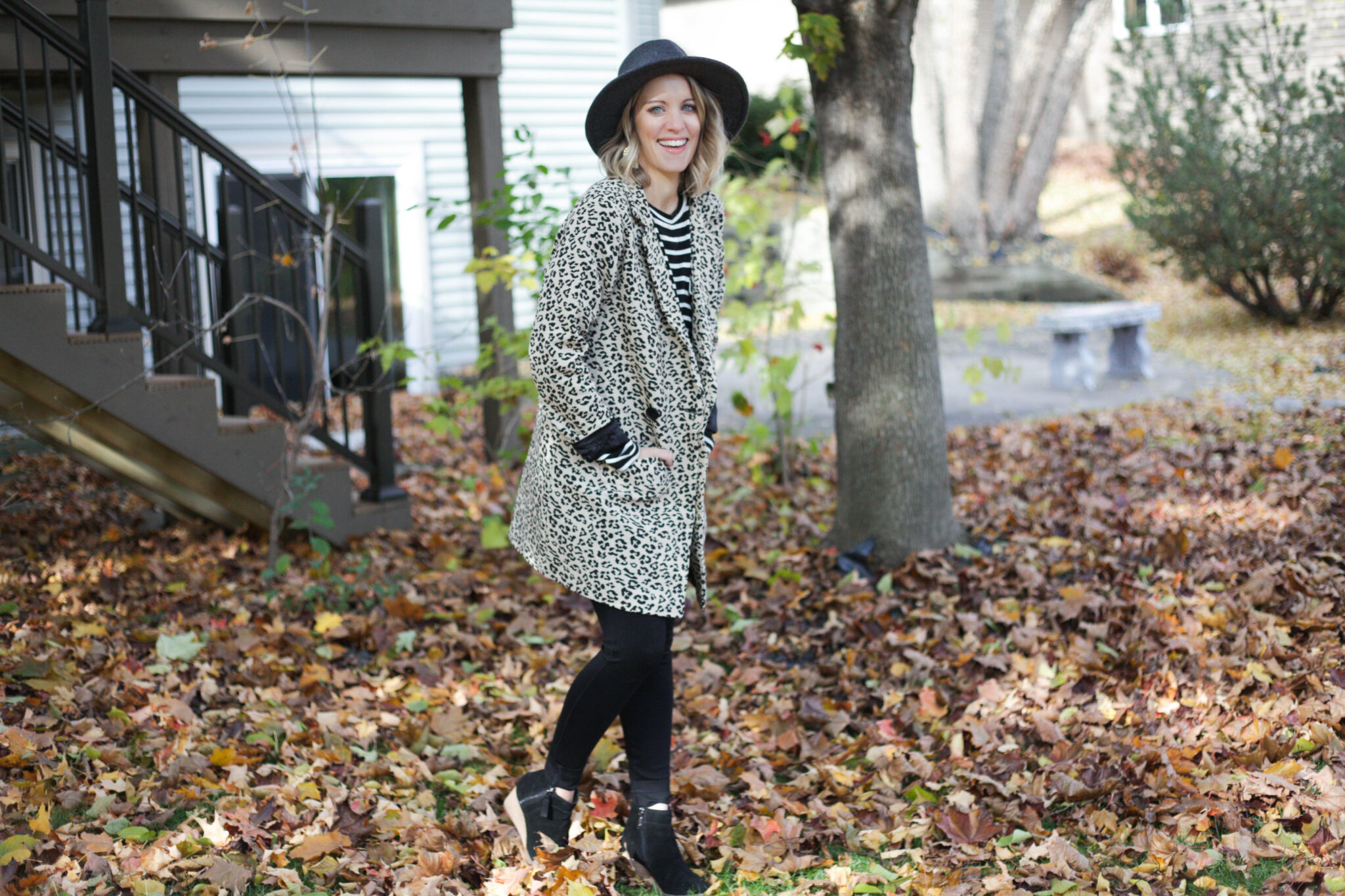 I absolutely love this leopard jacket and paired with black leggings is perfect! The jacket is a bit oversized so I love how it looks with fitted bottoms.
SHOP THE OUTFIT
Sseko leggings | boots | jacket | hat
Let's chat about some of my favorite leggings. There are 3 main leggings that I always recommend and wear consistently season after season.
Sseko
First is Sseko leggings! I've talked about them over in this post but they're absolutely amazing. They're nice and thick so there's no chance of your underwear showing. They sit high waisted and helps suck everything in (perfect for postpartum bodies like my own!). And the best part is they're made ethically! They're create sustainable jobs for women in Africa.
For sizing – they run long so keep that in mind! I have a small (but could probably wear an xs if they had them).
Find even more info about Sseko Designs on this post!
Spanx Leggings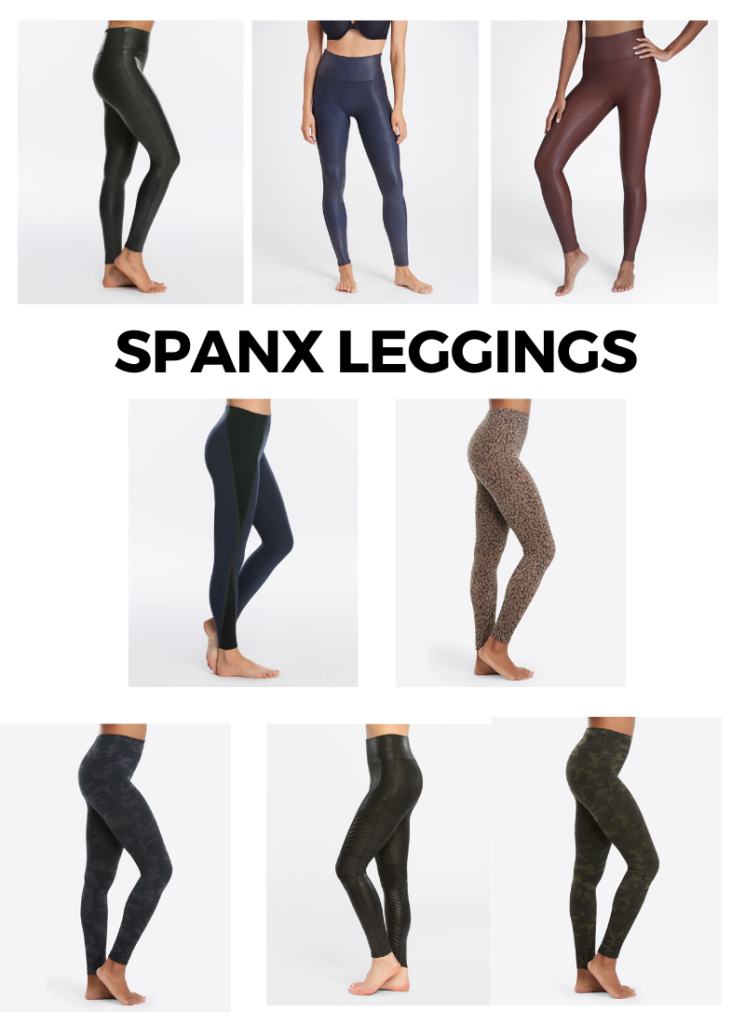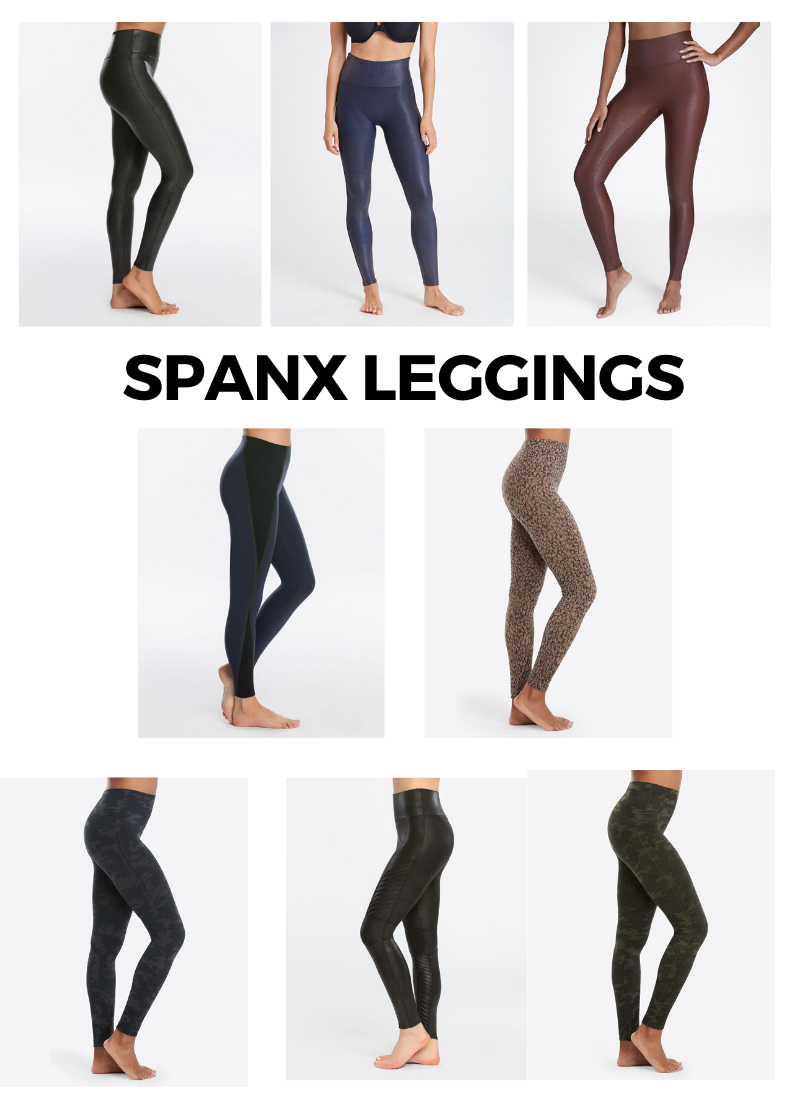 All hail the power of Spanx! 😉 Spanx are amazing because they're incredibly flattering. They help flatten your tummy and give you a great butt! They're also super comfortable. The camo leggings I'm wearing above are Spanx.
They come in a ton of different styles from camo to faux leather moto to classic black. You can also find them at tons of different retailers including Nordstrom, Evereve and even Amazon! And for all you pregnant mamas, they even have maternity spanx!!
Spanx is also running a SALE! Score 10% off your order with code S19IC!
Girlfriend Collective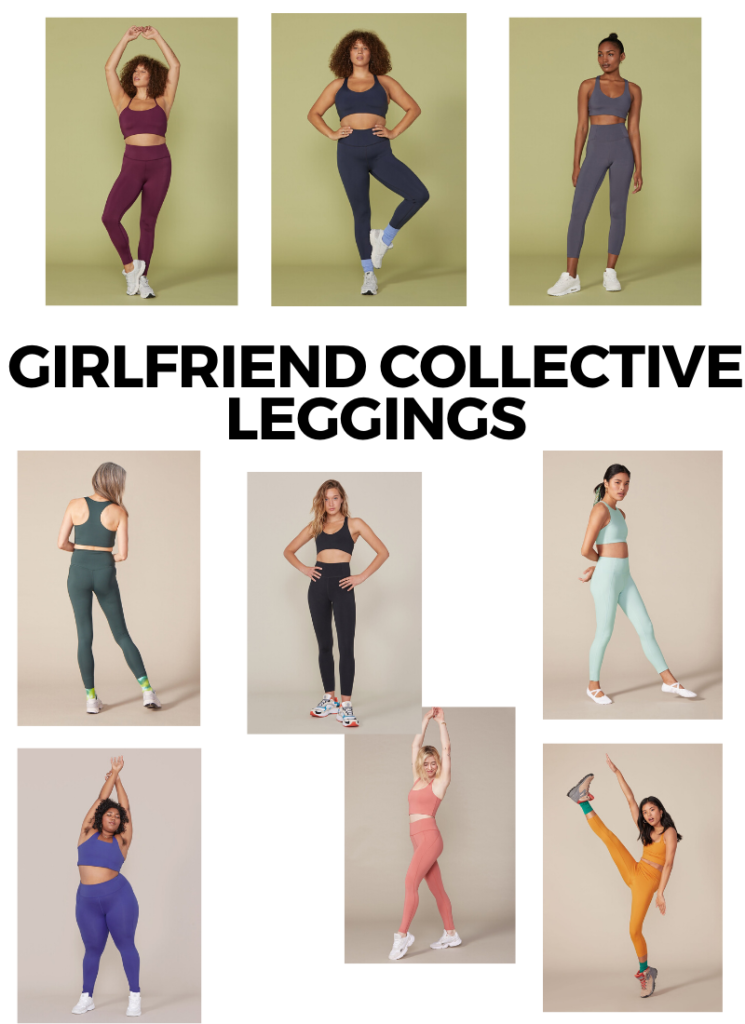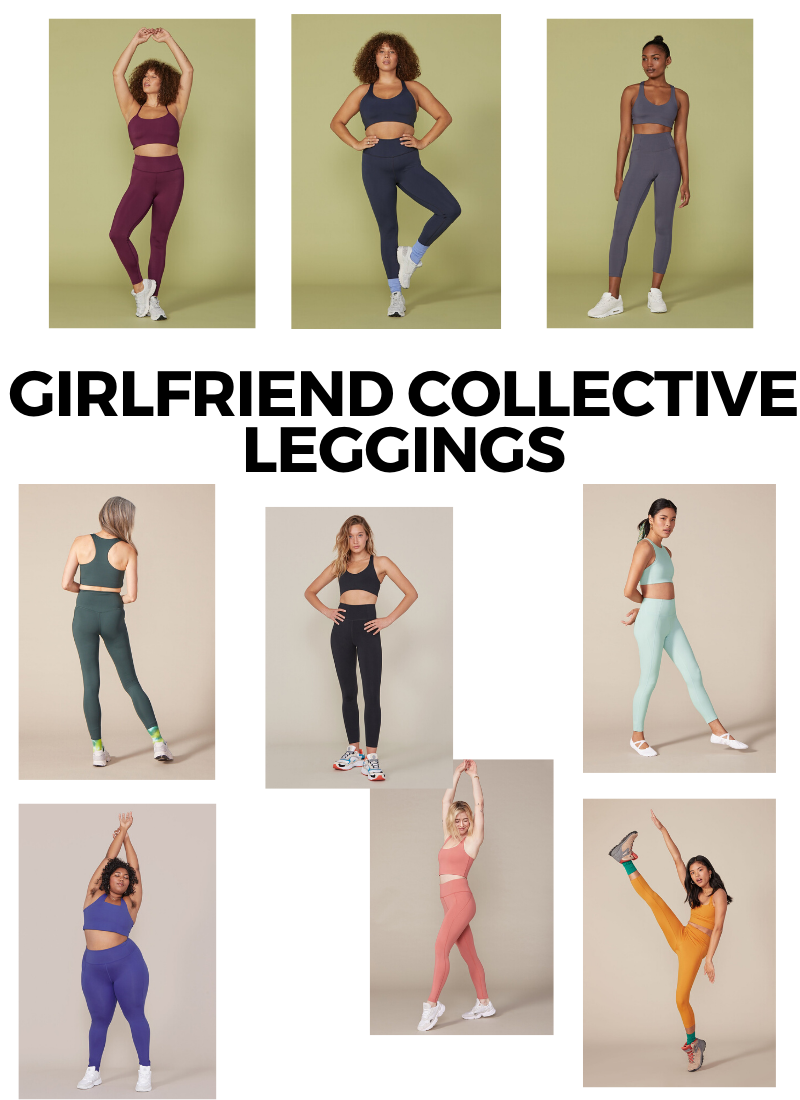 Lastly, Girlfriend Collective leggings are some of my absolute favorites! I've had a pair since they first launched years ago and did a big Facebook ad promotion where you could get a pair for $20. I was pretty sure I was being scammed but after my leggings arrived and I put them on I knew they were the real deal.
I've literally worn them through all 3 pregnancy AND after and they've still kept their shape. Maybe not AS tight as they used to be on the belly but still amazing!
They're made from recycled materials so they're not only good for you but good for the environment. They also come in a ton of colors. I'm hooked! (Also available at Nordstrom.)
There you go! I hope this helps you style leggings in lots of new ways! Check out my How to Wear Thigh High Boots post for tons of ideas on wearing your OTK boots or this One Jacket Three Ways post for a fun sherpa jacket outfit ideas!
Thanks for reading and sharing!