The secret's out!! We're having a boy!!
I keep hearing from people how the 3rd baby gets "the shaft" – less photos taken of them, less work put into the nursery, etc.
Seeing as though I'm the 3rd child in my family, I can definitely see how my sister had WAY more photos taken of her ha! 😉 (Just kidding, Mom!)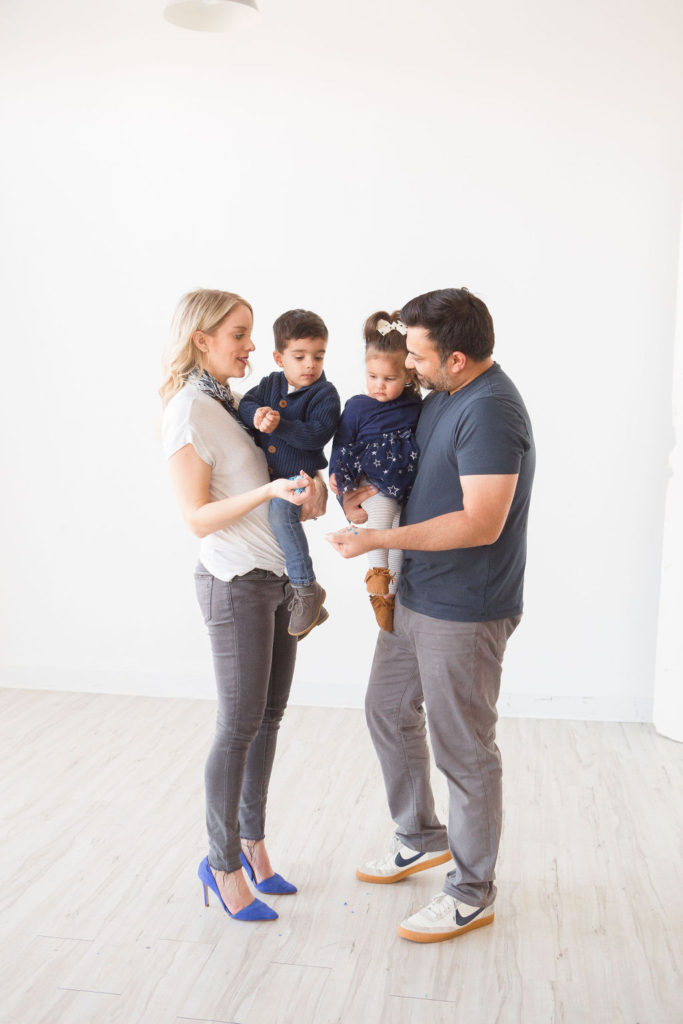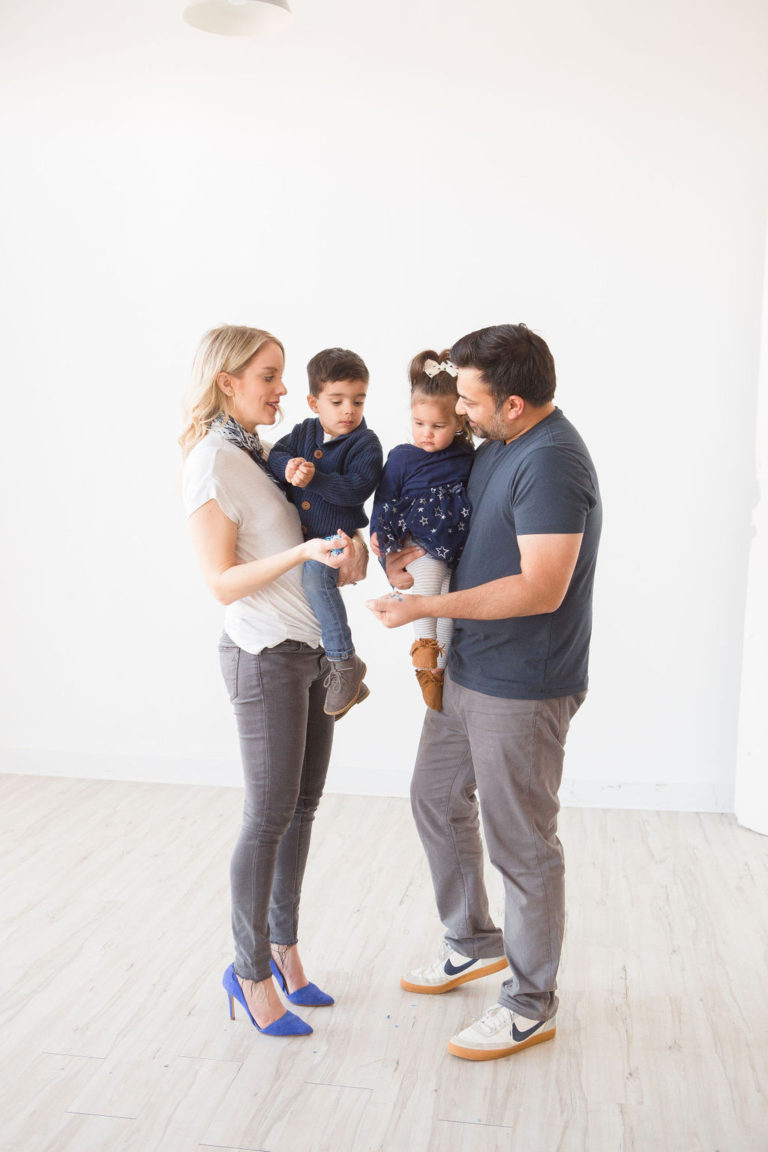 With our family, though, it's a bit different. With each kid I've become better and better at taking photos with lots of practice. We also have become friends with some amazing photographers who take our kids photos. I'm hopeful we'll have just as many photos of this 3rd baby as we have with Roy and P!
With that being said, we didn't do a big "gender reveal" with either of our first 2 babies. I'm way too impatient for any sort of party to be held or even to wait to find out at a private dinner with Rishi like many of our friends do!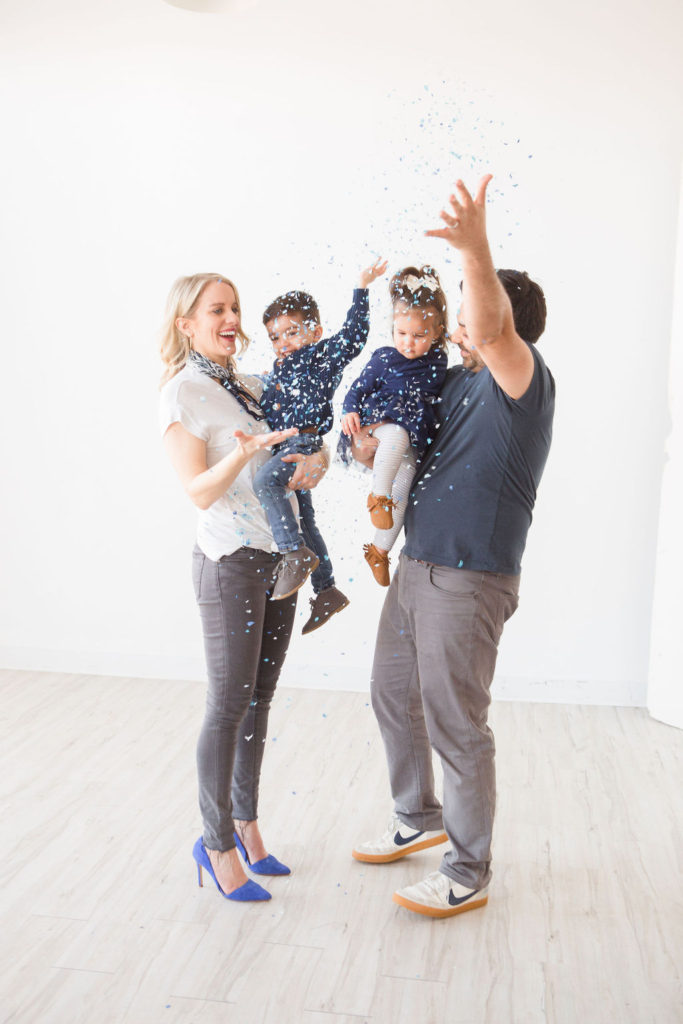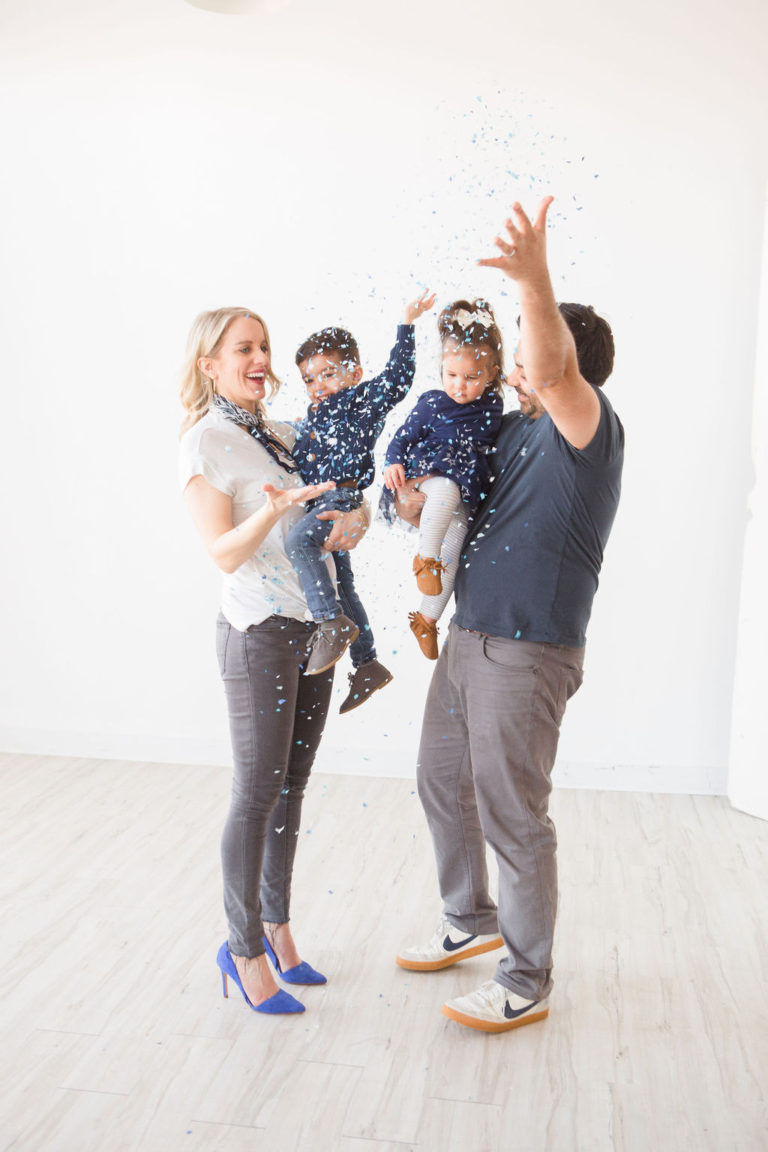 When I was pregnant with Roy I went to one appointment where the ultrasound tech asked if I wanted to know the gender if she could figure it out. Of course I said yes even though Rishi wasn't even there! Ha!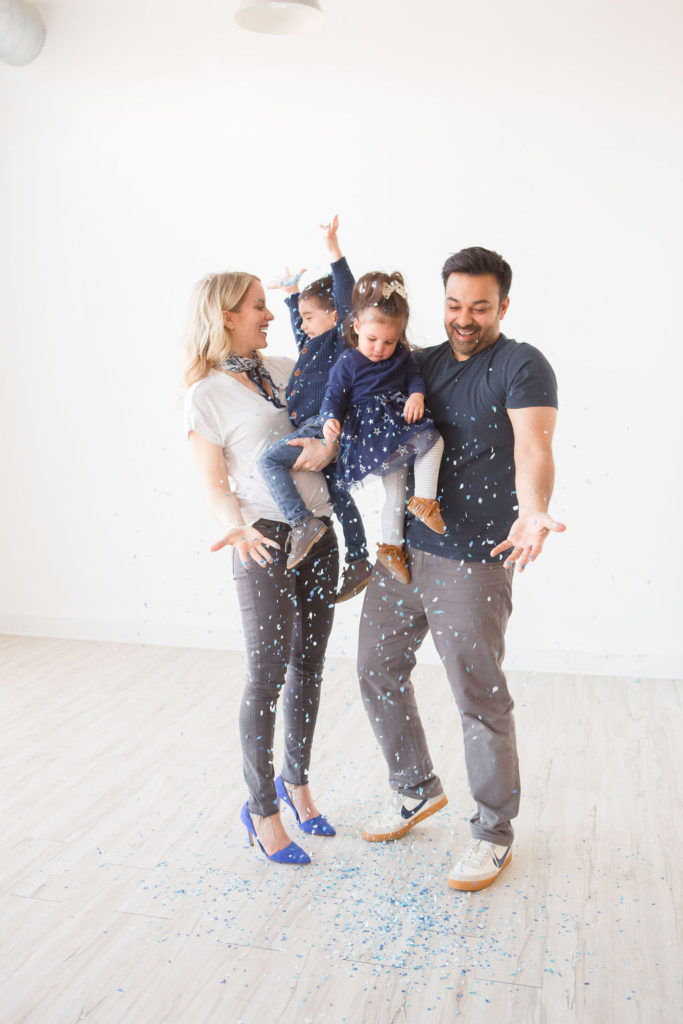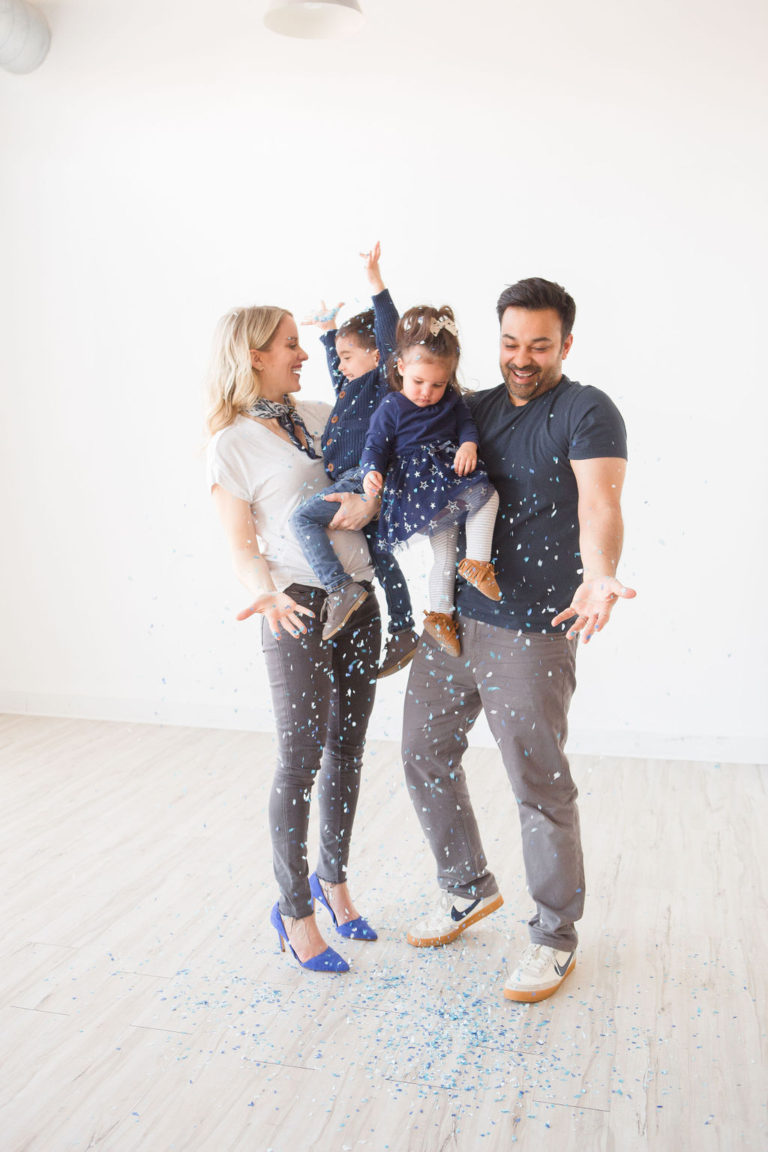 (Turns out she was wrong. She told me it was a girl and 2 months later we found out we were actually having a boy! Jokes on me ha! I actually had to go back in a third time for them to get a good look and confirm that the baby was, in fact, a boy, too.)
With this baby, I had a blood test done since I turn 35 the week before my due date. (Hello, geriatric pregnancy!) so a nurse called to tell me my results on that and to let us know that we were having a boy.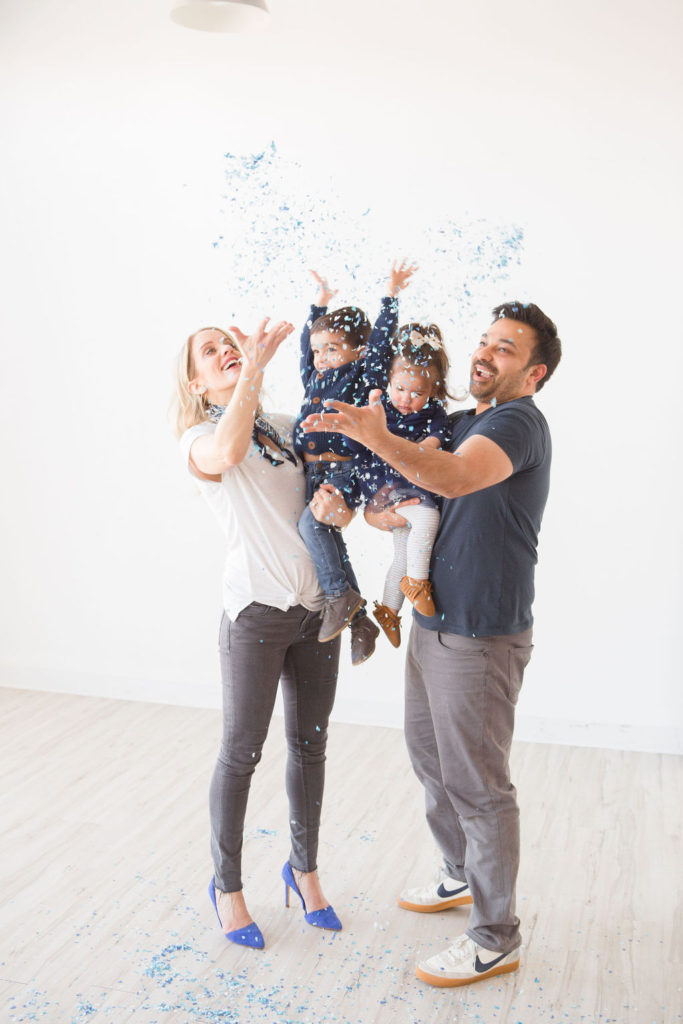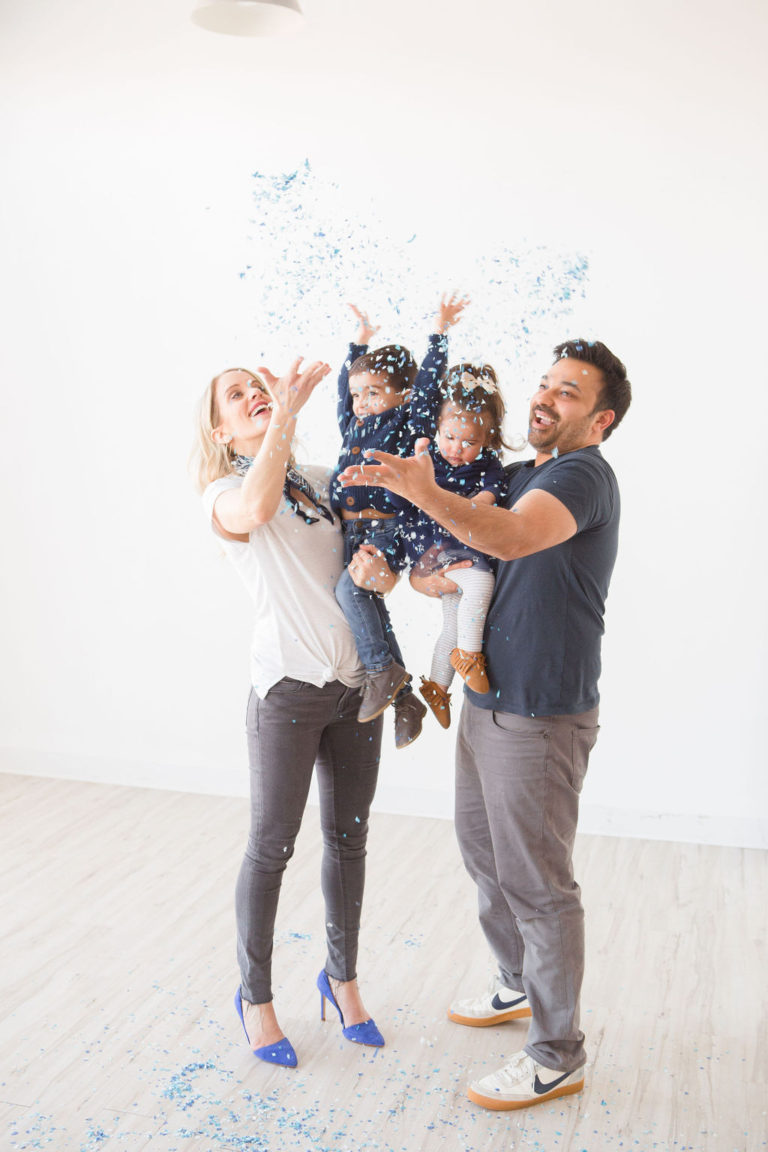 Thankfully Rishi was home when she called so we could hear it together. 🙂
When Erica Loeks reached out and asked if she could photograph our family, we thought doing a few gender reveal photos would be a fun way to document this last baby!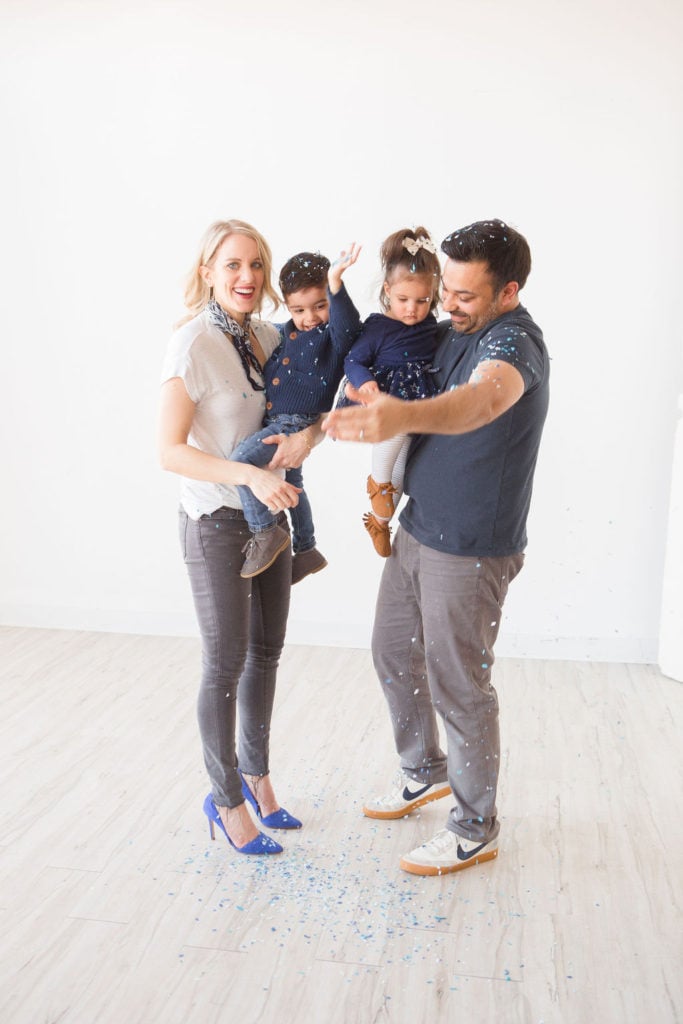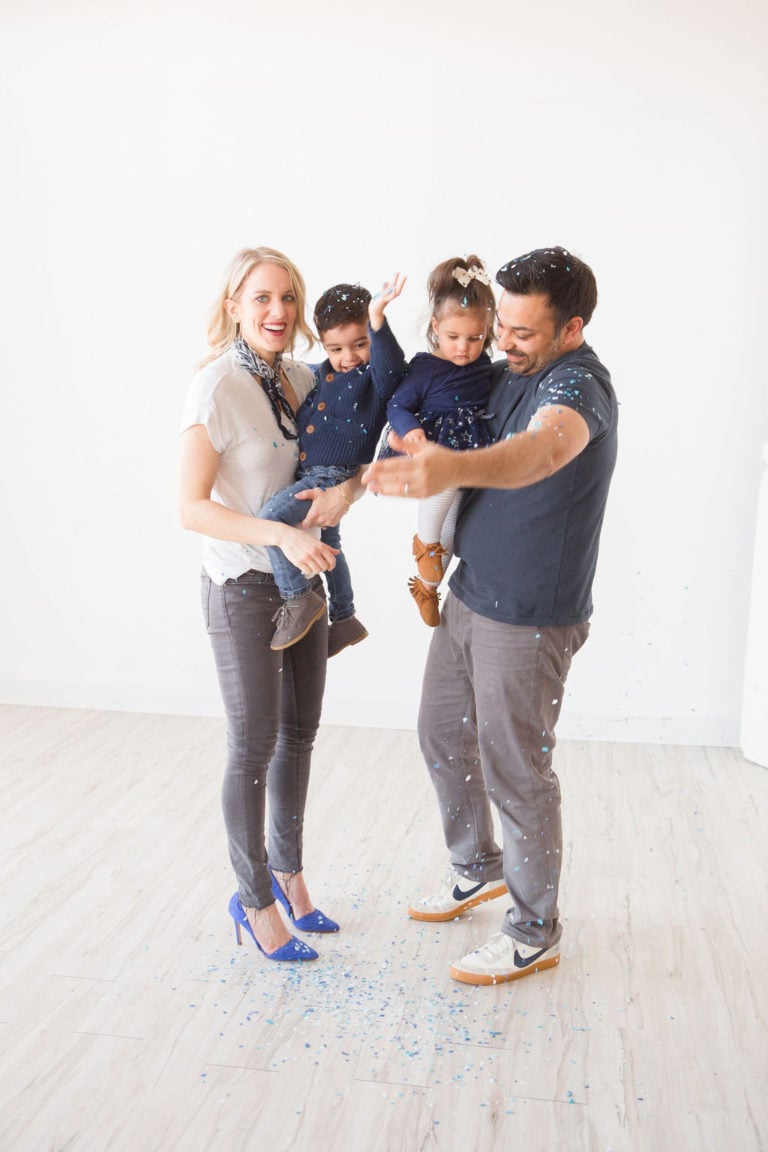 I immediately knew I wanted Leonetti Confetti to supply all of the confetti for it too. Leonetti Confetti hires women in recovery to create experiences of full circle joy!
Their specialty is beautiful confetti for all celebratory occasions! And they think there's no cause worth celebrating more than women rising from the ashes of addiction and into a fresh start, their new life.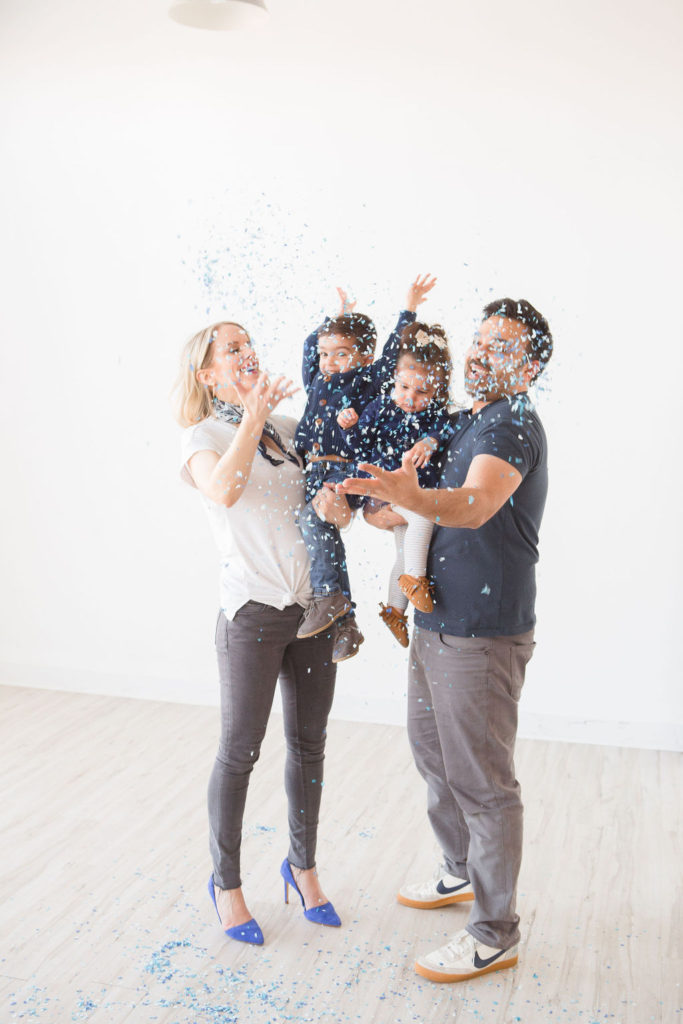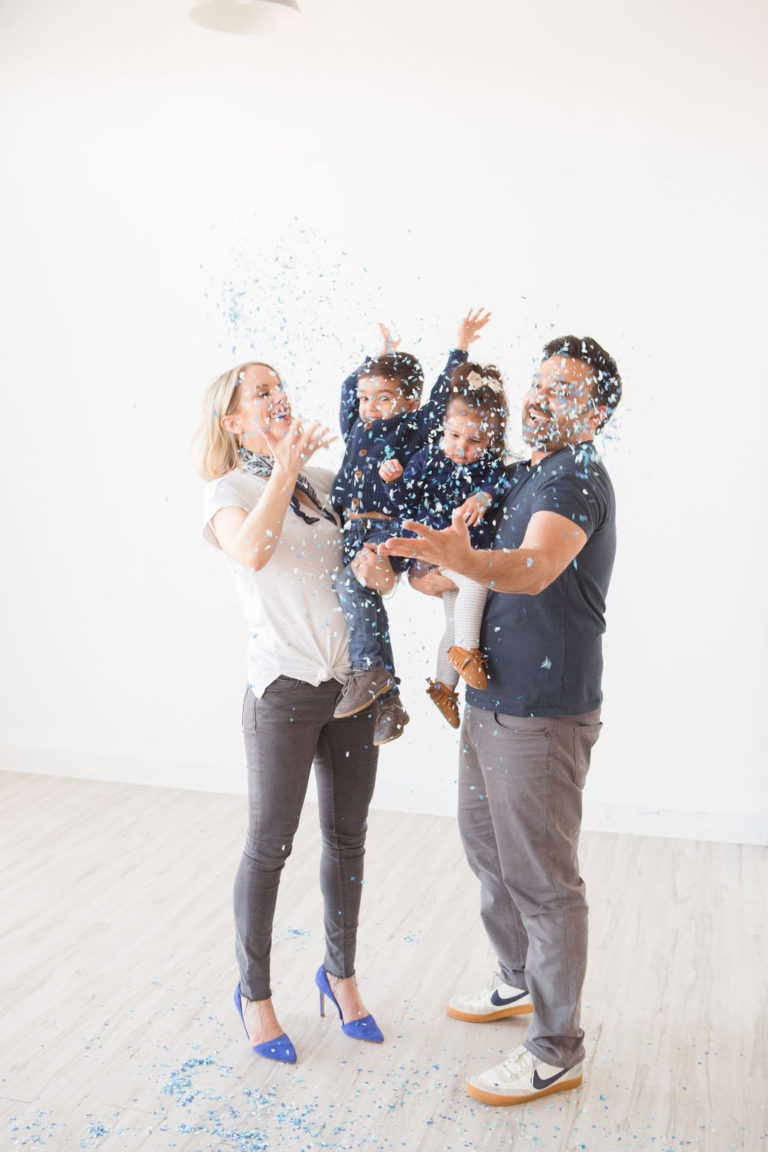 They partner with Wayside Recovery Center to be of service to these women. I love what they say about their partnership:
"By providing valuable employment experience, accountability, and some extra cash we think of our company as a bridge for women leaving addiction to cross into their new, sober lives."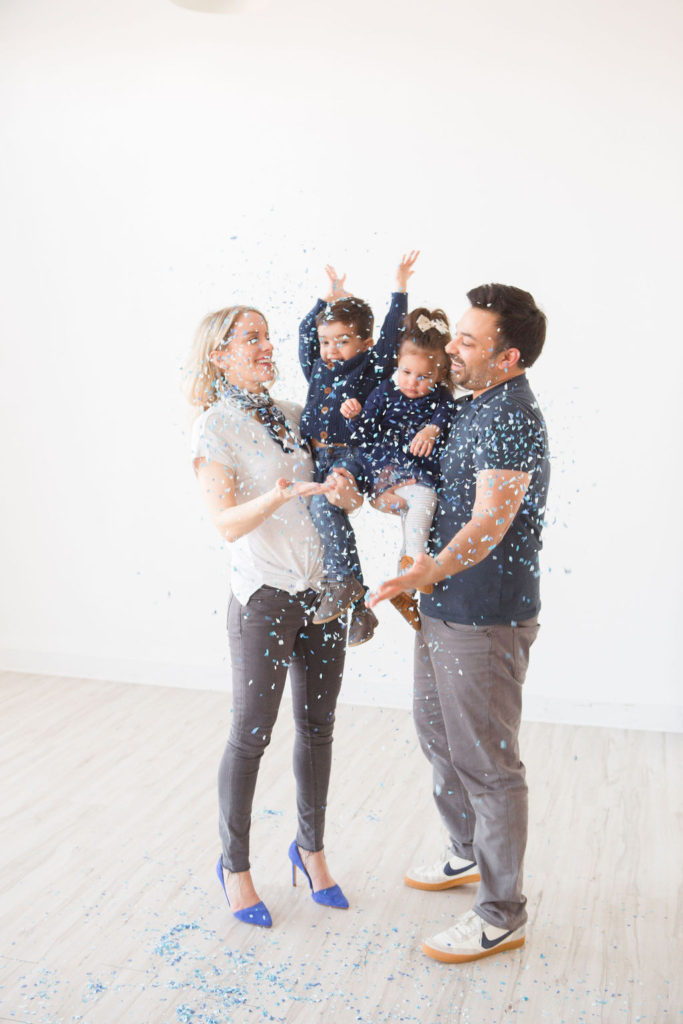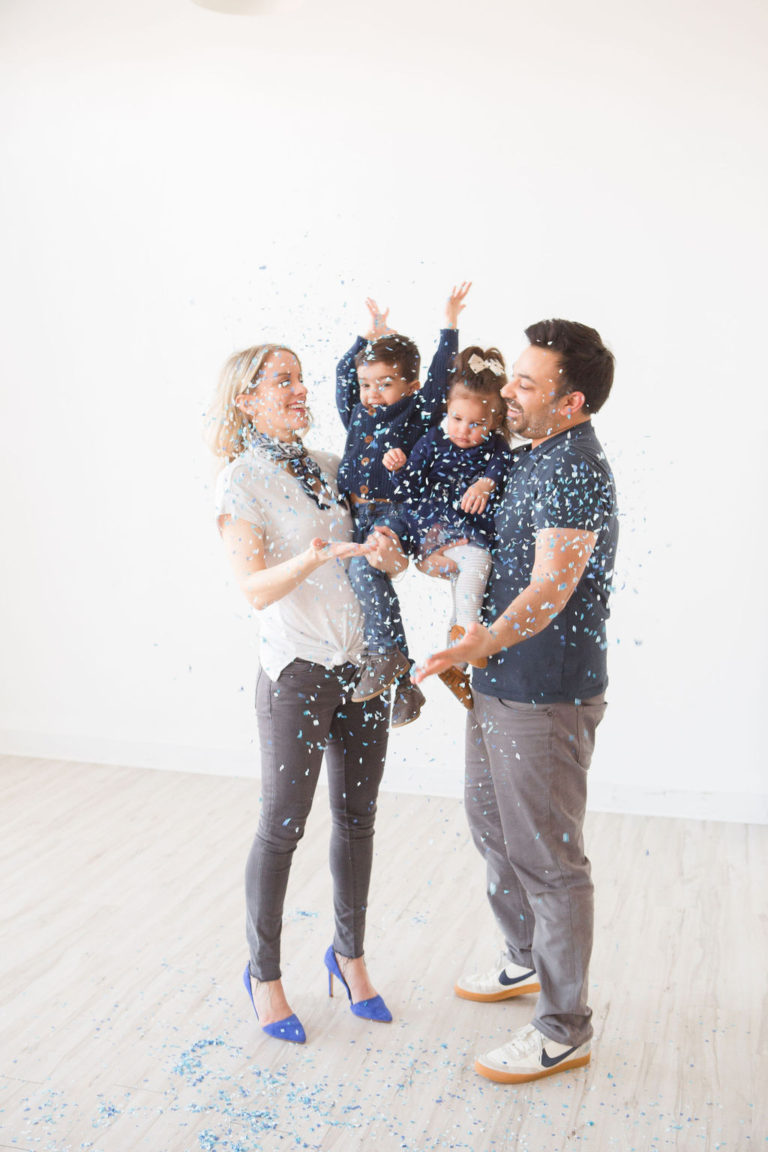 Since we didn't do anything big for our first two it's really fun to have this documented! (And see how excited P is about having another brother haha!)
Now on to start planning out his nursery!! I'm kinda thinking plant themed or safari or who knows!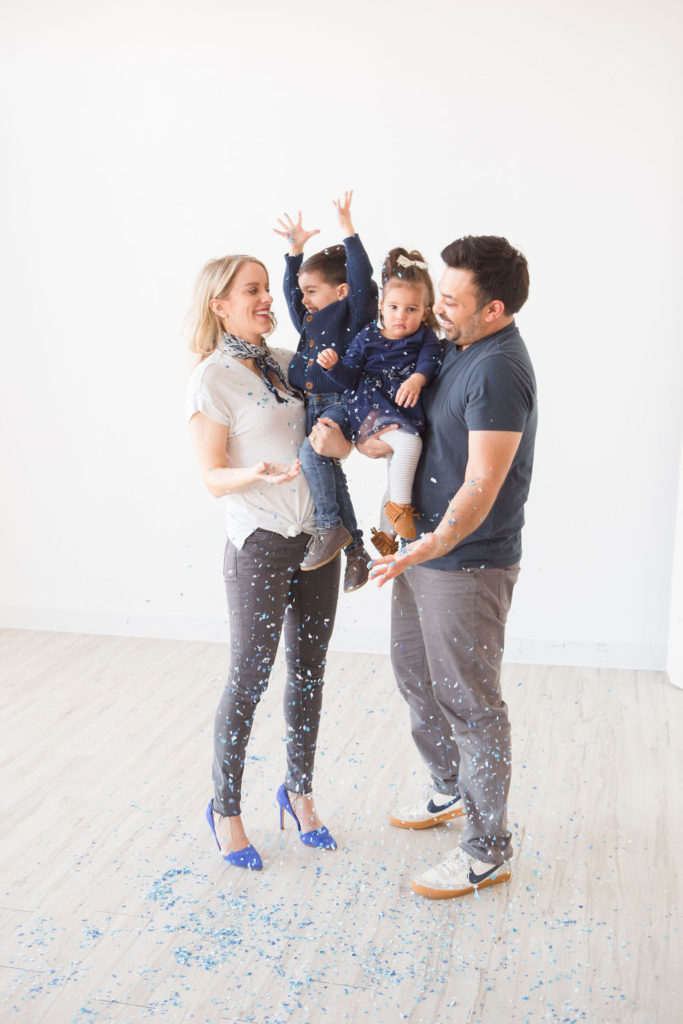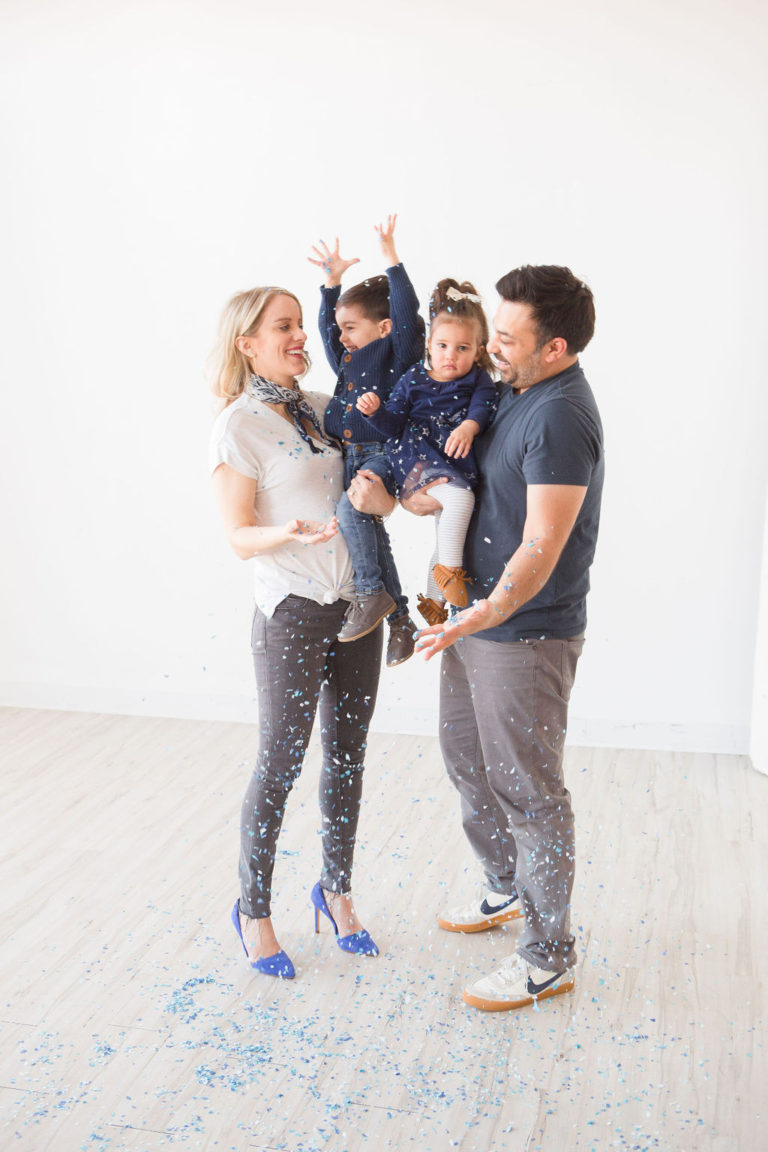 I just need to convince Rishi to help me install not just one but 3 wallpaper accent walls! (We're doing baby boy's nursery, Peneleope's new room and the soon-to-playroom!) Wish me luck.
Big thanks to Erica Loeks Photography for all of the photos!