In case you missed the news, we're moving! Even though our move is only a mile down the road, we still want to do our very best to prepare our kids for this big transition. If you find yourself in a similar situation, here's a few tips for moving with a toddler.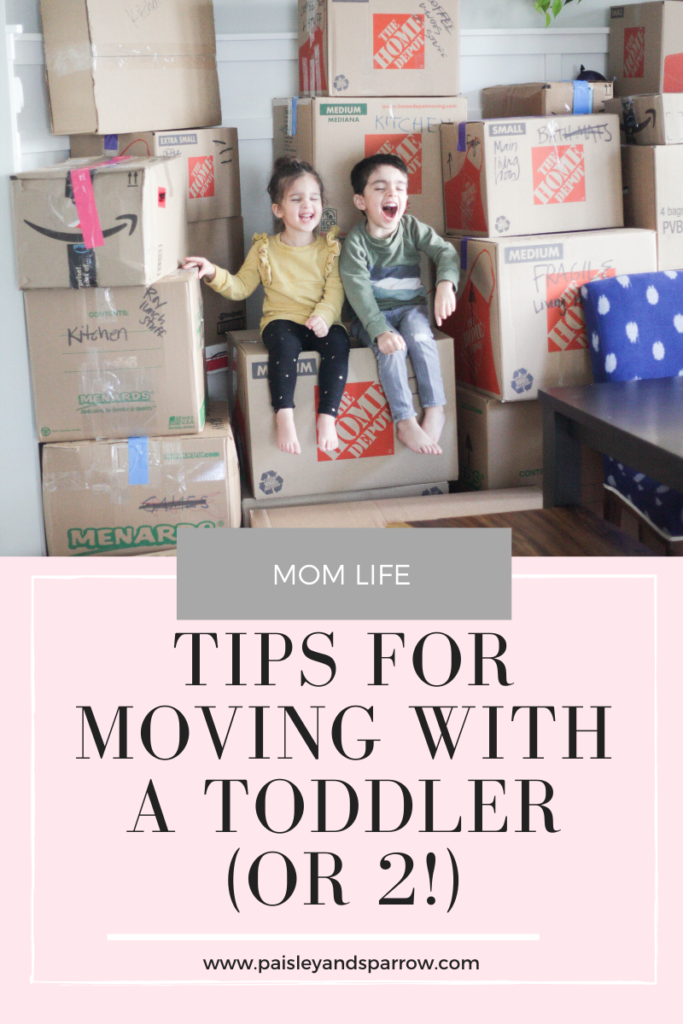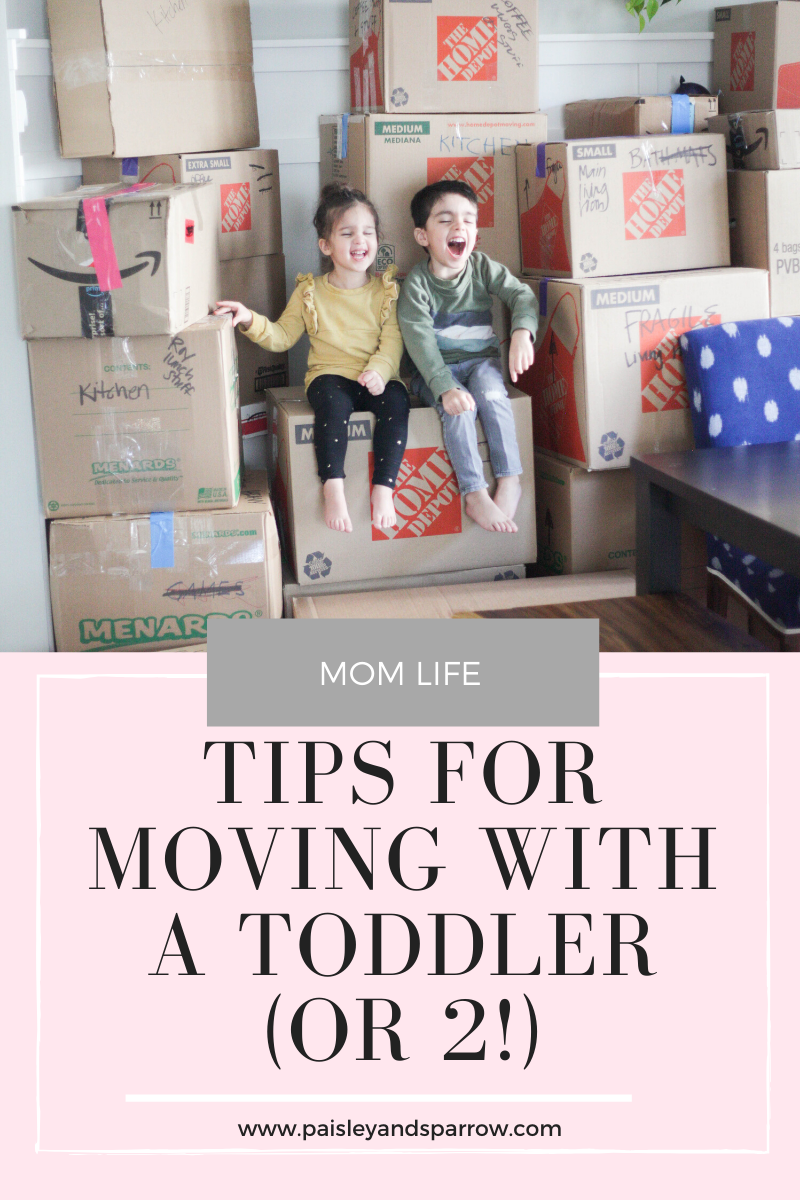 Our kids are currently 3 years old, 2 years old and 6 months old so we not only get one but TWO toddlers to experience with this AND a baby so you can bet I'm learning a ton from this experience.
The last time my husband and I moved was when we bought our current house right before our wedding. Moving one person out of a small condo is much easier than moving 5 people out of a 5 bedroom home. 😉
One thing I'm very aware of this time around is helping our kids with the transition, especially our 3 year old. New things aren't always the easiest for him and he needs a lot of time prepping for something new.
Because of that, I've worked alongside his teachers and the parent educator at his school to come up with some tips on making the transition as seamless as possible.
Tips for Moving with A Toddler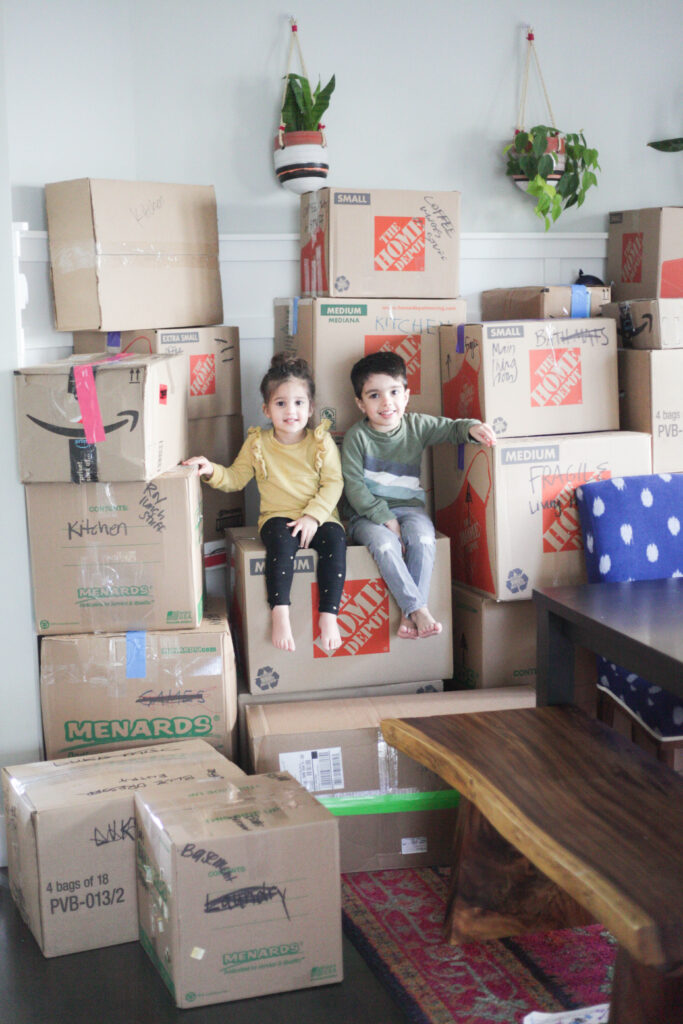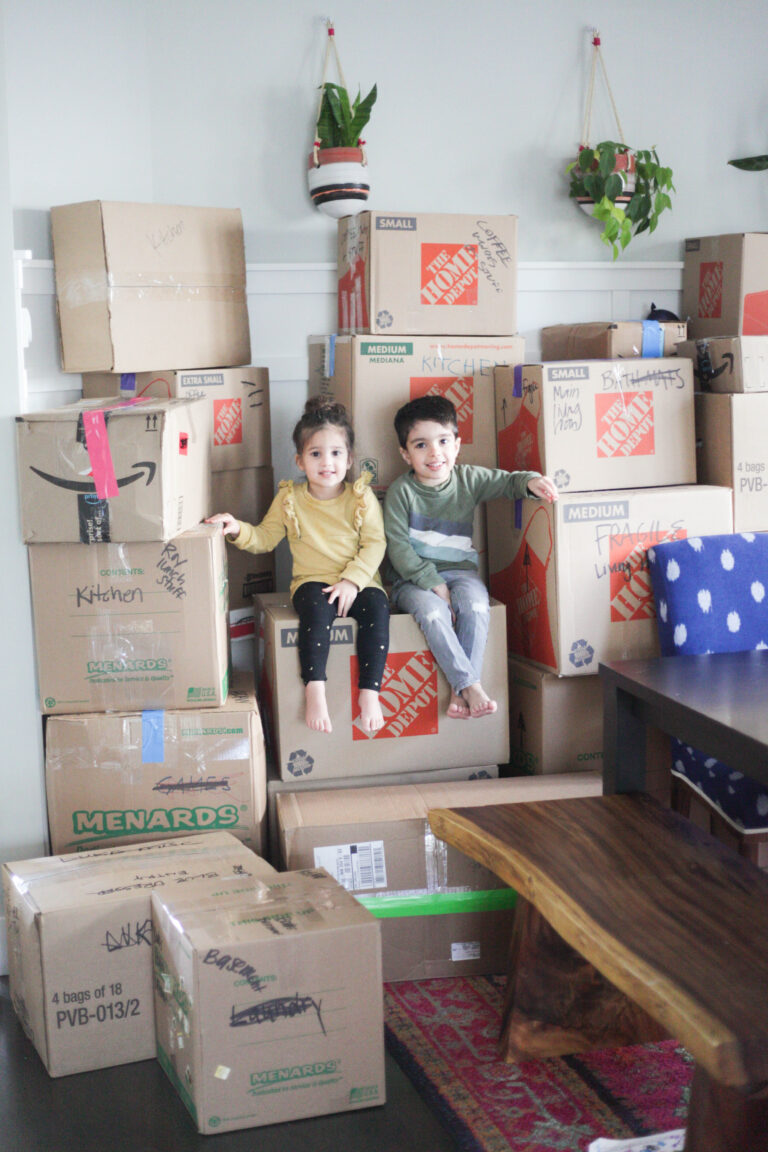 1. Keep Their Routine the Same
This has been a bit difficult for us given the current state but if at all possible, keep sending your kids to school, daycare etc., have the same nap schedule and bedtime and do the things you would normally do.
I've even had friends suggest send your kids to school the morning of your move and pick them up and bring them to the new house if that's an option!
Many kids thrive on routine and keeping things more or less the same will be helpful during this transition.
2. Involve Kids in the Moving Process
Give your kids a box to pack themself! Maybe it's full of their special toys or favorite art supplies but get them part of the process.
Roy has had some fear that we'll forget some things so I let him pack up his play kitchen while I packed up our kitchen. Any box that has his items in it, I label it nice in big with "ROY" and whatever is inside so he can see his name and I can remind him of what's inside.
We also have a special backpack ready that he'll use for the day we move. Our kids will be staying at my sisters the day of the move but we will be filling his backpack with his favorite things to keep with him.
3. Plan Out Their Room
This suggestion came from an amazing resource I have through Becky Danielson who is a parent educator. She said to draw out their room on a piece of paper and put things you know you want places on the drawing (bed, dresser, etc).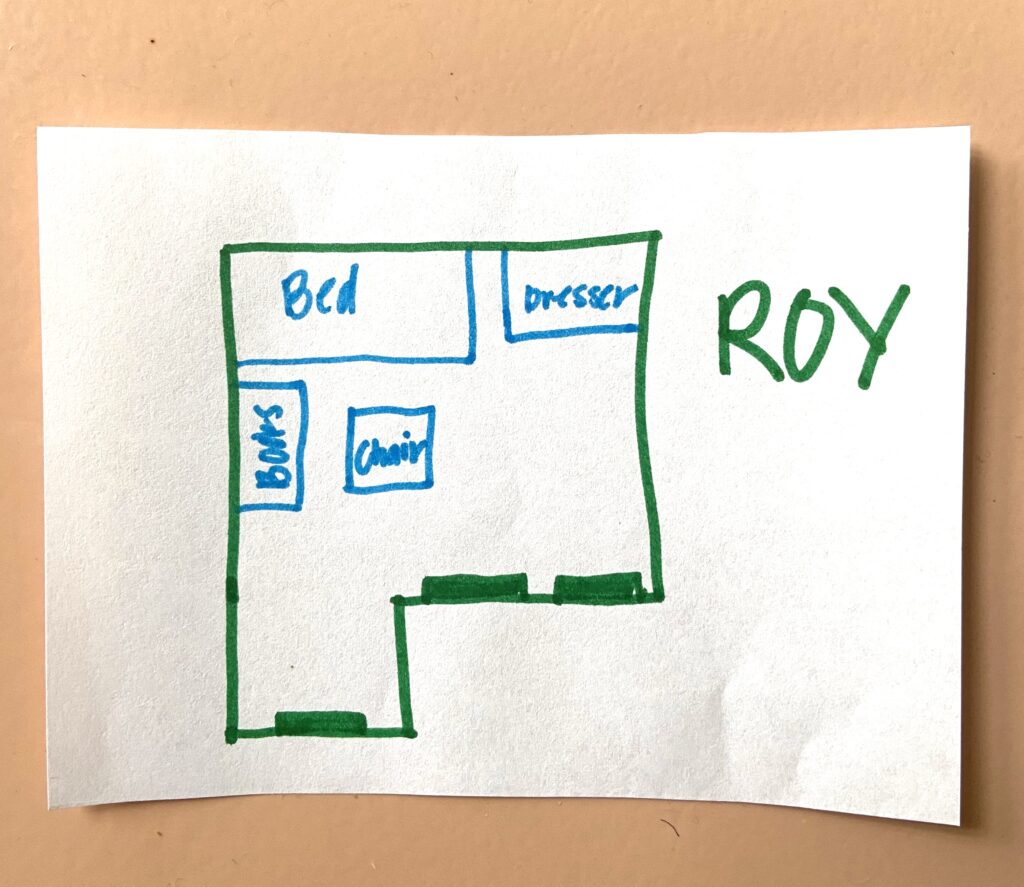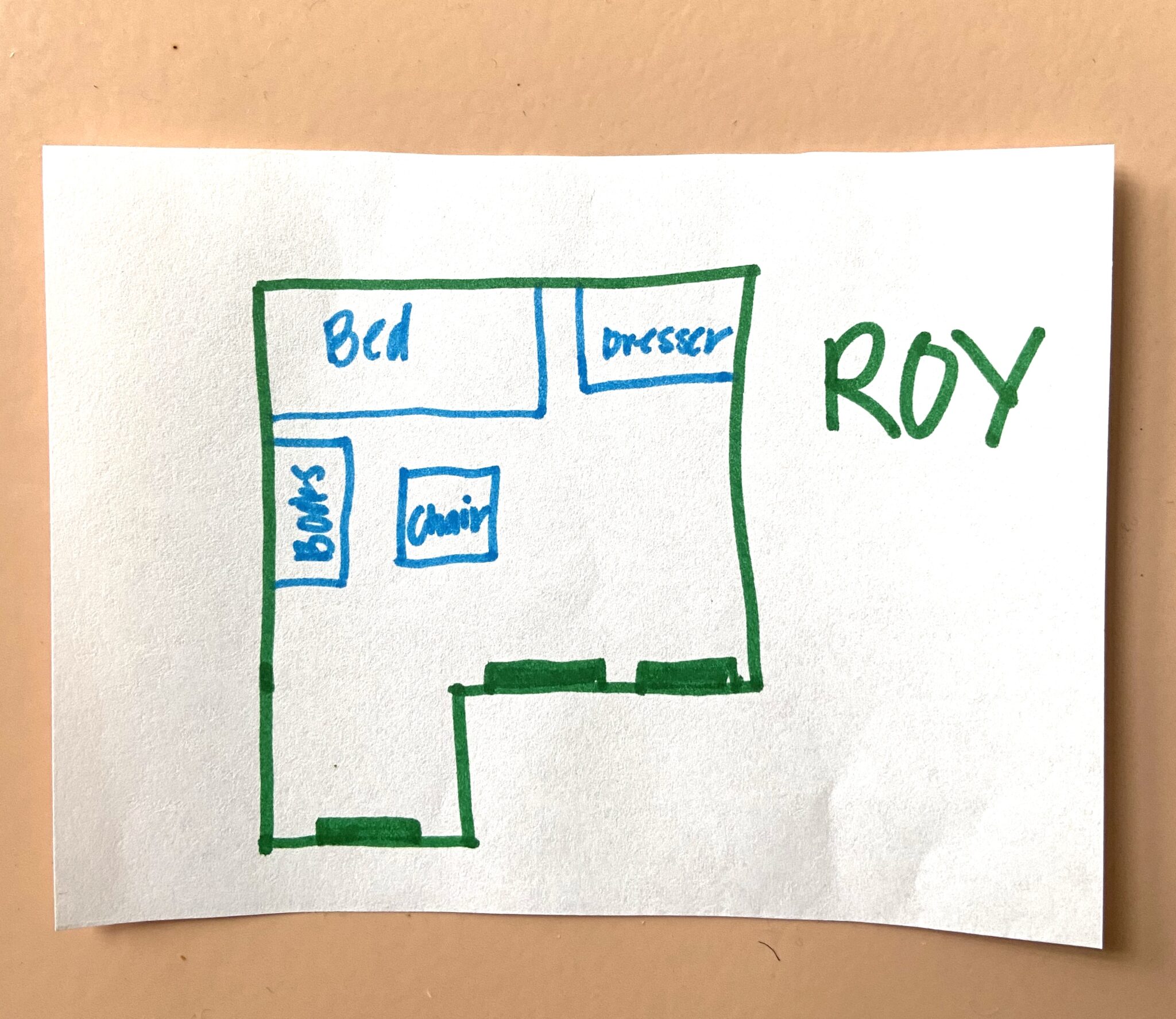 Then let them decide where things go! Do they want a piece of art somewhere? Let them decide!
Have a special chair to read in? Where would they like it?
Then when you get to the new house you can pull out their "map" and let them put their items where they wanted them!
*Bonus tip – this will give them some good independent play in their new room which will help the first night go smoother.
4. Read Books About Moving
I've always found books are super helpful in explaining things to our kids. It's just another way for them to try to understand a new concept!
Here are a few book ideas for toddlers:
We bought these books and it's been so helpful for us in talking about moving.
The kids love the books and want to read them over and over which has allowed us to have lots of conversations about fears and excitements with related to moving.
5. Visit Your New Home
I know this isn't always possible, especially if the move is out of state, but if it is possible, bring the kids with you to the new house!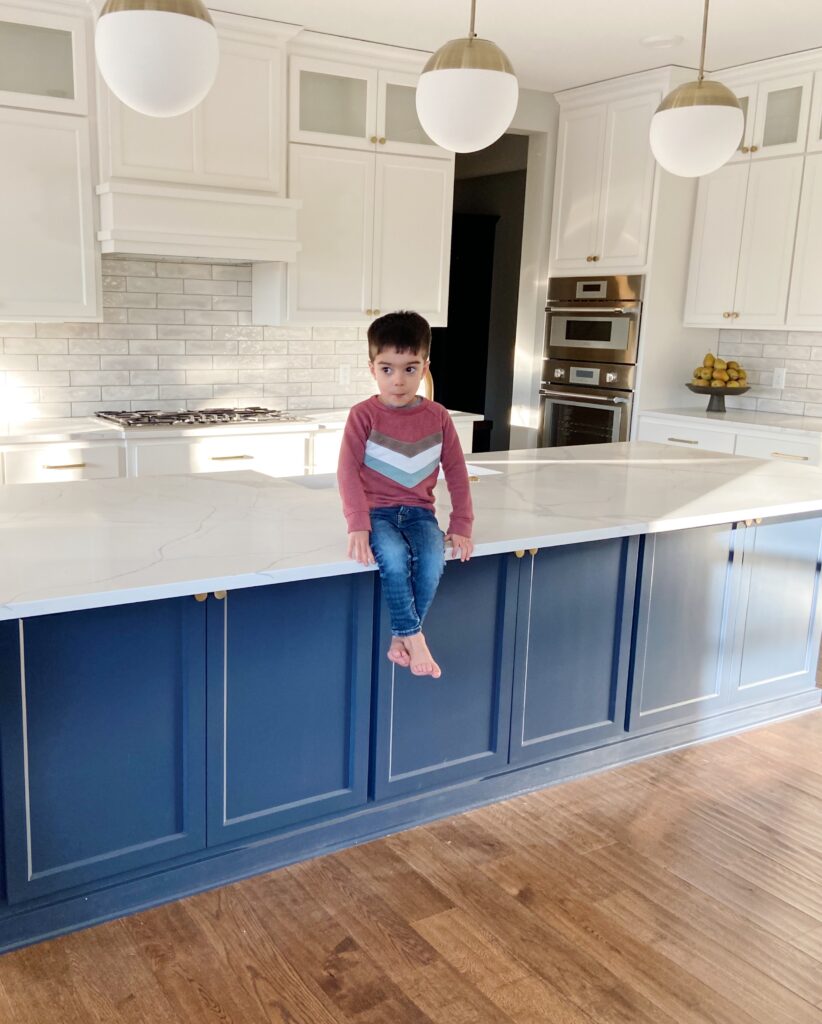 We're very lucky that our new home is a mile away from our current home and there's nobody living in there right now. Because of that, it's been fairly easy to bring the kids there a few times to help them get used to it.
If this isn't your case or you're moving out of state, get creative! Show them all the photos from the listing or take a video when you or your realtor visits the home.
Show them the neighborhood on google maps and look for parks, trails or other fun places to explore once you move.
6. Plan a Fun Family Night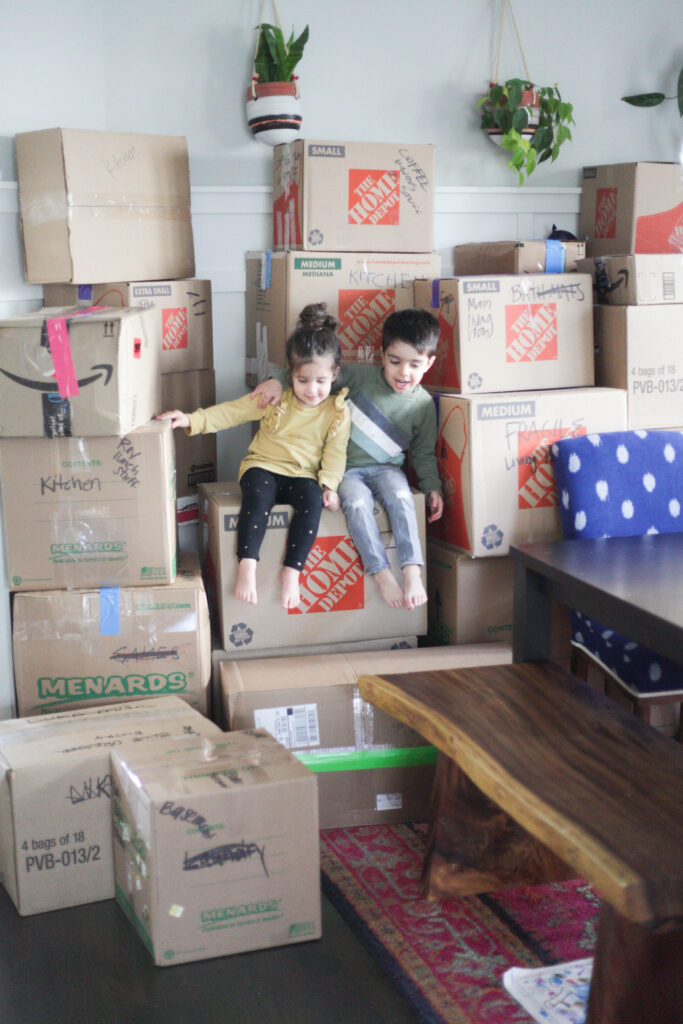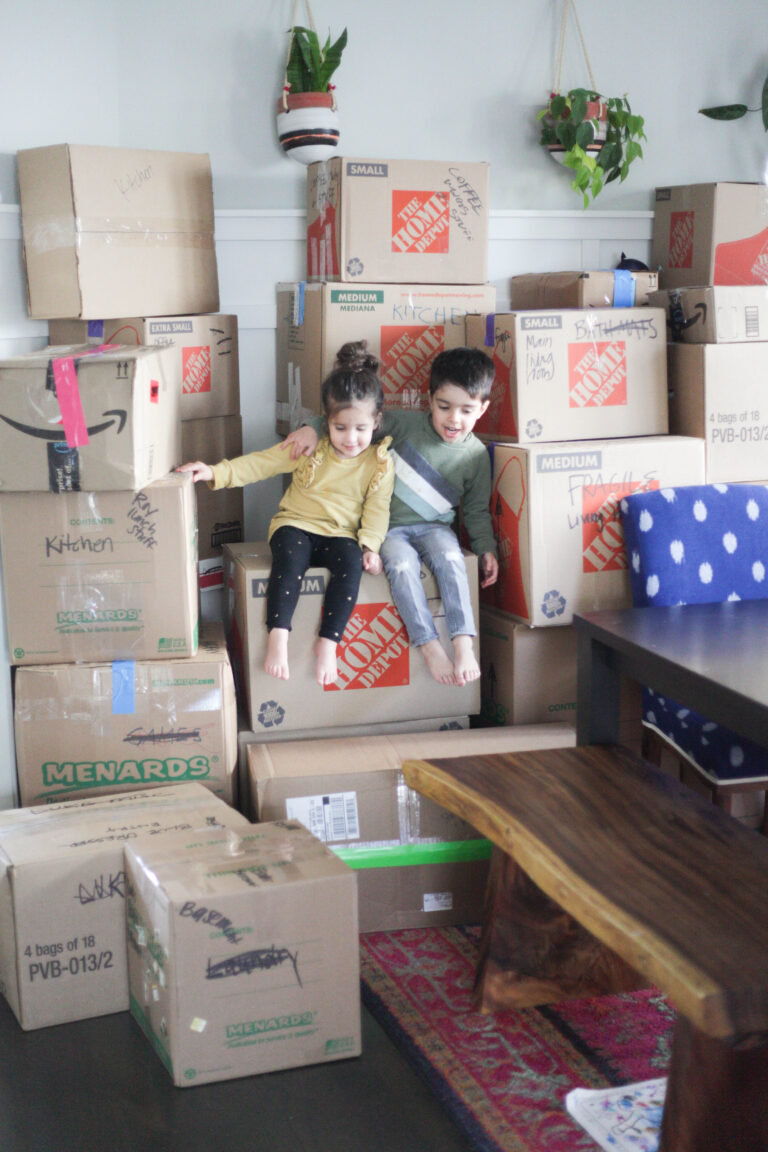 Plan a fun family night for the first night in your new home! Maybe it's a movie night with popcorn and special snacks or a pizza picnic in the backyard (or on a blanket inside!).
Plan something extra special to do that first night together as a family.
7. Have a Special Treat Ready
Celebrate this fun (and also nerve-wrecking) time with something your kids love! Maybe it's new pajamas (I bought the kids some Mickey Mouse and Minnie Mouse pjs from Amazon) and a fun new book for bedtime, their favorite treat for a snack or a new toy to play with (while you unpack!).
Regardless of what you choose, pick something that will help your kids be excited about this new chapter and new space.
Overall this is a super exciting time for your family! Have a little more patience and grace with your little ones while they navigate this transition and try to make the experience a positive one, even through all of the stress!
Hope these tips for moving with a toddler help you on your next big move!