Monday marks the start of the Paisley + Sparrow Outfit Party (aka #PSoutfitparty)!
What is the Paisley + Sparrow Outfit Party, you ask? Allow me to explain.
A couple weeks ago, I shared my FREE Fall Style Guide with 32 outfits for fall included in it. My hope for this guide is to inspire you to look at your clothes differently and try some new things!
You can find the guide and all the details on the guide on this 32 Fall Outfits for 2018 post. Because I know it's so easy to get a guide and let it end up at the bottom of your emails with good intentions of doing something with it but not actually acting on it, I wanted to put together a fun week of trying new outfits!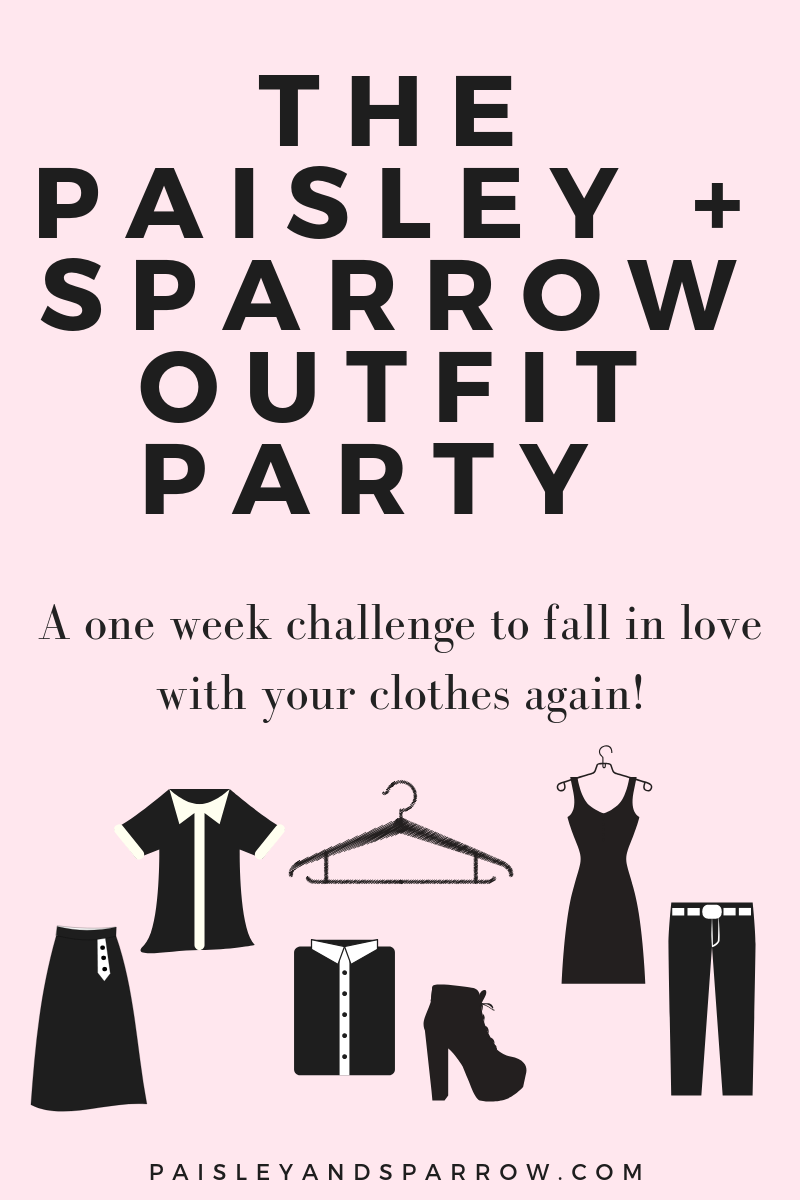 The Paisley + Sparrow Outfit Party!
Starting MONDAY, November 5th, I want you to try one of the outfits from the guide and share it on social media. Do an Instagram post, share it on your stories, post it on Facebook, whatever you want!
Be sure to tag me @paisleyandsparrow and use the hashtag #PSoutfitparty (just a note, if your account is private, I won't be able to see it so if you want a chance at winning one of the prizes for the week, make sure to make your account public at least for the week!). I will be choosing a handful of winners throughout the week to win a few prizes.
What are the prizes?
Well, I've had 3 amazing companies come forward to ask if they could donate things for the #PSoutfitparty!!! How fun!!
First up is Fair Anita. Fair Anita has amazing fair trade accessories that I LOVE. They're a local MN company who works with hundreds of women all over the world. They sent over a few different pieces of jewelry for me to giveaway!
Next up is Lissa and Nate. They're giving away my absolute favorite necklace and bracelet set that I wear almost daily – the DOTTIE!!! Y'all are going to want this one!
And 3rd is Taylor from Greens & Chocolate who is giving away one of her brand new 30 Minute Cooking for Two cookbooks!! You guys know I'm not a cook at all but she just sent this over to me and the recipes are so easy and an added bonus is they're healthy!! This cookbook is perfect for master cooks who need a simple weeknight dinner or for new cooks (like me!) who need simple yet delicious recipes to try out.
I will also personally be buying a few things (a Starbucks gift card and Mend Jewelry necklace) to giveaway as well!
FAQ
1. Do I have to recreate the outfit exactly?
No! You do you. If you hate leopard, don't wear leopard! You can interpret the outfits however you want. The best is if you can find new uses for things already in your closet!
2. I still don't have the style guide. How do I get it?
Mailchimp recently deleted 700 emails from my list so I sincerely apologize if yours was one of them! You'll need to sign up again (which you can do here). You'll be able to download the Style Guide right after signing up for the email list.
If you got my email on Monday it's also included on there. Any other issues just email me [email protected]!
3. How will you be picking winners?
It'll be totally random! You don't have to have the "best" outfit or the cutest picture – anything goes!
4. Do I have to participate every single day?
Nope! The more outfits you share, the more chances of winning. So feel free to share a couple outfits a day for the whole week or just one, that's up to you!
5. What if I don't have a good photo of my outfit?
It doesn't need to be professional by any means! Ask your significant other to snap a photo, do a mirror selfie, etc. Just figure out a way snap a photo of the outfit on you!
6. Why should I participate?
Because it's FUN! Or it should be at least!
So often I hear that putting outfits together is stressful or hard and I want to take the yuck away from it and make it easy. And sometimes it's so easy to just complain about something then to actually take a step into making it better.
If you keep saying "I have nothing to wear" every morning, you need to try this. If nothing else, it will make getting dressed easier for a week since you're literally just copying outfits I've created!
Join me!
I hope you all join in on all of the fun starting Monday! In the meantime, leave me a comment if you have any questions!
With love,
Jen