Are you Mondays full of chaos? Tired of feeling stressed out as you go to sleep each Sunday, dreading the next day? Want to learn how to be more productive? Let's chat through your Sunday Plan with 15 habits of productive people!
There are a few habits I've done every single Sunday that makes my week run so much smoother. And there are a few I've started doing as I've gotten married and had kids!
When there are more people in your home to tend to, the amount of chaos rises. These 15 habits will help take away the overwhelm of a new week and help you begin to look forward to Mondays and the start of something new.
One rule of thumb – some of these I do throughout the weekend so it's not all on one day. Just make sure you do them all by Sunday night!
Your Sunday Plan – 15 Habits of Productive People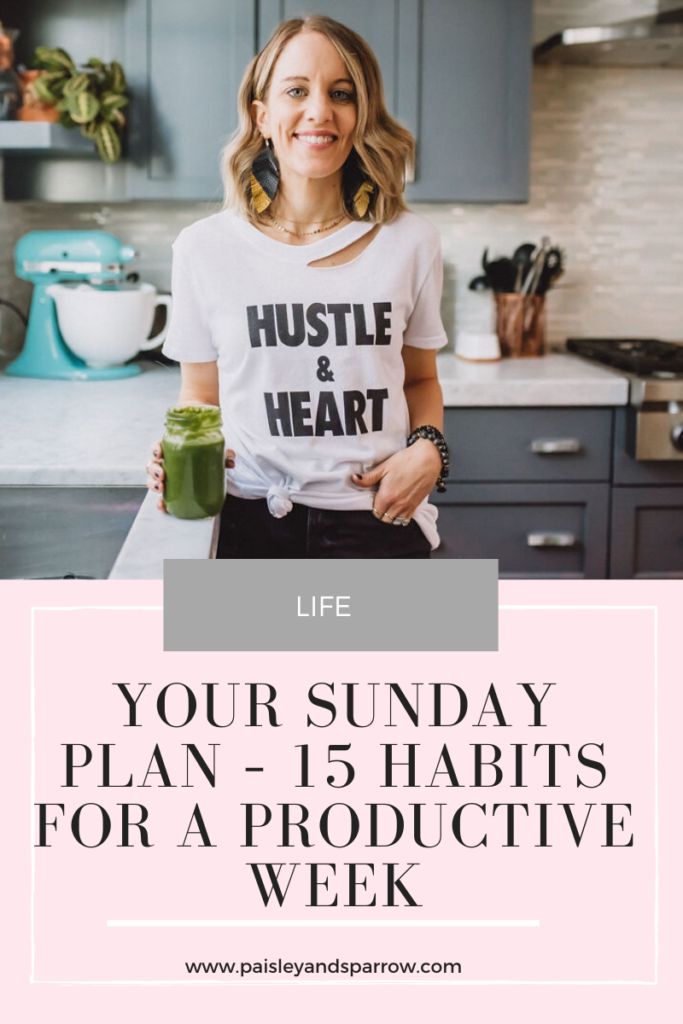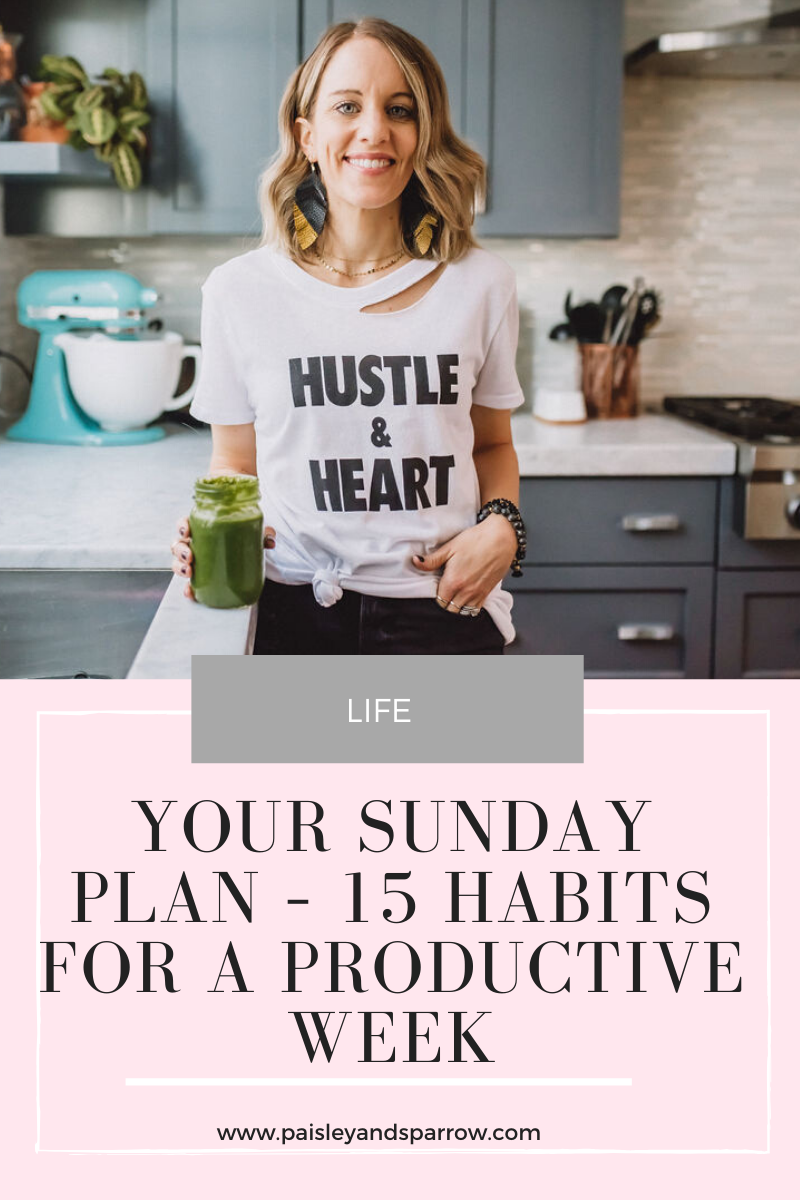 HOW TO BE MORE PRODUCTIVE AT HOME
1. Tidy up!
This is my number one thing I do each Sunday. I hate starting the week off with a disaster of a home so I always make sure I clear the clutter and clean up the house on Sundays. We try to run our "robot cleaner" aka our Roomba on Sundays while we're at church to get the main floor taken care of.
Make sure your most clutter filled spot (in our home it's our kitchen island) is clear of mail, kids' project and other odds and ends. I try to do this each night but it's especially important on Sundays.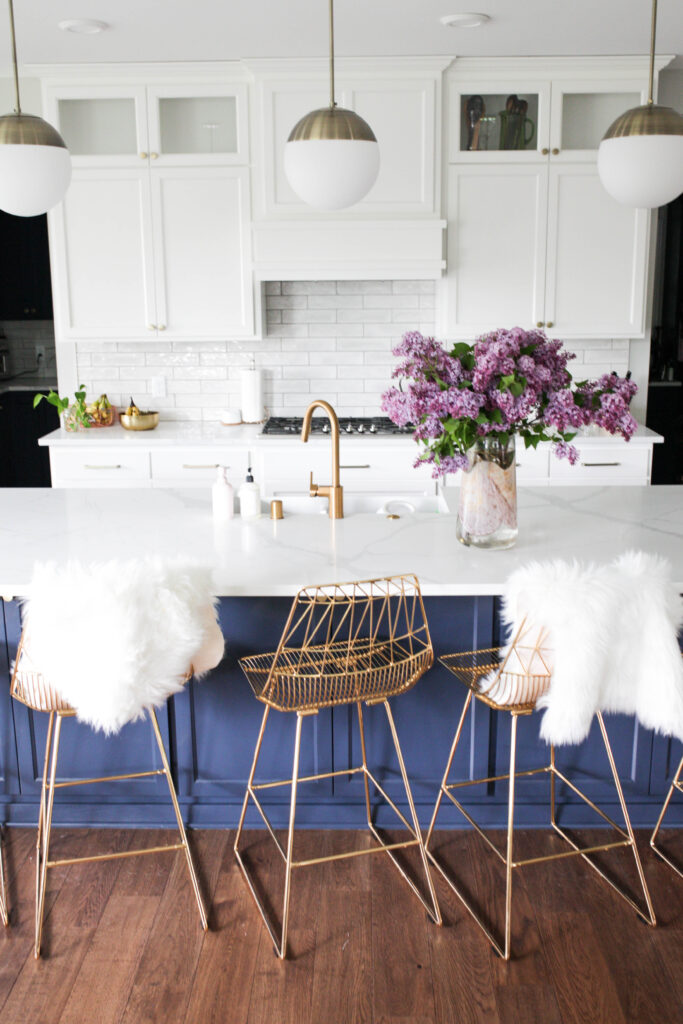 Wipe down counters, tables, etc to start the week off fresh. Tidying up looks different for every family and every home but do your best to end the weekend with a clean and organized home so you can start the week off with less stress.
Here are 5 Secrets to A Clean Home to help you with this one and make your Sunday tidying session a breeze!
2. Finish laundry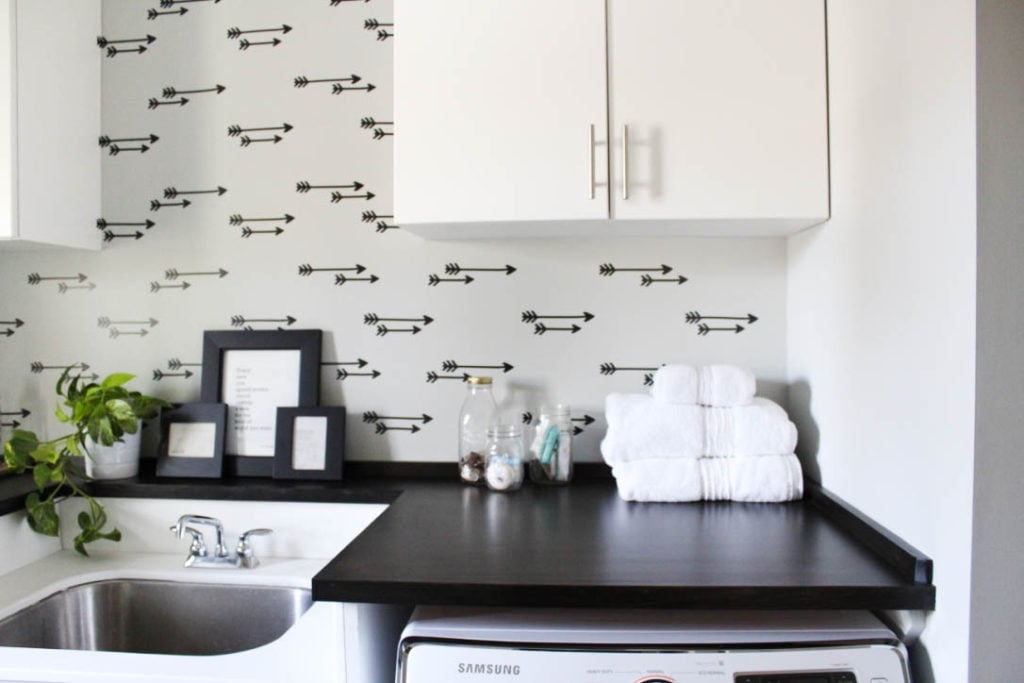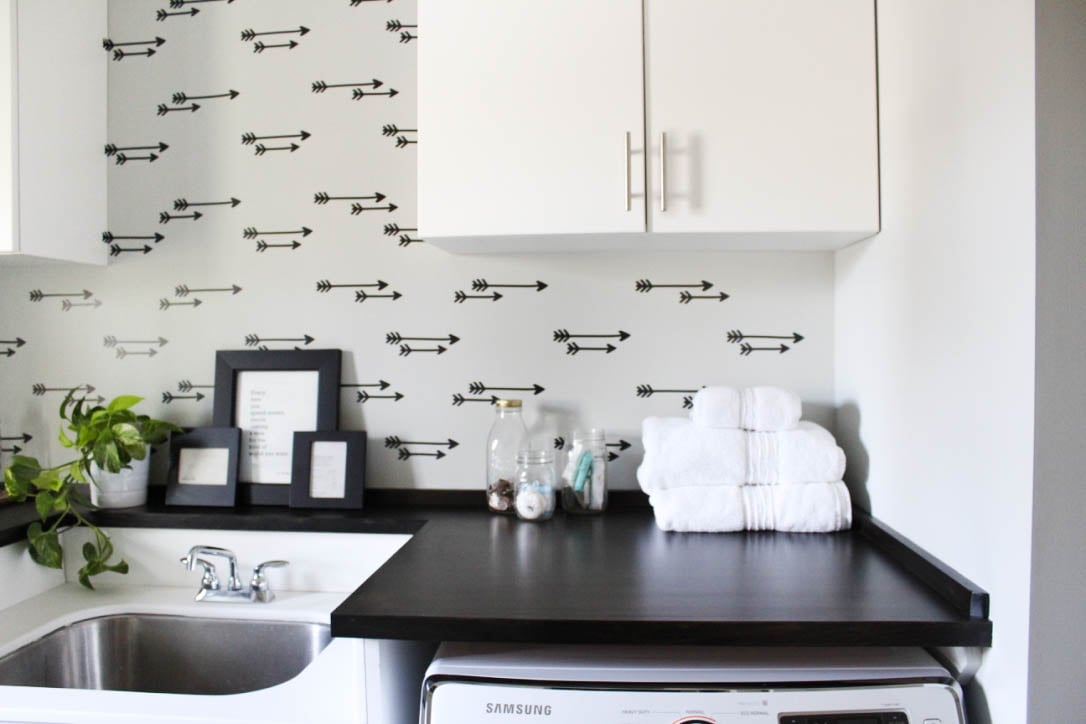 Is there anything more anyone than starting the week with a hamper full of clothes and no underwear clean? One thing I've gotten in the habit of is starting loads of laundry on Friday.
I'll admit, I'm the worst at getting clothes folded and put away, especially if we have a busy weekend or there's a ton of loads! Every Sunday I make sure all the laundry has been put away.
You can apply this by starting a load or two on Friday or Saturday and making sure everything is wrapped up by Sunday night!
3. Water plants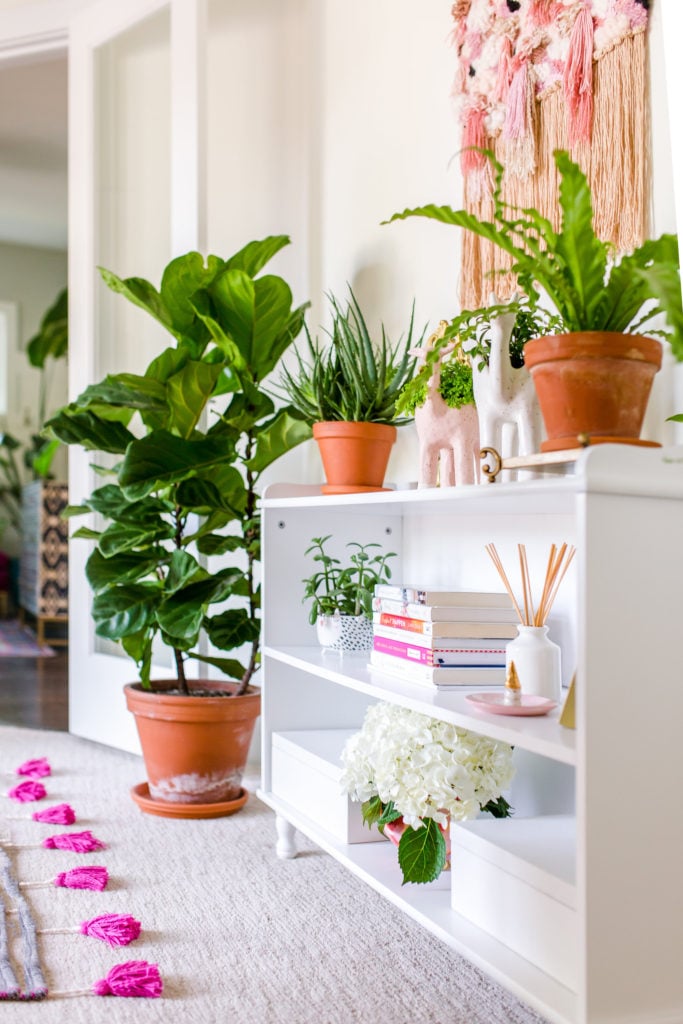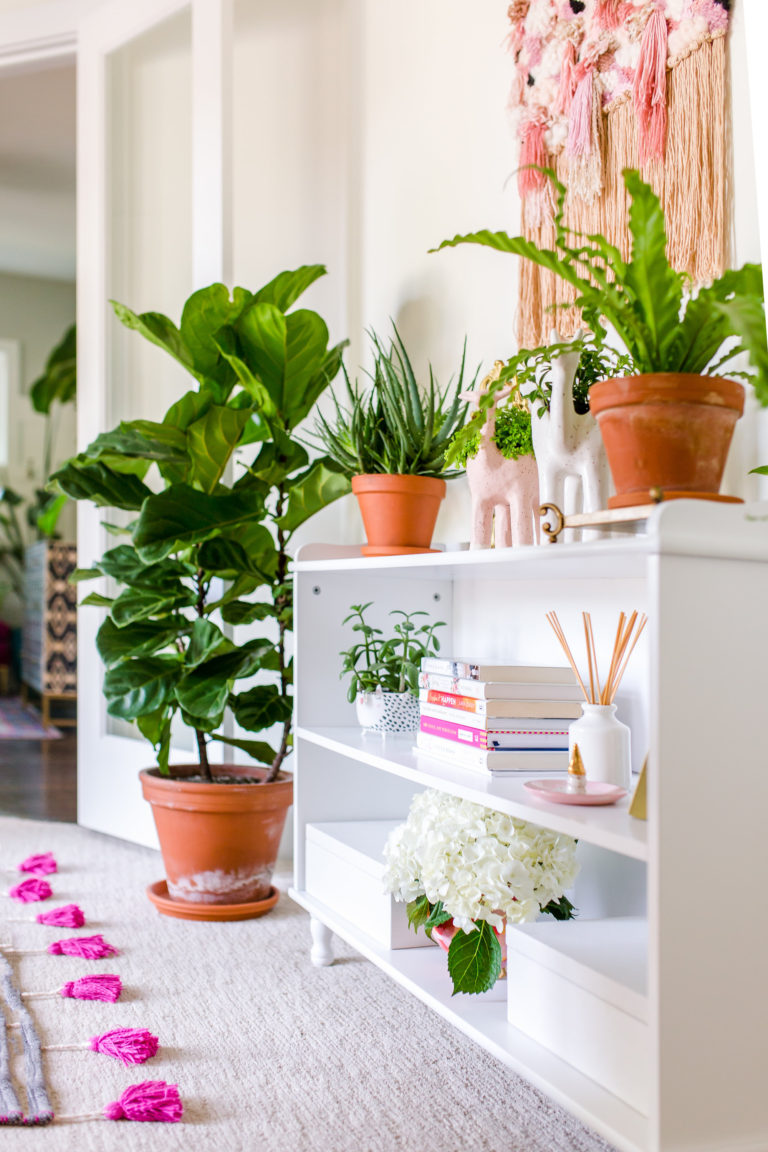 Have a set day to water your plants! No, not all of your plants will need to be watered every single Sunday but having a day dedicated to checking them all will not only be beneficial to your plants but it'll keep you from wondering when the last time you watered them was!
Some of my bigger plants or ones that need more water, I also check on Wednesdays. If any of your plants didn't need watering on Sunday you can check them mid-week!
New to plants? Here are 19 of the best indoor plants!
4. Prep your coffee
I'm not kidding about this one. When I'm not using our Nespresso machine, I prep my coffee and set my coffee pot's alarm every night but this is especially important for a Monday morning!
Check out my newest coffee maker – the OXO 8 Cup!
HOW TO BE MORE PRODUCTIVE WITH YOUR FAMILY
5. Check Your Calendar
Go through each day of the week with your spouse and kids (if applicable – my kids are too young for this still) and see what's on tap.
Is there dance class, soccer practice or a music recital? Is someone traveling? Date night?
Make sure everyone knows what's happening throughout the week so there's no surprises when you husband is gone for a work dinner or you don't have a sitter arriving for a date night.
6. Meal plan
This is one that I'm not great at but I'm getting better at. Meal plan!! After you go through your calendar and know what days will need meals planned for, plan them!
Pull out recipes, make alerts on your phone for when you need to pull meat out of freezers, etc and make a plan.
And yes, meal planning CAN consist of doing take out from Chipotle! 😉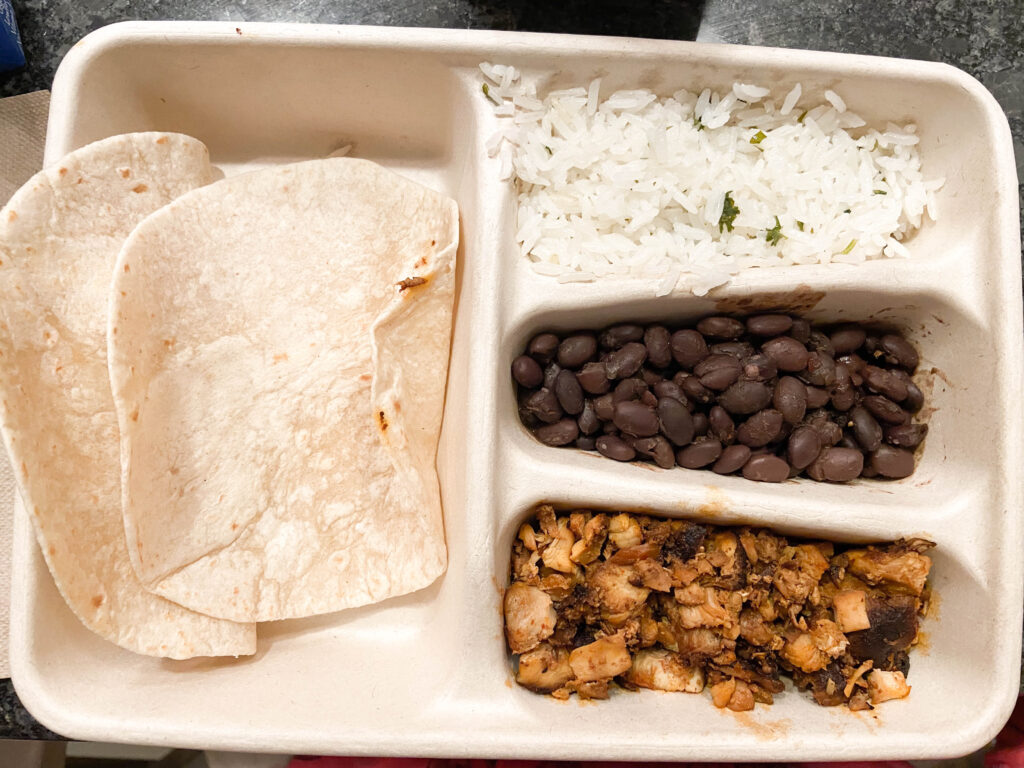 7. Grocery shop
I know some people like to do their grocery shopping Monday morning but if this isn't you, get it done on Sunday! If we don't have time to get to the grocery store, I'll place my order on Shipt to have it be delivered Monday morning.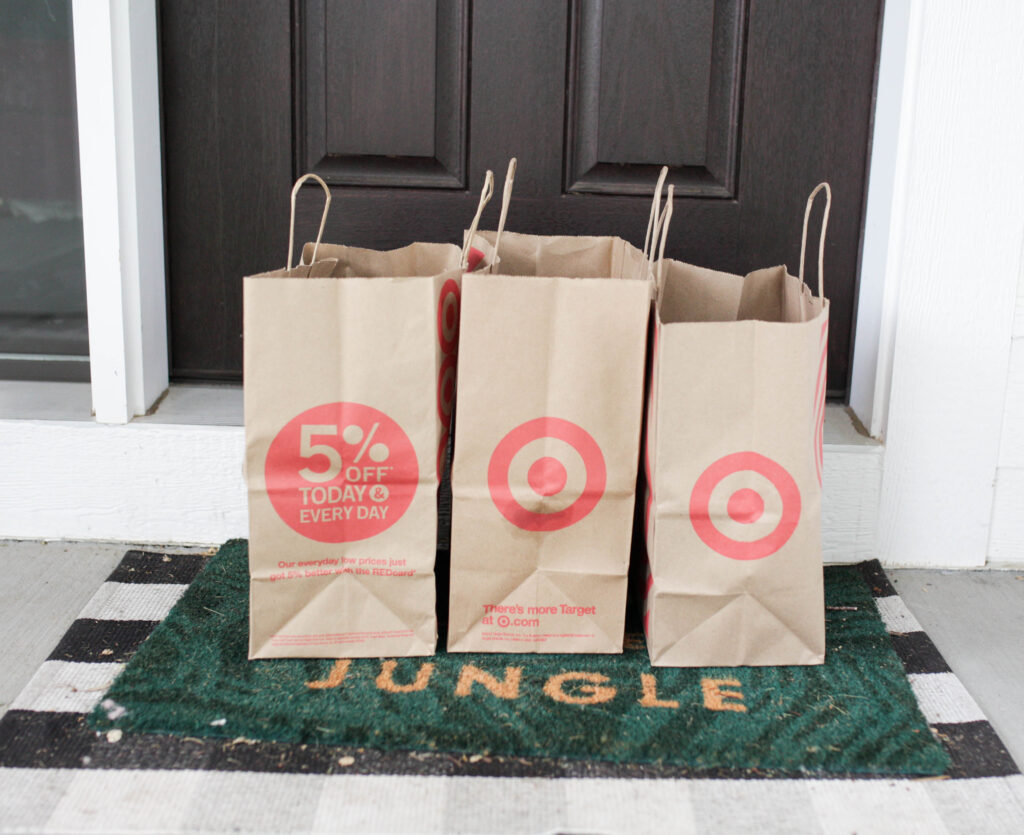 Personally I love having my groceries delivered using Shipt because it forces me to meal plan, I don't impulse buy and I'm able to save time by not having to do my own shopping. Especially if you have young kids, you should definitely try it!
8. Meal prep
Another thing I'm not good at but I'm getting better at doing! Prep those meals you just planned! Peel and chop vegetables, create marinades or do whatever prep work you can before the week begins.
We've gotten in the habit of making a triple batch of overnight oats for me and the kids for breakfast for the week and Rishi's even roasted a giant batch of vegetables for me to eat for lunch throughout the week. Do what you can to make the week easier!
9. Stock diaper bag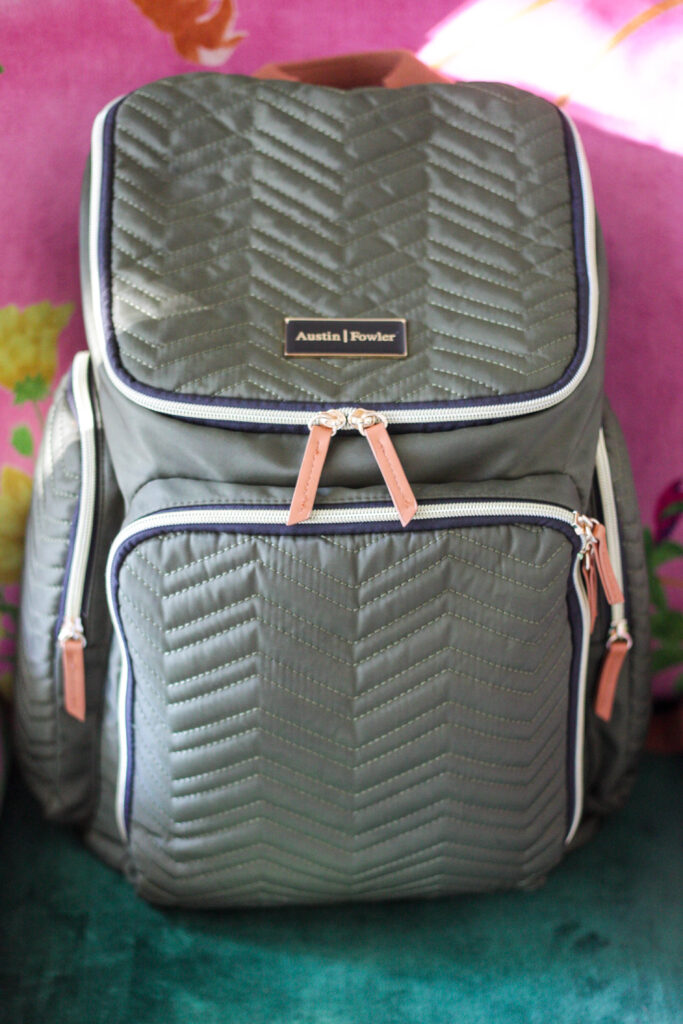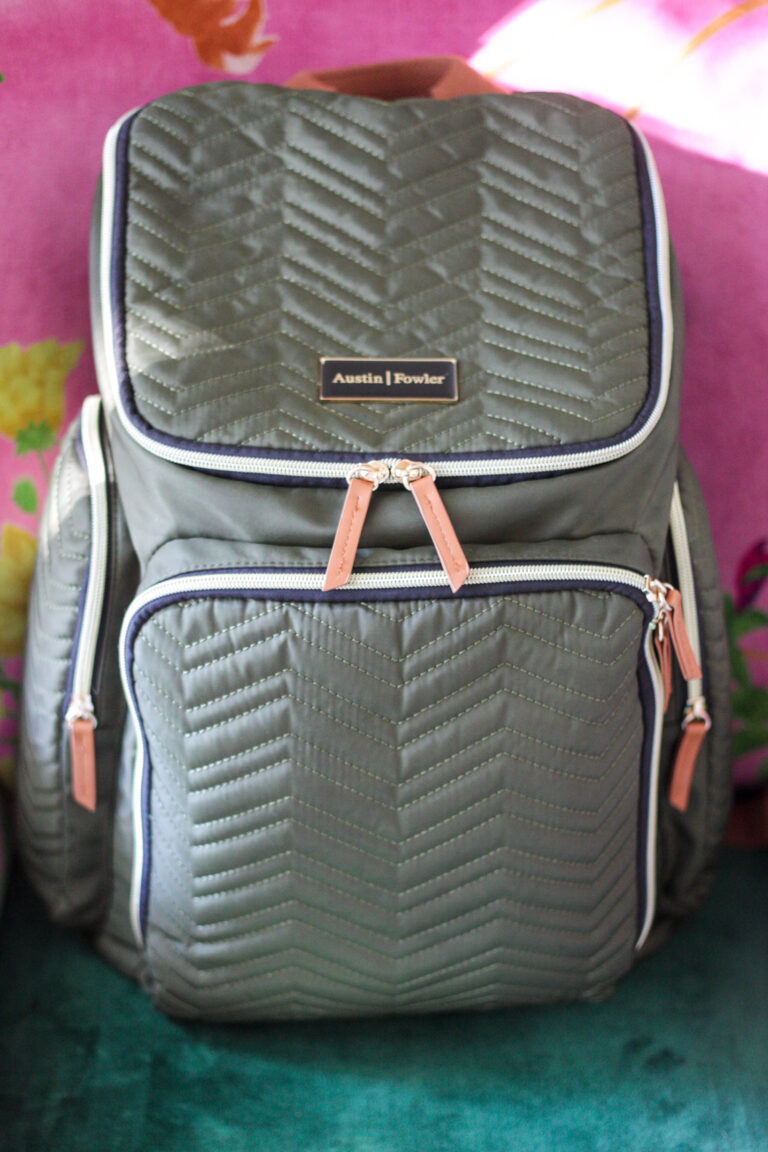 Still carrying a diaper bag? Every Sunday, take everything out of it, clean it out and restock it. Make sure there's a good amount of diapers and wipes. Replenish snacks. Clear out any garbage.
You'll be so happy you did the next time you grab it knowing it's fully stocked and ready for the day!
Check out my Diaper Bag Checklist post or my Austin Fowler backpack review here!
10. Restock diaper stations
If you have kids in diapers, replenish those diaper stations! We have a baskset of diapers and wipes in the living room, a basket of Penelope's diapers in her room and a drawer of both kids diapers in Miles' room.
Make sure each area is full of diapers, wipes, creams, etc so you're not scrambling with a dirty diaper and no fresh one!
11. Prep for school
Go through your kids' backpacks and papers, making sure homework is done, backpacks have what they need and your kids are ready for the week. If your kids bring a lunch, prep for that as much as possible to make for an easier morning!
HOW TO BE MORE PRODUCTIVE WITH YOURSELF
12. Plan your workouts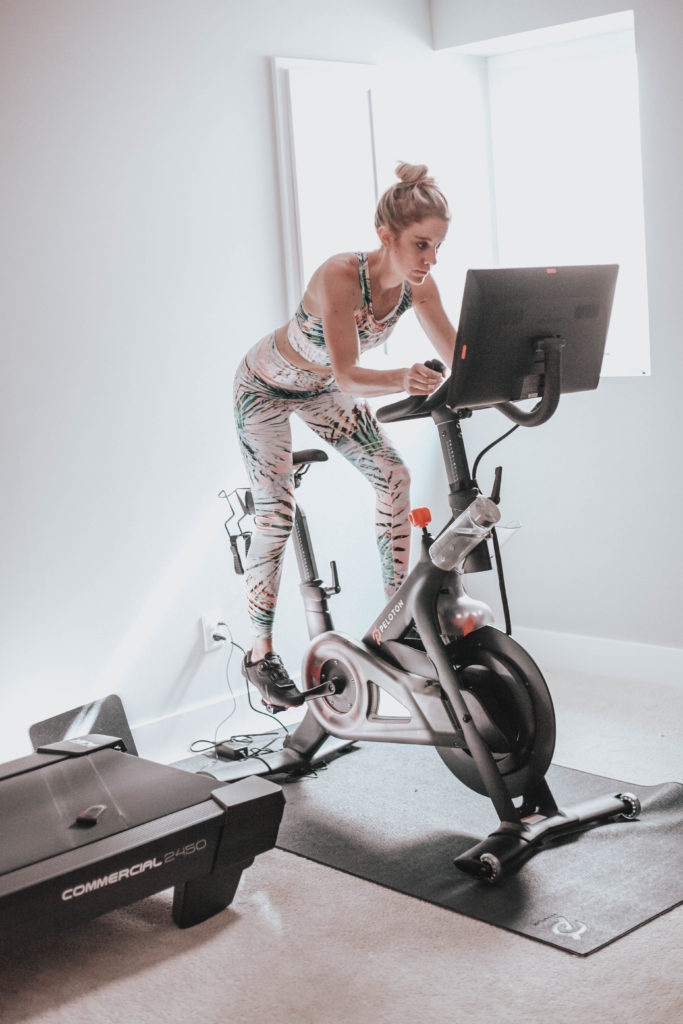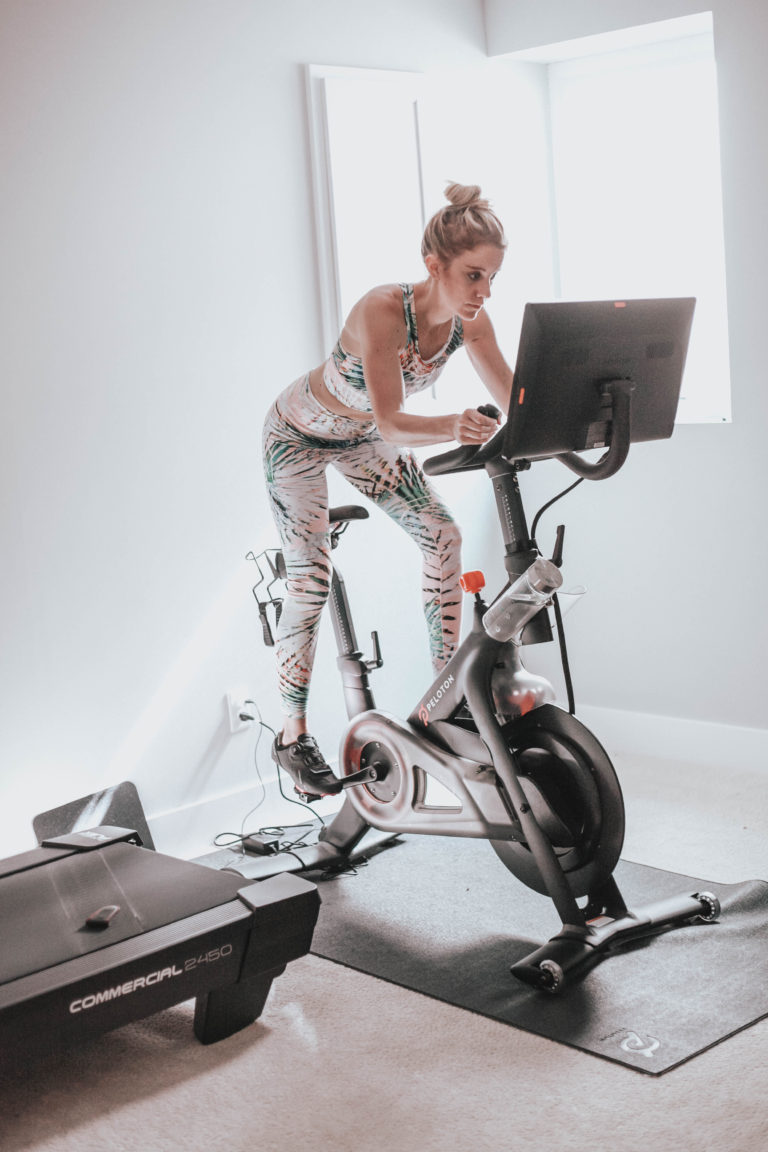 The best way to guarantee you're going to actually work out is to plan it! Figure out what workout you're going to do and WHEN for the entire week.
I go through the Peloton Live schedule to see when my favorite instructor (Jess Sims) is teaching live classes. Once I have those scheduled, I fill in the rest with other workouts.
I'm way more apt to get up and get going if I know a live class is starting at 6am or if I'm doing a specific arm workout Monday morning.
Check out my Peloton treadmill review, my Peloton bike review and my BBG review!
13. Pick out your outfits
If you work outside the home, this is especially important! If you're a SAHM, this isn't as important but you can still do it!
As you go through your calendar, think through your week and plan out your outfits, down to the accessories! Not having to find a certain skirt or realizing a top has a stain will make your mornings go much more smoothly.
14. Do one thing for self-care
Sundays can be a LOT of taking care of others. Packing school bags, tidying up the house, prepping meals, etc. so don't forget about you!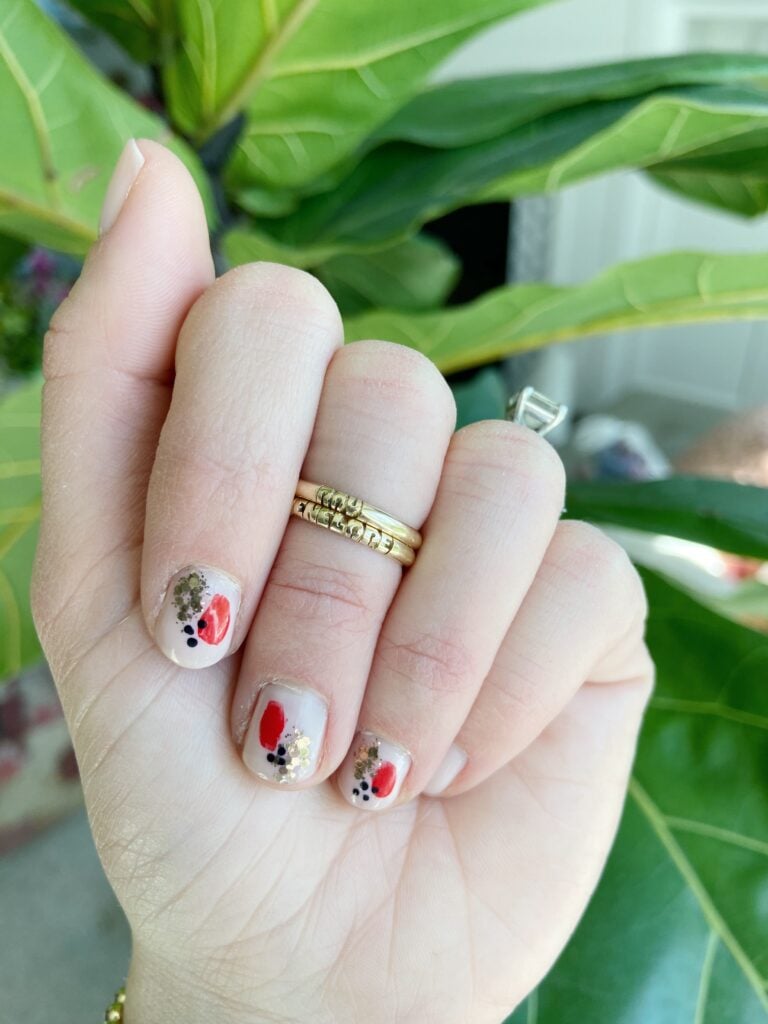 Create a routine of soaking in a hot bath, doing your nails (I love Olive & June!) reading a new magazine or winding down with a book to end the weekend and relax a little. There are tons of ideas on this spa day at home post!
15. Do something for your marriage
When there's kids around it can be so easy to forget about planning something out for you and your spouse! Schedule out a date night, pick out a movie to watch the following weekend or simply pour a nice glass of wine to chat before heading in to a new week.
And there you go! I hope these 15 habits for a productive week help you remove some of the stress of Mondays and allow you to end the weekend with ease, knowing you are well prepared for the week ahead.
To help you out, here is a simple FREE printable that you can print out each Sunday to plan out your week! Print it off, fill it out and stick it on your fridge for the week. I know it will help!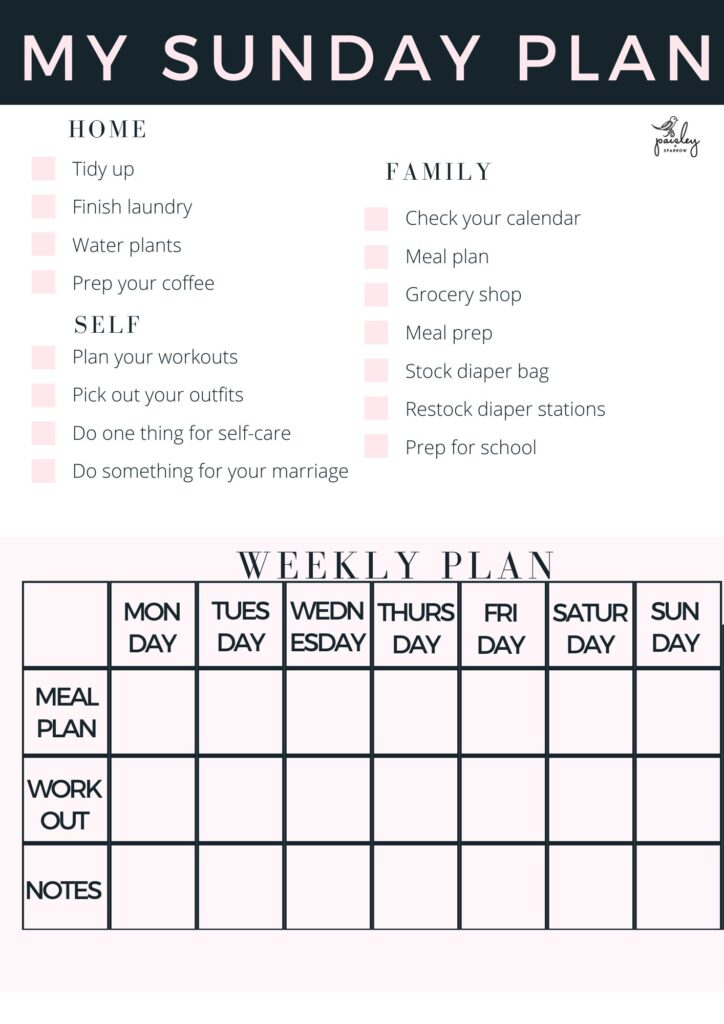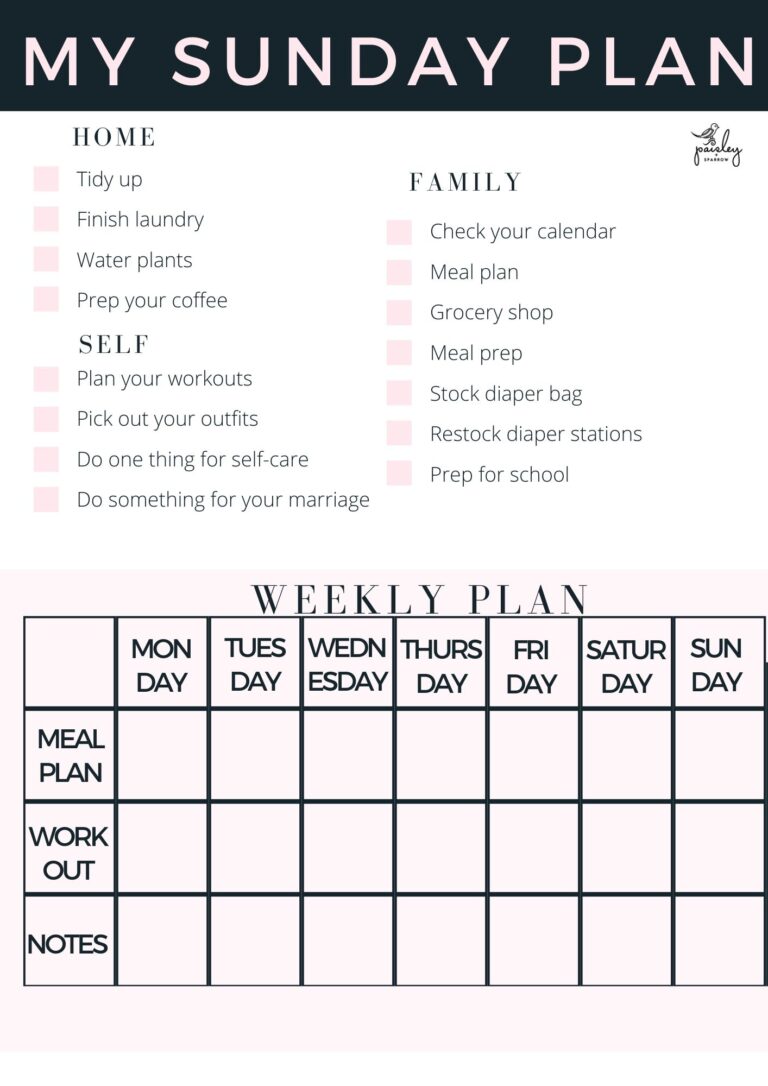 Now that you know how to prep for your week, here's a few other posts to check out to help you plan it out!
Pick out a self care thing or two from this spa day at home post!
Get a healthy recipe for breakfast or dinner or even snack time here.