Spring is finally here!
The green grass, budding trees and start of flowers is making me one happy girl.
I know floral print everything is super clique when it comes to spring fashion but you just can't beat it! We wait a long time for fresh flowers to start popping up outside so why not welcome them with a floral top (or 2)!
Here are some of my favorite picks for floral tops – everything from tees to reversible sweatshirts to bodysuits!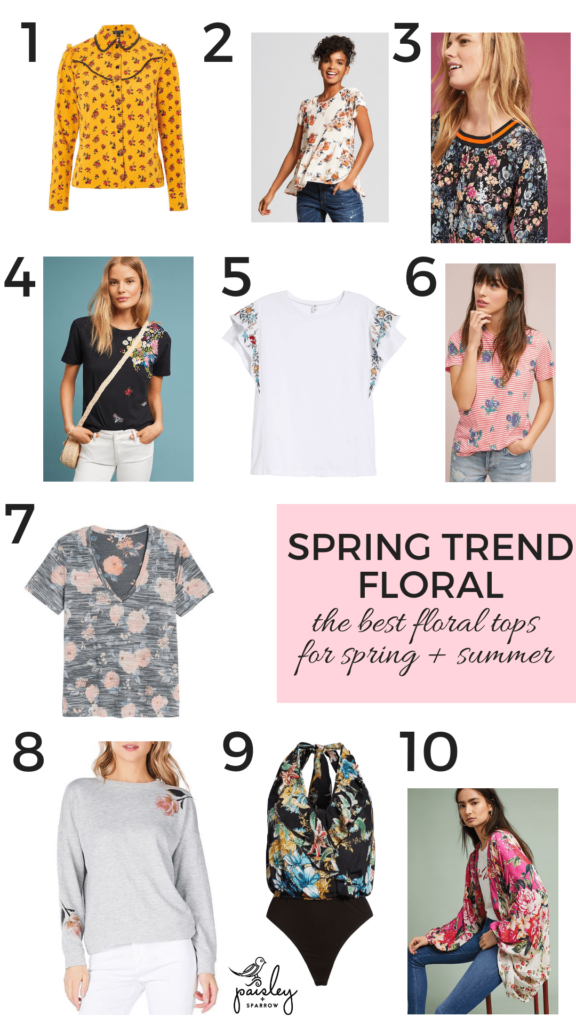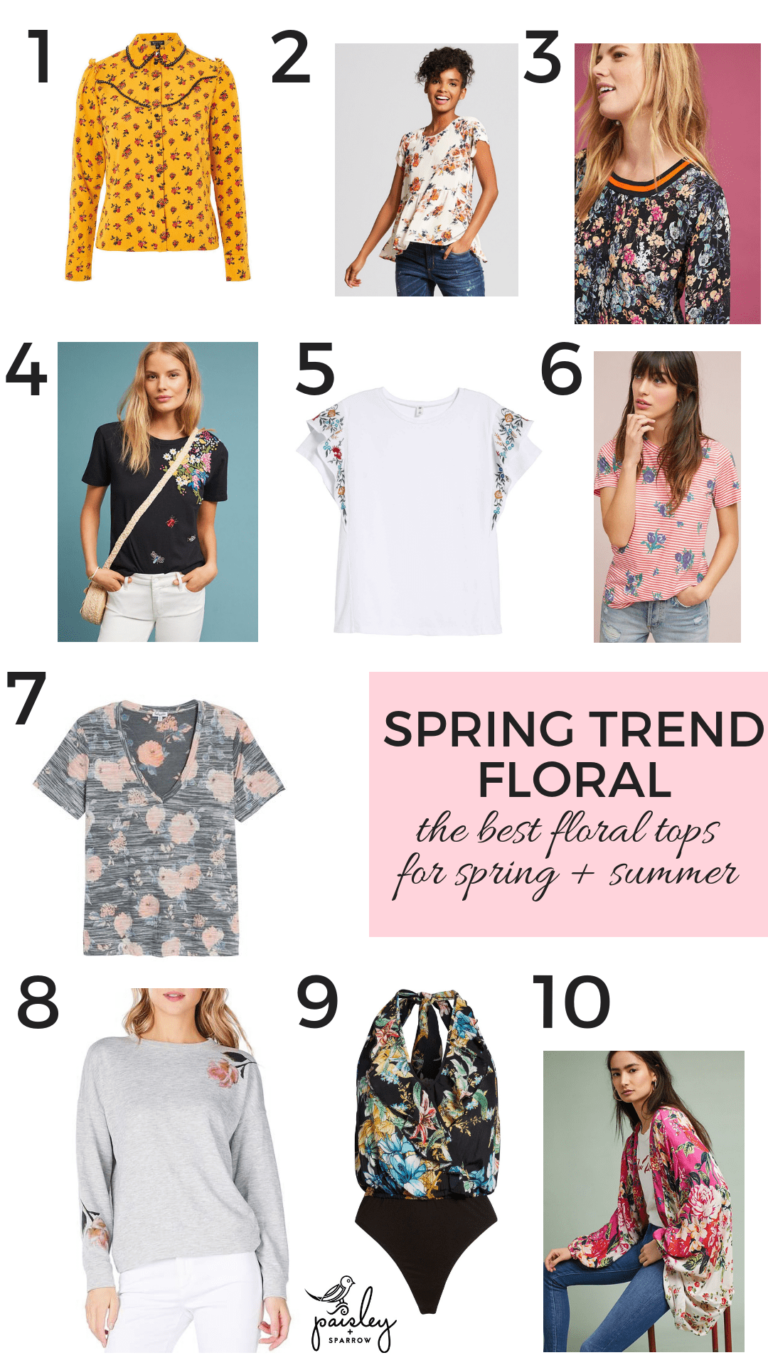 this post does include affiliate links and i do make a small commission for products purchased using some of the links in this post at no cost to you. thank you for supporting paisley + sparrow, making the content you see on this blog possible.
This top reminds me of something Zoe Hart (from my favorite show, Hart of Dixie) would wear! Bead trim, puckered shoulders and dainty flowers – this one is at the top of my want list!
2. Peplum Short Sleeve
This super cute top has all the right details – peplum bottom and slight lace up back and under $20!
3. Riley Floral Top
The nights are still cool so long sleeve options are always important! I love the all over floral detail with the orange pop of fun. This one would also look super cute tied around your waist with a white tee and skinny jeans (or shorts!).
4. Spring Garden Tee
This top is a DREAM. Embroidery and beading on a simple black tee…insert ALL the heart eyes!
Not a huge floral fan? This one is for you. Beautiful embroidered sleeves, this top is easy to dress up or dress down!
Sol Angeles is one of my favorite brands – crafted in a downtown Los Angeles workshop, super soft and wears well. This tee is for all my stripe lovers!
My sister only wears v-neck tees and wouldn't go for anything bright and crazy so this one's for her (and all you gals like her!). I love this top for everyday wear paired with distressed denim and casual shoes.
You can wear this top when you want to show just a couple flowers…or an entire field of flowers! Reversible tops automatically win for how many additional wears you can get from it.
Truth. I don't own a bodysuit but every time one of my friends do I want one! Pair this with skinny black jeans or a flowy skirt (and maybe a bralette to make it not so plunging…wink!).
You can never go wrong with a kimono! I wore kimonos a ton while I was pregnant and continue to wear them now! This beautiful pink and white kimono covered in flowers is the best way to welcome spring.
Floral print is a must have for spring, would you agree? Which one of these are your favorite? Leave a comment below!
Thanks so much for reading and sharing!