I'm going to let you in on my secret weapon – the all black outfit. How often do you stand in front of your closet with nothing to wear? Every week? Every day? Maybe you just complain to your spouse or roommate constantly about having "nothing to wear".
I get that! Especially when the weather is dreary or you've been stuck in one season for what seems like an eternity (like winter here in MN!). I've been doing that a lot lately. To help us both, here's a simple outfit you can try with what you already have in your closet.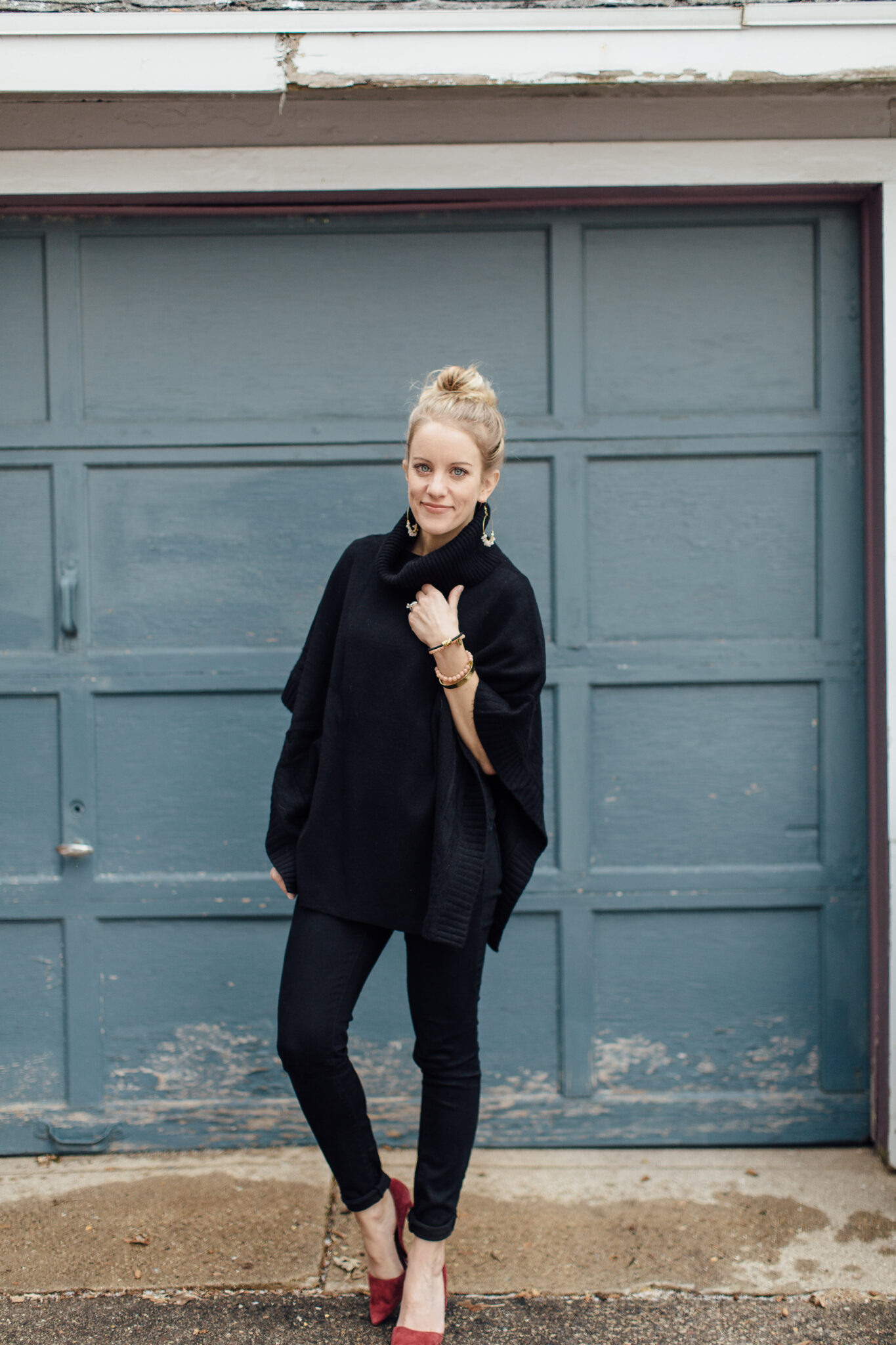 This post contains affiliate links. Thanks for supporting my blog!
All Black Outfit Style Tips
Regardless of your age, profession or style, I can just about guarantee that you have a black top and black pants in your closet. If you don't, this is your time (and excuse) to go shopping! Every woman needs a good pair of black pants! These leggings are AMAZING and perfect for the stay at home mom. A fabulous pair of trendy trousers like these are perfect for the business woman. And I'm convinced everyone needs a great pair of skinny black denim. (Side note – if you've never tried Good American – YOU NEED TO).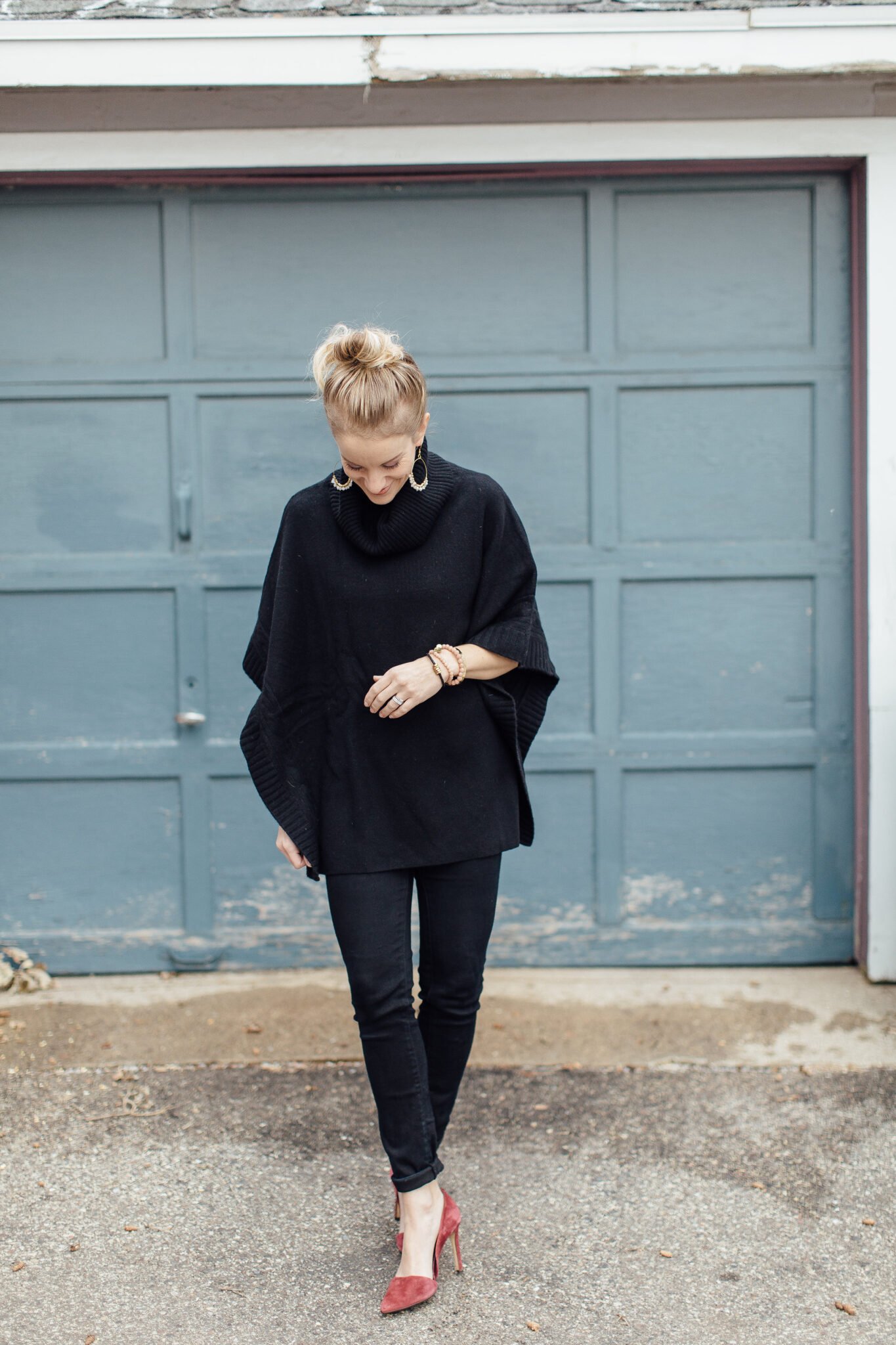 Why All Black?
Black is classic. When you invest in a really good pair of black pants or a beautiful black sweater, you can know for certain that it won't go out of style next year. Sure, there's certain crazy trends that may not be as popular but you won't be stuck with a crazy pattern or wild color to try to wear after a fad has ended.
Why else should you choose black? It's slimming! Whether you recently had a baby (or are trying to hide the fact that you're newly pregnant) or simply put on your winter layer (the extra 5 pounds of weight I inevitably put on each winter to attempt to stay warm haha!), black will conceal all that extra weight.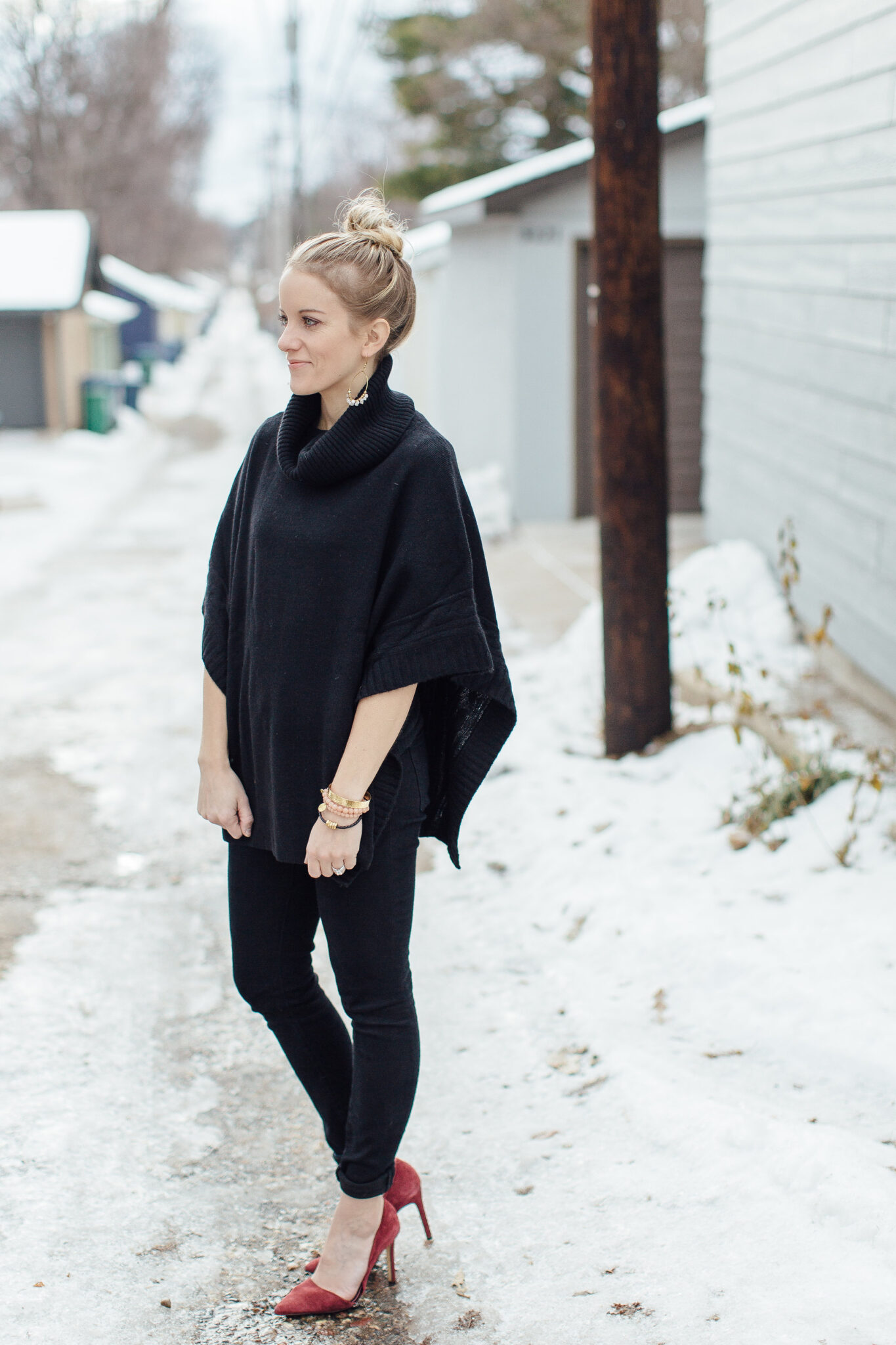 You also don't have to think about it. Black matches black. An all black outfit won't turn heads for the wrong reason. It's perfect for the days that you don't want to think about what you're wearing and just throw on something and go!
Keep it Simple
Don't go crazy when you go all black. Allow a little bit of skin to show whether that's some leg if you're wearing a long sleeve dress, some arm if you're wearing a maxi, etc. You don't want to go overboard with the black!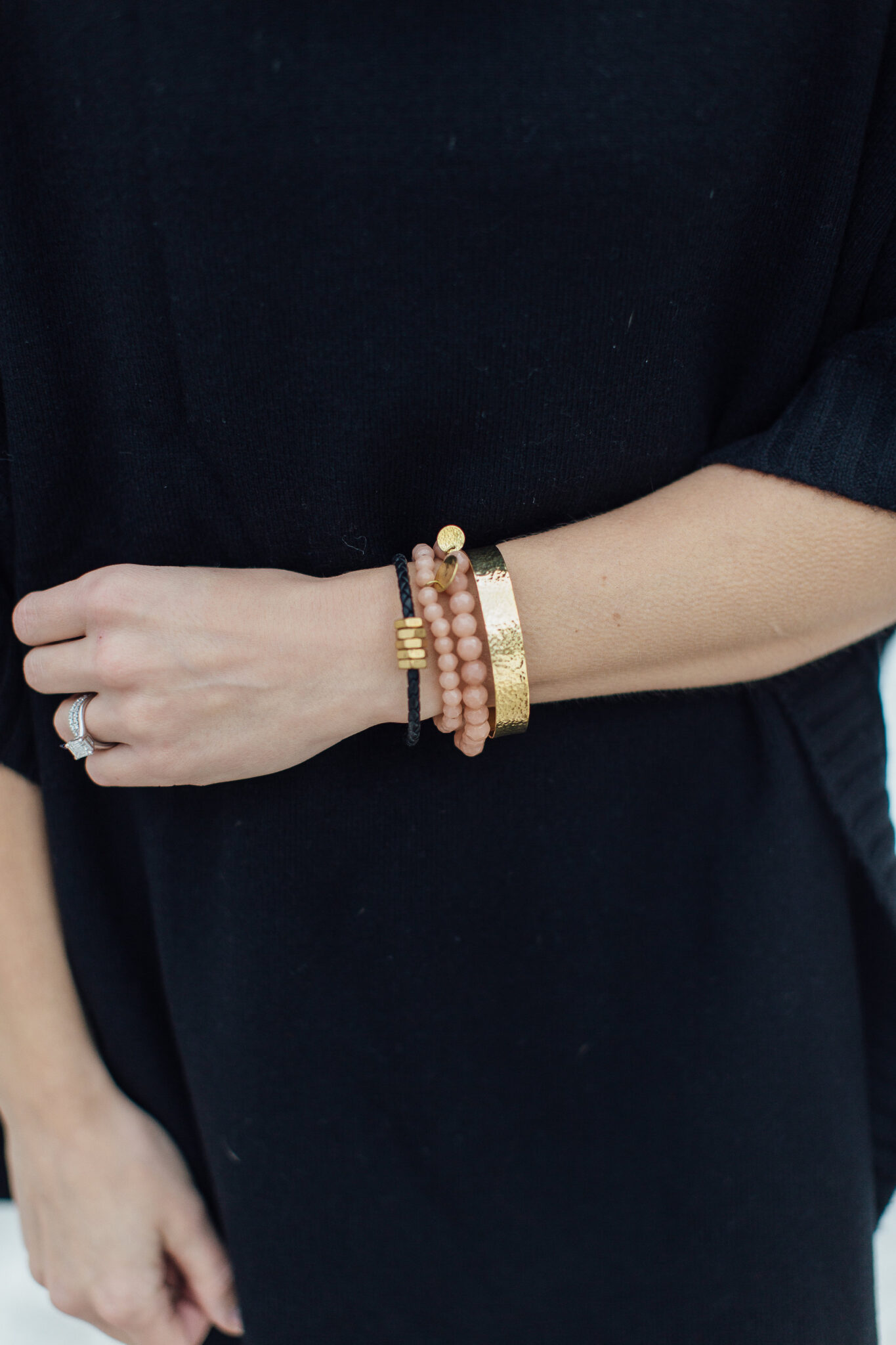 Keep it light. Don't pair an oversized sweater with a black maxi skirt. If you want to go for that big sweater (or poncho like I'm wearing), pair it with something more fitting to balance everything out.
Accessorize!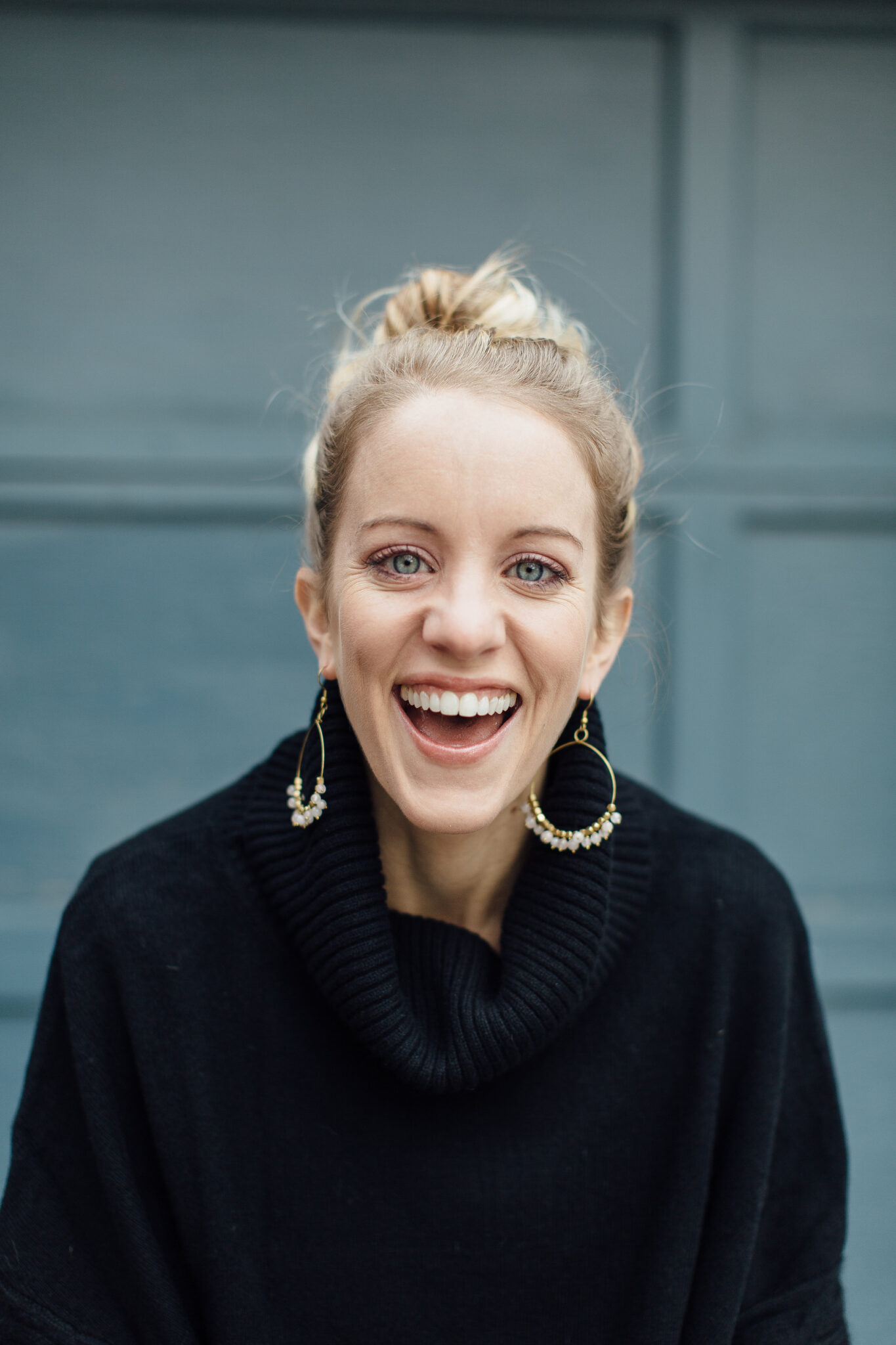 When you wear black, you need to add a pop of color somewhere in your outfit. And that doesn't need to be crazy neon yellow or hot pink! Accent with a classy burgundy in the middle of winter. Add a pop of red around the holidays.
A pop of color in your shoes, tied in with a stack of bracelets and topped off with a gorgeous pair of statement earrings or a funky necklace will make you feeling glam and chic instead of boring in black.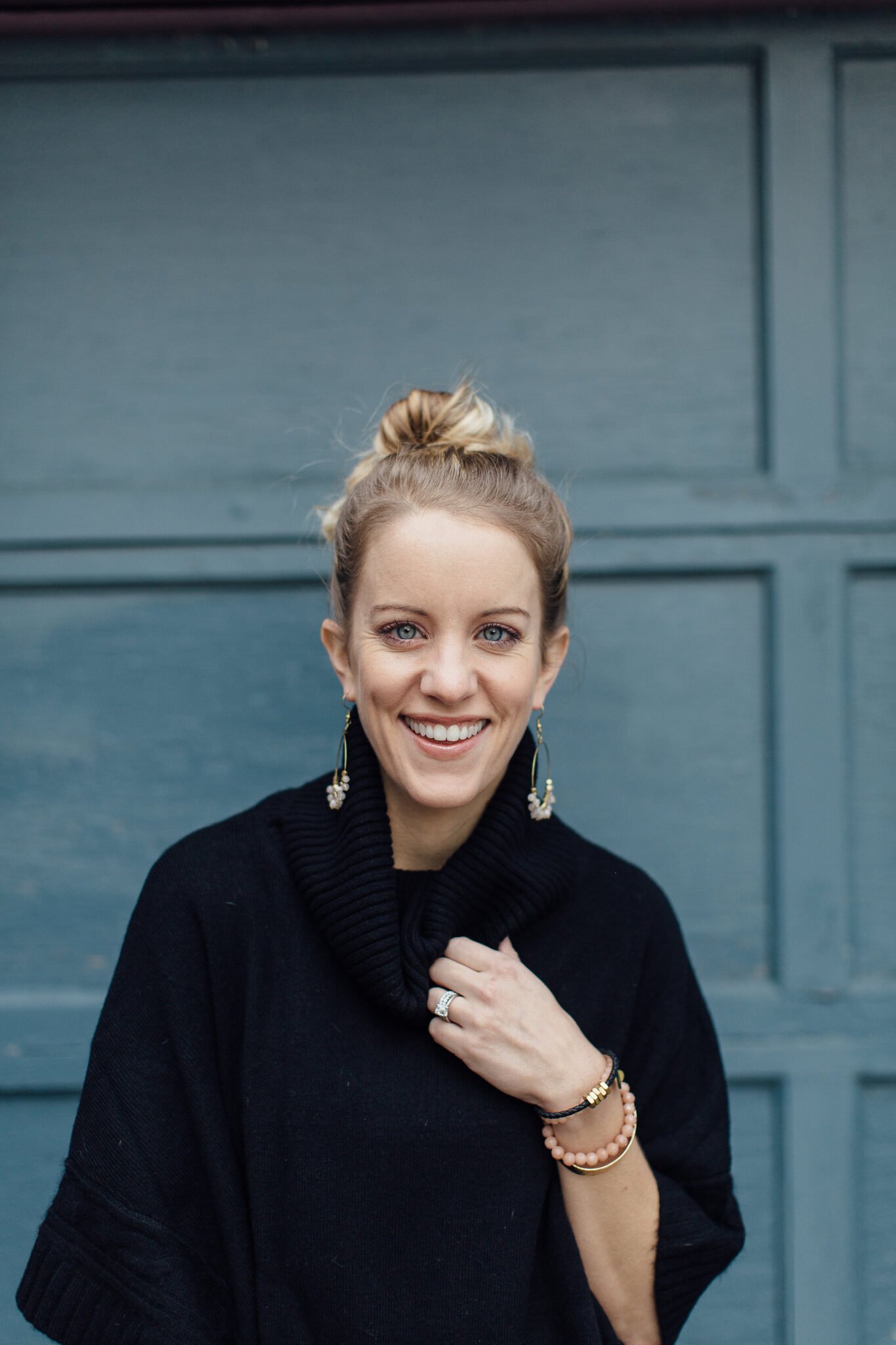 Shoes are old Banana (similar here).
So the next time you're standing in front of your closet, running late for work once again, throw on all black, get that hair in a top knot and accessorize like a boss!
Be sure to head over to this post for a few other all black outfits to check out as well as a few others!
As always thanks for reading!