I am so excited to finally share Roy's nursery with you guys with his fun accent wall! It has been a labor of love, and I absolutely adore how it came together.
When we first started planning the nursery, we knew we didn't want anything themed or super "boy". My husband and I happeaned to be out shopping at Anthropologie before we even knew if we were having a boy or a girl, and I fell in love with a rug that I knew would be perfect for the nursery.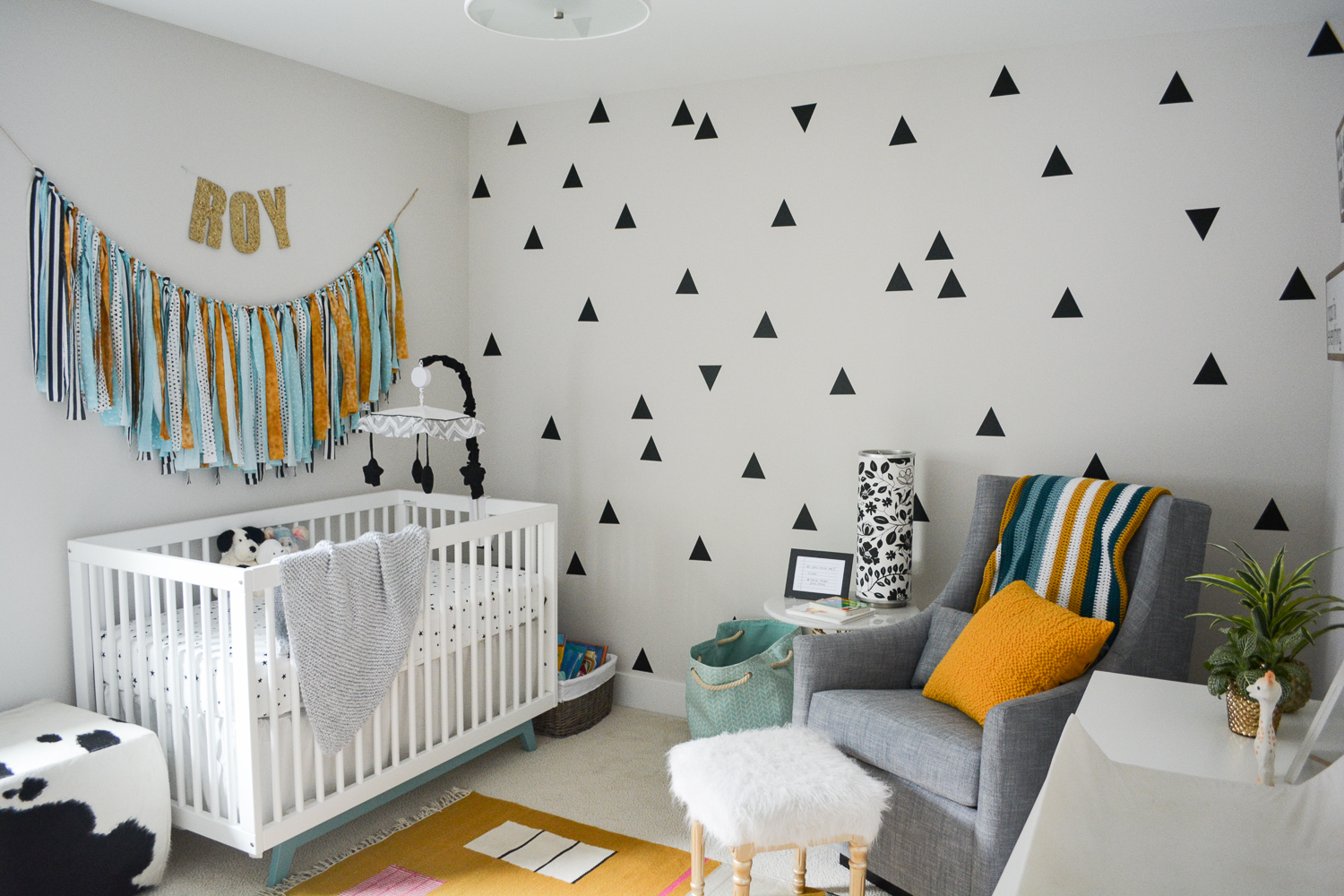 As you can see it's mustard yellow. Since there's both pink and aqua in it, we figured we would just pull out the pink if it was a girl and the aqua if it was a boy!
Lo and behold, we were told we are having a baby boy, so out came the blue!
Accent wall
We debated for about 10 seconds about painting the room and about 10 weeks about wallpapering. (I'm on a serious wallpaper kick right now, and my husband had zero interest in painting.) In the end, we decided that if we have another baby that room will stay the nursery, so we didn't want to do anything too permanent.
I still wanted to do something fun on one of the walls so we decided on these triangle decals. They were super simple to put on, and we can remove them any time we want. We actually have some extra so I'm planning on putting them up in our laundry room too!
Wall decor
The "ROY" letters were actually my husband's idea, and the fabric banner was easily made with fabric I got at the local fabric shop. I simply cut the fabric into strips and tied them onto string.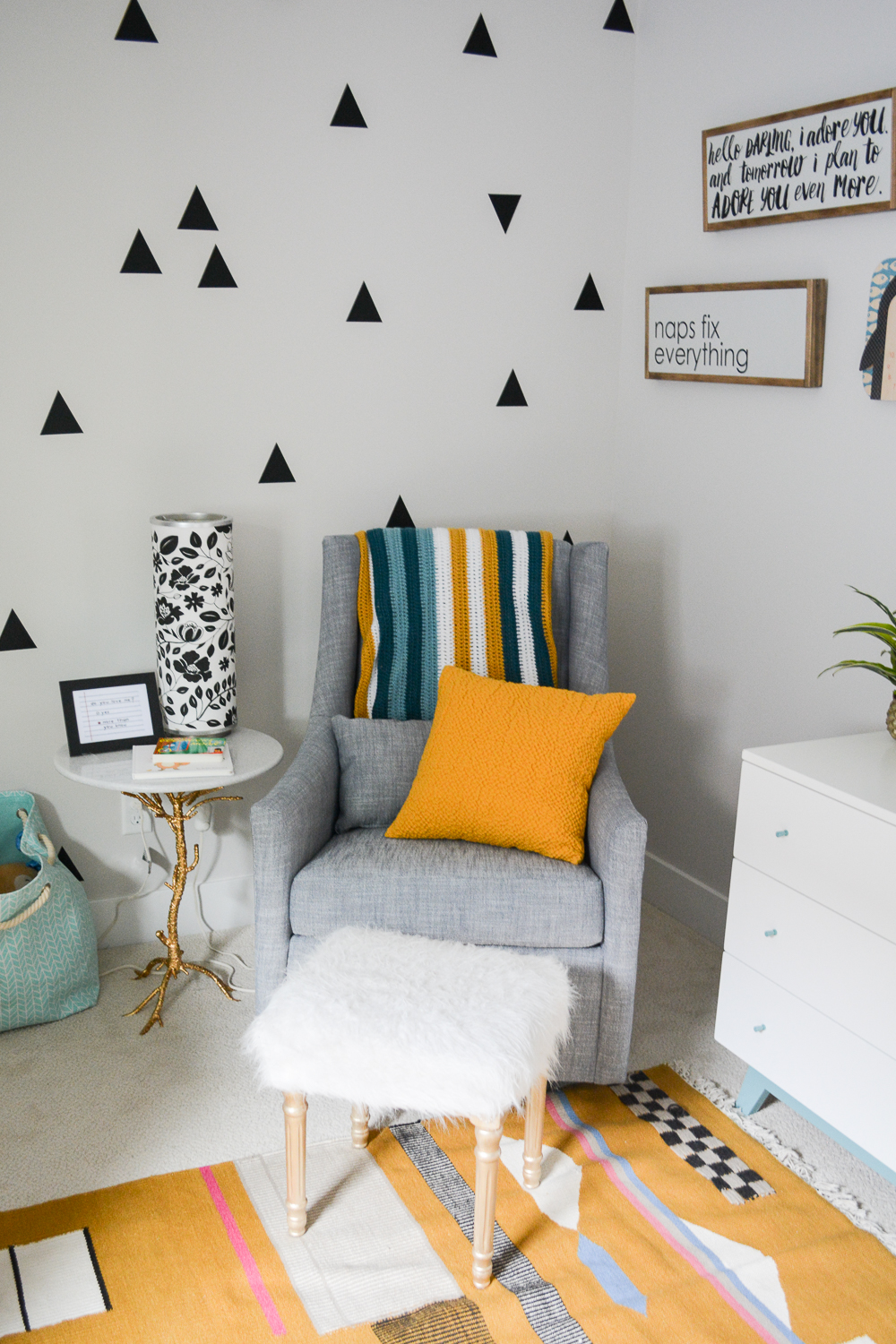 We found the signs and clock at a cute boutique while out of town celebrating our anniversary. The signs happen to be from a local Minneapolis artist, Tinley from Freestyle Mom. I pretty much started crying when I read the "hello darling…" one (I blame pregnancy hormones and not the fact that I'm becoming a big sap) and the "naps fix everything" one is pretty perfect for a nursery if you ask me!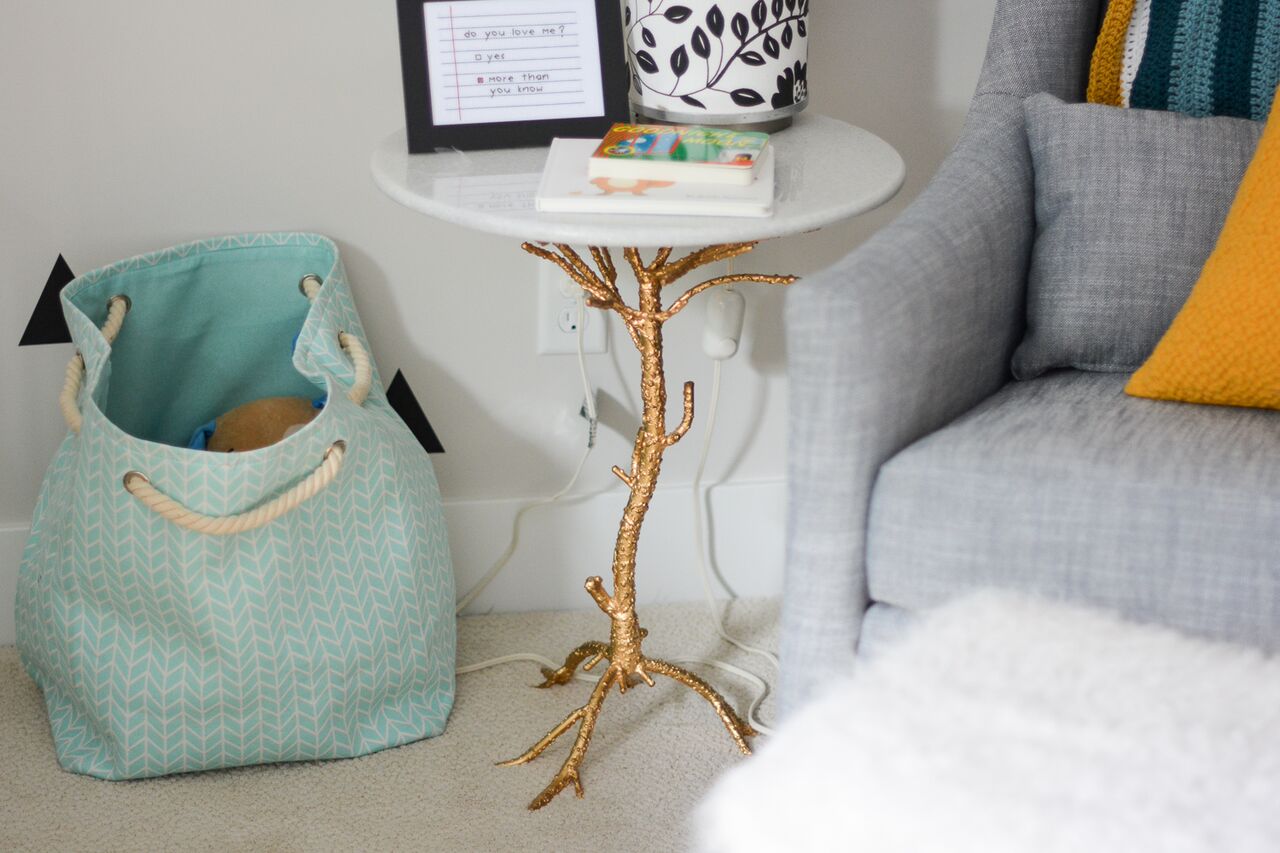 Final touches
The little blue bear was actually mine as a kid! 🙂
We had to bring in some plants into the nursery, of course, and the pots we used were from our wedding! I love how we were able to reuse them in our son's room. Also not pictured is a hanging plant and a fun tiger pot I just bought to plant just one more plant.Roy needs to start his love for plants early, right?
I love that most of the items we got for the nursery can easily be used as Roy grows up or in different parts of our house. We opted for a dresser over a changing table so that can easily be used as he grows. The gold tree side table could work in any number of our rooms since we have gold splattered throughout our home. The 2 ottomans were actually taken from other rooms so we could definitely use those elsewhere.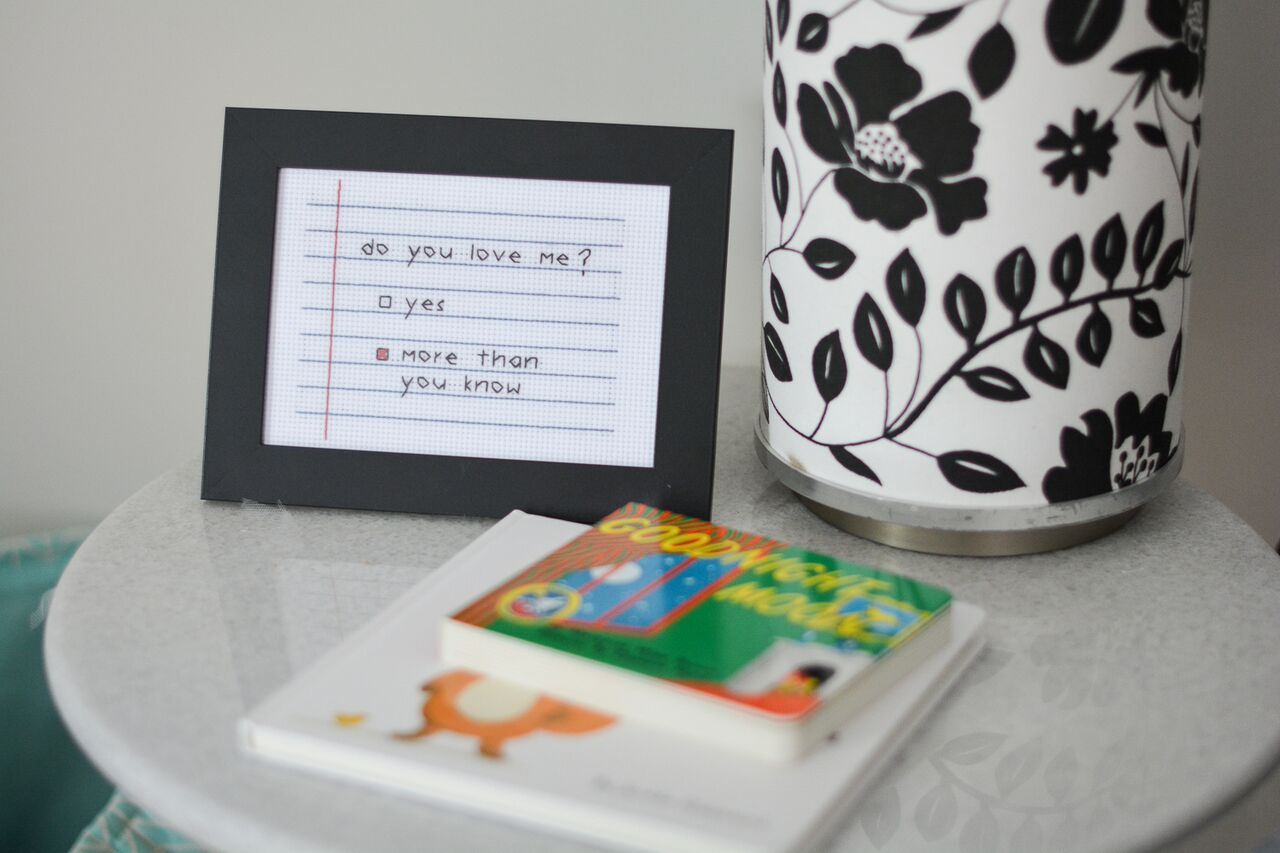 So there it is! Roy's nursery! What do you think?

Update!! Check out Roy's nursery after we transformed it to Penelope's room!