If you've been following along on Instagram or checked out last week's March Room Refresh post, you know that I'm teaming up with my friends Arin and Chrissy to host a March Room Refresh Challenge!
*Check out this post for all the details.
For this challenge I decided to do a mini makeover to our master bedroom! Arin from Arin Solange at Home is doing a giant overhaul of her bathroom which turned out AMAZING and Chrissy from Chrissy Marie Blog did a gorgeous refresh of her living room. Be sure to check out those!
Just a reminder that the March Room Refresh challenge officially kicks off Feb 24th! Join us in refreshing a room in your home for your chance to win $250!
Master Bedroom Refresh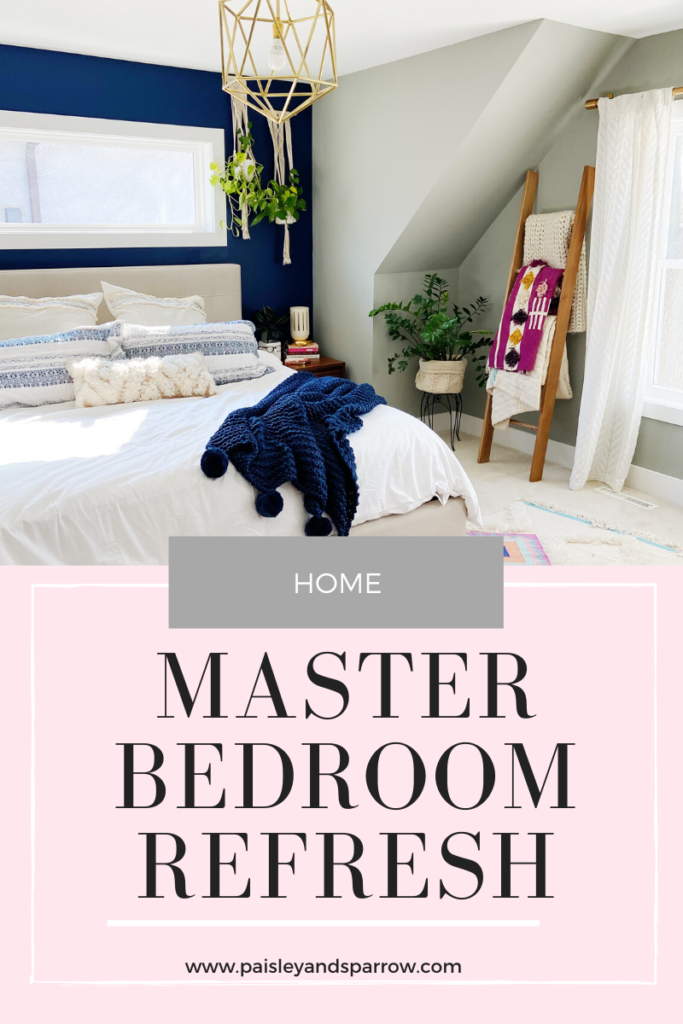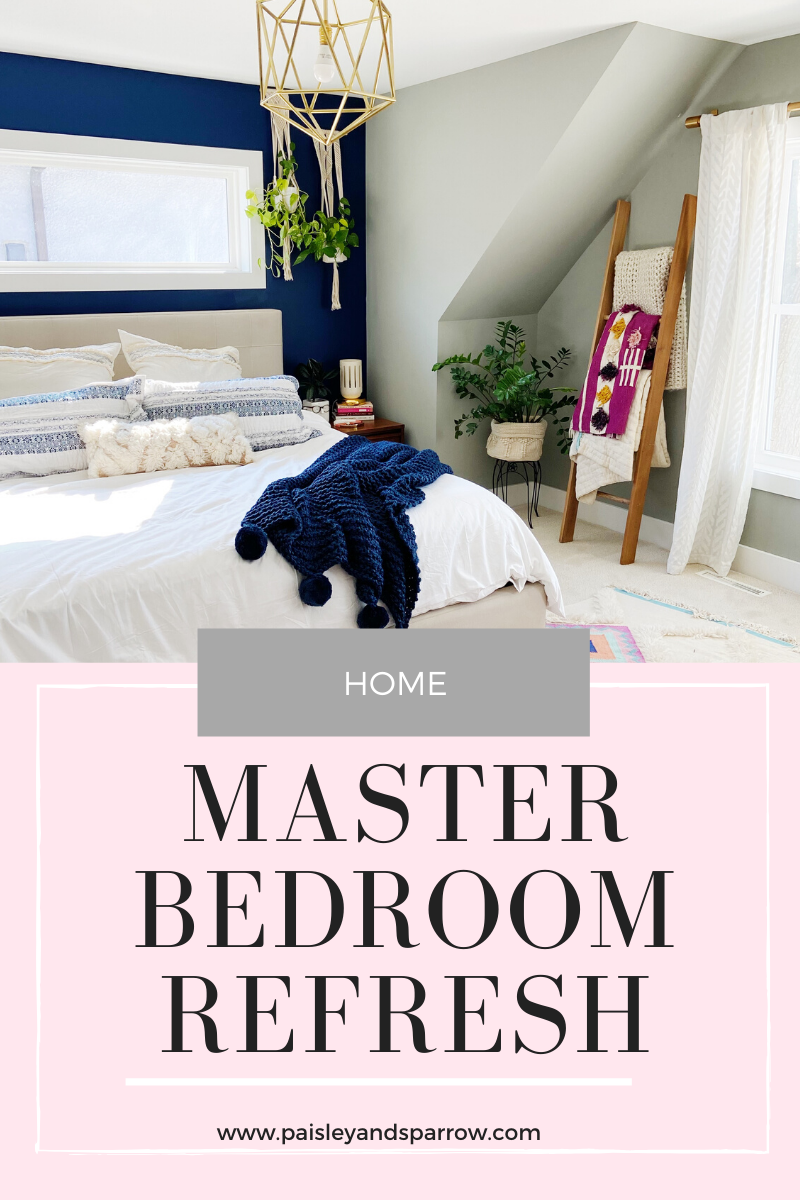 Mood Board
As mentioned in the first post, we love making mood boards to start our projects. This is especially important (and helpful!) when doing a large makeover to cut back on returns and make the best buying decisions possible.
*Download our free tutorial on making your own tutorial here.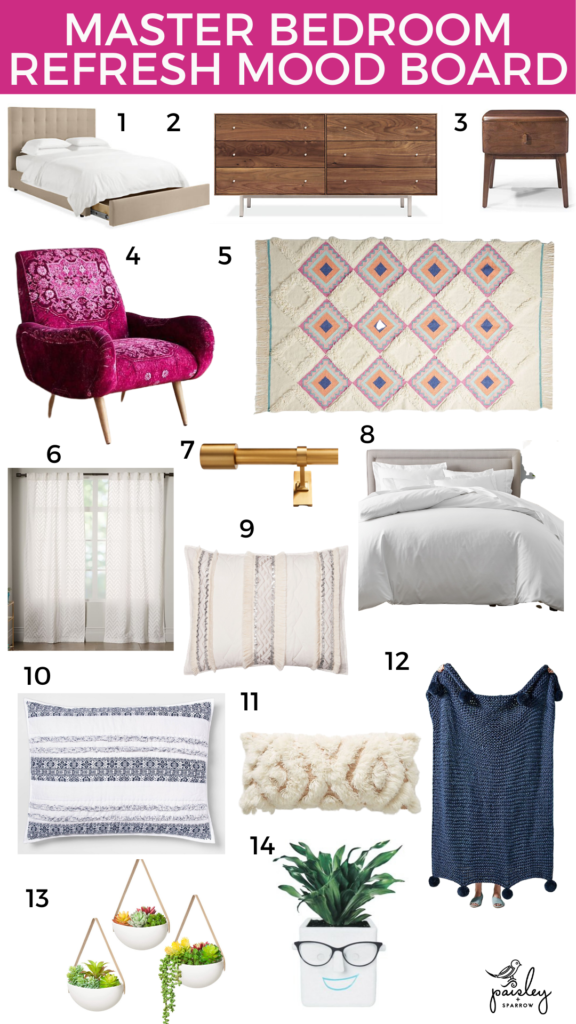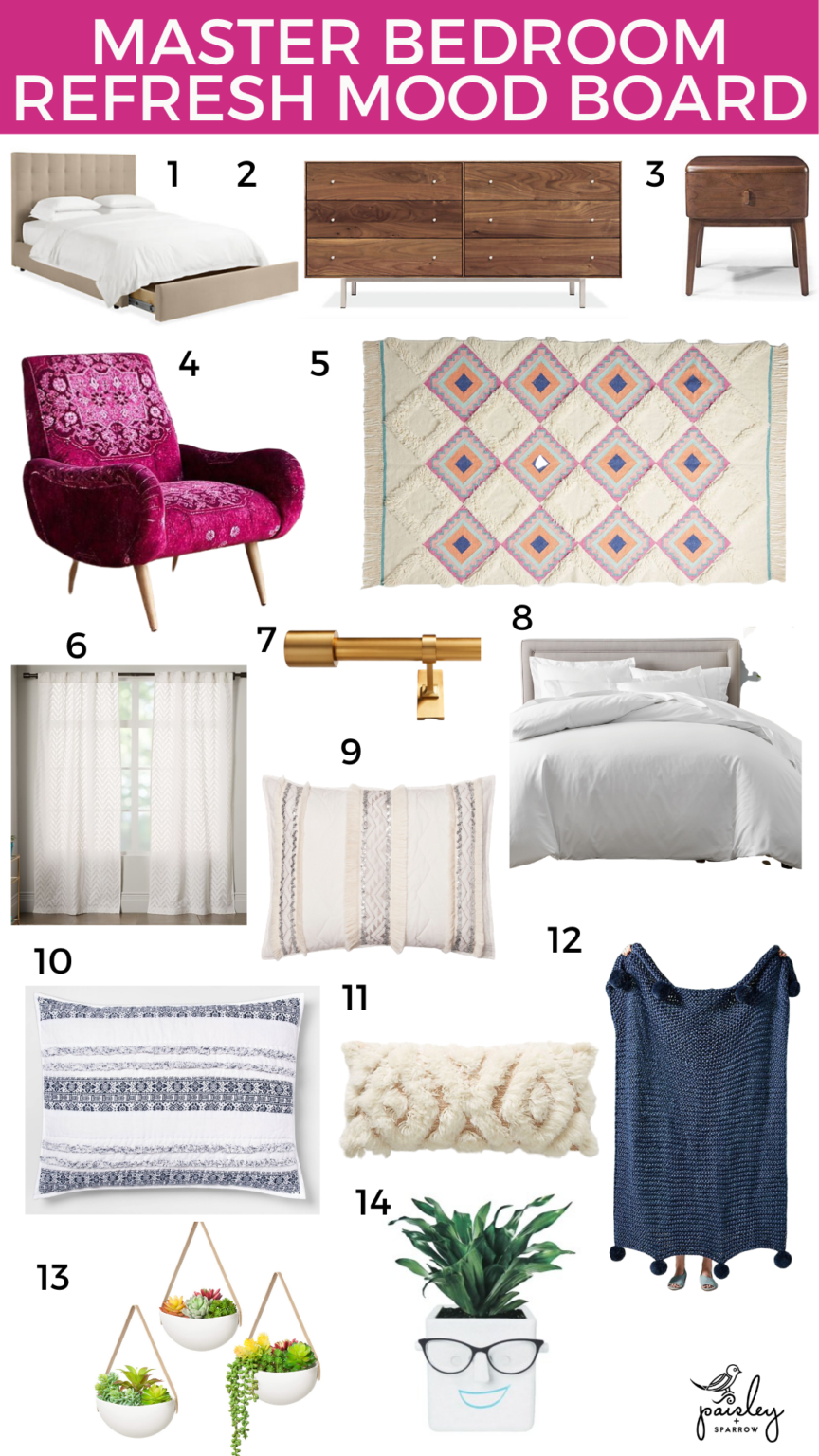 We weren't changing up our furniture, rug or curtains at all so I added those in to my board first. Once that was in I was able to start pulling in different products that I thought went well to see what I liked the most.
I also don't pull in every single item but the bigger, more prominent items and new products I plan on bringing in (that aren't small things like a new candle or something).
Shop my moodboard
Bed (Room and Board)
Dresser (Room and Board)
Side Tables (vintage)
Chair (Anthropologie – sold out)
Rug (Anthropologie – sold out)
Curtains (Old from West Elm – similar style linked)
Curtain Rod (West Elm)
Duvet (Macys)
European Shams (Target)
Pillow Shams (Target)
Furry Pillow (Anthropologie)
Blanket (Anthropologie)
Face Pot (Target)
Hanging Pots (Amazon)
Before & After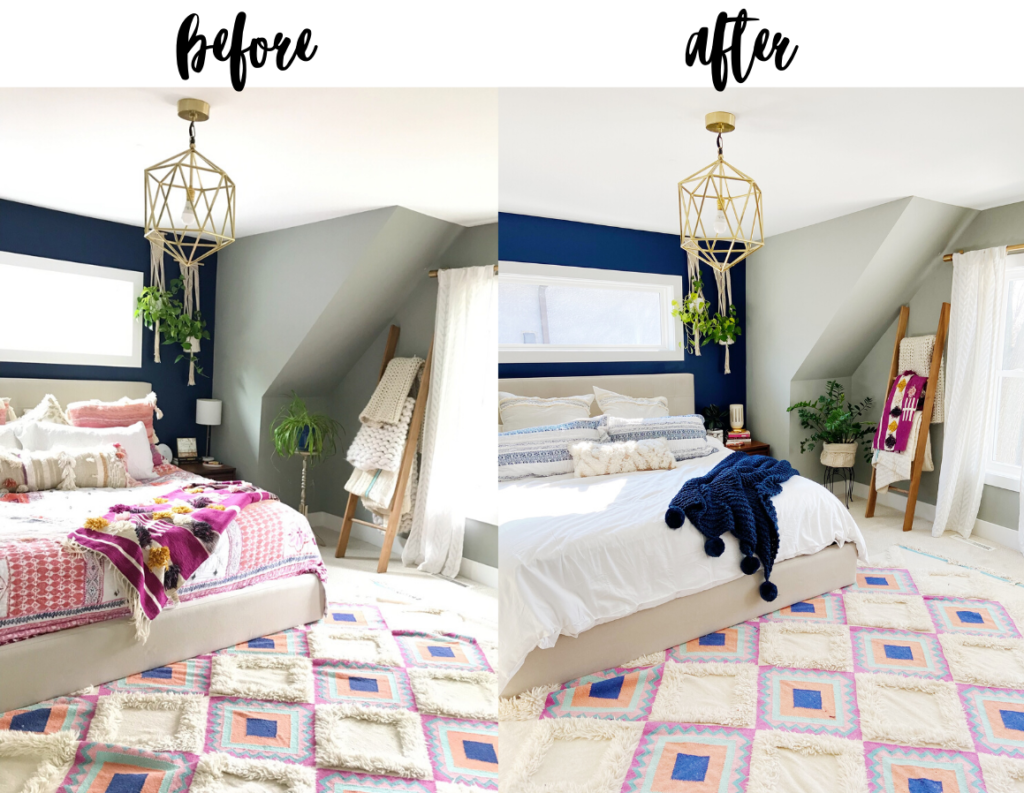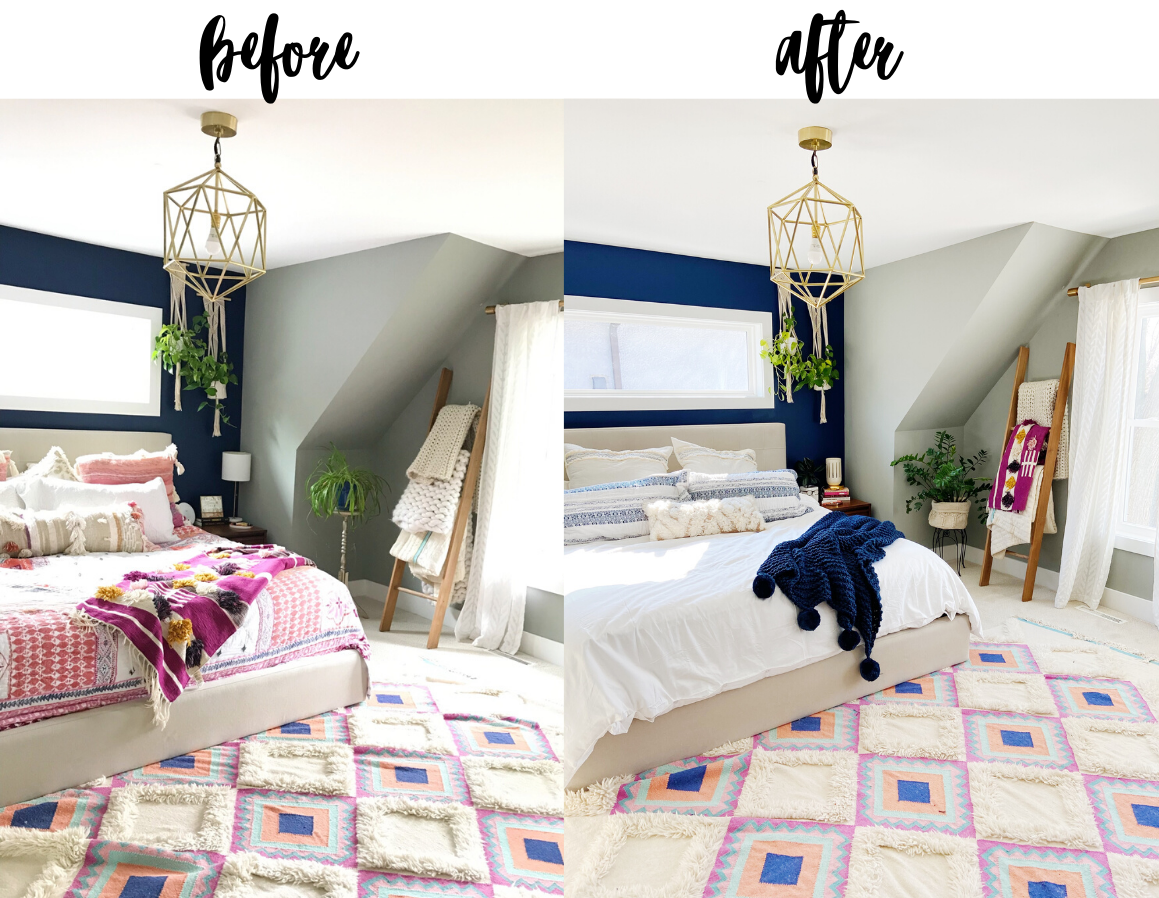 Here's what it looked like before and what it looks like now! With some minimal switches it can make a huge difference! Let's chat through what I did.
Bedding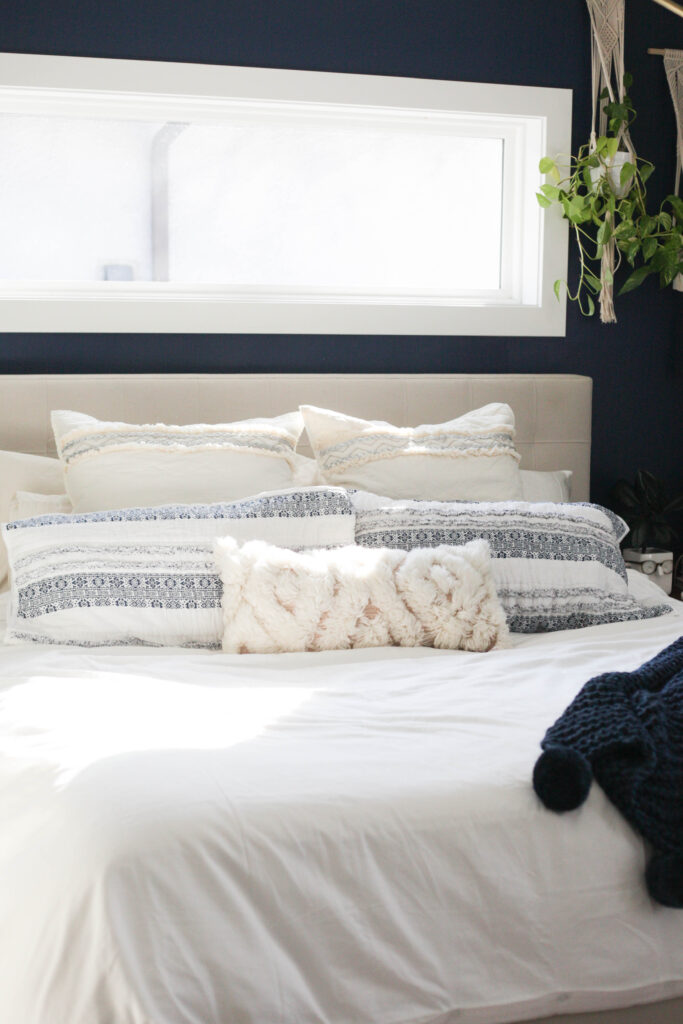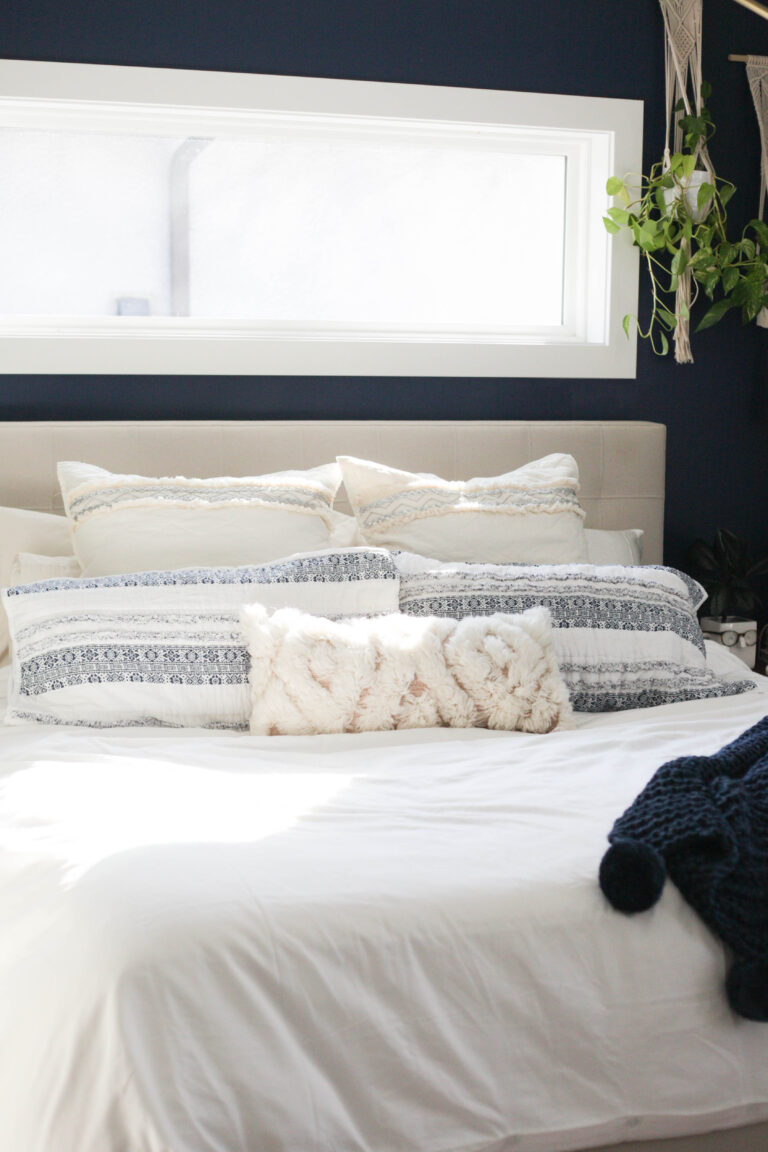 I knew my bedding was my main priority so I started searching for product that went with what I already had first. We had a lovely printed duvet and a printed comforter that were both great but I was just tired of them. We've had the same duvet cover for 4 years (we got it our first winter as a married couple!) and to be honest I never really loved it.
I wanted to go with white to make this super easy to go with it. My biggest tip when deciding on bedding is to make sure it's versatile! Our previous duvet was a simple gold and white one which made it fairly easy to match with a ton of different things.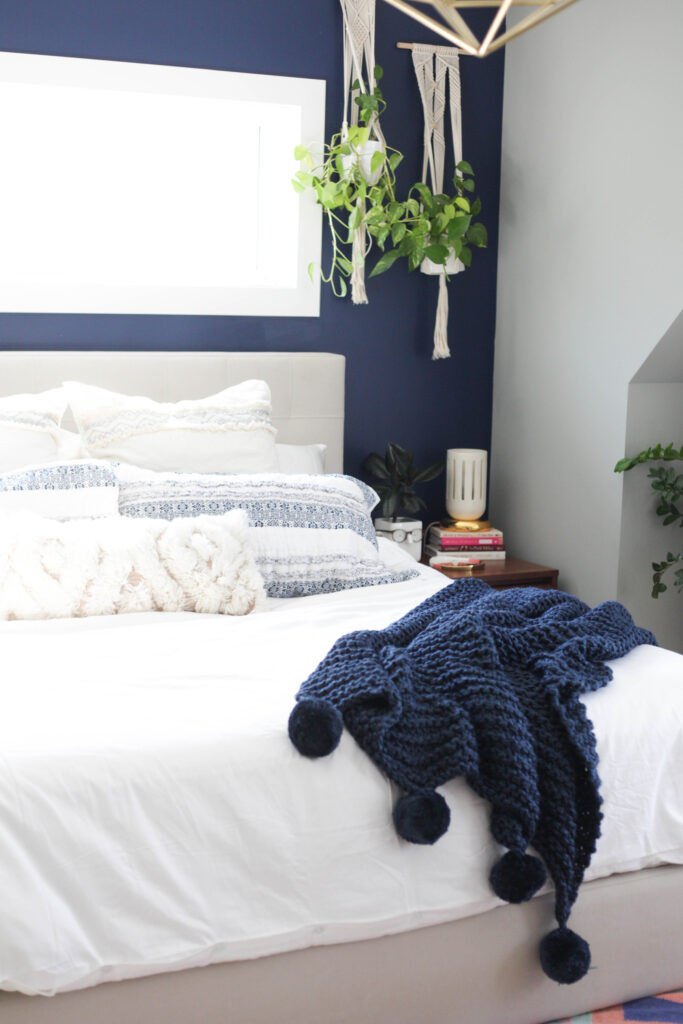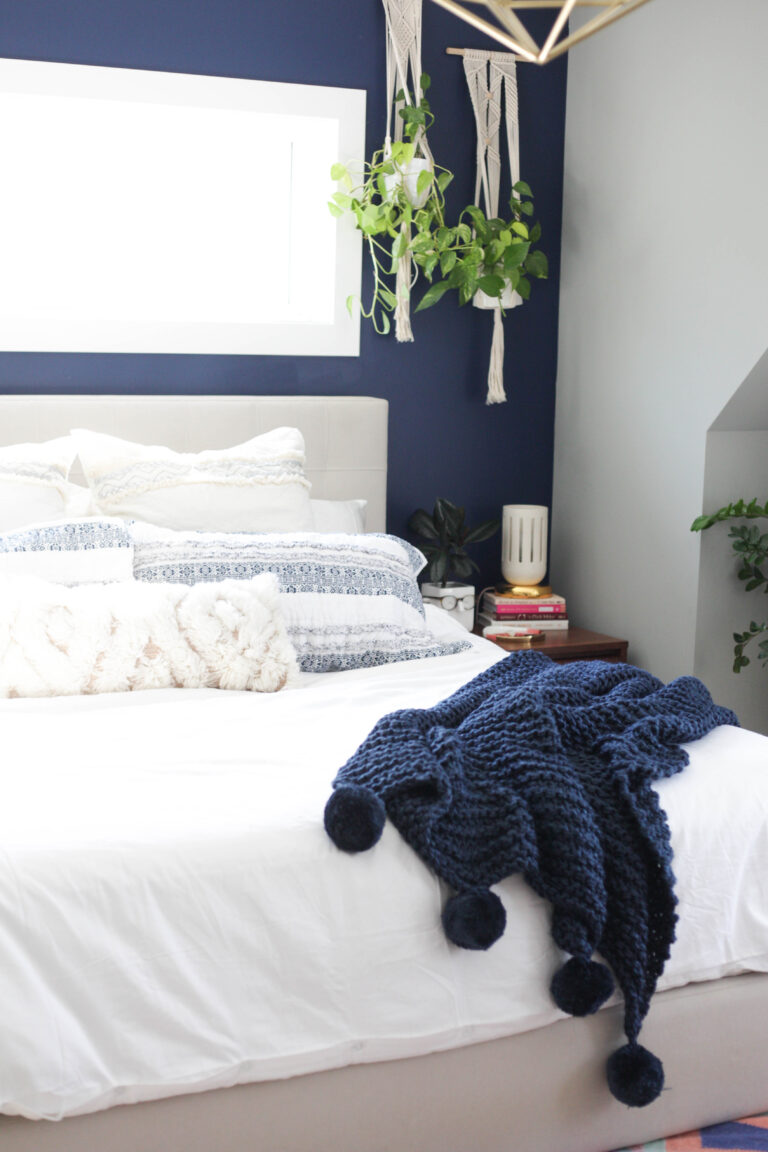 Our comforter was from Anthropologie and was actually reversible which made it super easy to switch up! One side was blue and white while the other side was much more colorful.
We use duvets (obviously) all winter so I wanted something that would last a long time but could be switched up with new pillows rather than having to redo everything.
Pillows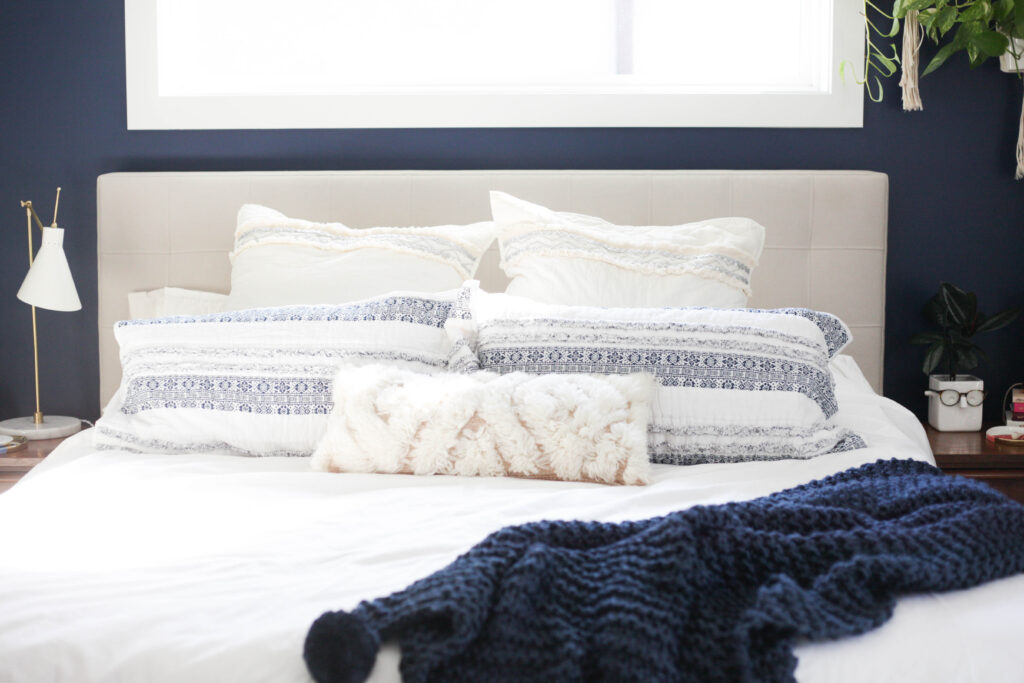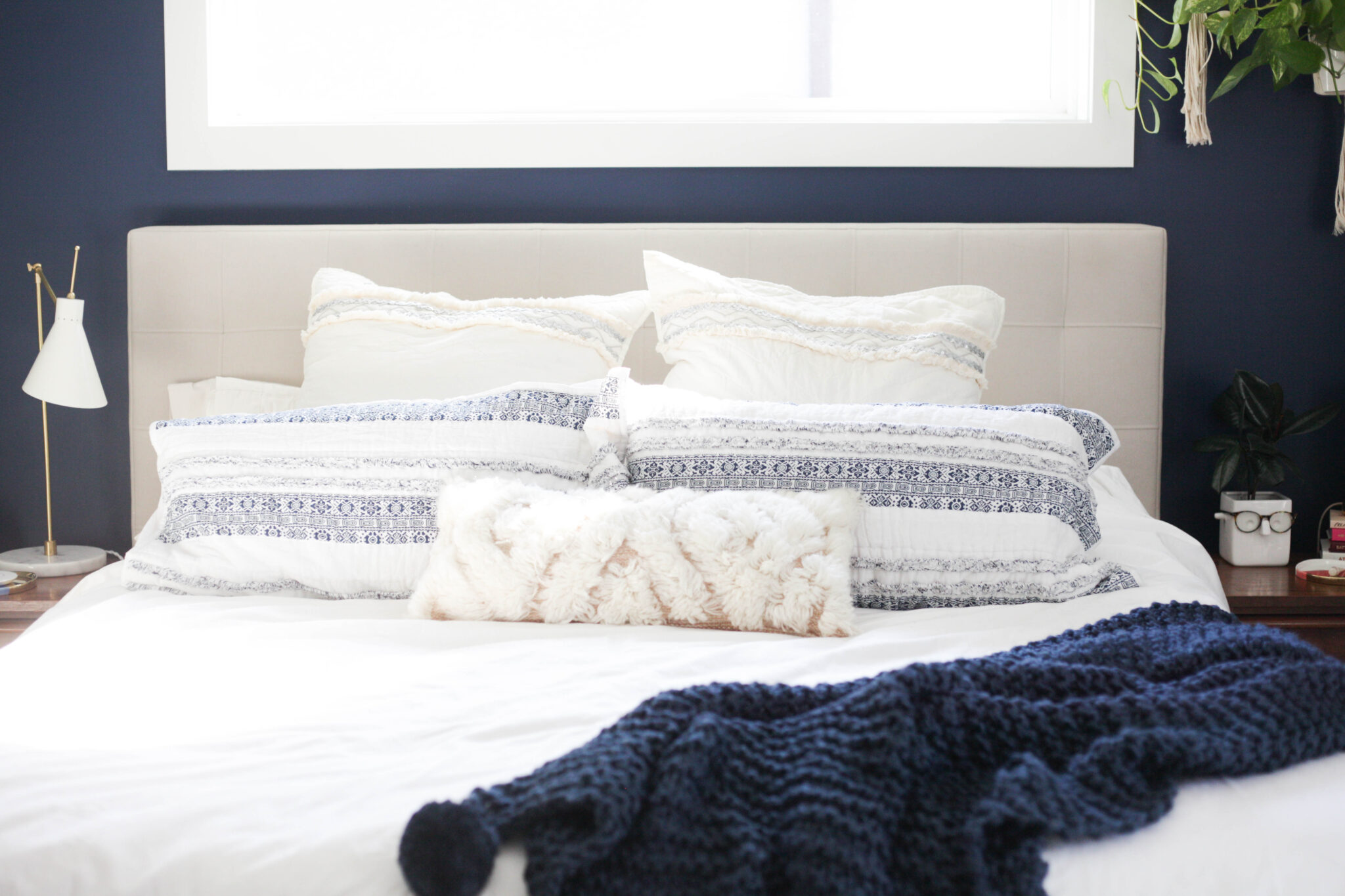 One of the easiest ways to make a huge difference in your bedroom is through your pillows. Switching up your pillow shams or adding a new pillow can also be super inexpensive way to make over a room!
In this case, I already had European pillows so I simply bought new shams for those as well as my regular king size pillows. I wanted to pull in the navy blue from the wall into the pillows.
I found both the simple gold and white European shams and the navy and white king sized shams from Target.
Gallery Wall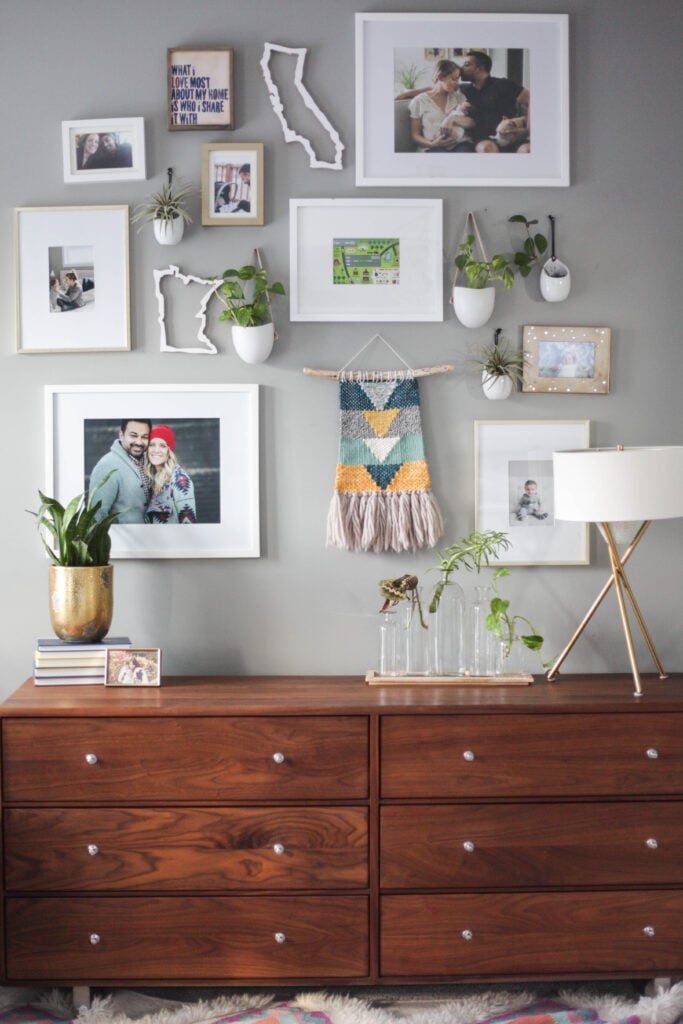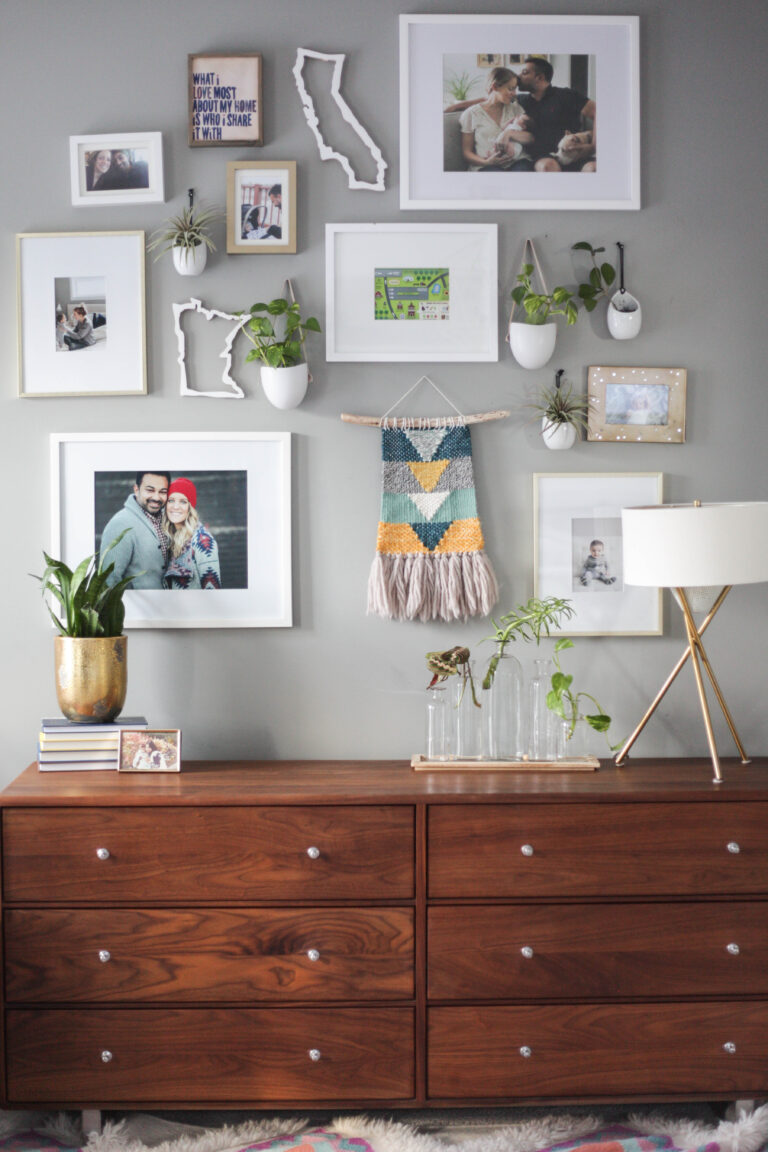 This gallery wall has been through a variety of changes but I've never been 100% pleased with it (I'm also super picky with my gallery walls haha!).
(I'll be sharing a full post all about gallery walls for this challenge but in the meantime, check out my favorite wall in my office here!)
I had been gifted these white hanging pots from a friend of mine but hadn't found the right spot for them. When I was thinking through this wall I had originally planned on taking it all down and completely redoing it. I had a handful of plant clippings I needed planted so I decided to put them in the hanging pots and try them out on the wall. Turns out it is exactly what it needed!
Switching from the 2 darker wall hangings (the mask I got in Malawi and the woven wall hanging from Junah Woods) to white pots with greenery made a huge difference in my opinion.
Other Decor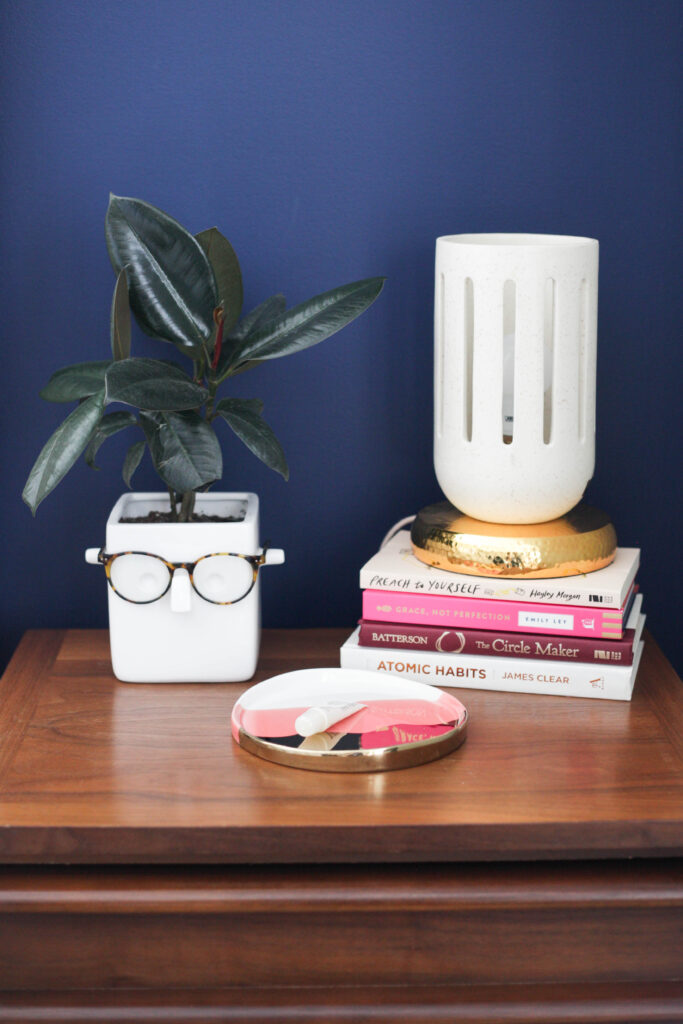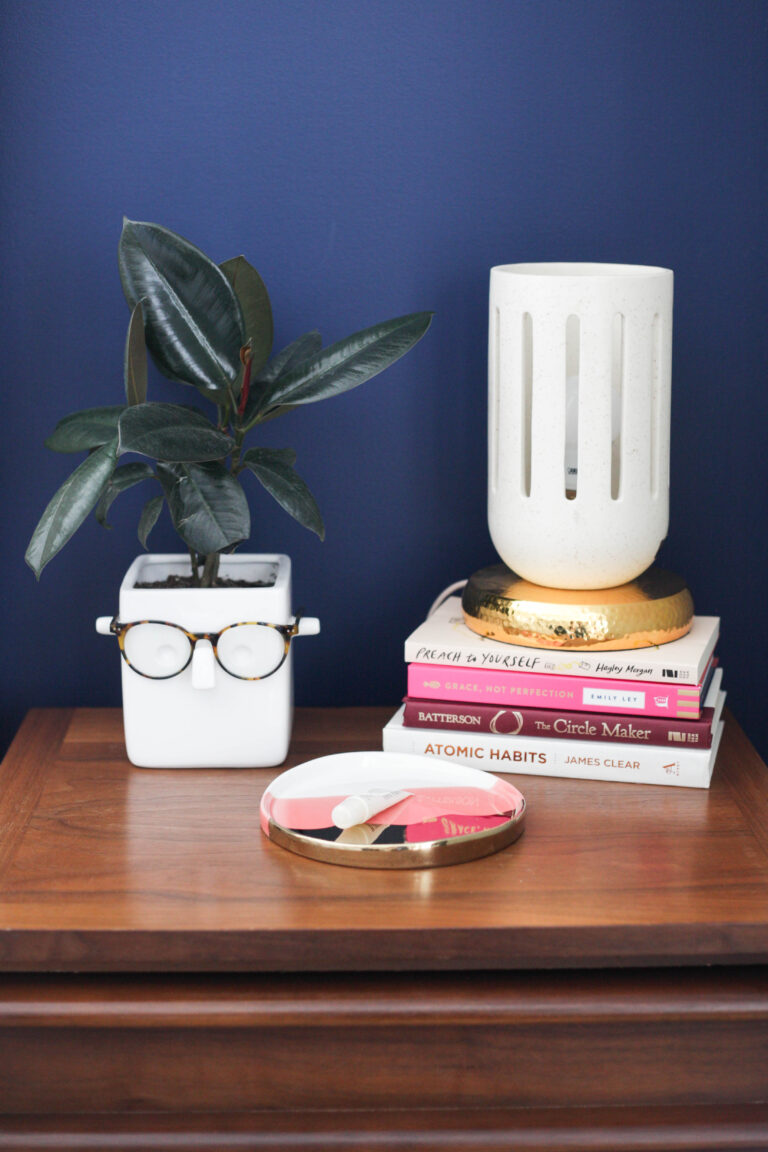 My sister gave me the fun face pot from Target so I moved that from my office to my bedside table to hold my glasses at night! I think it's the best way to keep track of my glasses. 😉
I also swapped lamps with the one that is in Miles room and stacked it on top of some colorful books to add additional color to that part of the room.
Budget + Planning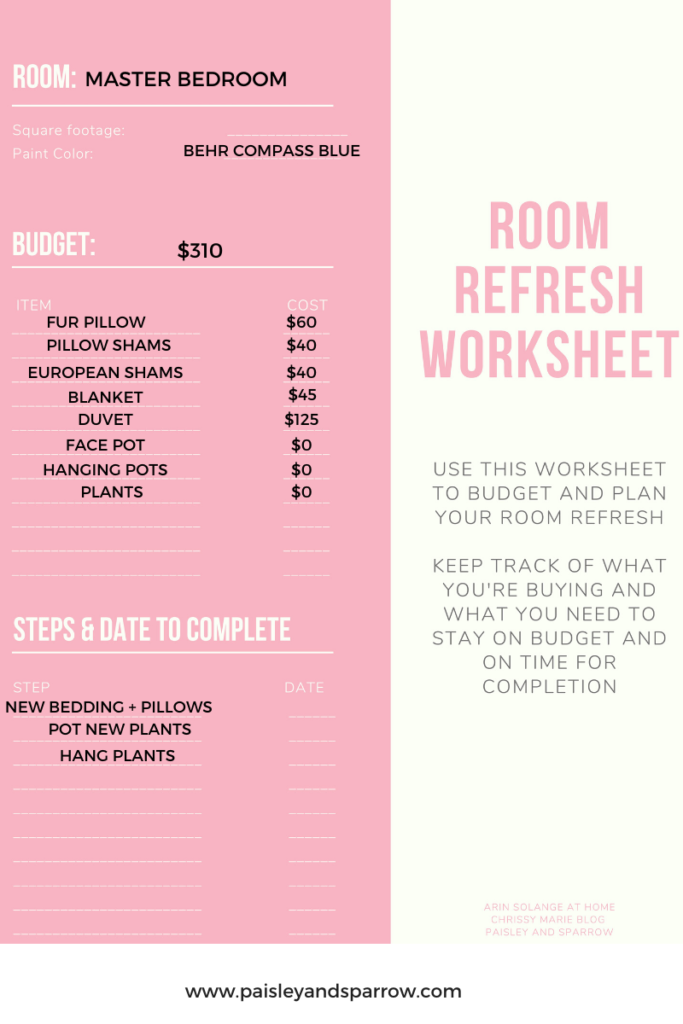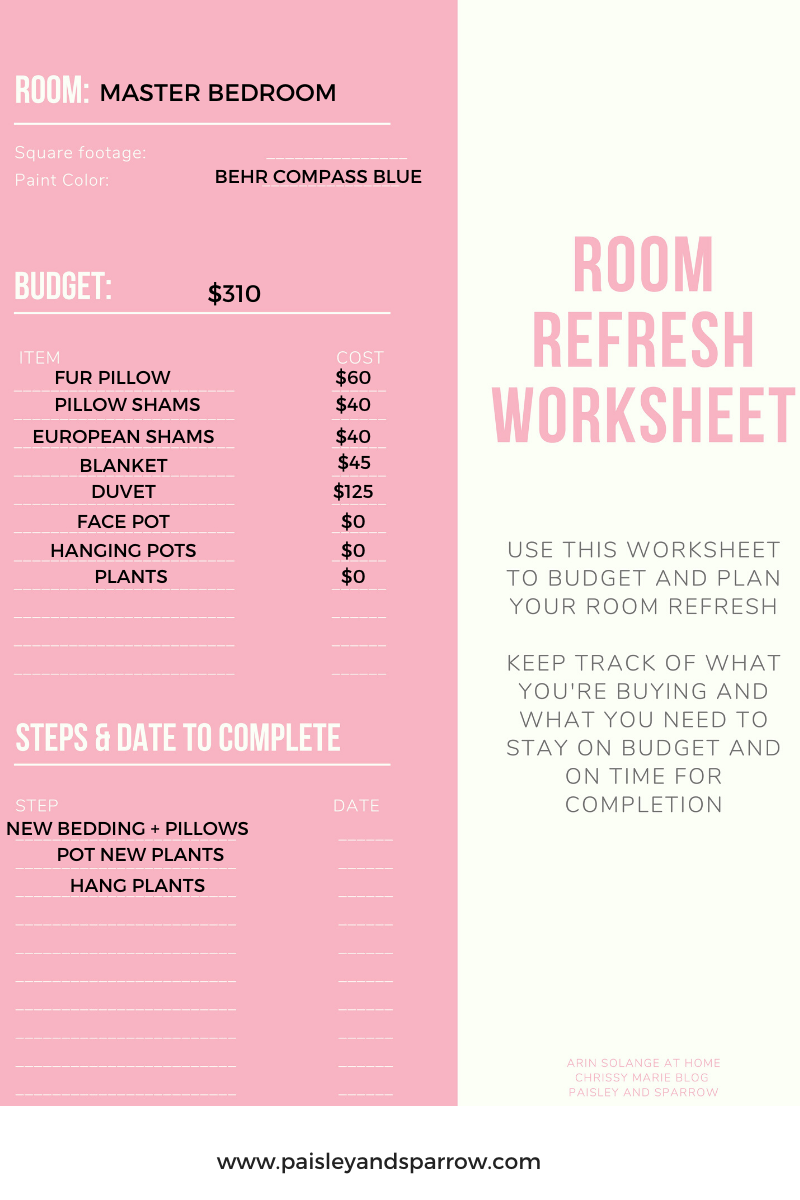 Overall this entire project cost $310. Basically it was all in the bedding since I had the pots and plants already. Since we don't refresh our bedding all that often, I'm totally fine buying a quality duvet that will last years and years. Especially a solid color one like ours!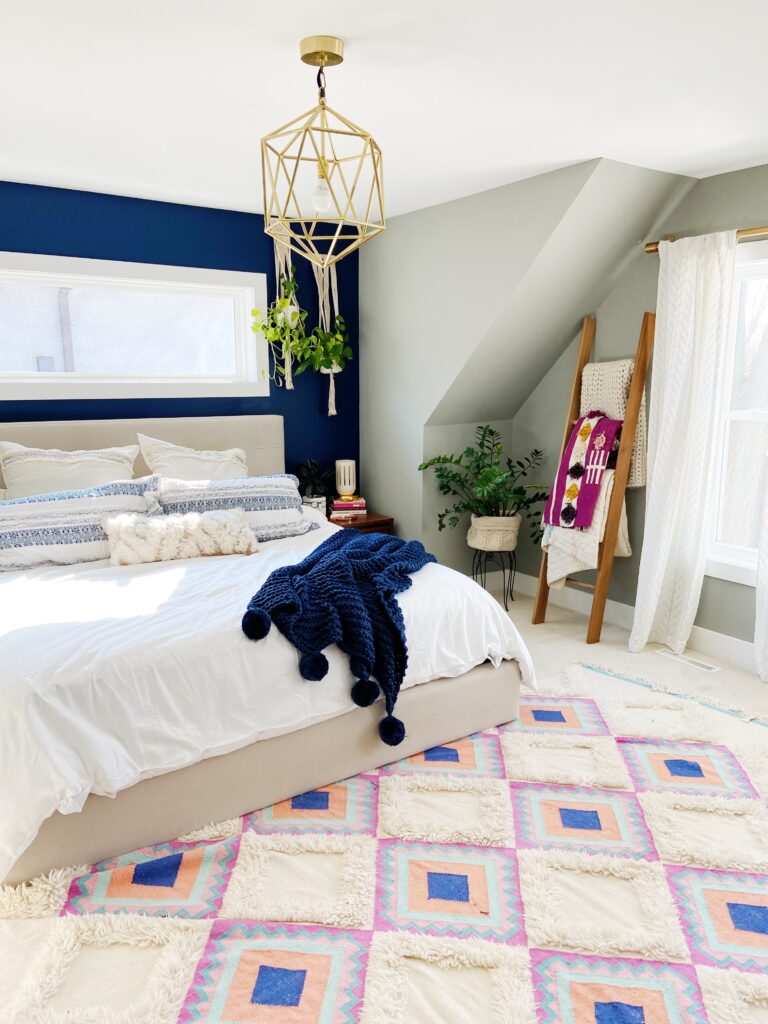 Now that you've seen my refresh, be sure to check out Arin and Chrissy's and join us for the fun challenge!
Grab both the Budget Tracker and the Mood Board Tutorial here!
Remember – there is a $250 prize for the winner (we'll let everyone vote in Instagram stories!) so be sure to use the hashtag #MarchRoomRefresh when sharing your progress!
And don't forget to follow the hosts on Instagram: Chrissy, Arin, and Me!.